01 Settembre 2016
1 The moon covering the sun, leaving a ring of fire effect around the moon, during an annular solar eclipse in Saint-Louis, on the Indian Ocean island of La Reunion.
2 The great-grandson of the spiritual leader of the ultra-Orthodox Jewish Hassidic Lelover dynasty lies on a table during a religious ceremony, called "Pidyon Ha'ben", or the "redemption of the first-born son", originating from the biblical story of Moses on Mount Sinai, whereby the father of the baby makes a symbolic offering, including jewellery and sweets, to a Kohen or Jewish priest, in Jerusalem's neighbourhood of Mea Shearim.
3 A guest falls during the red carpet event for the movie "The Light Between Oceans" at the 73rd Venice Film Festival in Venice, Italy.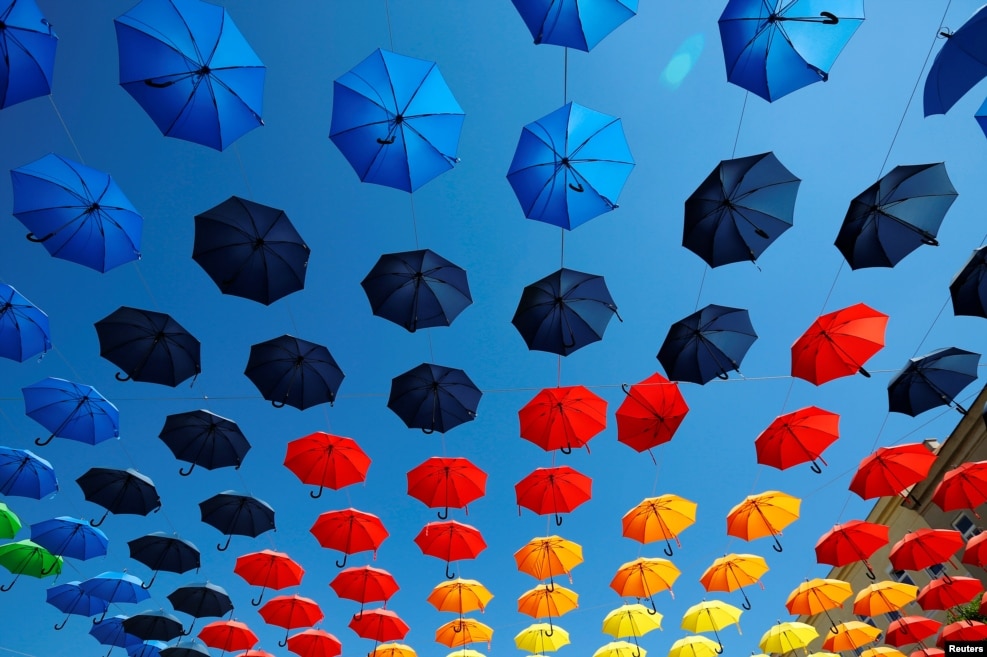 4 Colorful umbrellas decorate Dorner Platz (Dorner square) in Vienna, Austria.
5 A pest control worker fumigates drains and the gardens at a local housing estate where the latest case of Zika infections were reported in Singapore.
6 A supporter of the China national soccer team with his face painted in the China's national color during the soccer match against South Korea for the 2018 FIFA World Cup qualifier at Seoul World Cup Stadium in Seoul, South Korea.
7 Iraqi firefighters battle large fire at oil wells as they trying to prevent the flames from reaching the residential neighborhoods in Qayara, Iraq, Aug. 31, 2016. Oil wells on the edge of Qayara burn days after the key town south of was retaken from the Islamic State group by Iraqi ground forces backed by U.S.-led coalition airpower.
8 Visitors walk behind a sculpture of bobsledders during preparations of the autumn pumpkins exhibition 'Sports' at the horticultural exhibition 'ega' in Erfurt, central Germany.
9 An aerial view of the 30th annual Burning Man arts and music festival in the Black Rock Desert of Nevada, USA, Aug. 31, 2016.
10 A Hindu priest recites prayers from a holy book while performing a ritual near the bank of Bagmati River during Kuse Aunse (Father's Day) at Gokarna Temple in Kathmandu, Nepal.
11 Artists perform in front of a screen at the booth of Busch-Jaeger at the IFA (Internationale Funkausstellung) electronics trade fair in Berlin, Germany.
02 Settembre 2016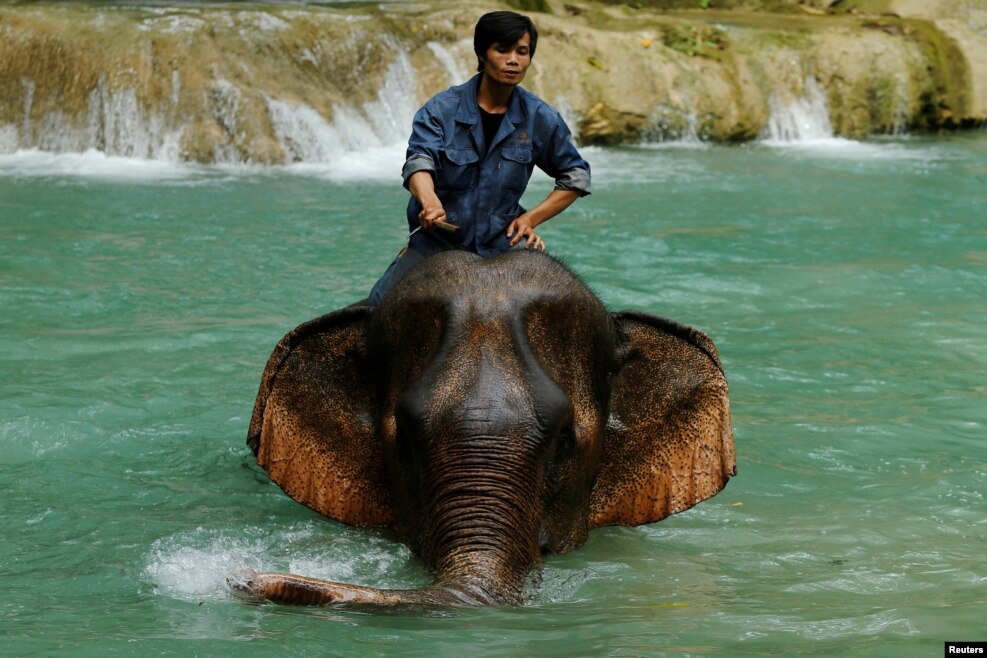 1 A mahout rides an elephant at Tad Sae Waterfall outside Luang Prabang, Laos.
2 President Barack Obama looks stands at Turtle Beach to speak to the media as he tours Midway Atoll in the Papahanaumokuakea Marine National Monument, Northwestern Hawaiian Islands.
3 Refugee schoolchildren walk with their mothers on the first day of the new school year at one of the UNRWA schools at a Palestinian refugee camp al Wehdat, in Amman, Jordan.
4 Protesters clash with riot police during a rally to demand a referendum to remove Venezuela's President Nicolas Maduro in Caracas, Venezuela.
5 A friend's basket of clams sit in the water as Mike Suprin, of Rollinsford, New Hampshire, calls it a day after filling his basket with soft shells at Cape Porpoise in Kennebunkport, Maine.
6 People watching a giant sandcastle in Duisburg, Germany, Friday, Sept. 2, 2016. The castle was made of 2300 tons of sand.
7 Clay figures, showing U.S. President Barack Obama, Chinese President Xi Jinping and Russian President Vladimir Putin amongst other state leaders expected to attend the G20 summit are displayed at a shop in Hangzhou in eastern China's Zhejiang province.
8 A man pulls a magnet to find coins thrown by devotees as religious offerings into the river Ganges in Allahabad, India.
9 Indian children stand by a fence on the India-Bangladesh border at Jhalchar, in the northeastern Indian state of Assam.
10 Pacific Blue Tang are shown in a tank at the University of Florida's Tropical Aquaculture Lab in Ruskin, Florida.
04 Settembre 2016
1 Nathan Law, (R), candidate from Demosisto and student activist Joshua Wong greet supporters on election day for the Legislative Council in Hong Kong, China.
2 A priest kisses the relics of Mother Teresa prior to the start of a Mass celebrated by Pope Francis where she will be canonized in St. Peter's Square, at the Vatican. Thousands of pilgrims thronged to St. Peter's Square for the canonization of Mother Teresa, the tiny nun who cared for the world's most unwanted and became the icon of a Catholic Church that goes to the peripheries to tend to lost, wounded souls.
3 The ' Frecce Tricolori ' Italian Air Force acrobatic squad team flies over the Monza racetrack prior to the start of the Italian Formula One Grand Prix.
4 A migrant bird at the Wazzani river near Khiam, south Lebanon
5 A Nepalese Hindu woman dances during Teej festival at the Pashupatinath Hindu Temple in Kathmandu.
6 A vendor uses a crane to bring down a bull from the rooftop of his triple-story house, to sell it at a cattle market set up for the upcoming Eid al-Adha, in Karachi, Pakistan..
7 Smoke rises from the fire at the Yau Ma Tei fruit market, a tourist spot in Hong Kong. The market was founded in 1913 and is classified as a grade three historic building.
8 A young piper plays at the annual Braemar Highland Gathering in Braemar, Scotland, Britain, Sept. 3, 2016.
9 A mutant vehicle shoots flames as approximately 70,000 people from all over the world gather for the 30th annual Burning Man arts and music festival in the Black Rock Desert of Nevada, USA, Sept. 3, 2016.
05 Settembre 2016
1 Performers are seen with the Khean instrument after their rehearsal at the National Convention Centre (NCC) in Vientiane, Laos, for the 28th Association of Southeast Asian Nations (ASEAN) Summit.
2 A 120-meter-long sculpture of the 17th-century London skyline is set alight in a retelling of the story of the Great Fire of London in 1666, Sept. 4, 2016.
3 Muslim pilgrims circle the Kaaba at the Grand Mosque in Mecca, Saudi Arabia, Sept. 4, 2016.
4 Keepers ride on the back of ostriches at the Jelita Ostrich Farm in Seremban, outside Kuala Lumpur, Malaysia.
5 Russian President Vladimir Putin speaks with President Barack Obama in Hangzhou in eastern China's Zhejiang province, China.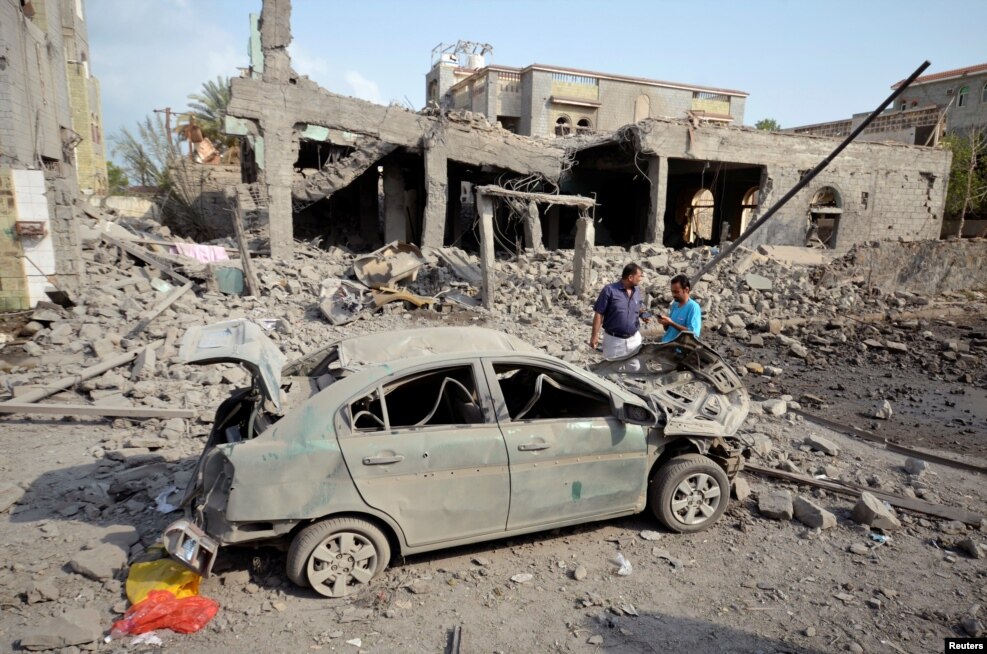 6 People stand at the site of a Saudi-led airstrike in the Red Sea port city of Houdieda, Yemen.
7 A Buddhist monk poses next to unexploded bombs dropped by U.S. Air Force planes during the Vietnam War, in Xieng Khouang, Laos.
8 Student leader Nathan Law (C) celebrates on the podium after his win in the Legislative Council election in Hong Kong, China.
9 Dancers perform during an evening gala for the G-20 Summit at West Lake in Hangzhou, Zhejiang province, China, Sept. 4, 2016.
06 Settembre 2016
1 Pakistani soldiers perform in a ceremony to celebrate the country's Defence Day in Lahore.
2 A girl holds a rifle in front of women loyal to the Houthi movement, who are taking part in a parade to show support for the movement in Sana'a, Yemen.
3 Devotees carry an idol of the Hindu god Ganesh, the deity of prosperity, into the Arabian Sea on the second day of Ganesh Chaturthi festival in in Mumbai, India.
4 Members of the honor guard prepare for the arrival of France's President Francois Hollande at the Presidential Palace in Hanoi, Vietnam.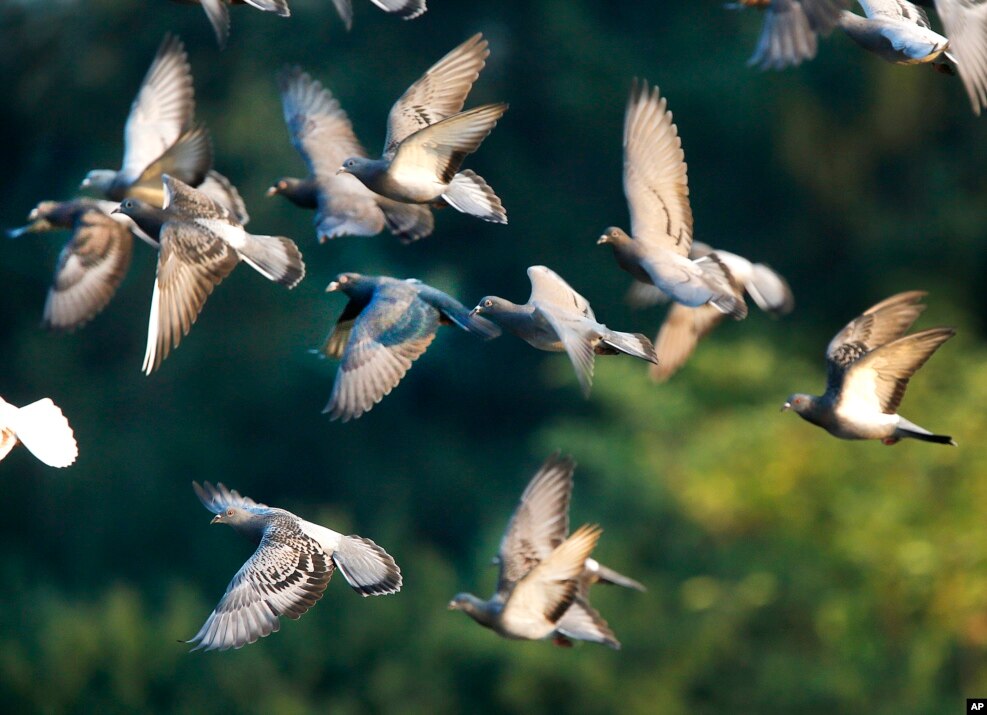 5 A flock of pigeons flies over a field on the outskirts of Frankfurt, Germany.
6 A Russian battle tank fires during a demonstration at the international military-technical forum "ARMY-2016" in the Moscow region
7 A man dressed as the "Bat King" walks down the street as he takes part in the overnight-into-dawn celebration called J'Ouvert, ahead of the annual West Indian-American Carnival Day Parade in Brooklyn, New York, Sept. 5, 2016.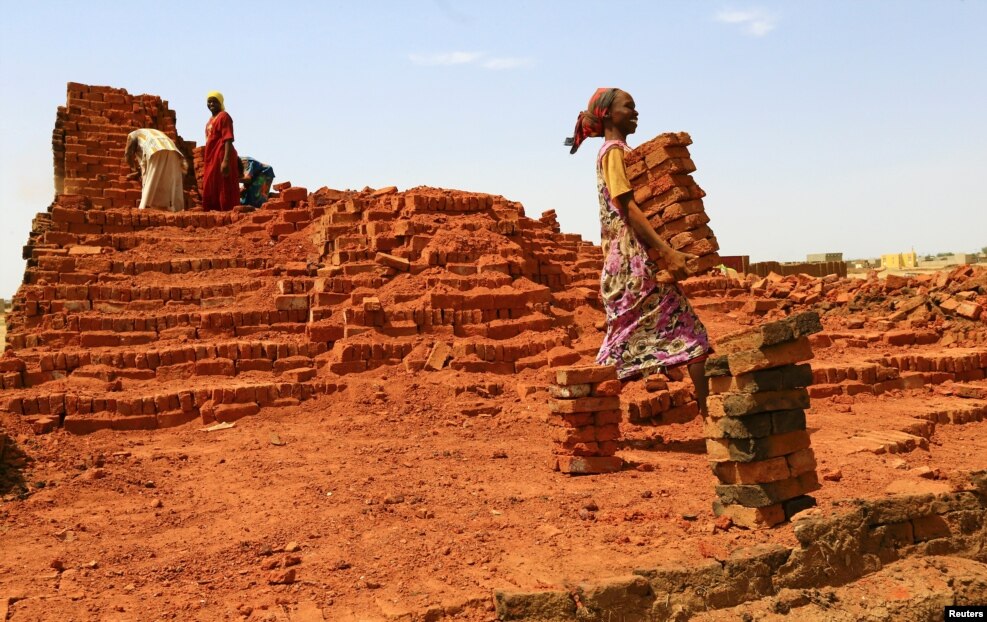 8 A woman carries mudbricks at the Abu Shock camp for Internally Displaced Persons in Al Fashir, capital of North Darfur, Sudan.
9 Passengers on a river-cruise boat pass a superyacht named "Motor Yacht A," owned by Russian tycoon Andrey Melnichenko, moored on the River Thames in London, Britain, Sept. 6, 2016.
07 Settembre 2016
1 Muslim pilgrims visit the Hera cave, where Prophet Muhammad was believed to receive the first words of the Quran through Gabriel, at the top of Mount Al-Noor, ahead of the annual haj pilgrimage in the holy city of Mecca, Saudi Arabia.
2 The Soyuz TMA-20M spacecraft lands with Expedition 48 crew members NASA astronaut Jeff Williams, Russian cosmonauts Alexey Ovchinin, and Oleg Skripochka of Roscosmos near the town of Zhezkazgan, Kazakhstan.
3 NASA astronaut Jeff Williams, left, Russian cosmonaut Alexey Ovchinin of Roscosmos, center, and Russian cosmonaut Oleg Skripochka of Roscosmos are seen inside the Soyuz TMA-20M spacecraft a few moments after they landed in a remote area near the town of Zhezkazgan, Kazakhstan.
4 Fog covers the Inntal valley as the sunrise is seen from Hundskopf mountain in the western Austrian village of Gnadenwald, Austria.
5 Syrian refugees walk back to the city of Jarabulus, at Karkamis crossing gate, in the southern region of Kilis.
6 Workers set up barbed-wire atop a fence along the harbor of Calais to prevent migrants from jumping aboard lorries, in France.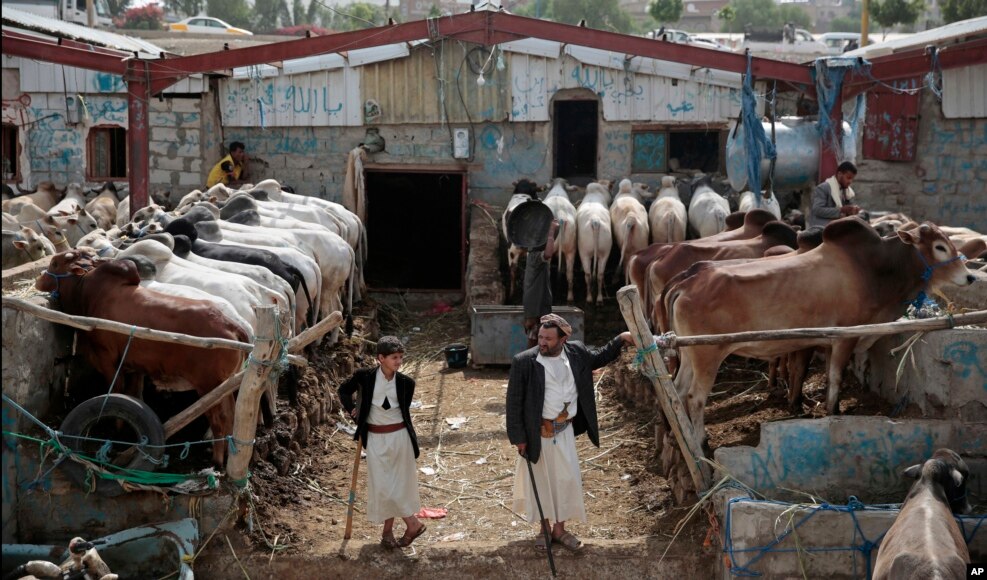 7 Yemeni livestock merchants wait for customers as Muslims prepare for the upcoming holiday of Eid al-Adha, or "Feast of Sacrifice," at an animal market, in Sana'a, Yemen.
8 People carry the body of a dead migrant from the vessel Topaz Responder as they arrive in the Sicilian harbor of Augusta, Italy.
9 (L-R) Maria Silva, Milena Cortes, Maria Arteaga, Jackeline Bastidas and Gissy Abello with dogs at the Famproa dogs shelter where they work, in Los Teques, Venezuela. Venezuelans struggling to feed their families, let alone pets, amid an unprecedented economic crisis increasingly are dumping scrawny animals in streets, parks and makeshift shelters.
10 0Panda sculptures stand on the grounds at the DPCA Chengdu plant in Chengdu, China.
11 Luis Suarez of Uruguay, right, grimaces in pain after being fouled in the penalty area during a 2018 World Cup qualifying soccer match against Paraguay in Montevideo, Uruguay, Sept. 6, 2016.
08 Settembre 2016
1 Katie Hensler looks over a sunflower field in Lawrence, Kansas, Sept. 7, 2016. The 40-acre field, planted annually by the Grinter family, draws thousands during the week-long late summer blossoming of the flowers.
2 A young woman with a balloon walks along a street right after some rainfall in Moscow, Russia.
3 British Member of Parliament Liz Saville-Roberts?? gets a lick from Dogs Trust rescue dog Fiona, at the Westminster Dog of the Year competition, in London.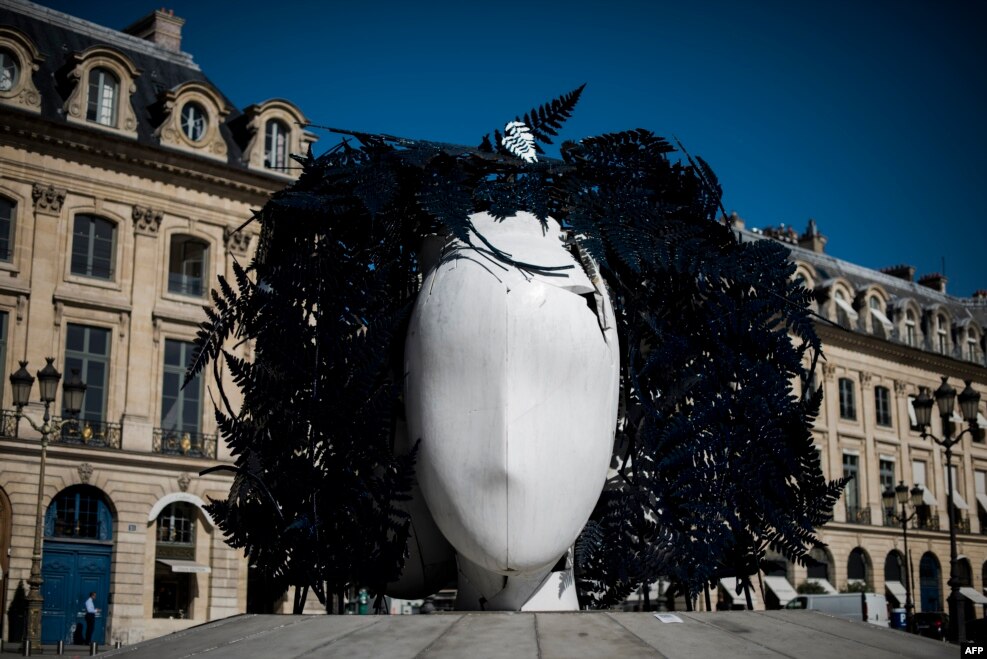 4 A sculpture by Spanish artist Manolo Valdes is seen at Place Vendome in Paris, France.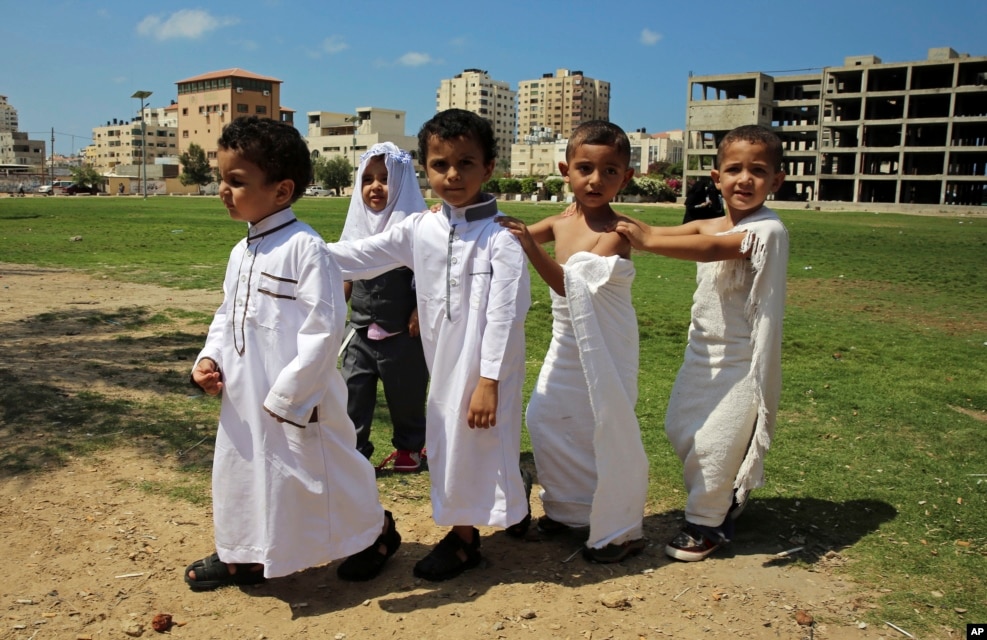 5 Palestinian students dressed like Muslim pilgrims walk together at the main square in Gaza City, during a school lesson about the hajj pilgrimage to Mecca, Saudi Arabia.
6 Dancers perform at the Seoul International Drama Awards in Seoul, South Korea.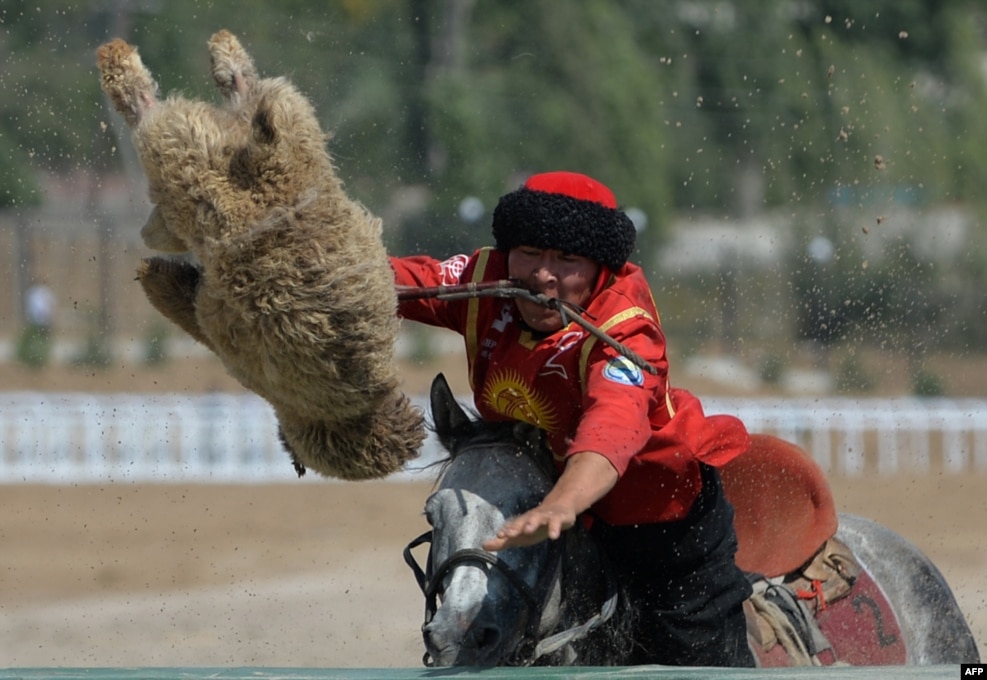 7 A Kyrgyz rider plays the traditional Central Asian sport Buzkashi, also known as Kok-Boru or Oglak Tartis, during the World Nomad Games 2016 in Cholpon-Ata on the shores of Lake Issyk-Kul, some 270 kms outside the capital Bishkek.
8 Wheelchair extreme athlete Aaron 'Wheelz' Fotheringham somersaults through a giant O, after speeding down a ramp, during the opening ceremony of the Rio 2016 Paralympic Games at Maracana Stadium in Rio de Janeiro, Brazil, Sept. 7, 2016.
9 Brazilian Paralympic runner Marcia Malsar falls while carrying the torch during the opening ceremony of the Rio 2016 Paralympic Games at Maracana Stadium in Rio de Janeiro, Brazil, Sept. 7, 2016.
10 Devotees carry clay water pots as they take part in a procession marking the end of Jhulelal Chaliha, a 40-day-long fasting festival of the Sindhi community, in Ahmedabad, India.
11 The sun sets over the Gaza Strip, as seen from the Israeli side.
12 University students participate in a competition of quilt-folding during military training at the start of a new semester in Hengyang, Hunan Province, China.
13 A worker walks next to a partially collapsed railroad bridge connecting Burkina Faso to Ivory Coast in Dimbokro, Ivory Coast.
09 Settembre 2016
1 South Korean and U.S. Marines stand in smoke during the 66th Incheon Landing Operations Commemoration ceremony in Incheon, South Korea. Incheon is the coastal city where U.N. forces led by U.S. Gen. Douglas MacArthur landed in September, 1950 just months after North Korea invaded the South.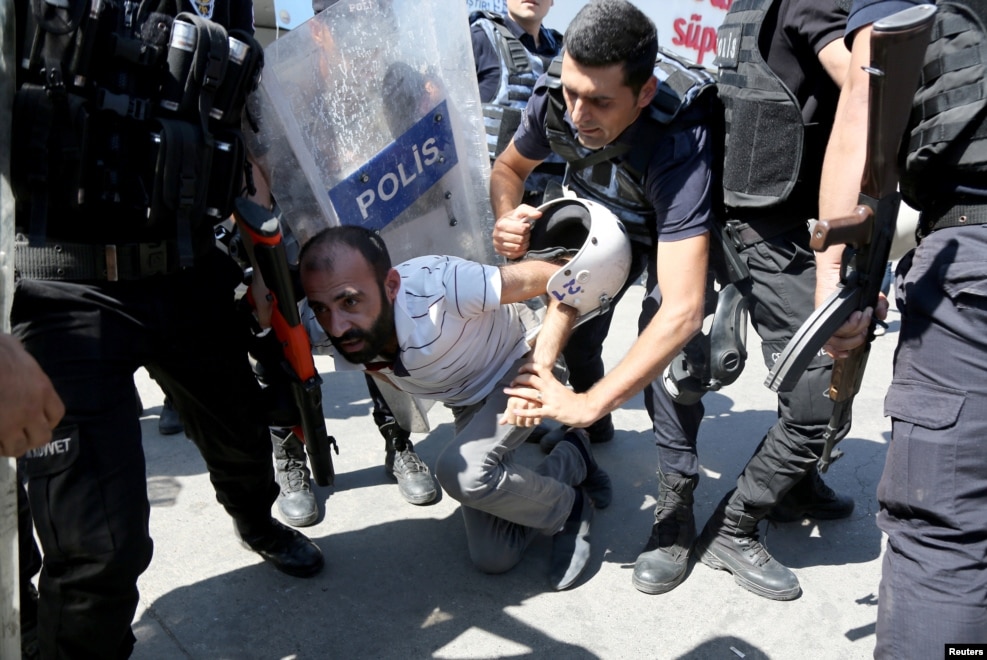 2 Riot police detain a demonstrator during a protest against the suspension of teachers from classrooms over alleged links with Kurdish militants, in the southeastern city of Diyarbakir, Turkey.
3 TV screens show a North Korean newscaster reading a statement from the North's Nuclear Weapons Institute during a news program at the Yongsan Electronic Market in Seoul, South Korea. North Korea said Friday it conducted a "higher level" nuclear warhead test explosion that will allow it to finally build "at will" an array of stronger, smaller and lighter nuclear weapons.
4 Syrian refugee children pose before a visit by actress Angelina Jolie, in her role as special envoy of the U.N. High Commissioner for Refugees (UNHCR), to Azraq refugee camp for Syrians displaced by conflict, near Al Azraq city, Jordan.
5 A marching band passes artwork depicting a fallen New York City police officer from Sept. 11, 2001, as they march during the NYPD Emerald Society Pipes & Drums memorial procession, in New York.
6 Canada's Brent Lakatos performs in the Men's 100m-T53 Round 1 during the Paralympic Games, Rio de Janeiro, Brazil. Handout image supplied by OIS/IOC.
7 Russian army tanks during military drills at the Black Sea coast, Crimea. The drills which began across southern Russia and Crimea earlier this week and involve over 120,000 troops are some of the largest exercises Russia has held for years.
8 Muslim children read the Koran as they study inside a school in Taguig city, metro Manila, Philippines, ahead of Eid Al-Adha.
9 Muslims leave the Grand Mosque in Mecca, Saudi Arabia, as the participate in the annual hajj pilgrimage.
10 A man uses a scissors to make intricate decorative patterns on a camel's back before displaying it for sale at a makeshift cattle market ahead of the Eid al-Adha festival in Karachi, Pakistan.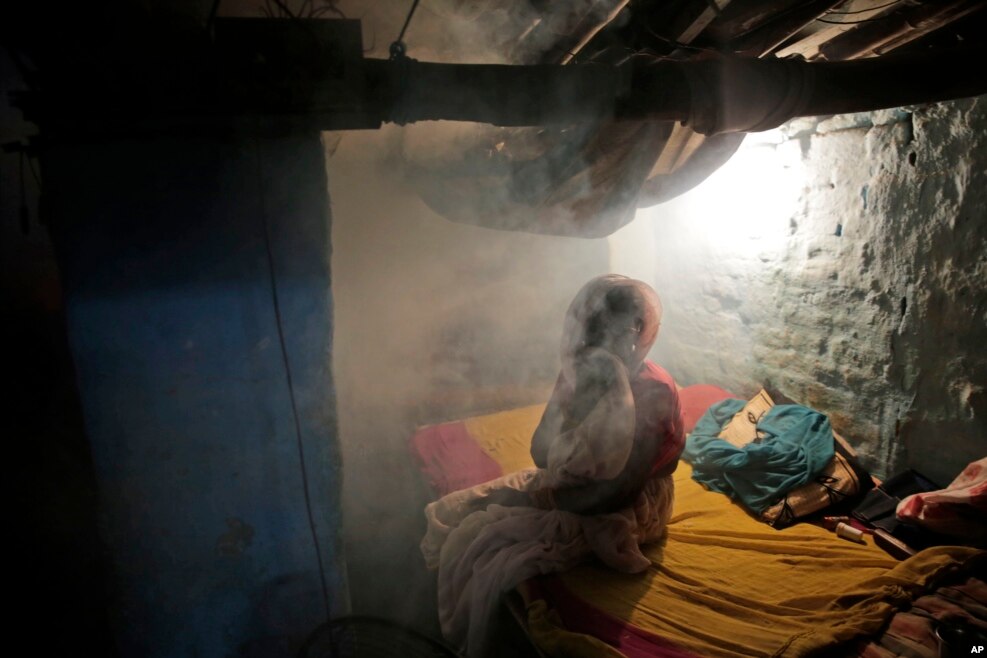 11 A woman sits inside her house covered with smoke from fumigation in Allahabad, India. Despite efforts, including spraying vast areas with clouds of diesel smoke and insecticide, several Indian cities battle dengue fever and other mosquito-borne diseases every year during the rainy season.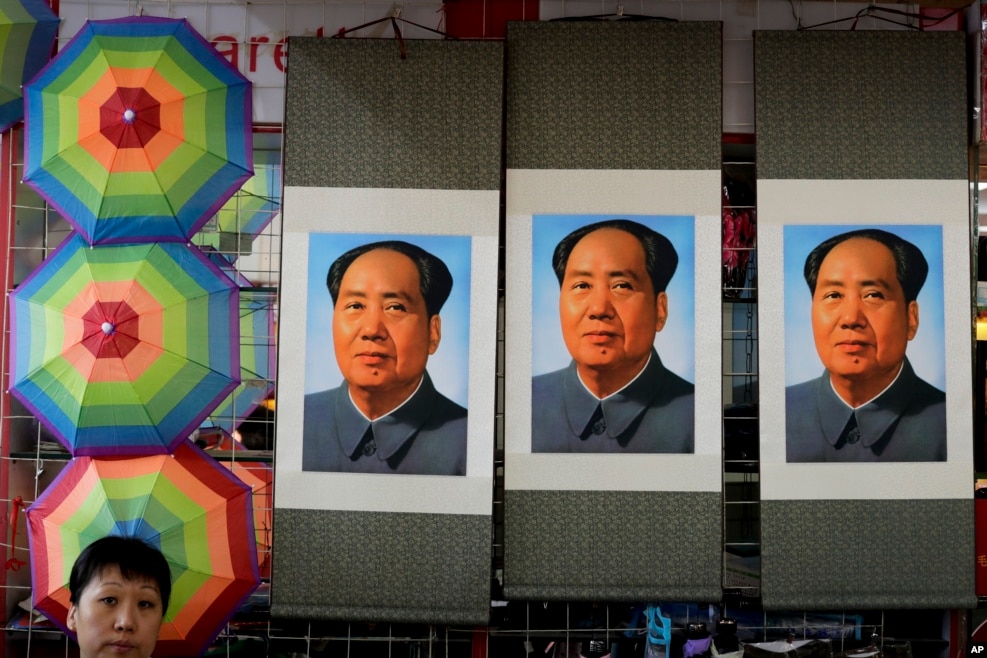 12 A salesperson sits near posters of the late communist leader Mao Zedong on display for sale at a shop near Tiananmen Square in Beijing. Friday marks the 40th anniversary of the death of the leader who founded the People's Republic of China in 1949 and ran it virtually uncontested until 1976.
13 A farmer walks with a decorated cow during the Allgaeuer Viehscheid cattle drive near the village of Oberstaufen, southern Germany. During the traditional "Almabtrieb" event, cow herds are brought from alpine pastures, where they stay during the summer, to their stables in the valley.
14 A river pilot boat travels along the River Mersey as the sun rises behind the skyline of Liverpool, Britain.
11 Settembre 2016
1 Muslim pilgrims gather on Mount Mercy on the plains of Arafat during the annual haj pilgrimage, outside the holy city of Mecca, Saudi Arabia.
2 Roses are placed on names on the memorial during the ceremony marking the 15th anniversary of the attacks on the World Trade Center at The National September 11 Memorial and Museum in Lower Manhattan in New York City.
3 Atlanta Falcons wide receiver Julio Jones warms up wearing cleats in remembrance of 9/11 before the first half of an NFL football game in Atlanta, Georgia.
4 Jackson Tucker walks through the field of 3,000 U.S. flags placed in memory of the lives lost in the Sept. 11, 2001 attacks, at a park in Winnetka, Illinois, Sept. 10, 2016.
5 Fifth-grade students of the General Yermolov Cadet School put on gas masks during their first military tactical exercise in Stavropol, Russia, Sept. 10, 2016.
6 Staff pose with a giant moon cake ahead of China's Mid Autumn Festival in Binzhou, Shandong Province, China, Sept. 10, 2016.
7 A molten lava sprews after a volcanic eruption from "The Peak of the Furnace" (Le Piton de la Fournaise) in the eastern side of the on the French Indian Ocean island of La Reunion.
8 Philadelphia Eagles' Jordan Matthews crashes into a television photographer after catching a touchdown pass against Cleveland Browns' Tramon Williams during the first half of an NFL football game in Philadelphia, Pennsylvania.
9 (R to L) Groupama Team France, Emirates Team New Zealand and Softbank Team Japan compete during the second day of the Louis Vuitton America's Cup World series, offshore Toulon, France.
10 People ride on a bus as they return to their families ahead of the Eid al-Adha festival in Khartoum, Sudan.
11 People take part in a performance which simulates the sinking of a dinghy with immigrants as they sail from Europe to Africa, during a protest in favor of the free movement of persons at the borders, at the Mediterranean Sea on La Malagueta beach in Malaga, Southern Spain.
12 Settembre 2016
1 Members of an honor guard march during a preparation before Japanese Prime Minister Shinzo Abe reviews them in a ceremony prior to his meeting with high-ranked officers of the Japan Self-Defense Forces at the Defense Ministry in Tokyo.
2 Yoga enthusiasts practice yoga at Yueyan Cave in Daoxian, Hunan province, China, Sept. 11, 2016.
3 Children pray during Eid al-Adha outside Sultan Mehmet Fatih mosque in capital Pristina, Kosovo.
4 A large crocodile attacks a wildebeest during the migration in the Masai Mara game reserve, Kenya. The daring wildebeest returned and was attacked again but walked away unharmed.
5 A demonstrator wears a garbage bin on her head during a protest against President Michel Temer in Sao Paulo, Brazil, Sept. 11, 2016.
6 A passenger plane flies toward Heathrow airport at dawn in London, Britain
7 Egyptians take part in Eid Al-Adha prayers at the al-Seddik Mosque in Cairo.
8 Ducks swim on a small river in the outskirts of Frankfurt, Germany.
9 Oscar Isaac pretends to autograph Charlotte Le Bon's leg as they arrive on the red carpet for the film The Promise during the 41st Toronto International Film Festival (TIFF), in Toronto, Canada, Sept. 11, 2016.
10 A butcher carries a sheep for slaughtering to mark Kurban-Ait, also known as Eid al-Adha, in the Central Mosque in Almaty, Kazakhstan.
11 A general view shows the unfinished New Yalu River bridge that was designed to connect China's Dandong New Zone, Liaoning province, and North Korea's Sinuiju, Sept. 11, 2016.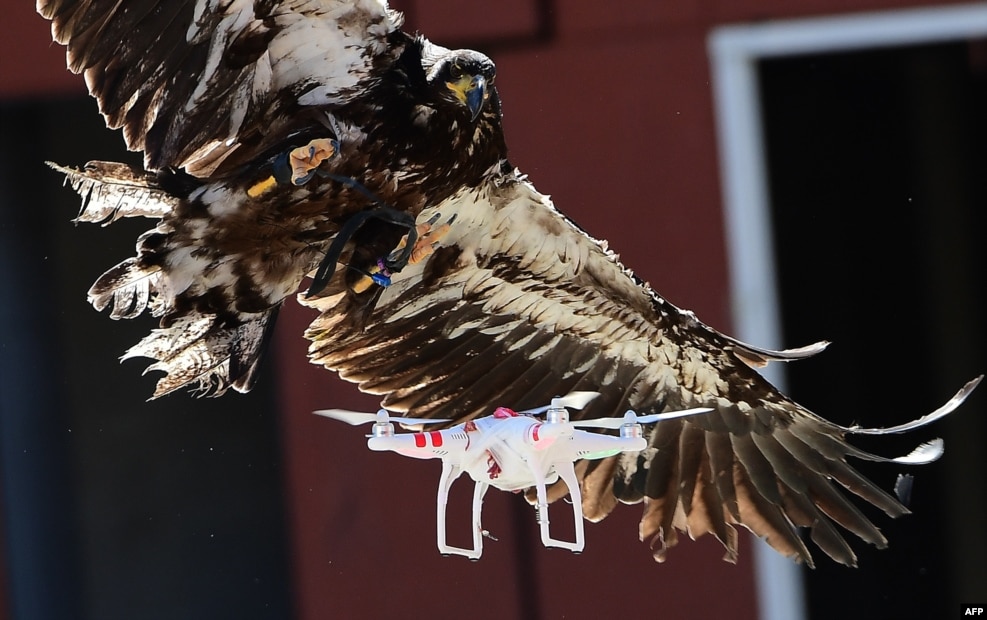 12 A trained young eagle attempts to catch a drone during a demonstration organized by the Dutch police as part of a program to train birds of prey to catch drones flying over sensitive or restricted areas, at the Dutch Police Academy in Ossendrecht, the Netherlands.
13 Two rmen goes fishing off a jetty as the sun rises in Bal Harbor, Florida.
13 Settembre 2016
1 An Indian policeman fires a teargas shell toward demonstrators during a protest over the recent killings in Kashmir, in Srinagar.
2 Members of the honor guard hold red flags as they wait for the arrival of visiting Peruvian President Pedro Pablo Kuczynski during a welcome ceremony outside the Great Hall of the People in Beijing, China.
3 A wildebeest herd is seen during the annual wildebeest migration in the Masai Mara Game Reserve in Kenya.
4 Britain's Prime Minister Theresa May (L) greets Myanmar's State Counselor and Foreign Minister Aung San Suu Kyi outside 10 Downing Street, in London.
5 A five-month-old baby female Bornean orangutan sits on her mother Sulli at Bioparc Fuengirola in Fuengirola, near Malaga, southern Spain, Sept. 12, 2016.
6 People air quilts at a university campus at the beginning of the new semester in Tai'an, Shandong province, China.
7 Charred remains of passenger buses owned by a transport company from the neighboring Tamil Nadu state, are seen through the shattered glass of another bus vandalized by angry mobs in Bangalore, capital of the southern Indian state of Karnataka. Authorities imposed a curfew amid widespread protests overnight over the country's top court ordering the southern state of Karnataka to release water from a disputed river to the neighboring state.
8 A model presents creations of the Jeremy Scott Spring/Summer 2017 collection, during New York Fashion Week in the Manhattan borough of New York, Sept. 12, 2016.
9 A dance group performs on the cliffs in Zhangjiajie, Hunan province, China.
10 Muslim children look out of a window during the Eid al-Adha prayers in a mosque in Karachi, Pakistan.
11 Pumpkins are displayed at the horticultural exhibition 'Ega' in Erfurt, central Germany.
14 Settembre 2016
1 Supporters rush to greet and kiss Myanmar's State Counselor and Foreign Minister Aung San Suu Kyi outside the Blair House in Washington, D.C., where she had lunch meeting with U.S. Secretary of State John Kerry.
2 A young girl wearing traditional attire plays with a vessel while waiting for the Kumari puja to start at Hanuman Dhoka temple, in Kathmandu, Nepal.
3 A Model poses in an art installation "Narcissism : Dazzle room" by artist Shigeki Matsuyama at fashion and design exhibition in Tokyo, Japan.
4 A hot air balloon carrying tourists is pictured during the annual wildebeest migration in the Masai Mara game reserve in Kenya.
5 A car drives past a collapsed traffic sign that was toppled by strong winds from typhoon Meranti, which is lashing southern Taiwan.
6 Members of the fire dragon dance team hold up the 'dragon' as it winds through the narrow streets and houses during the Tai Hang Fire Dragon Dance in Hong Kon.
7 People wade through a road turned red with blood from sacrificial animals on Eid al-Adha that mixed with water from heavy rainfall, in Dhaka, Bangladesh.
8 Nepalese youth drink wine poured on the second day of the Indra Jatra Festival in Kathmandu.
9 The rising sun passes behind the Washington Monument early in Washington, D.C., on what is expected to be another 90-degree day in the Nation's Capitol.
15 Settembre 2016
1 A French riot police officer is surrounded by flames, during a demonstration against the controversial labor reforms of the French government in Paris. Opponents of France's controversial labor reforms took to the streets for the 14th time in six months in a last-ditch bid to quash the measures that lost the Socialist government crucial support on the left.
2 Japan's main opposition Democratic Party's new leader Renho (C) raises her fists with her party lawmakers after she was elected party leader at the party plenary meeting in Tokyo.
3 Devotees gather on the shores of the Arabian Sea to immerse idols of the Hindu god Ganesh, the deity of prosperity, on the last day of the ten-day-long Ganesh Chaturthi festiva in Mumbai, India.
4 Aung San Suu Kyi, State Counsellor and Minister of Foreign Affairs of Myanmar, visits U.S. President Barack Obama's family pets Bo and Sunny in the Cabinet Room of the White House following their bilateral meeting, Sept. 14, 2016.
5 Cristopher Tronco of Mexico enters the water at the start of the men's 50m breaststroke - SB2 final at the Olympic Aquatics Stadium during the Paralympic Games in Rio de Janeiro, Brazil, Sept. 14, 2016.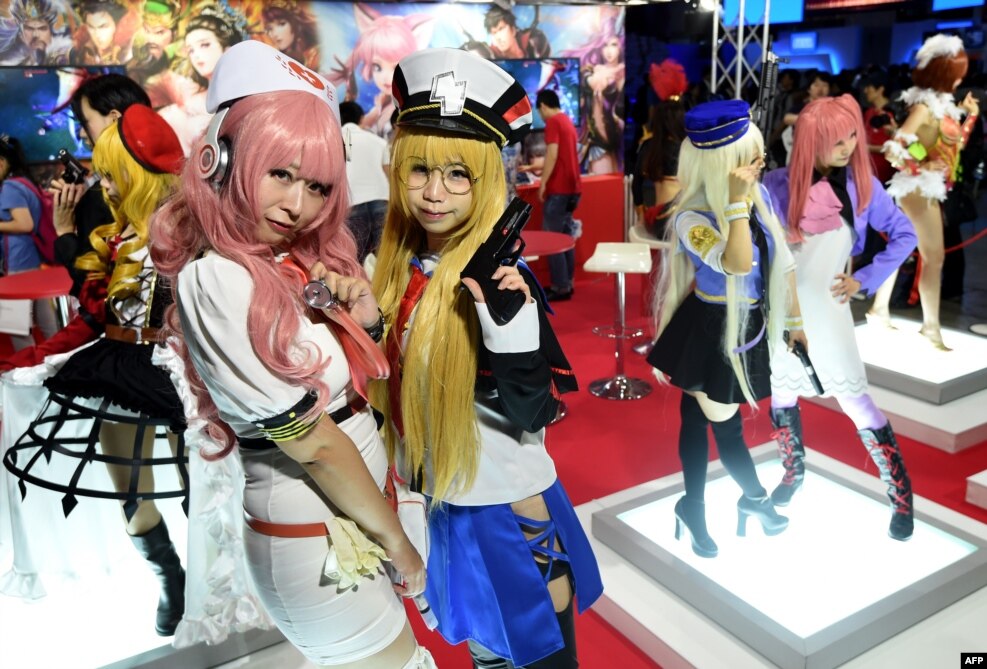 6 Models clad in costumes of video game characters pose at a game booth during the Tokyo Game Show 2016 in Chiba, suburb of Tokyo, Japan.
7 A man fishes from his boat as fog rises over the lake in the town of Logoisk, 40 kms. (25 miles) north of Minsk, Belarus.
8 Mattel Children's Hospital UCLA patient Gael Martin, 5, (L) meets a window washer dressed as Spider-Man in Los Angeles, California, Sept. 14, 2016.
9 Wang Hao of China competes in the men's long jump - T47 Final at the Olympic Statium in Rio de Janeiro, Brazil, during the 2016 Rio Paralympics.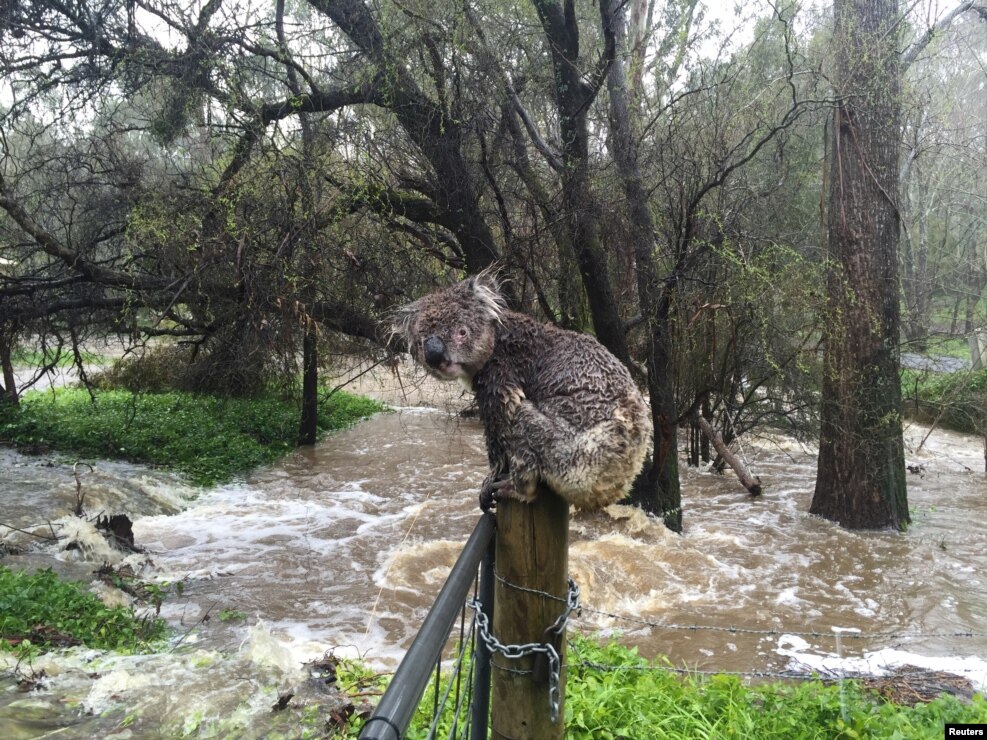 10 A koala soaked by floodwaters sits atop a fence post to escape the deluge in the town of Stirling in the Adelaide Hills of South Australia, Sept. 14, 2016.
11 Wearing a homemade mosquito costume, an expectant father from Washington who asked not to be named, protests on Capitol Hill in Washington, the lack of Congressional approval to fund a federal response to the Zika virus, Sept. 14, 2016.
16 Settembre 2016
1 Swimmers from top to bottom; Uzbekistan's Shokhsanamkhon Toshpulatova, Ukraine's Anna Stetsenko, Poland's Joanna Mendak, Uzbekistan's Muslima Odilova and Fotimakhon Amilova compete in the Women's 100m Freestyle at the Paralympic Games in Rio de Janeiro, Brazil.
2 Venezuelan opposition activists march in Caracas, demanding the government set the date for a recall referendum against President Nicolas Maduro.
3 Advocates with Oxfam America place hundreds of life jackets on the ground along the New York City waterfront in Brooklyn to draw attention to the refugee crisis. Many of the life jackets had been used by adult and child refugees and collected on the beaches in Greece.
4 Alfonso Perez, of the Dominican Republic, cheers at the start of a naturalization ceremony for 755 new United States citizens at Turner Field, home of the Atlanta Braves baseball team in Atlanta, Georgia. Saturday marks Constitution Day and Citizenship Day in the U.S.
5 Egyptian soldiers stand on the deck of the BPC Anwar el-Sadat military cruise ship during a flag ceremony in Saint-Nazaire, western France.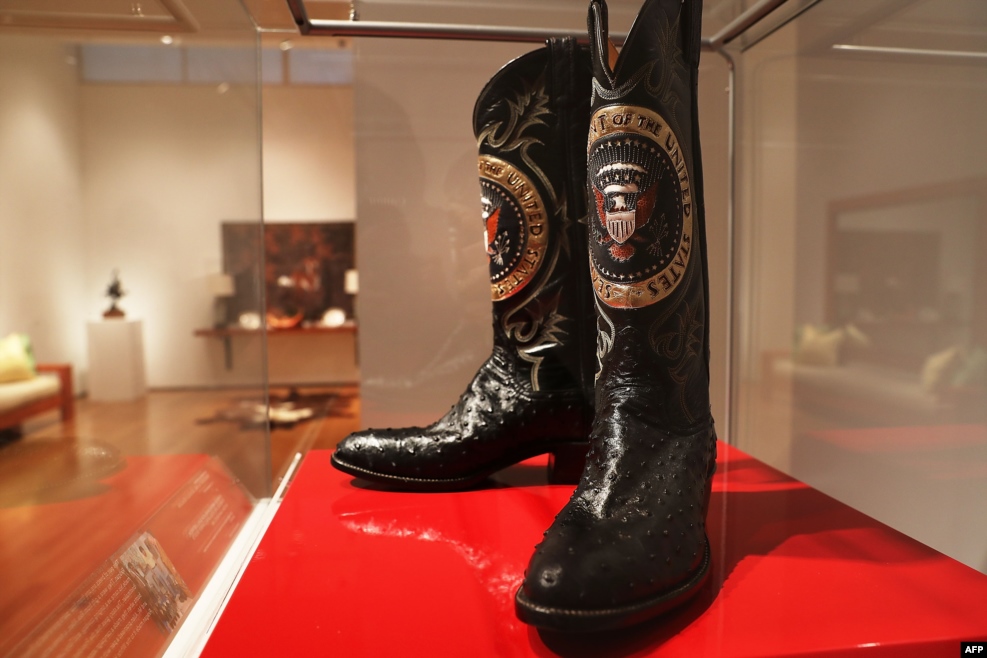 6 A pair of Ronald Reagan's cowboy boots sit in a case at Christie's where items from the former U.S. president and Nancy Reagan's California home are to be auctioned in New York City. Proceeds from the auction will be donated to the Ronald Reagan Presidential Foundation and Institute.
7 Residents hold up lanterns during the Chinese Mid-Autumn Festival at a park in Hong Kong.
8 A man walks along empty benches in an Oktoberfest tent prior to the opening of the Oktoberfest beer festival at the Theresienwiese fairgrounds in Munich, southern Germany. The world's biggest beer festival opens on Sept. 17, 2016, and runs until Oct. 3, 2016.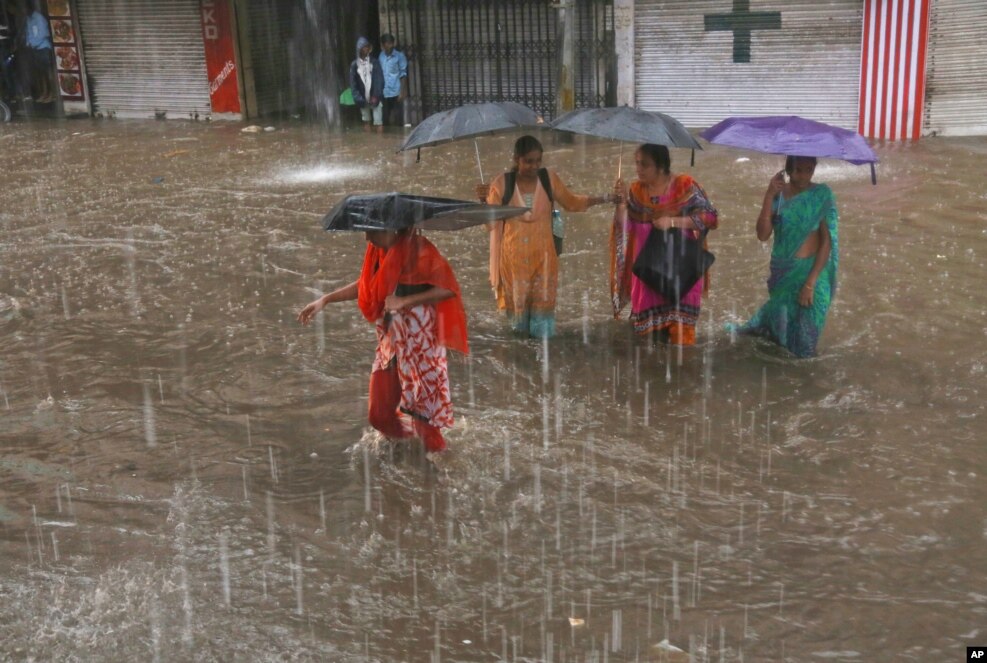 9 Women hold umbrellas and wade through a waterlogged street in the rain in Hyderabad, India. Monsoon season in India begins in June and ends in October.
10 LED white roses are lit up as the sun sets at the Malaysia Agro Exposition Park in Serdang outside of Kuala Lumpur.The roses are part of an installation, "Light Sensation," aimed to promote unity and celebrate Malaysia Day.
11 Members of the public admire vegetables on display on the first day of the Harrogate Autumn Flower Show held at the Great Yorkshire Showground, in Harrogate, northern England.
12 Bruce Harkness practices for the drum major competition during the start of the Highland Games and Festival at Loon Mountain, in Lincoln, New Hampshire.
13 Palestinians ride horses during a Bedouin festival in the central Gaza Strip.
14 A model wears a creation by designers Teatum Jones during their Spring/Summer 2017 runway show at London Fashion Week in London.
18 Settembre 2016
1 Actors perform during the Oktoberfest parade in Munich, Germany.
2 Federal Bureau of Investigation (FBI) officials mark the ground near the site of an explosion in the Chelsea neighborhood of Manhattan, New York, injuring 29 people late Saturday. Authorities called the blast "an intentional act."
3 Ludmila Ezhova, 80, left, prepares to cast her ballot brought by an election official during a parliamentary election in Moscow, Russia.
4 People perform during the reenactment of the battle of the beginning of WWII, in Lomianki near Warsaw, Poland.
5 A general view shows packed garbage bags in Jdeideh, Beirut, Lebanon.
6 A so-called beer bike, where the participants paddle and drink beer during the tour, in Berlin, Germany, Sept. 17, 2016.
7 Paramilitary policemen take part in a drill in Baise, Guangxi Zhuang Autonomous Region, China.
8 Indian performers wearing body-paint depicting tigers wait for the artwork to dry as they prepare to take part in the 'Pulikali', or Tiger Dance, in Thrissur, Sept. 17, 2016.
9 A police officer talks to a driver as a dog watches from a car in Kyiv, Ukraine.
10 A hippo rests in Naboisho Conservancy adjacent to the Masai Mara National Reserve, Kenya.
11 A total of 432 people wear dragon robe costumes in an attempt to set a Guinness Record for the most people performing Yu Opera together, in Zhengzhou, Henan province, China, Sept. 17, 2016
12 A tight rope walker performs between two buildings in Brussels, Belgium.
13 Mercedes driver Nico Rosberg of Germany is embraced by his team after winning the Singapore Formula One Grand Prix on the Marina Bay City Circuit Singapore.
14 A waning full moon rises behind a statue of a Kansa Indian on top of the Kansas Statehouse, Sept. 17, 2016, in Topeka, Kansas, USA.
19 Settembre 2016
1 About 2,500 lifejackets worn by refugees, who made the sea crossing from Turkey to the Greek, island of Chios, are displayed in what the organizers called a "Lifejacket Graveyard" in Parliament Square, London, with the Houses of Parliament seen in the background.
2 This handout photo received from the Australia Zoo shows Shayne, a nine-month-old orphaned baby koala who has found solace cuddling a fluffy toy koala in the absence of his dead mum, as he recovers from the trauma of her death. The baby was taken to the Australia Zoo Wildlife Hospital, run by the family of "Crocodile Hunter" Steve Irwin.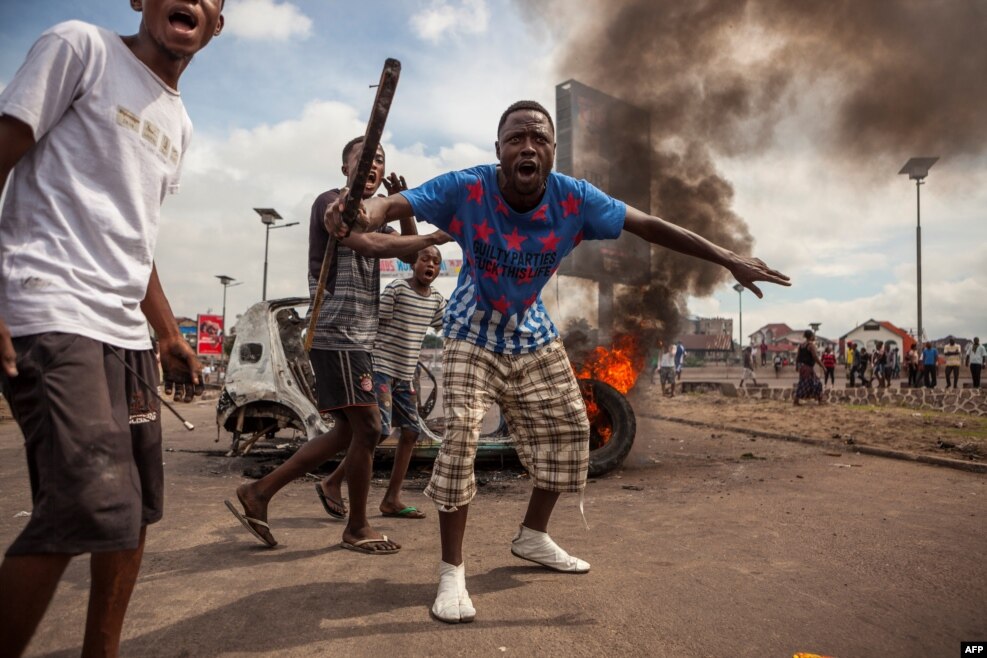 3 Demonstrators gather in front of a burning car during an opposition rally in Kinshasa, DRC. Police fired tear gas at scores of opposition supporters rallying in Kinshasa to demand that the country's long-serving President Joseph Kabila step down this year.
4 Participants hold candles during a mass prayer to call for justice in the trials of dissident blogger Nguyen Huu Vinh and land protection activist Can Thi Theu, at the Thai Ha Church in Hanoi, Vietnam, Sept. 18, 2016.
5 While greeting well wishers after arriving at John F. Kennedy International Airport in New York, President Barack Obama reaches out to Desmond Hatfield-Rudin, eight-month-old, of the Brooklyn borough of New York, Sept. 18, 2016.
6 Models present creations at the Charlotte Olympia catwalk show during London Fashion Week Spring/Summer 2017 in London, Britain, Sept. 18, 2016.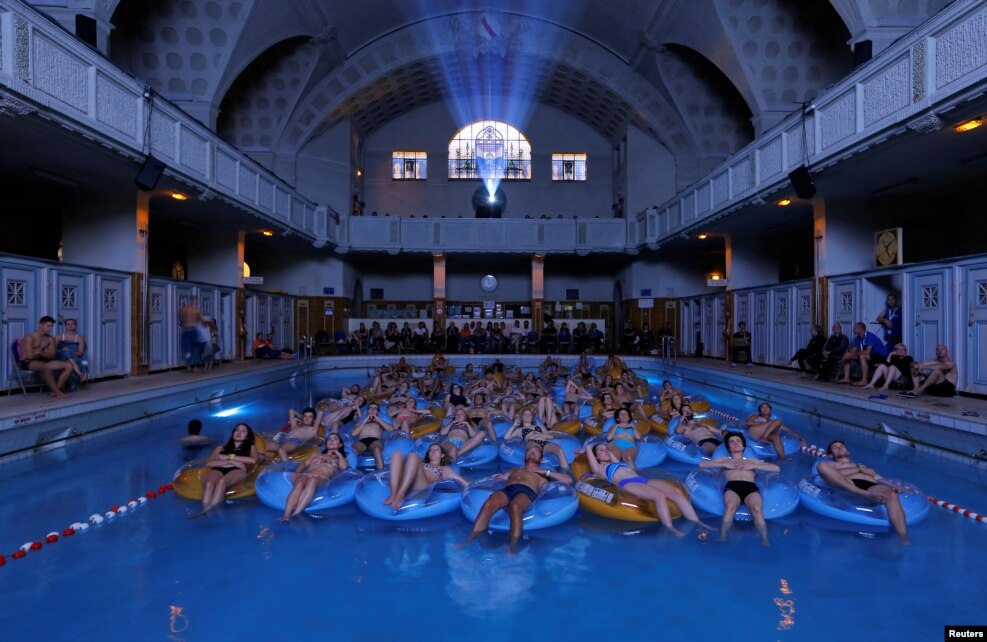 7 People attend the screening of the film Jaws by director Steven Spielberg, at Strasbourg public baths during the European Fantastic Film Festival, in Strasbourg, France, Sept. 18, 2016.
8 A model displays a 2017 Spring/Summer design by Alvarno at Madrid's Fashion Week in Madrid, Spain.
9 An Amur leopard, also known as a Far Eastern leopard, named Kirin, a 7-year-old male born in the Prague Zoo, prowls inside his new enclosure at the Royev Ruchey Zoo on the suburbs of the Siberian city of Krasnoyarsk, Russia.
20 Settembre 2016
1 A crocodile with a used motorcycle tire around its neck as seen on a river in Palu, Central Sulawesi province, Indonesia. Residents suspect the tire was garbage thrown into the river before it became trapped around the crocodile's neck.
2 A man takes out a quail from a net after catching it on a beach in Khan Younis, in the southern Gaza Strip.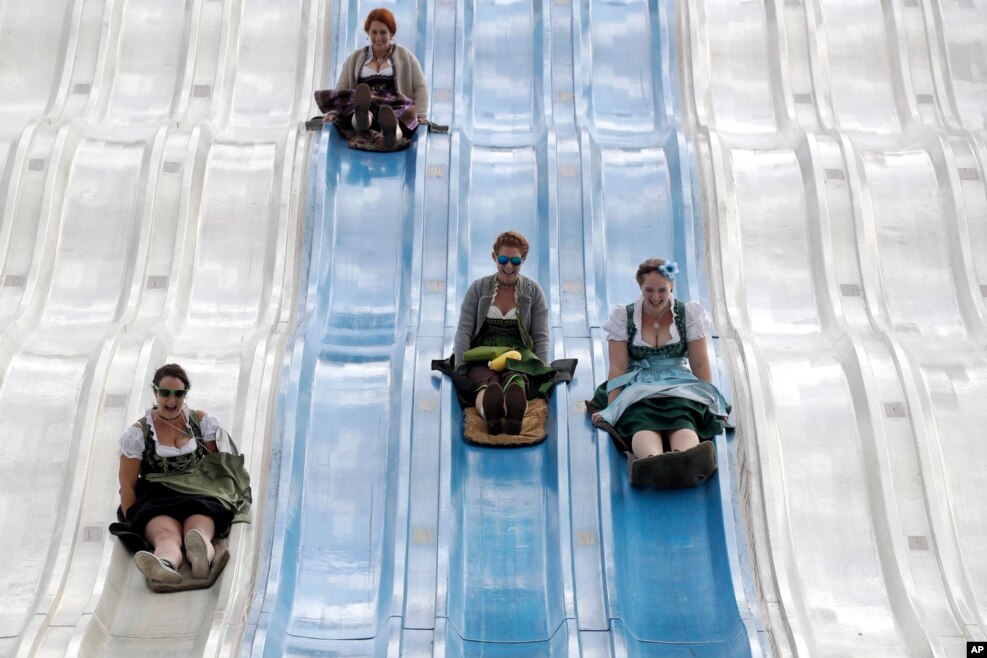 3 People enjoy a fun slide at the 183rd Oktoberfest beer festival in Munich, southern Germany.
4 Workers guide an artificial flower blossom as it is lifted by crane for a large floral display under construction on Tiananmen Square in Beijing.
5 A man inspects his house ahead of an eviction by the government in Jakarta, Indonesia.
6 New Yorkers pass a shattered storefront window on W. 23rd St. in Manhattan. The window was hit by shrapnel from the bomb that exploded across the street Saturday evening
7 A model presents a creation at the Emilio De la Morena catwalk show during London Fashion Week.
8 Palestinian students march during sunset in a display of their military skills at Al-Rebat College for Law and Police Science in Khan Younis, Gaza Strip.
21 Settembre 2016
1 A six-day-old baby gorilla lies in the arms of its mother, Shira, at the zoo in Frankfurt, Germany.
2 Students run for cover as police fire stun grenades and rubber bullets in an attempt to disperse them, during their protest for free education in Johannesburg, South Africa.
3 Ulrika Nisser from Sweden joins opponents of U.S. Republican presidential candidate Donald Trump as they prepare to travel on their open-top double decker "STOP TRUMP" bus to encourage expats to register to vote in the upcoming United States presidential election, in central London.
4 A couple kisses while they take a selfie in the middle of a cosmos field at Olympic Park in Seoul, South Korea.
5 Police officers wearing riot gear block a road during protests after police fatally shot Keith Lamont Scott in the parking lot of an apartment complex in Charlotte, North Carolina, Sept. 20, 2016.
6 Birds sit in their cages, hoisted on poles during a bird-singing contest in Thailand's southern province of Narathiwat, Sept. 20, 2016.
7 House Speaker Paul Ryan (R-WI) reacts as Senator Chuck Schumer (D-NY) drives a nail during the "first nail ceremony" kicking off the Inauguration Platform construction on the West Front Lawn of the U.S. Capitol in Washington, D.C.
8 A model presents a creation at the Gucci fashion show during Milan Fashion Week Spring/Summer 2017 in Milan, Italy.
9 A monitor lizard follows the bait from a park worker at Lumpini Park in Bangkok, Thailand, Sept. 20, 2016.
10 A man ducks to cross a barricade near a military base at Braripora, in Indian-controlled Kashmir.
11 Pakistanis peel shrimp at a shrimp farm in Karachi. They earn about Pak Rs. 200 (US$2) a day.
12 Cleveland Indians shortstop Francisco Lindor (12) dumps ice on Brandon Guyer (6) after the game between the Cleveland Indians and the Kansas City Royals at Progressive Field in Cleveland, Ohio, Sept. 20, 2016. (Credit: Ken Blaze / USA TODAY Sports)
13 Artisans dress up a 27-foot-long model of Kumbhakarna, younger brother of demon king Ravana, a Hindu mythological character, at a seven-day long 'Health Wealth and Happiness' carnival in Chandigarh, India.
14 People dry crops on a farm in Liaocheng, Shandong Province, China.
22 Settembre 2016
1 A South Korean army special forces soldier breaks bottles with his hand during the Naktong River Battle re-enactment in Waegwan.
2 A woman carries a bundle of jute for drying in a paddy field in Nagaon district in the northeastern state of Assam, India.
3 A woman cries for her husband, who according to witnesses was killed when security forces burned down the headquarters of the main opposition party Union for Democracy and Social Progress (UDPS), in front of a UDPS office in Kinshasa, Democratic Republic of Congo.
4 An elderly man stands among the rubble of the Alsonidar Group's water pump and pipe factory after it was hit by Saudi-led airstrikes in Sana'a, Yemen.
5 Police and protesters carry a seriously wounded demonstrator into the parking area of the the Omni Hotel in Charlotte, North Carolina, during a march to protest against the police fatal shooting of Keith Scott, Sept. 21, 2016. Scott, who was black, was shot and killed at an apartment complex near UNC Charlotte by police officers, who say they warned Scott to drop a gun he was allegedly holding.
6 Rescue teams search for missing victims on the Cimanuk river banks in Garut district, West Java province, Indonesia, a day after a series of landslides and flash floods hit several areas.
7 Two king penguins and their chick stand in their enclosure in the zoo of Schoenbrunn in Vienna, Austria, Sept. 21, 2016.
8 The sun rises behind the new headquarters for the Antwerp Port Authority on the Kattendijk dock, the Port House, a monumental design by Zaha Hadid Architects in Antwerp, Belgium.
23 Settembre 2016
1 A bicycle is seen covered in debris following a flash flood this week which killed more than 20 people in Garut, West Java, Indonesia, in this photo taken by Antara Foto.
2 A rescuer looks towards the sky following an airstrike in the rebel-held Ansari district in the northern Syrian city of Aleppo. Syrian and Russian aircraft pounded rebel-held areas, a monitor said, after the army announced a new offensive aimed at retaking all of the divided second city.
3 A memorial is pictured at the location where the police shooting of Keith Scott took place, in Charlotte, North Carolina.
4 Elementary school students, with schoolbags on their heads, take shelter on the ground during an earthquake drill at Songjung Elementary School in Seoul, South Korea. The drill was held after the country was recently hit by a series of earthquakes.
5 A judge inspects a piece of Emmental cheese during the Swiss Cheese Awards competition in Le Sentier, Switzerland. One hundred and forty-two experts have to choose the best out of 777 cheeses from 353 producers competing in 28 categories.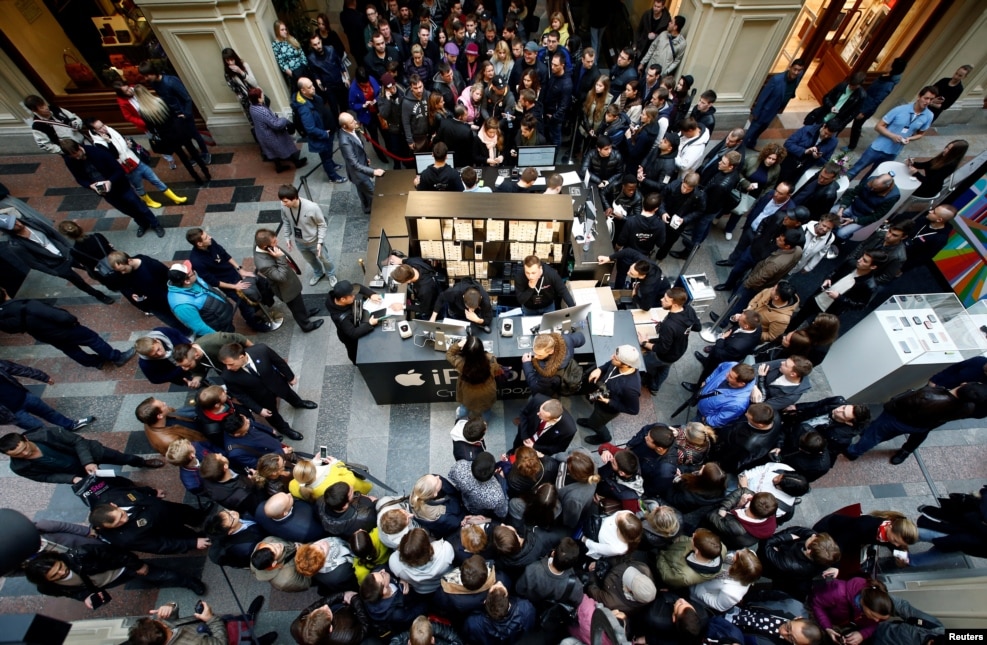 6 Customers gather at a store selling Apple products during the launch of the new iPhone 7 sales at the State Department Store, GUM, in central Moscow, Russia.
7 Protestors tear down a so-called 'Trump's wall of hate' as part of a demonstration against U.S. Republican presidential candidate Donald Trump in front of the Brandenburg Gate at the Pariser Platz in Berlin, Germany.
8 Participants run into the Mediterranean Sea as they begin the swimming section of a triathlon in Ashdod, Israel.
9 A tattoo enthusiast poses at the International London Tattoo Convention in London, Britain.
10 An electrician hangs decorative lights at a pandal, a temporary platform, for the upcoming Hindi festival of Durga Puja in Kolkata, India.
11 A businessman, rushing to work, is reflected in a window as the sun comes up in downtown Frankfurt, Germany.
12 Palestinian youth and children spray each other with foam, water and paint in the narrow streets of Jebaliya refugee camp, northern Gaza Strip. The activity was organized by the refugee camp residents to bring joy to the children.
13 A woman walks behind the installation 'Wandering boy is forever attractive' (1985) by Tetsumi Kudo during the press preview at the exhibition 'Tetsumi Kudo - Retrospective' in the Fridericianum in Kassel, Germany.
14 Fabienne Rochat-Jaeggi comes out of the Joux lake after her morning swim on a warm autumn day in Le Pont, Switzerland.
25 Settembre 2016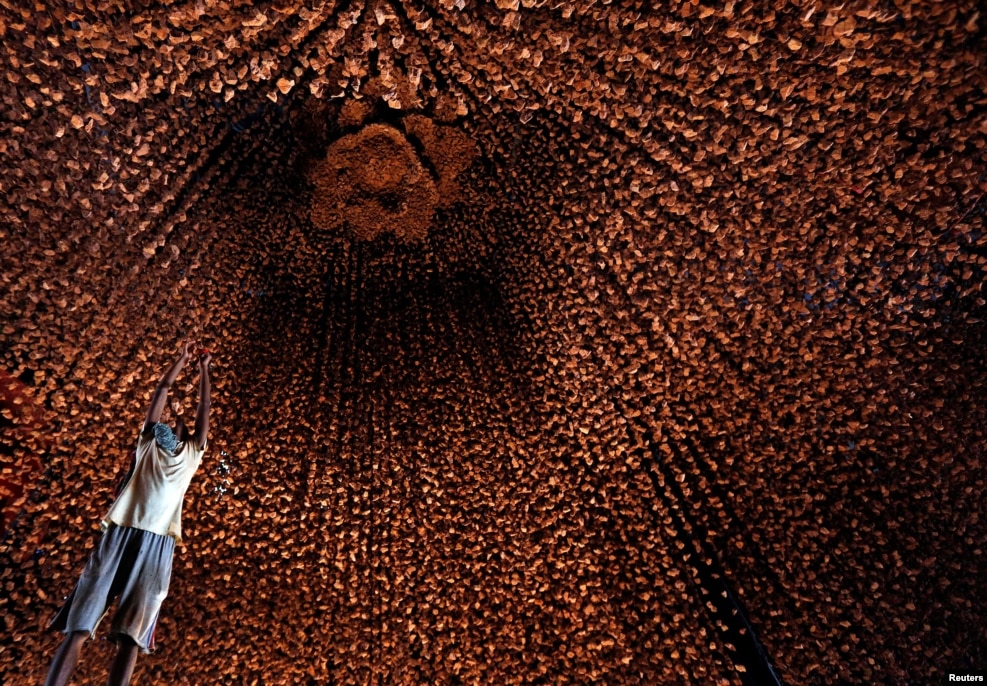 1 An artisan hangs decorative pieces at a pandal, or a temporary platform, for the upcoming Hindu festival of Durga Puja, in Kolkata, India.
2 The Pioneer Team, a civil aerobatic team from Italy, lets off pyrotechnics from their Pioneer 330 aircraft during the Malta International Airshow off SmartCity Malta, outside Valletta, Malta, Sept. 24, 2016.
3 Britain's Prince William, Catherine, Duchess of Cambridge, Prince George and Princess Charlotte arrive at the Victoria International Airport for the start of their eight day royal tour to Canada in Victoria, British Columbia, Canada, Sept. 24, 2016.
4 Indian folk dancers from the Panghat Group of Performing Arts pose for a photograph during a dress rehearsal for an event to mark the forthcoming Hindu festival 'Navaratri', or the Festival of Nine Nights, in Ahmedabad.
5 Refugees and protesters supporting Edward Snowden demonstrate outside the U.S. Consulate in Hong Kong, to demand that U.S. President Barack Obama grant Snowden a pardon.
6 The Five-hundred-meter Aperture Spherical Radio Telescope (FAST) is seen on its first day of operation in Pingtang, in southwestern China's Guizhou province.
7 A participant in the annual North East Skinny Dip performs a fire display at Druridge Bay, Britain.
8 North Koreans wave as military parachutists descend upon Kalma Airport in Wonsan.
9 Investigators look at a boat overturned on a jetty off Miami Beach, Florida, USA.
10 Australian knight Philip Leitch (R) has a floral basket on his helmet smashed by an opponent at the St. Ives Medieval Fair in Sydney, one of the largest of its kind in Australia.
11 A pilot guides his powered-paraglider while flying above central Jakarta, Indonesia.
26 Settembre 2016
1 A fragment of the artwork 'Honour' from the series 'Five Elements of War', created by Ukrainian artists Daniel Green and Daria Marchenko, is on display at a studio in Kyiv. The artwork is made of bullet and shell cartridges from the frontline of a military conflict in eastern Ukraine, along with shoulder straps and other military items.
2 Britain's Catherine, Duchess of Cambridge, tours the Kitsilano Coast Guard Station in Vancouver, British Columbia, Canada.
3 People ride a swing in front of St. Paul's church at the 183rd Oktoberfest beer festival in Munich, Germany.
4 A man works in a rice field where the rice crop is planted in a shape that looks like a map of China, in Shanghai.
5 A young man on a motorbike rides along a downtown street as protests over the police shooting of Keith Scott continue after sundown in Charlotte, North Carolina, Sept. 25, 2016.
6 Men are silhouetted against a large representation of the Yemeni flag as they attend a ceremony to mark the 54th anniversary of North Yemen's revolution in Sana'a.
7 French artist Abraham Poincheval sits on a platform placed on top of an 18-meter-high pole, as part of an art performance, outside the Gare de Lyon in Paris.
8 An aircraft flies over Frankfurt, leaving contrails above the cloud.
9 People walk on a bridge at the Gardens by the Bay park in Singapore.
10 People enjoy a fairground ride at the 183rd Oktoberfest beer festival in Munich, Germany.
11 A dog gets wiped out during the Surf City Surf Dog competition in Huntington Beach, California, Sept. 25, 2016.
27 Settembre 2016
1 A woman pours water over a child affected by teargas after clashes between police and street vendors in central Harare, Zimbabwe.
2 Philanthropist Maurice Ostro is reflected in his Ostro stone, the largest known blue topaz stone, as he holds it for media at the Natural History Museum in London, Britain.
3 A salt lake which is separated by a road, shows parts of it in different colors due to algae, in Yuncheng, Shanxi Province, China.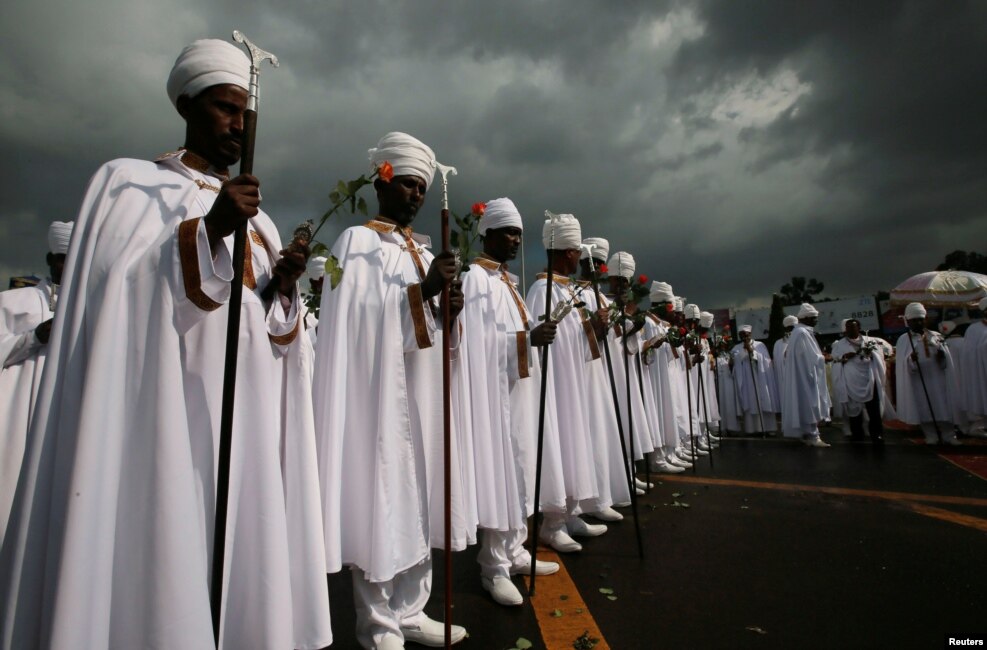 4 A church choir performs during the Meskel Festival to commemorate the discovery of the true cross on which Jesus Christ was crucified, at Meskel Square in Ethiopia's capital Addis Ababa, Sept. 26, 2016.
5 Syrian rescuers hand down the body of a girl to civilians on the ground after she was pulled from the rubble of a building following airstrikes by government forces in the rebel-held neighborhood of Al-Shaar in Aleppo.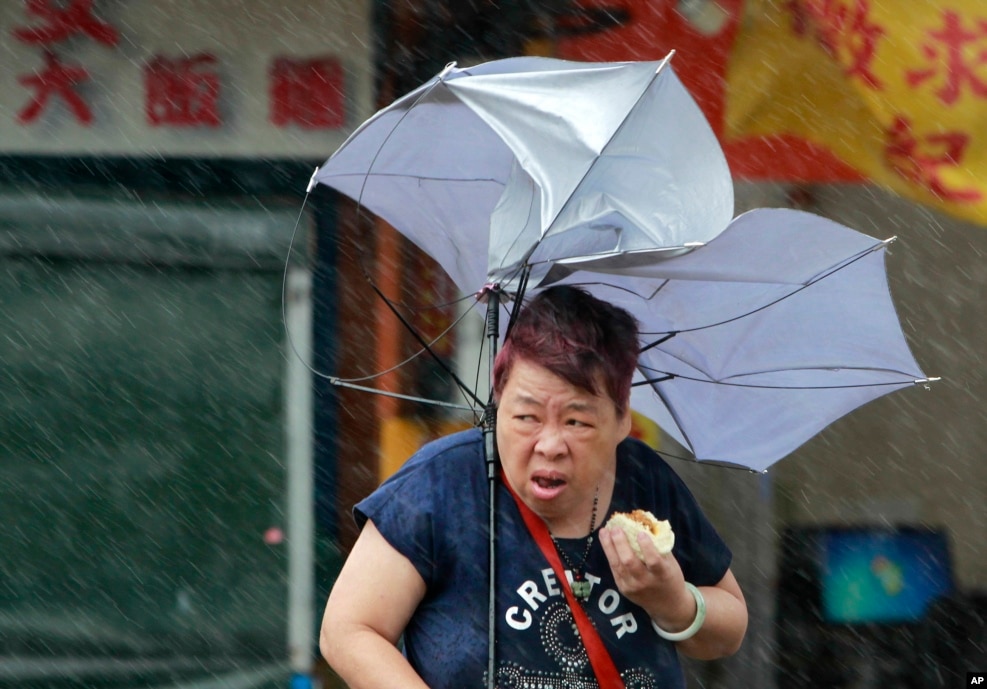 6 A woman struggles with her umbrella against powerful gusts of wind generated by typhoon Megi across the island in Taipei, Taiwan. Schools and offices have been closed in Taiwan, and people in dangerous areas have been evacuated as a large typhoon with 162 kilometers- (100 miles-) per-hour winds approaches the island.
7 Pakistani fishermen sort out their nets at sunset on the coast of the Arabian Sea, in Karachi.
8 Firefighters attempt to save the Casa Loma Fire Station in the Santa Cruz Mountains near Loma Prieta, California. The Loma Prieta Fire has charred more than 1,000 acres and burned multiple structures in the area.
9 Participants of a 'swim accross the canal ' race move through the 6,346-meter-long Corinth canal, near the city of Corinth, Greece.
10 An artisan carries a grille to fix on the frame of an Ambassador taxi to build a pandal, or a temporary platform, in preparation for the upcoming Hindu festival of Durga Puja, in Kolkata, India.
11 A nail house is seen in the middle of an area covered by a dust screen in Hangzhou, Zhejiang province, China, Sept. 26, 2016.
12 A paramilitary soldier stands in front of a giant flower bouquet that stands on Tiananmen Square to commemorate the upcoming Chinese National Day in Beijing.
28 Settembre 2016
1 North Koreans react as they watch a movie shown on a giant screen in a public square near the Pyongyang train station.
2 Stacks of bread are seen at a damaged site after an airstrike in the rebel-held Bab al-Maqam neighborhood of Aleppo, Syria, Sept. 28, 2016.
3 Rescuers evacuate flood-affected children in Ningde, eastern China's Fujian province. Typhoon Megi smashed into the Chinese mainland, killing one person, after leaving a trail of destruction and four people dead in Taiwan.
4 Dancers attend a photocall for the new "THE ONE Grand Show" at Friedrichstadt-Palast in Berlin, Germany, Sept. 28, 2016..
5 Supporters of the Gorkha People's Liberation Front (GJMM) take part in a rally during a strike demanding a new Indian state at Kalimpong town, some 75 km from Siliguri, India.
6 Head cook Fabian Martinez poses with pizza's decorated with the images of U.S. Democratic presidential nominee Hillary Clinton (L) and Republican presidential nominee Donald Trump at Giordano's Pizzeria in Chicago, Ilinois, Sept. 27, 2016.
7 A man with a yellow origami umbrella, symbol of the Occupy Central civil disobedience movement, takes part in the second anniversary of the movement outside government headquarters in Hong Kong.
8 Participants wearing special costumes imitate the flow of the Yellow River during a Yellow River-themed performance in Binzhou, Shandong province, China, Sept. 27, 2016.
9 A Hindu devotee offers prayers to a cow after taking a holy dip in the waters of Sangam, a confluence of three rivers - the Ganga, the Yamuna and the mythical Saraswati - in Allahabad, India.
10 Children play in a municipality-run camp that houses migrants and refugees, in the city of Chios, on the Greek Aegean island of Chios.
11 "Mayorganos" (Mayorga locals) carry hanging wineskins in flames that serve as torches take part in the "Vitor's Civic Procession" in Mayorga, near Valladolid, on Sept. 27, 2016.
12 A model presents a creation by British designer John Galliano as part of his Spring/Summer 2017 women's ready-to-wear collection for Maison Margiela fashion house during Fashion Week in Paris, France.
13 Giant Panda twin cubs are seen in a breeding box inside their enclosure at Schoenbrunn Zoo in Vienna, Austria.
14 A museum employee views the Bologna Cope, which dates from the 14th century, and forms one of a large collection of rare pieces brought together from around Europe for the forthcoming exhibition 'Opus Anglicanum: Masterpieces of English Medieval Embroidery' at the Victoria and Albert Museum in London, Britain.
29 Settembre 2016
1 A police officer walks in the middle of Indonesian union workers protesting against a government tax amnesty, on their way to the presidential palace in Jakarta.
2 Bright yellow aspen leaves rustle in the breeze in the Colorado high country near Ward, Colorado.
3 The coffin of former Israeli President Shimon Peres is seen inside a hearse as it is transferred from Tzrifim army base to Jerusalem, near Ramle.
4 A rescue worker is seen next to an overturned car at the site of a landslide caused by heavy rains brought by Typhoon Megi, in Sucun Village, Lishui, Zhejiang province, China.
5 A derailed New Jersey Transit train is seen under a collapsed roof after it crashed into the station in Hoboken, New Jersey. At least one person was dead and 100 others were injured.
6 A boy runs past figures symbolizing countries participating in Expo 2017 at downtown of Astana, Kazakhstan. Astana will host the exhibition next year .
7 People visit La Cite du Vin (the City of Wine), a Center for Wine and Civilizations devoted to the cultures of wine, in Bordeaux, France.
8 A giant panda cub tumbles from the stage as 23 giant pandas born in 2016 can be seen on display at the Chengdu Research Base of Giant Panda Breeding in Chengdu, Sichuan province, China.
9 An inmate firefighter examines a burning structure while battling the Loma fire near Morgan Hill, California, Sept. 28, 2016.
10 The new Fourth Plinth sculpture, "Really Good" by British artist David Shrigley, is pictured in Trafalgar Square in central London. Shrigley is best known for his distinctive drawing style and works that make satirical comments on everyday situations and human interactions. "Really Good" is a seven-meter-high hand with a disproportionately long thumb giving a thumbs up.
11 A man holds a fishing rod as floating trash hits the coastline of the Mediterranean Sea in Beirut, Lebanon.
12 A Kenyan Maasai "Moran" (warrior) scans with a radio antenna for a signal from a radio-collar fitted on a lioness in order to establish her pride's location in the surrounding scrubat the Selenkay community conservancy.
30 Settembre 2016
1 U.S. fans cheers in the morning foursome matches during the 41st Ryder Cup at Hazeltine National Golf Club, Chaska, Minnesota. (Rob Schumacher-USA TODAY Sports)
2 A grandson of former Israeli president Shimon Peres stands amid Knesset honor guards in front the grave of his grandfather during the burial ceremony at Mount Herzl Cemetery in Jerusalem. World leaders bid farewell to the ex-prime minister and Nobel Peace Prize winner as his funeral was held under massive security.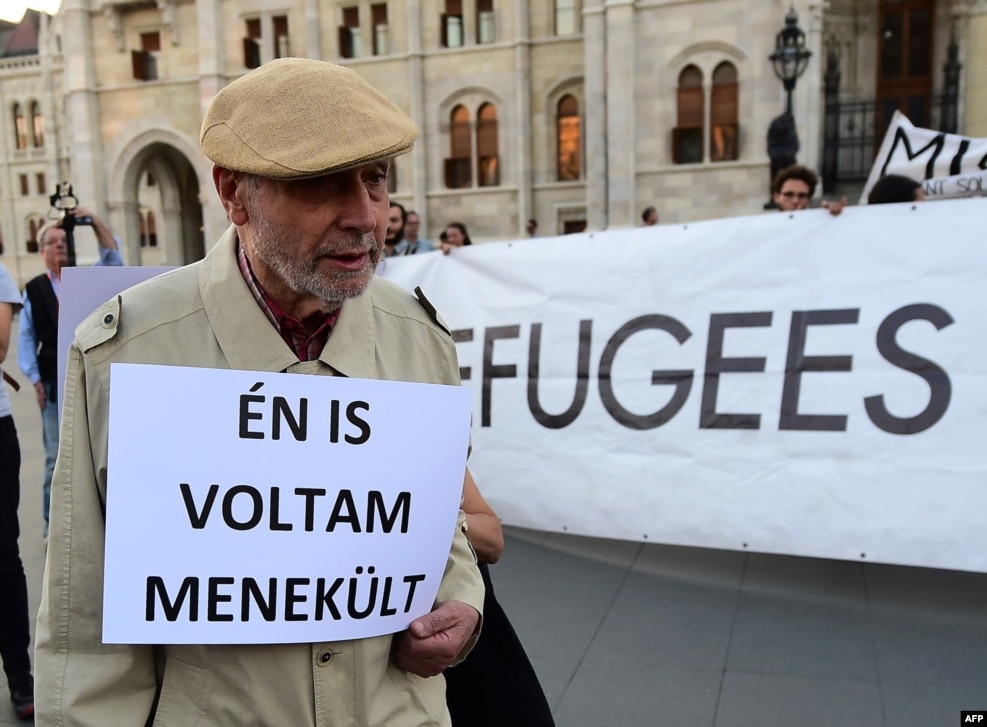 3 An elderly man walks with his placard with text, "I was refugee also," as activists hold up a banner with 'Refugees welcome' during protests against the migration policy of the Orban government in front of the parliament building in Budapest. A referendum on the EU's migrant resettlement plans will be held on Sunday in Hungary.
4 The main door of Jamia Masjid or the Grand Mosque is seen locked for the 12th consecutive Friday during a curfew in Srinagar, Indian-controlled Kashmir. Authorities have imposed a curfew in parts of Srinagar to prevent a protest march and urged people to offer Friday afternoon prayers on the main roads.
5 A woman walks under a canopy of umbrellas erected outside the Ministry of Public Health, part of a campaign aiming at raising awareness of breast cancer prevention, in Beirut, Lebanon.
6 Hindu devotees pray in the waters of the river Ganga as they take a dip to honor the souls of their departed ancestors on Mahalaya, which is also called Shraadh or Pitru Paksha, in Allahabad, India.
7 Thai army honor guards march during the handover ceremony for new chief General Chalermchai Sitthisart at the army headquarters in Bangkok. Sittisart was appointed after General Thirachai Nakwanich retired this month.
8 Congress of South Africa Students (COSAS) students demonstrate in support of the Fees Must Fall movement in Sandton. Student protests spread this week with police firing rubber bullets at demonstrators on campuses in Johannesburg and Grahamstown as unrest over tuition fees roils universities across the country.
9 Pope Francis (C) releases a dove as a symbol of peace during a meeting with the Chaldean community at the Catholic Church of St. Simon Bar Sabbae in Tbilisi, Georgia.
10 Chinese students stand near a monument commemorating the anniversary of the founding of China before a ceremony marking Martyrs' Day at Tiananmen Square in Beijing.
11 Wind turbines are pictured at Swisswinds farm, Europe's highest wind farm at 2,500m, before the topping out ceremony near the Nufenen Path in Gries, Switzerland.
12 Six cheetah cubs are seen in their enclosure at the Burgers Zoo in Arnhemm, The Netherlands. Two years ago, the same female cheetah gave birth to sextuplets. A female cheetah usually gives birth to between two and four babies.
13 Chamber pots are on display at a Toilet Museum in Prague, Czech Republic. Among the most interesting of some 2,000 pieces on display is a chamber pot which was acquired for the Lincoln Bedroom of the White House in 1892 and could serve up to 17 American presidents. Another chamber pot here was commissioned for Napoleon.
14 A man waits on his mountain bike atop Eggerberg mountain during sunrise in the western Austrian village of Noesslach.