Agosto 02, 2015
1 The International Space Station, with a crew of six onboard, is seen in silhouette as it transits the moon at roughly five miles per second, Woodford, Virginia, USA.
2 The International Space Station is seen in this 30-second exposure as it flies over Elkton, Virginia, USA, early in the morning on Aug. 1, 2015. (Photo Credit: NASA/Bill Ingalls)
3 An aerial view shows floodwaters inundating houses and vegetation in Kalay, upper Myanmar's Sagaing region. The toll from flash floods and landslides in Myanmar after days of torrential rain is likely to spike, the U.N. warned as monsoonal downpours brought misery to thousands across the region.
4 Protesters wear bras during a demonstration outside the police headquarters in Hong Kong. The demonstrators gathered in support of a woman who was sentenced to three-and-a-half months jail for using her breast to bump a police officer during a protest.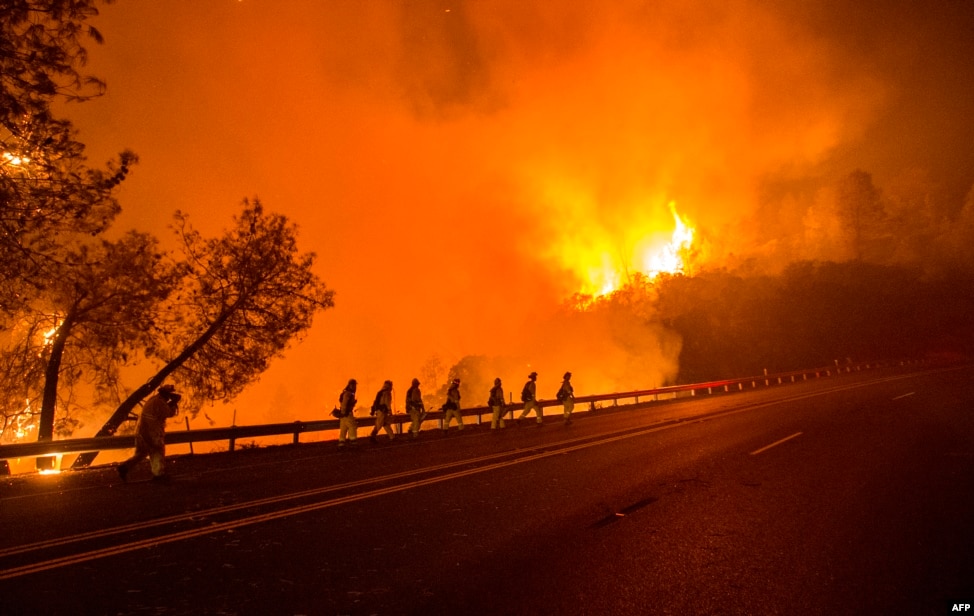 5 Firefighters walk along Highway 20 as the Rocky fire burns near Clear Lake, California, USA. The fire has charred more than 27,000 acres, and is currently only 5 percent contained.
6 Spanish rider Maikel Melero performs a jump during the Malaga Freestyle motocross show at the Malagueta bullring in Malaga, southern Spain, Aug. 1, 2015.
7 People cool off at a water park in Nanjing, Jiangsu province, China, Aug. 1, 2015.
8 A combination picture shows the hard touchdown of a Mi-28N from the Berkuty (Golden Eagles) helicopter display team during the "Aviadarts" military aviation competition at the Dubrovichi range near Ryazan, Russia. The aircraft started dipping down due to back propeller failure and crashed, killing one of two pilots, according to a Reuters photographer and official representatives of the competition. 
9 A combination of two pictures shows German artist Johan Lorbeer clinging at a container during the performance "Tarzan/Standbein" (Tarzan/supporting leg) during the open air exhibition "The city is the star, Art at the construction site" in Karlsruhe, southwestern Germany, Aug. 1, 2015.
10 Molten lava erupts from the Piton de la Fournaise, one of the world's most active volcanoes on the French Indian Ocean Reunion Island, Aug. 1, 2015.
11 An American Eskimo named Ziggy crashes on a wave during the small dog competition of the 10th annual Petco Unleashed surf dog contest at Imperial Beach, California, US, Aug. 1, 2015.
12 An image of Cecil the lion is projected onto the Empire State Building as part of an endangered species projection to raise awareness, in New York, Aug. 1, 2015.
13 A model presents creation by Anita Zmurko-Sieradzka during a fashion event called Fashionable East - Fashion Week in Bialystok, eastern Poland, Aug. 1, 2015.
Agosto 03, 2015
1 Pakistani laborers transport the front portion of a vehicle using a handcart at a road in Peshawar.
2 An athlete competes in the men's High Diving 27m preliminary round on day ten of the 16th FINA World Championships at the Kazanka River in Kazan, Russia.
3 Myanmar opposition leader Aung San Suu Kyi (c) rides a boat on her way to a monastery where flood victims are sheltered in Bago, 80 kilometers (50 miles) northeast of Yangon.
4 A villager walks on a railway track that was damaged after heavy monsoon rains near Patdi village in Gujarat, India.
5 Indian dancers perform during Naman, a classical dance festival in Bangalore, Aug. 2, 2015.
6 This frame grab of a police video taken on August 2, 2015 shows a policeman holding an abandoned newborn baby in a public toilet in Beijing. A newborn baby girl was abandoned in a Beijing public toilet and fell head-first down the pipe, reports said August 3, after her mother apparently gave birth in the facility.
7 An Afghan woman carries a bucket of water on her head on the outskirts of Kabul.
8 Chester Zoo's newest baby giraffe Kidepo steps out for the first time with his mother Orla as the zoo shows off the three calfs born at the zoo within eight months at Chester Zoo in Chester, north west England.
9 Thai workers prep and install statues of Thai kings at Ratchapakdi Park in Prachuap Khiri Khan province. The statues are part of an installation at a park called Ratchapakdi in Hua Hin to honor past Thai monarchs. The park, under construction by the Thai army, honor's the country's royal institution and is located at a military compound near the Klai Kangwon Palace.
10 Migrants on a rubber dinghy wait to be rescued by the Migrant Offshore Aid Station (MOAS) ship MV Phoenix, some 20 miles (32 kilometres) off the coast of Libya. Some 118 migrants were rescued from a rubber dinghy off Libya on Monday morning. The Phoenix, manned by personnel from international non-governmental organizations Medecins san Frontiere (MSF) and MOAS, is the first privately funded vessel to operate in the Mediterranean
Agosto 04, 2015
1 A couple suntans while lying on the grass, behind a statue, at the Odaiba Seaside Park in Tokyo, Japan. The temperature rose to 35 degrees Celsius (95 degrees Fahrenheit).
2 People swim in a floating swimming pool anchored on the bank of the Spree River in Berlin, Germany.
3 Nepalese women activists blow on a whistle as they participate in a protest demanding provision in the new constitution to obtain citizenship in the name of one's mother in Kathmandu, Nepal.
4 People cross the river on a wooden bridge in Suzdal, a tourist spot, a part of ancient Russian cities, known as the "Golden Ring".
5 A visitor looks through a hyper realist bust entitled "Self-Portrait Fragment" by artist Jamie Salmon, during a press preview at Christie's auction rooms in London, Aug. 3, 2015.
6 A girl swims to escape the heat in front of a large cutout that raises awareness of the water shortage, at the Han River Park in Seoul, South Korea. A heat wave warning was issued as temperatures soared above 32 degrees Celsius (89.6 Farenheit).
7 Palestinians and Israelis bathe in a natural spring in Ein Fawwar, near the West Bank city of Jericho, on Aug. 3, 2015, as temperatures in the Jordan valley reached 48 degrees Celsius (118.4 Fahrenheit).
8 Giant panda Weiwei leans on ice blocks to cool off inside its enclosure at a zoo in Wuhan, Hubei province, China. Local temperatures hit 36 degrees Celsius (96.8 degrees Fahrenheit).
9 Flames rise from a wildfire near Clearlake, California, USA, Aug. 3, 2015. Officials called for evacuations as numerous homes were threatened by the flames.
10 A model displays jewelry creations during a fashion show at the India International Jewelry Week in Mumbai, India.
11 Workers collect dried fish from a plastic fish drying mesh placed over a polluted river in Navotas city, north of Manila, Philippines. The dried fish are being sold at a wet market for 150 pesos ($3.40) per kilogram.
12 Touring bikers participate in the annual Sturgis Motorcycle Rally in Custer State Park, South Dakota, USA, Aug. 3, 2015. The park is a popular destination for bikers during the rally, which creates the most traffic at the park in the southern Black Hills. This year marks the 75th anniversary of the rally expected to draw hundreds of thousands of motorcycle enthusiasts from around the world for events throughout the week-long festival.
Agosto 05, 2015
1 Laborers work on the giant bronze statue of former King Ram Khamhaeng (R) at Ratchapakdi Park in Hua Hin, Prachuap Khiri Khan province, Thailand. The park is being constructed by the Thai army to honor past Thai monarchs and is situated on an army compound near the Klai Kangwon Palace. The project is estimated to cost about 700 million baht ($19.9 million), according to local media.
2 The far side of the moon, illuminated by the sun, as it crosses between the DSCOVR spacecraft's Earth Polychromatic Imaging Camera (EPIC) camera and telescope, and the Earth - one million miles away. (Credits: NASA/NOAA)
3 Supporters of the Communist-affiliated PAME labor union are reflected in a mirror as they take part in an anti-austerity rally outside the Labor Ministry in Athens, Greece.
4 A peacock butterfly collects pollen from a flower in a garden outside Moscow, Russia, Aug. 4, 2015.
5 Children perform a die-in in front of the Atomic Bomb Dome in Hiroshima, western Japan, to mark the 70th anniversary of the attack on Hiroshima, where the U.S. dropped an atomic bomb.
6 The Operational Land Imager (OLI) on the Landsat 8 satellite captured images of algal blooms around the Great Lakes, visible as swirls of green in this image of Lake St. Clair and in western Lake Erie. (Image Credit: NASA Earth Observatory images by Joshua Stevens, using Landsat data from the U.S. Geological Survey)
7 Migrants run after crossing a fence as they attempt to access the Channel Tunnel in Frethun, near Calais, France, Aug. 4, 2015.
8 A Japanese Sea Nettle in the Aquarium of the Pacific in Long Beach, California, USA. (Photo by Diaa Bekheet taken on July 23, 2015)
9 Property destroyed by the Rocky Fire is seen near Clearlake, California, USA. The blaze has charred some 68,300 acres, destroyed more than 50 buildings and displaced thousands of residents since last week in the rugged canyons and foothills about 110 miles north of San Francisco.
10 People cool down under a sprinkler in a water park in Shanghai, China.
11 Michal Navratil of the Czech Republic competes during the men's 27-meter high dive final at the Swimming World Championships in Kazan, Russia.
12 Children performers wearing LED-lit costumes dance during a Golden Jubilee celebration parade rehearsal in Singapore. Singapore marks 50 years of independence on Aug. 9.
Agosto 06, 2015
1 Children float paper lanterns in the Motoyasu River where hundreds of thousands of atomic bombing victims died with the backdrop of the Atomic Bomb Dome in Hiroshima, western Japan. Japan marked the 70th anniversary of the atomic bombing of Hiroshima.
2 Bao Lanfang, second from right, whose daughter-in-law, son, and granddaughter were aboard Malaysia Airlines Flight 370, kneels in grief while speaking to journalists outside the company's offices in Beijing, China.
3 Commuters cross the River Thames on the Millennium footbridge as a tube strike hits the morning rush hour in the city of London. Millions of Londoners were forced to walk, cycle or take packed buses to work as Underground staff staged a second strike in a month over plans to run trains all night at weekends. London Underground staff walked out yesterday evening and will not return until the morning of August 7, causing a shutdown of all 11 lines on the subway network and severely disrupting the capital.
4 Migrants swim while others climb onto a rescue dinghy, waiting for rescuers on the scene of the capsizing and sinking of a fishing boat in the Mediterranean sea off Libya. The Italian coast guard and Irish navy said at least 367 people were saved, although 25 bodies also were found. Many other are feared to have died during the capsizing of the fishing boat in the latest human smuggling tragedy. (Credit: Italian Navy)
5 Ant species of Hong Kong are displayed at the Hong Kong University (HKU). The world's first ever ant map showing the distribution of different species of the tiny industrious insects from around the globe was launched by Hong Kong University.
6 One of the sites most visited by tourists is Geiranger fjord, in the Sunnmøre region of Møre og Romsdal county, Norway. (Photo taken by Maung Maung Myint)
7 Cosplayers pose for a photo during the Gamescom fair in Cologne, Germany.
A plane takes off from Key West International Airport, Florida, USA, at sunrise.
9 Argentina's River Plate players and staff hold the trophy aloft while they celebrate winning the the Copa Libertadores final soccer match against Mexico's Tigres in Buenos Aires, Argentina. River defeated Tigres 3-0 and became the tournament champion.
10 Mariah Carey, right, and her son Moroccan Cannon pose during a ceremony honoring Carey with a star on the Hollywood Walk of Fame in Los Angeles,USA, Aug. 5, 2015.
11 This new NASA/ESA Hubble Space Telescope image shows the Lagoon Nebula, an object with a deceptively tranquil name. The region is filled with intense winds from hot stars, churning funnels of gas, and energetic star formation, all embedded within an intricate haze of gas and pitch-dark dust. (Image Credit: NASA, ESA, J. Trauger (Jet Propulson Laboratory)
Agosto 07, 2015
1 Guereza monkeys (Colobus Guereza) hold a newborn baby at Prague Zoo, Czech Republic. The guereza monkey baby was born on July 31, according to the zoo.
2 A mother holds her children in strong gusts of wind from Typhoon Soudelor in Taipei, Taiwan.
3 A general view of Tahrir Square in Cairo, as Egyptians gather to celebrate the opening of the New Suez Canal.
4 A Nepalese woman lies on the ground during a protest demanding provision in the new constitution to avail citizenship in the name of one's mother, in Kathmandu.
5 A woman carries a baby as she boards a bus after disembarking from the Italian Coast Guard ship Fiorillo in the harbor of Pozzallo, near Ragusa, Sicily. On Thursday, 381 people were saved by the Italian coast guard before their boat sank off the Libyan coast.
6 Rikke Moller Pedersen of Denmark swims in the women's 200m breaststroke final at the Aquatics World Championships in Kazan, Russia.
7 A man painted in the Ivory Coast flag's colors looks on during the commemoration of Ivory Coast's 55th Independence Day in Abidjan.
8 Cows graze in a field in Vlezenbeek near Brussels. Veterinary authorities have had to cull cattle infected with bovine tuberculosis at a dairy farm in eastern Belgium and are now testing animals at some 150 other farms, the Belgian food safety regulator said on Friday.
9 Palestinian protesters holding Palestinian flags react to tear gas fired by Israeli troops during clashes at a protest against Jewish settlements in the West Bank village of Nabi Saleh, near Ramallah.
10 An art installation formed with milk churns, made by land art artist Gerard Benoit a la Guillaume, is seen at the Chenau de Mayen in the resort of Leysin, Switzerland. More than 80 milk churns were placed between the Tour d'Ai and the Tour de Mayen summits at an altitude of 2,000 meters (6,561 feet) above sea level under the direction of the artist, to be photographed for his ongoing art project entitled "Milk churns without borders".
11 An Indian fisherman throws a fishing net into the Gomti River in Lucknow, India. It is considered auspicious to take a dip in the waters of the River Gomti to get rid of sins, as per Hindu mythology.
12 Balloons take off during a mass launch at the Bristol International Balloon Fiesta in south west England. The largest hot air balloon festival in Europe takes place over four days and is in it's 37th year.
Agosto 09, 2015
1 The Republic of Singapore Air Force performs a "50" formation during an aerial display in Singapore's Golden Jubilee celebrations near the central business district.
2 Fireworks explode above Singapore's financial skyline at dusk as part of celebrations for the nation's 50th year of independence.
3 Syrian refugees onboard an overcrowded dinghy react as they jump onto a beach on the Greek island of Kos, after crossing a part of the Aegean sea from Turkey.
4 Competitors race along William Street during the start of the City2Surf fun run in Sydney, Australia. The annual 14 km (8.7 mile) run attracts thousands of runners from around the country and overseas.
5 A trapped car is pushed along a flooded street after typhoon Soudelor hit Fuzhou, Fujian province, China.The typhoon battered China's east coast, killing eight people and forcing authorities to cancel hundreds of flights and evacuate more than 163,000 people.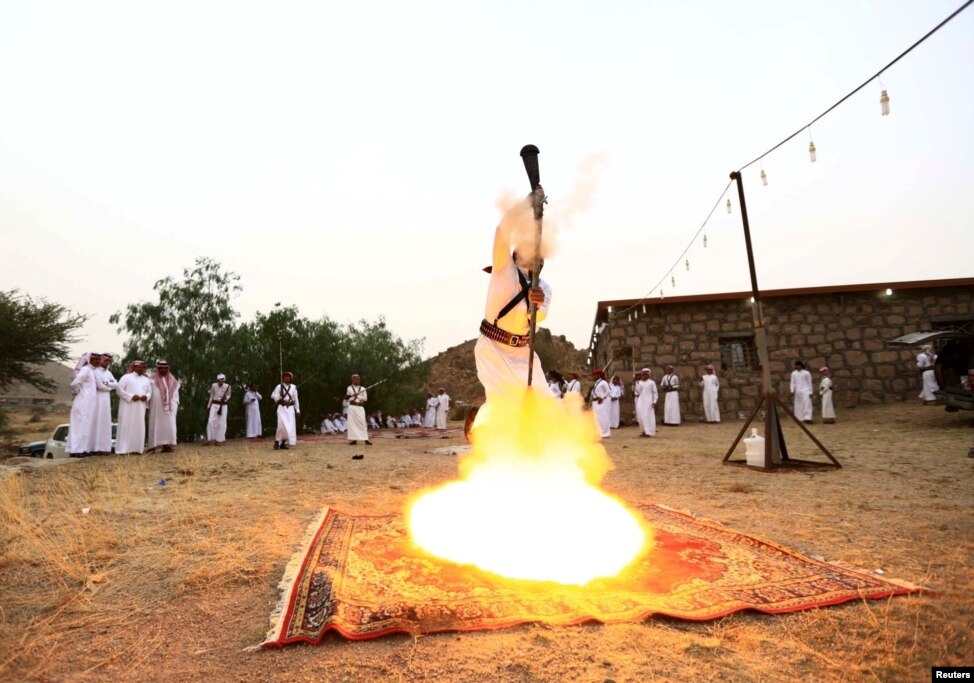 6 A man fires a weapon as he dances during a traditional excursion near the western Saudi city of Taif, Aug. 8, 2015.
7 A flamingo and flamingo chicks are seen in a corral before being fitted with identity rings at dawn at a lagoon in the Fuente de Piedra natural reserve, in Fuente de Piedra, near Malaga, southern Spain, Aug. 8, 2015.
8 Danny Da Costa of FC Ingolstadt challenges Dominic Reisner of Unterhaching (R) during their German Cup (DFB Pokal) first round soccer match in Unterhaching, Germany.
9 People cool off as they bathe at the aqua-park swimming pool in Minsk, Belarus.
Agosto 10, 2015
1 An employee of an environmental protection and coastal cleanup organization shows a figurine of South Korean singer Psy found during a search for debris from the ill-fated Malaysia Airlines flight MH370 on a beach in Sainte-Marie de la Reunion, between Champ Borne and the Rivière du Mât river, on the French Reunion Island in the Indian Ocean.
2 An Afghan policeman stands guard as smoke and flames rise from the site of a huge blast near the entrance of Kabul's international airport.
3 Michael Phelps, front, competes in the preliminary round of the men's 200-meter breaststroke at the the U.S. swimming nationals in San Antonio, Texas.
4 An artist performs with fire during a procession as part of "Bonalu" festival in Hyderabad, India.
5 A Greek policeman tries to hold migrants behind a fence as they wait for a registration procedure outside a police station at the southeastern island of Kos.
6 A man wearing a floral arrangement on his back takes part in the annual flower parade, in which flower growers known as "silleteros" present their floral arrangements, in Medellin, Colombia, Aug.9, 2015.
7 Downhill bikers Kemal Mulic (C), Tarik Hadzic (L) and Kamer Kolar train on the disused bobsled track from the 1984 Sarajevo Winter Olympics on Trebevic mountain near Sarajevo, Bosnia and Herzegovina, Aug. 8, 2015. Abandoned and left to crumble into oblivion, most of the 1984 Winter Olympic venues have been reduced to rubble by neglect as much as the 1990s conflict that tore apart the former Yugoslavia.
8 A government employee is hit by dyed water from a water cannon used by Indian police in Srinagar to disperse protesters during a demonstration demanding their long pending arrears and a regularisation of temporary jobs.
9 A Lebanese woman rides a donkey during an annual race competition in the southern Lebanese city of Jezzine, Aug. 9, 2015.
10 A Pakistani farmer dries his corn in a field on the outskirts of Lahore, Aug. 9, 2015.
11 A devotee covered in motor oil is seen during celebrations honoring the patron saint of Managua, Santo Domingo de Guzman in Managua, Nicaragua, Aug. 9, 2015.
Agosto 11, 2015
1 Policemen disperse hundreds of migrants by spraying them with fire extinguishers during a registration procedure at the stadium of Kos town, on the southeastern island of Kos, Greece.
2 An officer onboard a Greek Coast Guard boat (L) talks to Syrian refugees overcrowding a dinghy as it drifts in the Aegean Sea between Turkey and Greece after its motor broke down off the Greek island of Kos.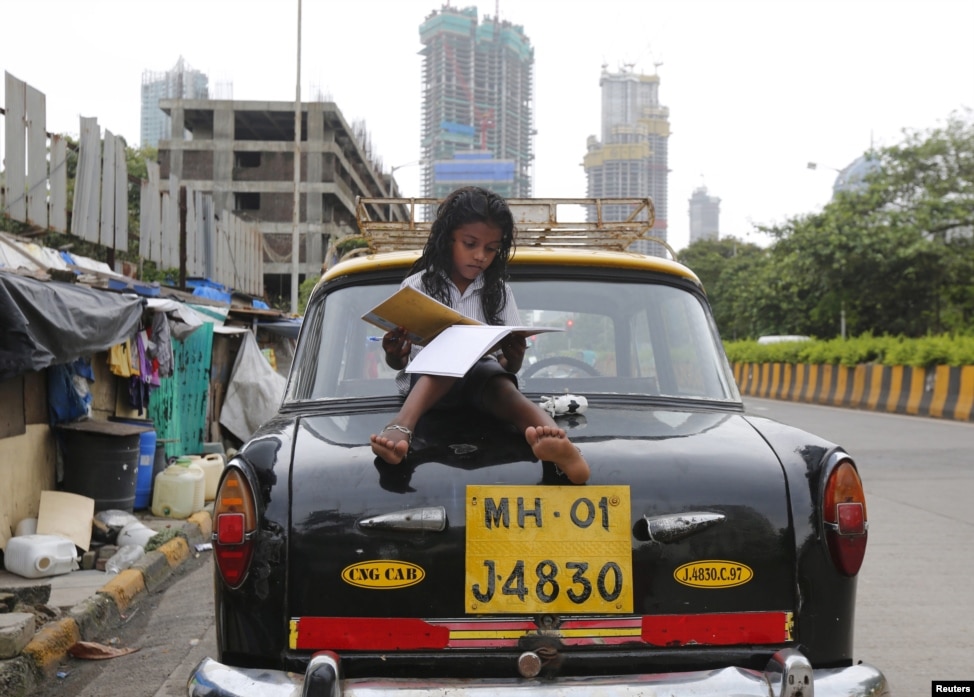 3 A girl studies while sitting on top of a taxi outside her shanty home at a roadside in Mumbai, India.
4 Stars are seen as streaks from a long camera exposure behind Arnotegui Hermitage, in Obanos, northern Spain. The Perseid meteor shower is expected to peak Wednesday night into Thursday morning.
5 A boy swims in floodwaters at Kyaut Ye village near the Hinthada town in Myanmar's Irrawaddy Delta region.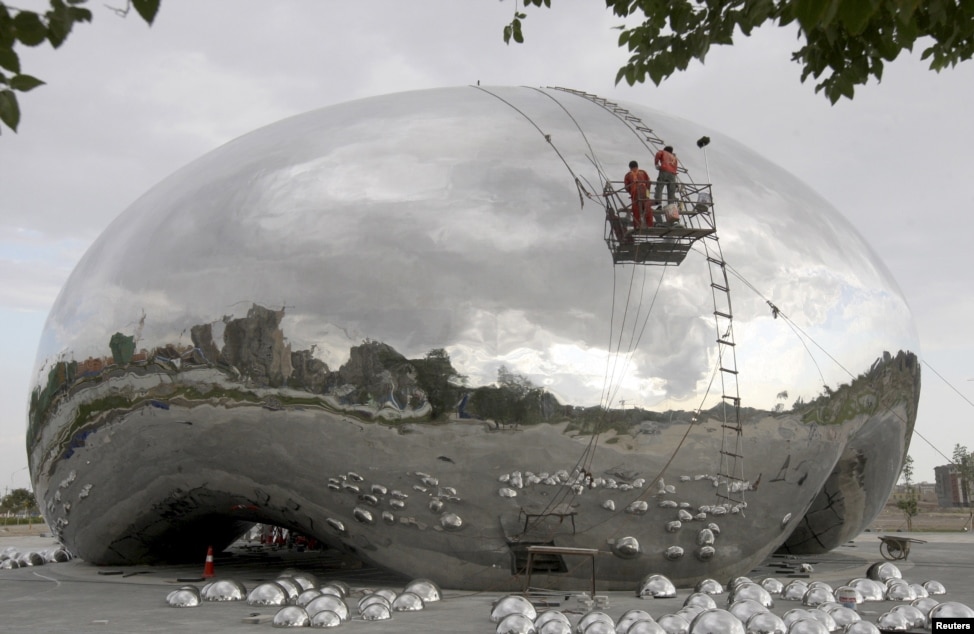 6 Workers polish a new sculpture in the shape of a giant oil bubble at a tourism resort built near the first drilling well of the Karamay oil field in Xinjiang Uighur Autonomous Region, China.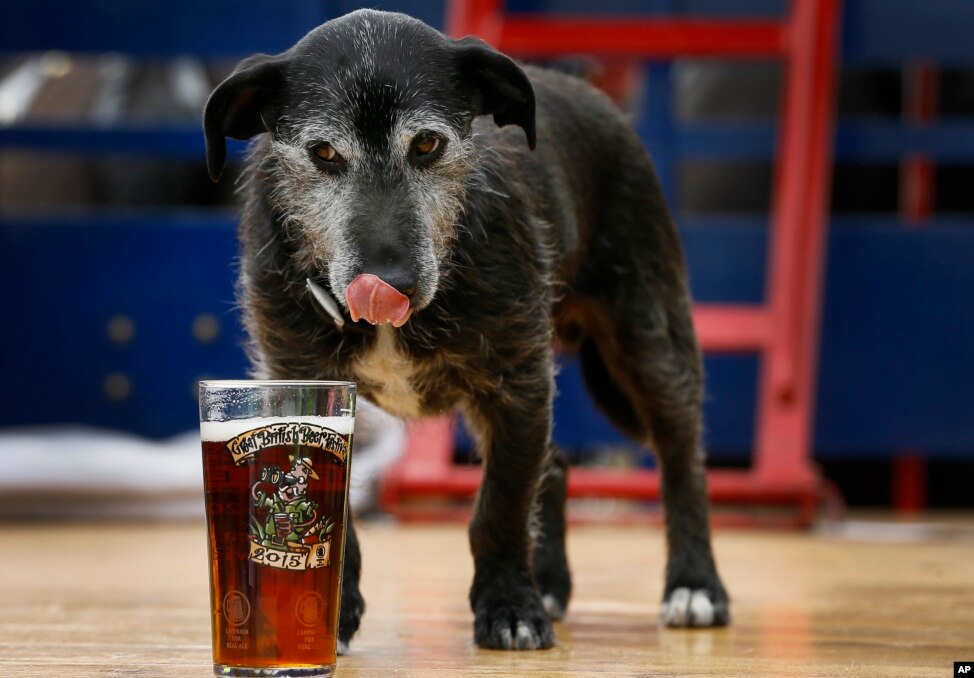 7 Barny, the Harveys Brewery dog, has a sniff of a pint of beer at the Great British Beer Festival, at Olympia in London.
8 NASA astronaut Scott Kelly, currently on a year-long mission on the International Space Station, took this photograph of a sunrise and posted it to social media on Aug. 10, 2015. Kelly wrote, "#GoodMorning to those in the western #USA."
9 Norway's paraglider Bjoern Magne Bakke Bryn (top) lands on his compatriot wingsuit flyer Espen Fadnes as they travel past the Tianmen Mountain during a challenge, in Zhangjiajie, Hunan province, China.
10 Webb Simpson hits a drive on the second hole during a practice round for the PGA Championship golf tournament at Whistling Straits in Haven, Wisconsin, USA.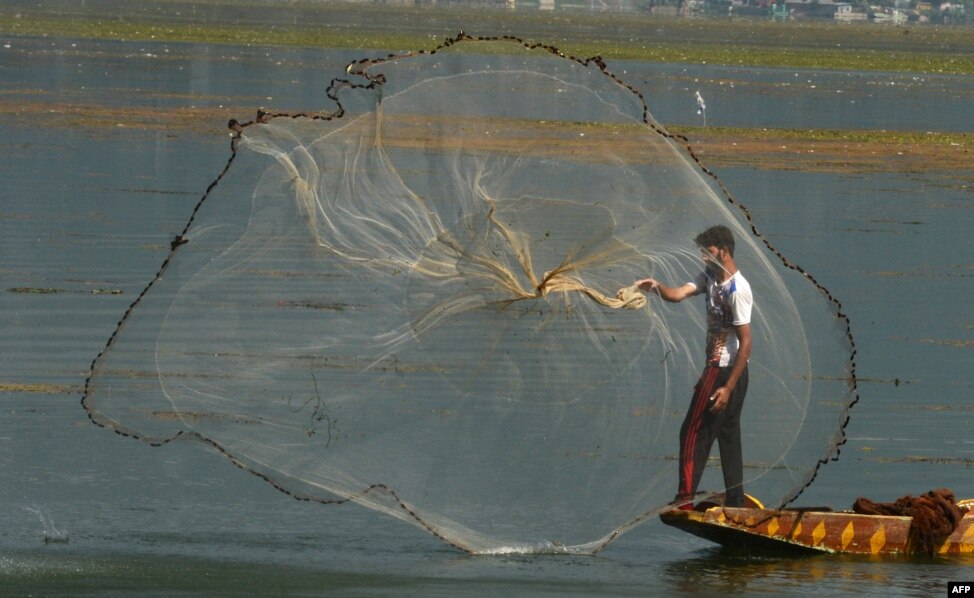 11 A Kashmiri fisherman throws a net from a shikara, a traditional gondola, on Dal Lake in Srinagar, India.
Agosto 12, 2015
1 Marshals watch as a bird flies near the 8th tee during a practice round for the PGA Championship golf tournament at Whistling Straits in Haven, Wisconsin, USA.
2 Water flows through a series of retention ponds built to contain and filter out heavy metals and chemicals from the Gold King mine wastewater accident, in the spillway about 1/4 mile downstream from the mine, outside Silverton, Colorado, USA.
3 A wounded Syrian girl cries at a makeshift hospital in the rebel-held area of Douma, east of the capital Damascus, following reported airstrikes by regime forces. At least 27 civilians were killed in airstrikes on the Eastern Ghouta region near Damascus according to a monitoring group.
4 A South Korean man, left, sets himself on fire as a woman tries to extinguish him during an anti-Japan rally demanding full compensation and an apology for wartime sex slaves from the Japanese government in front of the Japanese Embassy in Seoul.
5 In this photo released by the Italian Navy, a migrant is lifted by an helicopter from the Italian Navy ship Orione, after he and another migrant were spotted clinging to a barrel, in the Mediterranean sea, between Libya and Italy.
6 Revelers are seen inside a 3-D Luminarium inflatable installation by British designer Alan Parkinson during the Sziget music festival on an island in the Danube River in Budapest, Hungary.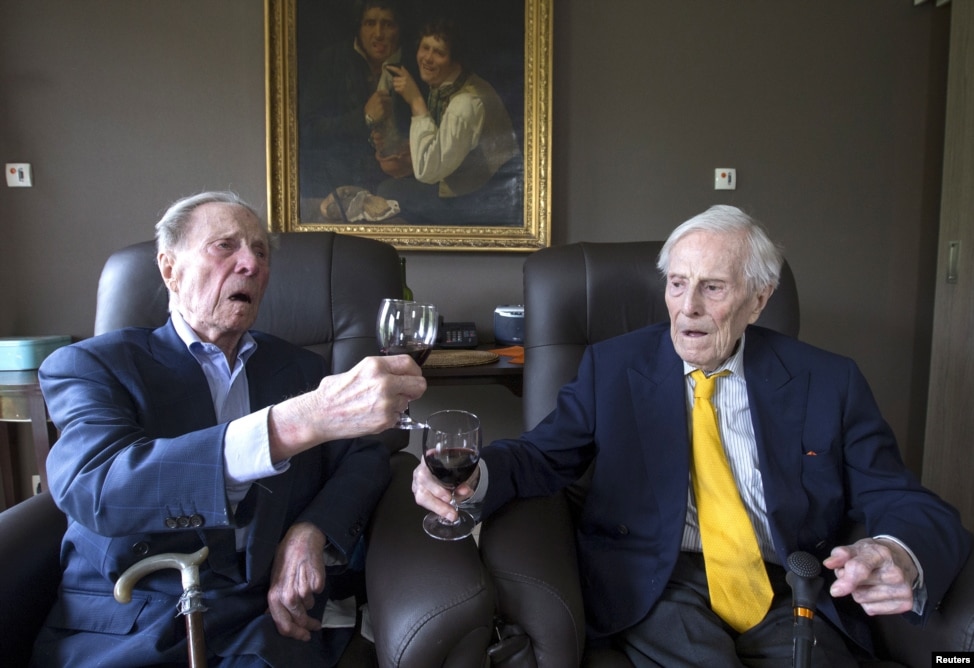 7 The world's oldest living twin brothers, Paulus (L) and Pieter Langerock from Belgium, 102, toast while sitting in their living room at the Ter Venne care home in Sint-Martens-Latem, Belgium, Aug.11, 2015.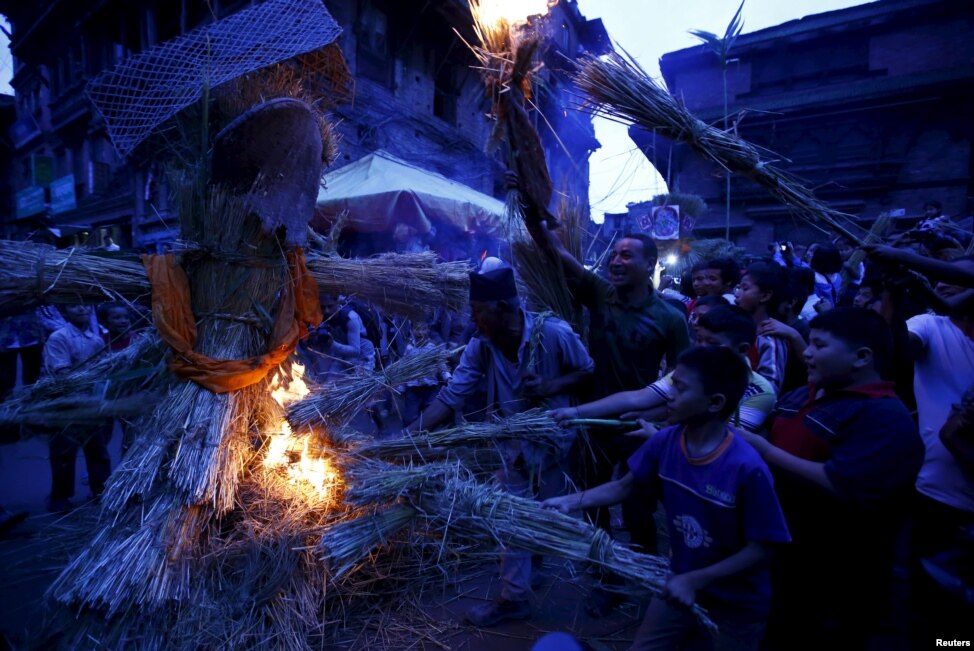 8 People set fire to the effigy of the demon Ghantakarna, during the Ghantakarna festival at the ancient city of Bhaktapur, Nepal. According to local folklore, the demon Ghantakarna is believed to steal children and women from their homes and localities.
9 A model wears a creation of Kittie Yiyi during the Kuala Lumpur Fashion Week in Kuala Lumpur, Malaysia.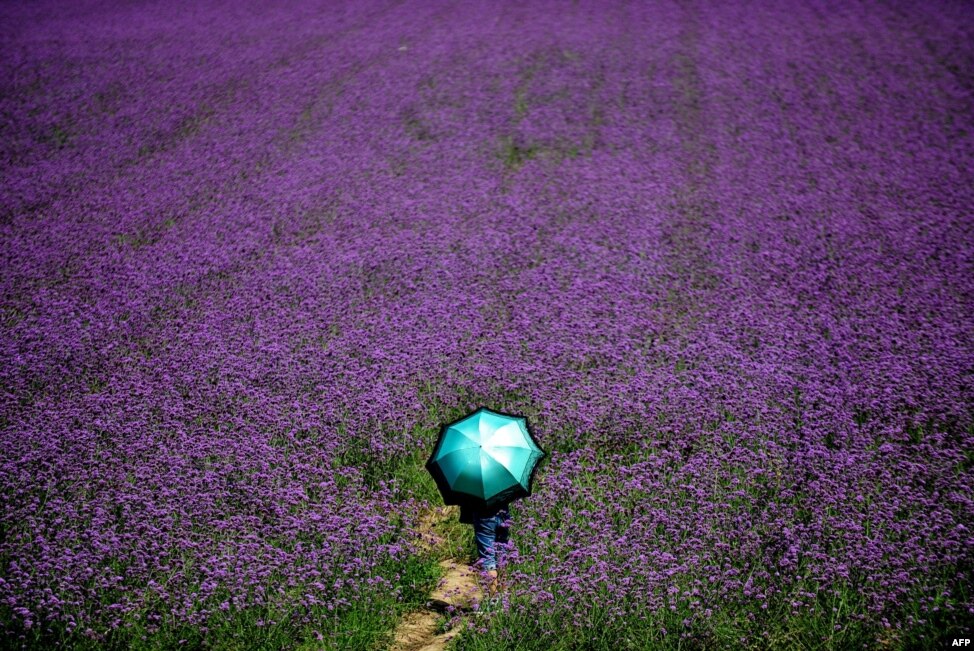 10 A visitor holds an umbrella in a lavender field in Shenyang, northeast China's Liaoning province.
Agosto 13, 2015
1 A photographer prepares to take pictures of the annual Perseid meteor shower in the village of Crissolo, near Cuneo, in the Monviso Alps region of northern Italy. The Perseid meteor shower occurs every year when the Earth passes through the cloud of debris left by Comet Swift-Tuttle.
2 A man dives into the sea in Beirut, Lebanon.
3 A survivor talks on his mobile phone at the site of the explosions at the Binhai new district in Tianjin. Two huge explosions tore through an industrial area where toxic chemicals and gas were stored in the northeast Chinese port city of Tianjin, killing at least 44 people, including at least a dozen firefighters, and injuring at least 700 people, officials and state media said.
4 Smoke billows out from the site of an explosion that reduced a parking lot filled with new cars to charred remains at a warehouse in northeastern China's Tianjin municipality. Huge explosions in the warehouse district sent up massive fireballs that turned the night sky into day in the port city, officials and witnesses said.
5 Snow leopard mother Siri stands next to her male cub Barid at the zoo in Cologne, western Germany.
6 The Los Angeles Reservoir is covered with over 90 million black plastic balls in the Sylmar area of Los Angeles, Aug. 12, 2015. The city has completed a program of covering its open-air reservoirs with floating, 4-inch diameter "shade balls" to protect water quality by blocking sunlight from penetrating the 175-acre surface of the reservoir, preventing chemical reactions that can cause algae blooms and other problems.
7 People protect themselves from a snowstorm in La Cumbre, near La Paz, Bolivia, Aug. 12, 2015.
8 A woman looks at South Korean national flags hanging on trees in downtown Seoul, to celebrate the upcoming 70th anniversary of Independence Day.
9 A man rows his boat in a flooded avenue in front of the Basilica of Lujan, near Buenos Aires, Argentina, Aug. 12, 2015.
Agosto 14, 2015
1 Family members of U.S. Embassy employees look out at the staging area before the start of a flag-raising ceremony, at the newly opened U.S. Embassy, in Havana, Cuba.
2 A woman places candles before a prayer ceremony for victims killed in the explosions Thursday at the Binhai new district, at Chaoyin Temple, Tianjin, China. The two huge blasts killed 56 people.
3 A girl, with her face painted in the tri-color Indian flag, smiles as she waits to perform during celebrations in a school on the eve of Independence Day in Jammu. India commemorates its independence in 1947 from British colonial rule on Saturday.
4 A fair-goer places a vote for U.S. Republican presidential hopeful Ben Carson during the Iowa State Fair in Des Moines, Iowa. Candidates are addressing attendees at the Iowa State Fair on the Des Moines Register Presidential Soapbox stage.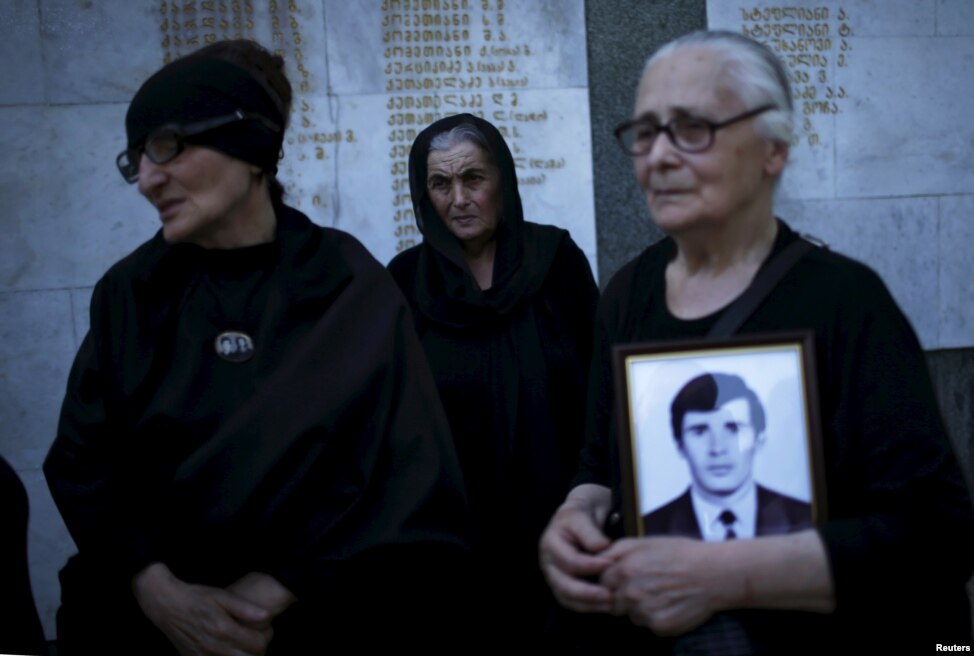 5 Women mourn for their relatives at a memorial to those killed during the Georgian-Abkhazian war during a ceremony marking an anniversary of the conflict in Tbilisi, Georgia. Georgian government forces fought Abkhaz separatists in 1992-1993, after which the breakaway territory declared independence.
6 Supporters of Sri Lanka's ruling United National Party run with a giant kite displaying the party colors and symbol ahead of the parliamentary election in Gampaha, east of Colombo, Sri Lanka. The election is scheduled to be held on Monday.
7 People hold placards during an anti-government rally near Prime Minister Shinzo Abe's official residence in Tokyo, Japan. On the 70th anniversary of the end of World War II Abe expressed deep remorse over the war.
8 World War II Veterans Ray and Ellie Williams recreate the iconic Alfred Eisenstaedt "kiss" photograph in Times Square in New York City. The Williams, Navy veterans also celebrating their 70th wedding anniversary, recreated the kiss as part of a ceremony remembering the 70th anniversary of Victory in Japan Day.
9 Tibetan Buddhists and tourists view a huge Thangka, a religious silk embroidery displaying a Buddha portrait, during the Shoton Festival at Drepung Monastery in Lhasa, Tibet Autonomous Region, China.
10 A Saudi man sells dates from the back of his trucks during the first day of the Buraydah Dates Festival in Buraydah, 400 kms northwest Riyadh. The festival site covers an area of 300,000 square meters that can accommodate 2,000 trucks and cold-storage vehicles.
11 Former U.S. President George W. Bush and his wife Laura pose with their new granddaughter Poppy Louise (R) and her sister Mila Hager, after their daughter Jenna Bush Hager gave birth in New York in a photo provided by the Office of George W. Bush.
12 A man reads a book at a street art gallery in Moscow, Russia.
Agosto 16, 2015
1 A left-wing protester runs to avoid water from a Turkish police water canon during minor clashes between police and people protesting Turkey's operations against Kurdish militants in Istanbul.
2 Cyclists pass by a portrait of Queen Sirikit in Bangkok, Thailand. Thousands of cyclists pedaled through the streets of the Thai capital led by the crown prince on a 43-kilometer (26-mile) tribute to his mother, Queen Sirikit, to mark her 83rd birthday.
3 An injured man walks away as rescue workers search after a blast near the residence of the home minister of Punjab province, Shuja Khanzada, in Attock, Pakistan.The bomb killed Khanzada and at least eight others when it destroyed the minister's home, rescue officials said.
4 Demonstrators attend a protest against Brazil's President Dilma Rousseff, part of nationwide protests calling for her impeachment, in Copacabana in Rio de Janeiro.
5 Soldiers of the People's Liberation Army's anti-chemical warfare corps, wearing gas masks, examine a container at the site of explosions at Binhai new district in Tianjin, China.
6 A wrestler from the Nuba Mountains tribe participates in a celebration of their cultural heritage, as part of ongoing events to commemorate the International Day of the World's Indigenous Peoples, in Omdurman, Sudan, Aug. 15, 2015.
7 President Barack Obama, left, talks with former President Bill Clinton as they play golf on the first hole at Farm Neck Golf Club in Oak Bluffs, Massachusettes, on Martha's Vineyard, Aug. 15, 2015.
8 A man climbs a rock next to a towel depicting revolutionary leader Ernesto "Che" Guevara, on a beach in Naqoura, southern Lebanon.
9 Visitors walk in a field of sunflowers during the 2015 Zama Sunflower Festival in Zama, Kanagawa prefecture, Japan.
10 Competitors in fancy dress jump off Worthing Pier in West Sussex, Southern England, during the annual international birdman competition, a flight contest for human-powered flying machines held each summer.
11 Members of the Australian team celebrate after winning the Netball World Cup final game against New Zealand in Sydney, Australia.
12 French artist Gino rides the "Celestial Cyclo" tricycle built by him in Le Marais neighborhood in Paris, Aug. 15, 2015.
13 Fireworks from Nagaoka City, Japan, explode over Ford Island to celebrate the 70th anniversary of the end of World War II at Joint Base Pearl Harbor-Hickam Hawaii, in Honolulu, Aug. 15, 2015.
Agosto 17, 2015
1 A rescue worker attaches a strap to pull a car out of over-flooded areas of the river Leine in Goettingen, central Germany.
2 Indonesian men climb greased poles to retrieve prizes such as bicycles and rice cookers as part of the Independence Day festivities at Ancol Beach in Jakarta.
3 An Ultra-Orthodox Jewish man is arrested by Israeli policemen during a demonstration against the building of new residence units at a site believed to be housing ancient Jewish graves, in downtown Jerusalem.
4 A fairgoer is silhouetted while watching the Ferris wheel at the Iowa State Fair in Des Moines, Aug. 16, 2015.
5 A drone operated by paramilitary police flies over the site of last week's explosions at Binhai new district in Tianjin, China. Many operations have resumed at China's Tianjin port, trade sources said, after explosions last week that killed more than 100 people and disrupted business at what is an important oil, gas and bulk import harbor for Asia's biggest economy.
6 A passenger runs to catch a train at King's Cross railway station, London.
7 Supporters look at jockey Jonathan Bartoletti (C) and his horse, Bened of the Lupa (Wolf) during a blessing ceremony in a church, before the Palio race in Siena, Italy.
8 A demonstrator with the design of the national flag in her eyes attends a protest against Brazil's President Dilma Rousseff, part of nationwide protests calling for her impeachment, at Paulista Avenue in Sao Paulo's financial center, Aug. 16, 2015.
Agosto 18, 2015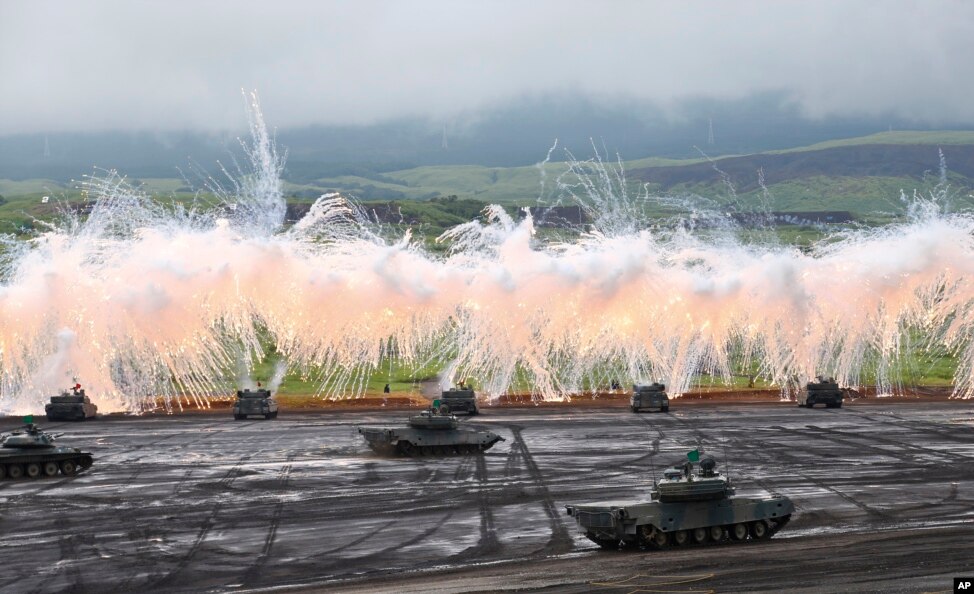 1 Japan Ground Self-Defense Force's Type-89 armored combat vehicles flare up a smoke screen during an annual live firing exercise at Higashi Fuji range in Gotemba, southwest of Tokyo.
2 A Yemeni boy rolls a canister of gas he bought, after waiting for hours in Sana'a, Yemen. The Saudi-imposed blockade has created severe shortages of gas, petrol, and other goods, causing prices to skyrocket.
3 Russian President Vladimir Putin, center, sits onboard a bathyscaphe as it plunges into the Black sea along the coast of Sevastopol, Crimea, to see the wreckage of a sunken ancient merchant ship which was found at the end of May.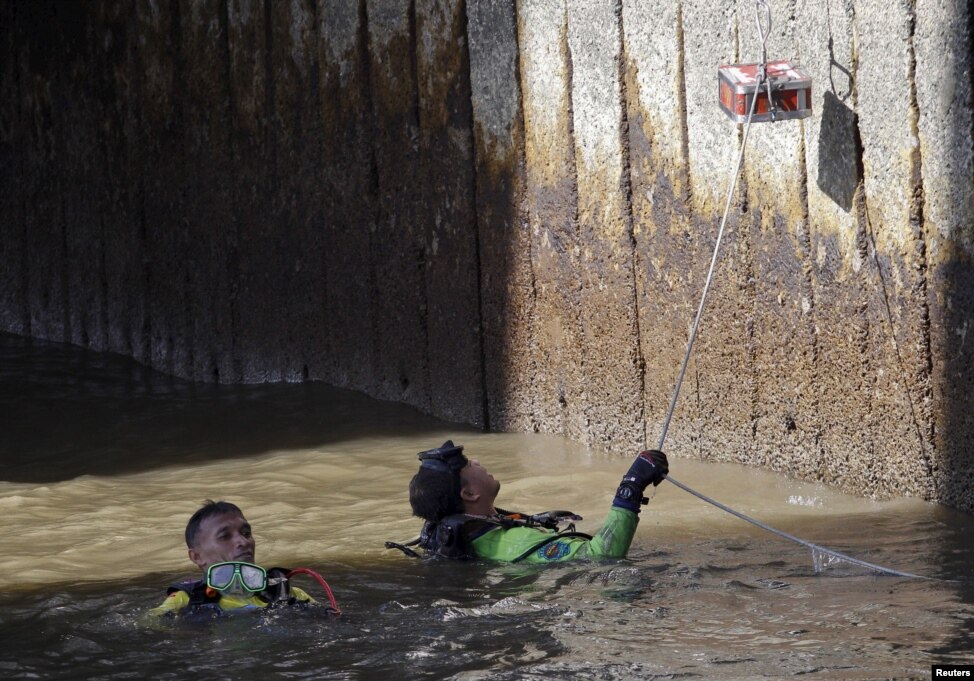 4 Divers recover pieces of evidence after a man threw an explosive from a bridge at Sathorn pier in central Bangkok, Thailand, a day after a bomb at a city shrine killed 22 people, including nine foreigners.
5 Ants carry a leaf with a slogan reading "Merkel, Help!", a reference of German Chancellor Angela Merkel, at the zoo in Cologne. Some of the zoo's 500,000 leaf-cutting ants carry laser-cut leaves with slogans during a campaign to protect the Amazon rain forest, organized by the German branch of World Wild Fund for Nature (WWF) and Cologne Zoo.
6 NASA astronaut Scott Kelly shared this photograph on social media, taken from the International Space Station, Aug. 15, 2015. Kelly wrote, "#Aurora trailing a colorful veil over Earth this morning. Good morning from @space_station!"
7 A Chelan County Public Utility District worker walks past a burned structure along State Route Alt. 97 highway outside of Chelan, Washington, Aug. 17, 2015. Big wildfires threatened the Lake Chelan resort region of central Washington after driving away tourists, destroying a warehouse filled with nearly 2 million pounds of apples and forcing thousands of residents to flee.
8 An Indian Parsi girl prays near relief figures of knights at a fire temple on the Parsi New Year 'Navroze' in Mumbai. Parsis, followers of Zoroastrianism, a small religious community which exists largely in Mumbai, were exiled from Iran in the 7th century AD during religious persecution by the Muslims. The Indian followers of Zoroastrianism are called Parsis because the religion arrived in India from Persia.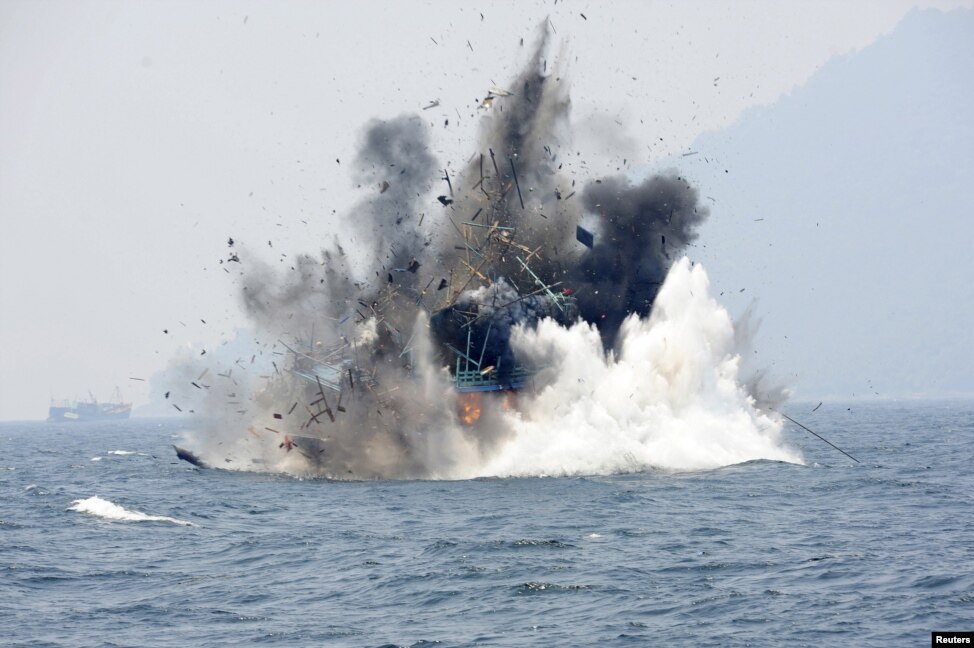 9 A foreign fishing boat confiscated for illegal fishing is blown up by the Indonesian Navy off of Lemukutan Island, West Kalimantan, Indonesia in this photo taken by Antara Foto.
10 Dancers from the Legend Lin Dance Theatre perform "Hymne aux Fleurs qui Passent, Anthem to the Fading Flowers" - classic work of the artistic director and choreographer Li-chen Lin - during a rehearsal at the National Theater Concert Hall in Taipei, Taiwan.
11 A man is reflected in a puddle as he walks across Moscow's Red Square, Russia.
Agosto 19, 2015
1 School children try to touch a snake during an awareness program on Naag Panchami festival in Mumbai, India. The Hindu festival of Naag Panchami is a day dedicated to the worship of snakes.
2 Members of an international religious movement called the White Brotherhood perform a ritual dance on the top of the Rila Mountain, near Babreka lake, Bulgaria.
3 A Greek plain clothes policeman chases away Pakistani migrants as they started shouting while waiting to be registered near a police station at the southeastern island of Kos, Greece.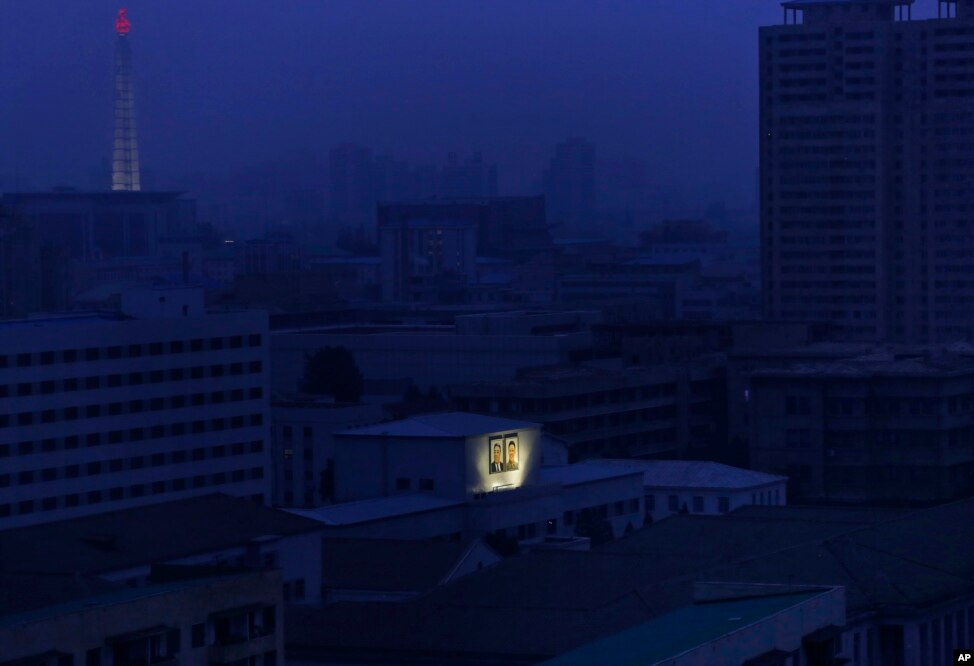 4 Portaits of the late North Korean leaders Kim Il Sung, left, and Kim Jong Il glow on the facade of a building as the Juche Tower, top left, one of the city's landmarks, is seen in the background at dawn in Pyongyang, North Korea.
5 Children sign their names and draw on a giant board during the Vacation for Everyone day event at the Eiffel Tower in Paris, France.
6 Lebanese activists are sprayed with water as they try to cross to the government house, during a protest against the ongoing trash crisis, in downtown Beirut. Lebanon's Health minister says the country is on the brink of a "major health disaster" unless an immediate solution is found for its mounting trash problem.
7 A H-2B rocket carrying cargo for the International Space Station (ISS) called Kounotori No.5 blasts off from the launching pad at Tanegashima Space Center on the Japanese southwestern island of Tanegashima, Kagoshima prefecture, southwestern Japan in this photo taken by Kyodo.
8 Columbian tall ship ARC Gloria is escorted by small boats as it arrives to participate in SAIL Amsterdam 2015, a five-yearly festival celebrating the Dutch capital's maritime history that is expected to draw some 2 million visitors, in Amsterdam, Netherlands.
9 A burning pile of marijuana and other drugs are being incinerated at a camp of the Mexican Army's 28th infantry battalion in Tijuana, Mexico, Aug. 18, 2015.
10 Tourist refresh themselves at the Kravice waterfalls on the Trebizat River , 200 kms south of Bosnian capital of Sarajevo.
11 Flames are seen coming out of the exhaust pipes of a Hurricane aircraft as the engine is started before taking off from Biggin Hill airfield in Kent, Aug.18, 2015. World War II aircraft including 18 Spitfires and six Hurricanes flew over southeast England to mark the 75th anniversary of the "hardest day" of the Battle of Britain.
12 Employees prepare spacesuits at the Russian-leased Baikonur cosmodrome in Kazakhstan. Kazakhstan's cosmonaut Aydyn Aimbetov, Russian cosmonaut Sergei Volkov and Denmark's astronaut Andreas Mogensen from the European Space Agency, are scheduled to blast off to the International Space Station (ISS) on Sept. 2, 2015.
13 A member of Singapore's Starlight Alchemy performs during a media preview of the Singapore Night Festival.
14 A bonnet macaque sits on consecrated idols of snakes as it eats a pomegranate fruit left behind as an offering by devotees during the Nag Panchami festival inside a temple on the outskirts of Bengaluru, India.
Agosto 20, 2015
1 Drummers perform during rehearsals at the Bird's Nest National Stadium ahead of the IAAF Athletics World Championships in Beijing, China.
2 Cheerleaders are silhouetted as they rehearse on the track at the Bird's Nest Stadium in preparation for the upcoming World Athletics Championships in Beijing, China.
3 Young pigs walk down the aisle of a Casino supermarket in Sarlat, southwestern France, after farmers released them during a demonstration at the supermarket.
4 Villagers stand on a road damaged by flooding after a heavy rainstorm in Xuyong county, Luzhou, Sichuan province, China. According to local media, at least 11 people were killed, 13 people are missing due to the rainstorm.
5 A newly born Western lowland gorilla baby is held by its mother 'Frala' in their enclosure at Taronga Zoo in Sydney, Australia, May 19, 2015.
6 Samantha Rudin Earls and her daughter Elle take an inaugural ride on the SeaGlass Carousel at the Battery, in New York.
7 A municipal police officer throws a stone back at protesting residents of Kampung Pulo after clashes erupted during an eviction in Jakarta, Indonesia in this photo taken by Antara Foto.
8 The funeral cortege of British singer and TV personality Cilla Black makes its way to St. Mary's Church in Liverpool, England. Cilla Black, 72, died in Spain on Aug. 1, 2015.
9 Students' desks are placed outside Zorrilla High School by striking high school teachers in Montevideo, Uruguay. Teachers unions are on strike, demanding raises and more funding for education, before the nation's budget is presented on Aug. 31, which will lay out the country's public spending plan for the next five years.
10 Gao Yan Ping, from Jiangxi province, China, center, is overcome with emotion at the Police General Hospital in Bangkok, Thailand, after he arrived to claim the body and remains of his daughter and his wife who were killed in bombing at the Erawan Shrine.
11 The sun sets behind the National Cooperative Refinery Association's oil refinery in McPherson, Kansas, USA, Aug. 19, 2015.
12 Aug 19, 2015; Baltimore, MD, USA; Baltimore Orioles center fielder Adam Jones (not pictured) pies left fielder Henry Urrutia (51) after his walk off home run during the ninth inning against the New York Mets at Oriole Park at Camden Yards. Baltimore Orioles defeated New York Mets 5-4. (Image Credit: Tommy Gilligan/USA TODAY Sports)
13 Commuters stop their vehicles and watch a wild male elephant, who got separated from his herd, cross a highway on the outskirts of Gauhati, India.
14 Artworks, sculptures and performers are seen at 'Dismaland', a theme park-styled art installation by British artist Banksy, at Weston-Super-Mare in southwest England, Britain.
Agosto 21, 2015
1 A migrant man reacts as he is caught between Macedonian riot police officers and migrants during a clash near the border train station of Idomeni, northern Greece. Macedonia declared a state of emergency on its borders Thursday to deal with a massive influx of migrants heading north to Europe.
2 A burned area on the so-called "Rough Fire" in the Sequoia National Forest, California. About 2,500 people were forced to flee Christian camps east of Fresno at Hume Lake as the fire crossed Highway 180.
3 U.S. Army First Lt. Shaye Haver, center, and Capt. Kristen Griest, right, pose for photos with other female West Point alumni after an Army Ranger school graduation ceremony at Fort Benning, Georgia. Haver and Griest became the first female graduates of the Army's rigorous Ranger School, putting a spotlight on the debate over women in combat.
4 Doves are released for peace at the Erawan Shrine at Rajprasong intersection, the scene of Monday's bombing, in Bangkok, Thailand. Somber horns sounded Friday at the site of the deadly blast as officials joined a multi-religious ceremony for victims of the attack.
5 South Korean soldiers walk by barricades on the road leading to North Korea's Kaesong joint industrial complex at a military checkpoint in the border city of Paju. Military tensions between the North and South soared following a rare exchange of artillery shells across their heavily fortified border on Thursday.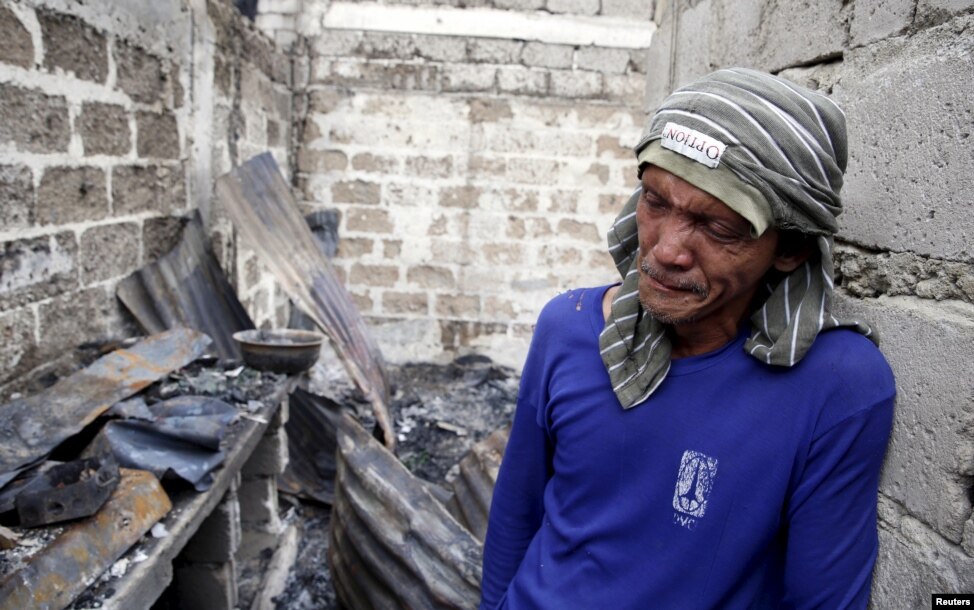 6 A man weeps in the ruins of his house razed by a fire, in Paranaque, Metro Manila in the Philippines. More than 1,000 residents were rendered homeless after a fire razed the residential neighborhood of San Martin de Porres.
7 People's Liberation Army (PLA) soldiers of the anti-chemical warfare corps are seen in protection suits at the site of last week's blasts in Binhai new district of Tianjin, China. Four new fires have broken out at the site where two huge blasts last week killed 116 people.
8 A supporter stands as Myanmar pro-democracy leader Aung San Suu Kyi gives a speech on voter education at the Thanlyin township, outside Yangon.
9 Giant panda cubs are seen inside baskets during their debut appearance to visitors at a breeding center in Ya'an, Sichuan province, China. A total of 10 cubs that were born in the center this year, aging from one week to two months, met visitors for the first time.
10 The view from Tambillo, Ecuador, of the Cotopaxi volcano spewing ash. Nearly 325,000 people could be affected by an eruption the volcano looming beyond the country's capital Quito. The biggest risk is from an eruption melting the 5,900-meter (19,000-foot) mountain's snowcap and triggering massive melt-water floods and lahar mudflows that could sweep through nearby towns.
11 A wounded Ukrainian serviceman plays with a dog at a compound of the main military hospital in Kyiv. A charity project initiated by the Canadian organizations, MSAR Service Dogs and Courageous Companions, provides training of service dogs for psychological rehabilitation of servicemen and veterans of the anti-terrorist operation in eastern Ukraine.
12 A visitor poses for a picture at a flower exhibition in Kyiv, Ukraine.
13 Yasutaro Koide, 112, receives the Guinness World Records certificate as he is formally recognized as the world's oldest man at a nursing home in Nagoya, central Japan.
14 People interact with "Pixel Wave 2015" a projection art installation by France's Miguel Chevalier and local designers Carolyn Kan and Depression that features geometric patterns that react to movements and interactions of people, during the Singapore Night Festival at the Singapore Design Center.
Agosto 23, 2015
1 Alina Fodorova of Ukraine competes in the long jump event of the women's heptathlon during the 15th IAAF World Championships at the National Stadium in Beijing, China.
2 Locals affected by monsoon rains walk through a makeshift bridge in Mayong village, about 55 kilometers (34 miles) east of Gauhati, India.
3 An Ukrainian serviceman dance with a woman during an open air celebrations of the Independence Day of Ukraine in Novoselivka village, some 20 km from Donetsk.
4 Performers participate in the opening ceremony of the 15th IAAF World Championships at the National Stadium in Beijing, China, Aug. 22, 2015.
5 Spectators jump behind a barrier to avoid a bull during a running of the bulls through the streets, or "encierro", part of the festivities "Botijeras" in Duenas in Palencia province, Spain.
6 Emergency services and crash investigation officers work at the site where a Hawker Hunter fighter jet crashed onto the A27 road at Shoreham near Brighton, Britain. A jet aircraft ploughed into several cars on a busy road near an airshow in southern England, killing at least seven people, police said.
7 A girl cries after crossing Greece's border into Macedonia near Gevgelija, Macedonia, Aug. 22, 2015. Thousands of migrants stormed across Macedonia's border, overwhelming security forces who threw stun grenades and lashed out with batons in an increasingly futile bid to stem their flow through the Balkans to western Europe.
8 Ferrari Formula One driver Sebastian Vettel of Germany steers his car to the safety area after a tire failure during the Belgian F1 Grand Prix in Spa-Francorchamps, Belgium.
9 One of the giant panda cubs is examined by veterinarians after being born at Smithsonian's National Zoo in Washington, Aug. 22, 2015. The National Zoo in Washington says its adult female panda has had twins. 
10 Reese Hoffa of the United States competes in the final of the men's shot put at the World Athletics Championships at the Bird's Nest stadium in Beijing, China.
11 Participants hold smoke flares as they slide down on a float along a chute to cross a pool of water and foam during the "Letniy Gornoluzhnik" (Summer mountain puddle rider) festival at the Bobroviy Log Fun Park near the Siberian city of Krasnoyarsk, Russia.
Agosto 24, 2015
1 Indian children search for reusable items among offerings thrown by devotees in the river Sabarmati at the end of Dashama festival in Ahmadabad.
2 A Shi'ite Houthi rebel holds his weapon as he attends a rally to protest Saudi-led airstrikes, in Sana'a, Yemen.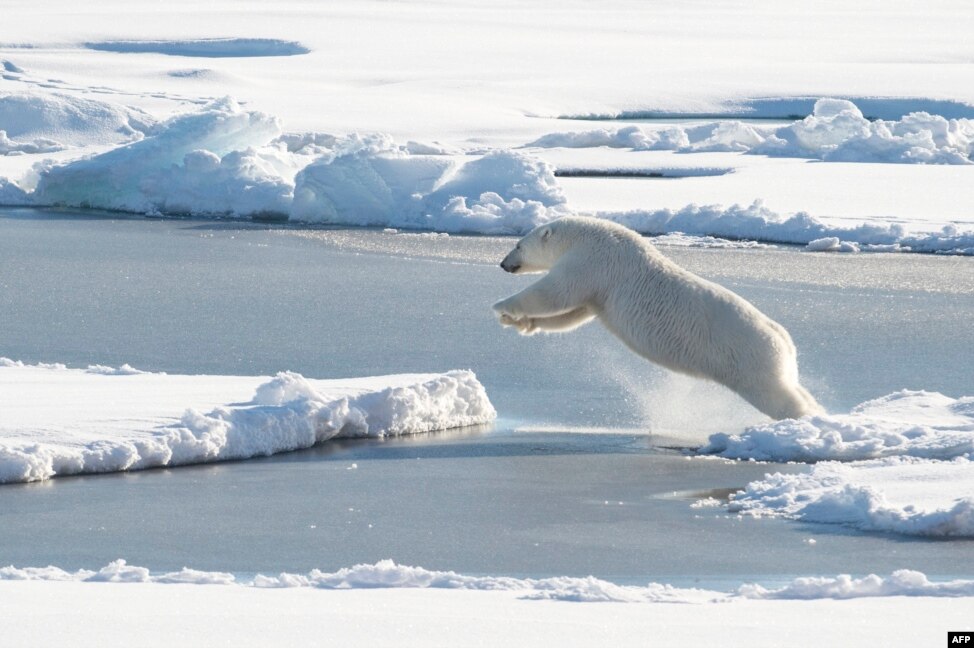 3 This U.S. Coast Guard photo shows a polar bear observed off the stern of Coast Guard Cutter Healy, while it is underway on a mission in the Arctic Ocean in support of Geotraces. Geotraces is Healy's second science mission of the summer, and is an international effort to study the distribution of trace elements in the world's oceans.
4 A girl watches an Afghanistan National Army (ANA) special forces soldier as he patrols in Gozara District of Herat.
5 Poland's military airplanes perform an attack simulation during the Radom Air Show at an airport in Radom, Aug. 23, 2015.
6 Palestinian schoolgirls, pictured through a hole in the roof of a classroom, attend a lesson on the first day of a new school year at Suhada Khouza school in Khan Younis in the southern Gaza Strip. Witnesses said the classroom was damaged by Israeli shelling during a 50-day war last summer.
7 Natasha Hastings of the United States waits to start during the World Athletics Championships at the Bird's Nest stadium in Beijing, China.
8 A scavenger sifts through garbage piled on the bank of Beirut river, Lebanon. Lebanese protest organizers called for a fresh demonstration against the government after two days of rallies that turned violent in central Beirut and wounded scores of people. The "You Stink" campaign has mobilized against the government's failure to solve a garbage disposal crisis, bringing thousands of people onto the streets in protests.
9 A child runs during the Children's Alka competition in Vuckovici village, Croatia, Aug. 23, 2015.
10 Tourists wearing LED-lit costumes walk on a "drifting tour" at an eco-park in Changsha, Hunan province, China, Aug. 23, 2015.
11 A migrant quenches his thirst after disembarking from the Irish Navy vessel LE Niamh at the Messina harbor in Sicily, Italy.
Agosto 25, 2015
1 Nadine Mueller of Germany competes to win bronze in the women's discus throw final during the 15th IAAF World Championships at the National Stadium in Beijing, China.
2 This handout picture released by Australia's national science agency the Commonwealth Scientific and Industrial Research Organisation (CSIRO) shows a micro-sensor glued onto the back of a honey bee to understand the key factors driving a worldwide population decline of the pollinators.
3 Wife of Laxman Neupane, one of the police officers killed in clashes in western Nepal, mourns after his body was brought to Kathmandu. Ethnic protesters, demanding statehood, attacked police with spears and knives in Tikapur, 400 kilometers (250 miles) west of the capital.
4 Tens of thousands of protesters from Gujarat's Patel community participate in a rally in Ahmadabad, India, demanding affirmative action for better access to education and employment.
5 A boy cools off under a waterfall in Kabul, Afghanistan.
6 Cadets march in central Khreshchatyk street during military parade marking Ukraine's Independence Day in the capital Kyiv, Aug. 24, 2015.
7 Lava flows out of the Piton de la Fournaise volcano, one of the world's most active volcanoes, as it erupts on the French island of La Reunion in the Indian Ocean.
8 Workers take a break atop sacks of rice piled inside a warehouse of National Food Authority (NFA) in Taguig city, south of Manila, the Philippines.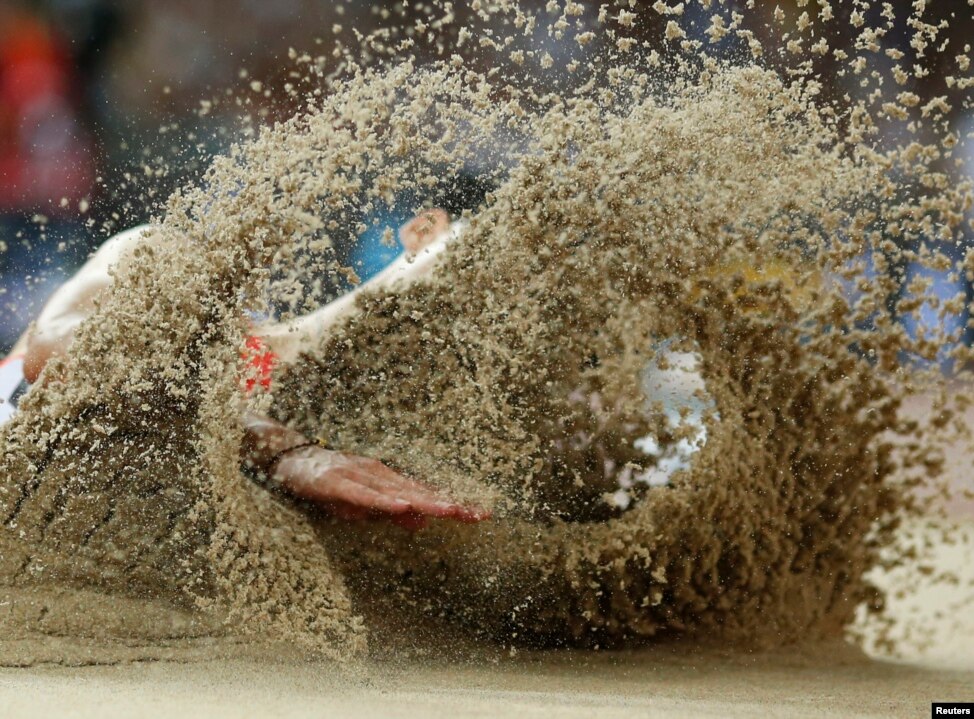 9 Wang Jianan of China competes in the men's long jump final during the 15th IAAF World Championships at the National Stadium in Beijing, China.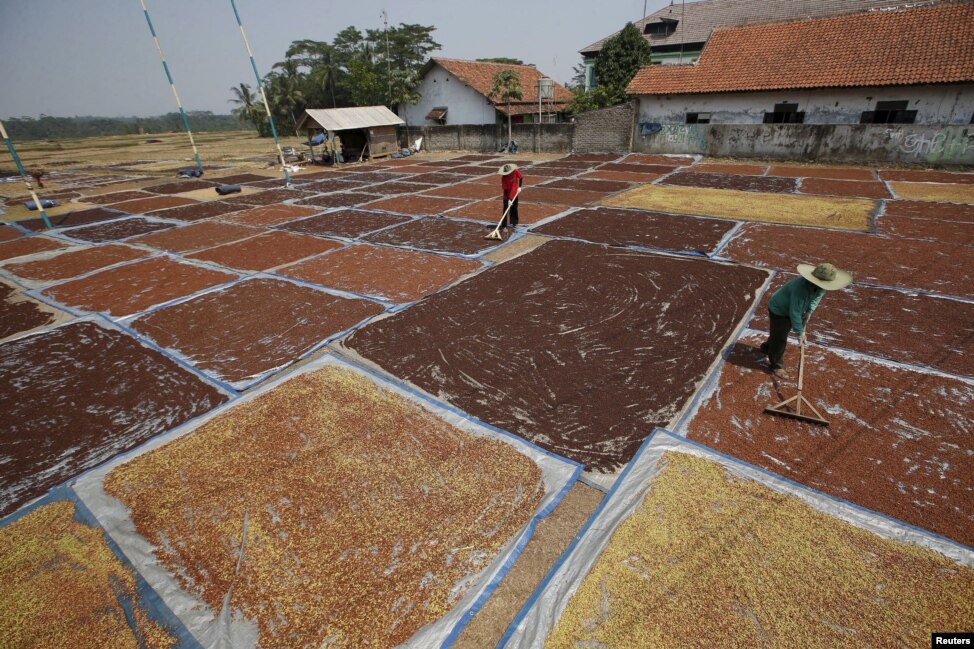 10 Farmers use rakes to dry cloves, commonly used in locally manufactured cigarettes, near Purwakarta, West Java, Indonesia.
11 Britain's Chancellor of the Exchequer George Osborne (R) stands with artist Paul Cummins (3rd R) as they look at the construction of his ceramic poppy sculpture 'Wave' at the Yorkshire Sculpture Park in Wakefield, Britain.
12 Owen Wright of Australia competes in the 2015 Billabong Pro Tahiti, World Surf League, along the Teahupo'o coast, western of the French Polynesia island of Tahiti, Aug. 24, 2015.
Agosto 26, 2015
1 A craftsman fixes the statue of Hindu god Brahma after it was damaged during the deadly blast at the Erawan shrine in Bangkok, Thailand.
2 An activist from the Nepal Federation of Indigenous Nationalities (NEFIN) takes part in a rally inKathmandu demanding secularism in the new constitution.
3 Shohei Ono of Japan, bottom, competes against Riki Nakaya of Japan in the men's 73 kg final at the World Judo Championships in Astana, Kazakhstan. Shohei Ono won the gold medal.
4 A Syrian refugee woman tends to her daughter while cooking inside her tent at an informal tented settlement near the Syrian border on the outskirts of Mafraq, Jordan.
5 An image distributed by Islamic State militants on social media on Aug. 25, 2015 purports to show the destruction of a Roman-era temple in the ancient Syrian city of Palmyra. Syria's antiquities chief Maamoun Abdulkarim told Reuters the images did appear to show the destruction of the ancient Baal Shamin temple and correlated with descriptions given by residents about an explosion on Aug. 23.
6 Syrian refugees cross into Hungary underneath the border fence on the Hungarian - Serbian border near Roszke, Hungary. More than 140,000 migrants have reached Hungary through routes across the Balkans so far.
7 Nikoleta Kyriakopoulou of Greece reacts during the final of the women's pole vault athletics event at the 2015 IAAF World Championships at the "Bird's Nest" National Stadium in Beijing, China.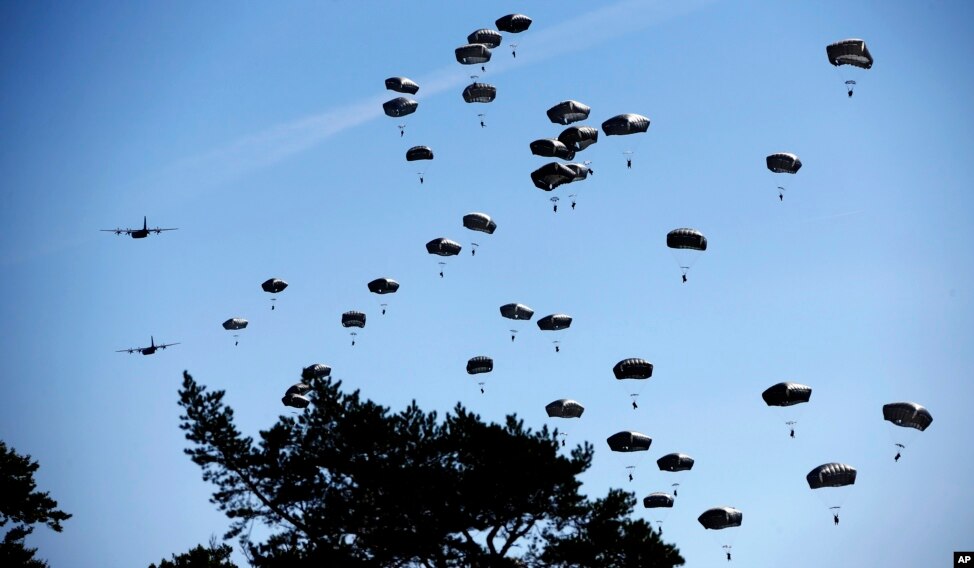 8 Paratroopers take part in an exercise of the U.S. Army Global Response Force in Hohenfels, Germany.
9 People carry their belongings while crossing the Tachira river border with Venezuela into Colombia, near Villa del Rosario village, Aug. 25, 2015.
10 Molten lava flows from the Piton de la Fournaise, one of the world's most active volcanoes, at dawn on the French Indian Ocean Reunion Island, Aug. 25, 2015.
11 Two woman lie in a puddle of squashed tomatoes during the annual "tomatina" tomato fight fiesta, in the village of Bunol, 50 kilometers outside Valencia, Spain.
12 Kimberly Triolet (L) and Jorge Rodriguez kiss after being married next to the Christ of the Deep statue in the Florida Keys National Marine Sanctuary off Key Largo, Aug. 25, 2015.
Agosto 27, 2015
1 A Naga sadhu, or naked Hindu holy man, pauses inside a tent during Kumbh Mela, or Pitcher festival, at Trimbakeshwar, India.
2 NASA astronaut Kjell Lindgren corrals the supply of fresh fruit that arrived on the Kounotori 5 H-II Transfer Vehicle (HTV-5.) Visiting cargo ships often carry a small cache of fresh food for crew members aboard the International Space Station.
3 Women look at a swastika on the door of the Red Cross asylum center in Lyngbygaard, in Trustrup in the west of Denmark. The center was vandalized by unidentified men, who drew Nazi symbols and wrote a message reading "first warning" at night. A vehicle was also set on fire outside the center.
4 A hooded man with a colorful outfit known as the 'Cipotegato' acknowledges the crowd after running through the streets of Tarazona, Spain.
5 WDBJ-TV7 news morning anchor Kimberly McBroom, center, gets a hug from visiting anchor Steve Grant, left, as meteorologist Leo Hirsbrunner reacts after their early morning newscast at the station in Roanoke, Virginia. Reporter Alison Parker and cameraman Adam Ward were killed during a live broadcast on Aug. 26, while on assignment in Moneta.
6 Jasmine Todd of the United States competes in the qualifying round of the women's long jump athletics event at the 2015 IAAF World Championships at the "Bird's Nest" National Stadium in Beijing, China.
7 A Thai veterinarian takes a picture of a 2-year-old orangutan during a health examination at Kao Pratubchang Conservation Centre in Ratchaburi, Thailand.
8 Balloons of the installation "Heartbeat" by French artist Charles Petillon are seen at Covent Garden Market in London. "Heartbeat" is created from 100,000 white balloons and stretches 54 meters in length and 12 meters in width, incorporating gentle pulsating white light to symbolize the beating of a heart and reflect the history, energy and dynamism of the district.
9 Usain Bolt of Jamaica is hit by a cameraman on a segway as he celebrates after winning the men's 200 meters final at the 15th IAAF World Championships at the National Stadium in Beijing, China.
10 Guests, with their hair blown back, watch while Marine One takes off as U.S. President Barack Obama departs the White House in Washington. Obama is traveling to New Orleans to commemorate the 10th anniversary of Hurricane Katrina.
11 A worker stands next to a patient buried in the hot sand in Siwa, Egypt. In the searing heat of summer in western Egypt, at the hottest time of the day, sufferers of rheumatism, joint pain, infertility or impotence lie buried neck-deep in the sand of Siwa near Dakrour Mountain. Locals say taking a sand bath is a natural therapy with powers to cure many medical conditions.
12 Tourists snap photos on Lombard Street, a popular tourist spot also known as the "world's crookedest street" in San Francisco, California, Aug. 26, 2015.
13 A demonstrator wearing a skull mask takes part in a protest in Mexico City to mark the eleven-month anniversary of their disappearance. The students' disappearance on the night of Sept. 26, 2014, in the southwestern city of Iguala triggered massive protests in Mexico and calls for justice.
14 The shimmering colors visible in this NASA/ESA Hubble Space Telescope image show off the remarkable complexity of the Twin Jet Nebula. The new image highlights the nebula's shells and its knots of expanding gas in striking detail. Two iridescent lobes of material stretch outwards from a central star system. Within these lobes two huge jets of gas are streaming from the star system at speeds in excess of one million kilometers (621,400 miles) per hour.
15 Firefighters battle a fire in Santa Clara, California, Aug. 26, 2015, after a driver struck a gas line and subsequently fled the scene.
16 Tourists play in front of a 3D painting on the wall of a house in Luoyuan village, Jinhua, Zhejiang province, Aug. 26, 2015.
Agosto 28, 2015
1 Stairs are all that remain of a house that once stood before Hurricane Katrina struck 10 years ago, Waveland, Mississippi.
2 South Korean army's Surion helicopter fires flare shells during the South Korea-U.S. joint military live-fire drills at Seungjin Fire Training Field in Pocheon, near the border with North Korea.
3 Migrants wait for Macedonian police to allow them to cross at the border line between Greece and Macedonia near the town of Gevgelija.
4 An Indian Army soldier faints during a ceremony to commemorate the 50th anniversary of a war between India and Pakistan, at the India Gate war memorial in New Delhi.
5 A masked Kurdish boy sits in front of a barricade that blocks a road in Van, eastern Turkey, Aug.27, 2015.
6 A dog stands on a street covered with ash from the Cotopaxi volcano in Mulalo, south of Quito, Ecuador, Aug. 27, 2015.
7 A Naga sadhu, or a Hindu holy man, rubs ash onto his body before a procession during Kumbh Mela or the Pitcher Festival in Trimbakeshwar, India, Aug. 27, 2015.
8 A group of hikers are silhouetted against the moon in Tijuana, Mexico, Aug. 27, 2015.
9 Malaysian armed services personnel take part in rehearsals for upcoming National Day celebrations at the Independence Square in Kuala Lumpur.
10 A two-year-old orangutan hugs its mother, who is recovering after a health examination at Kao Pratubchang Conservation Center in Ratchaburi, Thailand, Aug. 27, 2015.
Agosto 30, 2015
1 Ashton Eaton of the U.S. gestures as he holds a giant $100,000 cheque for his world record in the men's decathlon during the 15th IAAF World Championships at the National Stadium in Beijing, China.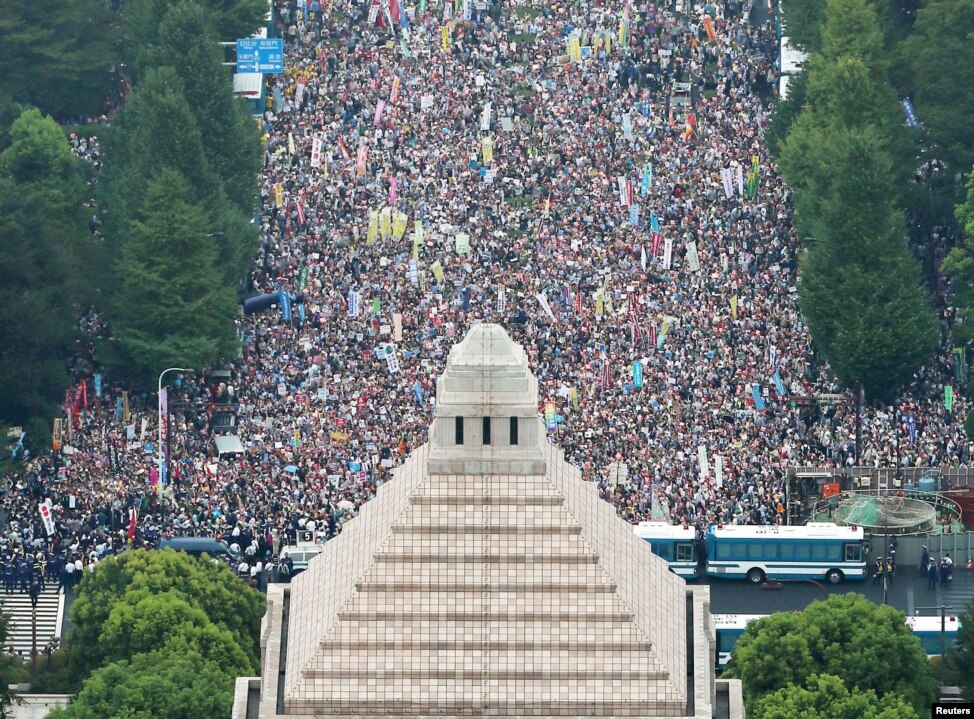 2 People hold placards and shout slogans as they gather outside the parliament in Tokyo to protest against Japan's Prime Minister Shinzo Abe's security bill, in this photo taken by Kyodo.
3 Israeli border police detain a Palestinian during a protest in Beit Jala, West Bank, against the Israeli separation barrier.
4 A statue on the roof of the Portuguese finance ministry in Lisbon is silhouetted against a so-called "supermoon" full moon, Aug. 29 2015. Supermoon, or perigee moon, is the name given when the full or new moon comes closest to the Earth making it appear bigger.
5 A Norwegian sailor stands on the deck of the Siem Pilot ship during a migrants search and rescue mission in the Mediterranean Sea.
6 People stand around a crater at the site of a Saudi-led airstrike in Yemen's capital Sana'a.
7 A protester offers prayers on the second day of a demonstration demanding Prime Minister Najib Razak's resignation and electoral reforms in Kuala Lumpur. Tens of thousands of Malaysians swarmed central Kuala Lumpur to call for the prime minister's ouster over corruption allegations and demand broader reforms, defying warnings by police who had declared the rally illegal.
8 A devotee takes a selfie during a procession of elephant headed Hindu god Ganesh in Mumbai, India.
9 Firefighters puts out a wildfire in Lucenza, in Cualedro, near Ourense, Spain.
10 Pregnant women cross a road as they parade in central Minsk, Belarus.
11 Team Artemis Racing Sweden, skippered by Nathan Outteridge, competes in the first day of races of the 35th America's Cup World Series, in Gothenburg, western Sweden, Aug. 29, 2015.
12 Dancers wearing masks and kimonos perform in the streets at the "Super Yosakoi 2015" dance festival in Tokyo, Japan.
13 A perigee moon, also known as a super moon, rises above the Orthodox Church in the town of Novogrudok, 150 kilometers (93 miles) west of the capital Minsk, Belarus, Aug. 29, 2015.
Agosto 31, 2015
1 Members of Malaysia's military parade past during National Day celebrations at Independence Square in Kuala Lumpur.
2 Children, going to the first grade, line up during an event to mark the upcoming start of another school year in Minsk, Belarus.
3 A young refugee wakes up inside a tent at a park in Belgrade, Serbia.
4 Macedonian policemen help a dehydrated migrant after crossing the border from Greece to Macedonia, near the southern town of Gevgelija.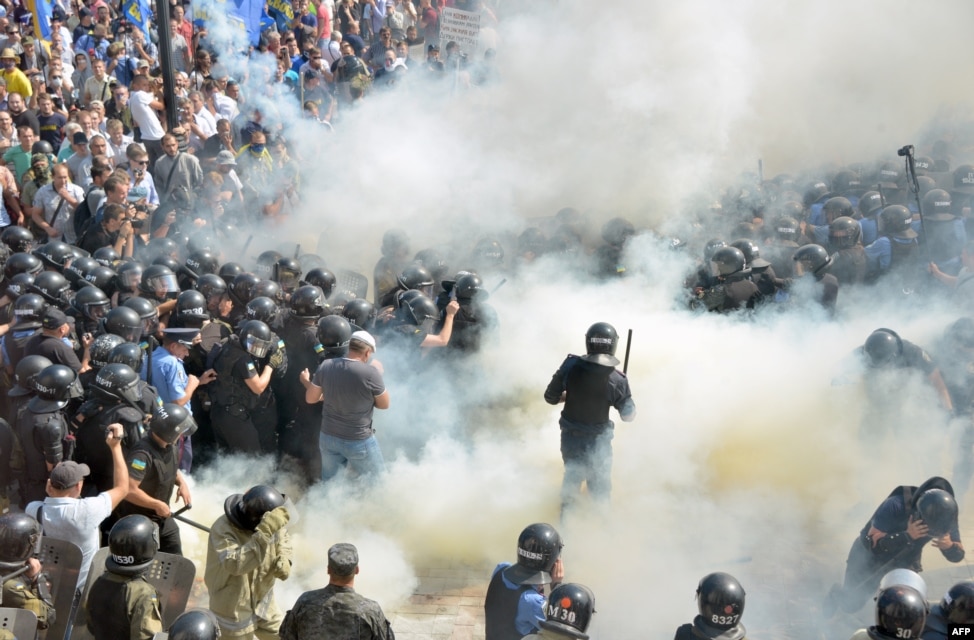 5 Smoke rises near the parliament building in Kyiv, Ukraine, as activists of radical parties, including the nationalist party Svoboda (Freedom), clash with police. At least 20 were wounded in the clash after lawmakers gave initial approval to constitutional changes granting more autonomy to pro-Russian separatists in eastern part of the country.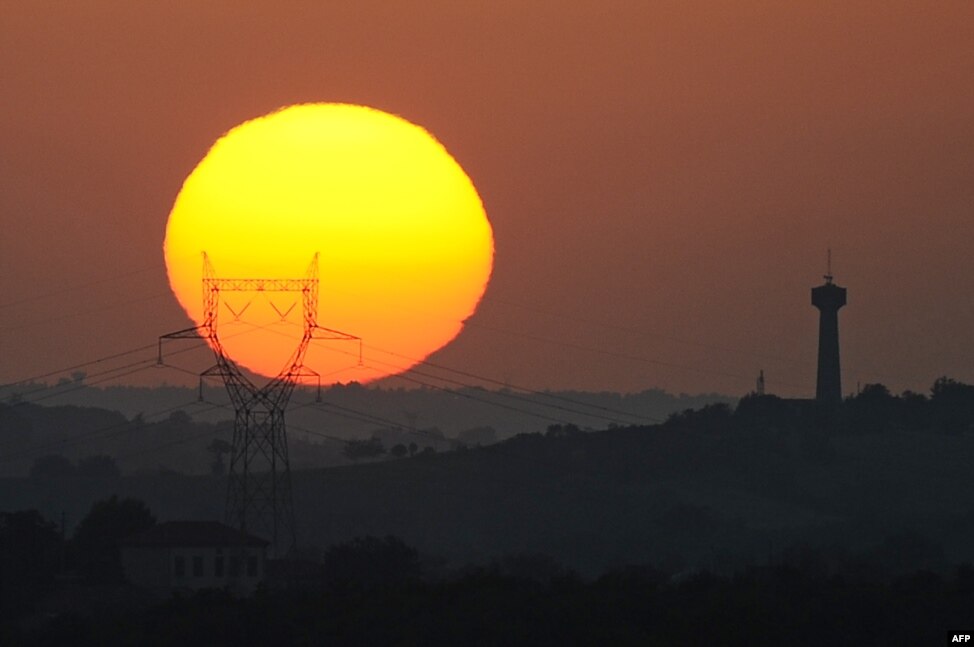 6 The sun sets behind a power line near Saint-Félix-Lauragais, southwestern France, Aug. 30, 2015.
7 A lion walks in its enclosure at Safari Park Taigan in the town of Belogorsk, Crimea.
8 A picture of smiling face made of rice plants is seen in a paddy field in Xianju county, Zhejiang province, China.
9 Migrants charge their mobile phones at the Eastern (Keleti) railway station in Budapest, Hungary. The EU is grappling with an unprecedented influx of people fleeing war, repression and poverty in what the bloc has described as its worst refugee crisis in 50 years.
10 A child slips off the "gostra", a pole covered in grease, during the celebrations for the religious feast of St Julian, patron of the town of St Julian's, outside Valletta, Malta, Aug. 30, 2015.
11 Competitors take part in the 8th annual World Gravy Wrestling Championships at the Rose n Bowl Pub in Bacup, north west England.
12 A brown bear with cubs in a remote corner of the forest in the Berezinsky biosphere reserve, near the village of Kraitsy, northeast of Minsk, Belarus, Aug. 30, 2015.
13 Israeli Arab boys jump into the Mediterranean sea from the ancient wall surrounding the old city of Acre, northern Israel.
14 An Indian artist with his body painted with the likeness of a tiger dances before a tableau with a picture of a tiger during the 'Pulikali' or Tiger Dance procession in Thrissur, Kerala state, India.