Luglio 01, 2015
1 Tribal dancers entertain Burundians in Bujumbura to celebrate nation's 53rd Independence Day.
2 A man gestures as pensioners queue outside a national Bank branch where they cash out up to 120 euros, in Athens, Greece. The European Union will decide whether to grant Greece a last-minute bailout package to avoid pushing it further towards an exit from the eurozone.
3 People swim during the annual public Lake Zurich crossing swimming event in Zurich, Switzerland.
4 The Russian Progress-M spacecraft is ready to be lifted on its launch pad at Baikonur cosmodrome, Kazakhstan.
5 Smoke comes out from the helmets of dummies next to People's Liberation Army (PLA) soldiers during a mock shooting practice at a PLA naval base in Hong Kong to mark the 18th anniversary of Hong Kong's handover from Britain to Chinese sovereignty.
6 A protester wears a mask with a gag as she marches against the public security law in Madrid, Spain, June 30, 2015. Thousands of protesters railed against a new law nicknamed the "gag law" before it went into effect at midnight, slamming it as legalized muzzling of free expression and the media.
7 Mass lightning bolts illuminate the night sky by the Daggett airport as storms pass over the high deserts north of Barstow, California.
8 A man works on "Long Ma", a creation by La Machine production company, during a media visit to "A Journey to Nantes" (Le Voyage a Nantes) art festival in Nantes, France, June 30, 2015.
9 U.S. President Barack Obama makes a silly face as he and first lady Michelle Obama sing with Girl Scouts during a camp out on the South Lawn of the White House in Washington June 30, 2015. A group of 50 fourth-grade Girl Scouts plans to spend the night in camping tents on the lawn, a celebration of the scouting movement and the National Park Service centennial.
10 The moon rises above the weather vane at the All England Lawn Tennis and Croquet Club, which hosts the Wimbledon Tennis Championships in London, June 30, 2015.
Luglio 02, 2015
1 An orangutan watches a popsicle after zoo-keepers gave animals iced food to keep them cool as temperatures soar at Rome's zoo, Italy.
2 An honor guard soldier adjusts the outfit of a colleague before a welcoming ceremony for NATO Secretary General Jens Stoltenberg in Bucharest, Romania.
3 A boy collects recyclable materials in a polluted river at Navotas city, north of Manila, the Philippines.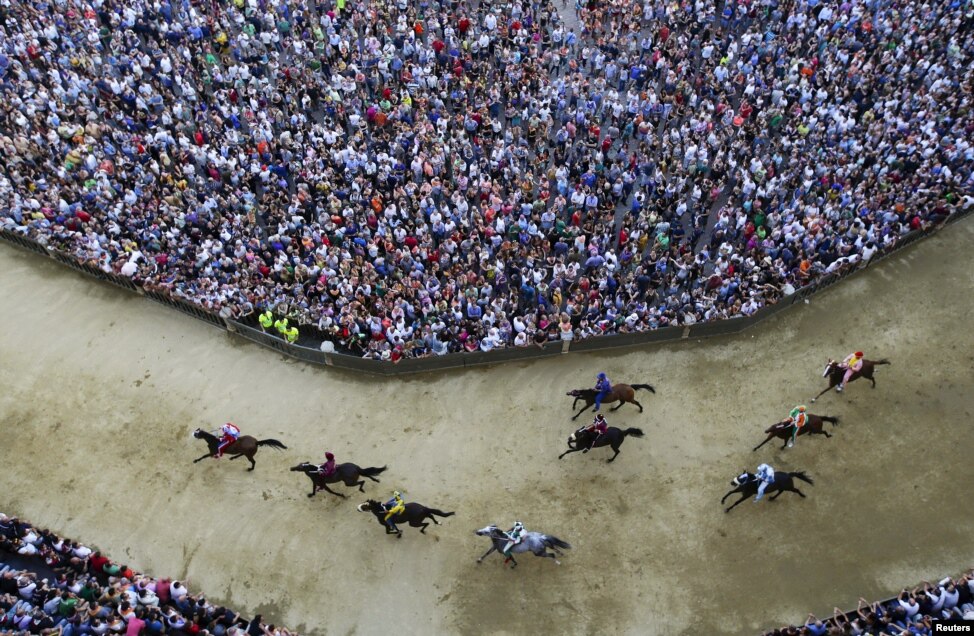 4 Horses race during the general practice session for the Palio di Siena horse race in Siena, Italy, July 1, 2015.
5 Pakistan soldiers and rescue workers gather at the site after a train fell in a canal, near Gujranwala. A train carrying hundreds of Pakistan military personnel and their families plunged into a canal on Thursday, killing 12 soldiers, when a bridge collapsed in what the army suspects was sabotage, officials said.
6 Dancers of the Friedrichstadt-Palast from the show "THE WYLD" pose during a promotional photocall at a former National Security Agency (NSA) listening station at the Teufelsberg (Devil's Mountain) in Berlin, Germany.
7 The moon rises above a church on the Greek island of Santorini, July 1, 2015.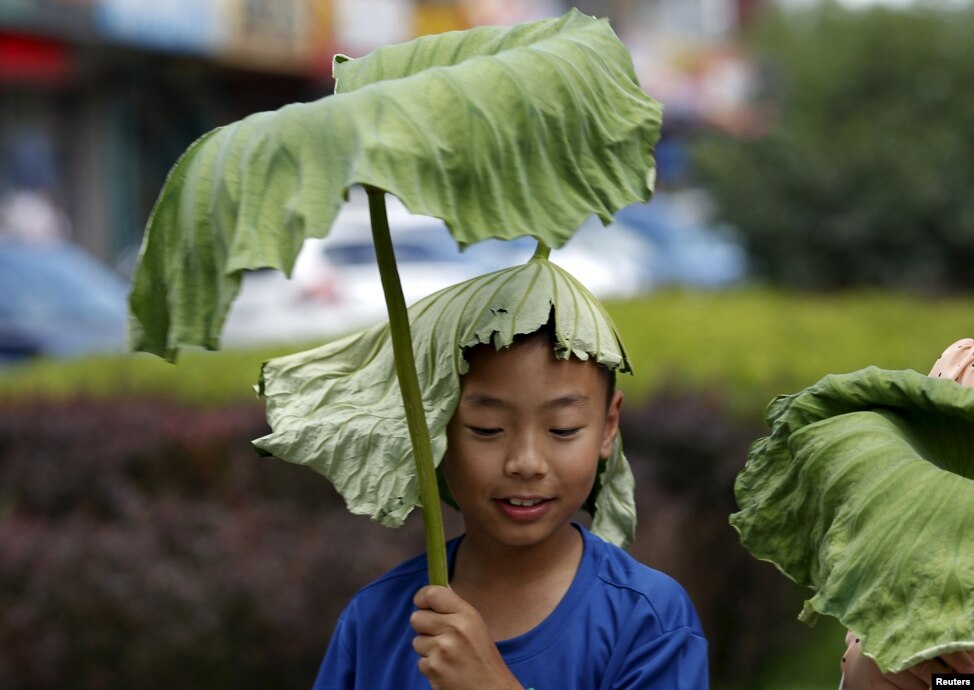 8 A boy wearing a lotus leaf on his head holds onto another leaf on a hot summer day in Beijing, China.
9 An aerial view shows sunbathers at the Maarsseveense Plassen at a recreational park in Utrecht, the Netherlands, July 1, 2015, on a warm summer day. A blistering heatwave sweeping through Europe brought blackouts to France and fears of heat stroke for Wimbledon tennis fans.
10 Female polar bear Anori looks out through a toy as she cools off during a hot summer day at the zoo of Wuppertal, Germany.
11 The moon rises as people sit on rides at the State Fair Meadowlands in East Rutherford, New Jersey, USA, July 1, 2015.
12 A Su-27 jet of aerobatics team Russkiye Vityasy, or Russian Knights, performs during the International Maritime Defense show in St. Petersburg, Russia.
Luglio 03, 2015
1 Yozhik, a male Himalayan bear, sits while an employee cools him with a stream of water at the Royev Ruchey zoo on the suburbs of the Siberian city of Krasnoyarsk, Russia.
2 Indian Muslims offer prayers after breaking their fast during the holy month of Ramadan at Jamai Masjid in Hyderabad.
3 A crying elderly man is assisted by an employee and a policeman outside a national bank branch as pensioners queue to get their pensions, with a limit of 120 euros, in Thessaloniki, Greece.
4 People are reflected on a building as they take part in a pro-EU demonstration in Iraklio on the island of Crete, Greece, July 2, 2015.
5 Patrons make their way in the rain to the 18th hole during the second round of the Greenbrier Classic at the Old White TPC in White Sulphur Springs, West Virginia.
6 A girl plays under the waterfall at the fun bath in Endenich, a suburb of Bonn, western Germany.
7 A street seller teaches a boy how to make soap bubbles, on Piazza del Popolo, a touristic square in central Rome, Italy, at sunset on July 2, 2015.
8 Britain's Camilla, Duchess of Cornwall, speaks with Imogen Davis, owner of Rufus the hawk, during her visit to the Wimbledon Tennis Championships in London, July 2, 2015.
9 An image made available by propaganda Islamist media outlet Welayat Halab on July 2, 2015 allegedly shows an Islamic State (IS) group fighter destroying ancient artifacts smuggled from the Syrian city of Palmyra, a 2,000-year-old metropolis and an Unesco world heritage site.
10 Team Sky with Britain's Christopher Froome trains on their time-trial bicycles near Utrecht, Netherlands, one day ahead of the start of the three-week-long Tour de France.
Luglio 05, 2015
1 A boy practices Mallakhamb, a traditional Indian gymnastic sport, on a vertical wooden pole ahead of upcoming chariot festival of Lord Jagannath in Ahmadabad.
2 Britain's Kate the Duchess of Cambridge carries Princess Charlotte after taking her out of a pram as they arrive for Charlotte's Christening at St. Mary Magdalene Church in Sandringham, England.
3 A Muslim man prepares food for an Iftar (breaking of fast) meal inside a mosque during the holy month of Ramadan in Ahmedabad, India.
4 Filipinos take cover from the rain underneath a container van as Tropical Storm Linfa enhanced the southwest monsoon in Manila, the Philippines.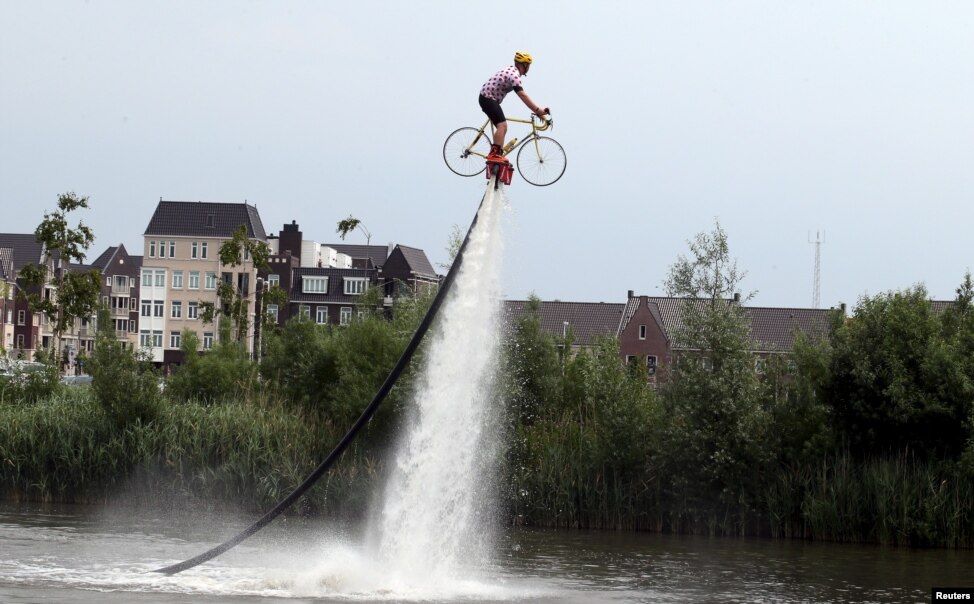 5 A man wearing a Tour de France best climber's jersey practices flyboarding before the start of the 166-km (103.15 miles) second stage of the 102nd Tour de France cycling race from Utrecht to Zeeland, the Netherlands.
6 A reveler takes part in the annual Christopher Street Day gay parade (CSD) with a huge home-made coat-hanger costume in front of the Cologne Cathedral, western Germany.
7 Fireworks explode over the East River in front of the Manhattan skyline as seen from Brooklyn borough of New York during the Macy's Fourth of July fireworks show, July 4, 2015.
8 A model poses during the annual World Bodypainting Festival in Poertschach, Austria. The event takes place from July 3 to 5 at lake in Austria's southern Carinthia province.
9 An aerial view shows people relaxing on a floating platform on Silbersee lake on a hot summer day in Haltern, Germany, July 4, 2015.
10 Teams gesture towards spectators ahead of the race at the Hong Kong Dragon Boat Carnival.
Luglio 06, 2015
1 The Dalai Lama, seated with oceanographer Walter Munk (2nd L) and Congresswoman Loretta Sanchez (R), speaks at the University of California, Irvine. The Dalai Lama celebrates his 80th birthday.
2 A Japanese football supporter reacts as she attends a public screening in Tokyo of the 2015 FIFA Women's World Cup final between Japan and USA being played in Vancouver, British Columbia.
3 Pamplona's municipal music band passes revelers in the town hall square during the start of the San Fermin Festival in Pamplona, Spain. The festival, best known for its daily running of the bulls, kicked off with the traditional "Chupinazo" rocket launch and will run until July 14.
4 Revelers pack the Pamplona town square during the launch of the "Chupinazo" rocket, to celebrate the official opening of the 2015 San Fermin fiestas in Pamplona, Spain.
5 Residents take shelter under the roof of a bus stop on a flooded highway after tropical storm Linfa hit Luna, La Union in northern Philippines.
6 Pope Francis waves to the crowd as he rides in the popemobile through Samanes Park, where he will celebrate Mass, in Guayaquil, Ecuador.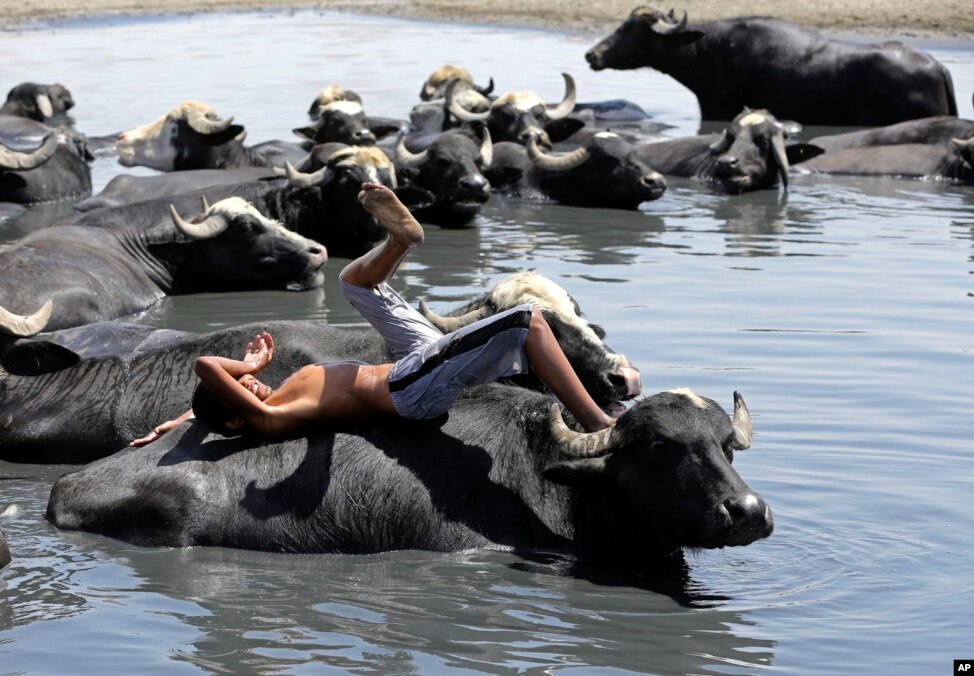 7 A boy rests on the back of a water buffalo in the Diyala River in Baghdad, Iraq.
8 A man carries an injured child found in the rubble after an Iraqi Sukhoi jet accidentally dropped a bomb in Ni'iriya district in Baghdad, Iraq, killing at least five people and destroying several houses.
9 A man carries strands of vermicelli, a specialty eaten during the Muslim holy month of Ramadan, to dry at a factory in Lahore, Pakistan.
10 Diamond Trusty cries in grief over the death of her cousin, 7-year-old Amari Brown in Chicago, Illinois, USA, July 5, 2015. Extra police patrols and long shifts were not enough to prevent nine deaths and about 50 injuries from gun violence in Chicago over the Fourth of July weekend.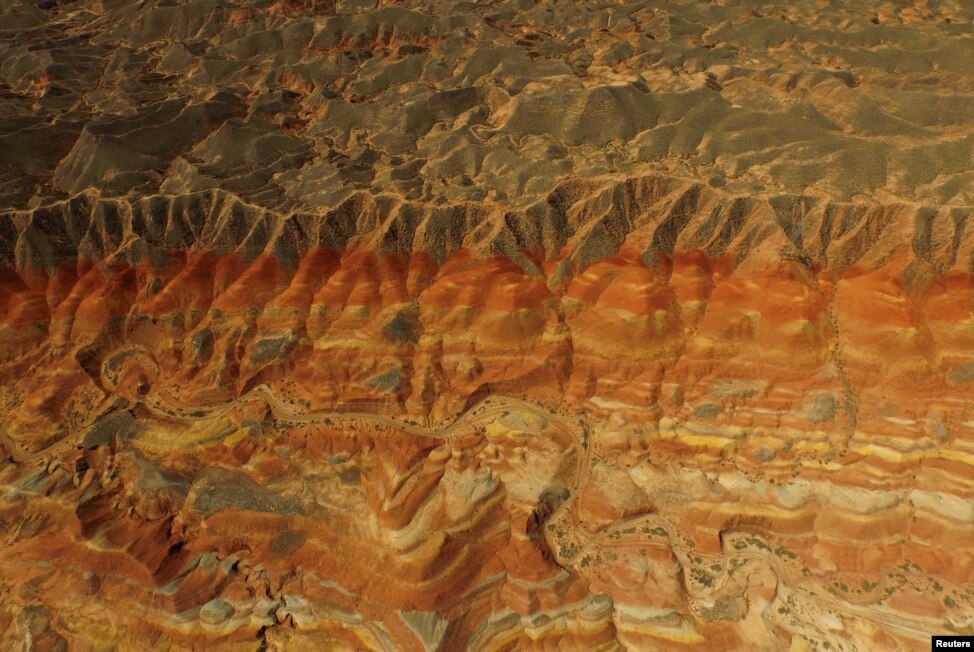 11 An aerial view shows people traveling along a road inside the Danxia National Geological Park, in Zhangye, Gansu province, China, July 5, 2015. The National Geological Park, covering an area of 510 square km (197 square miles), is known for its colorful and special rock formations.
12 A woman swings her hair back after dipping her head into a fountain in Budapest, Hungary July 6, 2015. Over the weekend, a heat wave has reached Hungary with temperatures topping 38 degrees Celsius (100.4 degrees Fahrenheit). REUTERS/Laszlo Balogh - RTX1J
13 Austin Dillon, driver of the #3 Bass Pro Shops Chevrolet, is involved in an on-track accident following the checkered flag during the NASCAR Sprint Cup Series Coke Zero 400 Powered by Coca-Cola at Daytona International Speedway in Daytona Beach, Florida, USA.
14 Visitors look at jellyfish during a media preview for the Epson Aqua Park Shinagawa aquarium's re-opening in Tokyo, Japan.
Luglio 07, 2015
1 The pack with Britain's Christopher Froome, wearing the overall leader's yellow jersey, crosses Meuse river in Huy during the fourth stage of the Tour de France cycling race over 223.5 kilometers (138.9 miles) with start in Seraing, Belgium, and finish in Cambrai, France.
2 Britain's Prime Minister David Cameron, right, and London Mayor Boris Johnson walk through the 7/7 memorial in Hyde Park, London, to lay wreaths to mark the 10th anniversary of suicide bomb attacks on London's transit system.
3 People check a car damaged by a car bomb attack near a mosque in Yemen's capital Sana'a. Two deadly car bombs hit the capital and a southern city, state news agency Saba reported, a day after air strike and clashes killed almost 200 people nationwide.
4 A man walks with a horse past a puddle in the northern hill town of Shimla, India.
5 Serena Williams of the United States returns the ball to Victoria Azarenka of Belarus during their singles match at the All England Lawn Tennis Championships in Wimbledon, London.
6 Maria Sharapova of Russia reacts during her match against Coco Vandeweghe of the U.S.A. at the Wimbledon Tennis Championships in London.
7 People watch as Jandilla fighting bulls and revelers run during the running of the bulls at the San Fermin festival in Pamplona, Spain.
8 A Jandilla bull charges at a participant during the first "encierro" (bull-run) of the San Fermin Festival in Pamplona, northern Spain.
9 A fisherman rides past an algae-covered beachside in Rizhao, Shandong province, China, July 6, 2015.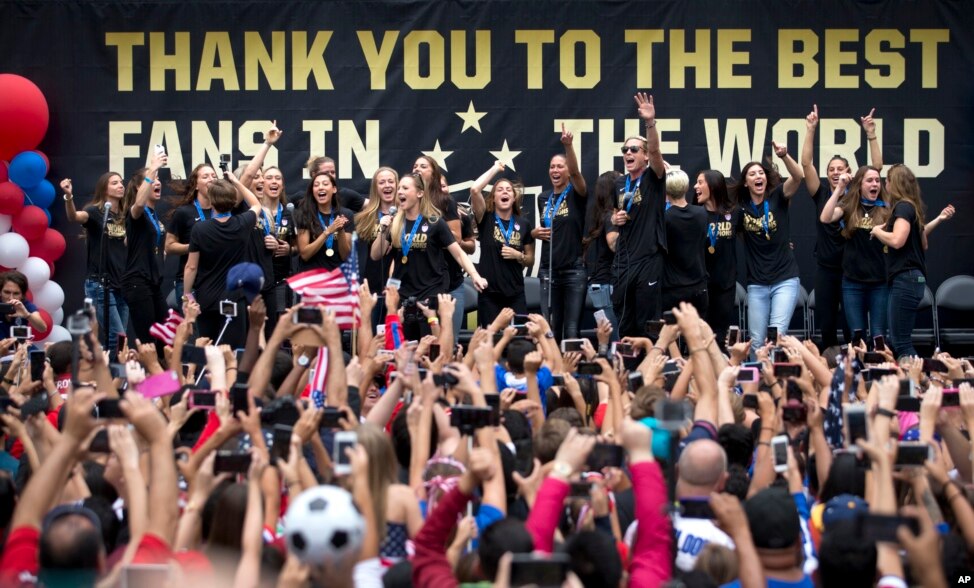 10 Members of the U.S. women's soccer team and fans celebrate the team's World Cup championship during a public celebration in Los Angeles. This was the first U.S. stop for the team since beating Japan in the Women's World Cup final in Canada.
11 Two walkers make their way along the Schneeferner glacier at German highest mountain Zugspitze near Garmisch-Partenkirchen, southern Germany.
Luglio 08, 2015
1 Lightning flashes through the sky over the A9 highway near Allershausen, southern Germany.
2 A model wears a creation for Jean-Paul Gaultier's fall-winter 2015/2016 Haute Couture fashion collection presented in Paris, France.
3 A man watches the giant steel artwork "Bending" as part of the China 8 exhibition of contemporary art by Chinese artist Yue Minjun in Duesseldorf, Germany.
° F) at the zoo in Gelsenkirchen, Germany, July 7, 2015.
5 An Indonesian Muslim devotee prays over a Quran as the month of Ramadan continues at a mosque in Surabaya on the eastern Java island.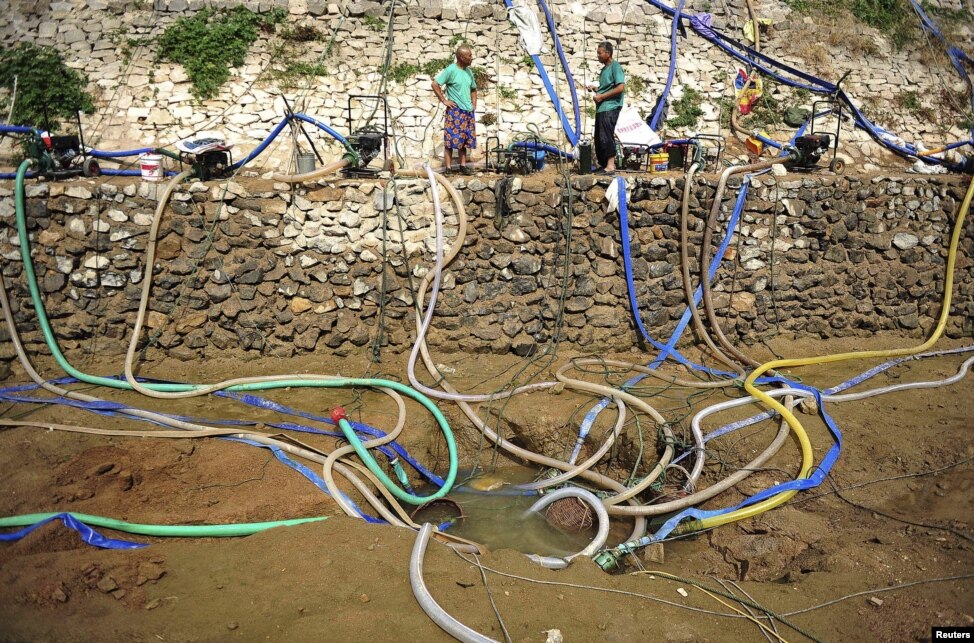 6 Villagers use pumps to get water from a partially dried-up pond in Penglai, Shandong province, China. Severe drought hit part of Shandong province in eastern China due to lack of substantial rainfalls since this spring, local media reported.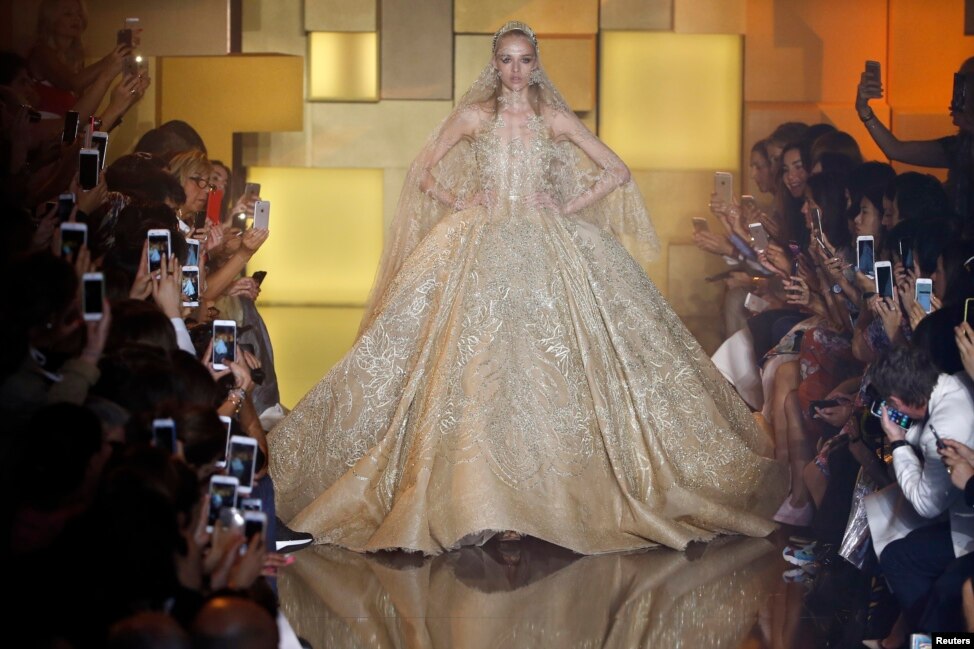 7 A model presents a wedding dress creation by Lebanese designer Elie Saab as part of his Haute Couture Fall Winter 2015/2016 fashion show in Paris, France.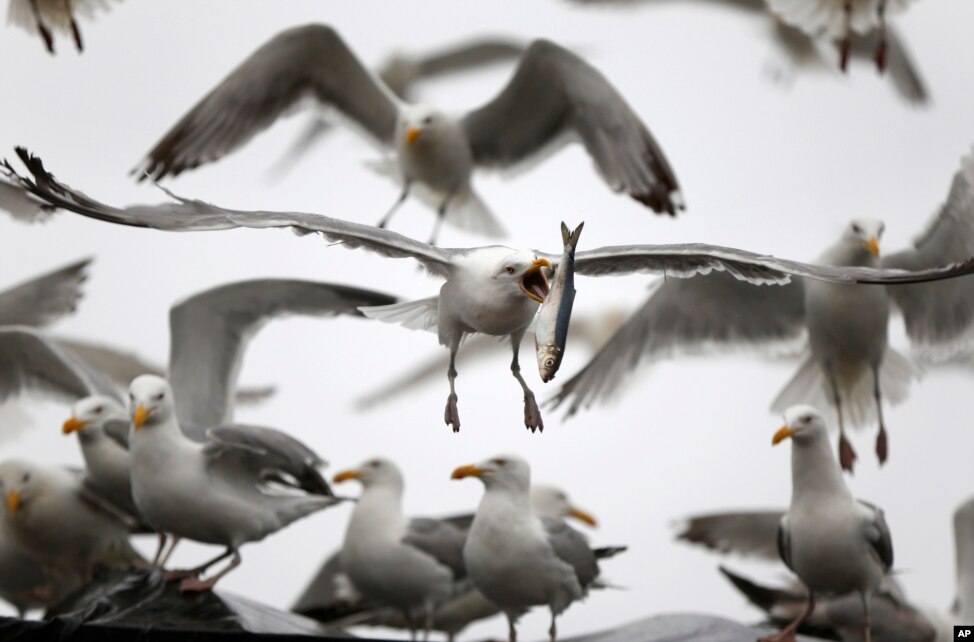 8 A gull flips a herring in order to swallow it while flying away with a meal robbed from a delivery truck in Rockland, Maine, USA.
Luglio 09, 2015
1 A woman cries beside a truck carrying 136 coffins of newly identified victims of the 1995 Srebrenica massacre, in front of the presidential building in Sarajevo. The recently identified victims will be transported to the memorial center in Potocari where they will be buried on July 11, the anniversary of the massacre when Bosnian Serb forces slaughtered 8,000 Muslim men and boys and buried them in mass graves in Europe's worst massacre since World War II.
2 Colombia's President Juan Manuel Santos, center left, leans in to listen to Colombia's Armed Forces Commander Gen. Juan Pablo Rodriguez, during a military ceremony in Bogota, Colombia.
3 Pope Francis rides in his popemobile as he greets people lining the road from El Alto to La Paz, upon his arrival in Bolivia, July 8, 2015.
4 A South Sudanese man wears a headdress of feathers and the national flag, as he attends an independence day ceremony in the capital Juba, South Sudan. South Sudan marked four years of independence from Sudan, but the celebrations were tempered by concerns about ongoing violence and the threat of famine.
5 Daniel Teklehaimanot of Eritrea passes over a bridge as he rides in the breakaway group of three riders in Dieppe, during the sixth stage of the Tour de France cycling race over 191.5 kilometers (119 miles), which started in Abbeville and finishs in Le Havre, France.
6 Shi'ite Muslims reach out to touch a model of the Tomb of Imam Ali Ibn Abu Talib, son-in-law of Prophet Mohammad, during the religious procession of Yaum-e-Ali, which marks the death anniversary of Imam Ali in Lahore, Pakistan.
7 Trader Peter Tuchman gestures as he talks on the phone following the resumption of trading after a several-hour-long stoppage on the floor of the New York Stock Exchange in New York, July 8, 2015.
8 Workers walk along wires as they inspect newly-built electricity pylons above crop fields in Chuzhou, Anhui province, China.
9 A pensioner (C) reacts as she tries to enter a National Bank branch to receive part of her pension in the city of Iraklio on the island of Crete, Greece.
10 Workers spray clean the 37-meter tall tourism icon of the Merlion on the resort island of Sentosa ahead of the city-state's 50th anniversary celebrations in Singapore, July 8, 2015.
Luglio 10, 2015
1 A South Carolina state police honor guard lowers the Confederate flag from the Statehouse grounds in Columbia. Republican Governor Nikki Haley presided over the event after signing the historic legislation to remove the flag the day before.
2 Huge waves are seen as typhoon Chan-hom approaches near Wenling, east China's Zhejiang province. Chan-hom lashed Japan's Okinawa island chain as it pushed towards Taiwan and onto China, leaving more than 20 people injured.
3 A woman cry next to coffins of her relatives who were victims of the 1995 Srebrenica massacre in Potocari, at the Bosnia and Herzegovina Memorial Center Potocari, Bosnia and Herzegovina. The bodies of 136 recently identified victims will be buried on July 11, the anniversary of the massacre.
4 Faithful gather outside Santa Cruz Rehabilitation Center-Palmasola in Santa Cruz, Bolivia. Pope Francis ventured into the violent, overcrowded and gang-ridden prison that even houses small children living with their parents, and urged inmates not to despair.
5 Pensioners wait outside the main gate of the national bank of Greece to withdraw a maximum of 120 euros ($134) in central Athens. Greece's Prime Minister Alexis Tsipras is seeking backing for a harsh new austerity package from his party to keep his country in the euro.
6 The U.S. women's soccer team cheer during a reception at New York City Hall hosted by Mayor Bill de Blasio to celebrate their World Cup final win over Japan on Sunday. Screams and a blizzard of confetti cheered the winning team as they rolled up the city's "Canyon of Heroes" in the first ticker tape parade honoring a women's sports team.
7 Battle of Britain veterans Wing Commander TF Neil (L), and Geoffrey Harris Augustus Wellum watch a RAF airplane fly over Buckingham Palace to mark the 75th anniversary of the Battle of Britain, in London.
8 Egyptian children hold a traditional Ramadan lantern placed in a windowsill during the holy month of Ramadan in Cairo, Egypt.
9 Chinese performers stretch before the opening of the "Dreams of Europe and China" art exhibition at the Ocean Beach theme park in Beijing. The exhibition was held to as one of the events to marks the 40th anniversary of official ties between the EU and China.
10 U.S. President Barack Obama (L) greets the 2015 winners of the Healthy Lunchtime Challenge at the annual Kids' State Dinner at the White House in Washington D.C.
11 Dancers wear traditional dress as they perform during a students' song and dance festival in Riga, Latvia.
12 A woman looks at goldfish through the warped wall of a fish tank at the Art Aquarium exhibition in Tokyo. Several thousand goldfish are displayed in dozens of uniquely shaped tanks, using LED lights, projection mapping and music in a show that was produced by Japanese designer Hidetomo Kimura.
Luglio 12, 2015
1 Participants swim with a portrait of late Chinese Chairman Mao Zedong in the Hanjiang River, a large branch of the Yangtze River in Xiangyang, Hubei province, to celebrate the upcoming 49th anniversary of Mao swimming in the Yangtze River, local media reported.
2 Nobel Peace Prize laureate Malala Yousafzai (C) blows out candles on her birthday cake at a school for Syrian refugee girls, built by the NGO Kayany Foundation, in Lebanon's Bekaa Valley. The youngest winner of the Nobel Peace Prize celebrated her 18th birthday in Lebanon by opening the school and called on world leaders to invest in "books not bullets".
3 Kite surfers take advantage of strong westerly winds and choppy waves on Sydney's Botany Bay, Australia.
4 Pope Francis is greeted by an elderly woman during his visit to the Banado Norte neighborhood in Asuncion, Paraguay.
5 The Villarrica Volcano is seen at night from Pucon town, Chile. Villarrica, located near the popular tourist resort of Pucon, is among the most active volcanoes in South America.
6 Mourners pray over the coffin of Egyptian actor Omar Sharif, 83, for a funeral procession at the Hussein Tantawi Mosque in Cairo. Sharif, the Egyptian-born actor with the dark, soulful eyes who soared to international stardom in movie epics, "Lawrence of Arabia" and "Doctor Zhivago," died in a Cairo hospital of a heart attack, on July 10.
7 Workers climb the frame to prepare paper lanterns ahead of the annual Mitama Festival at the Yasukuni Shrine in Tokyo, Japan.
8 Residents gather to watch as stuntmen display their skills before media in Ahmadabad, India.
9 A team competes in the Red Bull Soapbox race in London. The Red Bull Soapbox race is an annual event where amateur drivers race with their homemade soapbox vehicles down a 420-meter hill through obstacles.
10 Tourists standing near the sea shore are hit by a wave, which surged past a barrier under the influence of Typhoon Chan-hom, in Qingdao, Shandong province, China.
11 Japanese rider Hiroshi Aoyama (R) of Repsol Honda Team comes off his bike during the MotoGP Grand Prix of Germany at the Sachsenring Circuit in Hohenstein-Ernstthal, eastern Germany.
Luglio 13, 2015
1 An Asian elephant swims in a 65-meter-long pool at Fuji Safari Park in Susono, at the foot of Mt. Fuji, southwest of Tokyo, Japan.
2 Members of Jammu and Kashmir police band take cover from the rain at a shrine as trumpets are placed on the ground in Srinagar, Indian-controlled Kashmir.
3 A girl cries after her father was killed by a Saudi-led airstrike in Yemen's capital Sana'a. Air raids killed 21 civilians in the capital, relatives of the victims and medics told Reuters, two days after the start of a United Nations-brokered humanitarian truce that Riyadh does not recognize.
4 Miss Oklahoma Olivia Jordan is crowned Miss USA by Miss USA 2014 Nia Sanchez during the 2015 Miss USA pageant in Baton Rouge, Louisiana, July 12, 2015.
5 A rat being trained by the Cambodian Mine Action Centre (CMAC) is pictured on an inactive landmine field in Siem Reap province. Gambian pouched rats were deployed to Cambodia from Tanzania in April by a Belgian non-profit organization, APOPO, to help clear mines.
6 A man dressed in a colorful suit sporting the flags of ASEAN countries sells flower garlands at a set of traffic lights in Pranburi, Prachuap Khiri Khan province in Thailand, July 11, 2015. (Photo taken by Matthew Richards/Thailand)
7 A therapist applies traditional moxibustion treatment on a patient in Yiwu, Zhejiang province. Many Chinese believe that applying herbs on acupuncture points during summer can prevent diseases and ailments in the winter.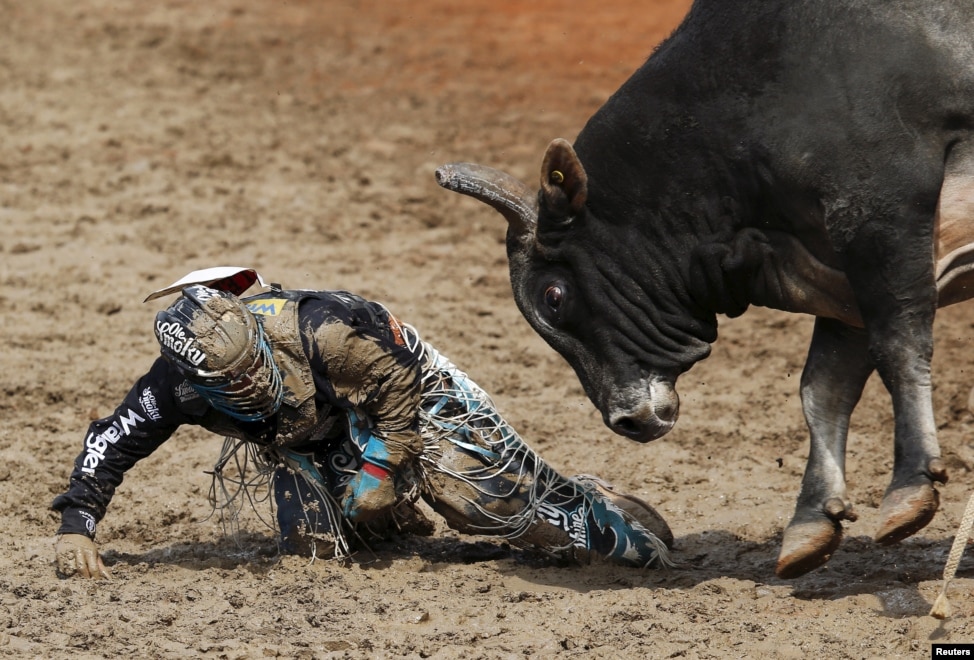 8 The bull Smoke Show goes after Mike Lee of Fort Worth, Texas, after he got bucked off in the Bull Riding event during Championship Sunday at the finals of the Calgary Stampede rodeo in Calgary, Alberta, Canada, July 12, 2015.
Luglio 14, 2015
1 Pluto nearly fills the frame in this image from the Long Range Reconnaissance Imager (LORRI) aboard NASA's New Horizons spacecraft, taken on July 13, 2015, when the spacecraft was 476,000 miles (768,000 kilometers) from the surface. (CREDIT: NASA/APL/SwRI)
2 Guest and New Horizons team members countdown to the spacecraft's closest approach to Pluto, at the Johns Hopkins University Applied Physics Laboratory (APL) in Laurel, Maryland, USA.
3 Falconers of the Mexican army hold their falcons as they march during the traditional Bastille Day military parade on the Place de la Concorde in Paris, France.
4 Troops march down the Champs Elysees avenue in Paris, France, as part of Bastille Day parade.
5 Workers stand next to a pit after a truck and a police kiosk fell into a cave-in on a street in Dingyuan county, Anhui province, China.
6 A child (R) plays at Pixels Wave 2015, a giant carpet of moving lights on the ground in an interactive virtual reality installation by Mexican-born experimental and multidisciplinary artist Miguel Chevalier, during the Malta International Arts Festival, at the entrance to Valletta, Malta, July 13, 2015.
7 Protesters dressed as foxes demonstrate in front of the Houses of Parliament in London, urging policymakers to keep the Hunting Act intact.
8 Devotees crowd together at the Maha Pushkaralu, a Hindu festival, on the banks of river Godavari at Rajahmundry in Andhra Pradesh, India. Twenty-seven people were killed and 40 injured in a stampede, police said.
9 An aerial view shows Muslim worshipers praying at the Grand Mosque, the holiest place in Islam, in the holy city of Mecca, Saudi Arabia, during Ramadan.
10 Solar-powered lights are seen along the Hoernli ridge on the Matterhorn in Zermatt, Switzerland, July 13, 2015.
11 Annia Rivera and Yaima Mena of Cuba compete during the women's synchronized 10-meter platform diving event at the Pan Am Games in Toronto, Canada, July 13, 2015.
Luglio 15, 2015
1 Riders cycle during the 188-km (116.8 miles) 11th stage of the 102nd Tour de France cycling race from Pau to Cauterets in the French Pyrenees mountains.
2 Migrants wait to disembark from the Migrant Offshore Aid Station (MOAS) vessel Phoenix, at the harbor of Messina, Sicily, Italy.
3 Opposition lawmakers surround Yasukazu Hamada (r) chairman of the lower house special committee on security legislation, as Hamada continues the committee proceedings at the parliament in Tokyo.
4 Smoke rises from the Skatestraum tunnel, after a gasoline trailer carrying around 16,000 liters of gasoline exploded inside the tunnel in Bremanger, Norway.
5 A girl plays as worshippers attend night prayers at Ahmet Hamdi Akseki Mosque in Ankara, Turkey July 14, 2015.
6 Jordan Spieth of the U.S. retrieves his ball from the Swilcan Burn on the first hole during a practice round ahead of the British Open golf championship on the Old Course in St. Andrews, Scotland.
7 A model adjust her hair as she waits for the audition of the upcoming Lakme Fashion Week. The event is scheduled to begin August 26 in Mumbai, India.
8 Fitness coach Peter Yeoman swims in the pool of Gravity health and fitness club in Singapore's central business district (CBD).
9 A protester shouts slogans during a rally organized by the country's biggest public sector union ADEDY marking a 24-hour strike in Athens, Greece.
10 Auschwitz survivor Leon Schwarzbaum shows his tattooed number to the photographer as he waits to enter the court room for the judgment at the trail against former SS guard Oskar Groening in Lueneburg, Germany.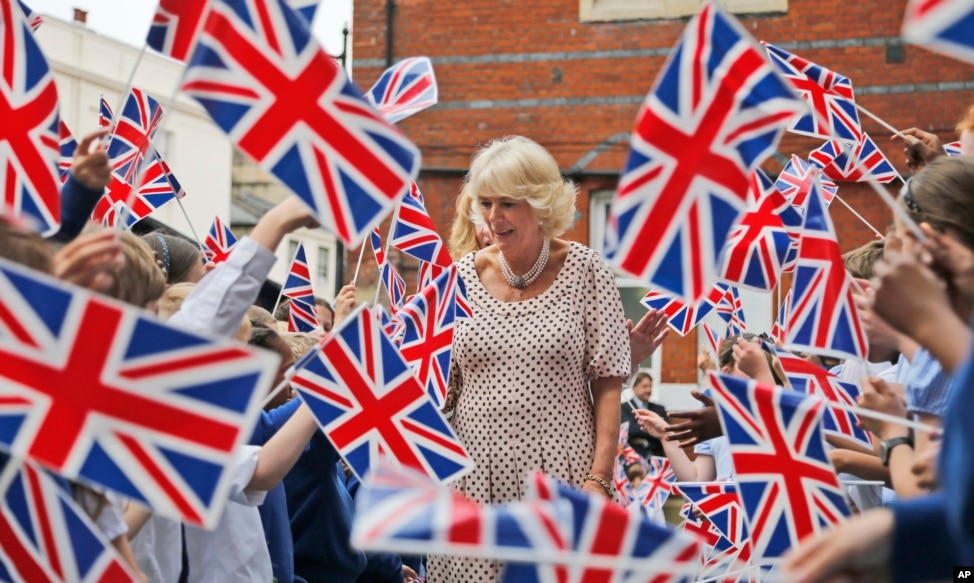 11 Children wave the Union Flag, as the Duchess of Cornwall visits St. Peter's Eaton Square Church of England Primary School in London.
12 Fireworks illuminate the Eiffel Tower in Paris during Bastille Day celebrations, July 14, 2015.
Luglio 16, 2015
1 Bangladeshi Muslims try to climb on to the roof of an overcrowded train as they head to their homes ahead of Eid al-Fitr at a railway station in Dhaka.
2 A boy carries a bag of new clothes ahead of the Eid al-Fitr holiday marking the end of Ramadan, in Jobar, a suburb of Damascus, Syria, July 15, 2015.
3 An explosion at a petrochemical plant is seen in Rizhao, Shandong province, China. According to Xinhua News Agency, a fire broke out after the explosion, which was caused by a liquified hydrocarbon leak at the plant.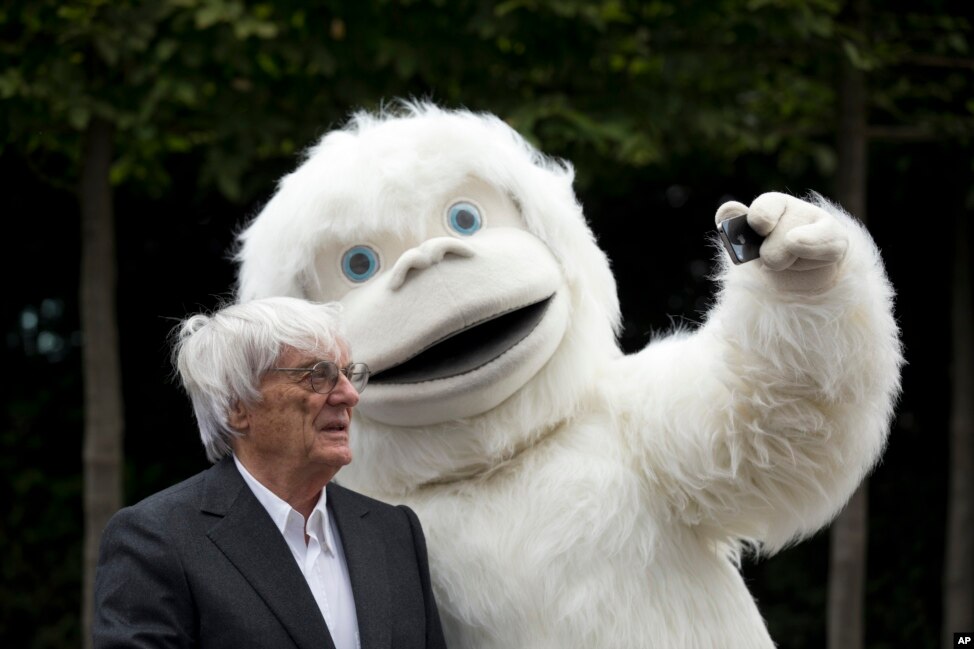 4 Formula One boss Bernie Ecclestone has a selfie taken with a person dressed in a Yeti costume during a photocall to promote the Mongol Rally, outside the headquarters of Formula One Group in London.
5 Players, officials and caddies look for Ernie Els's ball in the gorse bushes during the first round of the 2015 British Open Golf Championship on The Old Course at St Andrews in Scotland.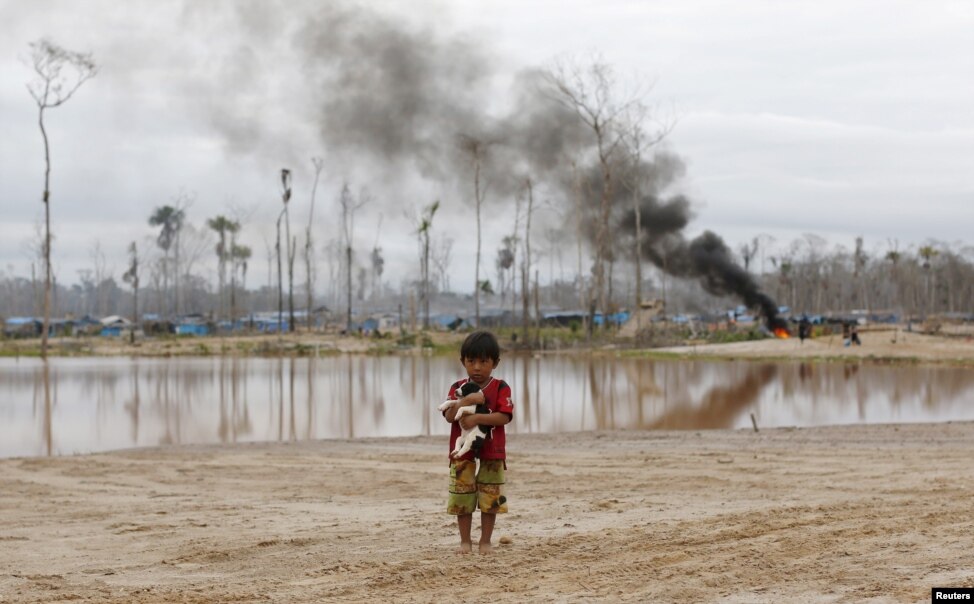 6 A boy carrying a dog stands still after Peruvian police destroyed illegal gold mining camps in a zone known as Mega 14, in the southern Amazon region of Madre de Dios.
7 Switzerland's performance "Let's Move Together" is seen at the Gymnaestrada's Midnight Sun Special at the Olympic stadium in Helsinki, Finland, July 15, 2015.
8 Newly-born Asiatic lion cubs sit near their den in the Khutani area of the sanctuary in the Junagadh region of Gujarat. (Image Credit: Gir National Park and Sanctuary Indian Deputy Conservator of Forests Sandeep Kumar)
9 Nicolas Oliveira of Brazil competes in the Men's 200m freestyle preliminaries at the Pan American Games in Toronto, Canada, July 15, 2015.
Luglio 17, 2015
1 A young boy salutes at a makeshift memorial near the scene where four U.S. Marines were gunned down at an Armed Forces Career Center/National Guard recruitment office on Thursday, in Chattanooga, Tennessee. (Sharon Behn/VOA)
2 An airplane of firefighters flies over smoke billowing over Athens as firemen were battling a brushfire in northeastern Athens and another wildfire in the southern Pelopponese peninsula that prompted the evacuation of five villages.
3 Family members and friends of victims gather in front of a "hedge of compassion," made of thousands of soft toys, during a commemoration ceremony for the victims of Malaysia Airlines flight MH17 in Nieuwegein, near the central city of Utrecht, the Netherlands.
4 Young Kosovo Muslims take part in a prayer during a celebration of Eid al-Fitr marking the end of the fasting month of Ramadan at the Sulltan Mehmet Fatih mosque in Pristina.
5 Exiled Tibetan protesters shout slogans against China during a protest outside the Chinese embassy in New Delhi, India. They were protesting over the untimely death of Tenzin Delek Rinpoche, a prominent Tibetan spiritual teacher in a Chinese prison this week.
6 Grounds staff sweep floodwater into the Swilcan Burn after heavy rain delayed the start of the second round of the British Open Golf Championship at the Old Course, St. Andrews, Scotland.
7 People hold up photos of victims of the 1994 bombing of the AMIA Jewish community center on the 21st anniversary of the terror attack in Buenos Aires, Argentina. The bombing of the Argentine-Israeli Mutual Association killed 85 people in 1994 and remains unsolved.
8 Kenyan artist Evans Yegon alias "Yegonizer" works on a portrait of U.S. President Barack Obama at a studio inside the Go-Down Art Center in Nairobi. Kenya is preparing for a visit by Obama in the coming week.
9 This image of the sun was taken on July 15, 2015, with the Extreme Ultraviolet Imager onboard NASA's Solar TErrestrial RElations Observatory Ahead (STEREO-A) spacecraft, which collects images in several wavelengths of light that are invisible to the human eye. This image shows the sun in wavelengths of 171 angstroms, typically colorized in blue. Image released, July 17, 2015.
10 A worker adjusts plants to set up a labyrinth made of some 8,000 sunflowers in Mons, Belgium, as part of the city's celebrations as European capital of culture. The sunflowers were chosen to honor Dutch painter Vincent Van Gogh's well-known painting, and cover 3,000 square meters on the city's main market square.
11 Lucia Popian, president of G&L Popian, cleans and polishes the crucifix on the main altar, as part of the of the ongoing $177 million restoration of St. Patrick's Cathedral in New York. The renovation, done in three phases over three years, started in 2012 and is slated to be finished before Pope Francios' visit in September 2015.
12 Russia's Ekaterina Dyachenko (L) competes against Ukraine's Olga Kharlan during their women's team saber final at the World Fencing Championships in Moscow.
13 Cosplay fan Mohibur Rahman poses as Manga character Tobi at the London Film and Comic-Con in London.
14 A boy cools off at a weir of the Berounka river as temperatures reached 37 degrees Celsius (98.6 degrees Fahrenheit) in the village of Zadni Treban near Prague, Czech Republic.
Luglio 19, 2015
1 Maria Gonzalez of Mexico is assisted when she collapsed after crossing the finish line in the women's 20km Walk at the 2015 Pan American Games in Toronto, Canada. Gonzalez won with a mark of 1:29:24.
2 Germany's Andre Greipel, right, crosses the finish line ahead of Peter Sagan of Slovakia, left, Norway's Alexander Kristoff, second left, and Germany's John Degenkolb, center, to win the the fifteenth stage of the Tour de France cycling race over 183 kilometers (113.7 miles) with the start in Mende and the finish in Valence, France.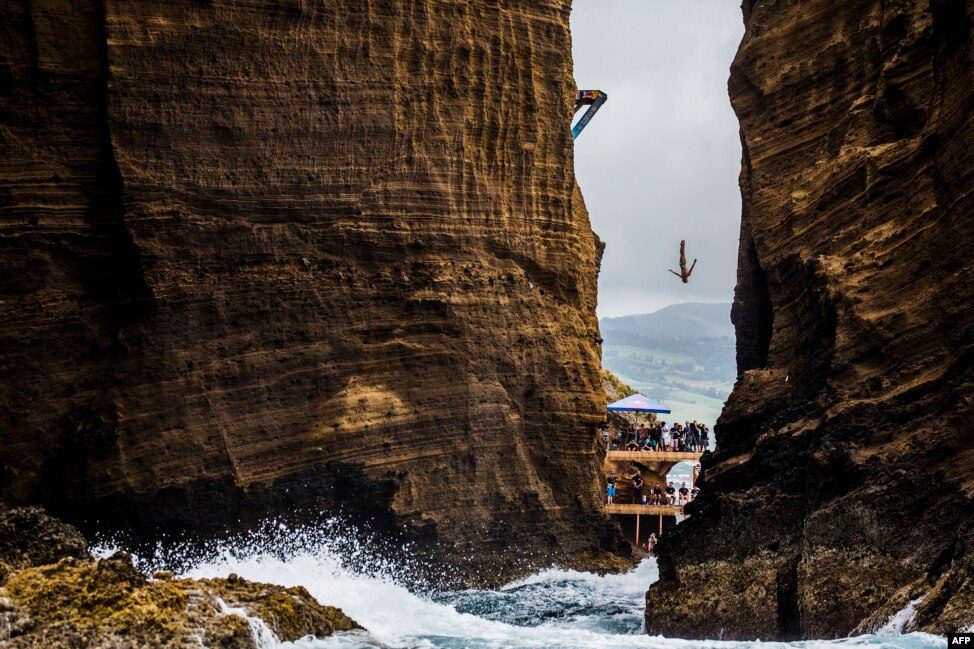 3 This handout photo received from Red Bull shows Jonathan Paredes of Mexico diving from the 27-meter platform during the fifth stop of the Red Bull Cliff Diving World Series at Islet Franco do Campo, Azores, Portugal.
4 People take part in a color battle organized by the Artonik company during a street theater festival in Mulhouse, France, July 18, 2015.
5 Rut Castillo of Cuba performs in the ball rotation in the Women's Rythmic Gymnastics individual all-around final at the Pan American Games in Toronto, Canada.
6 Cylists hang to the back of a truck outside the capital Bujumbura, Burundi.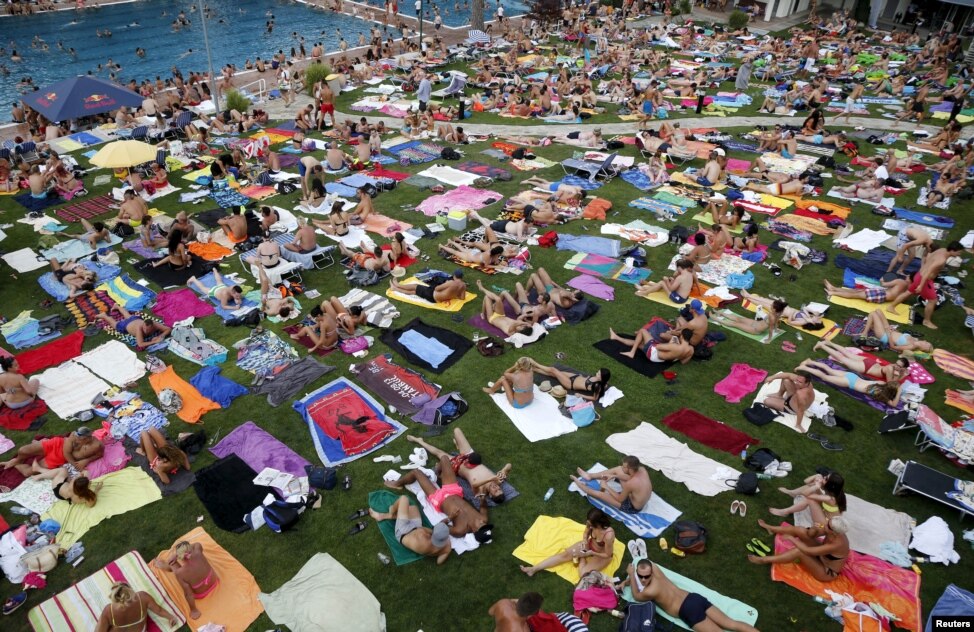 7 People relax at the public swimming pool of Schoenbrunner Bad on a sunny day in Vienna, Austria.
8 The latest two full-frame images of Pluto and Charon were collected separately by New Horizons during approach on July 13 and July 14, 2015. The relative reflectivity, size, separation, and orientations of Pluto and Charon are approximated in this composite image, and they are shown in approximate true color. (Image Credit: NASA/JHUAPL/SWRI)
9 Filipinos follow steps during a Zumba class as they attempt to break a Guinness world record in suburban Mandaluyong, east of Manila, the Philippines. Guinness representative Alan Pixley announced that Mandaluyong city now holds the new world record for the title largest Zumba class with a total participant of 12,975.
10 Johnathan Scott of Costa Rica (back) is dropped by Venezuela's Cristian Sacro during a men's freestyle 74 kg bronze medal wrestling match at the Pan Am Games in Mississauga, Ontario, Canada.
11 Hot air balloons are seen at the Cup Hot Air event during the Air Sports festival titled "70 Years of Peaceful Sky" in Minsk, Belarus, July 18, 2015.
Luglio 20, 2015
1 Locals watch as a firefighting plane drops water over a fire near holiday homes in Costa village in the Argolida region, in Southeastern Greece during a developing wild fire.
2 A vintage car with U.S. flags drives by the U.S. embassy in Havana. The United States and Cuba formally resumed diplomatic relations, as the Cuban flag was raised at the U.S. State Department in a historic gesture toward ending decades of hostility between the Cold War foes.
3 Policemen detain protester Danilo Maldonado after he splattered red paint from a pouch hidden in his clothing, outside the flag-raising ceremony at the Cuban Embassy in Washington, D.C.
4 Italy's Andrea Baldini (R) and Russia's Artur Akhmatkhuzin compete during the men's foil team gold medal match at the 2015 World Fencing Championships in Moscow, July 19, 2015.
5 A boy walks on a street littered with cooking gas cylinders after a fire and explosions destroyed a nearby gas storage area during clashes between fighters of the Popular Resistance Committees and Houthi fighters earlier today, in Yemen's southwestern city of Taiz, July 19, 2015.
6 British comedian known as Lee Nelson (unseen) throws banknotes at FIFA President Sepp Blatter as he arrives for a news conference after the Extraordinary FIFA Executive Committee Meeting at the FIFA headquarters in Zurich, Switzerland.
7 A beluga whale sprays water on visitors at the Hakkeijima Sea Paradise aquarium in Yokohama, suburban Tokyo, Japan.
8 Men fish in front of wrecked ships at the Russian fleet base in Baltiysk in the Kaliningrad region, July 19, 2015.
9 Female hippopotamus, Renu, spends time with her newly born calf in an enclosure at the Assam State Zoo in Guwahati, India.
10 In this photo provided by the CAL FIRE/Riverside County Fire Department, emergency crews respond after a pickup truck crashed into a hole caused by the collapse of an elevated section of Interstate 10 in Desert Center, California, July 19, 2015.
Luglio 21, 2015
1 A policewoman tries to stop a member of the All India Mahila Congress, the women's wing of the Congress party, who was trying to cross over a barricade, during a protest against Indian Prime Minister Narendra Modi in New Delhi.
2 An old residential building is seen surrounded by a newly-built ring viaduct, in Guangzhou, Guangdong province, China. The building was planned to be demolished, but several families in the building refused to move out as they couldn't reach a compensation agreement with the authority, local media reported.
3 Participants of the World Congress of Santa Clauses 2015 take part in the annual swim at Bellevue beach, north of Copenhagen, Denmark.
4 A three-day-old bonobo baby sleeps on the belly of its mother Kutu in the zoo in Frankfurt, Germany.
5 Delegates, some in traditional dress, attend the opening of the Consciousness Summit in Paris, France.
6 Pakistani youngsters taking a ride at an amusement park in Rawalpindi
7 Chinese honor guards prepare for the arrival of New Zealand's Governor-General Jerry Mateparae and Chinese President Xi Jinping (L) during a welcome ceremony outside the Great Hall of the People in Beijing.
8 People hold onto windows to avoid a bull during the 'Toro de Cuerda' (Bull on Rope) festival in Grazalema, southern Spain, July 20, 2015.
9 Toshiba Corporation's President and Chief Executive Officer Hisao Tanaka (C) is surrounded by the media as he leaves a news conference at the company headquarters in Tokyo, Japan. Tanaka stepped down after an independent investigation found he had been aware the company had inflated its profits, in the country's biggest corporate scandal in years.
10 A couple, affected by tear gas used by riot police to disperse demonstrators, reacts in central Istanbul, Turkey, July 20, 2015. Police fired teargas and water cannon when a demonstration by protesters blaming the government for a suspected Islamic State suicide bombing turned violent, a Reuters witness said.
11 A homeless person sleeps in front of a wallpaper of New York city on the windows of a casino near the main railway station in Bucharest, Romania.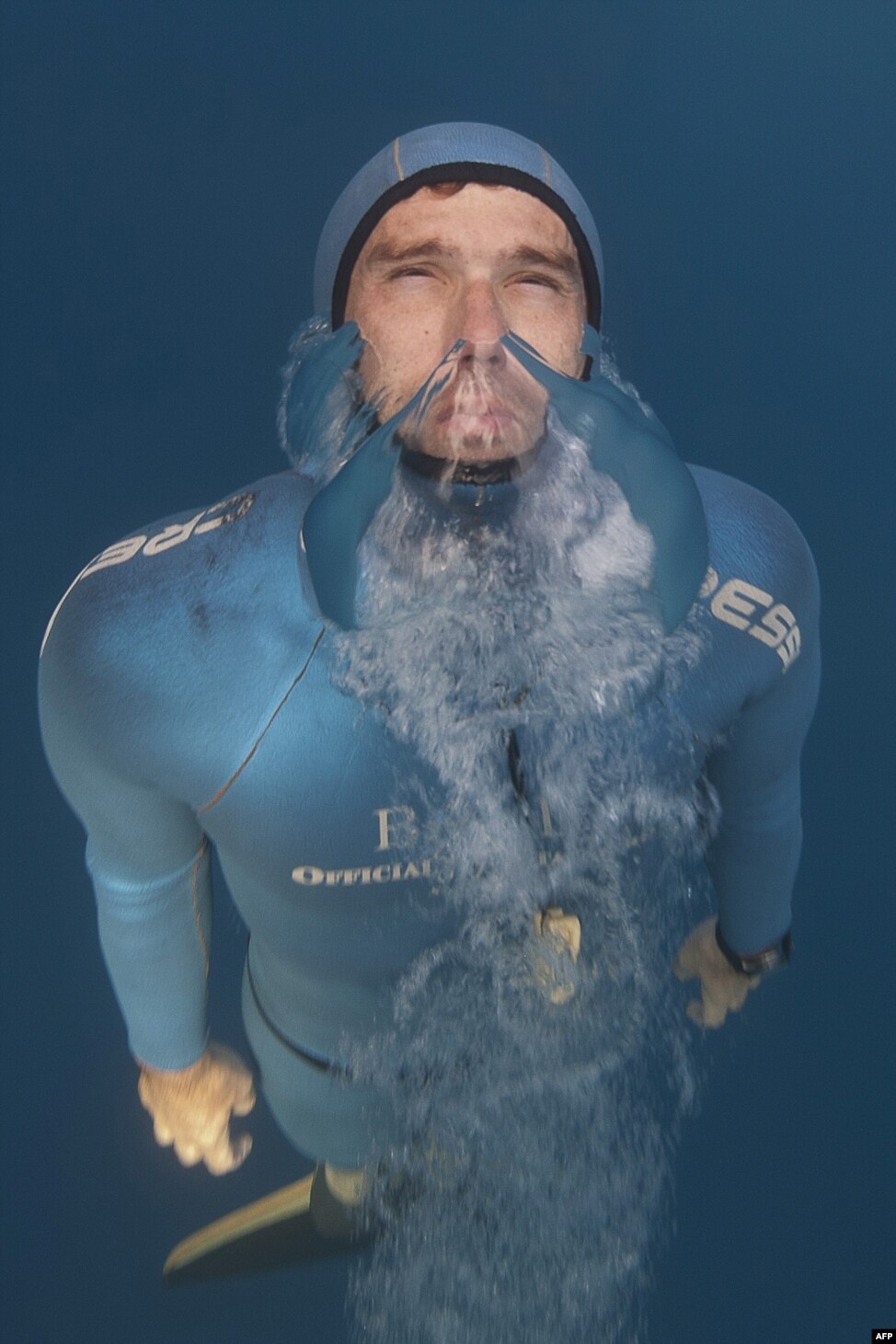 12 French free diver Guillaume Nery practices apnea during a training session in the Mediterranean sea near Nice, ahead of the 2015 AIDA (Association for Development of Apnea) Individual Depth World Championships which will take place between Sept. 5 and 20 in Cyprus.
Luglio 22, 2015
1 A protester wearing a Guy Fawkes mask stands among a group of protesters from tobacconist groups throwing papers in the air in oppostion to neutral cigarette packaging in Paris, France. Government officials claim the packaging will help reduce the attractiveness of the product, while the tobacco industry claims plain packing will permit easier means of producing counterfeit cigarettes.
2 A fan rides a bicycle as he is suspended from a cable during the 161-km (100 miles) 17th stage of the 102nd Tour de France cycling race from Digne-les-Bains to Pra Loup in the French Alps.
3 A university assistant shows fragments of an old Quran at the University of Birmingham, in central England. The University of Birmingham said that scientific tests prove a Quran manuscript may have been written close to the time of the Prophet Muhammad. Radiocarbon testing at Oxford University dated the parchment to the time of the prophet, who is generally believed to have lived between 570 and 632.
4 The Moderate Resolution Imaging Spectroradiometer (MODIS) aboard NASA's Aqua satellite captured this true-color image of a river of smoke passing over the Greenland Sea. The smoke most likely arose from fires in Canada and Alaska. (Image Credit: NASA/Jeff Schmaltz, LANCE/EOSDIS MODIS Rapid Response Team, NASA GSFC)
5 Cucumbers carved by Japanese sushi chef Okitsugu Kado with the faces of (L-R) tennis player Kei Nishikori, Prime Minister Shinzo Abe and figure skater Mao Asada are displayed during a promotional event in Tokyo.
6 Pakistani women sit in a trolley crossing a flooded stream due to heavy rains in Rawalpindi, Pakistan.
7 Members of the Franciscan fraternity "O Caminho" (The Way) shave and cut the nails of a homeless man in front of Se Cathedral in downtown Sao Paulo, Brazil, July 21, 2015. Sao Paulo, South America's largest city, has an estimated 16,000 homeless people according to the Town Hall.
8 Plant roots are pictured at the Plant Advanced Technologies (PAT) company greenhouse in Laronxe near Nancy, Eastern France. Plants are grown in a special way with a view to "milking" them for use in medicines, cosmetics and agrochemicals.
9 A visitor is silhouetted as she slides down a huge water pipe at a public swimming pool on a hot sunny day in Vienna, Austria.
10 Children play in a inflatable pool filled with smashed watermelons to cool off, at an amusement park in Hangzhou, Zhejiang province, China.
11 Firemen look at a tree that fell after the Hong Kong Observatory issued an Amber Rainstorm warning in Hong Kong, July 22, 2015.
12 Priscilla Frederick of Antigua competes during the Women's High Jump Finals at the CIBC Athletics Stadium at the Toronto 2015 Pan American Games in Toronto, Canada.
Luglio 23, 2015
1 The artistic concept compares Earth (left) to the new planet, called Kepler-452b, which is about 60 percent larger. The illustration represents one possible appearance for Kepler-452b -- scientists do not know whether the planet has oceans and continents like Earth. (Image credit: NASA/Ames/JPL-Caltech/T. Pyle)
2 The Soyuz TMA-17M rocket launches from the Baikonur Cosmodrome in Kazakhstan, carrying Expedition 44 Soyuz Commander Oleg Kononenko of the Russian Federal Space Agency (Roscosmos), Flight Engineer Kjell Lindgren of NASA, and Flight Engineer Kimiya Yui of the Japan Aerospace Exploration Agency (JAXA) into orbit to begin their five month mission on the International Space Station. (Photo Credit: NASA/Aubrey Gemignani)
3 Kjell Lindgren of the U.S., a member of the International Space Station (ISS) crew, gestures to his family from a bus before departure for a final pre-launch preparation at the Baikonur cosmodrome, Kazakhstan, July 22, 2015.
4 Afghan men wash under a waterfall to cool off in Parwan province, Afghanistan .
5 French farmers block the A6 highway in Limonest, near Lyon, France, to protest against lower food prices and profits.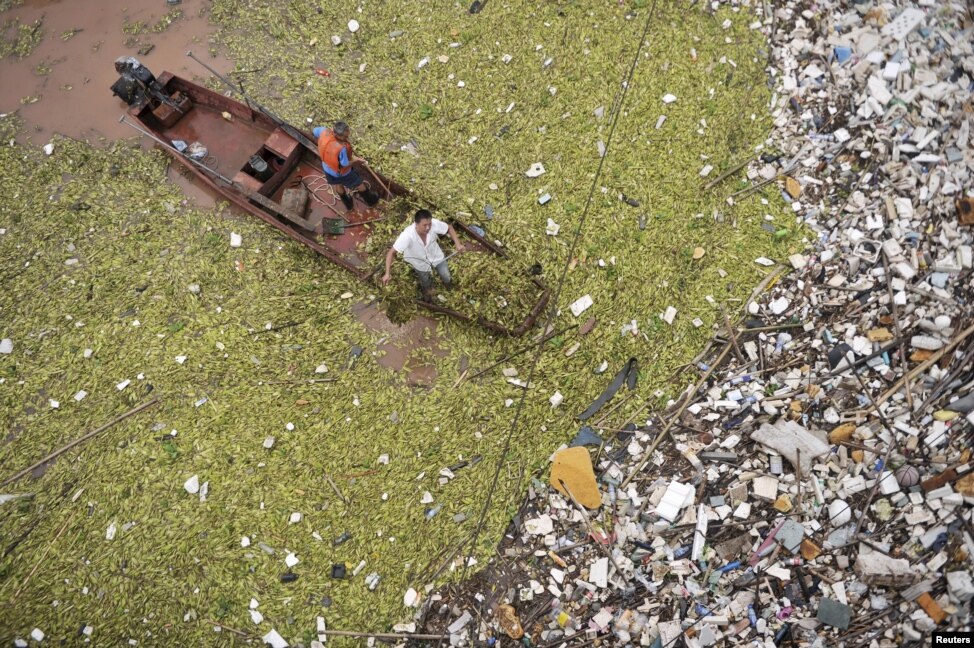 6 Workers clear floating plants and garbage off the surface of the Yangtze River at a section in Chongqing municipality, China, July 22, 2015.
7 Men dressed in Spartan-style costumes walk through a commercial plaza in Beijing, July 22, 2015. A salad store paraded dozens of half-naked Western men dressed as Spartans through China's capital as a publicity stunt, causing a stir and drawing a crackdown by police who were photographed restraining some of them on the ground.
8 Regina Jaquess of the United States skis during the women's overall water ski competition in the Pan Am Games in Toronto, Canada, July 22, 2015.
9 A man listens to the news on a shortwave radio in Bujumbura, Burundi, July 22, 2015.
10 A car is seen between a pile of garbage covered with white pesticide in the Palestinian refugee camp of Sabra in Beirut, Lebanon. The Lebanese cabinet has failed to agree on a solution for the country's growing garbage crisis, postponing discussion until next week as trash piles up on the streets.
11 Riders, team cars and press motorcycles climb the hairpins of Montvernier during the eighteenth stage of the Tour de France cycling race over 186.5 kilometers (115.9 miles) with start in Gap and finish in Saint-Jean-de-Maurienne, France.
12 Kashmiri men feed geese on the shores of Dal Lake in Srinagar, India.
13 The America's Cup Trophy is carried from a Royal Marine landing craft after it arrived at the waterfront festival area in Portsmouth, England.
14 U.S. actor Tom Cruise waves to fans upon his arrival for the world premiere of Mission Impossible - Rogue Nation in front of the State Opera house in Vienna, Austria.
15 Arnie Powell walks along the beach with his pet dog, Biscuit, as rain clouds approach Hobie Beach in Key Biscayne, Florida, July 22, 2015.
Luglio 24, 2015
1 Indian women farmers gather near the Indian parliament for a protest against the Land Acquisition Bill in New Delhi. Farmers are calling the bill anti-farmer in a country where agriculture is the main livelihood for more than 60 percent of the 1.2 billion people.
2 U.S. President Barack Obama receives flowers from Joan Wamaitha, 8, as he arrives at Jomo Kenyatta International Airport in Nairobi. Obama flew into Kenya late on Friday for his first presidential visit to his father's homeland, aiming to boost trade and security ties in East Africa.
3 People hold placards denouncing Japan's Prime Minister Shinzo Abe's security-related legislation during an anti-government rally in Tokyo. Abe pushed legislation through parliament's lower house that could see troops sent to fight abroad for the first time since World War II.
4 The mother of Turkish soldier Mehmet Yalcin Nane cries during a burial ceremony in Gaziantep. Turkish fighter jets bombed positions of Islamic State jihadists inside Syria for the first time on Friday. Operations came after first major cross-border clashes between Turkey and IS jihadists on Thursday left the Turkish soldier and one militant dead, thrusting Turkey into an open conflict with the Islamists.
5 A man rides his bicycle between taxis parked on the street during a protest against the online car-sharing service Uber in Rio de Janeiro, Brazil.
6 New Horizons scientists use enhanced color images to detect differences in the composition and texture of Pluto's surface. Four images from New Horizons' Long Range Reconnaissance Imager (LORRI) were combined with color data from the Ralph instrument to create this enhanced color global view.
7 Ethnic Yao minority women brush their long hair near a creek, in Huangluo village of Guilin, Guangxi Zhuang Autonomous Region, China, July 23, 2015. The village, known for the long hair of its female residents, attracts about 80,000 tourists a year. More than 80 women in the village have hair longer than 1.4 meters, with the longest reaching 2.2 meters.
8 Visitors wave flags as the official emblems of the Tokyo 2020 Olympics and Paralympic Games are unveiled at Tokyo Metropolitan Plaza, Japan.
9 Team Sky rider Chris Froome of Britain (L), wearing the overall leader's yellow jersey, speeds downhill in the Glandon pass during the 138-km (85.74 miles) 19th stage of the 102nd Tour de France race in the French Alps.
10 Performers dance during the opening ceremony for the 16th FINA World Championships in Kazan, Russia.
11 A camel yawns in the western town of Pornichet, France, before competing in one leg of the first French camel race championship.
12 A child cools off in a fountain in Milan, as a major heatwave spreads throughout Europe with temperatures hitting nearly 40 degrees Celsius.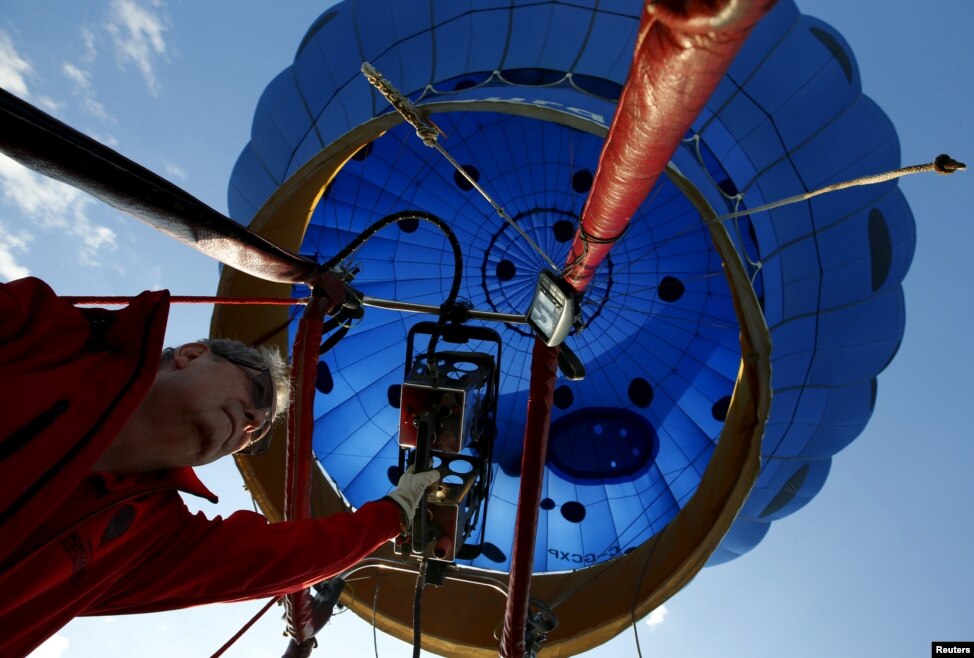 13 Normand Trepanier from Saint-Jean-Sur-Richelieu, Quebec, Canada, pilots the hot air balloon Piko on day one of the 2015 New Jersey Festival of Ballooning in Readington. More than 100 balloons are taking part in the three-day festival, one of the largest of its kind in North America.
14 A long-distance swimmer dives into the Atlantic Ocean at dawn in Falmouth, Maine. The woman is part of a group that regularly starts their day with a two-mile swim. Many of the swimmers keep a float tethered to their bodies for safety.
Luglio 26, 2015
1 A boy plays with a machine gun at a weapon exhibition, during celebrations for Navy Day in St.Petersburg, Russia.
2 A Kenyan woman reaches out across a sea of hands as she tries to shake the hand of President Barack Obama, as he walks past the crowd after delivering a speech at the Safaricom Indoor Arena in the Kasarani area of Nairobi, Kenya.
3 Left-wing militants protect themselves as Turkish anti-riot police fires water cannon to disperse a demonstration in Istanbul's Gazi district. Tensions across the country are high, with police routinely using water cannon to disperse nightly protests in Istanbul and other cities denouncing IS and the government's policies on Syria.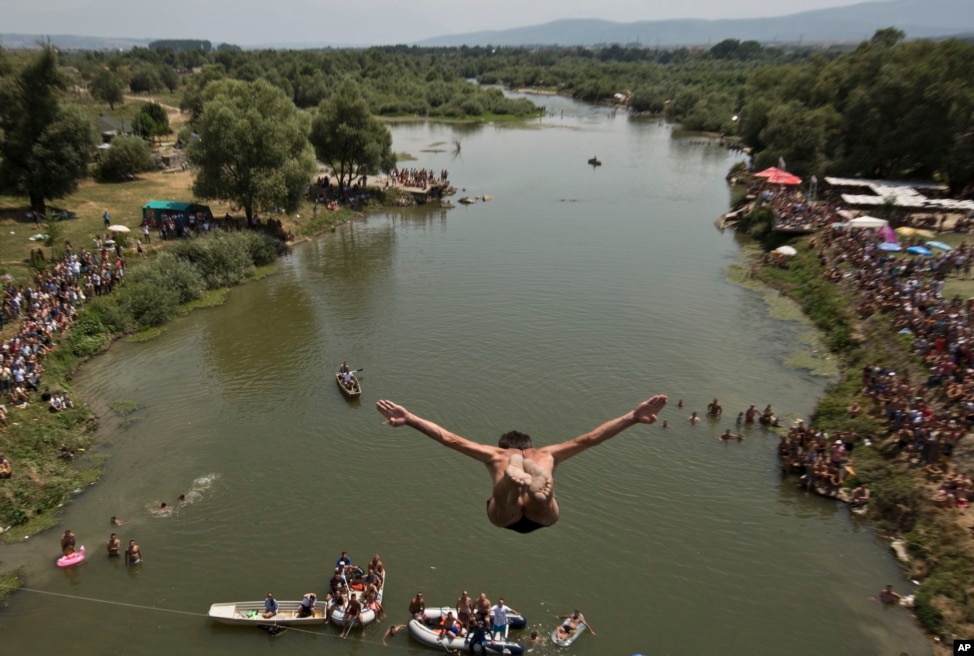 4 Spectators watch as a diver jumps from the Ura e Shenjte bridge during the traditional annual high diving competition, near the town of Gjakova, 100 kms south of Kosovo capital Pristina.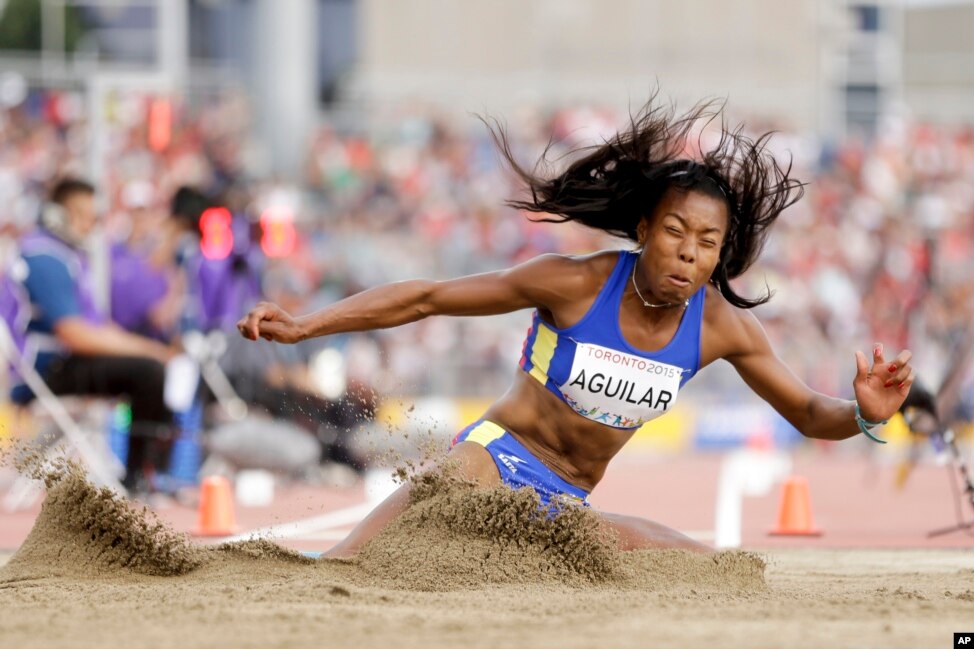 5 Colombia's Evelis Aguilar competes during the women's heptathlon long jump at the Pan Am Games in Toronto, Canada, July 25, 2015.
6 An aerial view shows debris of a crashed light plane (bottom C) and burning houses are seen after the plane went down in a residential area and burst into flames, in Chofu, outskirt of Tokyo, in this photo taken by Kyodo.
7 Participants wrestle while riding horses during the Kyrgyz national horse games and festival near the Tulpar-Kul lake in the Chon Alai mountain range, some 3500 meters (11483 feet) above sea level, in the Osh region of Kyrgyzstan, July 25, 2015.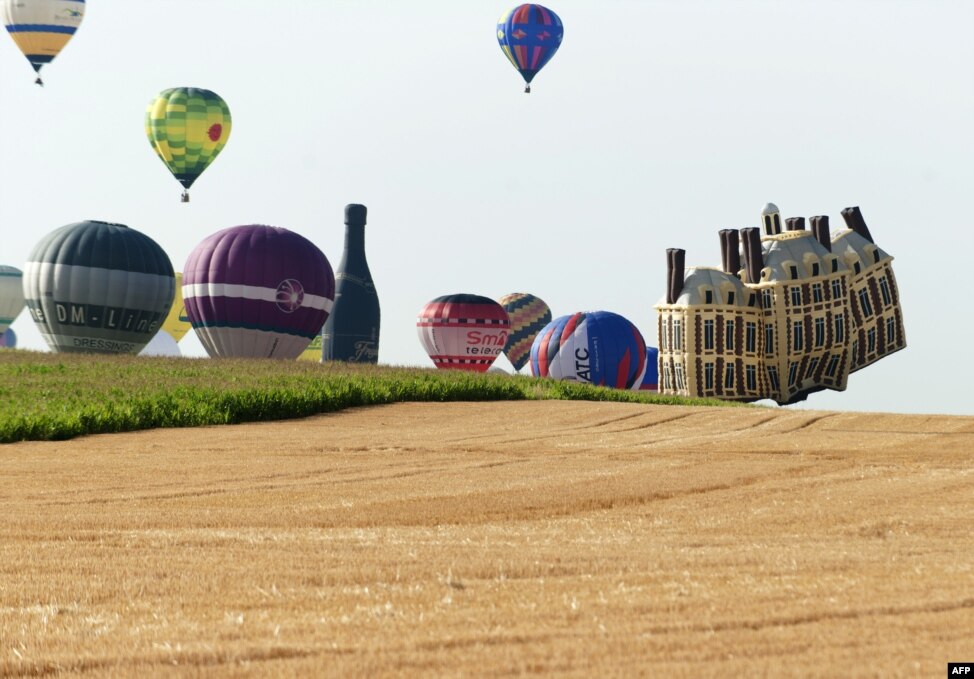 8 Hot-air balloons fly near Chambley-Bussieres, eastern France, on the first day of the international air-balloon meeting "Lorraine Mondial Air Ballons."
9 Britain's Richard Whitehead (L) wins the Men's T42 200m event at the Anniversary paralympic games at the Queen Elizabeth Olympic Park stadium in Stratford, east London.
10 Russia's Natalia Ishchenko and Svetlana Romashina perform during the synchronised swimming duet technical final at the Aquatics World Championships in Kazan, Russia.
11 Tourists onboard the U.S. aircraft carrier USS Midway outside North Island's Naval Airbase in San Diego, California. The carrier, which fired the first volley on Iraq in 1990-91's Desert Storm to liberate Kuwait, has been turned into a museum. (Photo by Diaa Bekheet)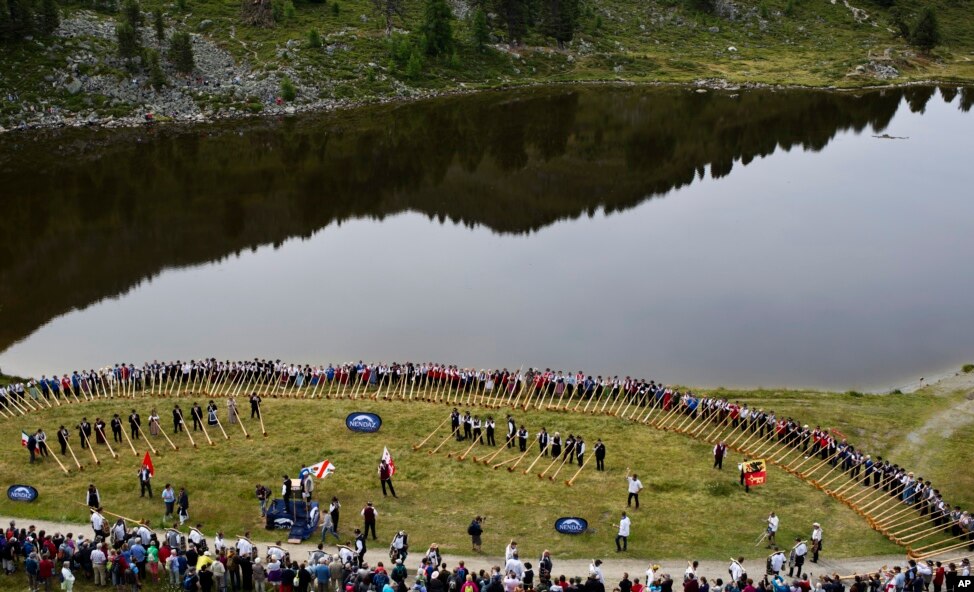 12 Alpenhorn players prepare to perform along the Lac de Tracouet, situated 2,200 meters (7,220 feet) above sea level in Haute-Nendaz, canton of Valais, Switzerland.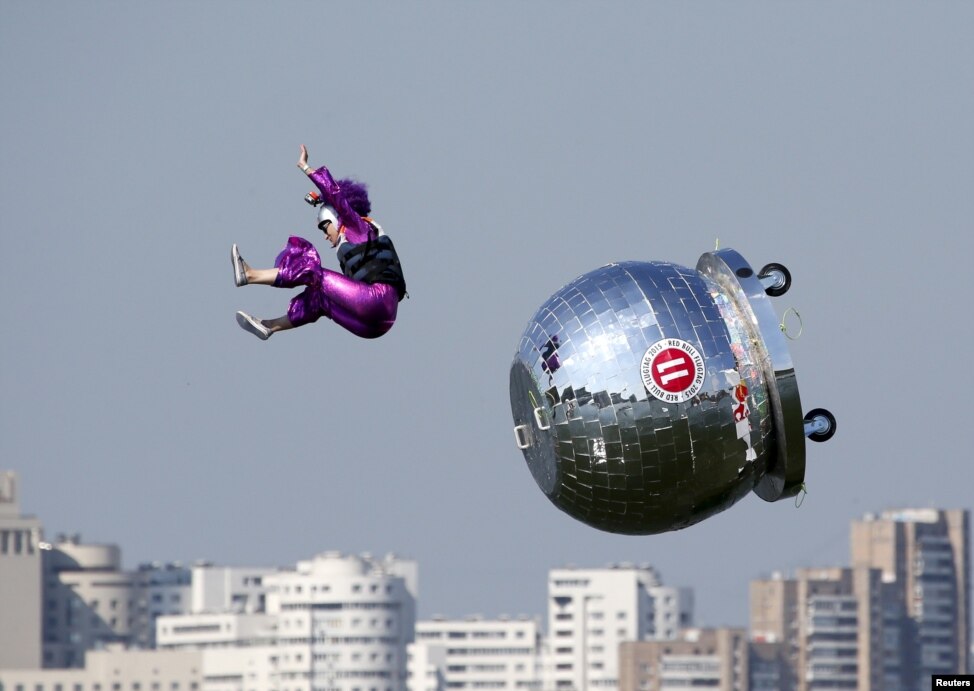 13 A participant falls down during the Red Bull Flugtag Russia 2015 competition in Moscow, Russia.
14 Participants spray water guns at each other during the 3rd Water Gun Festival in Seoul, South Korea.
Luglio 27, 2015
1 Spain's Ona Carbonell performs during the synchronized swimming solo free routine preliminary at the Aquatics World Championships in Kazan, Russia.
2 A riot police officer peeks through shields following a clash with protesters marching towards the parliament in suburban Quezon city, northeast of Manila, where Philippine's President Benigno Aquino delivers his final state of the nation address.
3 Ukrainian artist Dariya Marchenko works on a portrait of Russian President Vladimir Putin named "The Face of War" which is made out of 5,000 cartridges brought from the frontline in eastern Ukraine, in Kyiv.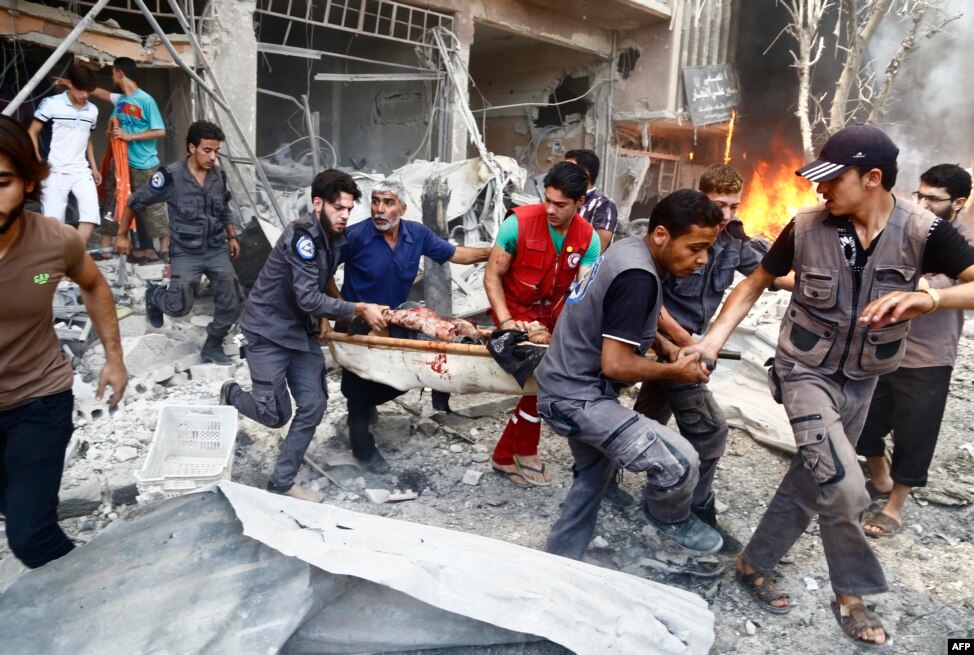 4 Emergency services and civilians carry a serverely wounded man on a stretcher following an airstrike on Douma, a rebel-held suburb east of the Syrian capital Damascus.
5 Two migrants pull an overcrowded dinghy with Syrian and Afghan refugees arriving from the Turkish coasts to the Greek island of Lesbos.
6 Lebanese army soldiers stand next of their armored personnel carriers as they prepare to reopen a highway linking Beirut to southern Lebanon blocked by angry protesters, in the coastal town of Jiyeh. The closure of the vital highway in the coastal comes amid reports that the government plans to move trash piled on the streets of Beirut to the Kharoub region south of the capital.
7 An employee conducts tests of an antenna at a factory of FiberHome Technologies Group, in Wuhan, Hubei province, China.
8 Dairy cows nuzzle a barn cat as they wait to be milked at a farm in Granby, Quebec, July 26, 2015.
9 People throw colored powder during the Holi Festival of Colors in Moscow, Russia, July 26, 2015.
10 A man walks on the rail tracks at Kalaw station in Kalaw, Shan state, Myanmar, early in the morning. (Photo taken by Maung Maung Myint/Norway)
11 Seattle Mariners left fielder Franklin Gutierez (30) is doused with sports drink in the dugout after hitting a walk-off solo-homer against the Toronto Blue Jays during the tenth inning at Safeco Field in Seattle, Washington, July 26, 2015. Seattle defeated Toronto, 6-5. (Credit: Joe Nicholson/USA TODAY Sports)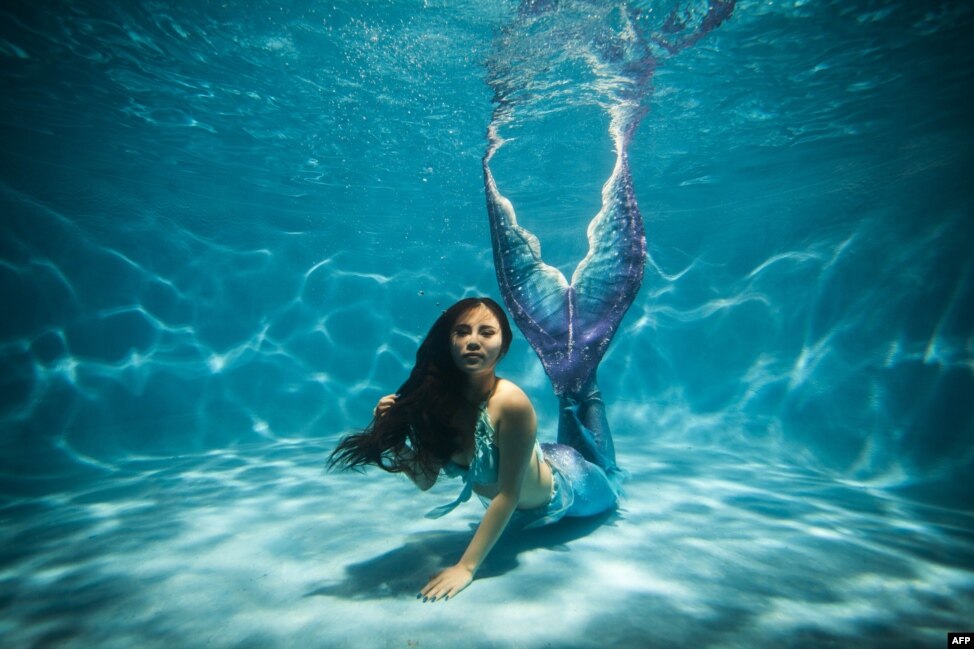 12 A woman clad in her self-made mermaid costume swimming in a pool in China's southwest Chongqing municipality, July 26, 2015.
13 Kate, a museum employee, arranges one of Zak Ove's Moko Jumbie sculptures, installed in the Great Court at the British Museum in London.
14 Fireworks explode from the CN Tower over downtown Toronto, Canada, during the closing ceremonies of the Pan Am Games, July 26, 2015.
Luglio 28, 2015
1 A helicopter from the Andalusian Firefighting Service (INFOCA) drops water over scrub land during a forest fire in Los Barrios, near Cadiz. Since July 19 wildfires have ravaged nearly 39,000 hectares of land in Spain, according to the provisional figures from the agriculture ministry.
2 Indian Prime Minister Narendra Modi pays respect after the body of former President A.P.J. Abdul Kalam arrived at the Palam airport in New Delhi. Kalam, known as the father of the country's military missile program, died after collapsing while delivering a lecture, a top state official said. He was 83.
3 Libyan dictator Moammar Gadhafi's former aides sit behind the bars of the accused cell during their trial at court of appeals in Tripoli. A Libyan court sentenced a son and eight aides of the slain dictator to death for crimes during the 2011 uprising after a trial overshadowed by the country's bloody division.
4 A Syrian migrant and his pregnant wife walk on train tracks towards the town of Gevgelija on the Macedonian-Greek border to catch a train to Serbia and the North European countries, July 27, 2015.
5 Tourists take pictures of Cuban flags in front of the U.S embassy in Havana, July 27, 2015.
6 Giant panda Jia Jia eats bamboo next to her birthday cake made with ice and vegetables at Ocean Park in Hong Kong as she celebrates her 37th birthday. Jia Jia broke the Guinness World Records title for "Oldest Panda Living in Captivity."
7 Tampa Bay Rays first baseman James Loney (21) falls into the stands after he attempted to catch a foul ball during the eighth inning against the Detroit Tigers at Tropicana Field in St. Petersburg, Florida, USA. (Credit: Kim Klement/USA TODAY Sports)
8 A scarecrow of Britain's Prince George and Princess Charlotte with their nanny stands in a garden during the Scarecrow Festival in Heather, Britain.
9 Ireland Baldwin, left, and father actor Alec Baldwin attend the premiere of "Mission: Impossible - Rogue Nation" in Times Square in New York, July 27, 2015.
10 A boy plays near a fountain depicting a water tap in the Siberian city of Krasnoyarsk, Russia, July 27, 2015.
Luglio 29, 2015
1 Britain's Prince Charles, Prince of Wales (R) and his wife, Camilla, Duchess of Cornwall (2R) react as "Zephyr" the Bald Eagle, the mascot of the British Army Air Corps, flaps her wings whilst being held by handler Andy Winford during a tour of the annual Sandringham Flower Show in Norfolk.
2 A 500-meter aperture spherical telescope (FAST) is seen in construction in Pingtang county, Guizhou province, July 28, 2015. According to local media, the telescope will be put into use by September, 2016, and will become the largest in the world. China invested 667 million yuan in the construction and the site selection took 15 years.
3 An Israeli settler is arrested by security forces as demolition begins of the so-called Dreinoff buildings under an Israeli High Court ruling in the settlement of Beit El, north of Ramallah in the occupied West Bank.
4 Andrew Grubowski, 10, releases a lantern during a vigil for Austin Stephanos and Perry Cohen, in Stuart, Florida. The two teenagers have been missing since July 24 when they went out on a boat to go fishing from Tequesta, Florida. A search continues for the boys that spans from the Atlantic waters off Daytona Beach, north through Savannah, Georgia.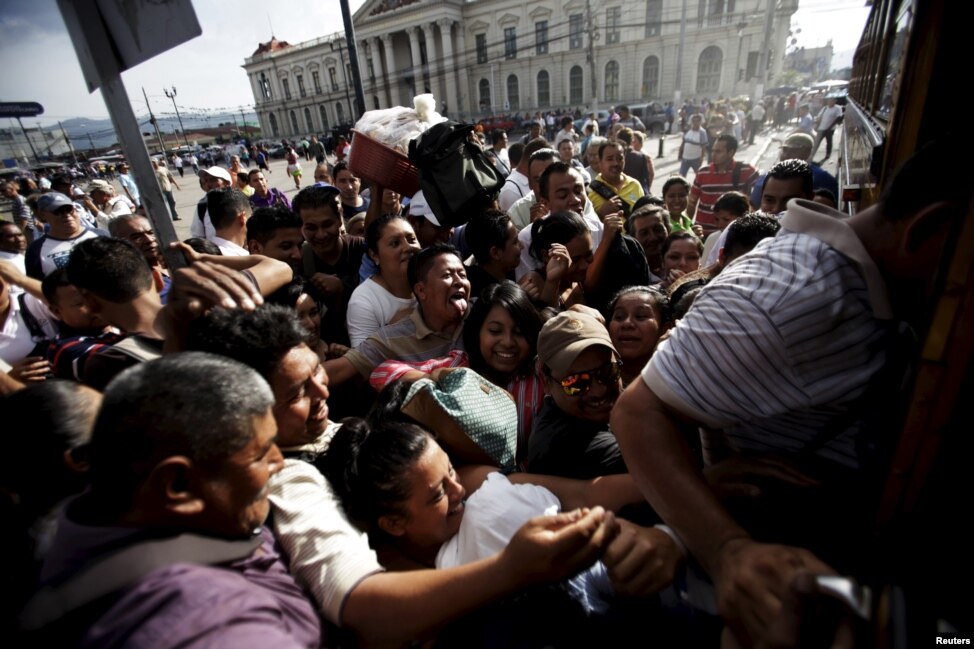 5 People try to board a government transport during the second day of a suspension of public transport services in San Salvador, El Salvador, July 28, 2015. Violent gangs ordered bus drivers to strike in a conflict that has killed six people and left thousands of commuters stranded on the streets of the Central American capital, police and bus company officials said.
6 Organist Richard Hill plays a newly restored 1903's American Wurlitzer Theatre Pipe Organ, which is believed to be the largest in Europe, at the Troxy entertainment venue in London. The Wurlitzer holds more than 1,728 pipes, ranging from 16 ft (4.9 meters) to 1 inch (2.5 cm) housed in four separate rooms, four keyboards, one pedal board and 241 stop keys, and has taken six years to restore.
7 The full moon rises over the illuminated Kazan Kremlin with the Qol Sharif mosque illuminated in Kazan, the capital of Tatarstan, located in Russia's Volga River area about 700 km (450 miles) east of Moscow.
8 Oil pumping jacks and drilling pads at the Kern River Oil Field where the principle operator is the Chevron Corporation in Bakersfield, California, July 28, 2015. The field is the third largest in California, fifth largest in the United States and relies mainly on the steam-injection method to extract the crude oil.
9 People take part in the "Foulee du Festayres" foot race between Biarritz and Bayonne in Biarritz, southwestern France on the first day of the 79th Bayonne festival. This year's festival will run until Aug. 2, 2015.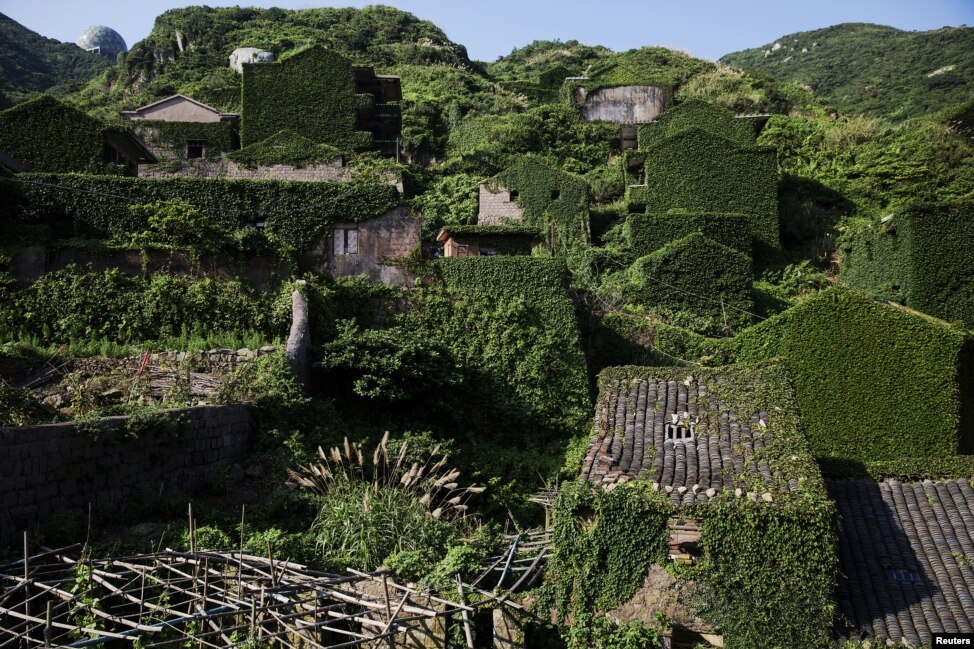 10 Plants grow on houses in the abandoned fishing village of Houtouwan on the island of Shengshan. Just a handful of people still live in a village on the island east of Shanghai that was once home to more than 2,000 fishermen. Every day hundreds of tourists visit Houtouwan, making their way on narrow footpaths past tumbledown houses overtaken by vegetation.
11 A diver performs with fish as part of summer events at the Coex Aquarium in Seoul, South Korea.
12 Indian tribal dancers dressed in costume prepare to perform a traditional 'tiger dance' on the occasion of International Tiger Day in Kolkata.
13 Visitors at the Musee d'Orsay are seen in silhouette as they look on from a giant clock face at the former Orsay railway station, in Paris, France, July 28, 2015.
14 Japanese divers Sho Sakai and Ken Terauchi compete in the Men's 3-meter Springboard Synchronised final diving event at the 2015 FINA World Championships in Kazan, Russia, July 28, 2015.
Luglio 30, 2015
1 A smiling sunflower in a field in Tokyo, Japan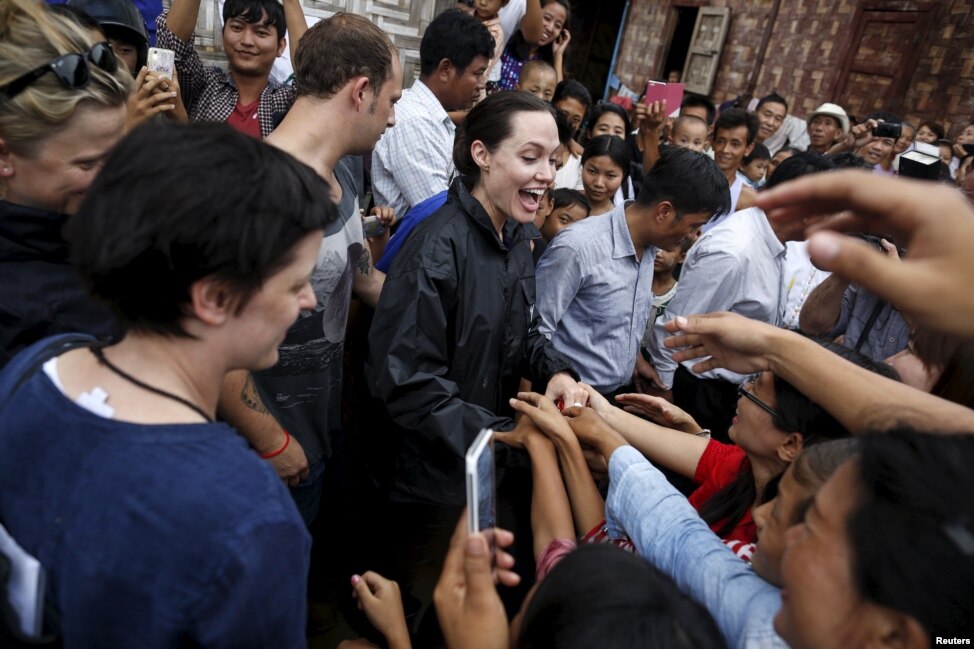 2 UNHCR special envoy Angelina Jolie Pitt (C) shakes hand with Kachin ethnic refugees as she visits Jam Mai Kaung IDP camp in Myitkyina capital city of Kachin state, Myanmar.
3 SoftBank Group representative Masayoshi Son and humanoid robot Pepper deliver a presentation at the SoftBank World 2015 in Tokyo, Japan.
4 A Belgian dairy farmer pours milk from a truck during a protest against low milk prices at the Corman milk processing factory in Bethane near Liege.
5 Pakistani girls cry during an operation to tear down a poverty-stricken neighborhood where Afghan refugees and Pakistani tribal people live in Islamabad.
6 Indonesian Navy cadet graduates celebrate after a ceremony in Semarang, Central Java, in this photo taken by Antara Foto.
7 A dog and its owner, who are street performers, rest after the show on Oslo's main street Karl Johan, Norway, July 23, 2015. (Photo taken by Maung Maung Myint)
8 People disarm an Orthodox Jewish assailant shortly after he stabbed participants at the annual Gay Pride parade in Jerusalem. Six participants were wounded during the march, police said.
9 An Indian boy dressed as Hindu god Shiva to attract alms from devotees chats with tourists as they sit on benches partially submerged in flood waters on the banks of the River Ganges in Allahabad.
10 Four white lion cubs, born two weeks ago, are seen in a basket at the Taigan Safari Park, in Belogorsk, about 50 km (31 miles) east of Simferopol, Crimea, July 29, 2015.
11 Africa and Europe are seen in this image taken by a NASA camera on the Deep Space Climate Observatory (DSCOVR) satellite.
12 A view shows the settlements of Larung Gar Buddhist Academy in Sertar County of Garze Tibetan Autonomous Prefecture, Sichuan province, China.
13 A man jokes next to the wax figure of Albert Einstein at Grevin Wax Museum in central Seoul, South Korea.
14 Piper Hoppe, 10, from Minnetonka, Minnesota, holds a sign at the doorway of River Bluff Dental clinic in protest against the killing of a famous lion in Zimbabwe, in Bloomington, Minnesota, July 29, 2015. A Zimbabwean court charged a professional local hunter Theo Bronkhorst with failing to prevent an American from unlawfully killing 'Cecil', the southern African country's best-known lion. The American, Walter James Palmer, a Minnesota dentist who paid $50,000 to kill the lion, has left Zimbabwe.
15 A row of coffee vendors' trailers in the form of pink snails, block the entrance to the city hall and the office of the major Vitalii Klitschko in Kyiv, Ukraine, during a protest against recent legislation deemed harmful to the trade and livelihood of street vendors.
Luglio 31, 2015
1 A full moon, known as the Blue Moon, is seen next to the Statue of Liberty in New York. The Blue Moon effect refers to the second full moon in a calendar month.
2 Local residents perform ahead of the International Olympic Committee's announcement of the winning city for the 2022 Winter Olympics bid, at a square in Chongli county of Zhangjiakou, jointly bidding to host the Games with China's capital, Beijing. Beijing becomes the first city to be awarded both summer and winter Games.
3 Angelina Jolie, right, pays respect to Buddhist novice monks upon arrival at a monastery to meet with religious leaders from the Myanmar Interfaith Group in Yangon. The Hollywood actress arrived in Myanmar, for her first visit to the country Thursday to learn more about the situation in the country and encourage efforts to build a peaceful and inclusive future for all its people.
4 A Palestinian man inspects a house that was badly damaged in a suspected attack by Jewish extremists on two houses at Duma village near the West Bank city of Nablus. The fire in the Palestinian home killed an 18-month-old baby and seriously injured several other family members, an act that Israel's prime minister described as terrorism.
5 Tania Cagnotto of Italy is seen underwater during the Women's 3m springboard semi-final at the Aquatics World Championships in Kazan, Russia.
6 Lava flows out of the Piton de la Fournaise volcano as it erupts on the French island of La Reunion in the Indian Ocean. The Piton de la Fournaise started to erupt at 10 am local time in the Faujas crater northeast of Dolomieu.
7 A Nepalese man stands on a foot bridge destroyed by flood waters in Thulakhet, near Pokhara in Nepal. Landslides caused by heavy rains buried several mountain villages in Nepal on Thursday.
8 The sun rises over an area smothered with smoke from the Rocky Fire in Lower Lake, California. Over 900 firefighters are battling the fire has burnt over 15,000 acres since it started on Wednesday. The fire is currently five percent contained and has destroyed three homes.
9 A poll worker waits for voters at a polling station in Antananarivo during municipal elections in Madagascar. Some 1,695 communes will go to the polls to elect their mayors and councilors, a test for President Hery Rajaonarimampianina who may see his opponents take the mayor's office in the capital city.
10 Models display creations by Indian designer Anju Modi at the Amazon India Couture Week 2015 in New Delhi, India.
11 A woman stands at the Great Britain pavilion at the 2015 Expo in Rho, near Milan, Italy.
12 Sheepdog Glenn chases a Suffolk cross sheep at the 2015 Welsh National Sheep Dog Trials at Llanvetherine in Wales.
13 Hot air balloons fly over the Chambley Airbase, northeastern France, during the international hot air balloons event, "Lorraine Mondial Air Ballons, in Hageville.
14 A girl plays inside dinosaur jaws during the opening of the Dinosaur Park in Minsk, Belarus.