Aprile 01, 2015
1 Artists perform in central Saint Petersburg to mark April Fools' Day.
2 ESA Astronaut Samantha Cristoforetti captured this image of typhoon Maysak while flying over the weather system on board the International Space Station. Typhoon Maysak strengthened into a super typhoon, reaching Category 5 hurricane status on the Saffir-Simpson Wind Scale.
3 A Pakistani scavenger girl writes in a notebook she collected from a garbage, while another girl sits next to her in Lahore, Pakistan.
4 The Global Stars aerobatic team performs as birds fly during the four-day-long Gujarat Aero Conclave in the western Indian city of Ahmedabad.
5 A pigeon dips its head in a water fountain in suburban Quezon city, east of Manila, the Philippines.
6 Actors carry crosses during a "Via Crucis," during a performance at the Carlos Antonio Lopez park in Asuncion, Paraguay, March 31, 2015.
7 A worker stands next to an installation made of plastic bottles in Tegucigalpa, Honduras, March 31, 2015. The Museum of National Identity is working on installations made from recycled plastic bottles as a way to encourage recycling in the community, local media reported.
8 A man collects recyclable wastes from a dumping site as he is surrounded by Marabou storks on the outskirt of Uganda's capital Kampala, Uganda, March 31, 2015.
9 Mount Sinabung releases pyroclastic flows seen from Tiga Serangkai, North Sumatra, Indonesia. Mount Sinabung, among about 130 active volcanoes in Indonesia, has sporadically erupted since 2010 after being dormant for over 400 years.
10 Participants compete in the traditional game "Snatching the Lamb", also known as Diaoyang in Chinese, during a traditional sports gathering in Kashgar, Xinjiang Uighur Autonomous Region, China.
11 Military police officers patrol in the Roquette Pinto shantytown, part of the Mare slum complex in Rio de Janeiro, Brazil.
12 A cargo ship plies the Mississippi River towards New Orleans in Plaquemines Parish, Louisiana, USA, March 31, 2015.
13 A man installs shark-shaped balloons enclosed in a plastic globe in a water fountain in Nice, France.
Aprile 02, 2015
1 A macaque looks out from a cage after being rescued in Kunming, Yunnan province, China. About 93 wild animals, rescued recently by police and animal protection group from local markets and restaurants, are being transported to a national park in Puer to be released back to the wild, according to local media.
2 Paramedics help a student who was injured during an attack by Somalia's al-Qaida-linked al-Shabab gunmen at Garissa University College, Kenya, killing as many as 150 people. At least 147 people were killed, according to the interior minister.
3 A worker hangs lanterns for upcoming celebration of Buddha's birthday on May 25 at Jogye temple in Seoul, South Korea.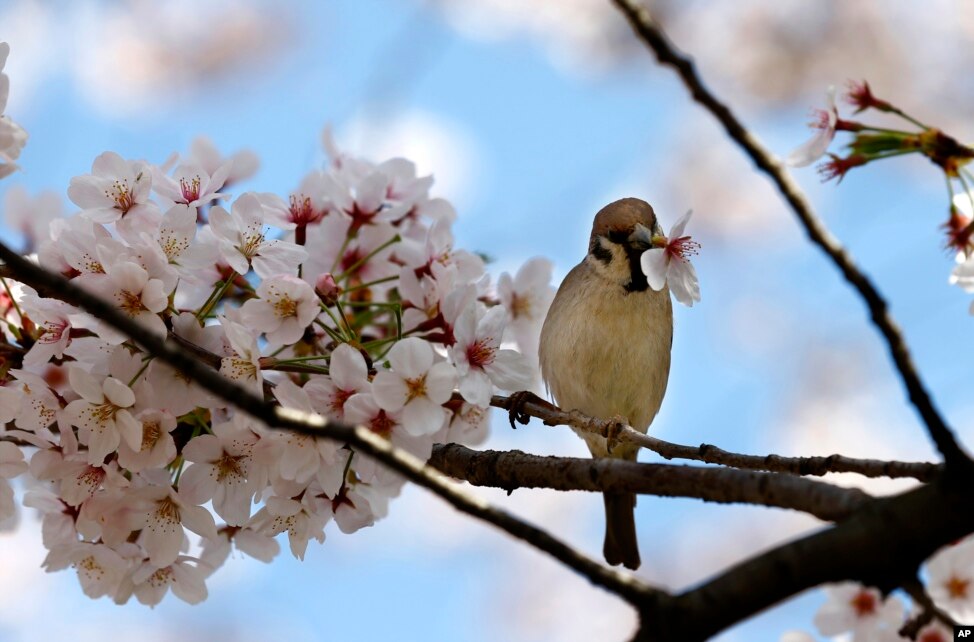 4 A sparrow drinks nectar of a cherry blossom at Ueno park in Tokyo, Japan.
5 Japanese Zen practitioners or "Komuso", in traditional religious outfit, playing the bamboo flute, or shakuhachi, parade as cherry blossoms are in full bloom at Ueno park in Tokyo.
6 Former Israeli president Shimon Peres smiles as he sits on the Iron Throne during the opening of the Game of Thrones exhibition in Tel Aviv.
7 Supporters with painted bodies celebrate outside the All Progressives Congress (APC) party office in the capital Abuja, Nigeria, after Muhammadu Buhari won the presidential election, April 1, 2015.
8 Women row during a warm sunny day on the Tiber River in Rome, Italy.
9 Pope Francis leads the Chrism Mass in Saint Peter's basilica at the Vatican.
10 Brazil's Coritnhians soccer fans cheer their team during Copa Libertadores soccer match against Uruguay's Danubio in Sao Paulo.
Aprile 03, 2015
1 Penitents take part in a processsion on Good Friday in Zipaquira, Colombia. Holy Week is celebrated in many Christian traditions during the week before Easter.
2 Students evacuated from Kenya's Moi University during a terrorist seige react as they gather together in Garissa before being transported to their home regions. The Interior Minister vowed the country would not bow to terrorist threats, a day after the massacre of 147 students by Somalia's al-Qaida-linked al-Shabab fighters.
3 Nearly 200 firefighters battle a massive five-alarm fire at building six in the General Electric Appliance Park in Louisville, Kentucky. A huge fire ripped through a part of the facility used for warehousing and offices on Friday.
4 French Interior Minister Bernard Cazeneuve (C), Le Vernet Mayor Francois Balique (5thR), Prefect of the Alpes de Haute-Provence region, Patricia Willaert (R) and President of the Var departmental council, Michel Vauzelle (3rdR), spend a moment of silence after laying a wreath in memory of the victims of the Germanwings Airbus A320 crash, in the village of Le Vernet, French Alps.
5 A woman supporting Yemen's former President Ali Abdullah Saleh, wears a pin with an image of Saleh's son Ahmed Ali Abdullah Saleh (C), during a rally against airstrikes, in Sanaa.
6 Pope Francis prays face down, on the floor of St. Peter's Basilica during the Celebration of Lord's Passion on Good Friday, at the Vatican.
7 Grieving friends pay last respects to Ukrainian paratrooper Igor Branovitsky, 38, killed during fighing in the conflict in eastern Ukraine, at a funeral ceremony in front of Mikhaylovsky Cathedral, central Kyiv.
8 An almond tree stands in full bloom in Gimmeldingen, western Germany.
9 Mourners pray around flag-draped coffins of six members of the Badr Brigades Shiite militia, who were killed in Tikrit while fighting Islamic militants, during the funeral procession in Najaf, 100 miles (160 kilometers) south of Baghdad.
10 Workers renovate the Mound of Glory memorial complex honoring Soviet soldiers who fought during World War II in the village of Sloboda, some 25 kilometers east of Minsk. Belarus will mark the 70th anniversary of the end of WWII on May 9.
11 A performer wears a hat covered with bees at an exhibition hall about beekeeping during the Beijing Agricultural Carnival. The annual event displaying agricultural products goes on until May 3.
12 Michigan State players warm up during a practice session for the NCAA Final Four tournament college basketball semifinal game in Indianapolis, Indiana. Michigan State plays Duke on Saturday.
13 Hungarian dance as part of traditional Easter celebrations, during a media presentation in Szenna. Locals celebrate the traditional "watering of the girls," a fertility ritual rooted in Hungarian tribes' pre-Christian past, going as far back as the second century after Christ.
14 British pastry cook Michael Lewis-Anderson holds a 60-kilogram giant chocolate egg with candied orange peel in the form of an artichoke at a Wittamer chocolate boutique ahead of the Easter weekend in Brussels.
Aprile 05, 2015
1 An Orthodox Christian woman crosses herself after the Palm Sunday Mass in the eastern Ukrainian city of Donetsk.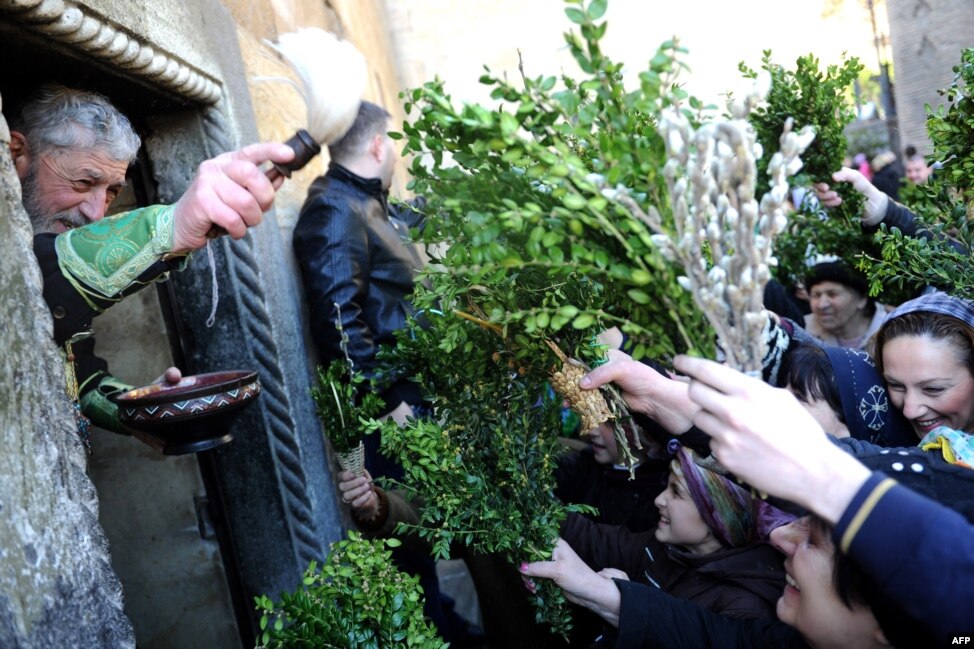 2 An Orthodox priest blesses worshipers during Palm Sunday in Tbilisi, Georgia.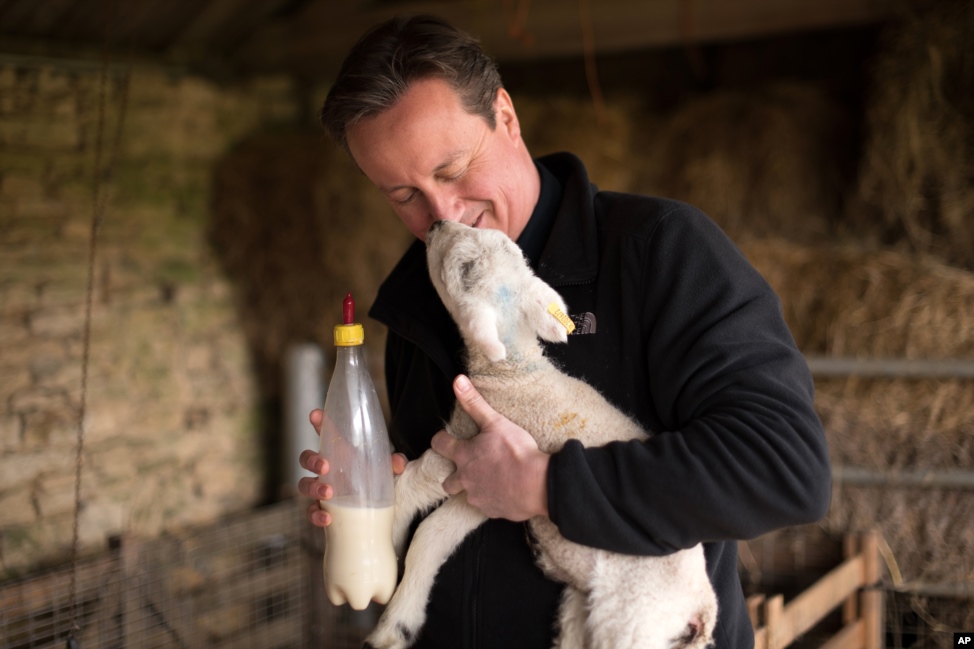 3 Britain's Prime Minister and leader of the Conservative Party, David Cameron feeds an orphaned lamb on Dean Lane farm near the village of Chadlington, southern England.
4 An army officer writes a number on the arm of Thanompong, a 21-year-old transgender, during an army draft held at a school in Klong Toey, the dockside slum area in Bangkok, Thailand.
5 A man runs with an injured child after what activists said was shelling by forces loyal to Syria's president Bashar al-Assad on Al-Dubeit neighborhood in Idlib city.
6 South Korean Christians sing a hymn during an annual Easter Mass service in Seoul.
7 A ship passes offshore windmills on the coast near Copenhagen, Denmark, April 4, 2015.
8 Kosovo Albanian women weeps before the coffin draped with Albanian flag during the burial of 28 Kosovo Albanians who were killed during 1998-99 war with Serbia, during a funeral ceremony in the village of Rezalle, Kosovo.
9 A lunar eclipse over San Jose city in Rancho Redondo, Costa Rica, April 4, 2015
10 Youths participate in a pillow fight at a central square of Athens, Greece.
11 Waves hit people swimming in the polluted waters of Manila's bay, the Philippines as they celebrate Easter Sunday.
12 South Africa's Kyle Brown (L, top) and England's James Rodwell (R, top) fight for the ball during their final match at the Tokyo Rugby Sevens in Tokyo, Japan. England won the final 21-14.
13 A woman slices fish before drying them during the processing of dried fish at Nambangan village in Surabaya, East Java province, Indonesia, in this photo taken by Antara Foto.
14 A competitor looks on during a break as he attends the 3rd Russian Beard and Moustache Championships in Moscow, April 4, 2015.
Aprile 06, 2015
1 Smoke rises after an explosion at a chemical plant that produces paraxylene, or PX, used in making polyester fiber and plastics, in Zhangzhou, Fujian province, China.
2 President Barack Obama makes a face as he reads "Where the Wild Things Are" by Maurice Sendak, during the White House Easter Egg Roll on the South Lawn of the White House in Washington, D.C. Thousands of children gathered at the White House for the annual Easter Egg Roll. This year's event featured live music, cooking stations, storytelling, and of course, some Easter egg roll.
3 People enjoy a picnic in Rome's Villa Pamphilii park, Italy, on Easter Monday.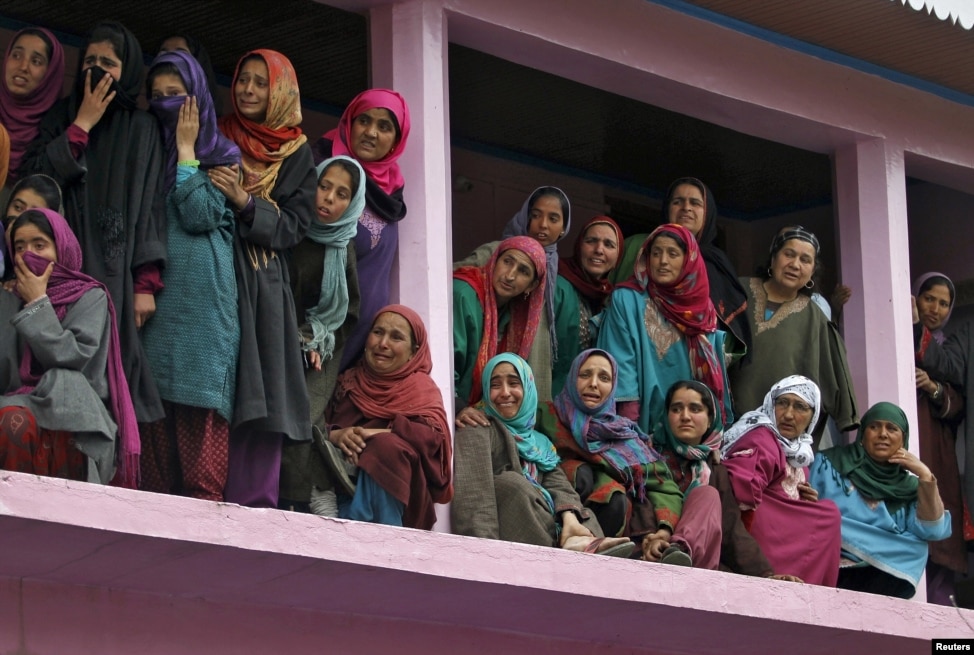 4 Kashmiri women weep as they watch the funeral procession of Mushtaq Ahmad Wani, an Indian policeman, in Arigam, south of Srinagar. Three unarmed policemen including Wani were killed in south Kashmir after suspected separatist militants opened fire on them during their visit to a neighboring village for investigating a land dispute, police said.
5 The moon rises in its waning period over the New York City skyline seen from West Orange, New Jersey, April 5, 2015.
6 A young Slovak dressed in traditional costume (C) throws a bucket of water over a girl as part of Easter celebration in the village of Trencianska Tepla, northwestern Slovakia.
7 Jewish men draped in prayer shawls read from the Torah scrolls as they perform the Cohanim prayer (priest's blessing) during the Pesach (Passover) holiday at the Western Wall in the Old City of Jerusalem.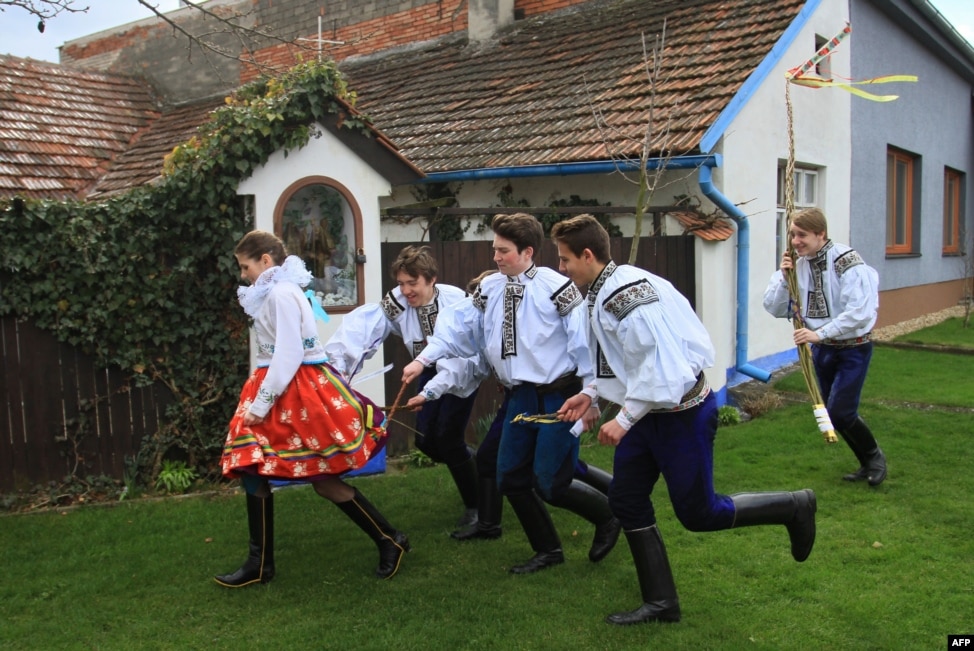 8 Boys in traditional dresses symbolically beat a girl (L) with small whips during a traditional Easter festivity on Easter Monday in the village of Vlcnov in the southeastern region of the Czech Republic. The whipping of girls on Easter Monday is a tradition that is not intended to cause suffering and a part of the UNESCO Cultural Heritage named Ride of the Kings.
9 A general view shows destruction in Yarmuk Palestinian refugee camp in the Syrian capital, Damascus. Around 2,000 people have been evacuated from the refugee camp after the Islamic State group seized large parts of it, a Palestinian official told AFP.
10 An Afghan health worker gives a vaccination to a child during a polio campaign in Kandahar, south of Kabul.
11 Britain's Prince Harry reacts as he shakes hands with members of the public displaying a sign reading 'Red Heads Rule' after visiting the Australian War Memorial in Canberra.
12 A woman walking in a winter forest in Mason Neck State Park, Virginia, USA. (Photo taken by Diaa Bekheet/VOA)
13 People take part in the Easter Parade and Bonnet Festival along 5th Avenue in New York City, April 5, 2015.
° F), in the Taiga district outside Russia's Siberian city of Krasnoyarsk.
Aprile 07, 2015
1 A tree covered with snow on a sunny spring day in the western Austrian village of Absam
2 A youngster scooters passes beach huts along the promenade as the sun shines in Broadstairs, southern England.
3 Firefighters try to extinguish a fire at a petrochemical plant in Zhangzhou, Fujian province, China. At least six people were injured after an explosion hit part of an oil storage facility at Dragon Aromatics, an independent petrochemical producer in eastern China, Xinhua reported.
4 A large American flag is unfurled on the field before a baseball game between the Washington Nationals and the New York Mets on opening day at at Nationals Park in Washington, D.C., April 6, 2015.
5 A crocodile at the Nairobi National Park outside the Kenyan capital
6 People return from work as the sun sets behind the Indian presidential palace over the Raisina Hill in New Delhi.
7 Minnesota Twins center fielder Jordan Schafer misplays the triple hit by Detroit Tigers' Yoenis Cespedes during the sixth inning of an opening day baseball game in Detroit, Michigan, USA, April 6, 2015.
8 British actress Lily James, who celebrated her 26th brithday on April 5, is surprised by a birthday cake in the shape of a Cinderella dress during a press conference to promote her latest movie Cinderella in Tokyo, Japan.
9 A construction worker holds a turtle for sale on a street near a construction site in Beijing. In China, turtles are raised as pets, as well as for food.
10 A man makes traditional Thai tea using a cloth bag filter at Bang Saphan meat and fish market in Prachuap Khiri Khan province, Thailand, April 4, 2015. (Photo taken by Matthew Richards)
11 A professional bull rider competes at the premiere of "The Longest Ride" at the TCL Chinese theater in Hollywood, California, April 6, 2015.
12 A Serbian Christian Orthodox priest baptizes a pilgrim in the water of the Jordan River as part of their Easter pilgrimage to the Holy Land at the baptismal site of Kasser el-Yahud.
Aprile 08, 2015
1 Rev. Arthur Prioleau holds a sign during a protest at city hall in North Charleston, South Carolina, USA, after shooting death of Walter Scott. Scott was killed by a North Charleston police officer after a traffic stop on April 3.
2 More than 200 members of Yazidi religious community, freed eight months after they were taken captive by Islamic State militants, wait on the edge of Kirkuk, Iraq, for relocation.
3 The Moderate Resolution Imaging Spectroradiometer (MODIS) on NASA's Terra satellite acquired this natural-color image of sea ice off the coast of East Antarctica's Princess Astrid Coast. White areas close to the continent are sea ice, while white areas in the northeast corner of the image are clouds. (Credit: NASA/Jeff Schmaltz, LANCE/EOSDIS Rapid Response)
4 Zimbabwean President Robert Mugabe, center, arrives in Pretoria, South Africa, for a state visit, April 7, 2015.
5 Smoke billows from a Saudi-led airstrike on Sana'a, Yemen.
6 The James R Barker lake freighter is trapped in ice near Whitefish Bay on Lake Superior northwest of Sault Ste. Marie, Ontario, Canada, April 7, 2015.
7 People queue by a billboard poster with a built in tap that is dispensing free beer outside the Truman Brewery in east London. The 12-meter billboard poster has been created by Carlsberg as part of its 'Probably the best beer in the world' campaign.
8 A view of graffiti reading, "Buying all kinds of shells" under remnants of shells placed at the edge of a street in Kafruma village, in Idlib province, Syria, April 7, 2015.
9 Mike Weir of Canada walks with his caddie down the first fairway during a practice round for the Masters golf tournament in Augusta, Georgia, USA.
10 Cleaners rope down as they wash the facade of the Art Science Museum in Singapore.
11 Pakistani men bathe in a stream to beat the heat on the outskirts of Islamabad.
12 One of hundreds of orchid collections on display in the U.S. Botanic Garden in Washington, D.C. (photo taken by Diaa Bekheet)
Aprile 09, 2015
1 The statue of Martin Luther King, Jr. is seen through blooming cherry blossoms at the Tidal Basin in Washington, D.C., April 8, 2015.
2 A member of the Afghan security force holds a woman while rescuing her from the site of an attack in Mazar-i-Sharif. Militants armed with rocket-propelled grenades and other weapons stormed a court in the city, killing the district police chief and two other officers, authorities said.
3 Tourists take a boat ride on the river Ganges at sunset in Allahabad, India.
4 A worker attaches the name tag of a Buddhist who made a donation to a lantern for the upcoming celebrations of Buddha's birthday on May 25 at Jogye Temple in Seoul, South Korea.
5 Turtles sun themselves on a pond in Beverly Hills, California, April 8, 2015. California's cities and towns are required to cut their water usage by up to 35 percent or face steep fines under proposed new rules - the state's first-ever mandatory cutbacks in urban water use amid ongoing drought.
6 A vehicle partially submerged in dry mud is seen in an area that was hit by floods at Chanaral town, Chile, April 8, 2015.
7 An Ethiopian Orthodox worshipper prays during the washing of the feet ceremony at the Ethiopian section of the Church of the Holy Sepulchre in Jerusalem's Old City.
8 Tourists ride camels at the Giza Pyramids, near Cairo, Egypt.
9 Artist's interpretation of the night sky from a hypothetical planet within a young Milky Way-like galaxy. The Milky Way's star-birthing frenzy peaked ten billion years ago. Pink clouds of gas harbor newborn stars, and bluish-white, young star clusters litter the landscape.
10 Bubba Watson walks with his son Caleb during the Par 3 contest at the Masters golf tournament in Augusta, Georgia, USA, April 8, 2015. (AP Photo/Matt Slocum)
11 Scrapped high-emission vehicles are piled up at a dump site of a recycling center in Yiwu, Zhejiang province, China, April 8, 2015.
12 A farmer plows terraced crop fields in Congjiang county, Guizhou province, China, April 8, 2015.
13 A rare black flamingo flies among white flamingos at a salt lake at the Akrotiri area near costal city of Limassol, Cyprus.
14 A truck drives down the frozen Dalton Highway north of Fairbanks, Alaska, USA, April 8, 2015. (photo released by the Alaska Department of Transportation & Public Facilities)
15 A giant Godzilla head towering 52-meters (171 feet) above ground level is unveiled in Tokyo, Japan.
Aprile 10, 2015
1 Arabian Oryx walk at the Arabian Oryx Sanctuary in Umm Al-Zamool, some 290 kilometers south of Abu Dhabi near the Saudi Arabia-UAE border. The sanctuary stretches over an estimated 8,900 square kilometers and currently hosts nearly 155 of the species, which were reintroduced into its natural habitat in a five-year conservation plan, after fears of extinction.
2 A schoolgirl from the Karima Girls School sheds a tear after the group sang tribute songs for student Angela Nyokabi Githakwa, 22, who previously went to the school and was killed in the Garissa University College attack, during the funeral service in the village of Mutunguru, Kenya.
3 Jordan Spieth of the U.S. walks up the eighth fairway during second round play of the Masters golf tournament at the Augusta National Golf Course in Augusta, Georgia.
4 Kashmiri members of the Association of Parents of the Disappeared (APDP) take part in a protest in front of a banner depicting those missing during a demonstration in Srinagar. Indian forces in Kashmir are often blamed for grave rights abuses like widespread torture, rape, custodial murder and enforced disappearences in the Muslim-majority region which is divided and administered separately by India and Pakistan but claimed in full by both.
5 Shiite rebels, known as Houthis, hold up their weapons as they attend a protest against Saudi-led airstrikes in Sanaa, Yemen. Pakistani lawmakers on Friday unanimously voted to stay out of the Saudi-led air coalition targeting Shiite rebels in Yemen in a blow to the alliance.
6 Joggers pass the skyline of the central business district in Singapore.
7 Serbian Orthodox Christian pilgrims carry wooden crosses along the Via Dolorosa (Way of Suffering), during the Good Friday procession in Jerusalem's old city, Israel.
8 Iraqi youths holding water guns take part in the "Festival of Colors" organized in Baghdad in support of Iraqi troops and Popular Mobilization Units fighting against the Islamic State (IS) group.
9 Elephants spray villagers with water in celebration of the Songkran water festival in Thailand's Ayutthaya province, north of Bangkok. Songkran, the most celebrated festival of the year, marks the start of Thailand's traditional New Year.
10 Nepalese Hindu devotees pull a wooden chariot as they take part in Bisket Jatra, a festival held in celebration of the Nepalese New Year in Bhaktapur, some 12 kms east of Kathmandu. The festival is celebrated for nine days by the ethnic Newar community in Bhaktapur.
11 A dancer waits backstage at a street festival to celebrate Brunei's upcoming royal wedding in Bandar Seri Begawan. The royal wedding ceremony of Prince Abdul Malik and his bride Dayangku Rabiatul Adawiyah Pengiran Haji Bolkiah will be held at the Nurul Iman Palace in Brunei's capital on Sunday.
12 Men wearing cardboard hats depicting the Apple Watch, pose for photos before it goes on display in front of the Apple Store in Tokyo's Omotesando shopping district. Apple expects tremendous interest for its new smartwatch and demand to outstrip supply as consumers got an up-close look on Friday.
13 Kosovo Serb women decorate Easter eggs for the upcoming Orthodox Easter in village of Brezovica, 55 miles northwest of Pristina. As part of tradition women decorate hundreds of eggs and distribute them to worshipers.
14 People disappear in the mist as they walk on the North Sea beach near Schoorl, northwestern Netherlands. The Netherlands enjoyed its first real spring weather with temperatures going up to 18 degrees Celsius or 65 degrees Fahrenheit.
Aprile 12, 2015
1 Prelates take pictures as Pope Francis celebrates an Armenian-Rite Mass to commemorate the 100th anniversary of the Armenian Genocide, in St. Peter's Basilica, at the Vatican.
2 People walk under blooming cherry trees along the Tidal Basin in Washington, D.C. (photo taken by Diaa Bekheet/VOA)
3 A man dressed as Hindu god Shiva, smokes during an annual Hindu religious festival locally known as Shyam Baba festival in Ajmer, in the desert Indian state of Rajasthan.
4 Members of the human statue street performer group named "Tokyo Hack" get shoppers' attention as they march in Tokyo's Ginza shopping district, Japan.
5 Christian Orthodox worshippers hold up candles lit from the "Holy Fire" as thousands gather in the Church of the Holy Sepulchre in Jerusalem's Old City, April 11, 2015, during the Orthodox Easter ceremony of the "Holy Fire".
6 Students take an examination on an open-air playground at a high school in Yichuan, Shaanxi province, China, April 11, 2015.
7 Police use tear gas and water cannons against leftist protesters, as one of them shoots firecrackers at an armored police vehicle, during clashes after the office of Istanbul's Governor banned the concert of left-wing band Grup Yorum in the Turkish city.
8 Lazio's mascot, a white headed eagle called Olimpia, flies before the start of the Italian Serie A soccer match against Empoli at the Olympic stadium in Rome.
9 Brunei's newly-wed royal couple, Prince Abdul Malik and Dayangku Raabi'atul 'Adawiyyah Pengiran Haji Bolkiah, leave the royal wedding banquet at the Nurul Iman Palace in Bandar Seri Begawan. Malik is the son of Brunei's Sultan Hassanal Bolkiah, one of the world's richest men.
10 Pakistani children browse through a pile of rotten oranges thrown by vendors at a fruit market in Lahore.
11 A "nail house", the last building in the area, sits in the middle of a road under construction in Nanning, Guangxi Zhuang Autonomous Region, China. According to local media, the owner of the house didn't reach an agreement with the local authority about compensation of the demolition.
12 Worshippers walk with candles around the golden-domed Alexander Nevski cathedral during the Orthodox Easter service in Sofia, Bulgaria.
13 A protester with his face painted holds a flag during a protest at Copacabana beach in Rio de Janeiro. Anti-government demonstrators began streaming into the streets of cities throughout Brazil on Sunday to demand the impeachment of President Dilma Rousseff.
14 Competitors in the 39th Paris Marathon run down the Champs Elysees in Paris, France.
15 An elderly man (R) smokes a pipe as he chats with another man on a sofa in front of piles of bricks in Yongji, Shanxi province, China, April 11, 2015.
Aprile 13, 2015
1 An Egyptian vendor blows bubbles at the Giza Zoo, as the country marks Sham el-Nessim, or "smelling the breeze," in Giza. The holiday signifies the arrival of Spring, a uniquely Egyptian tradition, practiced since the days of the Pharaohs.
2 People riding on a motorbike react as a boy splashes water on them during the traditional Thai New Year celebrations or Songkran water festival in Bangkok.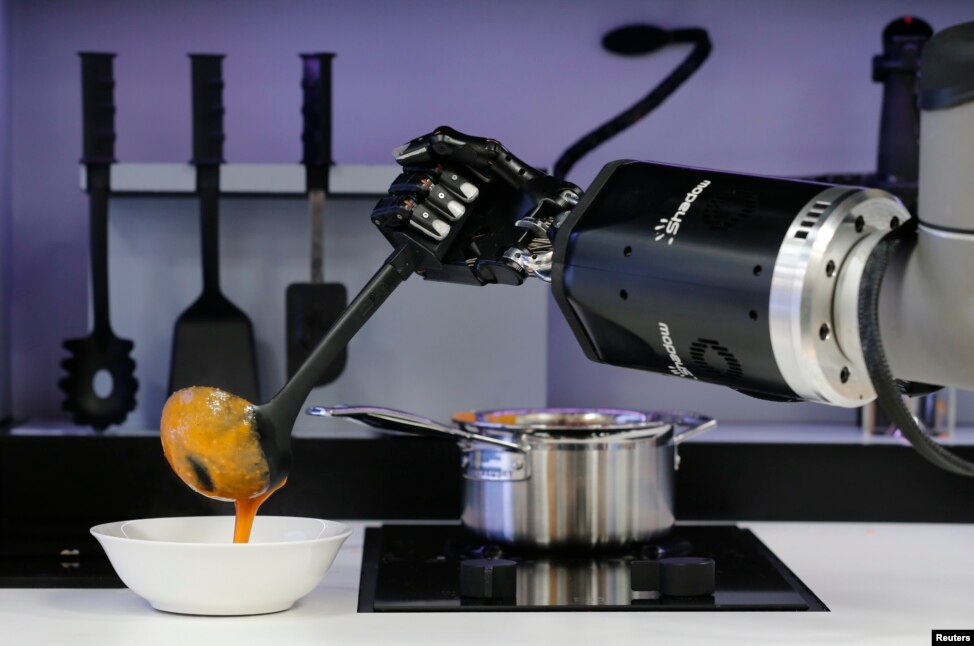 3 A robot in the Robotic Kitchen prototype created by Moley Robotics cooks a crab soup at the company's booth at the world's largest industrial technology fair, the Hannover Messe, in Hanover, Germany.
4 Workers clean the bronze statue of King Sejong, the fourth king of the Joseon Dynasty (1392-1910) who created the Korean alphabet, hangeul, in 1446, at Gwanghwamun Plaza in Seoul, South Korea.
5 A Syrian boy mourns in the rubble of a building following a reported air strike by government forces on the rebel held area in the east of the northern Syrian city of Aleppo.
6 Bosnians encourage their horses as they pull logs up a hill during a competition in the Bosnian town of Sokolac, 50 kms west of Sarajevo. The annual festival celebrates the centuries-old tradition of pulling timber, honoring the owners of the strongest horses.
7 Cherry blossoms in Washington, D.C., with the Thomas Jefferson Memorial in the backdrop, April 12, 2015 (photo taken by Diaa Bekheet/VOA)
8 A rescuer tries to remove a part of a broken fence below a damaged Lamborghini after it collided with a Ferrari inside a tunnel in Beijing, China, April 12, 2015. One passenger was injured during the accident and police are looking into the cause. Residents nearby said the tunnel is a common spot for illegal car racing in Beijing, local media reported.
9 A demonstrator dressed as Brazil's President Dilma Rousseff takes part in a protest in Brasilia, April 12, 2015.
10 An aerial view of the Pacaembu neighborhood is seen with the skyline of Sao Paulo, Brazil, in the backround, April 12, 2015.
11 Concert attendees walk past a giant butterfly sculpture on day three of the Coachella Music Festival in Indio, California, April 12, 2015.
12 Fans listen to David Guetta at the Coachella Valley Music and Arts Festival in Indio, California, April 12, 2015.
13 Life on shore reef coral in a state-of-the-art research marine aquarium complex (SeaSim) at the Australian Institute of Marine Science,Townsville, March 19, 2015. (Courtesy Image: DFAT/Patrick Hamilton)
Aprile 14, 2015
1 Squatters react as they are evicted from a abandoned building in Flamengo neighborhood, in Rio de Janeiro, Brazil.
2 German Chancellor Angela Merkel and the Prime Minister of India Narendra Modi, left, listen to their national anthems during a welcoming ceremony before a meeting at the chancellery in Berlin, Germany.
3 A combination of pictures shows the Boeoegg, a snowman made of wadding and filled with firecrackers, burning atop a bonfire in the Sechselaeuten square in Zurich, Switzerland, April 13, 2015.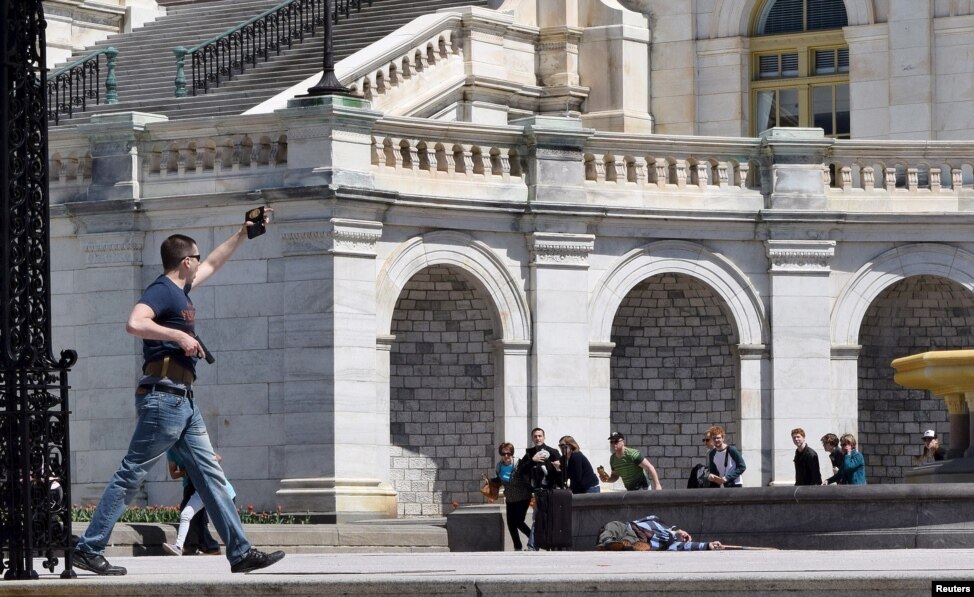 4 In this photo released today, a policeman shows his badge to tourists while approaching a man who had just shot himself in front of the Capitol in Washington D.C., April 11, 2015. A man shot himself dead near the U.S. Capitol, police said, sparking a temporary security lockdown at the complex on one of the busiest days for tourists in Washington.
5 The remnants of Cyclone Joalane appear in the moonlit Southern Indian Ocean, with the Milky Way rising behind it, as seen in this picture taken by astronaut Terry Virts from the International Space Station, April 13, 2015. (Credit: NASA/Terry Virts)
6 People wearing costumes attend the annual water-splashing festival to mark the New Year of the Dai minority in Jinghong, Yunnan province, China, April 13, 2015.
7 People enjoy an amusement ride as the sun sets in suburban Pasay, south of Manila, the Philippines.
8 A group of Thai university art students create a sculpture on the beach for the Ban Krut Sand Fantasy Festival 2015 in Prachuap Khiri Khan province, April 9, 2015. (Photo taken by Matthew Richards/Thailand)
9 A Hindu devotee lies on a bed of nails as he is carried past spectators during the ritual of Shiva Gajan at Pratapgarh village in Agartala, the capital of northeastern state of Tripura. Devotees believe that by enduring the pain, Shiva, the Hindu god of destruction, will grant their prayers.
10 Iranian school girls follow the debates of the parliament in Tehran.
Aprile 15, 2015
1 A protester jumps on the table in front of the European Central Bank President Mario Draghi during a news conference in Frankfurt, Germany.
2 Yazidis gather to celebrate the New Year, their first since Islamic State militants swept through the area last summer, while some capture the event with their mobile phones at the holy shrine of Lalish, 57 kilometers (35 miles) north of militant-held Mosul, Iraq.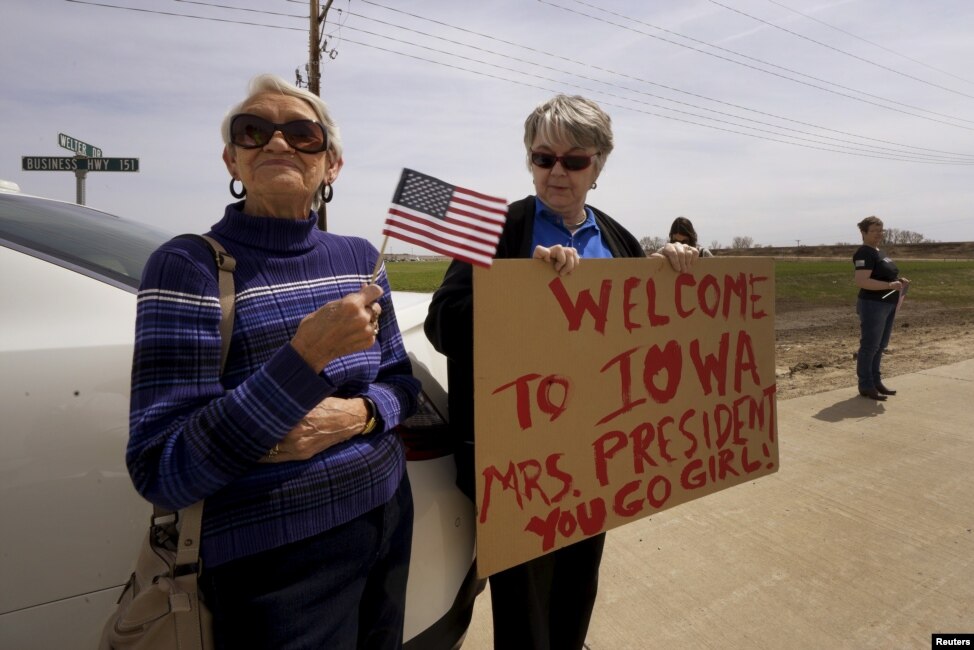 3 Supporters wait for U.S. presidential candidate and former Secretary of State Hillary Clinton to arrive to campaign for the 2016 Democratic presidential nomination at Kirkwood Community College in Monticello, Iowa, April 14, 2015.
4 A woman relaxes under blooming almond trees in Erfurt, central Germany.
5 A relative of the victims weeps during a ceremony on the eve of the first anniversary of the ferry sinking at a port in Jindo, South Korea. More than 300 people, most of them school kids, were drowned in the disaster a year ago.
6 A Ukrainian serviceman rides a bicycle in Shyrokyne, eastern Ukraine.
7 Men walk past an image of the City shrouded in fog, on a sunny spring day in London, April, 14, 2015.
8 Swiss gymnast Caterina Barloggio competes in a qualifying round of the floor exercise event of the European Women's Artistic Gymnastics Championships in Montpellier, southern France.
9 Visitors participate in the annual water-splashing festival in Xishuangbanna, Yunnan province, China, to celebrate the 1,377th New Year of the ethnic Dai minority.
10 A model parades an outfit by Australian designer Akira Isogawa during Fashion Week Australia in Sydney.
11 The unmanned SpaceX Falcon 9 rocket with the Dragon spacecraft lifts off from launch pad 40 at the Cape Canaveral Air Force Station in Cape Canaveral, Florida, April 14, 2015.
12 An aerial view of flower fields is seen near the Keukenhof park, also known as the Garden of Europe, in Lisse, The Netherlands.
Aprile 16, 2015
1 Revelers take part in celebrations marking Thingyan, a water festival which brings in the country's new year, in Yangon, Myanmar. The four southeast Asian nations of Myanmar, Thailand, Cambodia and Laos started the Buddhist new year.
2 A man carries an elderly woman from a ship carrying people fleeing violence in Yemen, at the port of Bosasso in the Puntland region.
3 A gosling peers out from under its mother's wing in Santa Clara, California, April 15, 2015.
4 A model wears a creation from the Lino Villaventura summer collection during Sao Paulo Fashion Week in Sao Paulo, Brazil.
5 Dancers of the Joburg Ballet and the Liaoning Ballet of China company take part in a final dress rehearsal in Johannesburg, South Africa ahead of a two week run of performances of "Swan Lake" which gets under way at the Joburg Theater on April 18.
6 A Russian-made Sukhoi Su-30MKV fighter jet of the Venezuelan Air Force flies over a Venezuelan flag tied to missile launchers, during the "Escudo Soberano 2015" (Sovereign Shield 2015) military exercise in San Carlos del Meta in the state of Apure, April 15, 2015.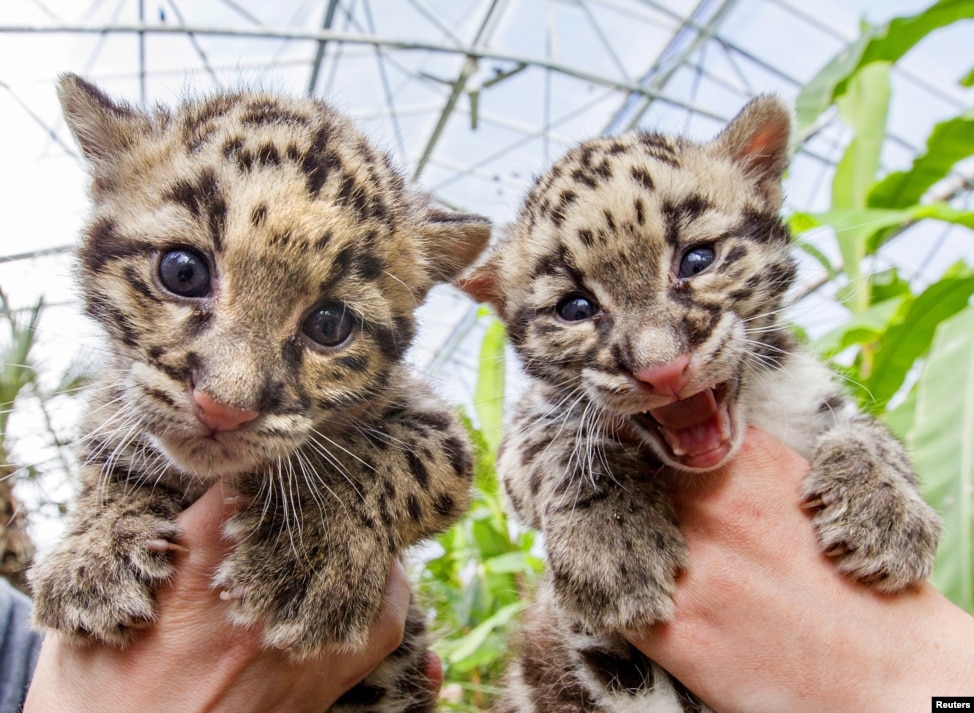 7 Baby clouded leopards, born early in March 2015 are presented by zoo keepers at the Olmense Zoo in Olmen, Belgium. The clouded leopard is an endangered species with only some 10,000 specimens remaining on Earth, said Robby Van der Velden, a biologist at the zoo.
8 A fan of the royal family wears a union flag-themed blazer outside the Lindo Wing of St. Mary's hospital in London. Britain's Catherine, Duchess of Cambridge, is due to give birth to her second child at the hospital some time in the next two weeks.
9 Old airplanes, including Boeing 747-400s, are stored in the desert in Victorville, California.
10 A 76-meter-high (249-feet) bronze-forged white Buddhist Avalokitesvara or Guan Yin statue, part of the Tsz Shan Monastery, stands behind luxurious houses at Taipo district in Hong Kong.
11 A Mercedes vintage car is on display at the "Techno Classica" trade fair in the western German city of Essen.
12 A woman walks around the artwork by artist Ernst Hermanns at the art fair in Cologne, Germany.
Aprile 17, 2015
1 Candles are placed in the Cologne Cathedral in Cologne, western Germany, for a tribute ceremony for the 150 victims of the Germanwings plane crash last month in the French Alps.
2 A Yemeni girl holds a baby in a temporary shelter after fleeing violence in Yemen, at the port town Bosasso in Somalia's Puntland. U.N. Secretary-General Ban Ki-moon on Thursday called for an immediate halt to fighting in Yemen, the first time he has made such an appeal since Saudi-led airstrikes against Iranian-backed Houthi rebels began three weeks ago.
3 A woman cries in front of the skulls and bones of more than 8,000 victims of the Khmer Rouge regime during a Buddhist ceremony at Choeung Ek, a "Killing Fields" site located on the outskirts of Phnom Penh, Cambodia. Hundreds of Cambodians and monks gathered at the site to commemorate the 40th anniversary of the Khmer Rouge reign.
4 A placard of Nobel Prize-winning novelist Gabriel Garcia Marquez is surrounded by yellow butterfly cutouts with messages, placed there by fans, at a bookstore in Mexico City. Marquez fans are commemorating the first anniversary of his death. In 'Gabo's renowned novel "100 Years of Solitude," clouds of yellow butterflies precede a forbidden lover's arrival.
5 Zulu protesters demonstrate against foreign migrants outside their hostel in the Jeppestown district of Johannesburg. South Africa is seeking diplomatic support from countries across the continent to defeat the "demon" of anti-immigrant violence in which at least four people have been killed over the past few weeks.
6 Displaced Sunnis, who fled the violence in the city of Ramadi, arrive at the outskirts of Baghdad, Iraq. Iraqi security forces fought Islamic State militants at the gates of the western city on Friday, and local authorities warned it was in danger of falling unless reinforcements arrived soon.
7 Members of the Kosovo Security Force (KSF) carry the coffins containing the remains of 21 Kosovo Albanians allegedly killed by Serbian security forces during the 1998-1999 Kosovo war, during a funeral ceremony in the village of Qikatove. The remains were identified after being exhumed from a mass grave in Serbia.
8 The greenhouses are seen on the grounds of the Belgian royal family residence of Laeken in Brussels. The royal family opens its interlocking greenhouses with their wide array of flowers to the public every year, for a duration of three weeks.
9 A woman looks at photos taken by Doan Cong Tinh during the Vietnam war, at a photo exhibition titled "Reporters de guerre," ("War Reporters") at the French cultural house in Hanoi. The exhibition showcases more than 40 photos taken by four Vietnamese photographers Doan Cong Tinh, Chu Chi Thanh, Mai Nam and Hua Kiem. Vietnam marks the 40th anniversary of the fall of Saigon on April 30.
10 Bosnian chefs cook in a Guinness Book of World Records attempt for the largest chicken broth, in a central square of the Bosnian capital of Sarajevo. "Bey's Broth," the Bosnian meat and vegetable specialty weighing 4,124 kilograms, includes one ton of poultry, 350 kilograms of various vegetables, 120 liters of oil, 100 kilograms of flour, 50 kilograms of butter and also milk, eggs and milk cream.
11 A competitor gets sprayed with fake tan paint before the Mr. Thailand 2015 bodybuilding competition in Bangkok. The three-day competition attracts more than 400 bodybuilding enthusiasts across the country.
12 Members of the PC-7 flight team of the Swiss Air Force perform in their Pilatus PC-7 planes during a media day of the Swiss Air Force at the airbase in the central Swiss town of Emmen.
13 A dancer jumps during a parade celebrating the coming of spring in Tripoli, north Lebanon, April 17, 2015.
14 A man walks past red tulips during a sunny spring day in Kalemegdan park at the Belgrade fortress, Serbia.
15 Models get ready backstage during the African Summer 2016 Ready To Wear collection during Sao Paulo Fashion Week in Sao Paulo, Brazil.
Aprile 19, 2015
1 A child from Zimbabwe waits for a bus to depart for Harare, from a camp for those affected by anti-immigrant violence in Chatsworth, north of Durban, South Africa. The unrest, which began in the port city Durban two weeks ago and spread to Johannesburg, appeared to have died down as police patrolled trouble spots.
2 A Pakistani police officer walks past billboards showing pictures of Chinese President Xi Jinping, center, with Pakistan's President Mamnoon Hussain, left, and Prime Minister Nawaz Sharif welcoming Xi Jingping to Islamabad.
3 An owner poses with her Maine Coon cat in front of a mirror during a cat exhibition in Bishkek, Kyrgyzstan.
4 North Korean leader Kim Jong Un greets Korean People's Army pilots during a visit to the summit of Mt. Paektu in this photo released by North Korea's Korean Central News Agency (KCNA).
5 A Sri Lankan boy ducks into a wave on the beach in Colombo.
6 The Field of Empty Chairs is seen during the 20th Remembrance Ceremony, the anniversary ceremony for victims of the 1995 Oklahoma City bombing, at the Oklahoma City National Memorial and Museum, Oklahoma, USA.
7 Participants pass an egg using their mouths during a religious ritual during the Popo (Mask) Carnival of Bonoua in the east of Abidjan, Ivory Coast, April 18, 2015.
8 Jason Brown of the U.S. performs during the exhibition program at the ISU World Team Trophy in Figure Skating in Tokyo, Japan.
9 Flowers float in a lake at the former Nazi concentration camp Ravensbrueck in Fuerstenberg, northeastern Germany, to commemorate the 70th anniversary of the liberation of the camp by the Red Army on April 30, 1945.
10 Snowboarders and skiers take part in a "downhill ski and snowboard descent in swimwear" event on Mount Zelyonaya (The Green Mount), at a ski resort near the town of Sheregesh in the Siberian Kemerovo region. Organizers said that more than 1,600 snowboarders and skiers turned up for the event, in an attempt to update a Guiness World Record, as part of the annual "Grelka" ski festival.
11 Two-month-old white tiger cubs play on the ground at the Tobu Zoo in Miyashiro, in Saitama prefecture, north of Tokyo, Japan.
12 People participate in the "Color Run 2015" in Paris, France.
13 An elephant "kisses" a visitor during a show at an elephant training school in Xishuangbanna, Yunnan province, April 18, 2015.
Aprile 20, 2015
1 An explosion caused by an airstrike on a weapon depot on a mountain overlooking Yemen's capital Sana'a
2 Customers watch android robot "Aiko Chihira" at the reception of Mitsukoshi department store in Tokyo, Japan. The lifelike android robot, which was developed by Japanese electronics manufacturer Toshiba, marked her first day at work as a receptionist at the department store greeting customers as they walked in.
3 Rescuers help children disembark in the Sicilian harbor of Pozzallo, Italy. About 100 migrants, including 28 children, were rescued by a merchant vessel in the Sicilian Strait, while they were trying to cross.
4 Government officials look on as pirated media, including DVDs, CDs, etc, are placed on the ground before being destroyed, during a campaign against piracy in Taiyuan, Shanxi province, China.
5 In a photo provided by the Taipei Fire Department, vehicles are seen piled up on each other in an automated parking tower after the lift system failed during the 6.3 magnitude earthquake that struck off Taiwan's eastern coast.
6 Roma's fans wave flags during the Italian Serie A soccer match against Atalanta at Olympic stadium in Rome,Italy, April 19, 2015.
7 Pramac Ducati Racing rider Yonny Hernandez of Colombia rides his motorcycle as it catches fire during Argentina's MotoGP Grand Prix at the Termas de Rio Hondo International circuit in Termas de Rio Hondo, April 19, 2015.
8 Andrea Finlay, right, presents the milestone award to Taylor Swift at the 50th annual Academy of Country Music Awards at the AT&T Stadium in Arlington, Texas, April 19, 2015.
9 People fly their kites to form the shape of a car in the sky on the beach in Berck, northern France, during the 29th "Rencontres Internationales de Cerfs Volants" (International Kite Meeting) which runs from April 18 to 26.
10 A stuntman rides a motorcycle inside the "Well of Death" attraction during a fair in Bhaktapur, Nepal.
11 Caroline Rotich of Kenya crosses the finish line to win the women's division of the 2015 Boston Marathon in Boston, Massachusetts, USA.
12 An Israeli woman picks buttercup flowers in a field near Kibbutz Nir Yitzhak in southern Israel, just outside the Gaza Strip, April 19, 2015.
Aprile 21, 2015
1 Yemenis look down through a hole in the roof of a house which was damaged the day before during an air strike by Saudi-led coalition warplanes on the nearby base on Fajj Attan hill in the capital Sana'a.
2 Alfie Ward dressed as Little Iron Man poses in front of the UK's largest LEGO statue as it is unveiled at the London premiere of LEGO Super Heroes: Marvel's Avengers Age of Ultron at Westfield Shopping Centre, London.
3 Heather Mack of Chicago, Ill., carries her baby daughter inside a cell after her verdict at her trial in Bali, Indonesia. The Denpasar District Court sentenced Tommy Schaefer to 18 years in prison and Heather Mack to 10 years for intentionally killing Sheila von Wiese-Mack while vacationing last August.
4 A woman is reflected in a mirror as she tries on a necklace at a jewelery showroom on the occasion of Akshaya Tritiya, a major gold buying festival in Kolkata, India.
5 Children gather around a statue of late South African President Nelson Mandela next to blankets collected for the 67 Blankets for Nelson Mandela Day project at the Union Buildings in Pretoria.
6 Tourists take pictures of a floral arrangement depicting Dutch master Vincent van Gogh at Keukenhof, a spring park with approximately seven million flower bulbs, in Lisse, Netherlands.
7 A Malaysian couple poses for pictures amid a forest of LED lights at an amusement park in Kuala Lumpur.
8 View of the Villarrica volcano taken from Pucon, some 800 km south of Santiago, showing visible signs of activity.
9 Members of the King's Troop Royal Horse Artillery fire a salvo during a 41 gun Royal Salute to celebrate the birthday of Queen Elizabeth II in Hyde Park in London.
10 A man washes his face outside a shelter for displaced foreigners in east Johannesburg, South Africa.
11 A cat lies on a chair in the first cat cafe in Amsterdam, the Netherlands. Already popular in Tokyo where there are dozens, cat cafes allow customers who cannot have a pet at home to enjoy a cup of something hot with a purring cat perched on their knees.
12 A tourist is seen in a reflection off the facade of a shopping mall at the Marina Bay Sands, which is a popular tourist spot with hotels, shopping, and casinos in Singapore.
Aprile 22, 2015
1 Israeli female soldiers hold wreaths next to the wall of names of fallen soldiers at the Armored Corps memorial, before a ceremony marking the annual Memorial Day for soldiers and civilians killed in more than a century of conflict between Jews and Arabs, in Latrun near Jerusalem.
2 Amnesty International volunteers place hundreds of "SOS Europe" paper boats on the beach of San Sebastian in Barcelona, Spain. The protest calls on the EU to highlight the immigration crisis in the Mediterranean, with hundreds of migrants having drowned trying to reach Europe in recent days.
3 Pope Francis, center, exchanges his skull cap with one donated to him by a pilgrim as he arrives for his weekly general audience, in St. Peter's Square at the Vatican.
4 Pro-democracy lawmaker Ronny Tong sits with placards of yellow crosses placed after lawmakers walked out of the legislative chamber to protest against Chief Secretary Carrie Lam who unveiled a Beijing-backed election reform package's details, in Hong Kong.
5 A Togolose gendarme casts his vote for the presidential election at a polling station in Lome, as law enforcement oficers vote 72 hours ahead of the rest of the population. Togo elects a new president Saturday, with the main opposition leader Jean-Pierre Fabre seeking to end nearly 50 years of rule by the Gnassingbe family.
6 Smoke and lava spew from the Villarrica volcano, as seen from Pucon town, in the south of Santiago, Chile. Authorities have restricted access to the area within 5 kilometers (3 miles) of the crater and have put the area under an orange alert due to the volcano's heightened unrest and increased likelihood of eruption.
7 Schoolgirls from St. Theresa College Primary School hold flowers during a memorial service for migrant victims in Msida, outside Valletta, Malta. Italian Prime Minister Matteo Renzi said on Wednesday it was fundamental the EU take a collective stand to tackle migrant trafficking at its source in African countries, days after hundreds died in the latest Mediterranean disaster.
8 Ukrainian coal miners protest outside the government building in Kyiv, demanding the government protect their jobs as the eastern separatist conflict threatens to force pits to close. Banging their helmets, the miners yelled "Shame" on the pro-western government, demanding it raise their pay and restore subsidies to the mines that help power the Ukrainian industry.
9 An Indian Muslim devotee prays at the shrine of Khwaja Moinuddin Chishti during Urs festival in Ajmer, Rajasthan, India. Thousands of Sufi devotees from different parts of India travel to the shrine for the annual festival, marking the death anniversary of the saint.
10 Commuters crowd a bridge as they wait to board public buses on the "Day Without Cars and Motorcycle" in Bogota, Colombia. Many residents in the capital walked, biked, or took public transportation to their destinations to promote alternative transportation as a way to reduce smog.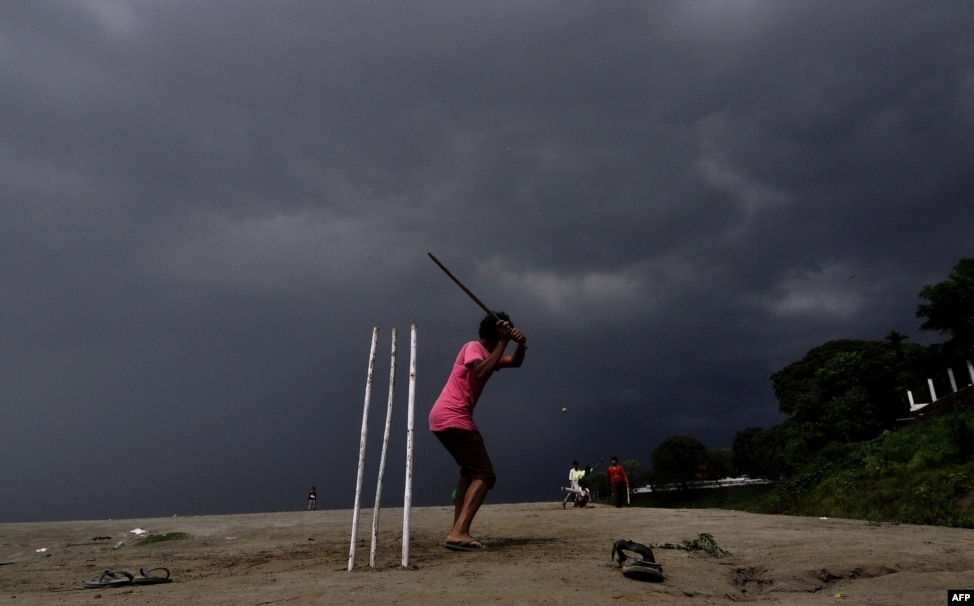 11 Children play cricket as rain clouds loom over the Brahmaputra River in Guwahati, capital of northeastern Assam state, India.
12 Russian soldiers march during a rehearsal of the Victory Day Parade in Alabino, outside Moscow. The parade will take place on Moscow's Red Square on May 9 to commemorate the 1945 defeat of Nazi Germany.
13 A surfer waits for a break in crashing waves before diving in for a surf off Sydney's Collaroy Beach. A cyclonic storm lashed Australia's east coast for a third day on Wednesday, causing millions of dollars of damage to property and infrastructure in Sydney and other cities.
14 A devotee climbs the chariot of Rato Machhindranath to fix ropes during the chariot festival at Bungamati in Lalitpur, Nepal. Rato Machhindranath is known as the god of rain and both Hindus and Buddhists worship Machhindranath for good rain to prevent drought during the rice harvest season.
15 The skyline of central Bangkok and the Chao Phraya river are seen during sunrise in Bangkok, Thailand.
Aprile 23, 2015
1 A street artist performs in central Florence, Italy.
2 Children form a reef fish on a beach in Hong Kong on the 3rd annual Kids Ocean Day. The event is aimed at raising awareness of seas protection and the conservation of coral reef worldwide.
3 Somali men carry swordfish from the sea to a market in the capital Mogadishu.
4 An Indian laborer sleeps surrounded by mounds of mangoes at a fruit market in Hyderabad.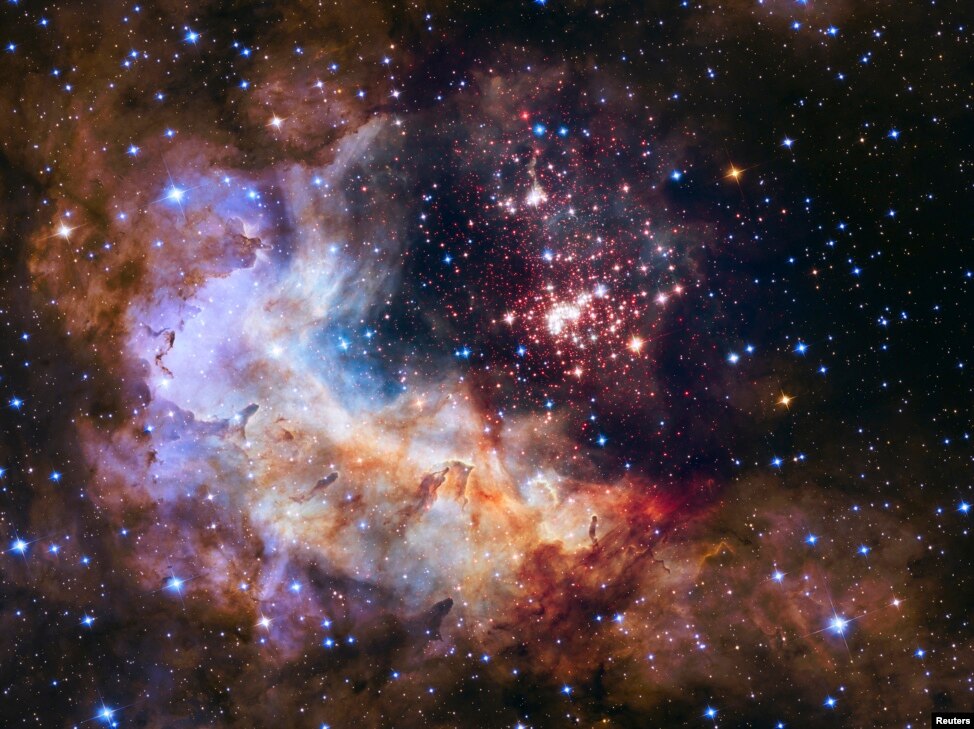 5 A stellar nursery of about 3,000 stars called Westerlund 2 located about 20,000 light-years from Earth in the constellation Carina is shown in this undated NASA handout taken by the Hubble Space Telescope released April 23, 2015, marking its silver anniversary of the launch of the Hubble Space Telescope.
6 Women cry during a funeral service for 24 migrants drowned while trying to reach the Southern coasts of Italy in Msida, in the outskirts of Valletta, Malta.
7 People look at Pablo Picasso's "Grand vase aux danseurs" during a media preview of Christie's Shanghai Spring Auction in Shanghai, China.
8 A cleric kisses an icon during the canonization ceremony for the victims of the Armenian Genocide in Echmiadzin outside Yerevan.
9 Security guards carry a protester wearing a mask depicting Sir David Walker, outgoing Chairman of Barclays Bank, during a demonstration outside the bank's annual general meeting (AGM) in London, April 22, 2015.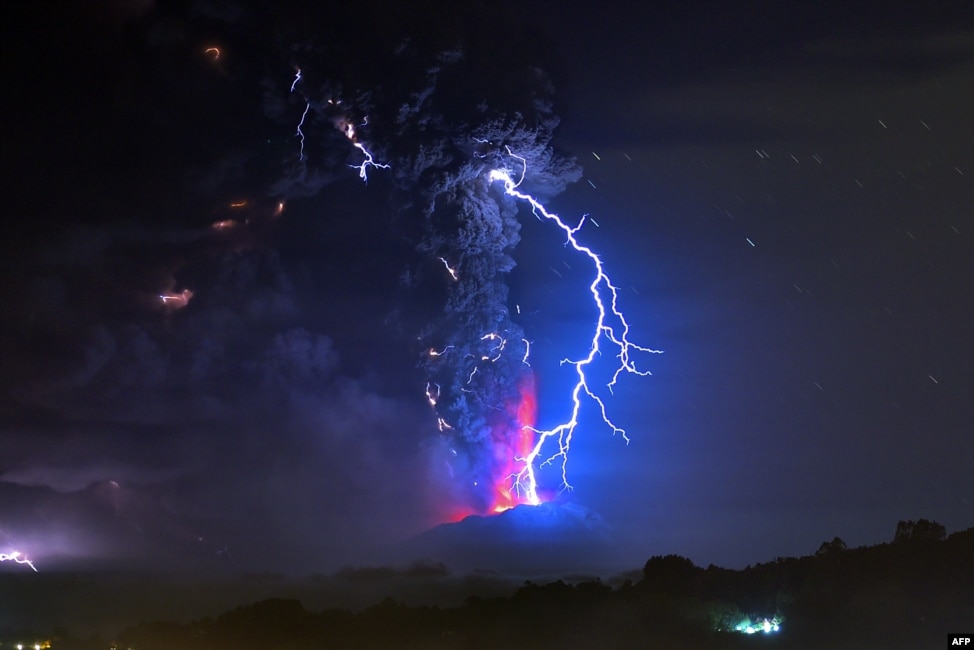 10 View from Frutillar, southern Chile, of lava spewing from the Calbuco volcano.
11 Indian Muslim devotees travel in an auto rickshaw during the Urs festival in Ajmer.
12 Pakistani officials of the Anti-Narcotic Control Force burn seized drugs and liquor in Peshawar. Pakistan is taking strict measures to stop drug trafficking from neighboring Afghanistan and Pakistani tribal areas.
Aprile 24, 2015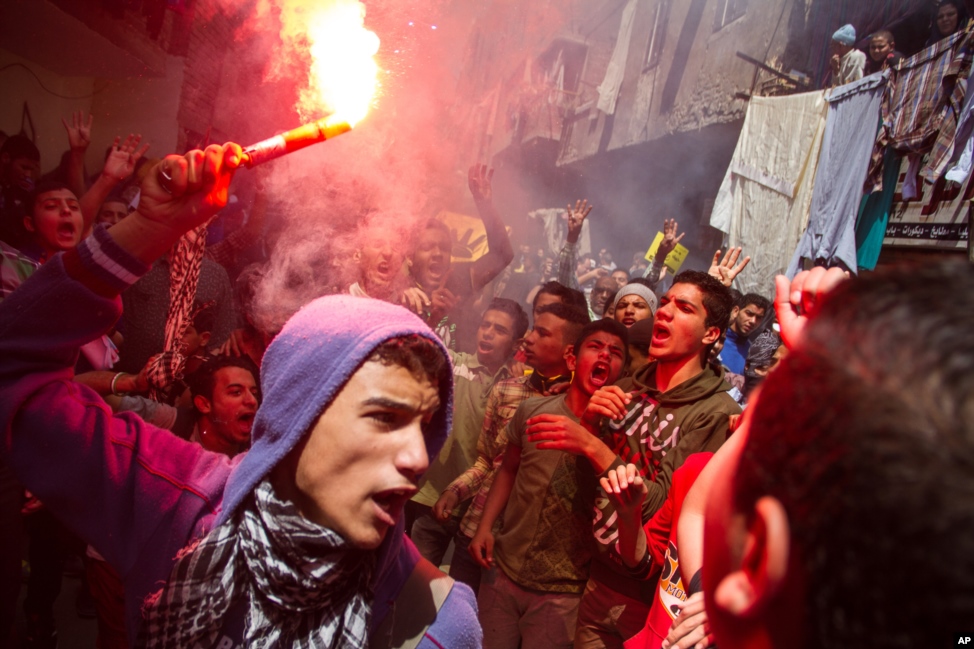 1 An Egyptian youth carries a lit flare as supporters of the Muslim Brotherhood gather in the El-Mataria neighborhood of Cairo, to protest the 20-year sentence for ousted president Mohammed Morsi and verdicts against other prominent figures of the Brotherhood.
2 A view of the Calbuco volcano in Puerto Varas, Chile. Southern Chile remained on alert Friday for another eruption from the volcano after it burst into life this week in spectacular, fiery fashion for the first time in half a century, forcing 5,000 people to evacuate and lighting up the night sky.
3 People attend a commemoration ceremony to mark the centenary of the mass killing of Armenians by Ottoman Turks at the Tsitsernakaberd Memorial Complex in Yerevan, Armenia.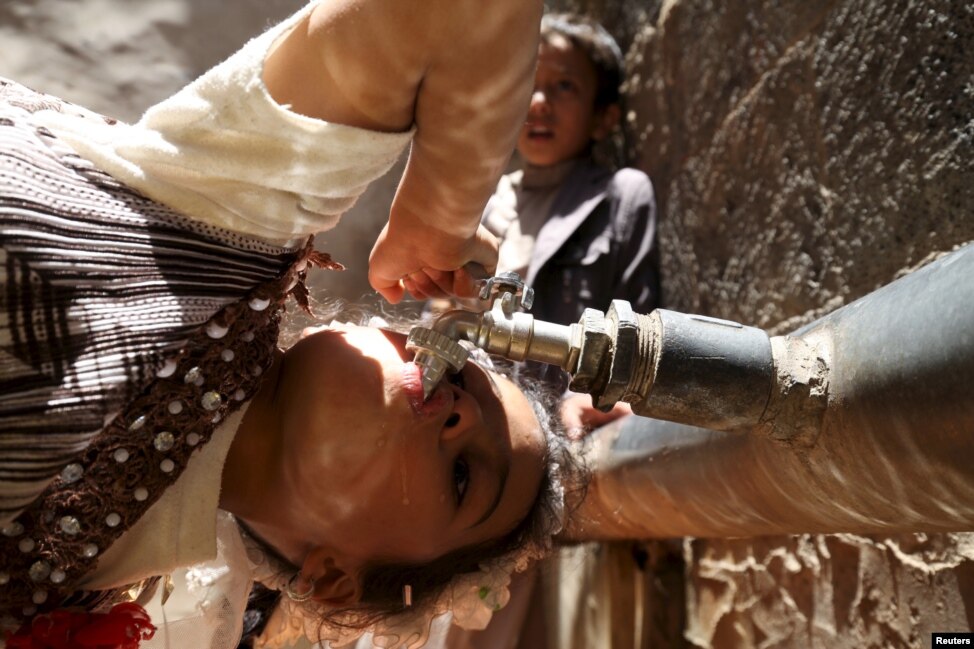 4 A girl drinks water from a faucet amid an acute shortage of clean drinking water in Sanaa, Yemen.
5 Old photographs of Australian soldiers are projected onto an office building alongside a bronze statue at the Cenotaph war memorial on ANZAC (Australian and New Zealand Army Corps) Day in Sydney. Commemorations on Turkey's Gallipoli peninsula on Friday marked the 100th anniversary of a World War I battle that helped shape the birth of new nations.
6 Special Forces soldiers of the Shanghai Cooperation Organization (SCO) member states take part in joint military exercises in the Shamshi gorge, some 100 km of Bishkek, Kyrgyzstan.
7 People sleep on the floor as they line up for the opening of a new Apple Store in Hangzhou, Zhejiang province, China. The 19th Apple Store in mainland China and second one in the city opened on Friday.
8 Members of the Korean Confederation of Trade Unions shout slogans while raising banners reading "Let's end Park Geun-hye and Let's go on general strike" during a rally against government policy in Seoul, South Korea. Thousands of protesters marched in cities across the country denouncing the labor policies of the increasingly unpopular president.
9 A relative of a victim cries in front of a monument erected in memory of the victims of the Rana Plaza building collapse as they gather at the spot on its second anniversary in Savar, near Dhaka, Bangladesh. Bangladesh suffered its worst industrial disaster when the illegally-built, multi-storied building collapsed in 2013 killing 1,127 people and injuring about 2,500.
10 Two tigers play at the Tiger Temple in Kanchanaburi province, Thailand. Thai wildlife officials began a headcount of nearly 150 tigers kept by monks at the controversial temple which has become the center of a dispute over the welfare of the animals.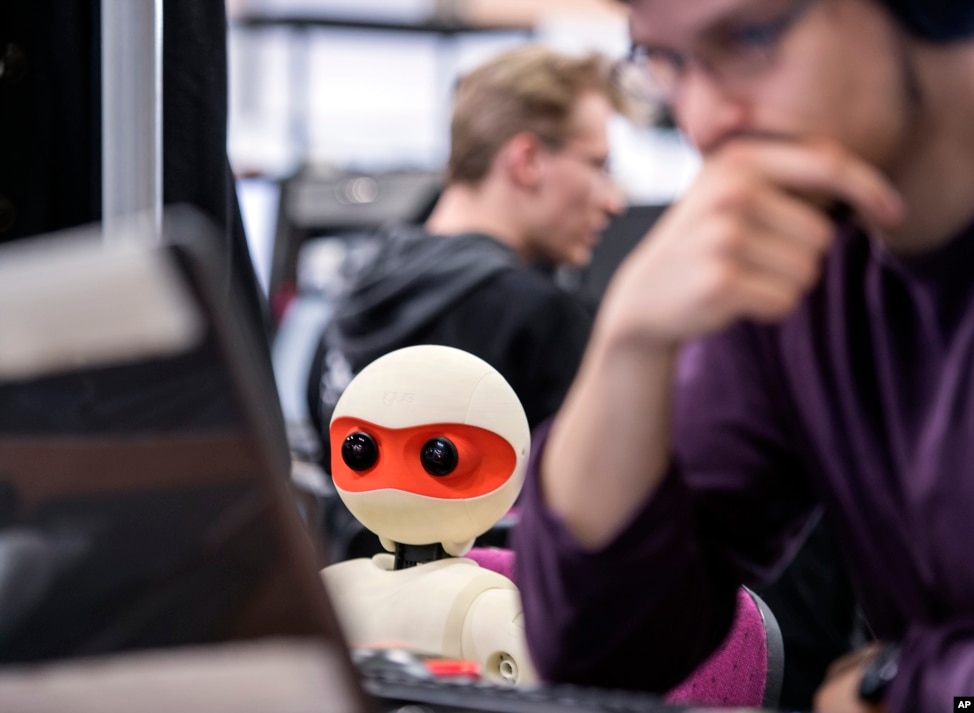 11 A robot sits between students at the RoboCup German Open 2015 in Magdeburg, Germany. Around 200 teams from 14 countries demonstrate state-of-the-art robotics with competitions using soccer, rescue, and service robots.
12 A man takes pictures of the art installation "Overcoming Boundaries" by German conceptual artist Ottmar Hoerl in Berlin. The project, consisting of some 1,000 sculptures of the Einheitsmaennchen (Unity Man) is to commemorate the 25th anniversary of German reunification.
13 Nepal's Kumari, or living goddess, adjusts her ornament as she watches the Rato Machindranath chariot Festival in Lalitpur. Nepal's living goddesses are young pre-pubescent girls considered by devotees to be incarnations of a Hindu goddess. Selected as toddlers, living goddesses usually keep their positions until they reach puberty.
14 A man fishes while sitting on a bench on the Stanley Bridge in the Stanley neighborhood of the Egyptian port of Alexandria.
Aprile 26, 2015
1 A Nepalese policeman stands atop of a rubble at Basantapur Durbar Square that was damaged in Saturday's earthquake in Kathmandu, Nepal.
2 A man with a dog watches runners the start of the London Marathon in Blackheath, England.
3 Eliud Kipchoge of Kenya wins the Men's race in the 35th London Marathon.
4 President Barack Obama, right, brings out actor Keegan-Michael Key from Key & Peele to play the part of "Luther, President Obama's anger translator" during his remarks at the White House Correspondents' Association dinner at the Washington Hilton, April 25, 2015.
5 A group of Russian bikers lay flowers at Hill of Glory memorial complex on the outskirts of Minsk, Belarus.
6 Participants of the Tokyo Rainbow Pride 2015 pose for photographers before their parade in Tokyo, Japan.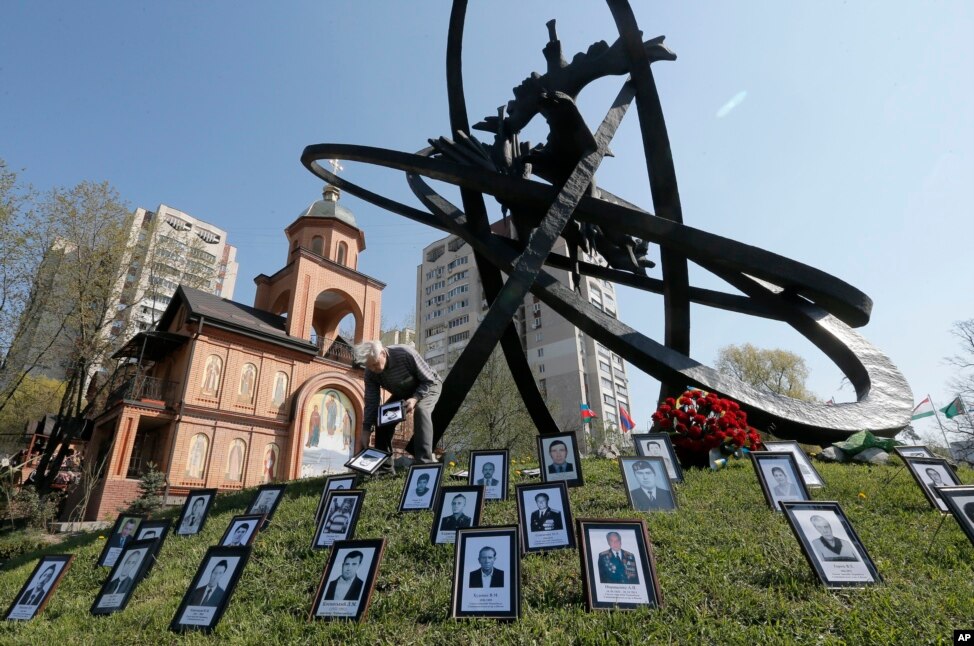 7 A relative of a Chernobyl victim places a photo near the monument erected in memory of the victims of the Chernobyl explosion in Ukraine's capital Kyiv, Ukraine.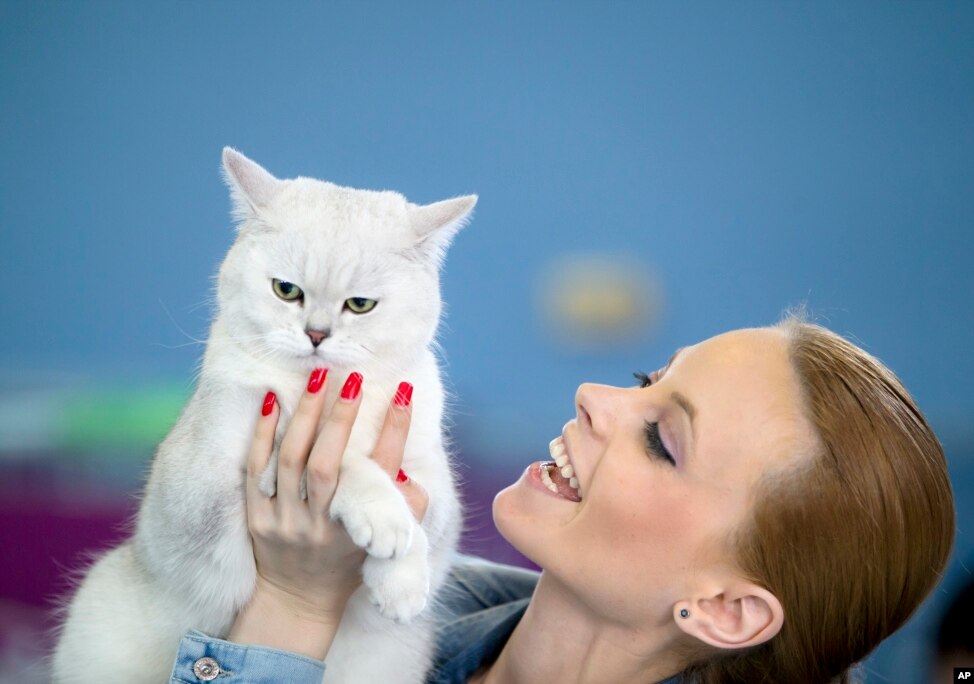 8 Raphael, a British Shorthair cat, is held by its owner during the judge's evaluation in Bucharest, Romani.
9 Heart-shaped fern leaves before blooming, in Briesen, Germany.
10 Nineteen new priests lay on the ground during a ceremony in which Pope Francis ordained them, in St. Peter's Basilica at the Vatican.
11 Partizan soccer fans light torches during a Serbian National soccer league derby match between Red Star and Partizan, in Belgrade, Serbia, April 25, 2015.
12 Lebanese men pose with their shoes before taking part in a mile-long walk in women's high heels during the "Walk a Mile in her Shoes" event to call to end violence against women in Dbayeh, north of the Lebanese capital Beirut.
13 A participant blows a ball of fire after crossing the finish line during the annual Maldon Mud Race in Maldon, east England.
14 People burn the bodies of earthquake victims at a mass cremation at Pashupatinath in Kathmandu, Nepal.
Aprile 27, 2015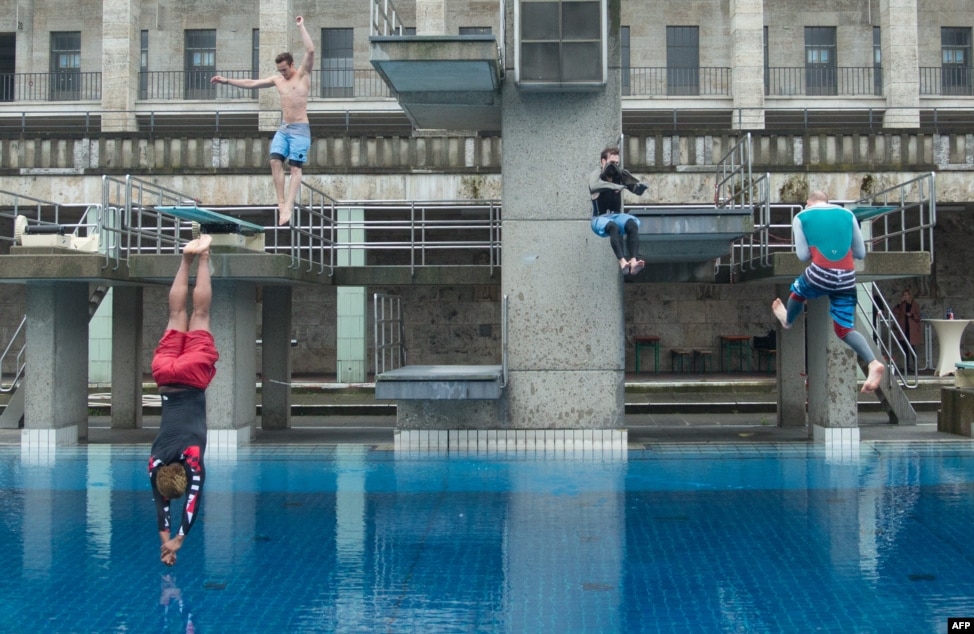 1 Splash divers jump into the water of the Sommerbad Olympiastadion public swimming pool in Berlin, during an event to promote the German capital's open air pools.
2 Thousands of public school teachers march in Bogota demanding better pay and reforms in the education system. Last week, Colombia's public education teachers began an indefinite nationwide strike. The move affects about nine million students and is rejected by the government.
3 A woman runs past artwork of a large hand on a wall in central London, Britain.
4 Anti-gay marriage rally outside Capitol Hill in Washington to support traditional marriage. (Photo by Diaa Bekheet)
5 A giraffe baby stands in front of her mother 'Dhakija' at the zoo in Erfurt, Germany.
6 The picture shows the inside the tomb of Neferuptah, during the reopening of the site following renovations, at the great Giza Pyramids, south of the capital Cairo. The cemeteries have been closed since 2007 due to reconstruction work, which stopped following the January 2011 political events, and only resumed six months ago.
7 A performer takes part in an unveiling of a billboard against fracking in central London, Britain.
8 People collect their belongings from a house damaged by heavy rain and windstorms Sunday evening in Peshawar, Pakistan.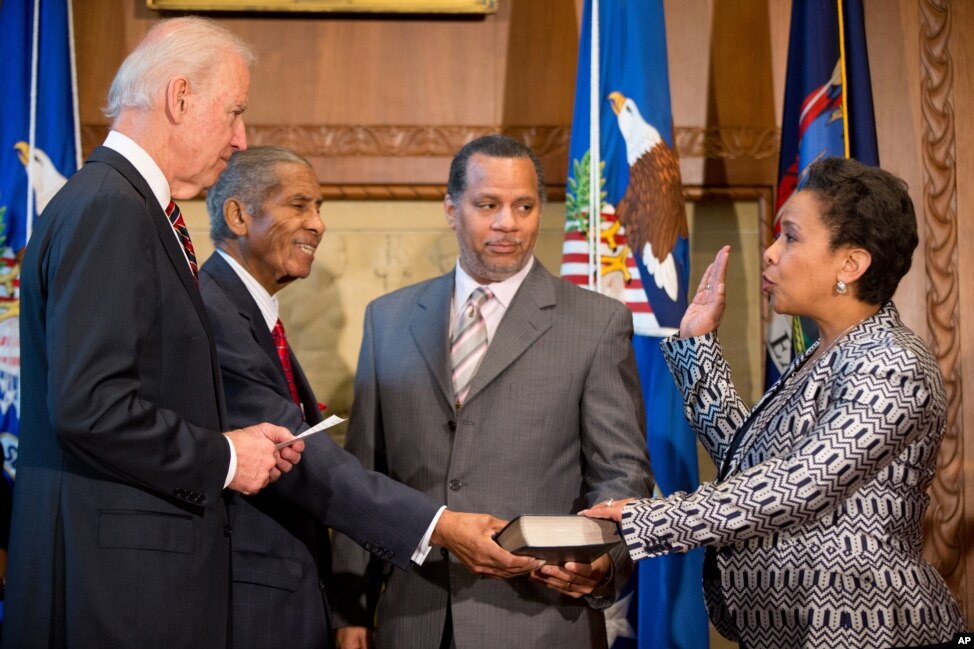 9 Vice President Joe Biden, accompanied by Loretta Lynch's father Lorenzo Lynch (2nd l), and Loretta Lynch's husband Stephen Hargrove (2nd r), administers the oath of office to Loretta Lynch as the 83rd Attorney General of the U.S. during a ceremony at the Justice Department in Washington.
10 White House Executive Chef Cris Comerford shows the first course for the Japanese State Dinner, a Toro Tartare and Caesar Sashimi Salad, in the State Dining Room of the White House in Washington, DC, on the eve of the State Dinner.
11 Queen Maxima of the Netherlands (R) greets people during a parade on King's Day in Dordrecht, the Netherlands.
12 A man covers his face as he rides a bicycle along a street during a sandstorm in Wujiaqu, Xinjiang Uighur Autonomous Region, China.
Aprile 28, 2015
1 A firefighter uses a saw to open a metal gate while fighting a fire in a convenience store and residence in the early morning hours Tuesday, during clashes after the funeral of Freddie Gray in Baltimore, Maryland The city erupted in violence Monday as hundreds of rioters looted stores, burned buildings and injured at least 15 police officers.
2 Indonesian activists hold portraits of inmates, all convicted on drug charges, during a demonstration to demand the government to stop the execution of them, in Jakarta. Relatives paid final visits to their condemned loved ones in a sign that the country will imminently execute eight foreigners and one Indonesian man, despite an international outcry and pleas for mercy.
3 A man walks through rubble of houses damaged by the earthquake in Bhaktapur near Kathmandu, Nepal. Hungry and desperate villagers rushed towards relief helicopters in remote areas Tuesday, begging to be airlifted to safety, four days after a monster earthquake killed nearly 4,500 people.
4 French climber Alain Robert, also known as "Spiderman," holds the flag of Nepal as he scales the Tour Montparnasse, a 210-meter (689 ft.) building in central Paris, France, to show support for the victims after the earthquake in Nepal.
5 A woman carries her suitcase as she flees from clashes between riot-policemen and protesters against the ruling CNDD-FDD party's decision to allow President Pierre Nkurunziza to run for a third five-year term in office, in Bujumbura, Burundi.
6 A general view of Calbuco volcano spewing ash and smoke near Alerce town, Chile. The volcano, which last had a major eruption in 1961, erupted last week with a spectacular plume of ash and smoke around 15 kilometers into the sky.
7 An equality flag waves during a demonstration in front of the Supreme Court in Washington, D.C. The Supreme Court is set to hear historic arguments in cases that could make same-sex marriage the law of the land.
8 Supporters of prominent women's rights activist Sabeen Mahmud, who was killed by unknown gunmen, hold her pictures during a rally in Islamabad, Pakistan. Gunmen on a motorcycle killed Mahmud last Friday in Pakistan just hours after she held a forum on the country's restive Baluchistan region, home to a long-running insurgency, police said.
9 Visitors stroll in the Hitsujiyama Park covered with moss phlox in full bloom in Chichibu, suburban Tokyo. The blossoming flowers are expected to attract many visitors until the upcoming Japanese "Golden Week" holiday season in late April and early May.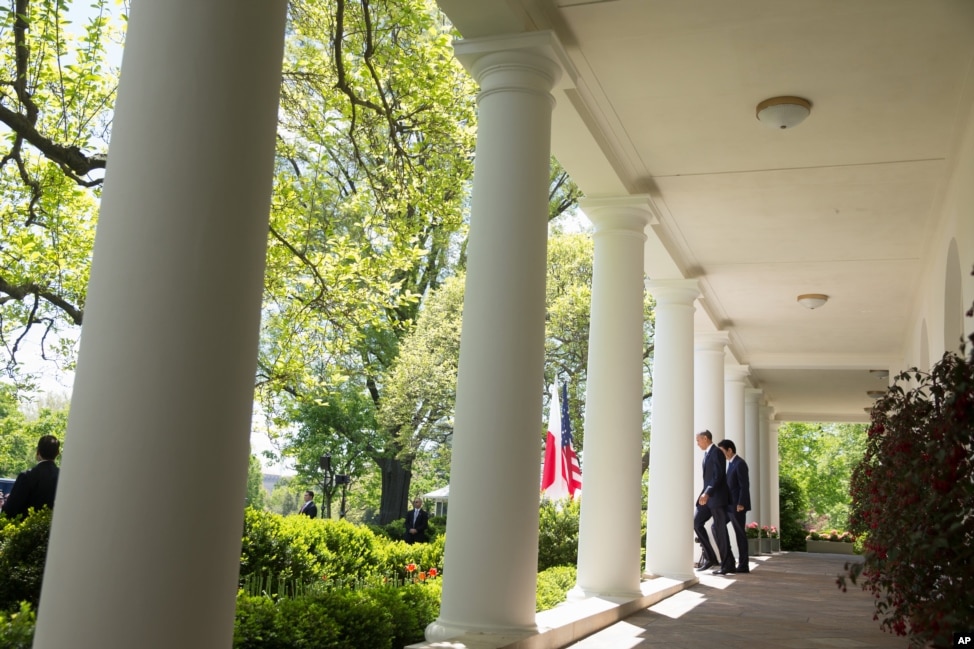 10 President Barack Obama and Japanese Prime Minister Shinzo Abe walk to the Rose Garden of the White House in Washington for a joint news conference.
11 Fans wait for the arrival of Paul McCartney before his performance at the Nippon Budokan Hall in Tokyo. The gig marks McCartney's first return to the venue since he played there with the Beatles in 1966.
12 A swan swims past the "Seepyramide" (Lake Pyramid) at the Fuerst-Pueckler-Park in Branitz near Cottbus, eastern Germany. Count Hermann Ludwig Heinrich von Pueckler-Muskau (1785–1871), a German nobleman who is known for his passion for landscape gardening, is buried inside the interior of the pyramid.
Aprile 29, 2015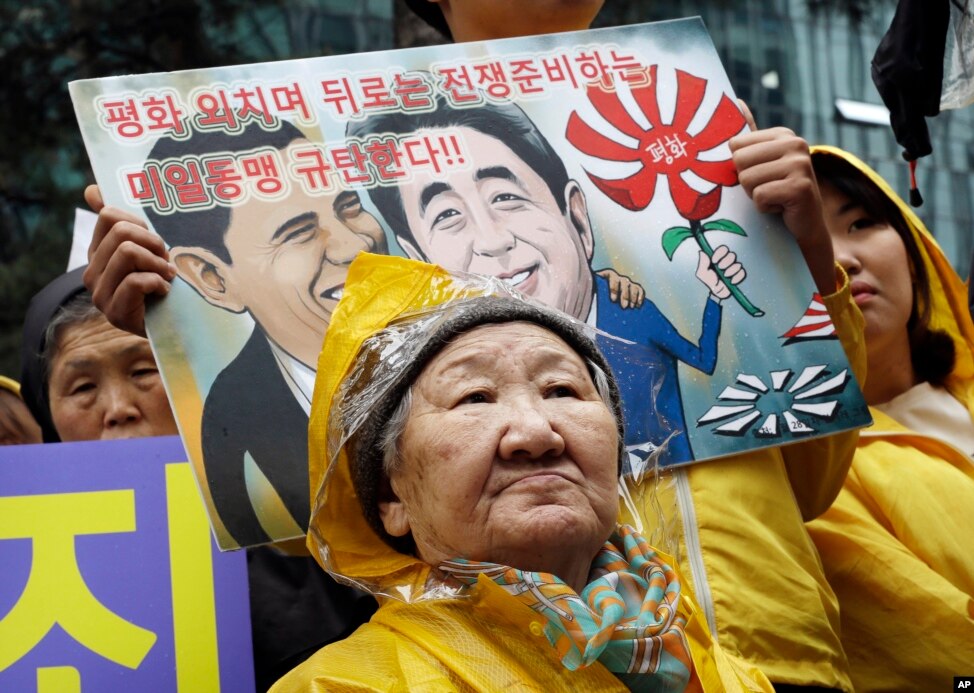 1 Former comfort woman Kil Un-ock who was forced to serve the Japanese troops as a sexual slave during World War II, attends a rally against the visit by Japanese Prime Minster Shinzo Abe to the United States, in front of the Japanese Embassy in Seoul, South Korea.
2 A small temple structure is seen undamaged amidst rubble of damaged buildings at the heritage town of Bhaktapur, following a 7.8 magnitude earthquake which struck the Himalayan nation of Nepal on April 25.
3 A boy sits inside a tent on open ground, after Saturday's earthquake in Kathmandu, Nepal.
4 A combination image by NASA from the Mercury Atmosphere and Surface Composition Spectrometer (MASCS) instrument aboard NASA's MESSENGER spacecraft shows the surface of the planet Mercury in this image released on April 28, 2015.
5 Wearing traditional Korean dress, Buddhist believers holding lanterns walk by a lantern tower in the shape of a Buddhist temple pagoda to celebrate the upcoming Buddha's birthday on May 25 at the Gwanghwamun Plaza in Seoul, South Korea.
6 Burundi riot police fire tear gas as they chase demonstrators during clashes in Bujumbura.
7 An Israeli Arab wearing make-up takes part in a protest against housing shortage and house demolitions in Arab communities in Tel Aviv's Rabin Square, April 28, 2015.
8 Chinese honor guards prepare for the arrival of Chinese Premier Li Keqiang and Algerian Prime Minister Abdelmalek Sellal during a welcome ceremony outside the Great Hall of the People in Beijing.
9 A Yemeni airport official looks at a destroyed Felix Airways plane, after it was hit in an air strike, at the international airport of Yemen's capital, Sana'a.
10 Models in costumes use their smartphones as they take a break at the Global Mobile Internet Conference in Beijing.
11 Nepalese woman searches for belongings amidst rubble at the heritage town of Bhaktapur.
Aprile 30, 2015
1 Nepalese police personnel carry earthquake survivor Pemba Tamang (C) on a stretcher after his rescue from a destroyed hotel building in Kathmandu. Rescuers pulled the 15-year-old boy alive from the rubble, bringing a rare moment of joy to the ruined capital city, five days after the disaster which killed nearly 6,000 people.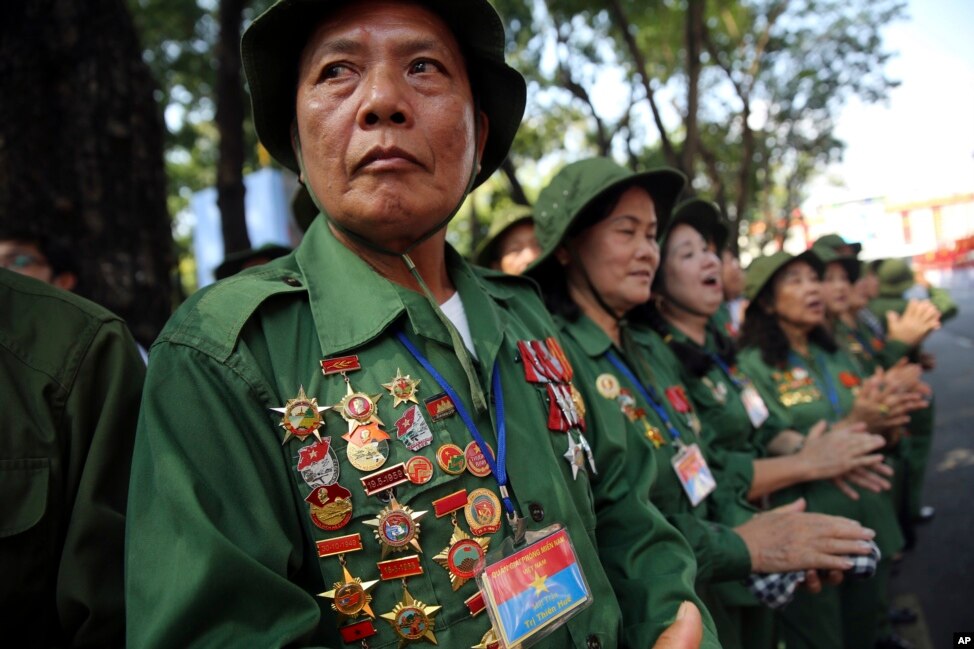 2 Vietnamese veterans gather for a parade celebrating the 40th anniversary of the end of the Vietnam War which is also remembered as the fall of Saigon, in Ho Chi Minh City, Vietnam.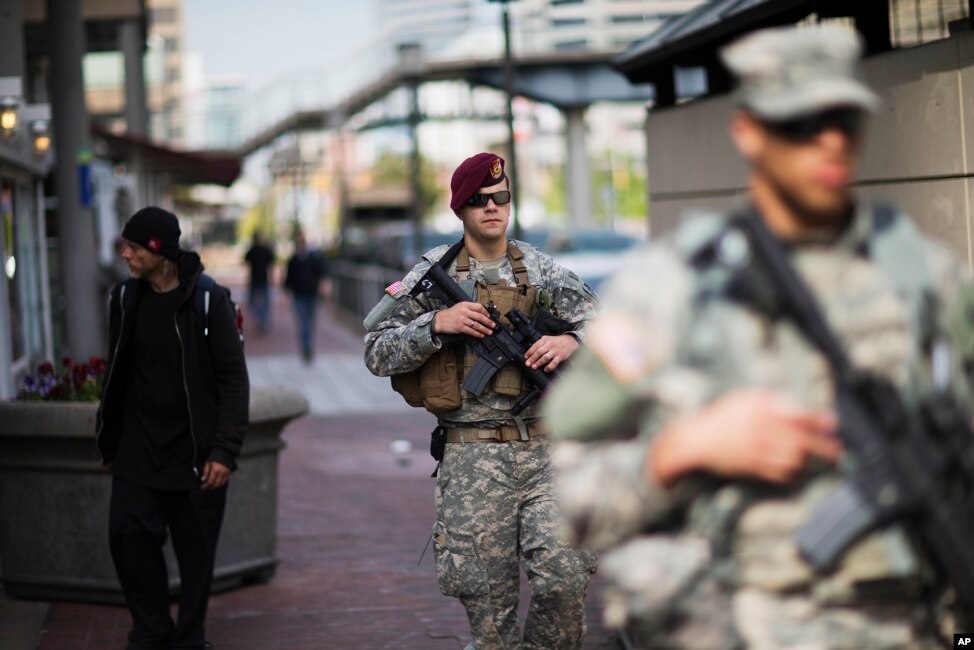 3 Members of the National Guard patrol along Baltimore's Inner Harbor area in the aftermath of rioting following Monday's funeral for Freddie Gray, who died in police custody in the Maryland city.
4 Books about Pakistan's Nobel Prize winner Malala Yousafzai, who survived a Taliban attack, are displayed at a bookstore in Islamabad. A Pakistani court on Thursday sentenced 10 militants to life in prison for their involvement in the 2012 attack on the teenage activist, a public prosecutor said.
5 Two men carry a suitcase past a burning barricade in Bujumbura, Burundi, after the government issued and ordered all university campuses to close down. Bujumbura has been hit by street protests since Sunday as security forces confront demonstrators who say a third term for President Pierre Nkurunziza would violate the country's constitution.
6 A woman walks through the Munich Documentation Center for the History of National Socialism, in Munich, Germany. The official inauguration of the visitor center marks the 70th anniversary of the liberation of Munich by U.S. troops.
7 Russian soldiers march during a rehearsal for the Victory Day military parade which will take place at Dvortsovaya (Palace) Square on May 9 to celebrate 70 years after the victory in WWII, in St. Petersburg.
8 Demonstrators wearing dark hoods, light flares during a demonstration in downtown Milan, to protest against the World Exposition Milano 2015 (Universal Exposition) saying that the massively indebted Italian state should not be ploughing money into an ephemeral event at a time of economic hardship for many Italians. The Expo will run from May 1-Oct. 31, with the theme Feeding the Planet, Energy for Life.
9 A 2km-long rosary, which is said to be the longest rosary in the world, hangs around the Marian shrine at Our Lady of Lebanon religious site in Harissa, northeast of Beirut, Lebanon. By tradition, May is the month of devotion to the Virgin Mary for the Catholic Church.
10 View of the Calbuco volcano from Puerto Montt, southern Chile. The volcano erupted again Thursday, releasing a large column of ash into the air just over a week after it spectacularly roared to life following half a century of inactivity.
11 A woman takes an early morning walk past painted blue, yellow and red front doors - the colors of the current three main political parties in the U.K., Conservative, Liberal Democrat and Labour respectively - in Isleworth, west London, Britain. Britain goes to the polls in a national election on May 7.
12 Visitors walk through the Swarowski Crystal World museum on its reopening day following renovation, in the western Austrian village of Wattens.