Gennaio 01, 2015
1 Switzerland's Simon Ammann soars during his first jump at the second stage of the four hills ski jumping tournament in Garmisch-Partenkirchen, Germany.
2 A Swiss guard stands as he attends a New Year Mass celebrated by Pope Francis in St. Peter's Basilica at the Vatican.
3 Fireworks explode from the Burj Khalifa, the world's tallest tower, in Dubai to celebrate the New Year.
4 People sit on a overloaded truck in Madama, Niger, near the border with Lybia.
5 Residents salvage their belongings after a raging fire engulfed around 2,000 houses in Quezon city, metro Manila, Philippines. At least eight people, including a seven-year-old child, died and thousands were displaced after a fire broke out in different locations in metro Manila as the New Year kicked off, local media reported.
6 A U.S. soldier from Dragon Troop of the 3rd Cavalry Regiment fires a Javelin missile system during their first training exercise of the new year near operating base Gamberi in the Laghman province of Afghanistan.
7 A reveler dressed up as a "stick man" takes part in New Year's celebrations in Coin, near Malaga, southern Spain.
8 A young Egyptian Christian girl sings during New Year's Eve Mass at the Cave Cathedral or St. Sama'ans Church in the Moqattam district of Cairo, Egypt, Dec. 31, 2014.
9 A banner reading "de Blasio, apologize to the NYPD" towed by an airplane flies over the Hudson River in New York, Dec. 31, 2014. Police union leaders said their grievances with New York City Mayor Bill de Blasio remained unresolved after meeting with him, 10 days after they said he was partly to blame for a gunman's deadly attack on two policemen.
10 Revelers toss confetti over Times Square from a hotel after the clock struck midnight during New Year's Eve celebrations in New York.
11 Women riding on a "mikoshi" or portable shrine cheer as people carry the shrine into the sea during a festival to wish for calm waters in the ocean and good fortune in the new year in Oiso, west of Tokyo, Japan.
12 Thousands of people flock to celebrate New Year's Day on Cape Town's Muizenberg beach, South Africa.
Gennaio 02, 2015
1 A member of the Indonesia Red Cross prepares coffins for the victims of AirAsia Flight 8501 at the main hospital in Pangkalan Bun. More ships arrived Friday with sensitive equipment to hunt for the fuselage of the flight and the more than 145 people still missing since it crashed into the sea five days ago.
2 A boy, who lost his home in a huge fire on New Year's Day, carries a burnt bicycle in suburban Quezon city, north of Manila, Philippines. The fire, believed to have been ignited by firecrackers, razed hundreds of homes Thursday in one of more than a dozen fires reported across the country as Filipinos welcomed the New Year.
3 A man prays a day before Moulid, which commemorates the birth of Prophet Muhammad, the central figure of the Islamic religion, at a mosque in Cairo, Egypt. Every year, Egyptians celebrate Moulid by performing ritual dances and prayers and spending time with their families.
4 A security guard watches as mourners place flowers and burn incense at the site of a New Year's Eve stampede at the Bund in Shanghai, China. The stampede, shortly before midnight on the city's historic waterfront, killed at least 36 revelers.
5 A Syrian man stands on top of rubble following an overnight rocket attack on the contested Bab al-Hadid neighborhood of the northern city of Aleppo. Once Syria's economic hub, Aleppo has been ravaged by fighting that began there in mid-2012 and the city is now divided with government forces controlling the western part and rebels controlling the east.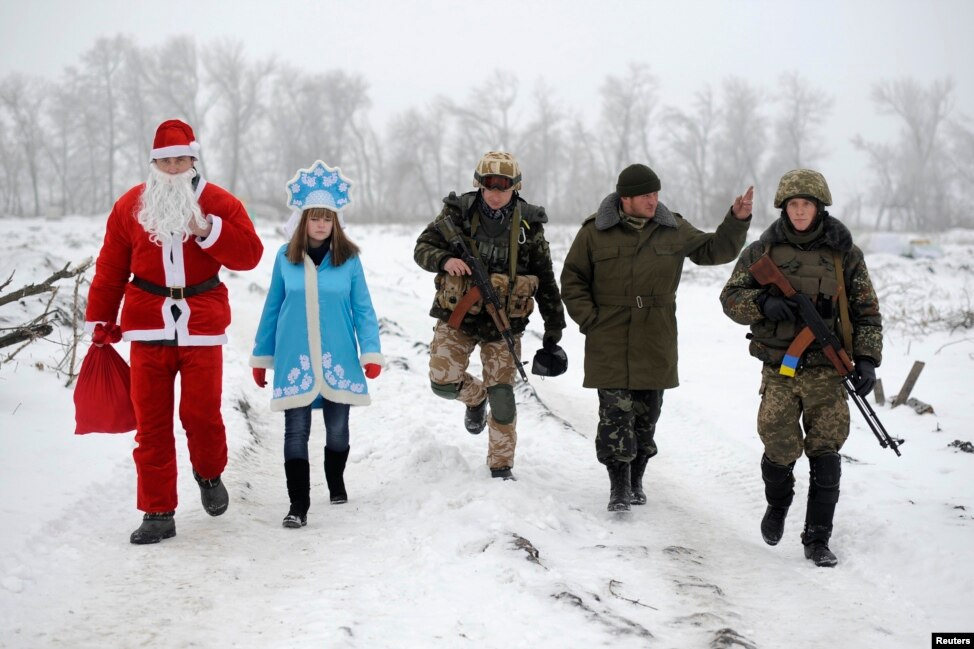 6 Local residents dressed as Father Frost, an equivalent of Santa Claus, and his granddaughter Snegurochka (Snow-Maiden), walk with servicemen as they visit checkpoints of the Ukrainian army and self-defense units to congratulate the military with the coming of a New Year, near Lysychansk, Luhansk region.
7 A woman holds a placard showing Hungarian Prime Minister Viktor Orban as a soccer player during an anti-government protest called by civil groups in Budapest. The protest follows a number of other rallies against Orban's government, which has seen a plunge in popularity over the past months.
8 Firefighters stand on a ladder to inspect the Norman Atlantic multi-deck car-and-truck ferry docked at Brindisi harbor. Tugboats hauled the burnt-out hulk of the ferry that caught fire on Sunday off the coast of Greece into the southern Italian port on Friday, opening the way for an investigation into the cause of the blaze that killed at least 11 people.
9 A Pakistani Hindu bride gets final make-up applications from a relative at a mass-wedding ceremony in Karachi. Some 50 Hindu couples participated in the ceremony organized by the Pakistan Hindu Council.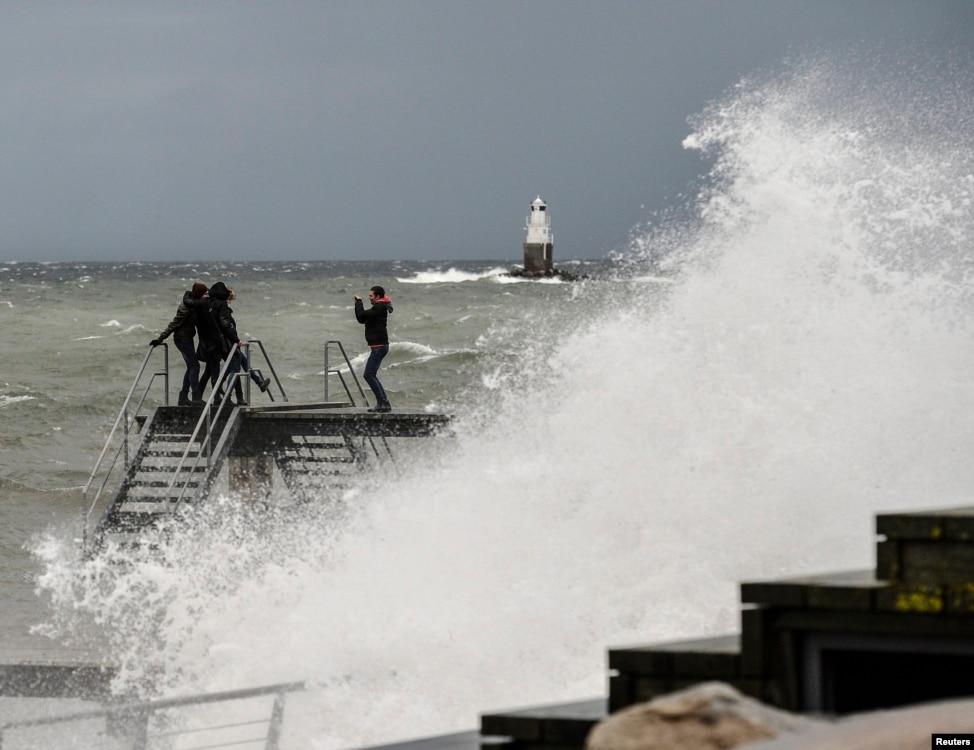 10 A man takes a photo of his friends posing on a windswept pier in Malmo as a winter storm hit western and southern Sweden.
11 A girl plays badminton along the street outside old houses in the ancient city of Bhaktapur, near Nepal's capital Kathmandu.
12 Amateur contestants (L-R) Phil Bailey, John Hindle and Eren Emir pose in telephone booths during the annual European Elvis Tribute Artist Contest and Convention in Birmingham, central England.
Gennaio 04, 2015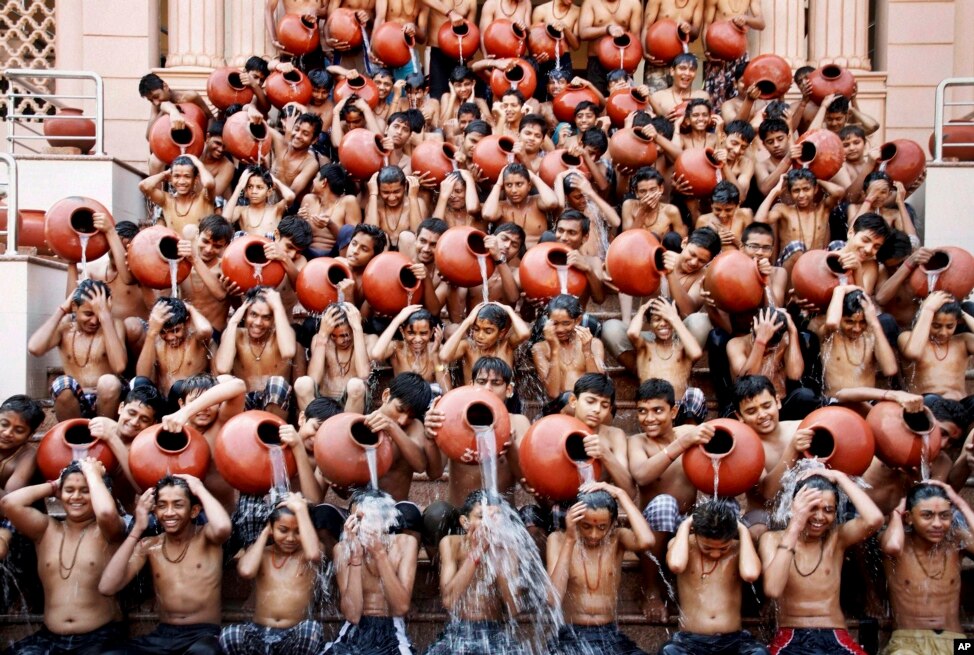 1 Indian students pour water on each other as part of a ritual bath on the eve of Magh Purnima in Ahmadabad. Many Hindu devotees take a holy bath during the auspicious festival hoping that their sins are washed away according to ancient Hindu tradition.
2 Visitors look around ice sculptures ahead of the 31st Harbin International Ice and Snow Festival in the northern city of Harbin, Heilongjiang province, China. The winter festival will be officially opened on Jan. 5, 2015.
3 Visitors use kaleidoscopes which are displayed with ice sculptures ahead of the 31st Harbin International Ice and Snow Festival in the northern city of Harbin, Heilongjiang province, China.
4 Embers glow against the smoke-filled sunset near Gumeracha in the Adelaide Hills, Australia, Jan. 3, 2015.
5 Dover Athletic supporters applaud their team from trees outside the ground that overlook the pitch during their English FA Cup third round soccer match against Crystal Palace at Crabble Athletic Ground in Dover, southern England.
6 Dressed in a traditional Japanese fire fighting uniform, a member of the Edo (Tokyo) Firemanship Preservation Association performs on a bamboo ladder during an annual New Year's celebration event at a shopping mall in Tokyo, Japan.
7 A man wearing a Ded Moroz (Grandfather Frost) costume walks in snowfall at Dvortsovaya Square in St. Petersburg, Russia, Jan. 3, 2015.
8 The cargo ship Hoegh Osaka lies on its side after running aground in the Solent estuary, near Southampton in southern England.
Gennaio 05, 2015
1 A Hindu holy man, or Sadhu, sits near the fire to keep himself warm on the first day of the Swasthani Brata Katha festival in Kathmandu, Nepal. During the month-long festival, devotees recite one chapter of a Hindu tale daily from the 31-chapter sacred Swasthani Brata Katha book that is dedicated to God Madhavnarayan and Goddess Swasthani, alongside various other gods and goddess and the miraculous feats performed by them.
2 The yacht MY 98 is carried by a truck to the fairground in Düesseldorf, Germany. The boat of the British Princess shipyard with a length of 30 meters (90ft) weighs 100 tons, worth around 7 million euro ($8.3 million), and will be on display at the international boat fair in Düesseldorf from Jan. 17 until Jan. 25, 2015.
3 The mother of Maria Francesca, who died of sudden infant death syndrome, cries in front of the coffin of her baby during the funeral in Wissous, outside Paris, France. Wissous offered a gravesite for the baby after the mayor of Champlan, where the child and mother lived, reportedly refused a burial plot.
4 A swimmer reacts after finishing his competition in a pool carved into thick ice covering the Songhua River during the Harbin Ice Swimming Competition in the northern city of Harbin, Heilongjiang province, China.
5 Indian Sikh devotees perform Gatka - traditional Sikh martial arts - during Nagar Kirtan religious procession held to mark the birth anniversary of the tenth Sikh Master Guru Gobind Singh in Jammu.
6 Kiyoshi Kimura, the owner of Japanese sushi restaurant chain Sushi Zanmai, prepares to cut the 180-kilogram (400-pound) bluefin tuna that he bought at the first auction of the year, at his restaurant near Tsukiji fish market in Tokyo, Japan.
7 Two six-month-old Philippine crocodiles, two of six who were the first of their kind to hatch in the UK, during the annual stock taking at London Zoo.
8 Locals dressed as carol singers ride on horses in Dienten, Austrian province of Salzburg.
9 A Japanese girl participates in a calligraphy contest to celebrate the New Year in Tokyo, Japan.
10 A man walks near the April 25th bridge by the Tagus riverbank in Lisbon, Portugal, on a foggy morning.
Gennaio 06, 2015
1 A brand ambassador tests Samsung's Gear VR headset at the Samsung Galaxy booth at the International Consumer Electronics Show in Las Vegas, Nevada, USA.
2 A protester, holding a Bahraini flag, confronts a riot police armored personnel carrier in an attempt to stop it from entering the village of Bilad Al Qadeem, south of Manama. Bahraini police fired rubber bullets and tear gas to scatter protesters who gathered outside the home of Sheikh Ali Salman, a Shi'ite Muslim opposition leader, witnesses said, after he was remanded in custody for a further 15 days.
3 The hearse carrying the casket of former New York Governor Mario Cuomo is escorted by members of the New York State Police as it arrives at the St. Ignatius Loyola Church for funeral service in the Manhattan borough of New York.
4 A dog called Snowball rescued from a dog meat farm in South Korea settles into the Animal Welfare League of Alexandria shelter, Jan. 5, 2015. A total of 23 dogs destined to be killed for human consumption in South Korea are being imported into the United States this week to be put up for adoption as pets, in the first dog rescue of its kind.
5 A Bulgarian man breaks the ice as he wades in the icy waters of the Tundzha river, in front of others who are dancing and singing during a celebration to commemorate Epiphany Day in the town of Kalofer.
6 This still image grab taken from a video by the Al-Youm al-Saabi newspaper, shows an Egyptian police officer being blown up as the bomb he was trying to defuse detonated outside a petrol station in Cairo. The policeman was killed and three employees were wounded when the device, hidden in a flower pot, exploded near a police station on Al-Harram street, a busy avenue leading to the pyramids. Jihadists are claiming responsibility.
7 Beluga whales and their trainers present "The heart of Ocean" show at the Harbin Polarland in the northern city of Harbin, Heilongjiang province, China.
8 Simon Ammann from Switzerland is carried out of the finish area after he crashed during the final jumping of the 63rd four-hills ski jumping tournament in Bischofshofen, Austria.
9 Charles Martinez looks over the partially frozen Lake Michigan and the Chicago skyline, Jan. 5, 2015.
10 Toyota driver Alejandro Yacopini of Argentina drives during the 2nd stage of the Dakar Rally 2015, from Villa Carlos Paz to San Juan, Argentina, Jan. 5, 2015.
Gennaio 07, 2015
1 People gather in solidarity of the victims of a terror attack against French satirical weekly Charlie Hebdo, in Paris, France. Masked gunmen shouting "Allahu akbar!" stormed the Paris offices of Charlie Hebdo, killing 12 people, including the paper's editor.
2 A Syrian refugee boy reacts as he stands barefoot on snow outside a tent at a refugee camp in Zahle, in the Bekaa valley, Lebanon. A storm buffeted the Middle East with blizzards, rain and strong winds, keeping people at home across much of the region and raising concerns for Syrian refugees facing freezing temperatures in flimsy shelters.
3 Mongolian-born grand sumo champion Yokozuna Hakuho performs the New Year's ring-entering rite at the annual celebration for the New Year at Meiji Shrine in Tokyo,Japan.
4 Palestinian children look out through a hole covered with a blanket in their family house, that witnesses said was damaged by Israeli shelling during a 50-day war last summer, in the east of Gaza City.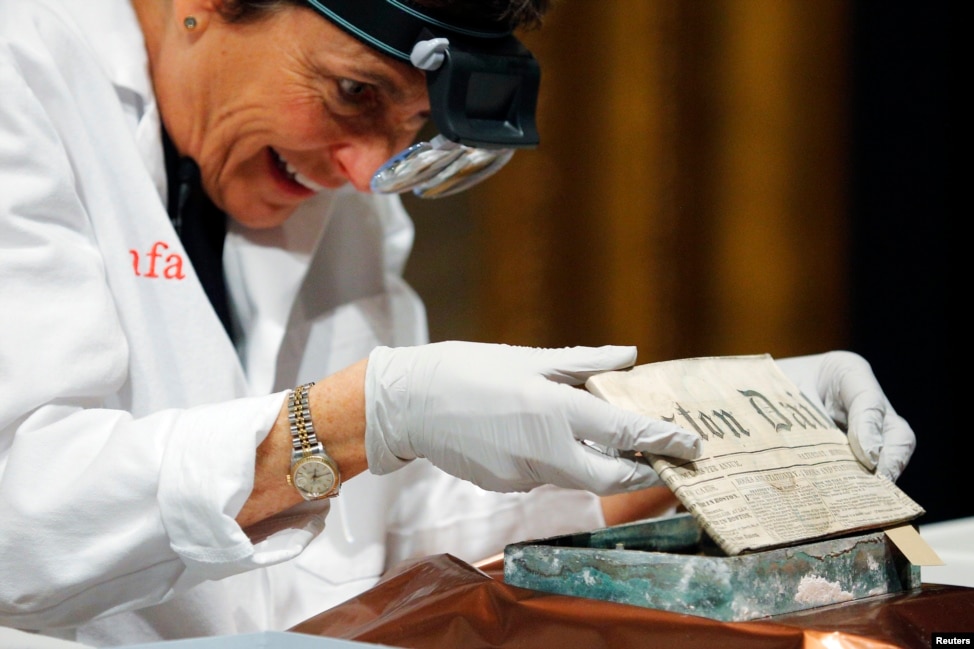 5 Conservator Pam Hatchfield removes a newspaper from a time capsule, which was placed under a cornerstone of the State House in 1795, at the Museum of Fine Arts, Boston, Massachusetts, Jan. 6, 2015. The capsule was placed by a group of the U.S. founding fathers including Samuel Adams, then the state's governor, and patriot Paul Revere.
6 Princess Charlene and Prince Albert of Monaco appear on a palace balcony, each holding a newborn baby swaddled in white. The hereditary heir Prince Jacques and his older sister - by 2 minutes - Gabriella were greeted by a small sea of red-and-white flags and banners.
7 Russian Cossacks, dressed in traditional uniforms, guard the area outside the Kazan Cathedral, where an Orthodox Christmas service is being held, under a heavy snowfall in Stavropol, southern Russia.
8 Pro-democracy lawmakers carrying yellow umbrellas, symbols for the Occupy Central movement, leave in the middle of a Legislative Council meeting as a gesture to boycott the government in Hong Kong.
9 Buggy MD Rally driver Pascal Thomasse and co-pilot Pascal Larroque, both of France, race during the third stage of the Dakar Rally 2015 between the cities of San Juan and Chilecito, Argentina, Jan. 6, 2015.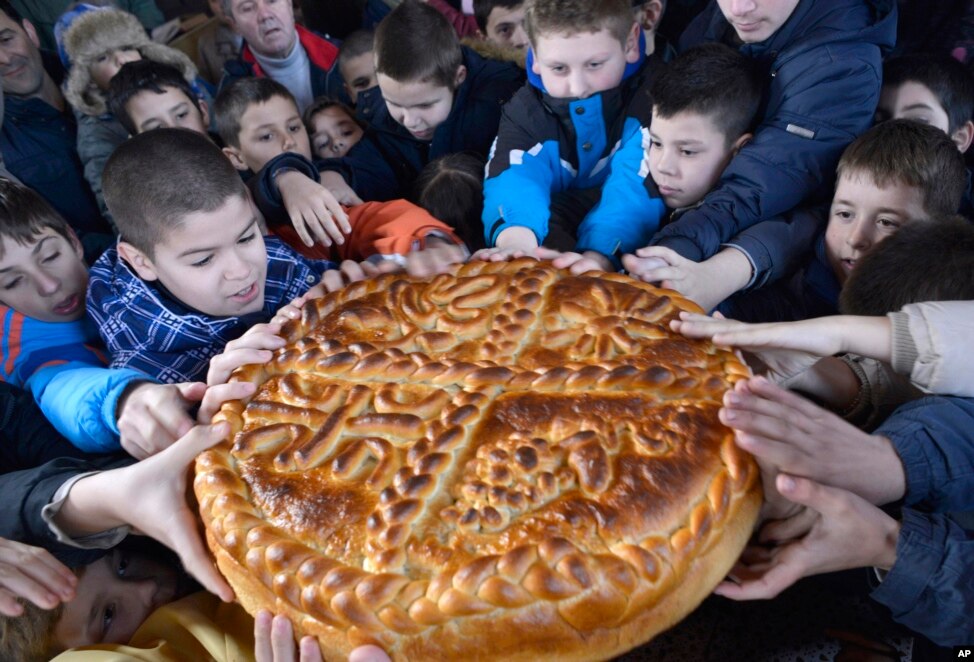 10 Bosnian Serb children break the traditional Christmas bread to mark Orthodox Christmas Day festivities in the town of Banja Luka, 350 kms west of Sarajevo.
11 A man squats next to a dead green turtle along Karachi's Clifton beach, Pakistan.
12 Paraguayan Anacleto Escobar (R), veteran of the Chaco War (1932-1935) fought between Paraguay and Bolivia, and his wife Cayetana Roman, smile during a ceremony coinciding with his 100th birthday in which they received a house - the first in their lives - as a gift for his merits, in Neembucu.
13 A participant leaves the shooting area after the 1st shooting during the women's 4x6 kilometers relay race at the Biathlon World Cup in Oberhof, central Germany.
Gennaio 08, 2015
1 People walk past the ice covered Josephine Shaw Lowell Memorial Fountain, in frigid temperatures in Bryant Park in the Manhattan borough of New York City. Schools in Chicago, Boston and other large cities closed on Thursday as sub-zero temperatures and bitter winds gripped central and eastern U.S. for a third day and meteorologists warned there was little relief in sight.
2 Pope Francis greets Angelina Jolie in the Apostolic Palace at the Vatican after screening her film Unbroken to some Vatican officials and ambassadors.
3 French riot officers patrol in Longpont, north of Paris. Police hunted down the two heavily armed brothers suspected in the massacre to make sure they don't strike again.
4 A seagull swoops at a Sky TV drone covering a cricket match on day five of the second international Test cricket match between New Zealand and Sri Lanka at the Basin Reserve in Wellington, New Zealand, Jan. 7, 2015.
5 Traffic enforcers of the Metro Manila Development Authority display adult diapers in Manila to ensure they can stay at their posts when Pope Francis visits the Philippines between January 15-19.
6 A female diver wearing a kimono feeds a ray during a New Year feeding show at the Shinagawa aquarium in Tokyo, Japan.
7 Members of the press face the blowing snow caused by Marine One as it landed on the South Lawn before picking up U.S. President Barack Obama at the White House in Washington, Jan. 7, 2015. Obama is departing for a two-day trip to Michigan and Arizona.
8 A Syrian refugee girl stands behind a door at a makeshift settlement in the village of Ketermaya, south of Beirut, Lebanon.
9 People look at a loaded truck that got stuck in a sinkhole on a road in Guilin, Guangxi Zhuang Autonomous Region, Jan.7, 2015.
10 A seagull flies past a lamp during sunset in London.
Gennaio 09, 2015
1 French soldiers patrol near the Eiffel Tower in Paris as part of the highest level of "Vigipirate" security plan after Wednesday's deadly attack at the Paris offices of satirical weekly Charlie Hebdo.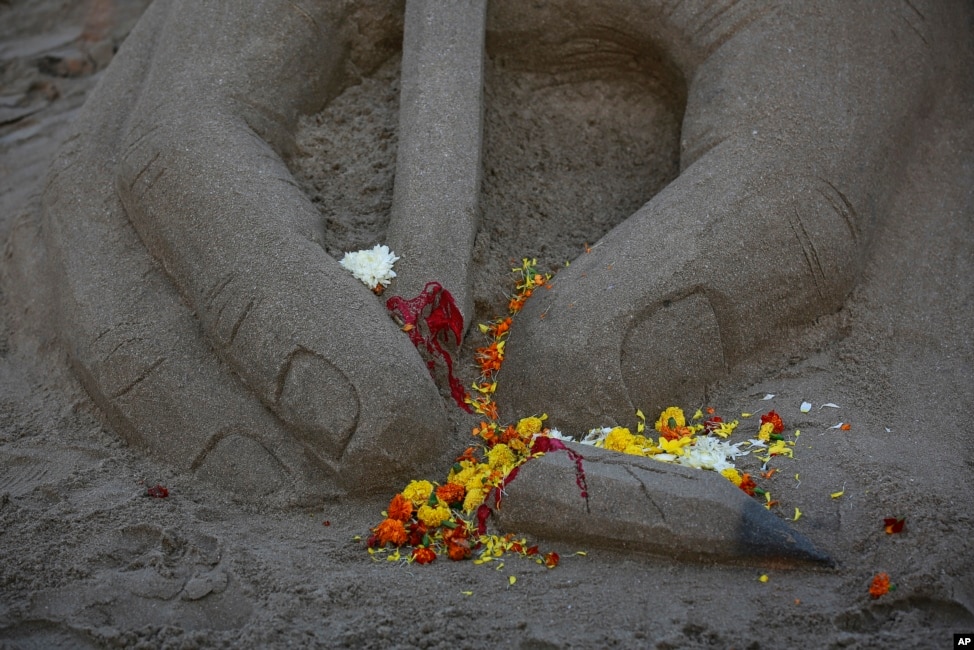 2 Flowers are seen scattered on a broken pencil sand sculpture made by an artist in tribute to the victims of the shooting by gunmen at the offices of French satirical weekly Charlie Hebdo, at a beach in Mumbai, India.
3 A man watches the street from a window as icicles hang from the roof of his house in the Hacibayram district of Ankara, Turkey. Storms this week brought blizzards, rain and plummeting temperatures to the Middle East.
4 Devotees carry the Black Nazarene at the start of an annual procession in Manila. More than a million barefoot devotees joined the parade ahead of Pope Francis' visit to the Philippines next week. The Black Nazarene, a life-size wooden statue of Jesus Christ carved in Mexico and brought to the Philippines in the 17th century, is believed to have healing powers in the predominantly Roman Catholic country.
5 The mother (R) of photographer Nadhir Ktari, who disappeared with fellow journalist Sofiane Chourabi in Libya in September, attends a demonstration held in solidarity with the missing pair, in Tunis, Tunisia.
6 Eye-shaped decorations are seen on the main facade of a former police station, now used as a hotel, in Barcelona, Spain. Spain said it was beefing up security around key infrastructure after Wednesday's armed attack on French magazine Charlie Hebdo in Paris.
7 Supporters of Sri Lankan presidential candidate Mithripala Sirisena celebrate in Colombo. Sri Lankan President Mahinda Rajapaksa conceded defeat to Sirisena on Friday, ending a decade of rule that critics say had become increasingly authoritarian and marred by nepotism and corruption.
8 A man walks through sea foam created by storms, in the town of Portstewart on the Irish coast. The foam, known as spume, is caused by dissolved organic matter being agitated by breaking waves next to the shore.
9 A Kurdish Peshmerga fighter stands in front of a line of Kurdish flags at a position on the frontline in the Gwer district, 40 kilometers south of Arbil, the capital of the Kurdish autonomous region in northern Iraq, as they continue to battle Islamic State (IS) group fighters.
10 An activist flies a "marriage pride flag" outside the U.S. Supreme Court in Washington, D.C. The justices of the Supreme Court were scheduled to meet to determine whether the court will take up any of the five pending state-banned same-sex marriage cases in Ohio, Tennessee, Michigan, Kentucky and Louisiana.
11 People are silhouetted as they walk on a beach along the shores of the Arabian Sea in Mumbai, India.
12 People look at a light installation during the "City of Angels" show based on Russian ornamental and fine arts, at the Bolshoi Theatre building in Moscow.
13 A butterfly (Cethosia Biblis) lands on a girl's face during a butterfly exhibition in Bishkek, Kyrgyzstan.
14 Downtown buildings rise above a low-level morning fog as Mount Rainier is seen some 80 miles in the distance, in this view from atop the Space Needle in Seattle.
Gennaio 11, 2015
1 People play with snow after a heavy snowstorm in Amman, Jordan.
2 People hold panels to create the eyes of late Charlie Hebdo editor Stephane Charbonnier, known as "Charb", as hundreds of thousands of French citizens take part in a solidarity march (Marche Republicaine) in the streets of Paris.
3 People walk along the Patriarchal Bridge over the Moskva river near the Cathedral of Christ the Saviour as it snows in central Moscow, Russia.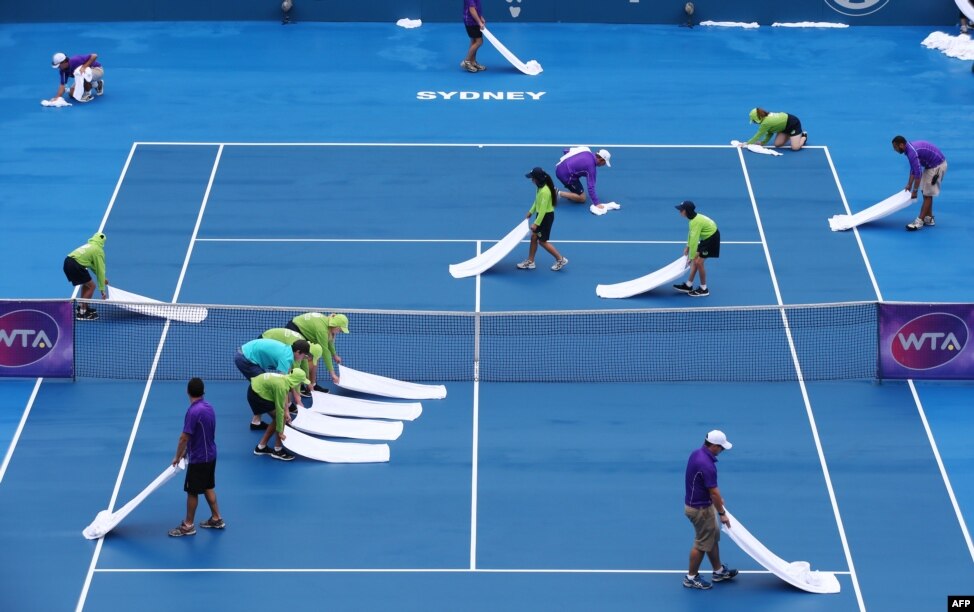 4 Ground staff attempt to dry the courts after constant rain on day one of the Sydney International tennis tournament in Sydney, Australia.
5 Muslim participants gesture from a departing train following the conclusion of the World Muslim Congregation, also known as Biswa Ijtema, at Tongi, on the outskirts of the Bangladesh capital Dhaka.
6 People show numbers written on their arms with the order they should enter at the state-run Bicentenario supermarket in Maracaibo. Lines are swelling at Venezuelan supermarkets, with some shoppers showing up before dawn in search of products ranging from chicken to laundry detergent, as a holiday slowdown in deliveries sharpened the nation's nagging product shortages.
7 Alawite mourners carry the coffins of the nine men who were killed at a coffee shop where a suicide bombing struck on Jan. 10, 2015, during their funeral procession in a predominantly Alawite neighborhood of the northern port city of Tripoli, Lebanon.
8 Women wearing traditional clothing known as "Pollera" take part in the annual Thousand Polleras parade in Las Tablas, in the province of Los Santos, Panama, Jan. 10, 2015.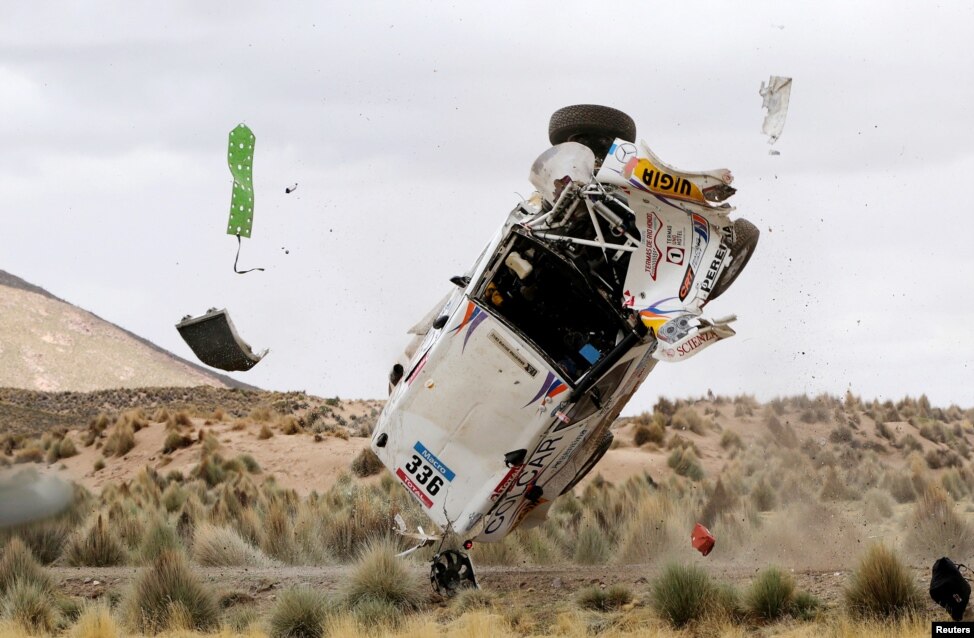 9 Juan Manuel Silva and Pablo Sisterna (not pictured) of Argentina crash in their Mercedes car during the 7th stage of the Dakar Rally from Iquique to Uyuni, Bolivia, Jan. 10, 2015.
10 Young people, stripped to their underpants, jump in the air while waiting for the subway as they take part in Romania's first edition of the "No pants subway ride day" in Bucharest.
Gennaio 12, 2015
1 A Cyprus Airways employee shouts as she is pushed against a police line at the Ministry of Finance in Nicosia during a protest against the closing down of the airline.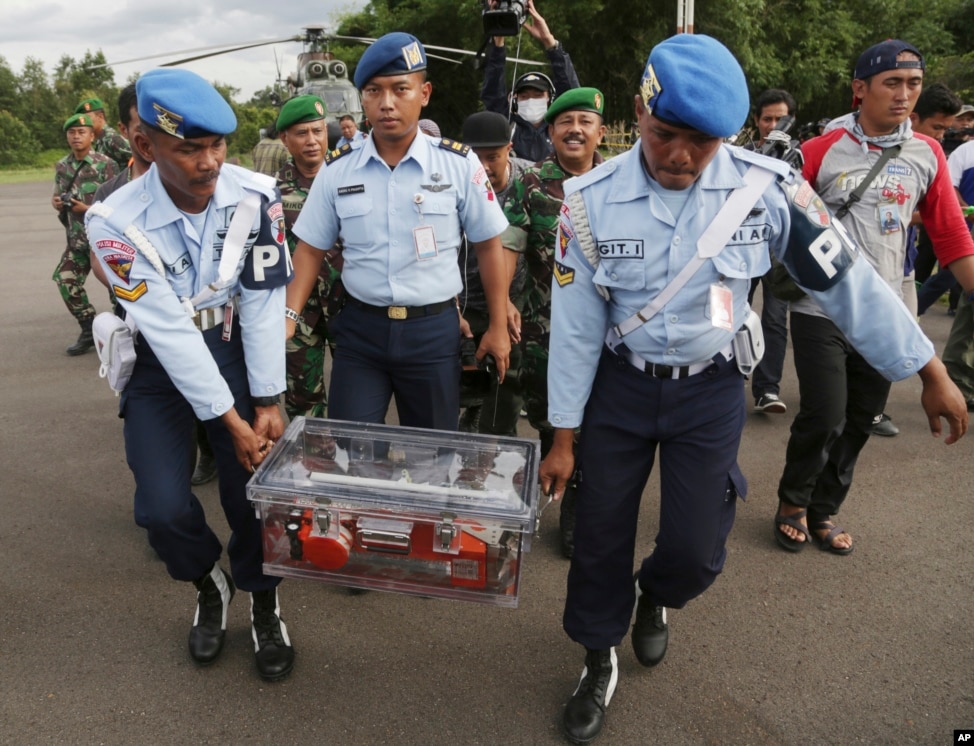 2 Indonesian air force personnel carry the flight data recorder of the ill-fated AirAsia Flight 8501 that crashed in the Java Sea, at the airport in Pangkalan Bun.
3 Residents smoke a hookah in snow-covered Jizeen, southern Lebanon, Jan. 11, 2015.
4 Joanne Froggatt poses with her award for Best Supporting Actress in a series, mini-series or TV Movie for her role in Downton Abbey backstage at the 72nd Golden Globe Awards in Beverly Hills, California, Jan. 11, 2015.
5 A Syrian man carries wood for a fire in the rebel-held city of Douma, Jan. 11, 2015.
6 Afghan children who work as water vendors search for customers at the Kart-e-Sakhi cemetery in Kabul.
7 A Japanese woman in a kimono puts on lipstick on a platform of a train station after a Coming of Age Day celebration ceremony in Tokyo.
8 Competitors begin the 8th stage of the Dakar Rally 2015 on the Salar de Uyuni salt flat, from Uyuni, Bolivia, to Iquique, Chile, Jan. 11, 2015.
9 A couple rides a skating bicycle on the frozen Houhai Lake in central Beijing, China, Jan. 11, 2015.
Gennaio 13, 2015
1 Mourners gather during the burial ceremony in Jerusalem for the victims of attack on a Paris grocery. The bodies of four French Jews killed in an attack on a Paris kosher grocery have been flown to Israel for burial.
2 French Police officers pay respects to the three officers killed during last week's terror attacks during a national tribute at Paris Prefecture.
3 An Indian Border Security Force (BSF) commando runs from thick smoke during an excercise at the Kharkan Training Camp at Hoshiarpur, around 60 kms from Jalandhar.
4 An abandoned department store is seen flooded in Bangkok, Thailand.
5 Sri Lankan Hindu priest Kurakkal Somasundaram, right, presents a shawl to Pope Francis during an inter-religious meeting in Colombo.
6 Princess Stephanie of Monaco poses with an elephant during the presentation of the 39th Monte-Carlo International Circus Festival.
7 This handout photo by the Australian Open shows tennis players Thanasi Kokkinakis of Australia (center L) and Maria Sharapova of Russia (center R) taking a "selfie" with 380 ball boys and girls as they prepare for the upcoming Australian Open tennis tournament in Melbourne.
8 A "Sadhu", or Hindu holy man, takes a dip at the confluence of the river Ganges and the Bay of Bengal, ahead of the "Makar Sankranti" festival at Sagar Island, south of Kolkata, India.
9 Biker competes during 2015 Dakar Rally stage 8 between Uyuni, Bolivia and Iquique, Chile, Jan. 12, 2015.
Gennaio 14, 2015
1 A northern rockhopper penguin stands in its enclosure at Munich's Hellabrunn Zoo, Germany.
2 Indian villagers participate in community fishing as part of the Bhogali Bihu celebrations at the Goroimari Lake in Panbari village, some 50 kilometers (31 miles) east of Gauhati. "Bhogali Bihu" marks the end of the harvesting season in the north eastern state of Assam.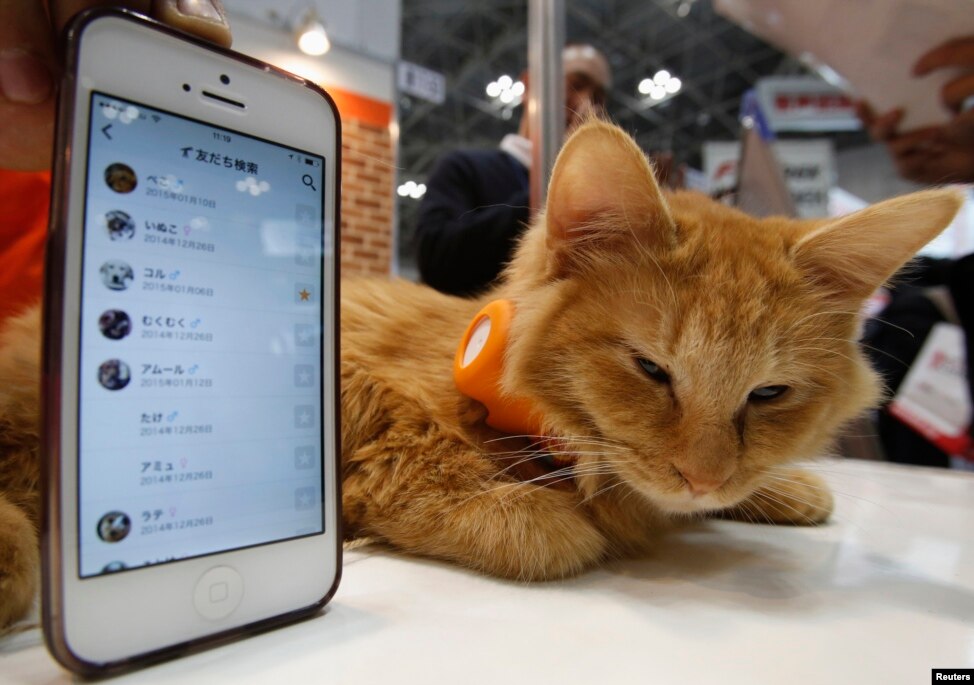 3 A cat wears a "Tsunagaru Col" gadget next to a smart phone displaying the connected app, at the Anicall Corp booth during the Wearable Device Technology Expo in Tokyo, Japan. The gadget (Tsunagaru means connection) for animals information about pets, such as the location and other animals the pet might be interacting with, for the purpose of providing "social networking" for animals.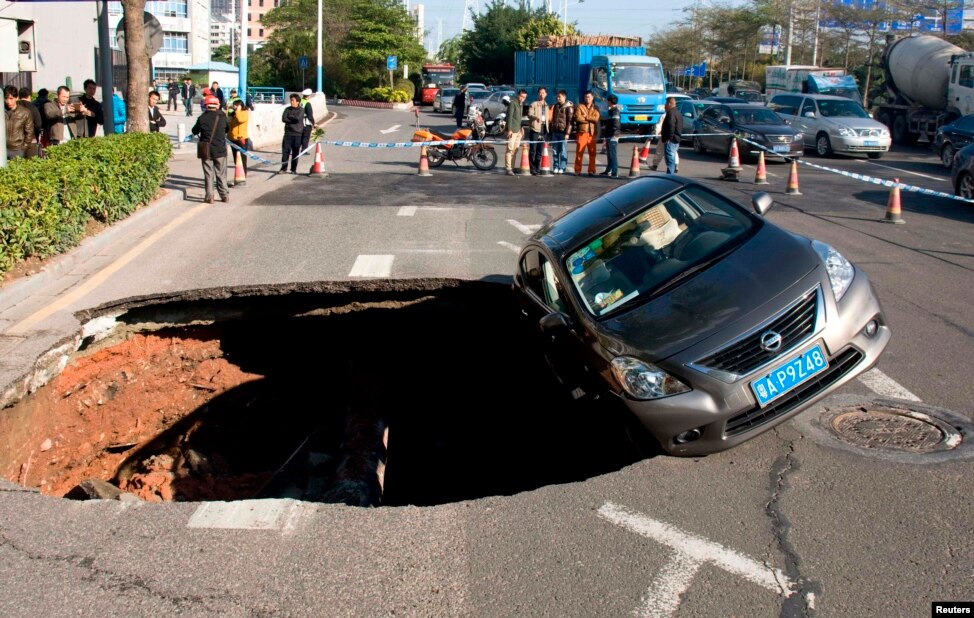 4 People look on as a car balances on the edge of a caved-in area on a street in Guangzhou, Guangdong province, China.
5 A man walks through a tunnel that connects two buildings of the Museum of Fine Arts in Houston, Texas, USA. The tunnel, titled The Light Inside, is a work by American artist James Turrell.
6 A Pakistani student looks out from a vehicle on his way home outside the Army Public School, which was targeted by Taliban militants last year, in Peshawar.
7 A man walks through snow along the Dark Hedges tree tunnel near Ballymoney in Antrim, Northern Ireland. More than 100 schools and nurseries have been shut and many roads closed as snow and wintry weather swept across the UK.
8 Men dressed as "Chlaeuse" figures that scare away evil spirits, carry round bells and cowbells as they stand on a partially snow-covered meadow during the traditional "Syvesterchlausen" near the northeastern village of Urnaesch, Switzerland, Jan. 13, 2015.
9 Second Chance, a four-year-old boxer, wears sunglasses due to sensitive eyes greets another dog during a walk with its owner along the beach in Oceanside, California, Jan. 13, 2015.
10 A boy yawns as schoolchildren dressed as Vatican Swiss guards rehearse outside the Manila Cathedral for the upcoming visit of Pope Francis in Manila, Philippines.
Gennaio 15, 2015
1 A huge crowd of Filipino faithful gather in excitement along Roxas Boulevard in Manila, Philippines, as they welcome the motorcade of Pope Francis.
2 A woman prays at Independence Square in Kyiv. Ukraine is holding a day of mourning for the 13 people killed on Jan. 13, 2015, when a passenger bus came under heavy fire in eastern part of the country.
3 Pallbearers carry the casket of Charlie Hebdo cartoonist Bernard Verlhac, known as Tignous, decorated by friends and colleagues of the French satirical weekly, at the city hall of Montreuil, outside of Paris. Funerals are being held for last six staff members of the satirical weekly, who were killed last week in a terror attack at their office in Paris.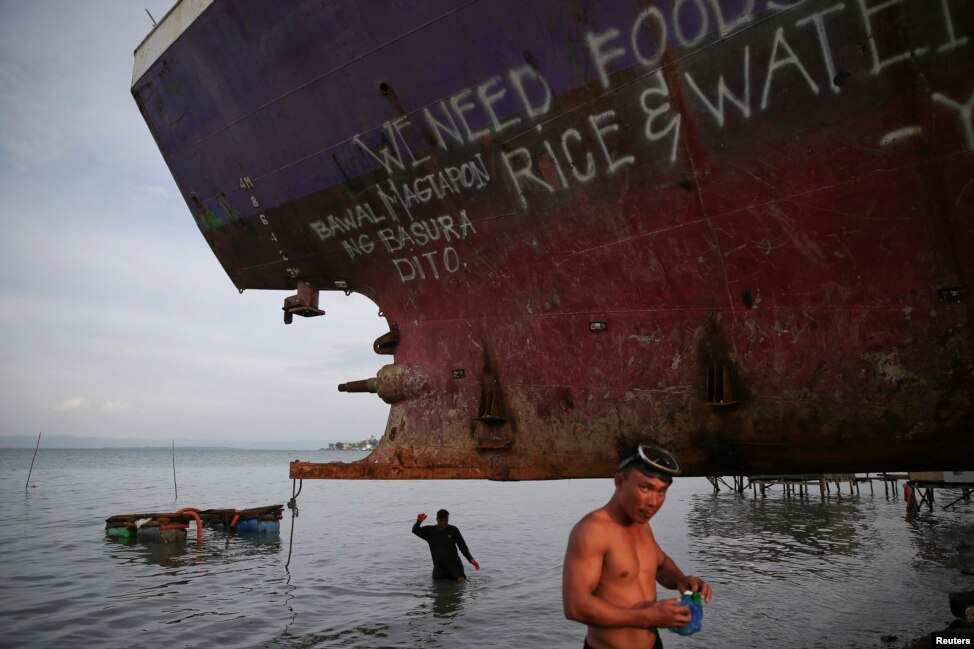 4 Divers take a part in an effort to recover a ship brought inland by Typhoon Haiyan in Tacloban, Philippines.
5 A man walks in front of a billboard featuring a globe at the Foreign Ministry in Berlin, Germany.
6 Awami League party activists try to beat a protester, center, outside the Bangladesh National Mosque during a protest in Dhaka. The protest was against prime minister and leader of the ruling party Sheikh Hasina and former telecommunication minister Abdul Latif Siddique after his alleged anti-Islam comments at a rally.
7 Sculptures by Iraqi artist Ahmad Al-Bahrani are seen outside the Lusail Multipurpose Hall on the eve of the opening ceremony of the 2015 men's Handball World Championships in Doha, Qatar.
8 Devotees prepare ritual rice dishes to offer to the Hindu Sun God as they attend Pongal celebrations at a slum in Mumbai, India.
9 Thousands of starlings fly over marshes as they return to roost at dusk near Glastonbury in Somerset, south west England, Jan. 14, 2015.
10 Germany's Severin Freund soars through the air during his trial jump at the 17th World Cup Ski Jumping competition in Wisla, Poland.
11 Demonstrators pull a barrier as federal policemen try to stop them during a protest against the visit of Mexico's President Enrique Pena Nieto to the city, in Ciudad Juarez, Jan. 14, 2015.
12 Indian soldiers perform a stunt on motorcycles during the Army Day parade in New Delhi.
13 Stock prices displayed on an electronic board are reflected in raindrops on the window of the board outside a brokerage in Tokyo, Japan.
14 A Kashmiri boy plays on a swing in Srinagar, India.
15 A man walks along a newly-built tunnel, consisting of rainbow colors, in Zhengzhou, Henan province, China.
Gennaio 16, 2015
1 Schoolchildren dressed as Swiss Guards rest as they wait for the arrival of Pope Francis outside the Manila Cathedral in Manila, The Philippines.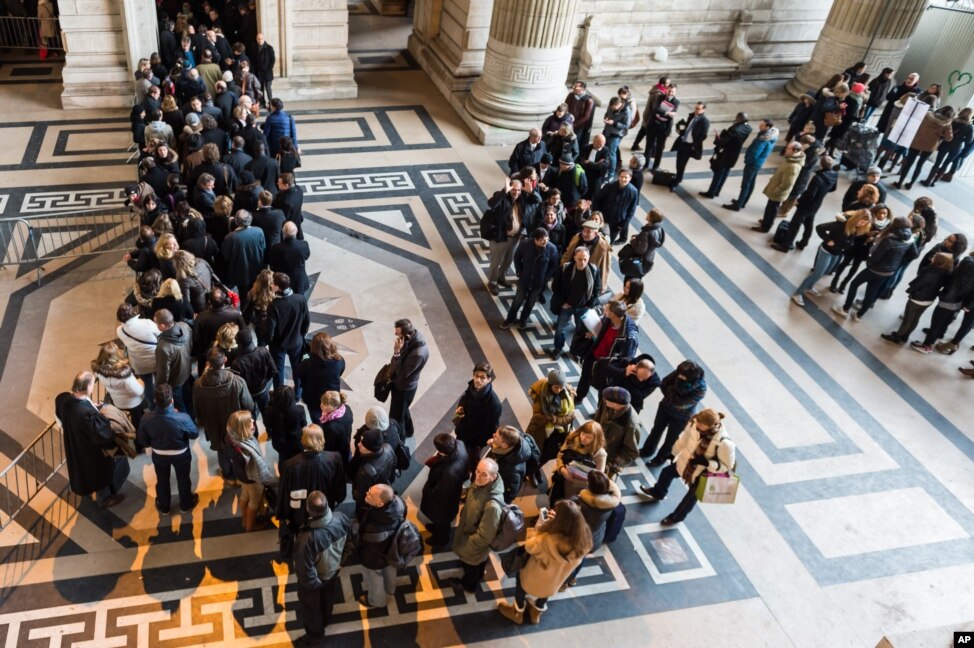 2 People line up as police check everybody who wants to enter the Palace of Justice in Brussels, Belgium. Thirteen people were detained in Belgium and two arrested in France in anti-terror sweeps that followed a firefight in which two suspected terrorists were killed in the eastern city of Verviers on Thursday.
3 President Barack Obama and British Prime Minister David Cameron hold a joint news conference in the East Room of the White House. The president and prime minister agreed Friday to a shared effort in fighting domestic terrorism after last week's deadly attacks in France.
4 People pray in Bamako, Mali during a rally against French satirical weekly Charlie Hebdo, which featured a cartoon of the Prophet Muhammad on the cover of its first edition following an attack on the magazine's office in Paris by Islamist gunmen.
5 Filipino Cardinal Luis Antonio Tagle, left, shows Pope Francis how to give the popular hand sign for "I love you" at the Mall of Asia arena in Manila. The pope is on a five-day apostolic visit in the predominantly Catholic nation.
6 More than a thousand protesters thronged the streets of Algiers, Algeria denouncing cartoons of the Prophet Muhammadby French satirical weekly Charlie Hebdo. Chanting "I am not Charlie, I am Muhammad," protesters left their mosques after Friday prayers and gathered in May 1 square where they were met by hundreds of riot police.
7 A Cuban man wearing a T-shirt with the U.S. flag walks along a street in Havana. The U.S. eased travel and trade restrictions with Cuba on Friday, marking the first concrete steps towards restoring normal ties with the Cold War-era foe since announcing a historic rapprochement.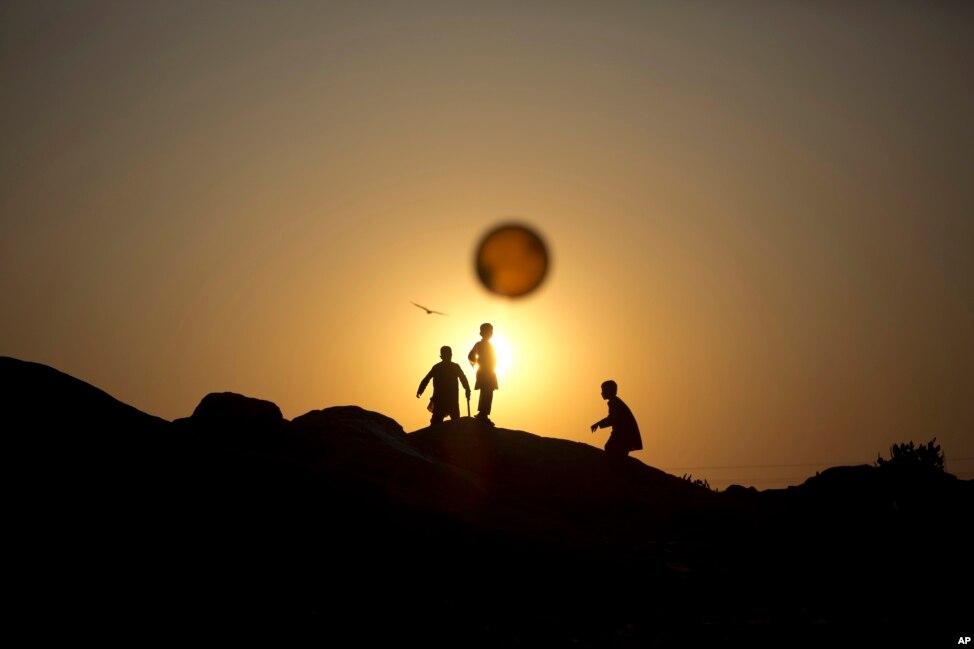 8 Afghan refugee children chase a balloon on the outskirts of Islamabad, Pakistan.
9 Malian supporters cheer their national soccer team arriving for the Africa Cup of Nations, at the Malabo International Airport in Malabo, Equatorial Guinea.
10 A Jungfraubahnen train carriage, pictured through a hotel window, is seen upon its arrival at the Kleine Scheidegg station in Wengen, Switzerland. A day after the Swiss National Bank dropped a bombshell that it was removing its currency peg on the franc, Swiss hoteliers vented their fury on social media and politicians urged the Swiss to support the country's tourism industry.
11 Indian Sadhus, or Hindu holy men, participate in a community feast at the Sangam, the confluence of the Rivers Ganges, Yamuna and mythical Saraswati, during the annual month-long Magh Mela religious fair in Allahabad.
12 Living statue ballerina Therisa Barber-Shaw performs for tips in the Times Square subway station in the Manhattan borough of New York.
Gennaio 18, 2015
1 A woman looks through a broken window at their flat after it was hit by Ukrainian Artillery in the Voroshilovsky area, center of Donetsk.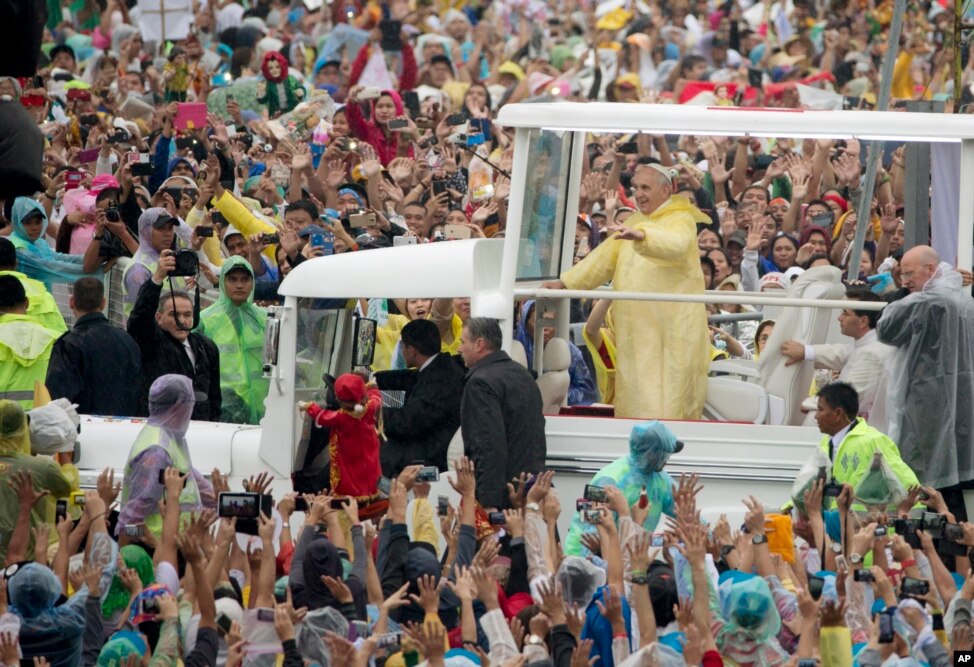 2 Pope Francis arrives for a Mass at Rizal Park in Manila, Philippines, Jan. 18, 2015.
3 Two Yazidi boys, suffering from several infections from mosquito bites while held by the Islamic State group, wait with their mother inside a bus before being driven to the Kurdish city of Dohuk, in Alton Kupri, outside Kirkuk, Iraq. The Islamic State group released about 200 Yazidis, mostly elderly, held for five months in Iraq.
4 Visitors look at exhibits of stamps and postal related material at a philatelic exhibition in the southern Indian city of Bengaluru, Jan. 17, 2015.
5 Filipinos raise the image of the Santo Nino (Holy Child) during the final papal Mass of Pope Francis at Quirino Grandstand in Manila.
6 A tightrope walker performs during the official opening ceremony to launch 2015 European Capital of Culture in Plzen, Czech Republic, Jan. 17, 2015.
7 Lazio's mascot, a white headed eagle called Olimpia, lands in the stands before the start of the Italian Serie A soccer match against Napoli at the Olympic stadium in Rome.
8 A group performs the traditional "sinulog" dance for Pope Francis before the start of his final Papal Mass at Quirino Grandstand in Manila, the Philippines.
9 Martin Fourcade of France is pictured at the shooting range during the warm-up of the men's 15 kilometers mass start competition at the Biathlon World Cup in Ruhpolding, southern Germany.
10 Alexander Baranmaa (C), from the town of Kyzyl in the Republic of Tuva, finishes working on an ice sculpture called "Macro Space" during the international festival of snow and ice sculptures The Magical Ice of Siberia in Krasnoyarsk, Siberia, Jan 17. 2015.
11 Democratic Republic of Congo's soccer fan painted his face in his national colors gestures during the African Cup of Nations Group B soccer match between DRC and Zambia in Ebebiyin, Equatorial Guinea.
Gennaio 19, 2015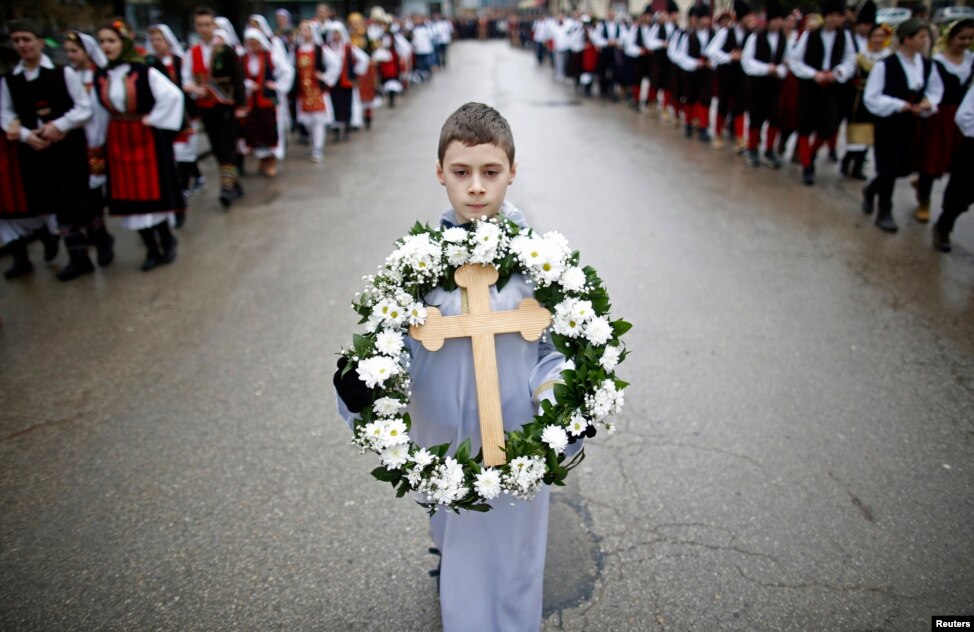 1 A boy carries a cross during Epiphany Day celebrations in Prijedor, Bosnia and Herzegovina. Orthodox priests throughout the country bless the waters by throwing a cross into it as worshippers try to retrieve it, with a strong belief that catching the cross brings health and prosperity to the person who catches it.
2 Women carry gas cylinders to fill them at a distribution point in Cairo. Egypt is going through its worst energy crisis in decades and is seeking fresh sources of natural gas.
3 Japan's Prime Minister Shinzo Abe touches the Western Wall during a visit to the Old City of Jerusalem.
4 Indian Hindu devotees walk across a pontoon bridge at the Sangam, the confluence of the Ganges, Yamuna and the mythical Saraswati, on the eve of "Mauni Amavasya" or new moon day, considered the most auspicious date of bathing during the annual month-long Hindu religious fair "Magh Mela" in Allahabad.
5 Students from Langata primary school run past riot police as they protest against a perimeter wall illegally erected by a private developer around their school playground in Kenya's capital Nairobi.
6 Russia's Ekaterina Gnidenko and Australia's Caitlin Ward (R) fall after a collision during the women's kerin at the UCI Track Cycling World Cup in Cali, Colombia, Jan. 18, 2015.
7 Thousands march across the Edmund Pettus Bridge along with members of the cast of the movie "Selma" in honor of Rev. Martin Luther King Jr. Day in Selma, Alabama, USA, Jan. 18, 2015. In 1965, King led thousands of nonviolent protesters on a march through Selma to the state capitol in a historic Civil Rights demonstration.
8 Spectators wearing masks depicting Britain's Royal family hold Union flags during the men's singles first round match between Andy Murray of Britain and Yuki Bhambri of India at the Australian Open 2015 tennis tournament in Melbourne.
9 Laborers shovel coal onto a truck at a coal dump site outside Kabul, Afghanistan.
10 A Russian Orthodox believer bathes in the icy water on Epiphany Day at a pond in Tyarlevo village outside St. Petersburg.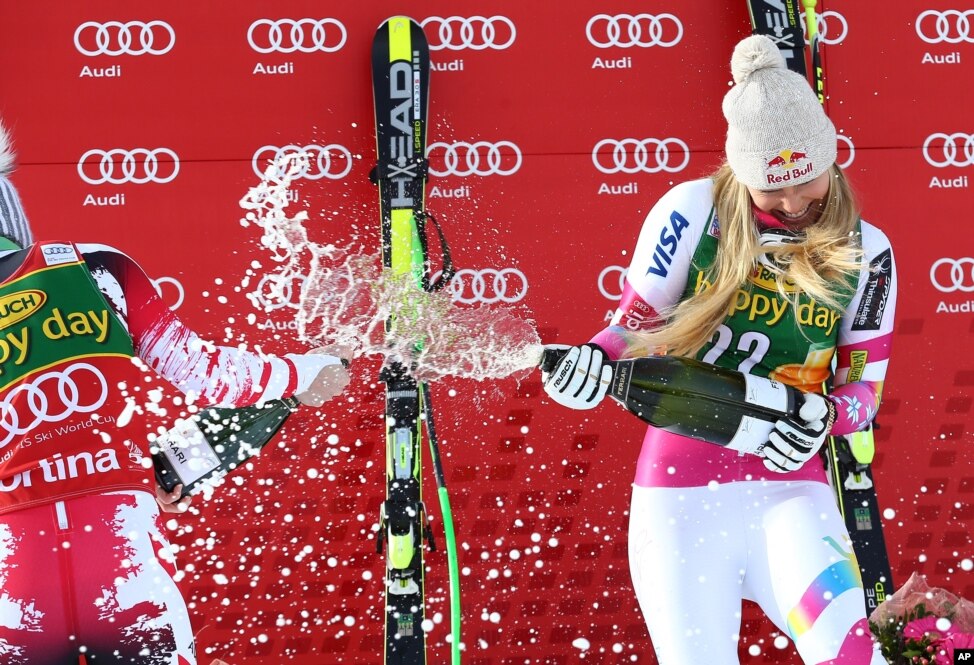 11 Lindsey Vonn, right, and second placed Anna Fenninger spray sparkling wine on the podium after Vonn clinched an alpine ski, women's World Cup super-G, in Cortina d'Ampezzo, Italy.
Gennaio 20, 2015
1 Revelers throw turnips at the Jarramplas as he makes his way through the streets while beating his drum during the Jarramplas traditional festival in Piornal, southwestern Spain.
2 A man crosses the Al-Haj highway, which is closed because of sniper fire by forces loyal to Syria's President Bashar Al-Assad, in Aleppo.
3 A member of an opposition party throws a chair during a meeting inside the Constitution Assembly building in Kathmandu, Nepal. The new assembly was elected to write a constitution after the abolition of the 240-year-old feudal monarchy that the Maoists fought against.
4 Swiss special police officers observe the surrounding area from atop the roof of the Davos Congress Hotel in the Swiss mountain resort of Davos. More than 1,500 business leaders and 40 heads of state or government will attend the Jan. 21-24 meeting of the World Economic Forum (WEF) to network and discuss big themes, from the price of oil to the future of the Internet.
5 Demonstrators destroy a police patrol vehicle during a protest by relatives of the 43 missing students from the Ayotzinapa Teacher Training College outside the federal court in Chilpancingo, in the Mexican state of Guerrero, Jan. 19, 2015. The protest was held to urge the federal court to bring charges of disappearance and murder against the former mayor of Iguala, Jose Luis Abarca, and his wife Maria de los Angeles Pineda Villa, for the massacre of the 43 Ayotzinapa Teacher Training College students in Sept. 2014.
6 A hundred humanoid communication robots called Robi perform a synchronized dance during a promotional event called 100 Robi, for the weekly Robi magazine, in Tokyo, Japan.
7 A Palestinian girl, hoping to cross into Egypt with her family, cries as she stands behind a fence at the Rafah crossing between Egypt and the southern Gaza Strip.
8 Internally displaced Afghan children stand outside their shelter in the cold at a refugee camp on the outskirts of Herat city.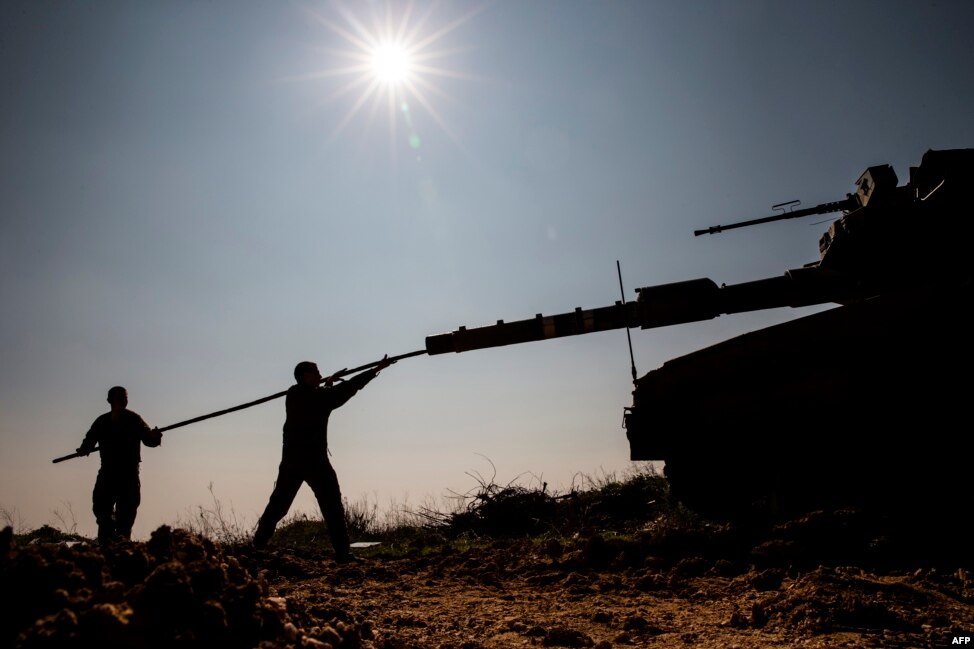 9 Israeli soldiers work on their Merkava tank as they hold a position along the Israeli border with Lebanon two days after an Israeli air strike killed six Hezbollah members in the Syrian-controlled side of the Golan Heights.
10 An eight-year-old Thai girl proudly shows off the oleander hawk-moth caterpillars that she has found on a jasmine bush in Chum Phuang, Nakhon Ratchasima province, Jan 17. 2014. (Photo taken by Matthew Richards/VOA reader/Thailand)
Gennaio 21, 2015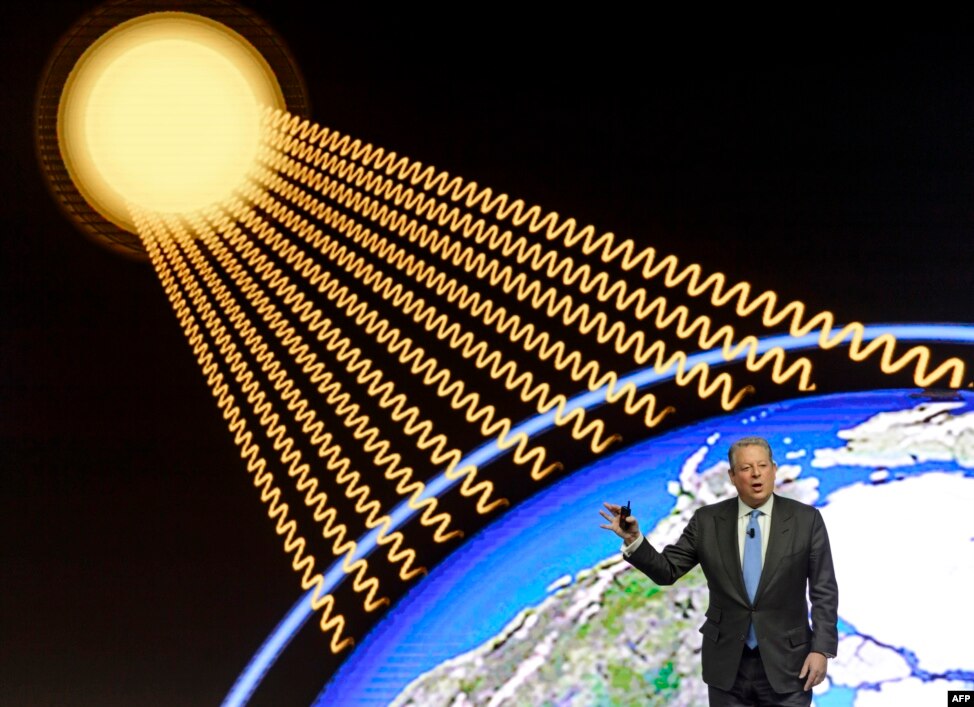 1 Former U.S. Vice President Al Gore attends a session of the World Economic Forum (WEF) annual meeting in Davos, Switzerland.
2 An attendant of a patient suspected of swine flu virus rests on the ground in the premises of the Gandhi Hospital in Hyderabad, India. According to local reports, nine people died of the flu at the state-run hospital.
3 A seal pup climbs on the top of a pile of sleeping mothers and pups looking for a place to sleep along the rocky shoreline in La Jolla, California, Jan. 20, 2015.
4 A Burkina Faso fan prays before the Group A soccer match against Equatorial Guinea at the 2015 African Cup of Nations in Bata, Equatorial Guinea.
5 Entertainers dressed in outfits shaped like tennis balls walk around the Rod Laver Arena at the Australian Open 2015 tennis tournament in Melbourne.
6 A woman cries during a funeral ceremony for Georgian Tomaz Sukhiashvili, 35, a member of self-defence battalion "Donbass", who was killed in the fighting in eastern Ukraine, at the Independence Square in central Kyiv.
7 U.S. President Barack Obama gives a thumbs up to Secretary of State John Kerry (R) as he departs after concluding his State of the Union address to a joint session of the U.S. Congress on Capitol Hill in Washington, Jan.20, 2015.
8 New breed Cotons de Tulear "Chanel" and "Burberry" are shown at the 139th Annual Westminster Kennel Club Dog Show press conference to promote the two new breeds for the 139th Annual Westminster Kennel Club Dog Show, the 2nd Annual Masters Agility Championships and the Meet the Breeds event in New York.
9 Ryan Stassel from the U.S. competes in the men's snowboard slopestyle event at the Freestyle Ski and Snowboard World Championships in Kreischberg, Austria.
10 A general view of people visiting the snow-covered shore of Hanna Lake after a snowfall on the outskirts of Quetta, Pakistan.
Gennaio 22, 2015
1 Policemen escort Ivory Coast's team toward a training session's venue in Malabo, Equatorial Guinea, as part of the 2015 African Cup of Nations football tournament.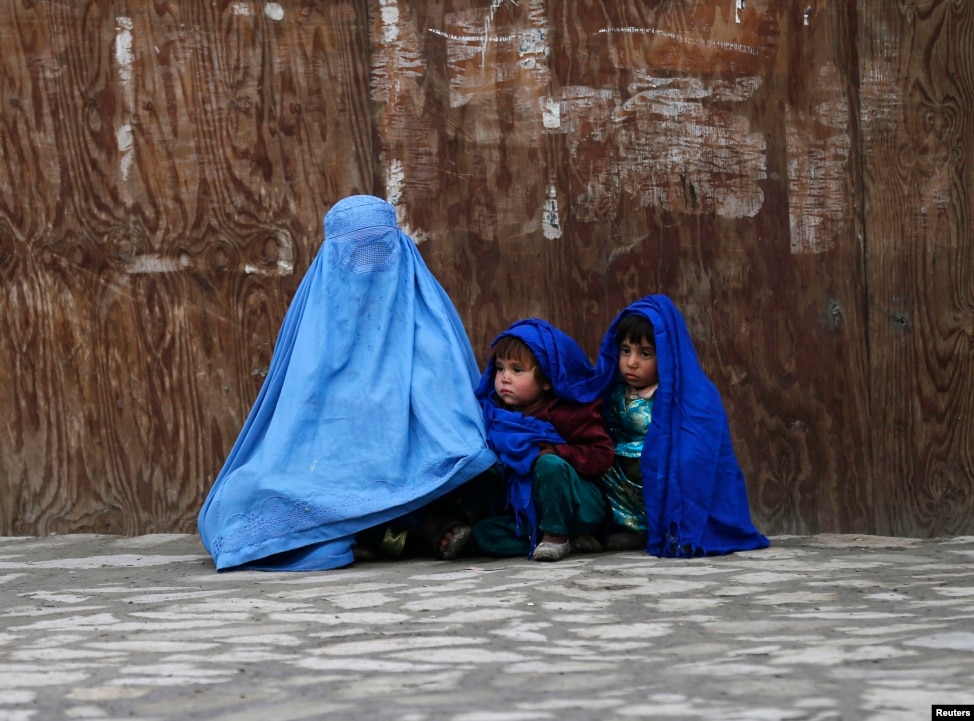 2 An Afghan woman waits for transportation with her children on a cold day in Kabul.
3 Rescued migrants on the deck of an Armed Forces of Malta (AFM) patrol boat reach out for a bottle of water after arriving at the AFM's Maritime Squadron base at Haywharf in Valletta's Marsamxett Harbor. A Maltese patrol boat rescued about 80 migrants in a drifting dinghy off the island, but another 20 people were feared to have perished.
4 Marcelo Novillo, whose son Adrian was a victim of a violent crime, cries as he holds up a sign that reads "I am Nisman" outside the office of the prosecutor who is investigating the death of prosecutor Alberto Nisman in Buenos Aires. Prosecutor Alberto Nisman, who accused Argentina's president of trying to derail the investigation into a 1994 bombing, died in mysterious circumstances on Jan. 18, 2015.
5 A group of Herons rests on the snow in Solna, north of Stockholm, Sweden.
6 A customer browses through used items at a flea market on the outskirts of Jakarta, Indonesia.
7 Firefighters put out an apartment complex fire in Edgewater, New Jersey, Jan. 21, 2015.
8 People look through the front windshield of a damaged trolleybus in Donetsk. At least six civilians were killed when a shell or a mortar hit a trolleybus stop in the rebel-controlled city in eastern Ukraine, a witness said.
9 Suspected carrier of Ebola virus James Flomo sits in isolation with his child after his wife Lorpu Flomo died three days earlier in Monrovia, Liberia, Jan. 21, 2015.
10 Artists from the southern Indian state of Telangana perform during a media preview for the Republic Day parade in New Delhi, India.
11 Clouds are seen above Brazil's National Congress headquarters before heavy rains in Brasilia.
12 Constitution assembly members shout slogans during a meeting at the parliament on the final day to draft the new constitution in Kathmandu, Nepal.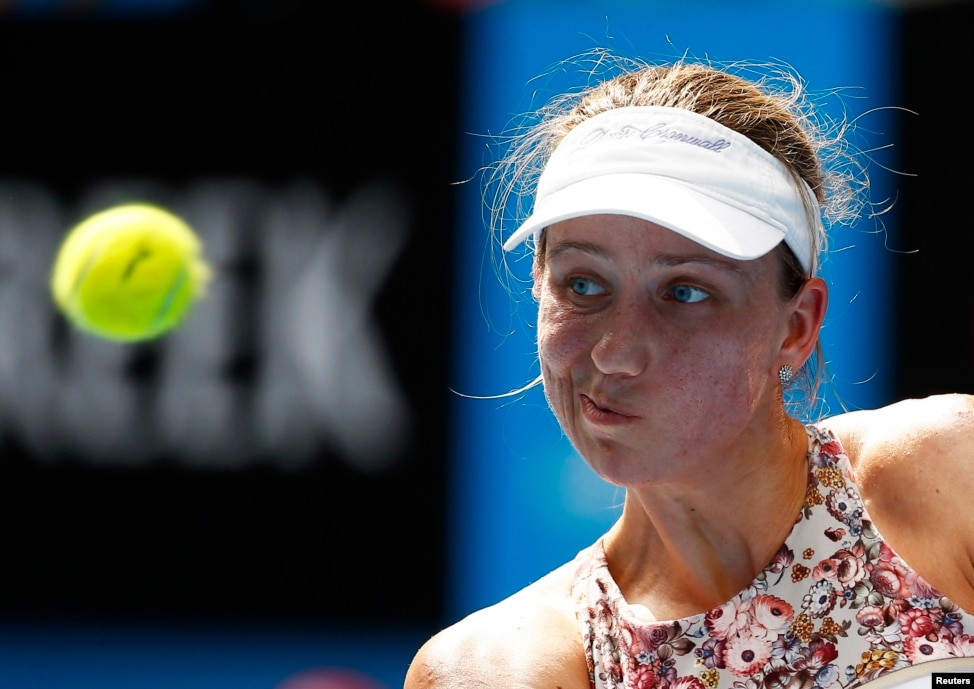 13 Mona Barthel of Germany prepares to hit a return against Petra Kvitova of Czech Republic during the women's singles second round match at the Australian Open 2015 tennis tournament in Melbourne.
Gennaio 23, 2015
1 Mourners gather around the grave of Saudi Arabia's King Abdullah at the Al-Oud cemetery in Riyadh following his death in the early hours of the morning. Foreign leaders gathered in the Saudi capital for the funeral of the ruler of the world's top oil exporter and the spiritual home of Islam.
2 A conservative supporter shouts slogans during a campaign rally by Greek Prime Minister and leader of the conservative New Democracy party Antonis Samaras in Athens.
3 Indian soldiers salute as they march down Rajpath, a ceremonial boulevard that runs from the Indian president's palace to the war memorial India Gate, during a full-dress rehearsal ahead of the Republic Day parade in New Delhi.
4 Siraj ul Haq, head of Pakistan's political and religious party Jama'at e Islami, speaks at a protest in Islamabad against satirical French weekly newspaper Charlie Hebdo, which featured a cartoon of the Prophet Muhammad as the cover of its first edition since an attack by Islamist gunmen.
5 An employee ties threads on a kite, with portraits of Indian Prime Minister Narendra Modi (L) and U.S. President Barack Obama, ahead of Obama's visit, in Mumbai.
6 Supporters of Venezuelan President Nicolas Maduro wait for him during a rally to commemorate the 57th anniversary of the end of Venezuelan dictator Marcos Perez Jimenez's regime, in Caracas.
7 A photo made with a long exposure shows the glow from a Noctiluca scintillans algal bloom along the seashore in Hong Kong, Jan. 22, 2015. The luminescence, also called Sea Sparkle, is triggered by farm pollution that can be devastating to marine life and local fisheries.
8 Ghana fans cheer during the team's 2015 African Cup of Nations Group C soccer match against Algeria in Mongomo, Equatorial Guinea.
9 A cyclist rides on a foggy day in Amstelveen, near Amsterdam, Netherlands, where temperatures dropped to a few degrees below the freezing point.
10 A Tiwa tribal man laughs as he participates in the Jonbeel festival near Jagiroad, India. Tribal communities including the Tiwa, Karbi, Khasi, and Jaintia from nearby hills come down in large numbers to take part in the festival and exchange goods through barter rather than money.
11 A general view shows the One Day International (ODI) tri-series cricket match between Australia and England as the sun sets at Bellerive Oval in Hobart, Tasmania.
12 A musher rides his dog sled during a stage of the Sedivackuv Long race in Destne v Orlickych horach, Czech Republic. Each year, racers from all over Europe arrive at the village of Destne in the Orlicke mountains to take part in the race.
13 A Palestinian boy climbs a big stone wall, that was painted by local artists at the seaport in Gaza City in an attempt to bring more vibrant colors to the city.
14 A flamingo hides its head in its feathers on a cold day at the zoo in Cologne, Germany.
Gennaio 25, 2015
1 A Group 16 fighter, part of the Free Syrian Army, fires his weapon during what activists said were violent clashes with forces loyal to Syria's President Bashar al-Assad in Ashrafieh, Aleppo.
2 President Barack Obama and Indian Prime Minister Narendra Modi have coffee and tea in the gardens of the Hyderabad House in New Delhi, India.
3 An anti-government protester chants slogans during a protest in front of the journalists' syndicate in Cairo. Three people were killed during pro-democracy protests in Egypt and a bomb wounded two policemen on the anniversary of the 2011 uprising that toppled autocrat Hosni Mubarak, security sources said.
4 Grigor Dimitrov of Bulgaria breaks his racket as he plays Andy Murray of Britain during their fourth round match at the Australian Open tennis championship in Melbourne.
5 Israelis gather for the annual pilgrimage of Baba Sali, Rabbi Yisrael Abuhatzeira, next to his grave on the 31st anniversary of his death, in the southern Israeli town of Netivot.
6 A woman covers her mouth with strips that read "no penal code" as she takes part in a demonstration called by the "Dignity Marches" against the new public security law, dubbed "ley mordaza" (gag law), in Madrid, Spain.
7 Lindsey Vonn of the USA crashes as she competes during the FIS Alpine Ski World Cup women's downhill race in St. Moritz, Switzerland.
8 A model presents a creation for Rynshu's fall-winter 2015/2016 men's collection in Paris, France.
9 Yorkshire terriers are seen during a dog exhibition in Kyrgyzstan's capital Bishkek.
10 A devotee crosses the Triveni River in the early morning as she arrives to offer prayer during the Swasthani Bratakatha festival in Panauti near Kathmandu, Nepal, Jan. 24, 2015.
Gennaio 26, 2015
1 A Jammu and Kashmir state policeman performs a motorcycle stunt during the Republic Day parade in Jammu, India.
2 Cambodian land rights activist Nget Khun (C), known locally as "Mommy", hugs her daughter (R) through a window of a prison car at the Appeal Court in Phnom Penh. A Cambodian court upheld convictions for 10 female land rights activists and a defrocked Buddhist monk and reduced the one-year sentence for most of them.
3 Bishop Libby Lane (foreground) is applauded as she leaves York Minster in northern England following a service to consecrate her as the new Bishop of Stockport. The Church of England ended centuries of male-only leadership when it consecrated its first female bishop in the face of fierce opposition from traditionalists.
4 Pastry chef Javier Mercado of the UK competes during the Pastries World Cup final as part of the Catering and Food International Show (SIRHA) in Chassieu, outside Lyon, France.
5 An elderly woman is assisted after riot policemen fired teargas canisters to disperse protests to oust the Narok county Governor Samuel Tunai in Narok, Kenya.
6 Roberto Gonzalez, a former worker of Unicom and Conempa, Paraguayan Itaipu Dam contractors, walks in the streets of Asuncion towards the Ministry of Labor, in a symbolic crucifixion, in Paraguay.
7 United Nations High Commissioner for Refugees (UNHCR) Special Envoy Angelina Jolie meets members of the Yazidi minority in Khanke internally displaced person (IDP) Camp in Dohuk, northern Iraq, Jan. 25, 2015.
8 In this image, an expanding shell of debris called SNR 0519-69.0 is left behind after a massive star exploded in the Large Magellanic Cloud, a satellite galaxy to the Milky Way. Multimillion degree gas is seen in X-rays from Chandra in blue. The outer edge of the explosion (red) and stars in the field of view are seen in visible light from the Hubble Space Telescope.
9 Miss Colombia Paulina Vega is crowned Miss Universe 2014 during the 63rd Annual Miss Universe Pageant at Florida International University in Miami, Florida, Jan. 25, 2015.
Gennaio 27, 2015
1 A child brings a candle to a Jewish cemetery at the former Terezin Nazi concentration camp in Terezin (Theresiendstadt ) during the ceremony to mark the 70th anniversary of the liberation of the former Nazi concentration camp Auschwitz-Birkenau in Oswiecim, Poland.
2 Syrians transport their belongings from one neighborhood to another in the northern Syrian city of Aleppo.
3 Indonesian soldiers and rescue personnel put a coffin of a passenger of AirAsia Flight QZ8501 into the cargo compartment of a Trigana airplane at Iskandar airbase in Pangkalan Bun.
4 Denise Young of Lynnfield, a nursing supervisor at Massachusetts General Hospital, adjusts her hood while walking to work in Boston. A storm packing blizzard conditions spun up the East Coast, pounding coastal eastern Long Island into Maine with high winds and heavy snow.
5 Air Force One transporting U.S. President Barack Obama and First Lady Michelle Obama flies over the desert as they prepare to land at King Khalid International Airport in Riyadh, Saudi Arabia.
6 An injured police officer is helped by colleagues during a protest in Kosovo's capital Pristina. Police in Kosovo fired tear gas at thousands of anti-government protesters demanding the resignation of a minister who had denied that war crimes were committed against ethnic Albanians during the 1998-99 war with Serbia.
7 Lemurs eat at Qingdao Forest Wildlife World in Qingdao, Shandong province, China.
8 A competitor with the U.S. sailing team of Zack Downing and Riley Gibbs, in the 49er class, falls into the water during the ISAF Sailing World Cup Miami on Biscayne Bay in Miami, Florida, Jan. 26, 2015.
9 Starlings fly in the sky of Rome, Italy, at sunset.
10 Models wear creations during Stephane Rolland's Haute Couture Spring-Summer 2015 fashion collection presented in Paris, France.
11 Children walk beside a river filled with garbage in Manila, the Philippines.
12 A man wearing sheepskins and bells participates in the ancient carnival of Zubieta, in the northern Spanish Navarra province.
Gennaio 28, 2015
1 Dexter Newcomb begins cleanup at his house in Scituate, Massachusetts the day after a winter storm left his neighborhood coated in frozen sea spray, snow and sand.
2 Pope Francis is greeted by Argentinian officers of the United Nations Peacekeeping Force in Cyprus, UNFICYP, as he arrives for his weekly general audience in Pope Paul II Hall, at the Vatican.
3 NASA Administrator Charles Bolden and his wife, Alexis, lay a wreath at the Tomb of the Unknowns as part of NASA's Day of Remembrance at Arlington National Cemetery in Virginia. The wreaths were laid in memory of those men and women who lost their lives in the quest for space exploration.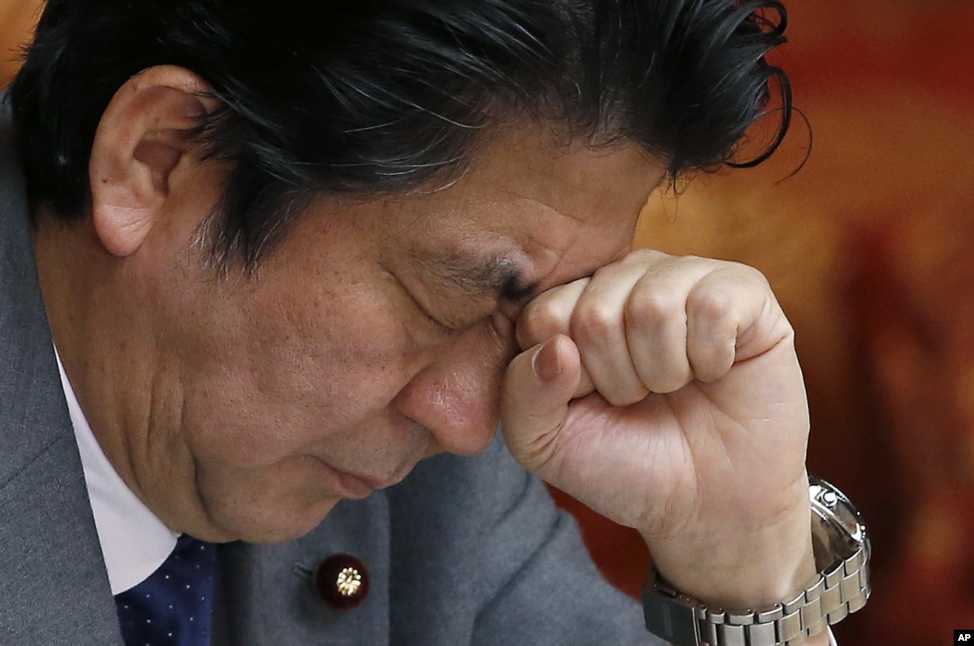 4 Japan's Prime Minister Shinzo Abe reacts during a session at the upper house of Parliament in Tokyo.
5 Free Syrian Army fighter Ahmed al-Hussein pets puppies near the frontline in Aziza village in the southern countryside of Aleppo.
6 Smoke from Israeli shelling covers the Lebanese town of Al-Majidiyah (L) on the Lebanese border with Israel as the town of Al-Ghajar is seen on the right. Lebanese Shi'ite militant group Hezbollah claimed responsibility for an attack against a military convoy in an Israeli-occupied border area.
7 German Chancellor Angela Merkel (C) poses with members of a Carnival dance troupe in Berlin. Merkel traditionally receives carnival princes and princesses annually from every German state at the Chancellery prior to the start of the carnival season.
8 Visitors stand on the viewing platform of the new 360-degree panorama 'Dresden 1945 - Tragedy and Hope of a European City' by Berlin-based artist Yadegar Asisi in the Asisi Panometer in Dresden, eastern Germany. The panorama, which is more than 30 meters high and has a 100-meter circumference, shows the city of Dresden after the bombings in February 1945.
9 A model presents a creation of Viktor & Rolf during the 2015 Haute Couture Spring-Summer collection fashion show in Paris, France.
10 A protester wears a globe mask during an anti-fracking protest at County Hall in Preston, northwest England.
11 Stephane Walker of Switzerland skates during the European Figure Skating championships in Stockholm, Sweden.
12 A flock of colored pigeons fly during a pigeon-breeding competition in the southern Spanish village of Bollullos de la Mitacion.
Gennaio 29, 2015
1 A woman rides her electric bicycle along a street during snowfall in Lianyungang, Jiangsu province, China.
2 Philippine police commandos carry the flag-draped coffins of their fallen comrades from C-130 Hercules transports shortly after arriving at a military base in Manila as the country mourned dozens of policemen killed in a botched anti-terror operation.
3 A Romanian priest puts out candles inside a church built entirely from ice blocks cut from a frozen lake after a religious service at the Balea Lac resort in the Fagaras mountains.
4 Jiang Hui, left, and Dai Shuqin, relatives of passengers onboard the Malaysia Airlines Flight 370 that went missing on Mar. 8, 2014, react while watching a pre-recorded message broadcast on Malaysian television by Malaysia's Civil Aviation Authority, in Beijing, China. Malaysia's Civil Aviation Authority has officially declared the MH370 crash an accident, fulfilling a legal obligation that will allow efforts to proceed with compensation claims.
5 Some 800 shopping bags made of plastic sewed together in the shape of a fish are laid out by environmental activist group Greenpeace during a protest against the pollution of oceans by plastic, in a street in Vienna, Austria.
6 A red rose is placed between black roses at a stand at the international trade fair for plants in the city of Essen, Germany.
7 A funeral procession for the late prosecutor Alberto Nisman makes its way to the cemetery in Buenos Aires, Argentina.
8 A winter swimmer does push-ups on the snow-covered banks of the Yangtze River in Wuhan, Hubei province, China.
9 A Palestinian boy wearing a military costume arrives at a military-style graduation ceremony for youths who were trained at one of the Hamas-run Liberation Camps, in Gaza City.
10 Models present fashion from the Fall/Winter 2015 collection of Danish design house Han Kjobenhavn during the Copenhagen Fashion Week, in Copenhagen, Denmark.
11 A Ukrainian woman begs President Petro Poroshenko to stop the shelling of Donetsk after a shell hit the residential area where she lives, killing two civilians in Donetsk's Kyibishevsky district.
12 People put the final touches on a giant figure of French President Francois Hollande during preparations for the 131st Nice carnival parade in Nice, southeastern France.
13 A couple walk through the snow at Stormont, Belfast, Northern Ireland.
Gennaio 30, 2015
1 An Ukrainian policeman embraces his wife during a ceremony in Kharkiv, northeastern Ukraine, before his departure to the east of the country where he will take part in an "Anti-Terrorist Operation" (ATO).
2 A general view of Italy's Chambers of Deputies as it begins voting for a new president in Rome. Lawmakers failed to elect a new president in a first round of voting on Thursday, leaving Prime Minister Matteo Renzi hoping to push through his candidate only in a fourth round when the required threshold of votes is lower.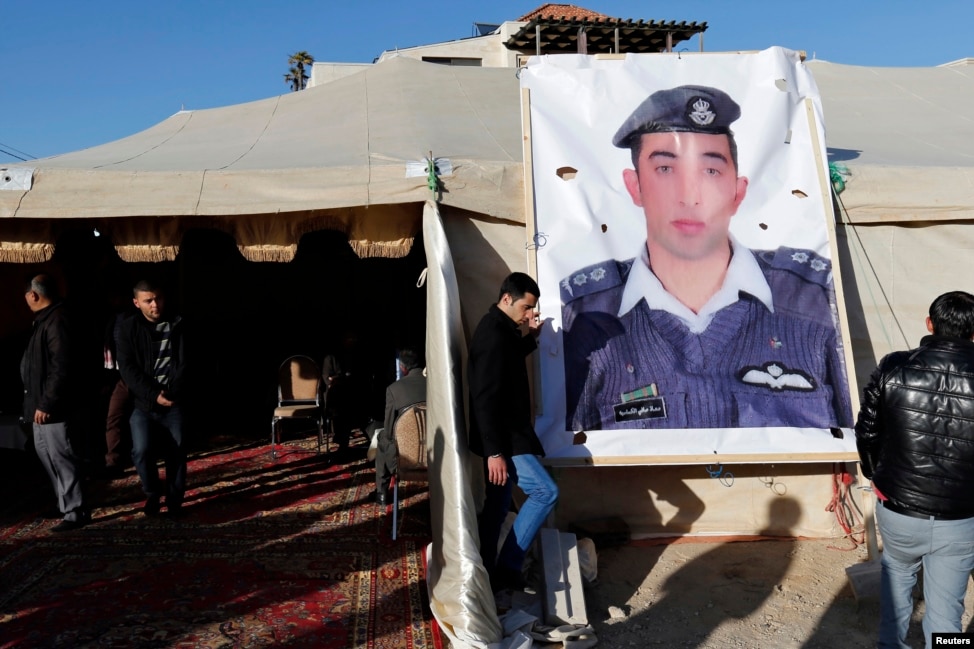 3 Relatives of Islamic State captive Jordanian pilot Muath al-Kasaesbeh place a poster of him in front of their new gathering headquarters in Amman. Japan and Jordan scrambled on Friday to find out what had happened to two of their nationals being held by IS, after a deadline passed for the release of a would-be suicide bomber being held on death row in Amman.
4 Indian Border Security Force (BSF) soldiers participate in a parade in Humhama, on the outskirts of Srinagar. Some 333 trained constable recruits were formally inducted into the BSF after completing 44 weeks of training.
5 Musa, a 25-year-old Kurdish marksman, sits in the rubble of the Syrian town of Kobani, also known as Ain al-Arab. Kurdish forces recaptured the town on the Turkish frontier on January 26, in a symbolic blow to the jihadists who have seized large swaths of territory in their onslaught across Syria and Iraq.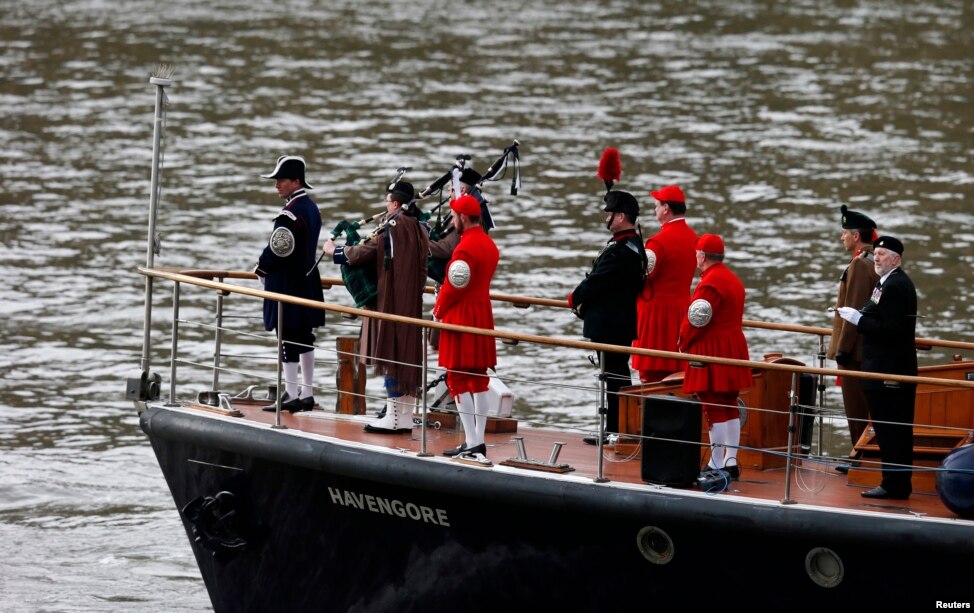 6 The 'Havengore', which carried Winston Churchill's coffin along the Thames, makes the same journey with members of his family onboard to mark the 50th anniversary of his funeral in London.
7 A Palestinian activist, Lema Nazeeh, argues with an Israeli soldier during clashes between security forces and Palestinians from the West Bank village of Bilin, following a march to protest against Israeli settlements, in Bilin, west of Ramallah.
8 Georgian army tanks take part in a military exercise near the Vaziani military base close to the Georgian capital Tbilisi. NATO Deputy Secretary-General Alexander Vershbow arrived in Tbilisi for a two-day visit regarding Georgia's prospective integration into the alliance.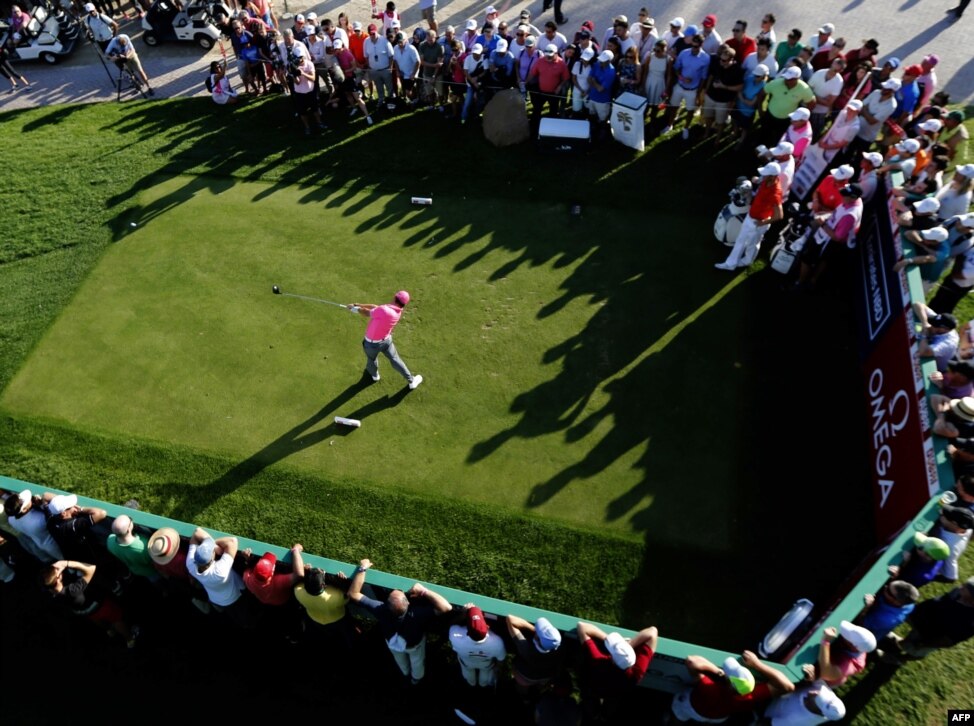 9 Rory McIlroy of Northern Ireland plays a shot during the second round of the 2015 Omega Dubai Desert Classic, in Dubai, United Arab Emirates.
10 A man walks by artist Peter Regli's sculpture "Reality Hacking No 320 Snow Monsters" near the Flatiron Building in New York.
11 Indian students of Saint Francis Girls High School form the word "peace" as they participate in a 'Non-violence and Peace' rally in Secunderabad, on the 67th anniversary of Mahatma Gandhi's assassination.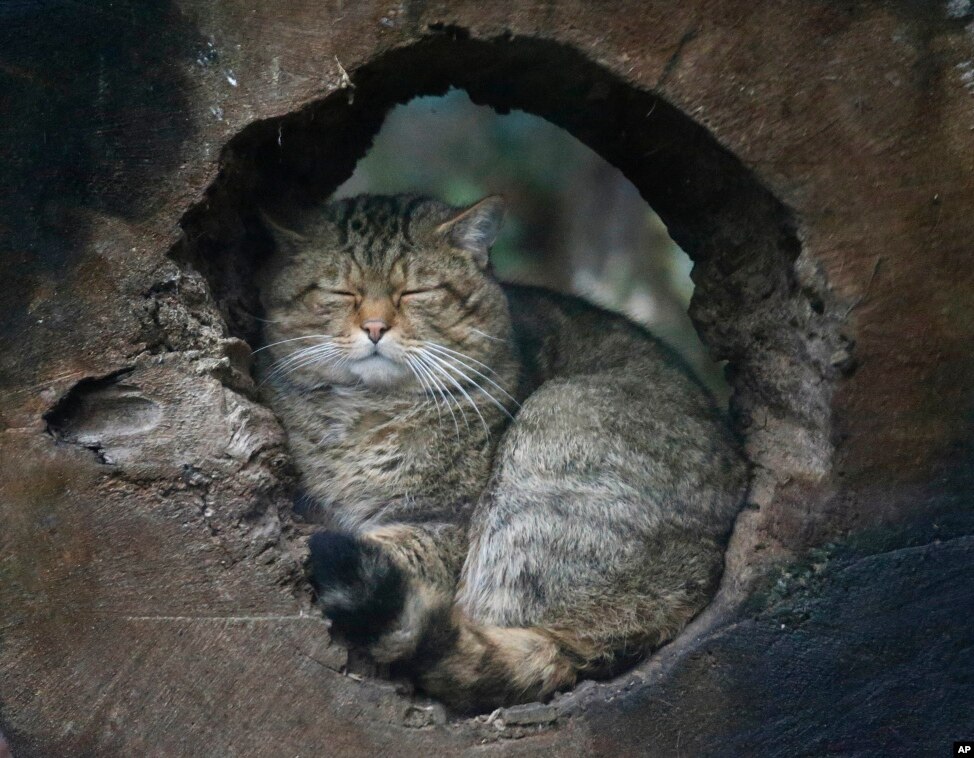 12 A European wildcat hides and sleeps in a hole at the zoo in Duisburg, Germany. Germany currently faces snowfall and temperatures around the freezing point.
13 Supporters of Qatar cheer before the 24th Men's Handball World Championships semi-finals match between Qatar and Poland at the Lusail Multipurpose Hall in Doha.
14 A woman walks through the snowy forest on the Grosser Feldberg mountain in the Taunus region near Frankfurt am Main, western Germany.