Dicembre 01, 2014
1 An Indian worker works at an iron and steel scrap workshop at an industrial area in Mumbai.
2 Police officers beat up protesters as they try to disperse them outside government headquarters in Hong Kong. Pro-democracy protesters clashed with police as they tried to surround government headquarters, stepping up their movement for genuine democratic reforms.
3 Swedish Member of Parliament Barbro Westerholm (L) speaks to former U.S. NSA contractor Edward Snowden, shown on a livestream from Moscow, during the Right Livelihood Award ceremony at the second chamber hall at the Swedish Parliament in Stockholm. Snowden was awarded the Right Livelihood Honorary Award for "his courage and skill in revealing the unprecedented extent of state surveillance violating basic democratic processes and constitutional rights."
4 SoftBank Corp's human-like robot named "Pepper" introduces Nestle's coffee machines at an electronic shop in Tokyo, Japan.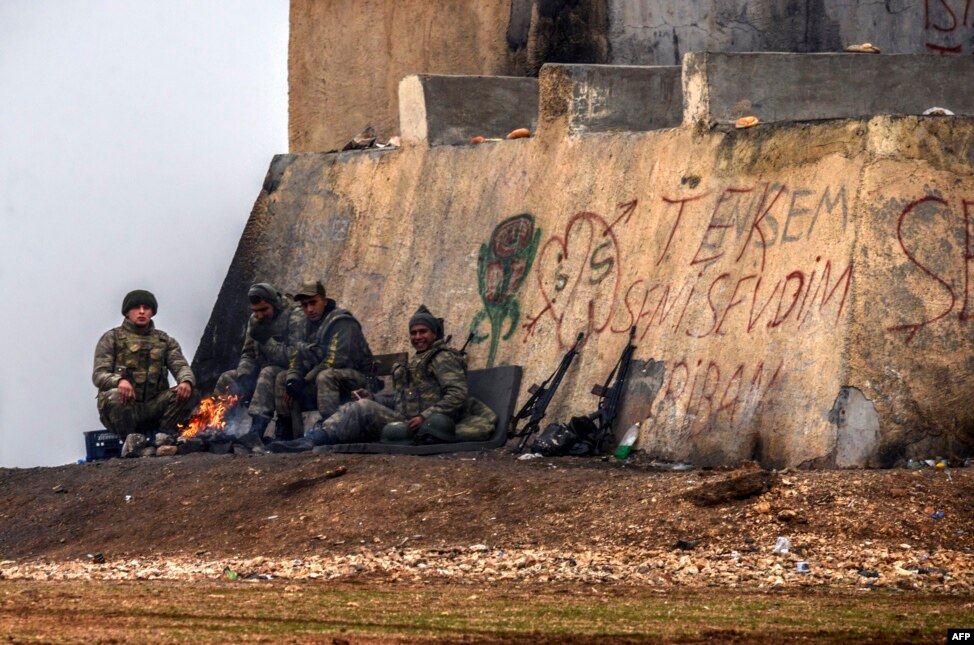 5 Turkish soldiers gather around a bonfire in Mursitpinar in the Sanliurfa province near the border with Syria.
6 Smoke rises from an explosion at a chemical market in Wenzhou, Zhejiang province, China.
7 Workers prepare outgoing shipments at an Amazon Fulfillment Center ahead of the Christmas rush in Tracy, California, Nov. 30, 2014.
8 A Ukrainian soldier fires a missile with a man-portable air-defense system during exercises near the city of Shchastya, north of Lugansk.
9 An element of the installation "Voyageurs" by French artist Cedric Le Borgne sits atop a building at Place Bel Air in Geneva, Switzerland, as a part of the Geneva Lux Festival presenting four art installations in the city center.
10 A Romanian soldier sleeps on a bus before taking part in a military parade to mark Romania's national day in Bucharest.
11 Models pose for a group photograph outside the Victoria's Secret shop on New Bond Street in central London.
Dicembre 02, 2014
1 Naga tribal men perform a traditional dance during the Hornbill festival at the Kisama village in Nagaland, India. The 10-day-long festival named after the Hornbill bird is one of the biggest festivals of India's northeast that showcases the rich tradition and cultural heritage of the indigenous Nagas.
2 Japan's Prime Minister Shinzo Abe eats a local grilled fish during his official campaign kick-off for the Dec. 14 lower house election, at the Soma Haragama fishing port in Soma, Fukushima prefecture.
3 Indian Navy sailors play drums during Navy Day celebrations in Mumbai, marking the battle at Karachi Harbor during the India-Pakistan war in 1971.
4 Handout picture released by the Honduran presidency showing the biggest human Christmas tree which set a new Guinness World Record at the Plaza La Democracia, in Tegucigalpa, Dec. 1, 2014.
5 A Syrian refugee girl sits on mud at a refugee camp in the eastern Lebanese Town of Al-Faour near the border with Syria, Lebanon.
6 Thai Royal Guards march in front of the Grand Palace, during a military parade as a part of a celebration for the upcoming birthday of Thailand's King Bhumibol Adulyadej, in Bangkok. The revered King will turn 87-years-old on Dec. 5.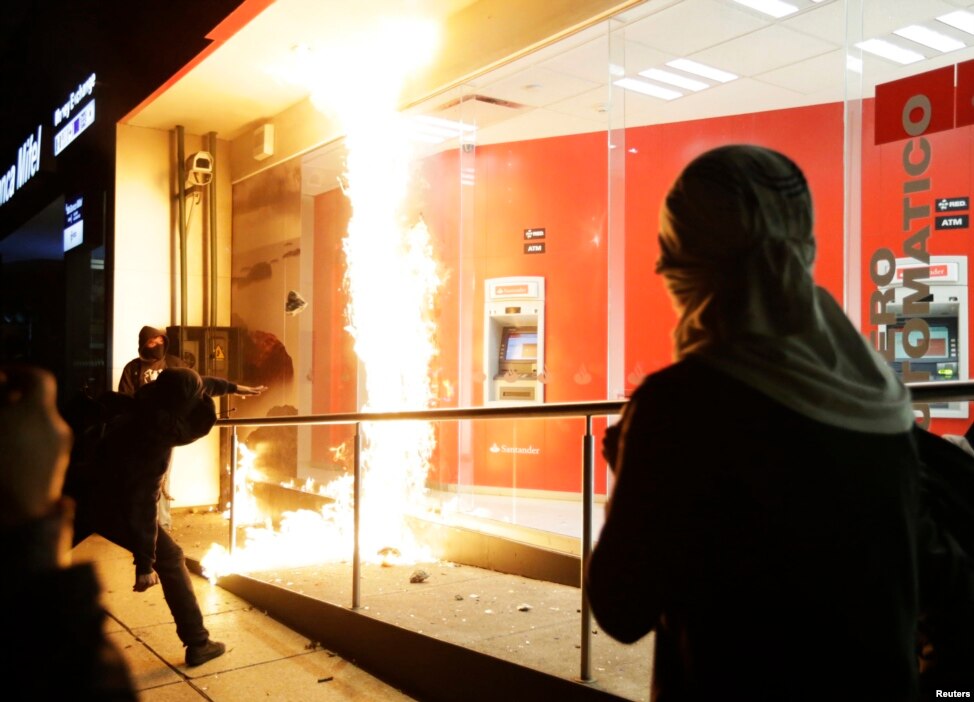 7 A demonstrator throws a firebomb at the windows of an ATM facility during a protest in support of the 43 missing trainee teachers in Mexico City, Dec. 1, 2014.
8 A woman and her daughter pray after offering alms to Buddhist monks near a railway track in Phnom Penh, Cambodia.
9 Student activists stage a 'die-in' as part of the nationwide "Hands up, walk out" protest, demanding justice for the fatal Aug. 9 shooting of 18-year-old Michael Brown, at Washington University in St. Louis, Missouri, USA.
10 Ice-covered leafs of a tree hang over a roadside shrine near Kottes in northern Austria. Freezing fog and rain covered parts of the region with ice, causing blocked roads due to fallen trees and closed schools for security reasons, local media reported.
11 A man, who gave his name as Wildcat, works out on NYPD crowd control barricades in the rain in Times Square in New York, Dec. 1, 2014. Wildcat says he works out in public places to encourage others to get healthy without the need for fancy equipment.
Dicembre 03, 2014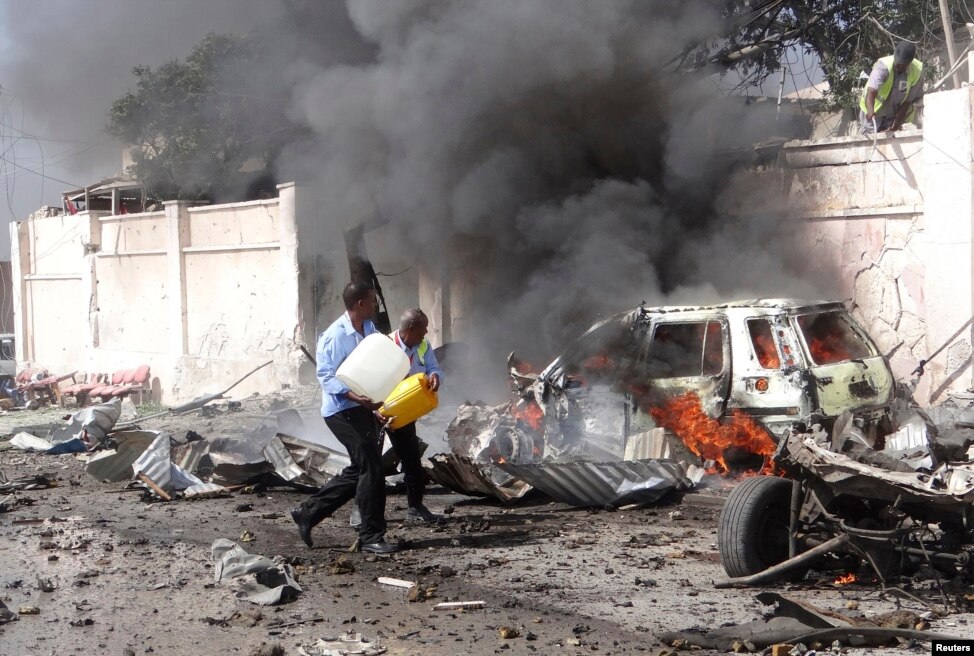 1 Somali security officers attempt to extinguish a fire at the scene of an explosion in front of the airport in Mogadishu. A car bomb struck a United Nations convoy in the capital, killing at least three Somalis who were not U.N. staff members, police and a U.N. spokesman said.
2 This handout picture taken by Wakayama Adventure World shows twin giant panda babies, born at the Wakayama Adventure World zoo at Shirahama in Wakayama prefecture, western Japan.
3 Gregory Hughes, left, father of Phillip Hughes, helps to carry Phillips's coffin during his funeral in Macksville, Australia. Cricketer Phillip Hughes, 25, died on Nov. 25 after being hit near the ear by a ball during a match between South Australia and his former state side New South Wales at the Sydney Cricket Ground.
4 A H-IIA rocket carrying Hayabusa 2 space probe blasts off from the launching pad at Tanegashima Space Center on the Japanese southwestern island of Tanegashima, in this photo taken by Kyodo. The space probe named for a falcon sets off on a six-year round trip journey to an asteroid for samples that scientists hope will help reveal the origins of life.
5 A bench covered in ice on Buda Hills in Budapest. Tens of thousand of homes on the outskirts of Budapest went without electricity this week as freezing rain blanketed the area and falling trees cut power lines, Hungary's Disaster Relief Agency said.
6 The last rays of the sun are seen at dusk at a cemetery in Yungay, Peru, Dec. 2, 2014.
7 Britain's Prince Harry speaks on telephones during a charity event in central London.
8 A volunteer clears rubbish from the Ciliwung River in the Jatinegara district of Jakarta, Indonesia. More than 1,000 soldiers and volunteers cleared 80 tons of rubbish after flooding hit parts of the capital last week, local media reported.
9 Indian laborers work at a cotton processing and packaging facility in Kadi, also known as 'Cotton City of India', some 50 kms from Ahmedabad.
10 A drought-related cactus installation called "Desert of Cantareira" by Brazilian artist and activist Mundano is seen at Atibainha dam, part of the Cantareira reservoir, during a drought in Nazare Paulista, Sao Paulo, Dec. 2, 2014.
Dicembre 04, 2014
1 A worker installs the names of the victims of the 2004 Indian Ocean tsunami on the wall of the Tsunami Museum ahead of the 10th anniversary of the killer waves in Banda Aceh, Aceh province, Indonesia.
2 Chinese military band members leave after performing at a welcome ceremony for South African President Jacob Zuma at the Great Hall of the People in Beijing, China.
3 A United Launch Alliance Delta IV Heavy rocket with NASA's Orion spacecraft mounted atop is seen illuminated in the distance at Cape Canaveral Air Force Station's Space Launch Complex 37, Florida.
4 A Yemeni university student wipes her eyes at the School of Medicine in Sana'a during the commemoration of the first anniversary of suicide attack that targeted the Yemeni Defense Ministry, killing many that worked in a hospital within the complex.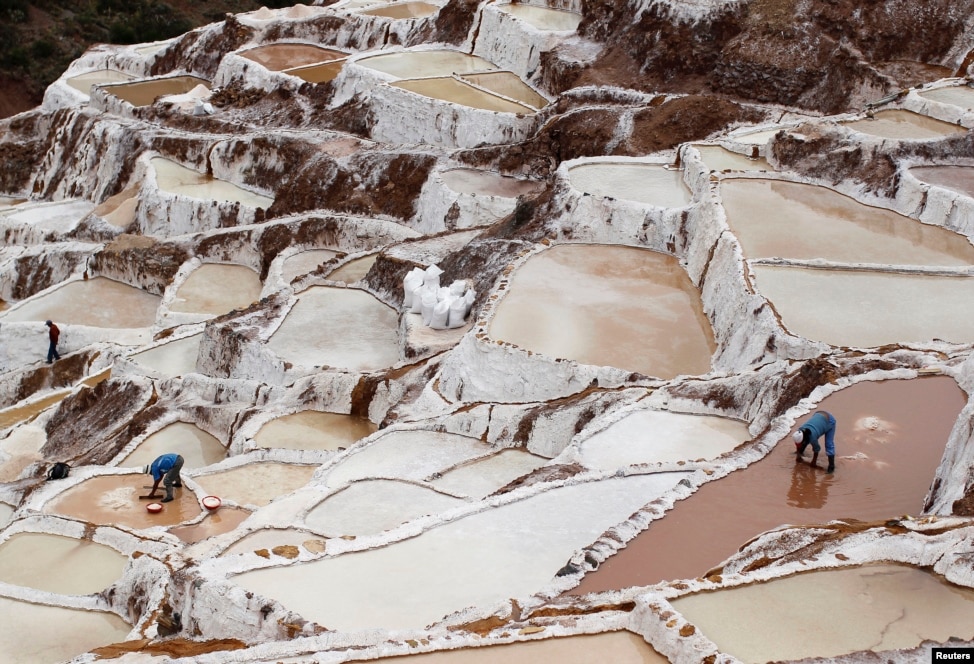 5 Workers collect salt from salt ponds at the Maras mines in Cuzco, Peru, Dec. 3, 2014. Salt has been obtained in Maras since pre-Incan times by evaporating highly salty local subterranean stream water.
6 Lazar and his sister Andjelka sit by a candle in their home in the eastern Serbian town of Majdanpek. Electricity workers in Serbia struggled through snow, ice and treacherous terrain to restore electricity to an eastern town left shivering without power, heating or running water for a fourth day.
7 A NYPD policeman (R) reacts next to people protesting against the Staten Island death of Eric Garner during an arrest in July, at midtown Manhattan in New York, Dec. 3, 2014. A New York City grand jury decision not to charge white police officer Daniel Pantaleo, who killed unarmed black man Garner with a chokehold, sparked outrage and protests. The Justice Department said it would investigate the incident.
8 Taramuni Ray, 62, cries as she sits on the debris from her burned hut after a fire broke out at a slum in Kolkata, India.
9 US tennis player Serena Williams (L) of the Singapore Slammers enters the court during the International Premier Tennis League (IPTL) competition in Singapore.
10 A truck unloads gravel on ZAD (Zone to Defend) activists as they block an access to the construction site of a holiday village project by Pierre & Vacances Center Parcs group in the Chambaran Forest near Roybon, eastern France. After being postponed several times since 2007, the project has finally received a green light but protesters say it will be a disaster for the environment.
11 Typhoon survivors, some of whom are still living in tents, evacuate to safer ground with their belongings at the Tanauan township, Leyte province in central Philippines in anticipation of the incoming Typhoon Hagupit which is forecast to hit central part of the country this weekend.
12 A Salvadorean clown going by the name of "Bobo" poses during National Clown Day celebrations at Beethoven Square in San Salvador, El Salvador, Dec. 3, 2014.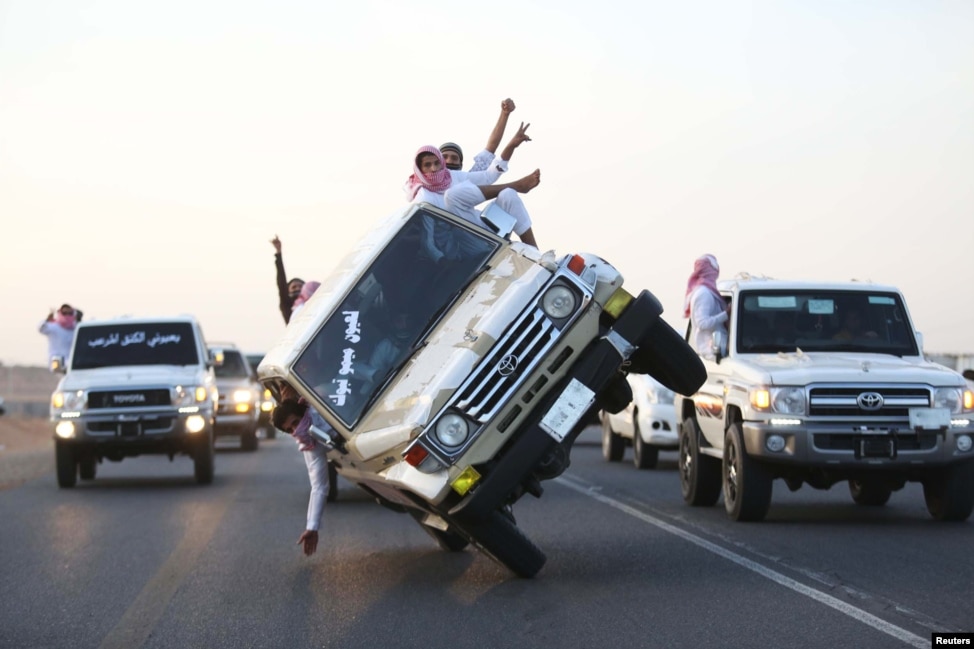 13 Saudi youths demonstrate a stunt known as "sidewall skiing" (driving on two wheels) in the northern city of Tabuk, in Saudi Arabia, Dec. 3, 2014.
14 Folk artist Han Xiaoming demonstrates painting with his tongue in Hangzhou, Zhejiang province, China. Han dips his tongue in ink to paint on paper, and uses his fingers to fill in final adjustments. The artist also uses a paintbrush held with his mouth and utilizes fish and vegetables as paint tools, local media reported.
15 Millions of liters of crude oil gush out of a pipeline and flood 200 acres of the desert nature reserve in south Israel, near the village of Beer Ora, north of Eilat.
16 Manchester City's Pablo Zabaleta celebrates his goal during the English Premier League soccer match against Sunderland at the Stadium of Light, Sunderland, England, Dec. 3, 2014.
Dicembre 05, 2014
1 Lightning can be seen as a large storm front crosses over the Sydney, Australia, suburb of Wakehurst. A severe thunderstorm hit parts of Sydney Friday afternoon and damaged more than 100 properties.
2 Supporters of Kenya's President Uhuru Kenyatta, celebrate in the streets of Nairobi following the International Criminal Court's ruling to drop crimes against humanity charges against him, at the ICC courts at the Hague.
3 The "Black Vultures" art installation by artist Cristina Planas line a street in Villa Wetlands, a protected natural area south of Lima, Peru. The installation, made up of vultures sculpted on dead palm trees, represent workers collecting garbage from different areas of the city and is displayed as part of the U.N. Climate Change Conference COP 20.
4 Civilians inspect the aftermath of a car bomb explosion in the Shiite enclave of Sadr city, Baghdad, Iraq. A string of car bomb attacks across Iraq killed dozens of people on Thursday.
5 Military cadets take pictures of themselves during a ceremony celebrating the birthday of Thailand's King Bhumibol Adulyadej outside the Grand Palace in Bangkok. King Bhumibol cancelled a public appearance on his 87th birthday on the advice of doctors, disappointing thousands outside a hospital where he is staying, hoping for a glimpse of the world's longest-reigning monarch.
6 School students lay wreaths during the official commemoration ceremony marking the first death anniversary of former South African President Nelson Mandela, at the world's largest Mandela statue at the Union Buildings in Pretoria.
7 A pro-regime supporter holds Egyptian national flags in front of army vehicles positioned on Cairo's Tahrir square during a demonstration against a recent court's decision to drop a murder charge against former president Hosni Mubarak.
8 Women walk through Shinjuku Gyoen National Garden on a sunny autumn day in Tokyo, Japan.
9 A Palestinian protester runs for cover as an Israeli military vehicle sprays a foul-smelling spray known as "skunk" during clashes following a demonstration against the expropriation of Palestinian land by Israel in the village of Kfar Qaddum, near Nablus in the occupied West Bank.
10 A model of the U.S. Capitol, made entirely of various species of wood, is seen at the U.S. Botanic Gardens during the holiday season in Washington, D.C.
11 Scott Riddell (C) of Scotland jumps for the ball during their rugby match against Samoa on the first day of the Dubai leg of IRB's Sevens World Series. The top four-ranked nations at the end of the the 2014/15 World Seven Series campaign in May will qualify directly for the 2016 Rio de Janeiro Olympic Games.
12 Activists dressed as Santa Claus demonstrate as part of the European campaign "Make Chocolate Fair!," to draw attention to human rights violations on cocoa farms in West Africa, in front of the Brandenburg Gate in Berlin. The sign reads: "Chocolate Industry Take Responsibility!"
13 A Buddha sculpture is seen through red strings, which is part of artwork on display at a shopping mall in Beijing. The artwork, made by Chinese sculptor Yang Tao, is comprised of a total of 628 red strings and is about 70 meters in height.
14 Kamchatka Brown Bear Mascha stands beside a Christmas tree, decorated with fruits and fish, at Hagenbecks zoo in Hamburg, northern Germany.
15 View of "Reves de nuit" installation by artist Damien Fontaine during the Festival of Lights in central Lyon, France. The Fetes des Lumieres, showcasing designers from all over the world, runs from Dec. 5-Dec. 8, 2014.
Dicembre 07, 2014
1 A dog wearing a Santa Claus hat takes part in the Athens Santa Run, Greece.
2 Thousands in Father Christmas suits run participate during an annual Santa fun run from Darling Harbour to the Sydney Opera House, Australia. The annual event is held each year as a fundraiser to assist disadvantaged children to help them live a fuller life.
3 The damaged Savur Mogila Monument to Red Army soldiers fallen during World War II is pictured in the snow near the eastern Ukrainian city of Snizhnee.
4 Blue beams of light are projected following a vigil to remember the victims of a mass shooting in Montreal, Quebec, Dec. 6, 2014. Today marks the 25th anniversary in which 14 women were killed by a lone gunman at Montreal's Ecole Polytechnique.
5 A man holds on to a pole as strong winds brought by Typhoon Hagupit blow in Legazpi, Albay province, eastern Philippines.Typhoon Hagupit slammed into the central Philippines' east coast, knocking out power and toppling trees in a region where 650,000 people have fled to safety.
6 Men drink beer during a local annual beer festival in Hanoi, Vietnam.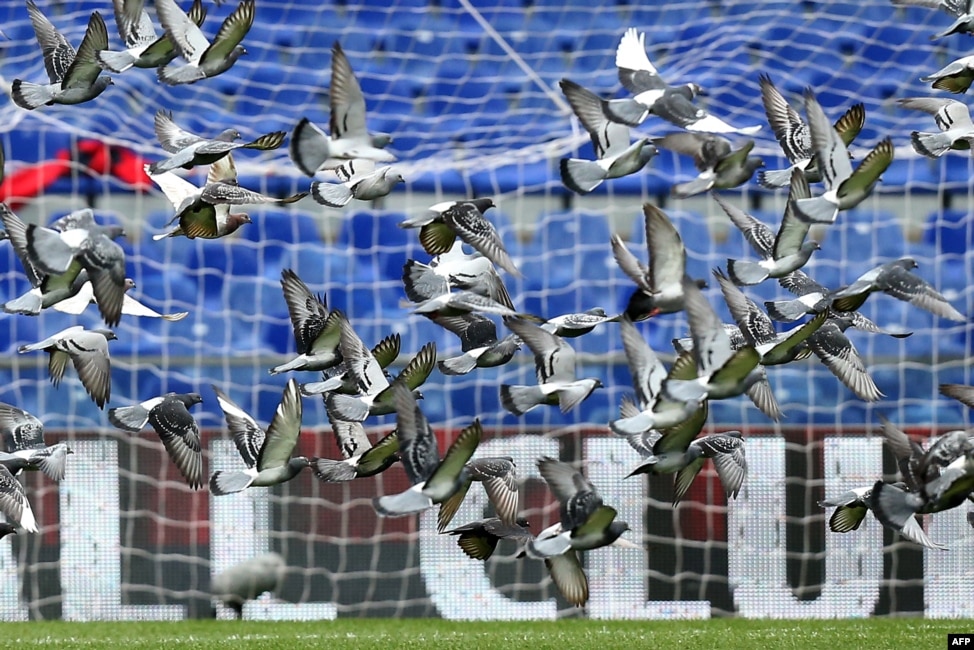 7 Pigeons fly over the pitch before the Italian Serie A football match Genoa Vs AC Milan at "Luigi Ferraris Stadium" in Genoa, Italy.
8 A participant takes part in the first Belarussian eyelash extension Beauty Eyes championship in Minsk.
9 Georgia Tech running back Synjyn Days (10) dives over the goal line for a touchdown against Florida State during the first half of the Atlantic Coast Conference championship NCAA college football game in Charlotte, North Carolina, Dec. 6, 2014.
Dicembre 08, 2014
1 A plainclothes policewoman searches female passengers, travelling to Nairobi, for weapons in the town of Mandera at Kenya-Somalia border.
2 A laborer works on top of scaffolding at a construction site in Beijing, China.
3 Three-month-old baby orangutan Bulu Mata is prepared to travel to his new home, the Monkey World of Dorset, United Kingdom, by his Hungarian nurse Bernedett Marschalko at the Zoo and Botanic Garden in Budapest.
4 Los Angeles city firefighters battle a massive fire at a seven-story downtown apartment complex under construction in Los Angeles, California. Over 250 firefighters battle the early morning blaze which shut down two major freeways, the Los Angeles Fire Department and California Highway Patrol said.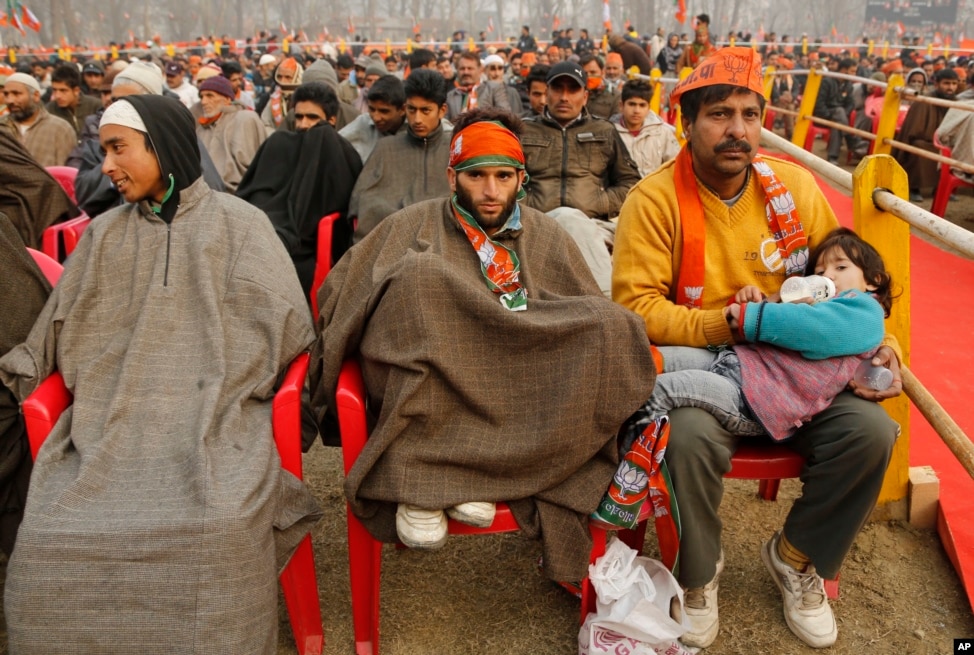 5 A supporter of Indian Prime Minister Narendra Modi, right feeds milk to his daughter as he and others await Modi's arrival during a campaign rally ahead of local elections in Srinagar, Indian controlled Kashmir.
6 Greenpeace activists stand next to massive letters delivering the message "Time for Change: The Future is Renewable," next to the hummingbird geoglyph in Nazca, Peru.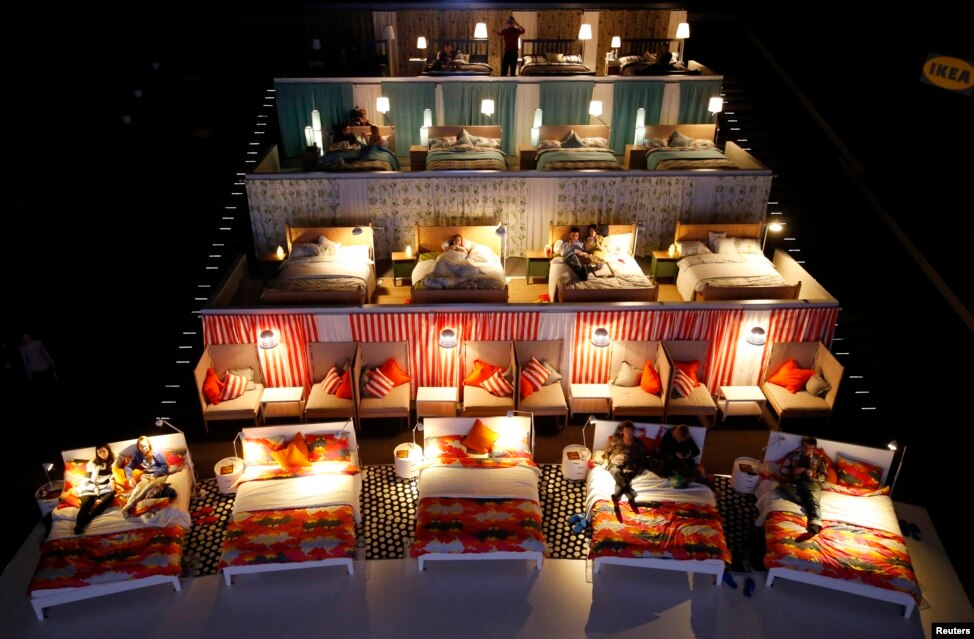 7 Spectators await the start of a cinema screening at a Kinostar De Lux Multiplex in the Moscow suburb of Khimki, Russia, Dec. 7, 2014. Furniture retailer IKEA has converted one of the cinema halls, completely replacing standard seats with their furniture, according to local media.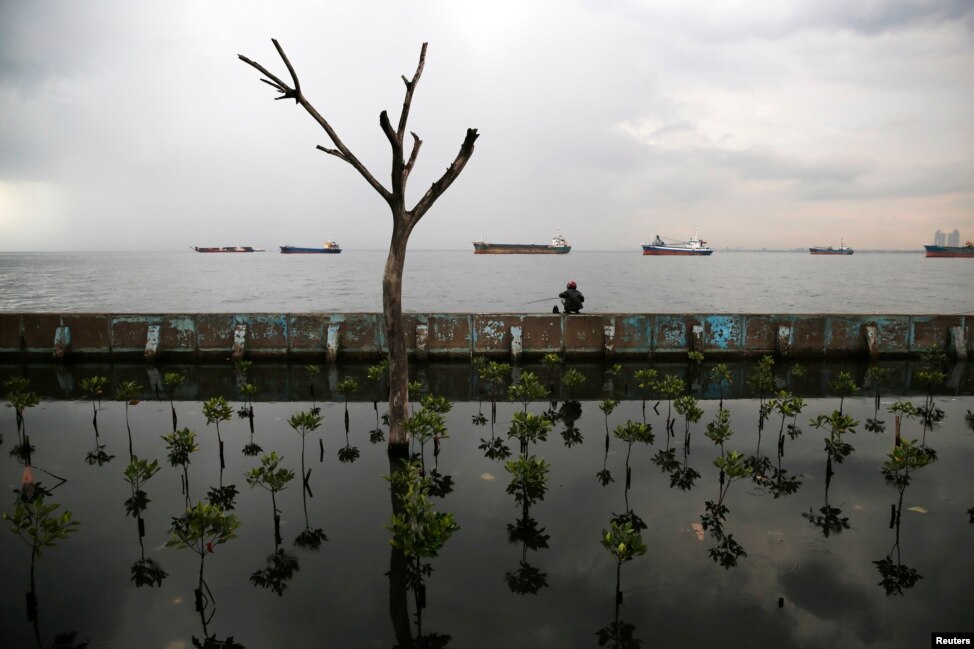 8 A man sits on top of a sea wall as he fishes at Muara Baru port in Jakarta, Indonesia.
9 In this handout photo provided by South Australian Department of Environment, Water and Natural Resources people stand around one of six sperm whales washed up dead on the South Australia coast.
10 People walk behind the fence of the Christmas sphere erected at the Manezhnaya Square, just outside the Kremlin, in Moscow, Russia. Organizers claim 9.5-meter (31 feet) high sphere is the biggest in the world.
Dicembre 09, 2014
1 A 13-month-old chimp named Fumo carries a Christmas present of food treats in wrapping paper under his arm during a Christmas-themed feeding time at Sydney's Taronga Park Zoo, Australia.
2 David Wong, a 41-year-old cellist, performs in front of a wall posted with messages of support for pro-democracy protesters at the Admiralty district, Hong Kong.
3 People line the road as trucks carrying parts of the wreckage of downed Malaysia Airlines flight MH17 arrive from Ukraine at Gilze-Rijen military base, Netherlands. The Boeing 777 plummeted from high altitude over eastern Ukraine on July 17, killing all 298 passengers and crew on board.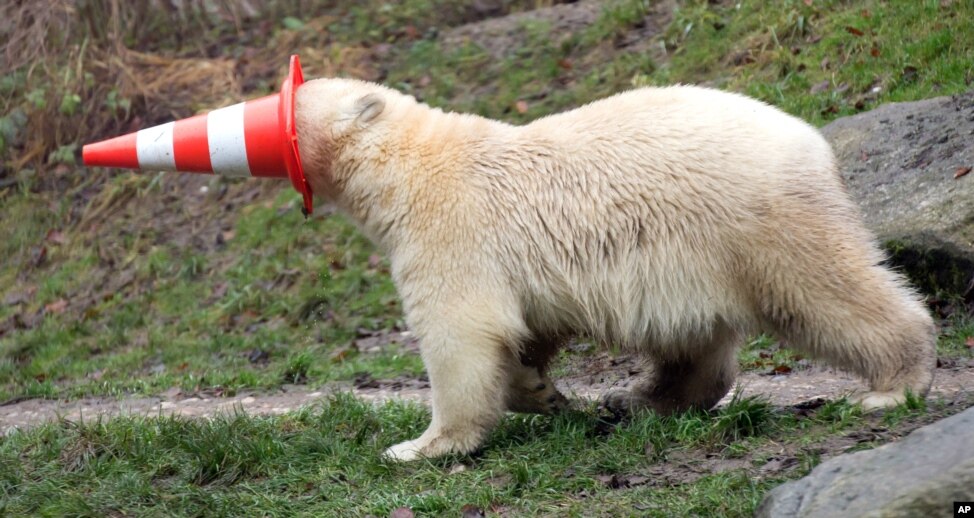 4 One of the polar bear twins plays with a pylon on their first birthday in their compound at the animal park Hellabrunn in Munich, southern Germany. The twins Nela and Nobby were born on Dec. 9, 2013.
5 Members of Iraqi security forces and Shi'ite fighters eat on their vehicle on the outskirts of Baiji, north of Baghdad, Dec. 8, 2014.
6 Thick and hot smoke spews from Mount Sinabung in Karo, Indonesia.
7 An employee of Paris city Hall removes padlocks clipped by lovers on the fence of the Pont des Arts over the River Seine in Paris, France. About 700,000 love locks are added every few months and officials say they are damaging the bridges and threatening safety because of the added weight.
8 A police officer walks among 152 black wooden crosses placed on Copacabana beach, in Rio de Janeiro, Brazil, by the NGO Rio de Paz in memory of police officers killed in Rio de Janeiro state between 2013 and 2014.
9 A woman poses for a photo by a snow-covered tree in Jilin, in northeast China's Jilin province.
10 Prince William, Duke of Cambridge (right) and Catherine, Duchess of Cambridge (right center) with Dikembe Mutombo (left center) during the game between the Brooklyn Nets and the Cleveland Cavaliers at Barclays Center in Brooklyn, New York, Dec. 8, 2014. (Credit: Robert Deutsch/USA TODAY Sports)
11 A diver dressed in a Santa Claus costume feeds fish at the Sunshine Aquarium in Tokyo, Japan.
Dicembre 10, 2014
1 Carabiniers of Monaco's Prince Albert II fire canons to announce the birth of twins of Prince Albert II and Charlene, in front of the Monaco Palace. Princess Charlene gave birth to a boy and a girl, the royal couple's first children, an aide to the royals said. According to Monaco's Constitution the boy, named Jacques, will be first-in-line to the throne, and not his twin sister, Gabriella.
2 A Tibetan girl gets help from her mother as she gets dressed for an event organized by the Tibetan Refugee Community in Nepal commemorating the 25th Anniversary of the Nobel Peace Prize conferment to exiled Tibetan spiritual leader Dalai Lama and the 66th International Human Rights Day in Kathmandu, Nepal.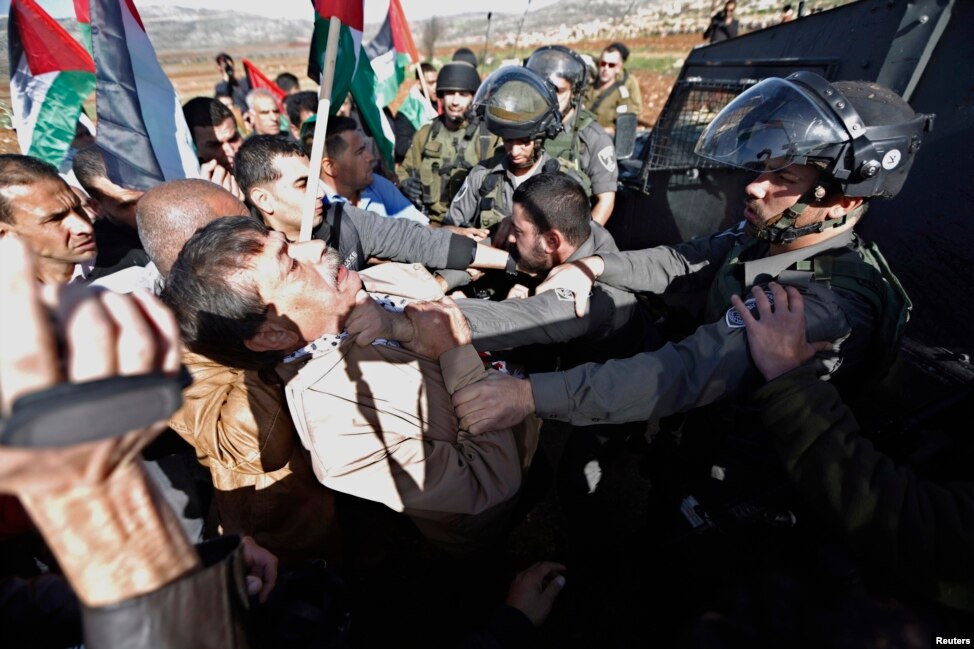 3 Palestinian minister Ziad Abu Ein (L) scuffles with an Israeli border policeman near the West Bank city of Ramallah. Abu Ein died shortly after being hit by Israeli soldiers during a protest in the occupied West Bank, a Reuters photographer who witnessed the incident and a Palestinian medic said.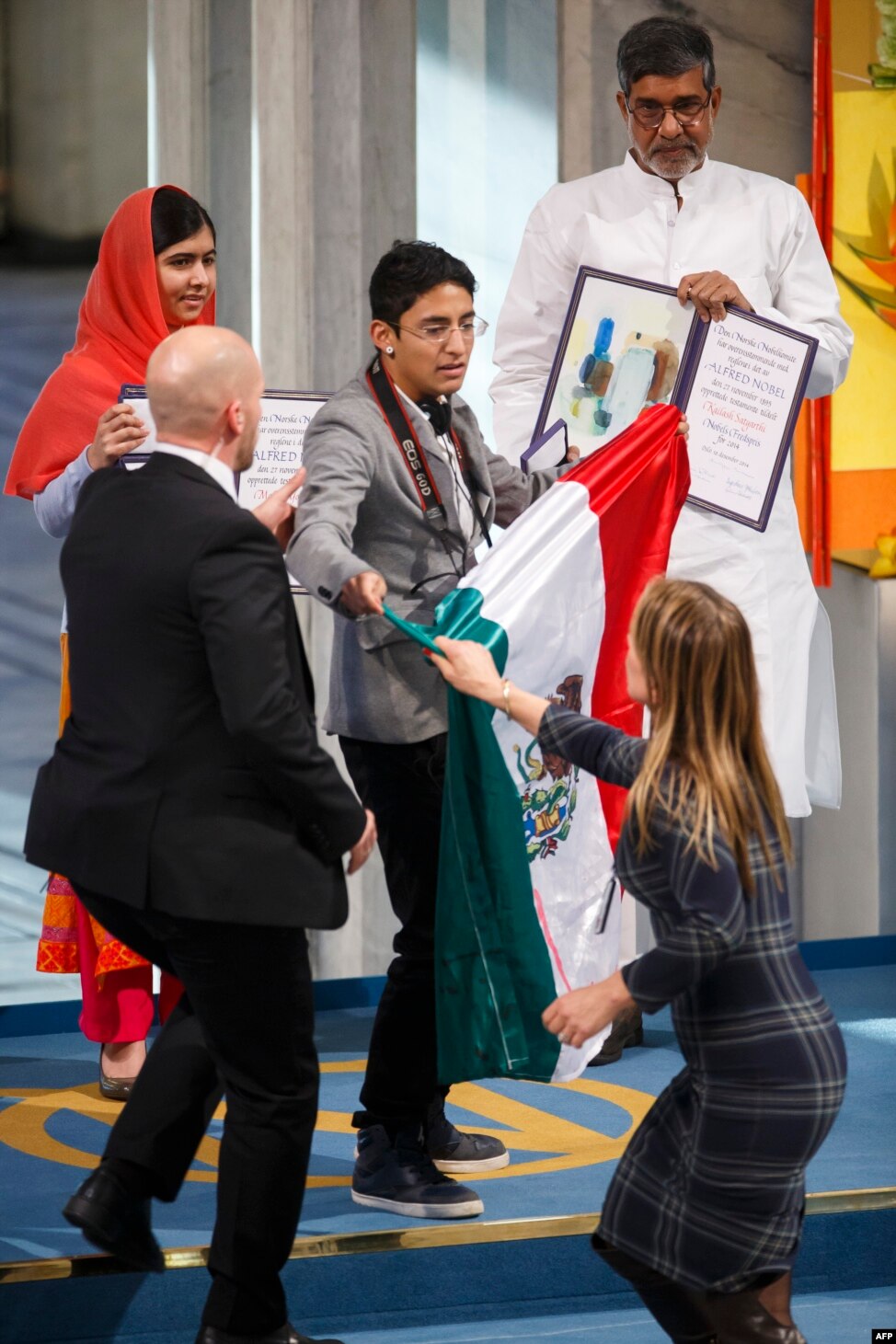 4 Nobel Peace Prize laureates Malala Yousafzai (L) and Kailash Satyarthi (R) look on as security officers lead away a man displaying a flag of Mexico during the Nobel Peace Prize awards ceremony at the City Hall in Oslo, Norway.
5 The Langtang mountain range towers over the Kathmandu Valley, hidden under a blanket of clouds, as seen from Bhanjyang on the outskirts of Kathmandu, Nepal.
6 A man holds a girl as she tries to escape when she realized she is to to be married, about 80 km (50 miles) from the town of Marigat in Baringo County, Kenya. As Pokot tradition dictates, the future husband arrived to her family home with a group of men to collect the girl. But the girl was unaware of the marriage arrangements that her father had made. The family said that if they had told her in advance she might have run away from home.
7 Yinfeng Hotel is being demolished by explosives in Wuhan, Hubei province, China, Dec. 9, 2014.
8 From the International Space Station, Expedition 42 Commander Barry Wilmore took this photograph of the Great Lakes and central U.S.
9 A protester sits on a barricade at the occupied area outside government headquarters in Hong Kong.
10 People cut ice blocks used for Harbin international ice and snow festival from the frozen Songhua river in Harbin, northeast China's Heilongjiang province, Dec. 9, 2014. The annual festival is set to kick off on January 5, 2015 and last for a month, local media reported.
Dicembre 11, 2014
1 A Bahraini anti-government protester throws back a tear gas canister fired by riot police during clashes in Karzakan village, Bahrain, Thursday, Dec. 11, 2014. Clashes erupted after the funeral for an elderly man killed in an explosion Tuesday. (AP Photo/
2 Palestinian honor guard carries the coffin of the late cabinet member Ziad Abu Ein during the funeral procession at the Palestinian Authority headquarters in the West Bank city of Ramallah. Israeli and Palestinian pathologists disagreed on whether a blow to the body or a bad heart was the main cause of death of Ziad Abu Ein who collapsed shortly after scuffling with Israeli troops during a West Bank protest.
3 A horse and driver take a lap on a snowy morning during training on the harness track at Saratoga Casino and Raceway in Saratoga Springs, New York.
4 U.S. First Lady Michelle Obama smiles as President Barack Obama arrives with sacks of toys and gifts from the Executive Office of the President staff to donate to the Marine Corps Toys for Tots Campaign in Washington, Dec. 10, 2014.
5 A surfer rides a huge wave during a tow-in surfing session at the Praia do Norte or North beach, in Nazare, Portugal.
6 A street performer dressed as the Statue of Liberty stands amongst light snow in Times Square in New York, Dec. 10, 2014.
7 Fans of Argentina's River Plate celebrate before the Copa Sudamericana soccer match finals against Colombia's Atletico Nacional in Buenos Aires, Dec. 10, 2014.
8 Bullfighter Chuck Swisher, top, gets tossed into the air by bull Cajun Smurf while he was protecting Bull rider Trey Benton III during the seventh go-round of the National Finals Rodeo in Las Vegas, Nevada, USA, Dec. 10, 2014.
9 Copies of the French Civil Code are placed amongst a frieze depicting the "Oath of the Jeu de Paume" (June 20, 1789) on the Republic statue as French lawyers, notaries and bailiffs attend a national protest against a government reform plan to deregulate their profession in Paris, Dec. 10, 2014.
10 Frost covers the mask and part of the hat of a soldier of the People's Liberation Army (PLA) as he stand guard near the border of China and Russia in Heihe, Heilongjiang province, Dec. 10, 2014.
11 A wave crashes behind Todd Linehan on the 18th green at Pebble Beach Golf Links in Pebble Beach, California, Dec. 10, 2014.
Dicembre 12, 2014
1 A demonstrator holds flares during a general strike in Rome, called by several trade unions. Unions are protesting against Italian Prime Minister Matteo Renzi's emblematic Jobs Act legislation which aims to shake up the labor market by making it easier for companies to hire and fire.
2 Activist depicting U.S. President Barack Obama, Australia's Prime Minister Tony Abbott, Canada's Prime Minister Stephen Harper, China's President Xi Jinping, India's Prime Minister Narendra Modi, Russia's President Vladimir Putin, and Japan's Prime Minister Shinzo Abe demonstrate on the sidelines of the U.N. COP20 and CMP10 climate change conferences being held in Lima, Peru.
3 Belgium King Philippe and Queen Mathilde and Prince Lorenz leave the funeral service of the late Queen Fabiola, at the Cathedral of St. Michael and St.Gudula, in Brussels. Queen Fabiola passed away Dec. 5, at the age of 86.
4 Ukraine's President Petro Poroshenko places a poppy in the World War I Honor Roll during a visit to the Australian War Memorial in Canberra. Poroshenko is on a two-day visit to Australia with talks on the downing of MH17 over Ukraine with the loss of 38 Australian citizens and residents expected to be high on the agenda.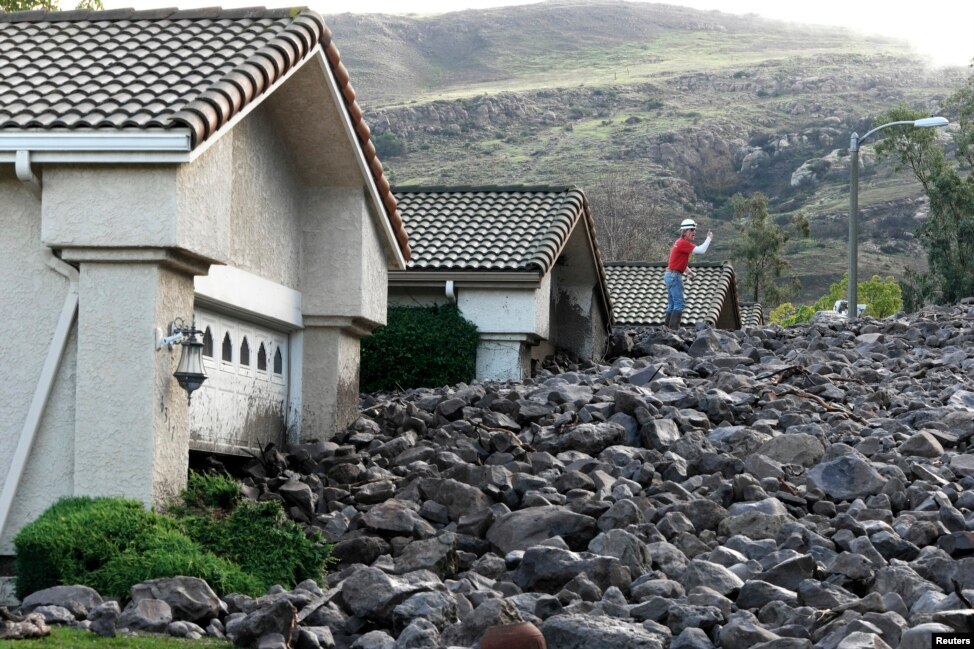 5 A worker stands atop a pile of rock and mud after a mudslide overtook at least eight homes during heavy rains in Camarillo Springs, California. A major storm that pummeled northern California and the Pacific Northwest with heavy rain and high winds moved south overnight, prompting evacuation orders in areas prone to floods and mud flows.
6 Uber taxi drivers hold placards during a protest against the ban on online taxi services, in New Delhi. A ban on online taxi services in India, following the arrest in New Delhi of an Uber driver accused of rape, has brought uncertainty to the millions of dollars of international investment pumped into Uber's Indian rivals Ola and TaxiForSure.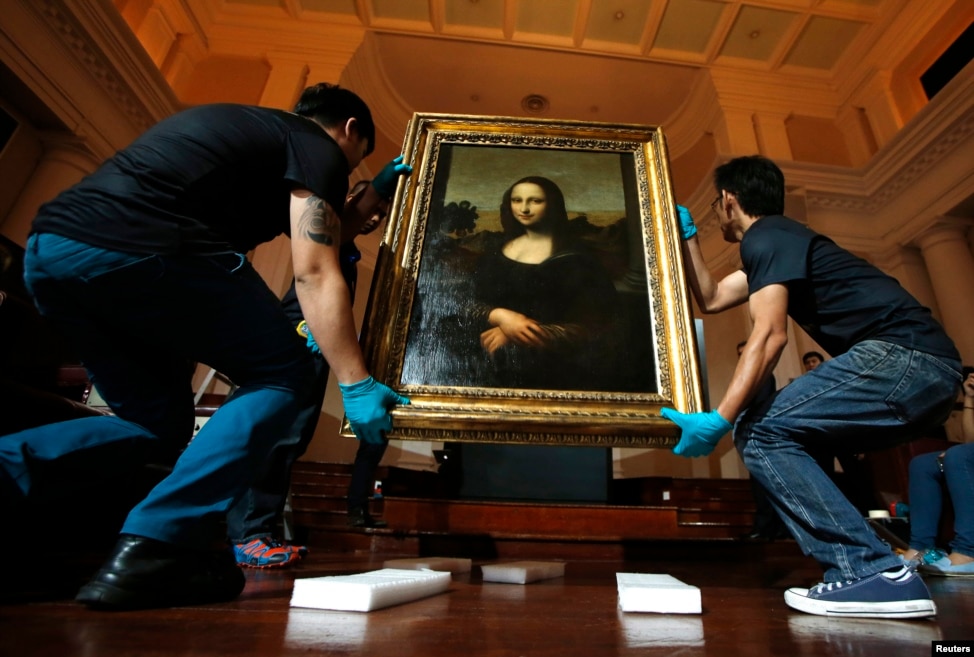 7 Movers prepare to hang Leonardo da Vinci's "Earlier Mona Lisa" painting ahead of its exhibition at The Arts House in Singapore. The world premiere of the exhibition will take place from Dec. 16 to Feb. 11, 2015.
8 Palestinian militants from the Ezzedine al-Qassam brigade, the armed wing of Hamas, march during a rally to commemorate the 27th anniversary of the Islamist movement's creation, at the Nuseirat refugee camp in the Central Gaza Strip.
9 A security person stands guard near a sculpture depicting victims at the Nanjing Massacre Memorial Hall, in eastern China's Jiangsu province. The hall is sealed off ahead of a ceremony to mark China's first National Memorial Day remembering the 1937 massacre of civilians by Japanese forces in Nanjing.
10 Shi'ite Muslim pilgrims gather as they commemorate Arbain in Kerbala, southwest of Baghdad. Hundreds of thousands of black-clad pilgrims from across Iraq streamed into the city a day before the culmination of Saturday's Arbain, which marks the end of 40 days of mourning for Imam Hussein, a grandson of the Prophet Mohammed.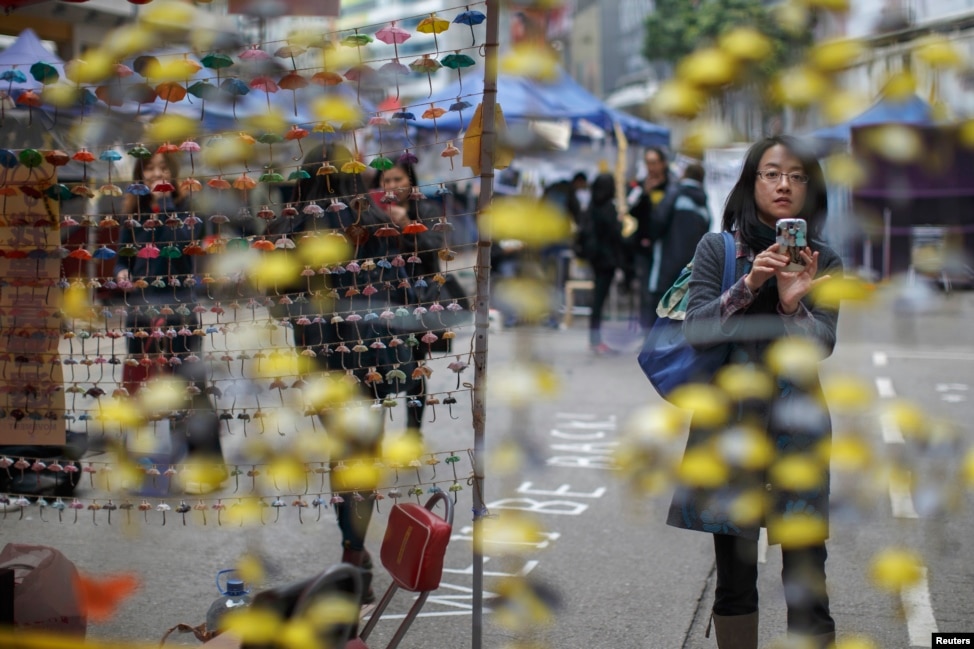 11 People take pictures of miniature paper umbrellas, symbols of the pro-democracy movement, in the area occupied by protesters at Causeway Bay shopping district, in Hong Kong. Police arrested nearly 250 activists on Thursday and cleared most of the main protest site near the Central business district, marking an end to more than two months of street demonstrations.
12 People dressed as Father Frost, the equivalent of Santa Claus, and Snow Maiden wait to take part in the contest "Yolka-fest-2014" (Fir-festival-2014) in Minsk, Belarus.
13 A dog plays in a snow-covered park in Moscow, Russia. Snowfall hit the Russian capital on Friday, with temperatures about -2 C (F 28.4).
14 Visitors walk past Christmas lights towards Hofburg Palace's Michaeler Cupola in Vienna, Austria.
Dicembre 14, 2014
1 Kashmiri children warm themselves using "Kangris", or traditional fire pots, as they sit outside a polling station on a cold winter morning during the fourth phase of the state assembly election in Srinagar, India.
2 Zaman editor-in-chief Ekrem Dumanli, surrounded by his colleagues and plainclothes police officers (C), reacts as he leaves the headquarters of Zaman daily newspaper in Istanbul. Turkish police raided media outlets close to a U.S.-based Muslim cleric and detained 24 people including top executives and ex-police chiefs in operations against what President Tayyip Erdogan calls a terrorist network conspiring to topple him.
3 Israeli fishermen cast their rods from a pier at the the old port of Jaffa, mixed Jewish-Arab part of Tel Aviv, Israel.
4 A man competes in the Tough Run Challenge charity event as part of Tour de Farm in Nakhon Ratchasima, northeastern province of Thailand.
5 Shi'ite Muslim pilgrims reach out to touch the tomb of Imam al-Abbas located inside the Imam al-Abbas shrine to mark Arbain in the holy city of Karbala, southwest of Baghdad, Dec. 13, 2014.
6 Miss South Africa and the 2014 Miss World, Rolene Strauss, reacts after being crowned during the grand final of the Miss World 2014 pageant at the Excel London ICC Auditorium in London.
7 A man dressed as Santa Claus sits at the front of the Kollhoff Tower at Potsdamer Platz square in Berlin, Germany.
8 Children play on an art sculpture by the sea in southern port city of Limassol, Cyprus.
Dicembre 15, 2014
1 Rabbis install a giant Hanukkah Menorah for the eight-day Jewish Festival of Lights, named Hanukkah, in front of a Christmas tree at the Brandenburg Gate in Berlin, Germany.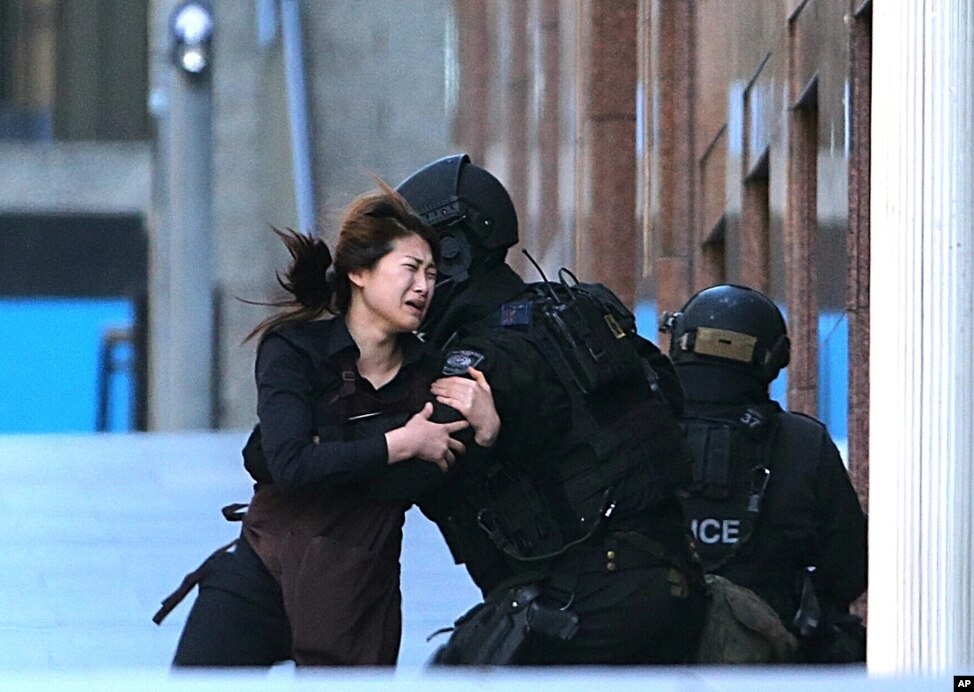 2 A hostage runs to armed tactical response police officers for safety after she escaped from a cafe under siege at Martin Place in the central business district of Sydney, Australia.
3 A member of the special forces police installs equipment on a van in Ghent, western Belgium. Four armed men have entered an apartment, and police have blocked off a wide perimeter around the area. Police said that three hours after the men entered the apartment it was still unclear whether they had taken any hostages.
4 Smoke billows from a weapons depot allegedly belonging to rebel fighters during an operation by Syrian regime forces to take control of the Al-Maleh farms, west of the Handarat hill which is located just north of Aleppo.
5 A man passes a house built upside-down in Russia's Siberian city of Krasnoyarsk, Dec. 14, 2014. The house was constructed as an attraction for local residents and tourists.
6 The New England Patriots cheerleaders, wearing Santa Claus outfits, perform in the first half of an NFL football game against the Miami Dolphins in Foxborough, Massachusetts, USA, Dec. 14, 2014.
7 A car overturns during the Master Cross Race 2014 at Suuj Uul, outside Ulan Bator, Mongolia, Dec. 14, 2014.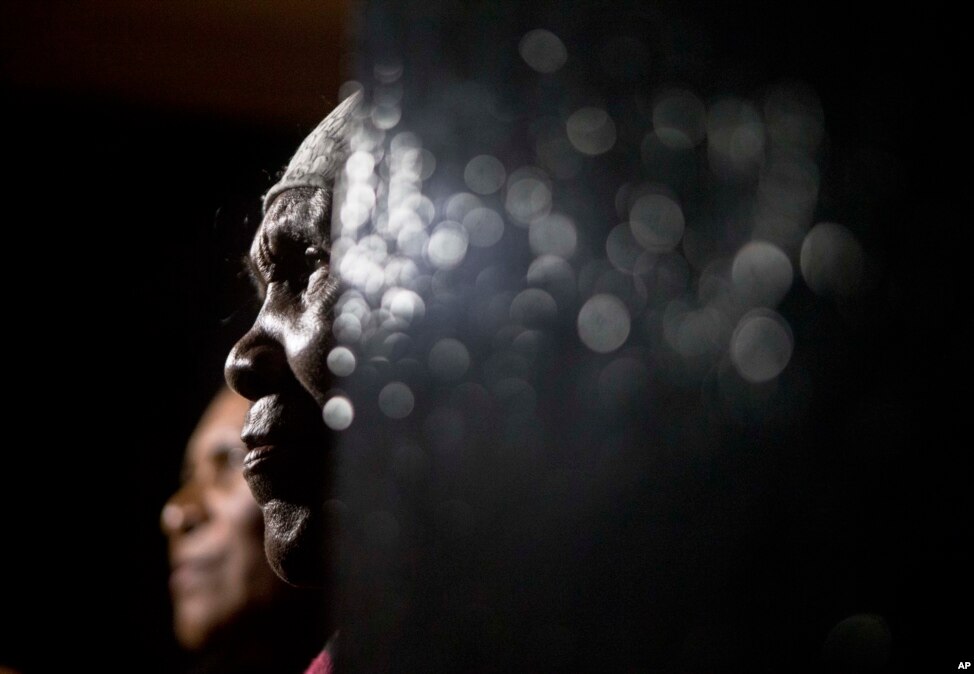 8 Matilde Apiñas, 66, weeps in front of the dock while waiting for news of her son, a diver disappeared during the shipwreck, in the Caribbean port of Puerto Cabezas, also known as Bilwi, Nicaragua, Dec. 14, 2104. Rescue crews have found the fishing boat that capsized last week with 50 people aboard and are still searching for crew members who remain missing, authorities said.
9 A girl touches an art installation depicting a gorilla entitled 'Silver Back' by artist David Mach during a press preview of a themed auction that features the animal as artistic inspiration, 'Creatures Great and Small', in London.
Dicembre 16, 2014
1 Members of the public stand behind floral tributes near the cafe where hostages were held in central Sydney. Heavily armed Australian police stormed a Sydney cafe and freed a number of hostages being held there at gunpoint, in a dramatic end to a 16-hour siege in which three people including the attacker were killed.
2 A priest blesses servicemen during a farewell ceremony at the Vaziani military base outside Tbilisi, Georgia.
3 The uncle and cousin of injured student Mohammad Baqair, center, comfort him as he mourns the death of his mother who was a teacher at the school in Peshawar, Pakistan. Taliban gunmen stormed a military-run school in the northwestern city, killing more than 100, officials said
4 A spectacular light and sound show is staged at the ancient Khmer city of Phimai in Nakhon Ratchasima province as part of an annual festival, Nov. 7, 2014. The event is held within the grounds of a temple at Phimai Historical Park, Thailand, which marks one end of the former Khmer highway from Angkor. (Photo taken by Matthew Richards/Thailand/VOA reader)
5 Masked Spanish police officers lead a detained woman in Melilla. Spanish and Moroccan police have arrested seven people in an ongoing joint sweep of suspected efforts to recruit women to go to Syria and Iraq to support Islamic State insurgents, the Spanish Interior Ministry said.
6 People stand in the mist as they look at a replica of the casino along the Promenade jetty as part of the Christmas holiday illuminations in Nice, France.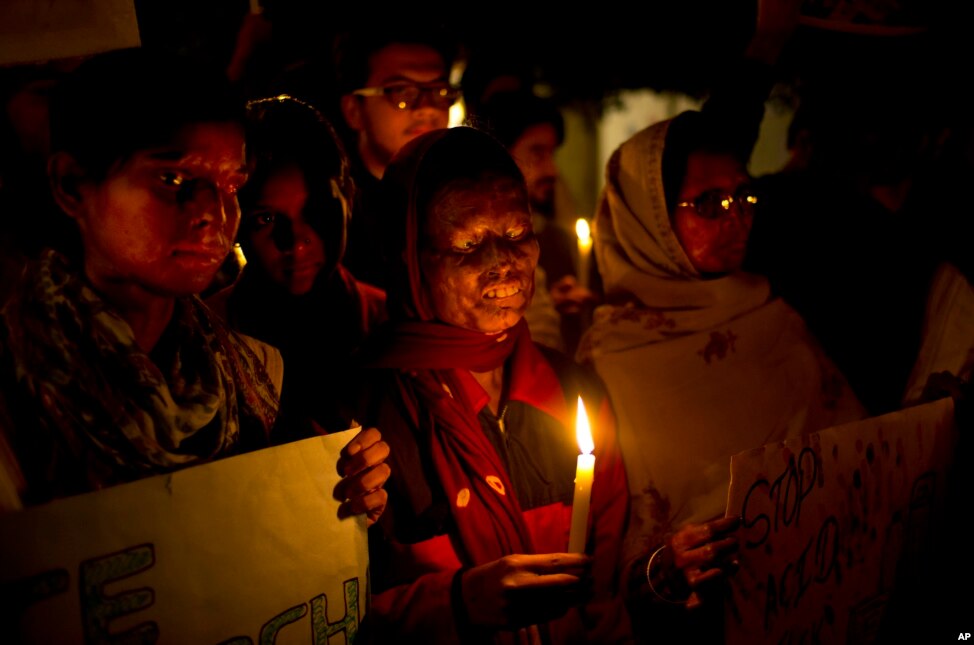 7 Acid attack survivors participate in a candlelight vigil protesting violence against women as they mark the second anniversary of the deadly gang rape of a student on a bus, in New Delhi, India.
8 A swan glides across the waters of Eastchester Bay as the sun sets behind Manhattan, New York, Dec. 15, 2014.
Dicembre 17, 2014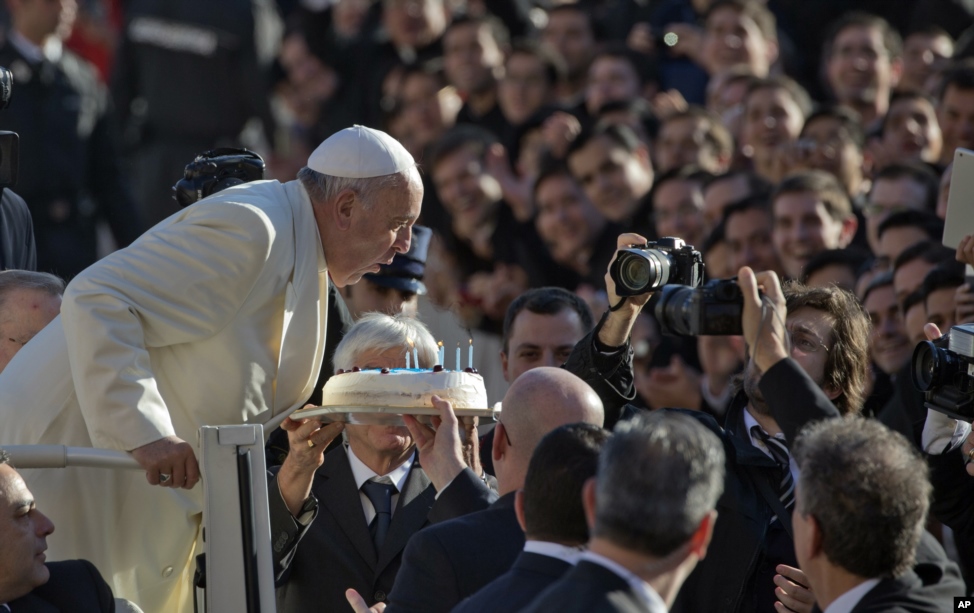 1 Pope Francis blows out candles on a birthday cake on the occasion of his 78th birthday as he arrives for his weekly general audience in St. Peter's Square at the Vatican.
2 Palestinian youths on a small boat fish at sunset in Gaza City.
3 A Shi'ite student of Imamia Students Organization (ISO) holds a placard during a protest against an attack by Taliban militants at an army-run school in Peshawar the previous day, in Karachi.
4 People walk past a model of a dinosaur, wearubg Santa Claus hat and gloves, at the Dinosaurs Park located in the Taiga area at the Royev Ruchey zoo in the suburbs of Russia's Siberian city of Krasnoyarsk.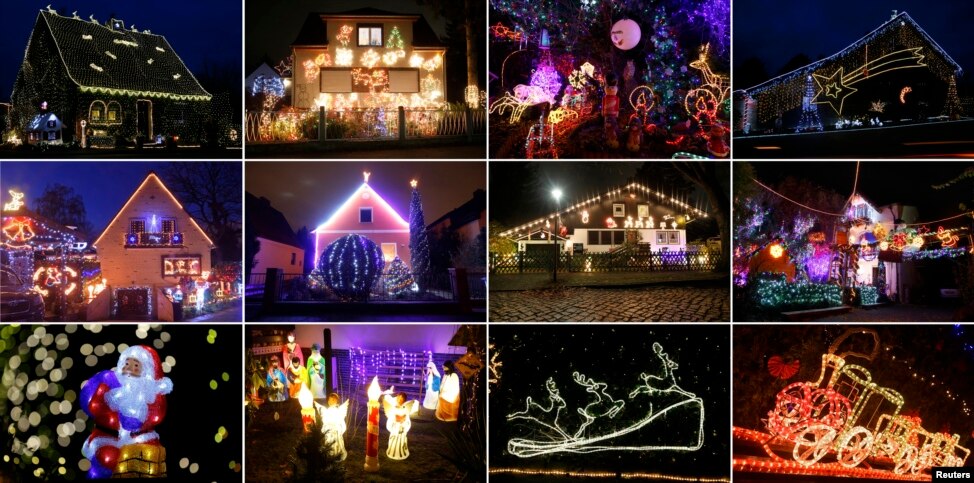 5 A combination of pictures shows houses and decorations illuminated ahead of Christmas in German cities of Berlin, Hamburg-Heimfeld, Moenchengladbach, Olching and Stolberg.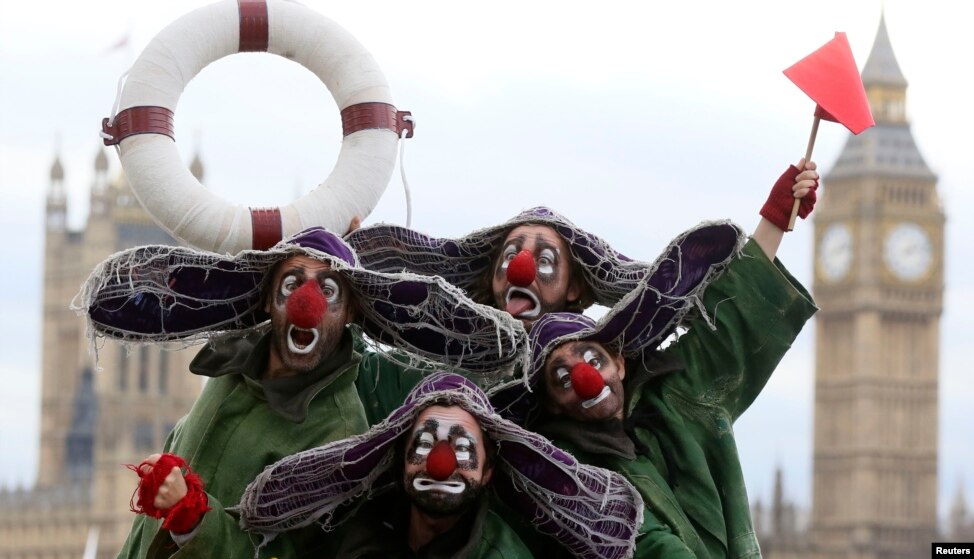 6 Clowns from Slava's Snowshow pose for photographers on London's South Bank.
7 Chinese People's Liberation Army soldiers attend a training session in freezing temperatures in Heihe, northeast China's Heilongjiang province.
8 A white beluga wears a Santa hat to attract visitors at the Hakkeijima Sea Paradise aquarium in Yokohama, suburban Tokyo, Japan.
Dicembre 18, 2014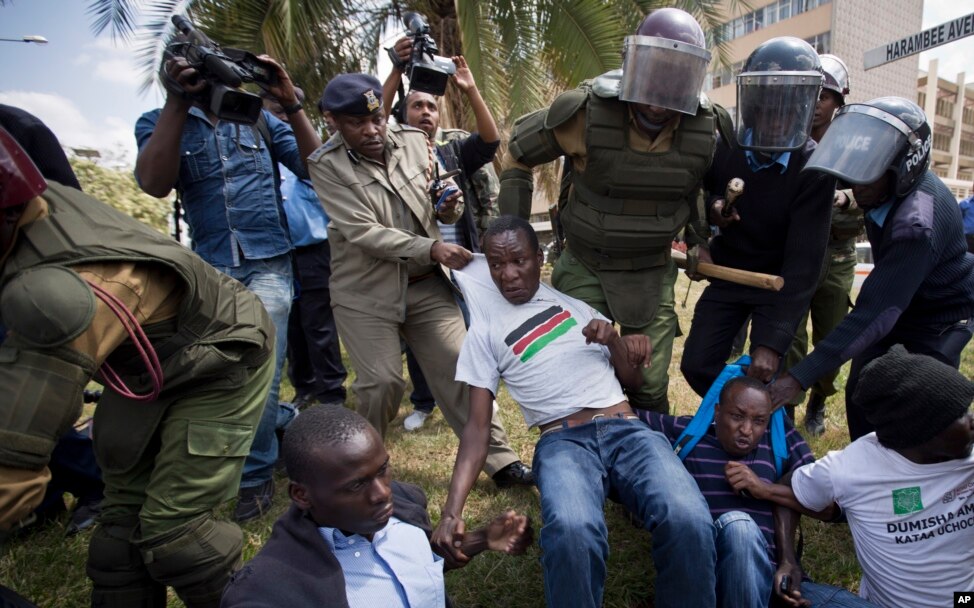 1 A small group of protesters against the new security law are beaten with wooden clubs and arrested by riot police after shouting against the new law, outside the Parliament building in Nairobi, Kenya.
2 In this photo released today Prince Harry shows children a photograph he has taken during a visit to a herd boy night school constructed by Sentebale in Mokhotlong, Lesotho. Prince Harry was visiting Lesotho to see the work of his charity Sentebale, which provides healthcare and education to vulnerable children in Lesotho.
3 In this photo released today Coast Guard members conduct flare training on Plum Island, Massachussetts. (Credit: U.S. Coast Guard/Petty Officer 3rd Class MyeongHi Clegg)
4 Afghan schoolchildren study at an open-air classroom in the Mohmand Dara district in eastern Nangarhar province.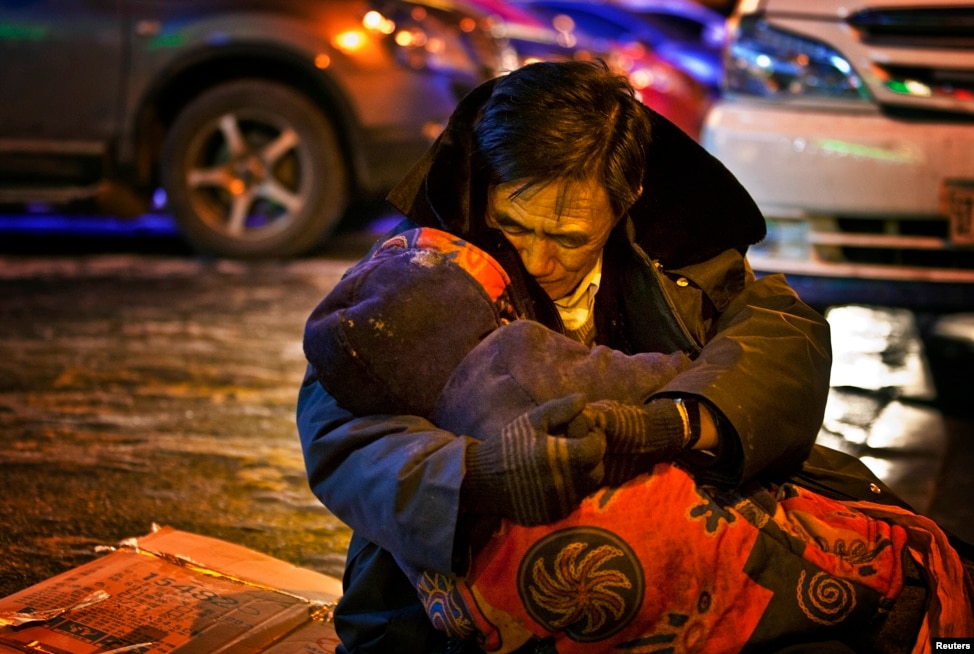 5 A man, whose surname is He, cuddles the body of his dead wife during a sub-zero evening in Shenyang, Liaoning province, China, Dec. 17, 2014. The man sat by the roadside while holding his wife's body for almost two hours till his son came and persuaded him to bring the body home, according to local media. She collapsed in a street and died of heart failure after buying medicine from a pharmacy.
6 Cleaners in protective clothing search for asbestos fibers arround the train station in downtown Roermond, Netherlands. The center of Roermond was closed off and placed under alert following a fire that caused asbestos to drift over the town.
7 Christmas lights are seen during the "Luci d'Artista" (Artist's Lights of Salerno) event in Salerno, southern Italy. The theme for the 2014-2015 event is Northern Lights and Fairy Tales.
8 Winchester Cathedral choristers speed across the ice during an early morning skate on the ice rink outside Winchester Cathedral, southern England.
Dicembre 19, 2014
1 Javier Yanez stands on his balcony where he hung a U.S. and Cuban flag in Old Havana Cuba. After the surprise announcement on Wednesday of the restoration of diplomatic ties between Cuba and the U.S., many Cubans expressed hope that it will mean greater access to jobs and lift their struggling economy.
2 A Pakistani legislator places flowers at a memorial in Islamabad for the children and teachers killed by Taliban militants in army-run school in Peshawar on Tuesday.
3 Supporters of the Gulen movement wave Turkish flags as they gather outside the Justice Palace in Istanbul. A Turkish court kept a media executive and three other people in custody on Friday pending trial on accusations of belonging to a terrorist group, in a case which President Tayyip Erdogan has defended as a response to "dirty operations" by his enemies.
4 A young Indian hawker, selling Santa Claus hats and masks at a traffic junction, takes a break from work in Bangalore. Despite Christians forming only a little over two percent of the billion-plus population in India, with Hindus comprising the majority, Christmas is celebrated with fanfare and zeal throughout the country.
5 Israeli border police detain a Palestinian protester following a prayer for Palestinian Cabinet minister Ziad Abu Ain, who collapsed shortly after a protest on Dec. 10 in the West Bank village of Turmus Aya, as they clash with the troops near the village outside of Ramallah.
6 Fishermen look at Mount Gamalama as it spews ash into the air during an eruption at Ternate, Maluku island. Indonesia temporarily closed a domestic airport after a volcano in the country's east erupted, spewing plumes of ash hundreds of meters into the air.
7 Teachers and students stand in a lotus flower formation to mark the 15th anniversary of the return of the Macau Special Administrative Region to China at a primary school in Lianyungang, east China's Jiangsu province. Chinese President Xi Jinping visited Macau for the anniversary.
8 Three of four newly-born cheetah quadruplets rest at their enclosure in Prague's zoo, in the Czech Republic. The four cubs were born on Nov. 21, 2014. Scientists say every cheetah cub is critical to saving the species, which is threatened with extinction in the wild.
9 Waves hit an Indonesian tanker that ran aground near Narathiwat in southern Thailand. The tanker, loaded with palm oil and previously hijacked by its crew members and then seized by Thai authorities, was anchored some 400 meters from the beach but strong wind and waves broke it free.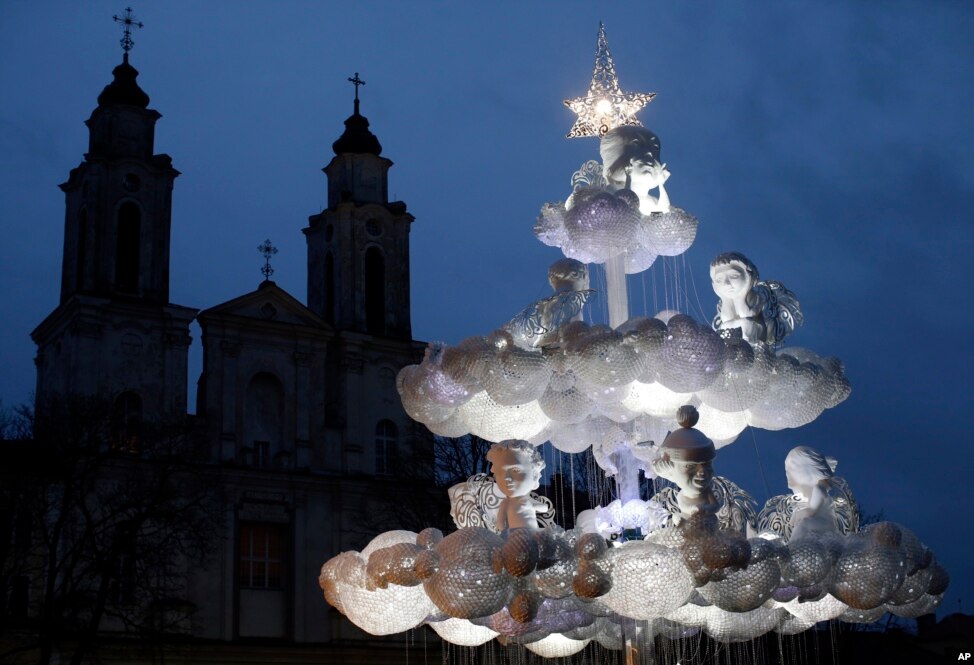 10 The illuminated Christmas tree is seen in the old city in Kaunas, Lithuania.
11 Window cleaners dressed as horse and sheep zodiac animals clean the glass exterior of a hotel in Tokyo. During the year-end "zodiac" hand-over event, the outgoing Year of Horse handed a window wiper to the successor Year of Sheep.
12 A spectator with a head ornament watches a match during the fifth and final day-night international match between Pakistan and New Zealand at the Zayed International Cricket Stadium in Abu Dhabi, UAE.
13 A picture taken Friday from the top of al-Hamra Tower shows a view of Kuwait City at sunset. The tower is the tallest skyscraper in Kuwait and one of the top 10 tallest towers in the world.
14 People walk in a shopping mall decorated with Christmas lights in Berlin, Germany.
Dicembre 21, 2014
1 Two foreign-flagged fishing boats registered in Papua New Guinea are destroyed by the Indonesian Navy after they were seized earlier for supposedly illegal fishing off the coast of Ambon, Maluku.
2 Police officers leave candles at an impromptu memorial near the site where two New York City police officers were killed in the Brooklyn borough of New York. Police say Ismaaiyl Brinsley ambushed officers Rafael Ramos and Wenjian Liu in their patrol car in broad daylight on Dec. 20, 2014, fatally shooting them before killing himself inside a subway station.
3 Some of the 1,600 papier-mache pandas are displayed at Independence Square in Kuala Lumpur, Malaysia, as part of their first appearance in the city.
4 An Aymara indigenous woman carries her pet to a Christmas costume contest for dogs in El Alto, Bolivia, Dec. 20, 2014.
5 Concertgoers wearing cake-shaped decoration wait outside Tokyo Dome before the concert of a Japanese pop idol group in Tokyo.
6 A man carries a weapon box left behind by forces loyal to Syria's President Bashar al-Assad at the Azaalana checkpoint in the southern Idlib countryside, Dec. 20, 2014.
7 Pope Francis greets children during a meeting with faithful of Pope John XXIII Community in Paul VI hall at the Vatican, Dec. 20, 2014.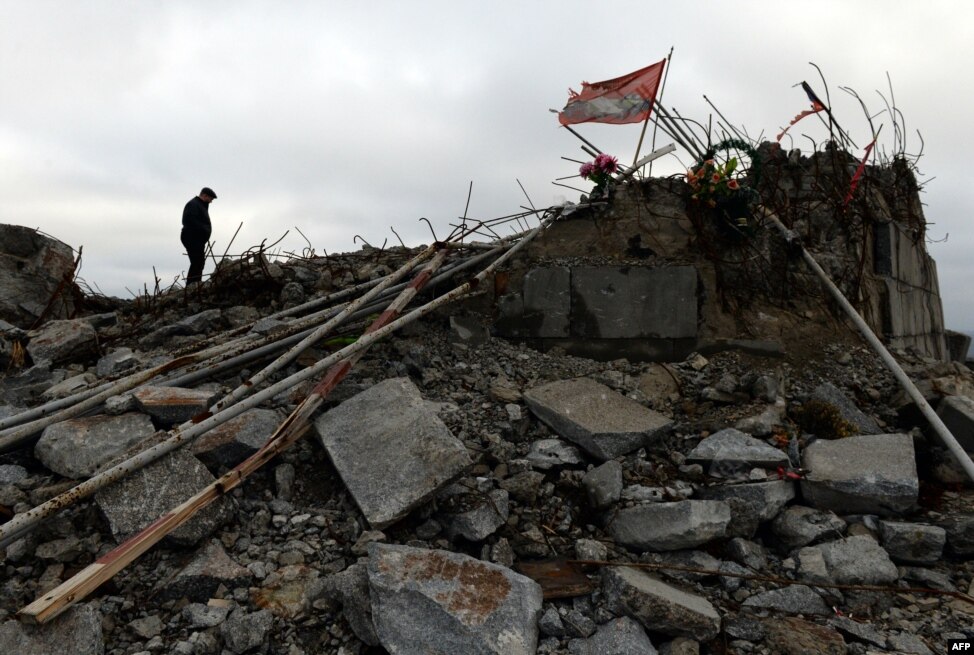 8 A man walks near the recently damaged Savur Mogila monument to Red Army soldiers fallen during World War II, near the eastern Ukrainian city of Snizhnee.
9 Mac Bohonnon of the U.S. competes in the FIS Freestyle Ski World Cup team aerials in Beijing, China.
10 A large balloon of a face of "ojisan", a middle-aged man, floats above the grounds of Nishiki elementary school in Utsunomiya in Tochigi prefecture, 100 km north of Tokyo, Japan. Members of art group "Me", meaning "eye" in Japanese, and the Utsunomiya Museum of Art launched an art installation "The Day an Ojisan's Face Floated in the Sky", a 15-meter by 10-meter face balloon of the depicted man, who was auditioned in the city, looking down on his home town from the sky.
Dicembre 22, 2014
1 An orangutan named Sandra sits in her enclosure at Buenos Aires' Zoo in Argentina.
2 Belgian Prime Minister Charles Michel (L) reacts as activists throw fries and mayonnaise on him during an anti-government protest by feminist activist group LilithS (formerly the Belgian branch of Femen) at a press conference at the Cercle de Wallonie in Namur.
3 An Afghan employee works at a traditional sweets factory in Ghazni.
4 Farmers confront riot police at Letpadaung copper-mine, Monywa in northwestern Myanmar. A woman was fatally shot during a crackdown on protesters at the controversial Chinese-backed copper mine, activists and an opposition lawmaker said.
5 St. Paul's Choristers rehearse in the cathedral in London preparing for their busiest days of the year.
6 Lottery seller Raquel Carrasco (C) holds a sign with the winning number of Spain's Christmas Lottery "El Gordo" as employees spray champagne in La Eliana near Valencia. The total prize money of 2.4 billion euros is split into thousands of cash prizes among hundreds of winning numbers.
7 A fighting rooster waits in the sun for his next fight, in Havana, Cuba.
8 Female members of the Philippine National Police (PNP) hold their service pistols that are covered with tape during the sealing of the muzzles of firearms at the National Capital Region Police Office in Taguig, Metro Manila. A police officer said all policemen in the country are ordered to seal their firearms muzzles to prevent the indiscriminate firing of their weapons during Christmas and New Year holidays celebrations.
9 The silhouettes of visitors are seen against the decorated lights on trees to celebrate the upcoming Christmas and New Year at Garden of Morning Calm in Gapyeong, South Korea.
10 A Spanish recortador jumps over a bull during a show in Cali, Colombia, Dec. 21, 2014.
11 A sea lion balances a Christmas tree on his nose during a show at the Aqua Stadium aquarium in Tokyo, Japan.
12 Holiday Lights on the Sun: The sun emitted a significant solar flare, peaking at 7:28 p.m. EST on Dec. 19, 2014. NASA's Solar Dynamics Observatory, which watches the sun constantly, captured an image of the event.
Dicembre 23, 2014
1 Grandmother (R) and mother of Muhammad Ali Khan, a student who was killed during an attack by Taliban gunmen on Army Public School, react during a visit by Imran Khan (L), chairman of Pakistan Tehrik-e-Insaf (PTI) political party, at the school in Peshawar. Taliban gunmen broke into the school and opened fire on Dec. 16, 2014, killing 132 students and nine staff members, witnesses said.
2 Floral tributes are placed close to the scene of a truck accident in Glasgow. Flags were flown at half-staff above Scottish government buildings to remember six people killed when an out-of-control truck ploughed into Christmas shoppers on Dec. 22, 2014.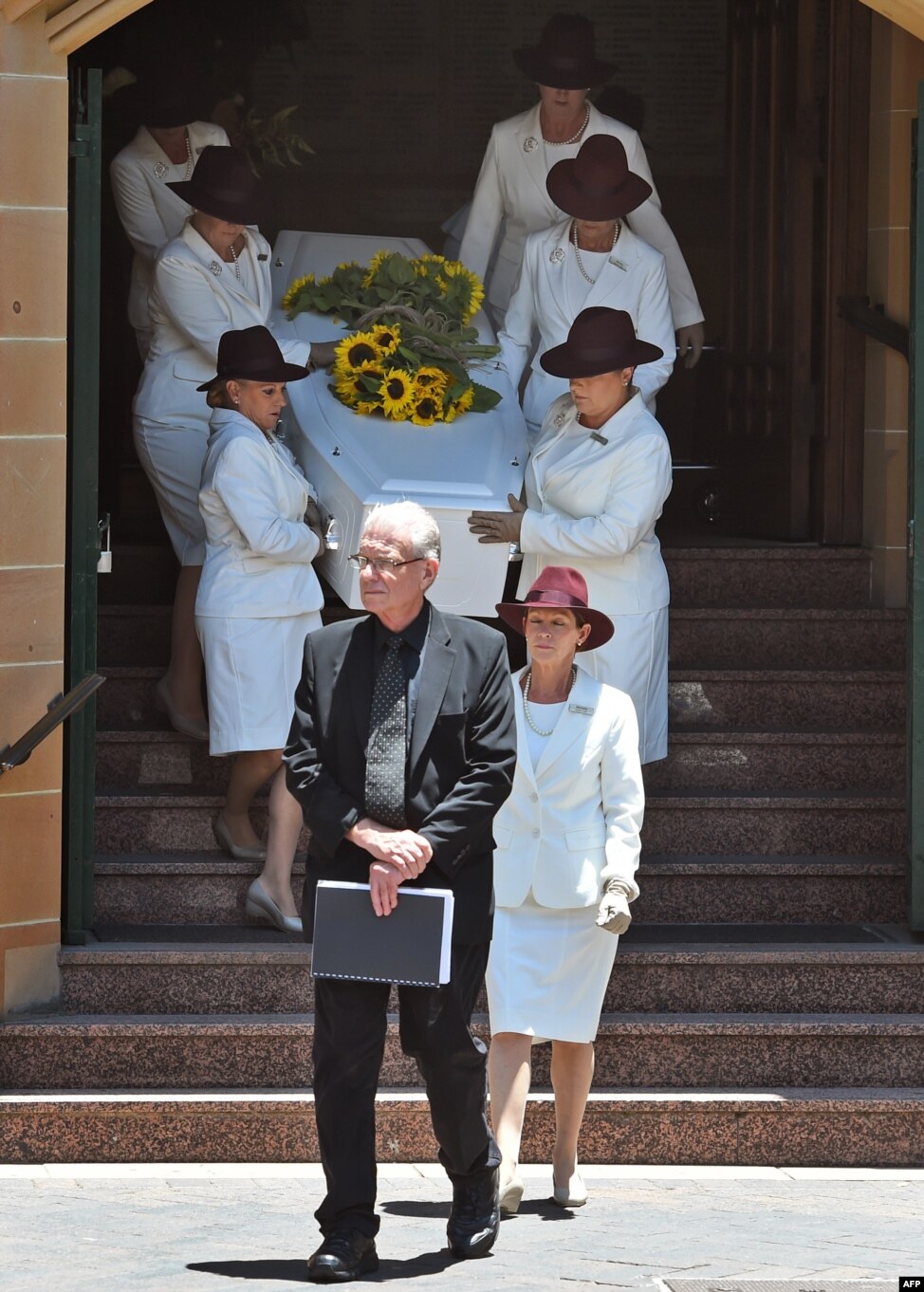 3 The coffin of Sydney siege victim Tori Johnson is carried to the hearse after a funeral service in Sydney, Australia. A private funeral was held for Johnson -- hailed as a hero after trying to wrestle the weapon from Iranian-born gunman Man Haron Monis.
4 A police officer stands in front of a banner reading "All Lives Matter," hung from a building across the street from a makeshift memorial at the site where two police officers were fatally shot in the Brooklyn borough of New York, Dec. 22, 2014.
5 Pied avocets fly over the Lake Boyang in Jiujiang, Jiangxi province, China.
6 Yemenis gather at the scene of a bomb explosion that targeted the house of a member of the Shi'ite Huthi movement in the capital Sana'a. Five small bombs hit the center of the capital, mostly controlled by Shi'ite militiamen since September, killing at least one of them and wounding two others, a medic said.
7 Paper lanterns are released as a part of Christmas festivities in Zagreb, Croatia, Dec. 22, 2014.
8 A protester argues with police in front of the Ukrainian Parliament in Kyiv. Lawmakers in the government-controlled chamber overwhelmingly adopted a bill dropping the country's non-aligned status - a classification given to states such as Switzerland which refuse to join military alliances and thus play no part in wars.
9 A dolphin moves to return a parcel to its trainer during a special Christmas show at the Shinagawa Aqua Stadium in Tokyo, Japan.
10 A Pakistani Christian boy decorates a tree in preparation for the upcoming Christmas holiday in Islamabad's slums.
11 People visit newly-built ice sculptures illuminated by colored lights during a trial operation of the 16th Harbin Ice and Snow World in Harbin, Heilongjiang province, China, Dec. 22, 2014.
Dicembre 24, 2014
1 Children dressed as angels take part in a Mass on the eve of Christmas at the South Cathedral official Catholic church in Beijing, China.
2 Workers in Santa Claus (R) and reindeer (L) costumes are pictured as they clean windows outside a shopping mall along Tokyo's waterfront, Japan.
3 Christian pilgrims from Nigeria pray inside the Grotto of the Church of the Nativity, traditionally believed by Christians to be the birthplace of Jesus Christ, in the West Bank city of Bethlehem on Christmas Eve.
4 General Manager Brandon Delaney looks up at the marquee sign after the announcement that the Plaza Theatre would be showing the movie "The Interview" beginning Christmas Day in Atlanta, Georgia. Sony Pictures said it will release "The Interview" to a limited number of theaters on Dec. 25, less than a week after it canceled the comedy's release following a devastating cyberattack blamed on North Korea.
5 Butchers sell their remaining meat of the year at discount prices during the Christmas Eve auction at Smithfield Market in central London.
6 An Iraqi Christian boy, who fled the violence in the northern Iraqi city of Mosul, poses for a photo wearing a Father Christmas hat, on the grounds of Mar Elia Chaldean Catholic Church, where many displaced Christians have erected tents, in Arbil, the capital of the Kurdish autonomous region.
7 People attend the 'Weihnachtssingen' a candlelight carol concert with 27,500 fans of the second-division club FC Union Berlin at the Alte Foersterei stadium in Berlin, Germany, Dec. 23, 2014.
Dicembre 25, 2014
1 A boy chooses a balloon from a vendor in central Minsk, Belarus.
2 A Femen activist is arrested by Vatican police as she stages a protest inside the Vatican crib in St.Peter's square at the Vatican.
3 Christians hold candles during the mass service in Surabaya in the eastern Java island, Dec. 24, 2014. Millions of Christians in Indonesia celebrated Christmas eve in the most populous Muslim country.
4 Britain's Kate, the Duchess of Cambridge, holds flowers she was given by people from the gathered crowd after attending the royal family's traditional Christmas Day church service at St. Mary Magdalene Church in Sandringham, England.
5 A contestant wearing a Santa Claus costume rides in a sledge pulled by a reindeer during a race on snow-covered tracks at the opening ceremony of a local winter festival in Genhe of Hulun Buir, north China's Inner Mongolia Autonomous Region, Dec. 24, 2014.
6 Members of a local powered parachute club wearing Santa Claus costumes fly past residential buildings to drop presents to pedestrians during a promotional event celebrating Christmas in Guiyang, Guizhou province, China, Dec. 24, 2014.
7 People's Liberation Army (PLA) soldiers pour snow from tires onto their head during a training session in Heihe, Heilongjiang province, China, Dec. 24, 2014.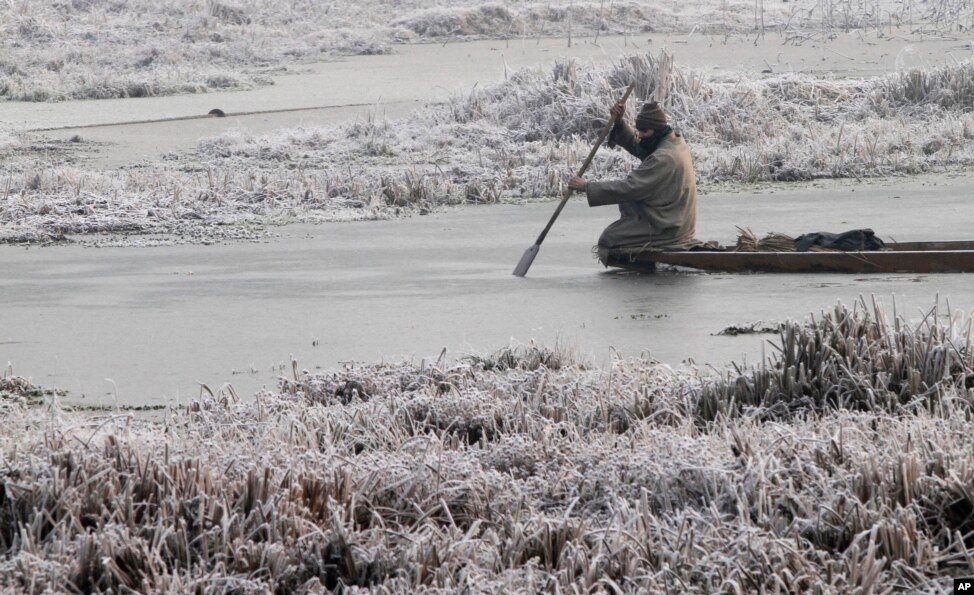 8 A Kashmiri man makes his way through the frozen surface of water of a lake on a cold and foggy morning in Srinagar, India.
Dicembre 26, 2014
1 Referee Mark Clattenburg stands in the snow during the English Premier League soccer match between Manchester City and West Bromwich Albion at The Hawthorns in West Bromwich, central England.
2 An Indian family living on a roadside keeps warm around a bonfire in Ahmedabad, India.
3 Surfers and windsurfers ride the waves of the Mediterranean Sea in Marseille.
4 An overturned tank is seen in a damaged Khan Wazir street, which faces Aleppo's historic citadel controlled by forces loyal to Syria's President Bashar al-Assad, in Old Aleppo, Syria.
5 A plane prepares to land at Nice airport, southeastern France.
6 Cleveland Cavaliers forward LeBron James (23) hangs onto the basket after a dunk during the second half of an NBA basketball game against the Miami Heat in Miami, Forida, USA, Dec. 25, 2014. James was called for a technical foul on the play.
7 People are seen through a hole in the wall of a damaged building, as they visit a giant steel barge that housed a diesel power generator swept ashore by the Indian Ocean tsunami 10 years ago, in Banda Aceh, Aceh province, Indonesia.
8 Jenny Brand, from Sweden (C), who had friends that were victims of the Asian tsunami, releases a lantern which symbolizes the releasing of spirits, amid hundreds of others during a service to mark the 10th anniversary of the disaster, in Ban Nam Khem, Thailand.
Dicembre 28, 2014
1 Afghan refugee Sayma Naseeb, 4, stands by the doorway of her family's mud house in a poor neighborhood on the outskirts of Islamabad, Pakistan.
2 Family members of passengers on board AirAsia flight QZ 8501 talk on their phones while waiting for information inside a crisis centre at Juanda Airport in Surabaya, East Java, Indonesia, in this photo taken by Antara Foto. An AirAsia flight with 162 people on board lost contact with air traffic control after the pilots asked to change course to avoid bad weather during a flight from the Indonesian city of Surabaya to Singapore, Indonesian officials said.
3 A fisherman takes in the dried fishing nets to catch a local specialty "Iseebi" or Japanese spiny lobster at Touji Port in Shimoda, Shizuoka Prefecture.
4 A boy looks on as he swims in floodwaters in Kota Bahru. Malaysia pledged more funds to help over 160,000 people hit by the country's worst flooding in decades, as forecasters warned fresh rain could hamper efforts to relieve thousands left stranded by the waters.
5 Trees are covered with snow as people go for sleding or a walk on top of the Feldberg mountain near Frankfurt, Germany.
6 Turkeys are displayed for sale, under coverings to protect them from the rain, for upcoming New Year celebrations in the capital Tirana of the tiny Western Balkan country of Albania.
7 Kurdish people gather during a march at Uludere (Roboski) in Sirnak. The march marks the third anniversary of the December 28, 2011 killing of 34 Turkish-Kurdish civilians working as smugglers at the Turkey-Iraq border in a botched raid by Turkish military jets, known as the Roboski strike, that mistook the group for Kurdistan Workers' Party (PKK) militants.
8 Revelers, dressed in mock military uniforms, take part in the battle of "Enfarinats", a flour fight, in the town of Ibi, south-eastern Spain.
Dicembre 29, 2014
1 People walk beside a painted U-Bahn underground train marking an entrance of the new Unter den Linden underground station currently under construction in Berlin, Germany.
2 A girl interacts with installations of resembling sheep put up as part of celebrations leading to the New Year in Beijing, China. 2015 is the Year of the Sheep, according to the Chinese calendar.
3 Prime Minister David Cameron reacts as he competes in the Great Brook Run, a mile-long course through water and mud, at Chadlington in southern England.
4 A man holds his dog as he begs on a street during a snowfall in Bucharest, Romania.
5 Indian sand artist Sudarsan Pattnaik gives the final touches to his sand sculpture portraying two missing aircraft, Air Asia QZ8501 and Malayasia Airlines MH370, on Golden Sea Beach at Puri, some 65 kms east of Bhubaneswar.
6 Simon Ammann from Switzerland crashes after landing during the first round of the 63rd four-hills ski jumping tournament in Oberstdorf, southern Germany.
7 Filipino residents raise their passes bearing the face of former President and now Manila Mayor Joseph Estrada as they wait for their turn during a Christmas season gift-giving by the local government in the slum district of Tondo in Manila, Philippines.
8 Thousands of beach-goers pack Ipanema Beach in Rio de Janeiro, Brazil, Dec. 28, 2014.
Dicembre 30, 2014
1 Female sea lion 'Sarasa' holds a hose with her mouse to help a trainer clean her room at the Shinagawa Aqua Stadium aquarium in Tokyo, Japan.
2 Family members of passengers onboard the missing Malaysian air carrier AirAsia flight QZ8501 react after watching news reports showing an unidentified body floating in the Java sea, inside the crisis center set up at Juanda International Airport in Surabaya, Indonesia.
3 Part of the 1,600 paper pandas, created by French artist Paulo Grangeon, are displayed in front of a giant statue of Lord Murugan during the month-long "1600 Pandas World Tour" at Batu Caves in Kuala Lumpur, Malaysia.
4 People ride past a road damaged by flooding at Kuala Krai in Kelantan, Malaysia. The worst flooding in Malaysia in more than a decade has killed 10 people and forced nearly 160,000 from their homes and more rain is expected, authorities said.
5 Firefighters put out the fire of a storage oil tank at the port of Es Sider in Ras Lanuf, Libya, Dec. 29, 2014. Oil tanks at Es Sider have been on fire for days after a rocket hit one of them, destroying more than two days of Libyan production, official said.
6 Cho Hyun-ah, center, former vice president of Korean Air Lines, arrives at the Seoul Western District Prosecutors Office in Seoul, South Korea. Cho resigned as vice president of the airline earlier this month amid mounting public criticism over the incident that she forced a flight to return over a bag of macadamia nuts.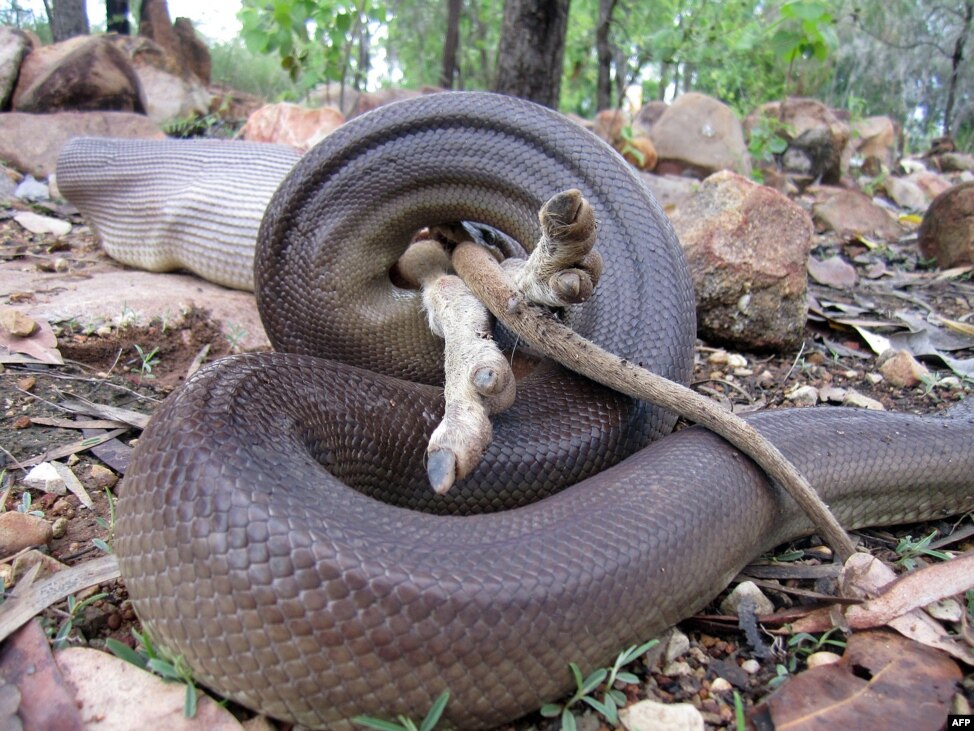 7 This handout picture released by the Parks and Wildlife Commission of the Northern Territory (NT) shows a python swallowing a wallaby (legs showing at C) at Nitmiluk National Park in Australia's Northern Territory. An Australian ranger Paul O'Neill captured the moment the python swallowed the wallaby at a national park in a giant feast that could keep it full up for three months. O'Neill said the medium-build python, a constrictor, was between 2.5 to three meters (8.2 to 9.8 feet) long.
8 A.T.M. Azharul Islam, assistant secretary general of the Jamaat-e-Islami party, waves his hand as he enters a police van after a special tribunal sentenced him to death in Dhaka, Bangladesh. A special tribunal has sentenced the senior Islamist party leader to death for leading a militia that committed mass killings and rape during the country's 1971 independence war against Pakistan. He is the eighth convicted leader from Jamaat-e-Islam.
9 Spectators watch Colombian bullfighter Luis Bolivar perform a pass during a bullfighting festival at the Canaveralejo bullring in Cali, Colombia, Dec. 29, 2014.
10 A blue tit searches for food in the snow near Pattensen, central Germany.
11 A healthcare worker who was diagnosed with Ebola after returning from Sierra Leone is wheeled in a quarantine tent trolley onto a Hercules Transport plane at Glasgow International Airport, bound for The Royal Free hospital in London.
12 Policemen evacuate families trapped in their home during heavy flooding brought by tropical storm Seniang in Misamis Oriental, Mindanao island in southern Philippines, Dec. 29, 2014. Three people were killed, while more than 10,000 residents were evacuated due to heavy flooding, local media reported.
13 Thousands of biodegradable balloons are released by members of the Sao Paulo's commercial association at Patio do Colegio, the site of the Brazilian city's foundation in 1554.
December 31, 2014
1 Fireworks explode over the Opera House and the Harbour Bridge during New Years Eve celebrations in Sydney, Australia.
2 Children dressed as snowmen take part in a New Year's parade in the Kyrgyz capital Bishkek.
3 Streetlamps are covered in snow and ice outside a restaurant on the peak of the Feldberg mountain, 20km (12.4 miles) outside of Frankfurt, Germany.
4 Members of an Indonesian search and rescue team carry a dead body on a stretcher during the recovery of victims who were onboard the crashed AirAsia flight QZ8501 in Pangkalan Bun.
5 A small group of pro-democracy protesters stage a "die-in" flash mob in a luxurious Hong Kong shopping mall, calling for true universal suffrage for the city in 2017.
6 In a photo released by North Korea's Korean Central News Agency, schoolchildren perform "We Are the Happiest in the World" at the Central Youth Hall for New Year's Eve festivities in Pyongyang.
7 A partially collapsed wall at the Morton Salt facility gave way to tons of salt being dumped onto parked cars at an adjacent car dealership in Chicago, Illinois, Dec. 30, 2014.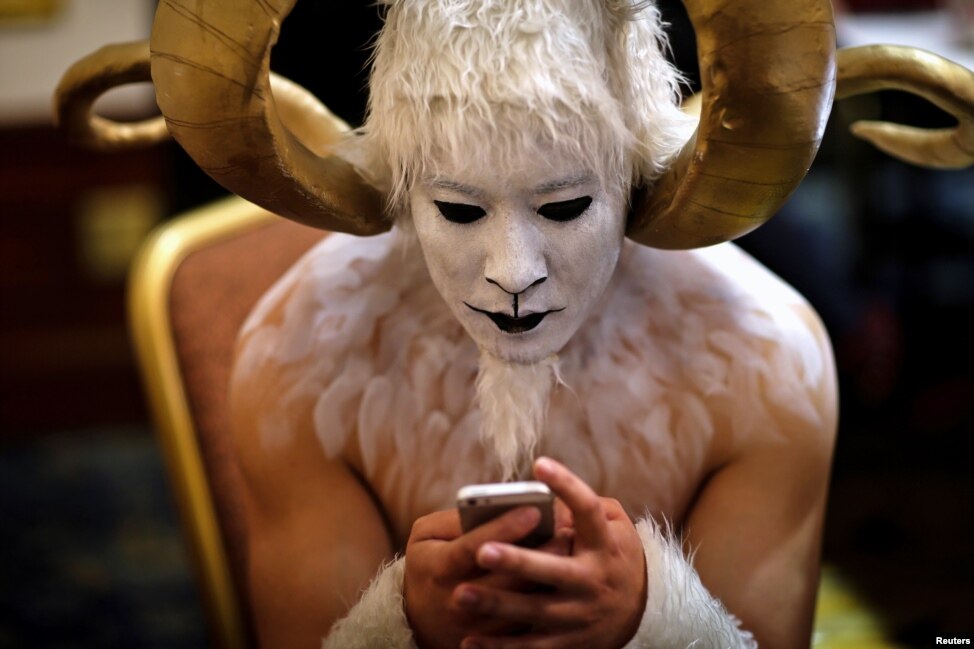 8 A performer in a ram costume looks at his phone backstage during a performance in Kunming, Yunnan province, Dec. 30, 2014.
9 A woman hangs a paper bearing her New Year wishes to a tree in Seoul, South Korea.
10 A sea lion paints a Chinese character for "sheep" in calligraphy as part of a New Year's Day attraction at the Hakkeijima Sea Paradise aquarium in Yokohama, suburban Tokyo, Japan.
11 People walk on a snowy stairs of the Garmisch-Partenkirchen hill before the qualification jump of the second session of the Four-Hills Ski jumping tournament (Vierschanzentournee) in Garmisch-Partenkirchen, southern Germany.
12 Pakistani tourists ride on a camel during the last sunset of the year at Clifton beach in Karachi.
13 Students form "2015" standing on snow to welcome the upcoming New Year at Shenyang Agriculture University in Shenyang, Liaoning province, China.
14 Fireworks explode over Victoria Harbour in Hong Kong. Just like previous years, the city's iconic skyline along Victoria Harbour will light up with an eight-minute pyrotechnic display, as tens of thousdands of partygoers will flock to the waterfront to celebrate the New Year.