January 01, 2014
1 People watch the sun rise on New Year's Day in "Gaviota Azul" beach in Cancun, Mexico.
2 In this photo provided by Dubai World Record 2014, fireworks explode over Palm Jumeirah Island, front, and World Islands, rear, to celebrate the New Year as the city attempts to breaks the Guinness World Record for the "Largest Firework Display."
3 A couple dances in the "Golden Hall" as Israeli Argentine-born conductor Daniel Barenboim conducts the Vienna Philharmonic Orchestra during the New Year's Concert in Vienna.
4 Fireworks explode in the sky during New Year celebrations in Moscow's Red Square, Russia.
5 Revelers pose for a photograph as they wait for midnight during the New Year's Eve celebrations in Times Square in New York, Dec. 31, 2013.
6 Fireworks explode near Malaysia's landmark Petronas Twin Towers in Kuala Lumpur during the New Year 2014 celebrations.
7 A man gets a sand bath from friends as thousands of people took to the beaches on New Year's Day in Durban, South Africa.
8 Members of a marching band shelter from the rain before performing at the 28th annual New Year's Day parade in London.
9 People take part in the traditional sea bath during New Year's celebrations on January 1, 2014 at Malo-Les-Bains beach in Dunkirk, northern France.
10 Japan's Noriaki Kasai soars through the air to take sixth place during the second jumping of the four-hills tournament in Garmisch-Partenkirchen, southern Germany.
11 A paddle boarder looks over the Pacific Ocean as the sun sets off of Waikiki Beach, in Honolulu, Dec. 31, 2013.
12 Firefighters extinguish a burning car during New Year's eve celebrations in Lille, France, Dec. 31, 2013.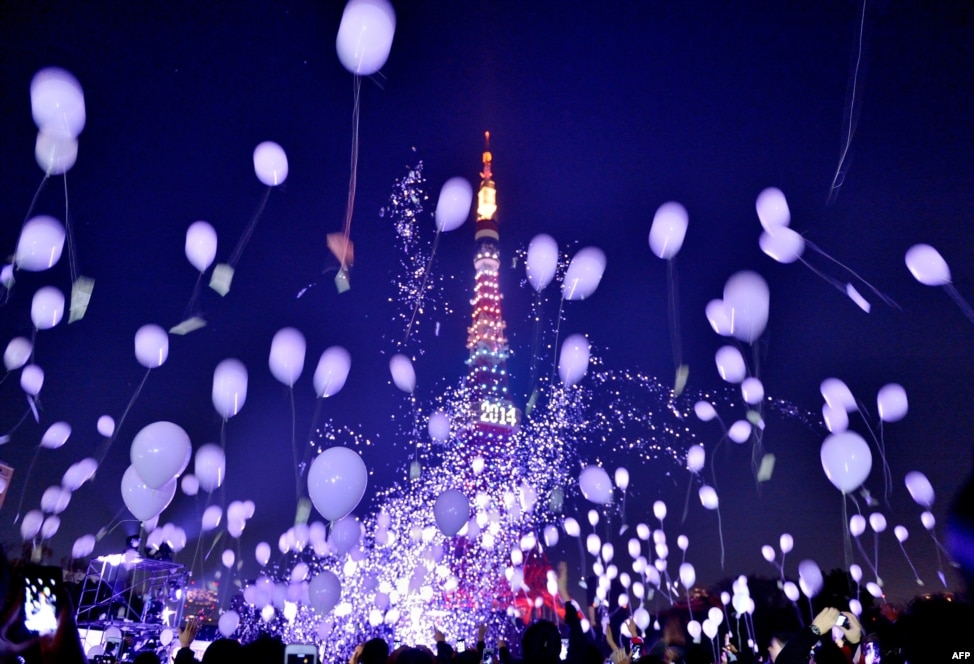 13 People release balloons to celebrate the New Year during an annual countdown ceremony in Tokyo, Japan. Some 2,000 balloons were released in the air, carrying with people's wishes.
14 Kashmiri men try to push their boat through the waters of Anchar Lake after heavy snowfall in Srinagar, India.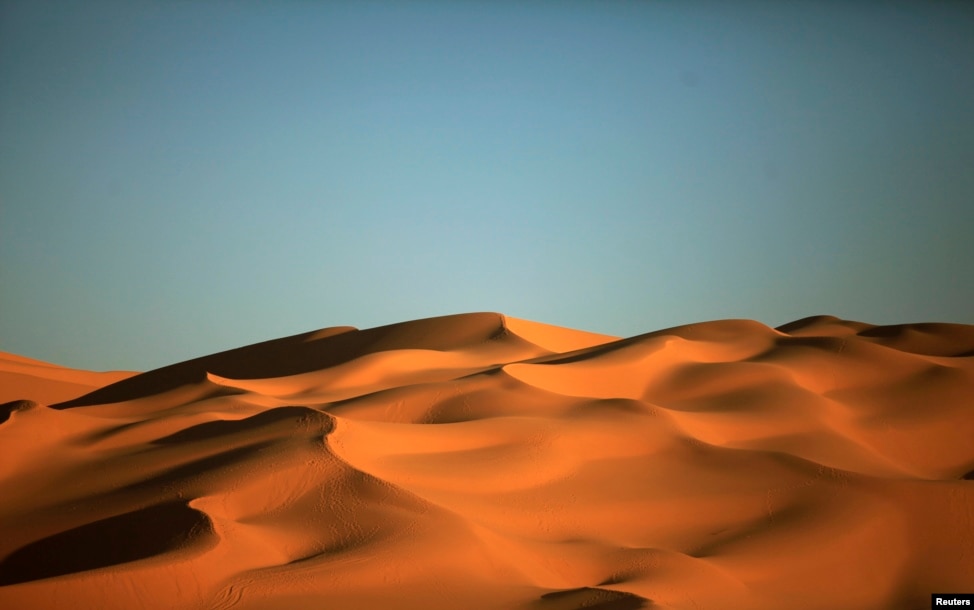 15 Dunes in the Libyan desert in Ghat, about 1,360 km (845 miles) south of Tripoli, Libya
January 02, 2014
1 This image taken by expedition doctor Andrew Peacock of www.footloosefotography.com shows a helicopter from the nearby Chinese icebreaker Xue Long picking up the first batch of passengers from the stranded Russian ship MV Akademik Shokalskiy in Antarctica.
2 Indian soldiers march as they rehearse for the Republic Day parade amid fog on a cold winter morning in New Delhi.
3 A park crew clears the snow around Annish Kapoor's stainless steel Cloud Gate sculpture at Millennium Park as snow continues to accumulate in downtown Chicago, Illinois, USA.
4 Flames rise from burning cars at the site of a car bomb that targeted Beirut's southern suburb of Haret Hreik, Lebanon. A large car bomb killed five people and wounded at least 20, a health ministry source told AFP.
5 Displaced people, who fled the recent fighting between government and rebel forces in Bor by boat across the White Nile, prepare to sleep in the open at night in the town of Awerial, South Sudan, Jan. 1, 2014.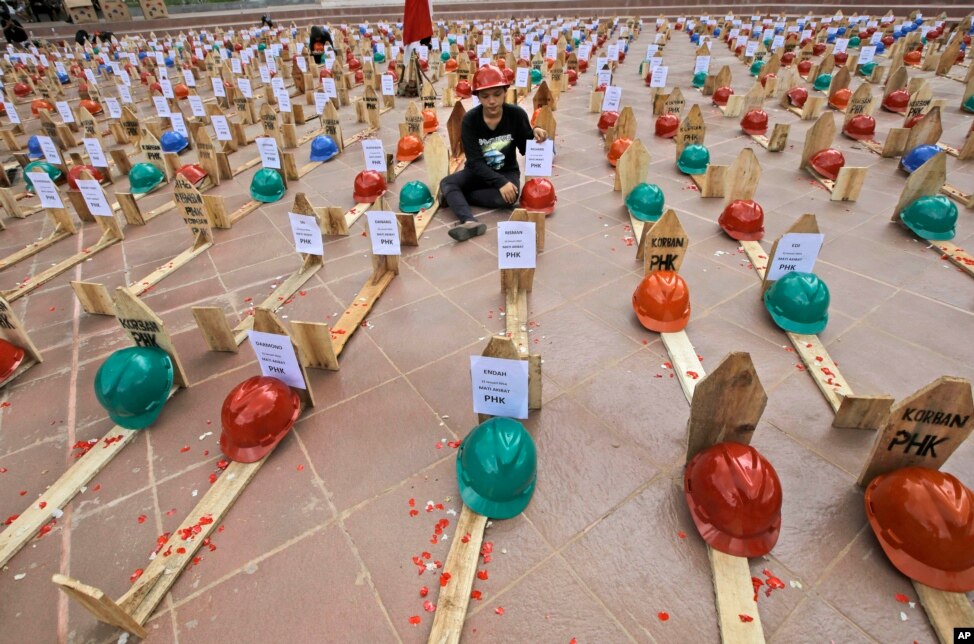 6 An activist of National Solidarity of Mine Workers sits among mock graves of miners during a protest against the government's plan to ban raw mineral exports that will take effect this month, in Jakarta, Indonesia.
7 A Nepalese man climbs the Boudhanath stupa in Katmandu, a world heritage site, for renovation.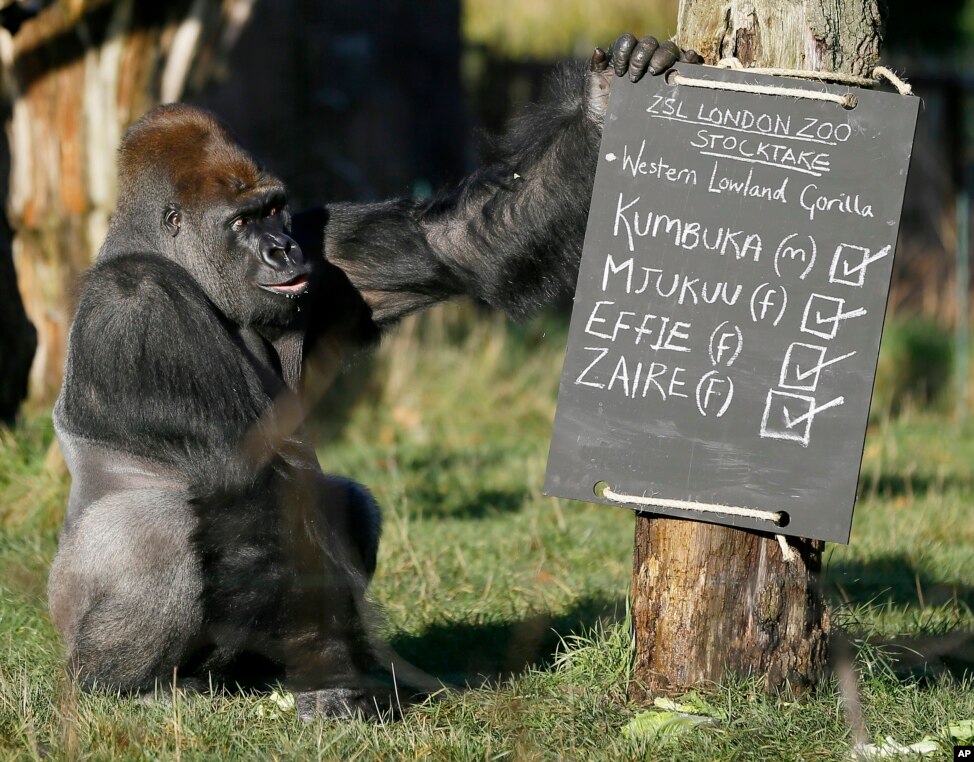 8 Kumbuka, a male silverback gorilla, inspects the keeper's chalk board in his enclosure at the London Zoo.
9 A colorful dancer in the "Wonderful Indonesia" entry performs in the125th Rose Parade in Pasadena, California, USA, Jan. 1, 2014. The 2014 Rose Parade, themed "Dreams Come True", features florally decorated floats, marching bands, and equestrian units on a five and a half mile parade route through Pasadena.
10 A pilot flies on his paramotor above sand dunes during the Liwa 2014 Moreeb Dune Festival in the Liwa desert, 250 kilometers west of Abu Dhabi, United Arab Emirates.
11 A man jumps into a hole cut in the ice on the Ottawa River during the annual Great Canadian Chill polar bear dip in Ottawa, Jan. 1, 2014.
12 Activists of the Svoboda (Freedom) Ukrainian nationalist party hold torches as they take part in a rally to mark the 105th year since the birth of Stepan Bandera, one of the founders of the Organization of Ukrainian Nationalists (OUN), in Kyiv, Jan. 1, 2014.
13 Jubilant Finnish players land in a heap on top of goalie Juuse Saros after a 5-3 victory over Czech Republic in the World Junior Hockey Championships quarter final match at the Malmo Arena in Malmo, Sweden.
January 03, 2014
1 An Egyptian civilian runs out of a public bus after it was caught up in clashes between supporters of Egypt's deposed president Mohamed Morsi and police in the northeastern part of Cairo's Nasr City district.
2 A light dusting of snow from an overnight storm covers the statues at the Korean War Memorial in Washington, D.C. early Friday morning. After a storm blew through the region overnight, roads were being cleared and many schools systems were closed.
3 People take part in Friday prayers as members of the police stand guard in Dhaka, Bangladesh. The country is set to vote in nationwide polls on Sunday.
4 People hold candles during an anti-violence campaign in center of Bangkok. Thailand's finance minister expressed concern about damage to the economy as government supporters and opponents prepare for big rallies this month that risk pushing the divided country to brink of chaos.
5 Fans from France, Italy and Germany display a giant Ferrari flag as they attend a silent 45th birthday tribute to seven-times former Formula One world champion Michael Schumacher in front of the CHU hospital emergency unit in Grenoble, French Alps where Schumacher is hospitalized.
6 Cambodian police stand guard during a garment workers' protest to demand higher wages in front of a factory in Phnom Penh. Rights campaigners denounced a Jan. 2 crackdown on striking garment workers by a special military unit, describing it as a "disturbing new tactic" by authorities.
7 Boys carry firewood in Herat, Afghanistan. High unemployment and the high cost of living have increased the vulnerability to the weather for large sections of the Afghan population.
8 Waves batter the sea wall at Wimereux, France on the Channel coast. High tides and strong winds have brought flooding to areas of the UK and northern France.
9 Steven Holcomb, front, and Steven Langton from the U.S. speed down the run during the two-man bobsled World Cup in Winterberg, Germany.
10 A young Bahraini girl wearing a mask poses during an anti-government protest in the village of Shakhora, west of Manama.
11 A visitor skies down a slope near the resort of Krasnaya Polyana, near Sochi, Russia.
12 A worker adjusts Chinese traditional lanterns for the upcoming Chinese New Year at a temple in Kuala Lumpur, Malaysia.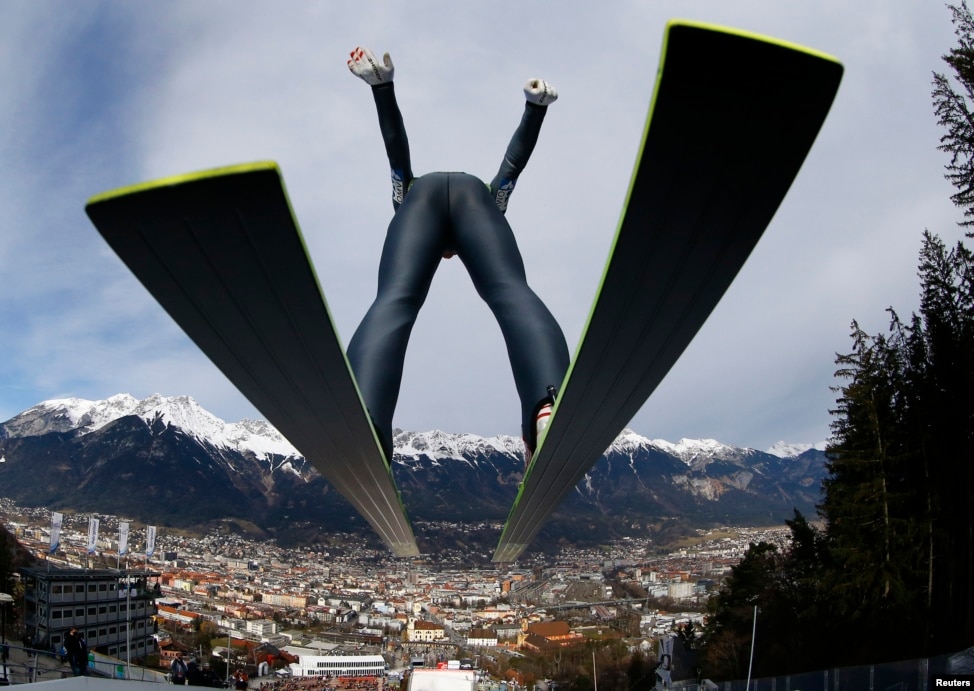 13 Austria's Gregor Schlierenzauer takes off from the ski jump during the first practice session of the third jumping of the four-hills tournament in Innsbruck. The prestigious four-hills tournament will end in Bischofshofen on Jan. 6.
14 People look at the Mediterranean Sea from La Promenade des Anglais on a rainy day, in Nice, southeastern France. Temperatures on the French Riviera reached 9 degrees Celsius (48 Fahrenheit).
January 05, 2014
1 People role playing as members of the royal entourage await the arrival of the Three Wise Men by helicopter, at San Lorenzo beach in Gijon. Children in Spain traditionally receive their Christmas presents on the morning of Jan. 6, delivered by the Three Wise Men.
2 Students of a madrasa, or religious school, watch people entering a polling booth during parliamentary elections in Dhaka, Bangladesh. Voters cast ballots amid heavy security in parliamentary elections boycotted by the main opposition, marred by deadly violence and shunned by international observers as flawed.
3 A person struggles to cross a street in blowing and falling snow in St. Louis, Missouri, USA.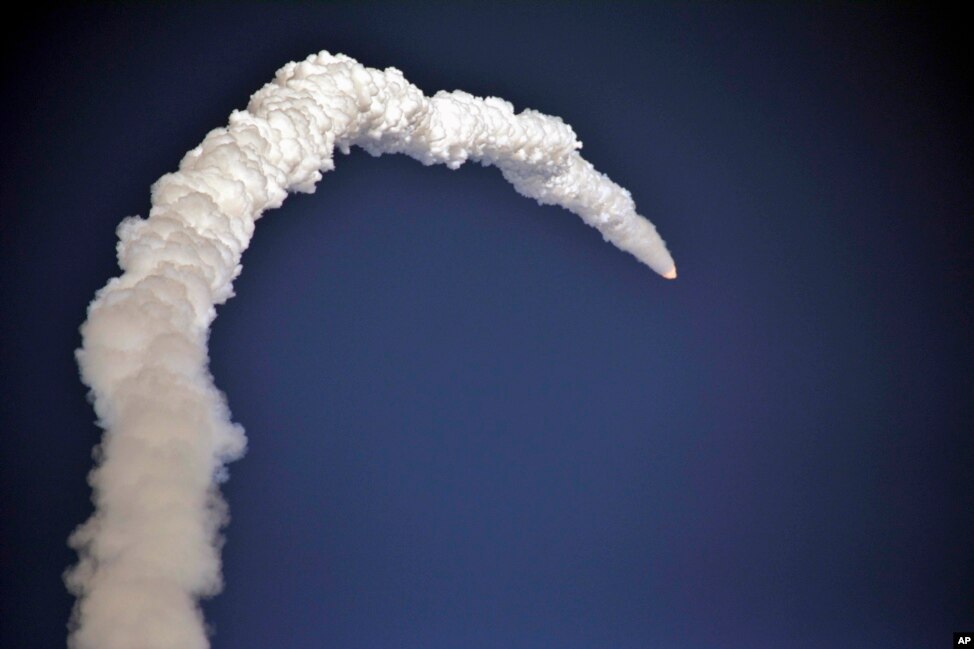 4 Indian Space Research Organization (ISRO)'s Geosynchronous Satellite Launch Vehicle (GSLV D5) with an indigenous cryogenic engine carrying GSAT-14 communication satellite lifts off from the Satish Dhawan Space Center in Sriharikota, Andhra Pradesh state.
5 Participants show off their writing at a New Year calligraphy contest in Tokyo, Japan.
6 African migrants sit on top of a Holocaust memorial installation in Rabin's square, demanding rights and better treatment from the Israeli government, in Tel Aviv, Israel. Police spokesman Micky Rosenfeld said about 10,000 migrants marched through Tel Aviv. Demonstrators said they were on a three-day strike to protest a crackdown on migrants that can lead to incarceration in a newly built detention facility.
7 A woman fishes for trout through a hole in a frozen river in Hwacheon, about 20 km (12 miles) south of the demilitarized zone separating two Koreas, northeast of Seoul, South Korea, Jan. 4, 2014.
8 Daffodil bulbs are exposed as a wave crashes over the promenade in Aberystwyth, Mid Wales, Britain.
9 Turkish journalists hold placards with images of Bunyamin Aygun, a photographer working for Istanbul daily Milliyet, who was abducted in Syria in Nov. 2013 by armed Syrian opposition groups, during a protest in Istanbul.
10 Athletes ski during the men's 15-kilometer mass start at the biathlon World Cup in Oberhof, Germany.
11 Visitors are silhouetted against lighted ice sculptures at the Harbin Ice and Snow Sculpture Festival in the northern city of Harbin, Heilongjiang province, China.
12 Former Australian prime minister Bob Hawke (C) reacts after drinking a beer, watched by members of the crowd dressed as cricket commentator Richie Benaud, during the second day of the fifth Ashes cricket test between England and Australia at the Sydney cricket ground, Jan. 4, 2014.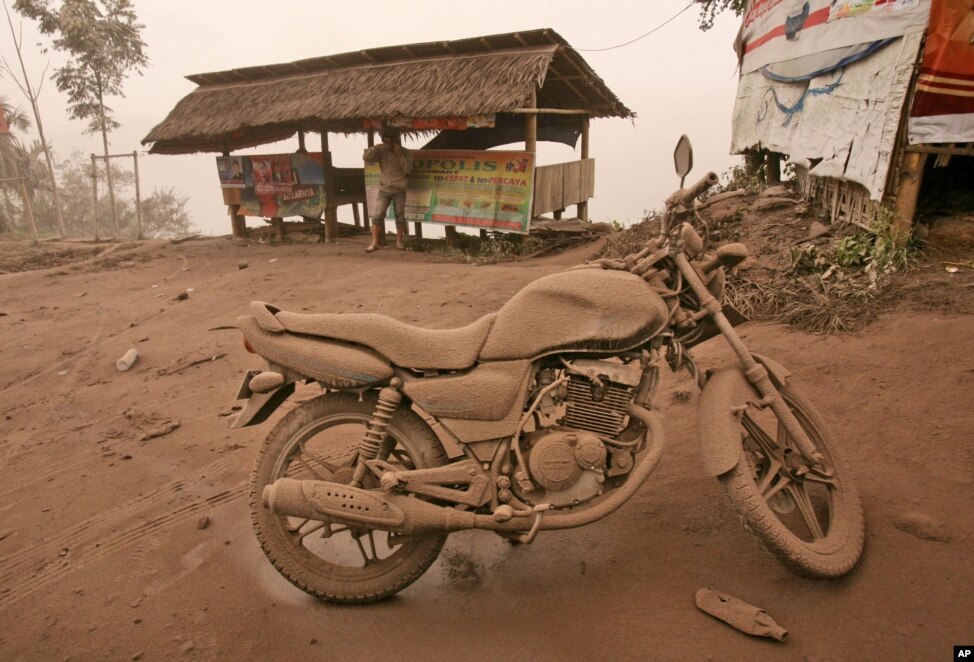 13 A motorcycle is covered in volcanic ash from an eruption of Mount Sinabung in Tiga Pancur, North Sumatra, Indonesia, Jan. 4, 2014.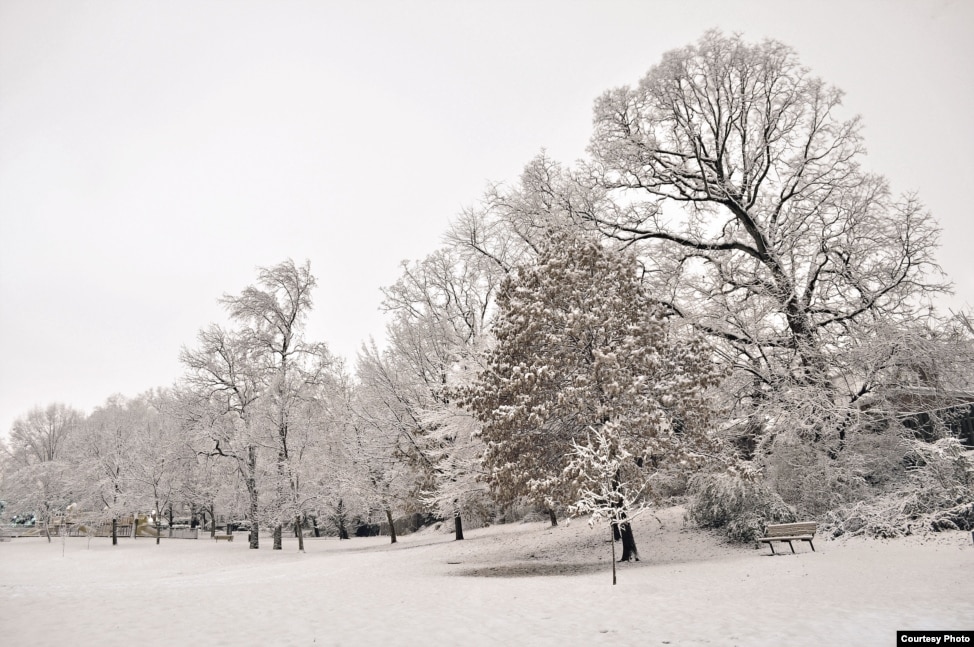 14 Crystal City in Arlington, Virginia, USA, blanketed in snow on Dec. 2, 2014 (Photo taken by Dimitris Manis/VOA/Greek Service)
January 06, 2014
1 Delta plane is de-iced at Chicago Midway International Airport, in Chicago, Illinois, USA. The bitter weather comes after a heavy snowstorm hit much of the region last week.
2 A man wears a face mask and heavy clothes while walking through downtown Springfield, Illinois, USA, in blowing and falling snow as a strong winter storm moves through the Midwest, Jan. 5, 2014. Temperatures not seen in years are likely to set records in the coming days across the Midwest, Northeast and South, creating dangerous travel conditions and prompting church and school closures.
3 A French soldier talks to curious children as he mans a roadblock in the Miskine neighborhood of Bangui, Central African Republic.
4 Cars are partially submerged in floodwater following heavy rains in Riyadh, Saudi Arabia.
5 An Afghan child holds his boots in a camp for the internally displaced on the outskirts of Mazar-e Sharif, north of Kabul.
6 Members of the Edo Firemanship Preservation Association display their balancing skills atop bamboo ladders during a New Year demonstration by the fire brigade in Tokyo, Japan.
7 A large wave crashes over the promenade in Aberystwyth, mid Wales, Britain.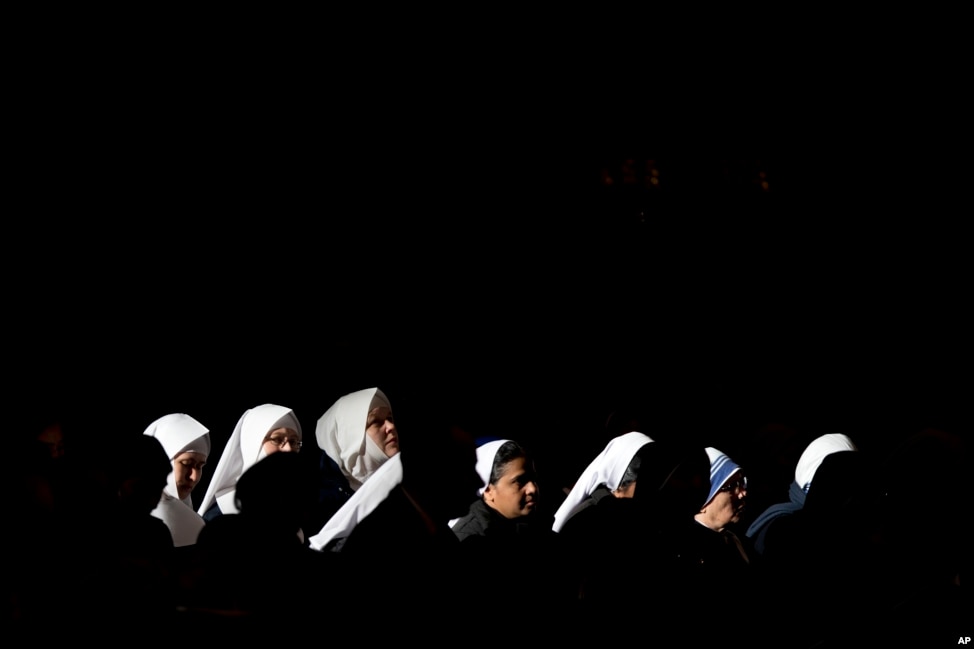 8 Nuns attend a mass celebrated by Pope Francis in St. Peter's Basilica, at the Vatican, to mark Epiphany. The Epiphany day is a joyous day for Catholics in which they recall the journey of the Three Kings, or Magi, to pay homage to baby Jesus.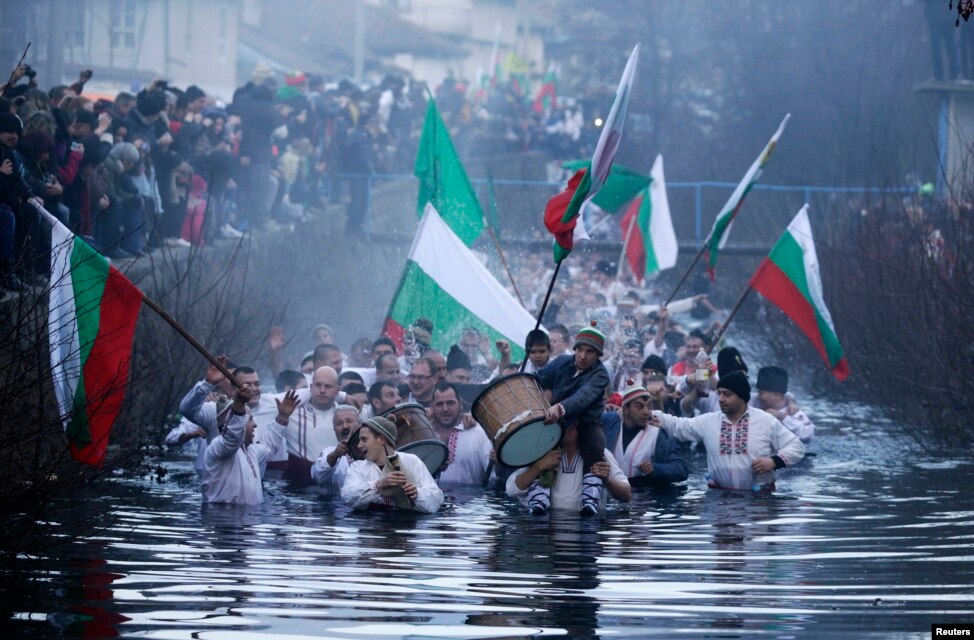 9 Bulgarian men dance in the icy waters of the Tundzha River during a celebration for Epiphany Day in the town of Kalofer, some 150 km (93 miles) east of Sofia, Bulgaria.
10 Slovenia's Robert Kranjec soars through the air during the first jump for the fourth jumping of the four-hills tournament in Bischofshofen, Austria.
11 Bao Bao, the four-and-a-half-month-old giant panda, makes her public debut at an indoor habitat at the National Zoo in Washington, D.C. Bao Bao was born to the zoo's female giant panda Mei Xiang and male giant panda Tian Tian.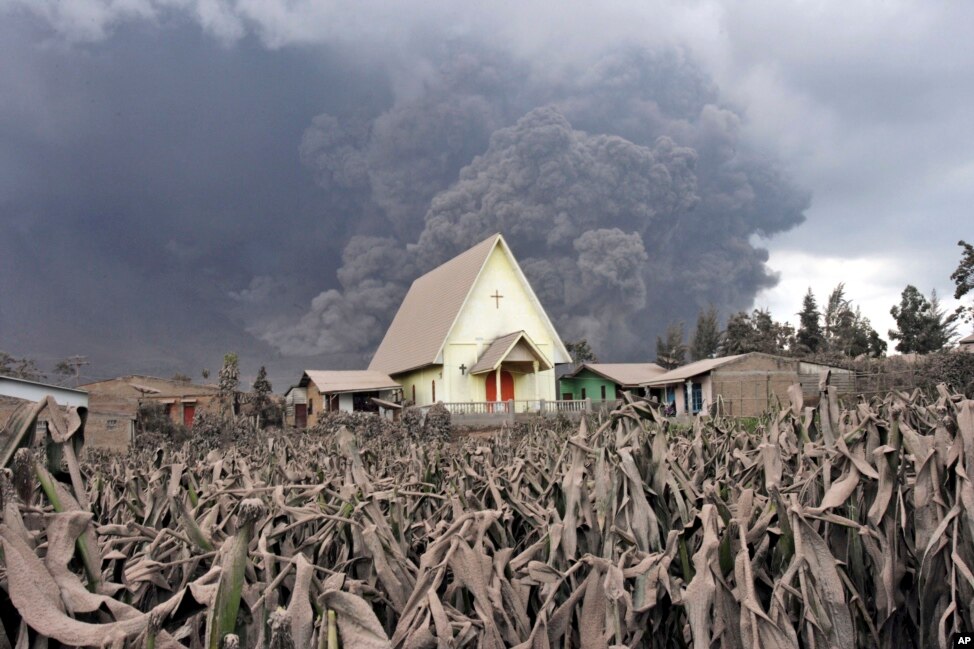 12 Mount Sinabung releases pyroclastic flow as a church is seen in the foreground in Sibintun, North Sumatra, Indonesia.
13 Kashmiri children walk on a snow-covered road on the outskirts of Srinagar, India.
14 The yacht Princess 98 is carried by a truck to the fairground in Duesseldorf, Germany. The Princess 98 with a length of 30 meters (90 ft) weighs 100 tons and will be on display at the international boat fair in Duesseldorf from Jan. 18 until Jan. 26. The price will be around 7 million euro ($9.5 million).
January 07, 2014
1 A worker walks among newly-made red lanterns ahead of the Spring Festival at a family workshop in Wenxian county, Henan province, China.
2 French President Francois Hollande (C) and his companion Valerie Trierweiller cut a giant traditional Epiphany cake during a ceremony at the Elysee Palace in Paris.
3 A man helps a wounded boy who survived what activists say was an airstrike by forces loyal to Syrian President Bashar al-Assad in the Duma neighborhood of Damascus.
4 Seagulls sitting on ice in the freezing pool outside Capitol Hill, Washington, D.C., as temperature drops to -10°F. (Photo taken by Diaa Bekheet/VOA)
5 A homeless man bundled against the cold, tries to get some sleep at a Metro station as temperatures dipped into the single digits Fahrenheit and minus degrees with the wind chill in Washington, DC.
6 Ice builds up along Lake Michigan at North Avenue Beach as temperatures dipped well below zero in Chicago, Illinois.
7 Patrick O'Brien in a Spiderman wind suit jogs around Lake Harriet in south Minneapolis, Minnesota, USA. A blast of Arctic air gripped the mid-section of the U.S., bringing the coldest temperatures in two decades, forcing businesses and schools to close and causing widespread airline delays and hazardous driving conditions.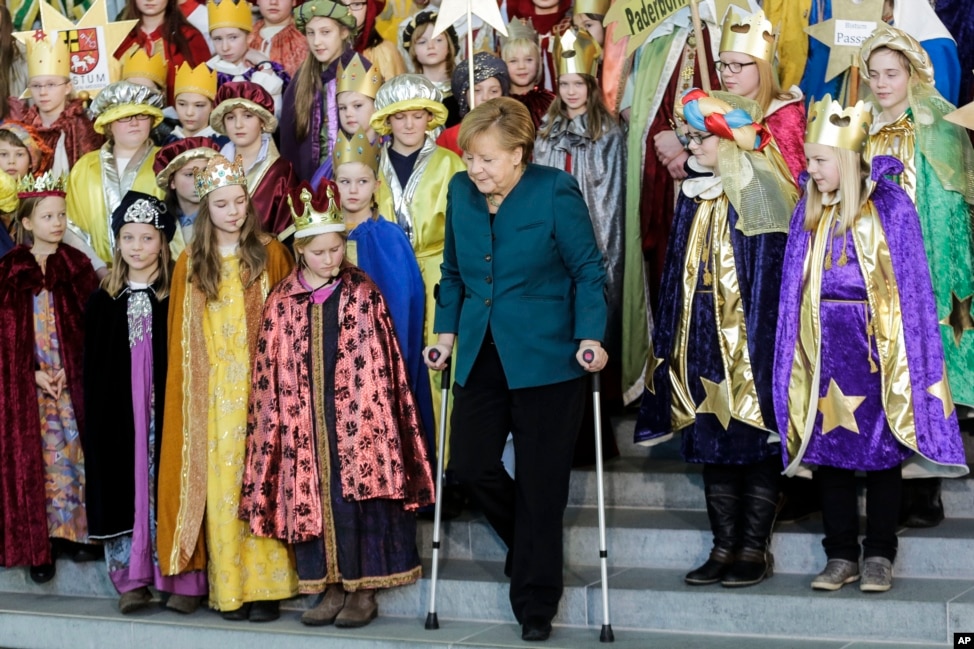 8 German Chancellor Angela Merkel uses crutches as she attends the annual reception for Carolers at the chancellery in Berlin. Merkel suffered a pelvis injury during ski holidays in the Swiss Alps and will have to cut back on her work schedule for the next three weeks.
9 Passengers push their bus amid dense fog on a cold winter morning on the outskirts of Agartala, capital of India's northeastern state of Tripura.
10 People pass by a beach hut destroyed by a recent storm on the promenade in Brighton, in southern England.
11 Members of the Australian cricket team wave to passengers sailing past on ferries during a public celebration ceremony at the Sydney Opera House.
12 Dennis Rodman greets the media outside a Pyongyang hotel on his way to a basketball practice session between North Korean and U.S. players.
13 KTM rider Mark Davidson of Australia races through the dunes during the second stage of the Dakar Rally between the cities of San Luis and San Rafael in San Rafael, Argentina, Jan. 6, 2014.
January 08, 2014
1 A man walks past a car partially covered in ice in Baltimore, Maryland, where temperatures continue to remain well below freezing. An arctic blast eased its grip on much of the U.S., with winds calming and the weather warming slightly a day after temperature records shattered up and down the Eastern Seaboard.
2 Frozen fountain at the National Museum of the American Indian in Washington, D.C. (Photo taken by Dimitris Manis/VOA/Greek)
3 Newly recruited members of the Yemeni military police force participate in exercises at their barracks in Sana'a.
4 Protesters set a car on fire near a police vehicle during clashes with riot police at Nasr City district in Cairo, Eghpt.
5 Sumo grand champion Harumafuji of Mongolia performs his ring entry forms to dedicate to the Meiji Shrine in Tokyo, Japan. The Shinto ritual is part of the annual New Year's celebrations at the shrine.
6 Hot lava from Mount Sinabung volcano hits trees as seen from Berastepu village in Karo district, Indonesia's North Sumatra province.
7 Participants arrange sushi to create the largest sushi mosaic in an attempt to break the Guinness World Records during the 10th anniversary of a sushi chain store in Hong Kong. A total of 20,647 sushi pieces were used for a 37-square-meter space to break the record, which was verified and announced by the Guinness World Records at the end of the event.
8 Tim Green, of Sidney, Australia, jogs alongside the sculpture Wood Line by artist Andy Goldsworthy in an eucalyptus grove in The Presidio in San Francisco, California, USA, Jan. 7, 2014.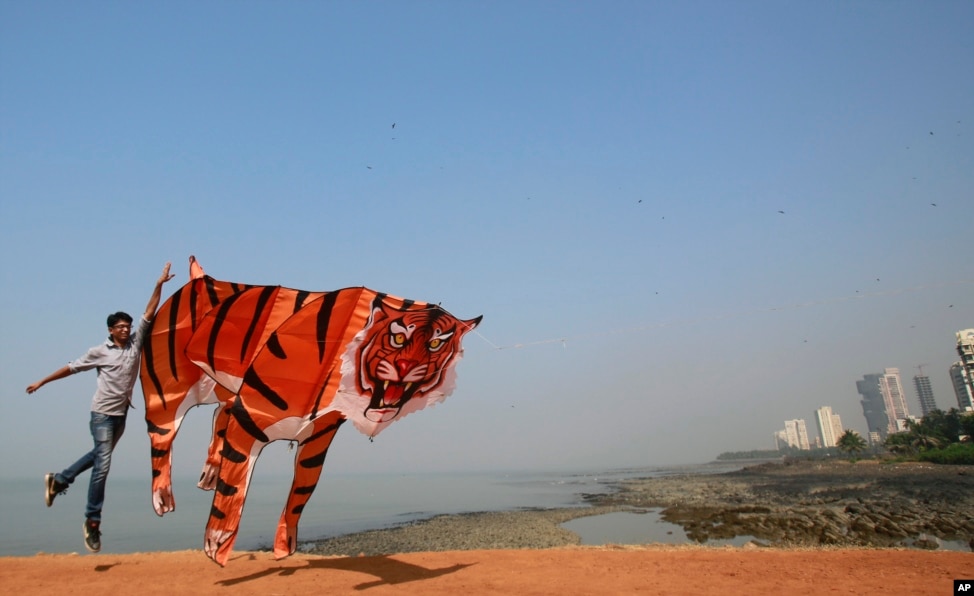 9 A participant runs with a large tiger-shaped kite at the International Kite Festival in Mumbai, India.
10 Dark clouds and a heavy rain approach Montevideo from the Rio de la Plata, Uruguay, Jan. 7, 2014.
January 09, 2014
1 Iraqi police commandos unit march during a ceremony marking Police Day at the police academy in Baghdad.
2 Abdul Ghafar talks to her daughter known as Spozhmai in protective custody in Lashkargah, capital of Helmand province, south of Afghanistan. The father of the girl, who police say was part of a botched suicide bomb attack, said he's afraid the Taliban will kill him and his daughter if they return to their village.
3 Volunteers use sticks to fend off the crowd trying to enter a food and supplies distribution point at a makeshift camp housing an estimated 100,000 displaced people, at Mpoko Airport, in Bangui, Central African Republic.
4 A flower is surrounded by ash from Mt Sinabung near Sibintun village in Karo district, Indonesia's North Sumatra province, January 9, 2014.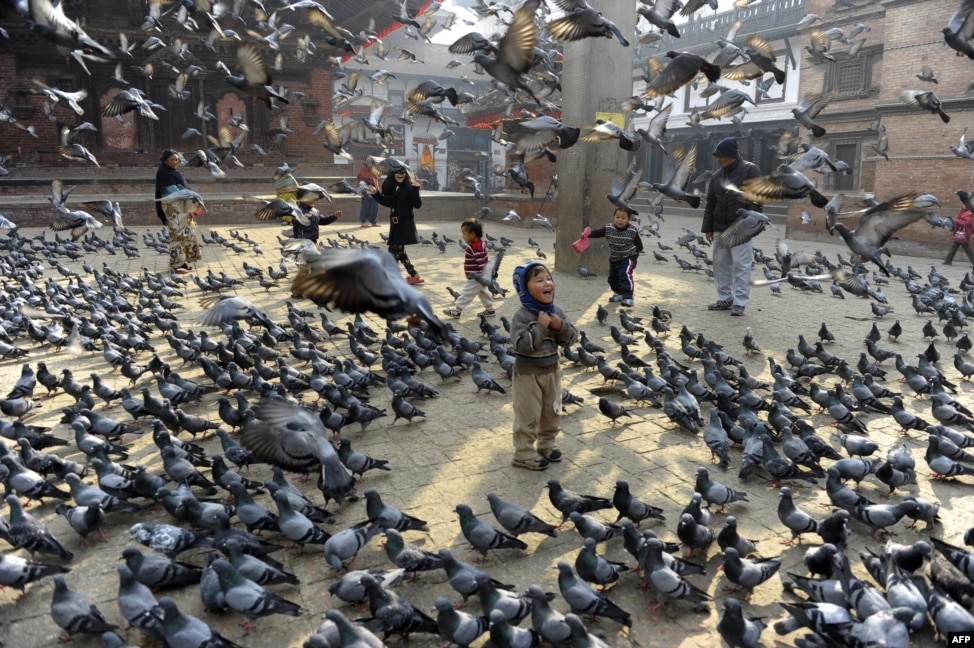 5 Nepalese children feed pigeons in Durbar Square in Kathmandu.
6 Children play around a man disguised as Batman at the Favela do Metro slum, area just near the Maracana stadium, in Rio de Janeiro, Brazil. Families living in this shantytown within a stone's throw of Rio 's mythical Maracana stadium refuse to have their homes demolished as part of a project to renovate the district before the FIFA World Cup circus pitches camp in June.
7 A commuter ferry navigates through the ice flow in the Hudson River between New Jersey and lower Manhattan in New York.
8 The U.S. side of the Niagara Falls is pictured in Ontario. The frigid air and "polar vortex" that affected about 240 million people in the United States and southern Canada will depart during the second half of this week, and a far-reaching January thaw will begin, according to AccuWeather.com.
9 Devotees struggle to hold the Black Nazarene during a grand procession in Manila, Philippines. The Black Nazarene, a life-size wooden statue of Jesus Christ carved in Mexico and brought to the Philippines in the 17th century, is believed to have healing powers in the predominantly Roman Catholic country.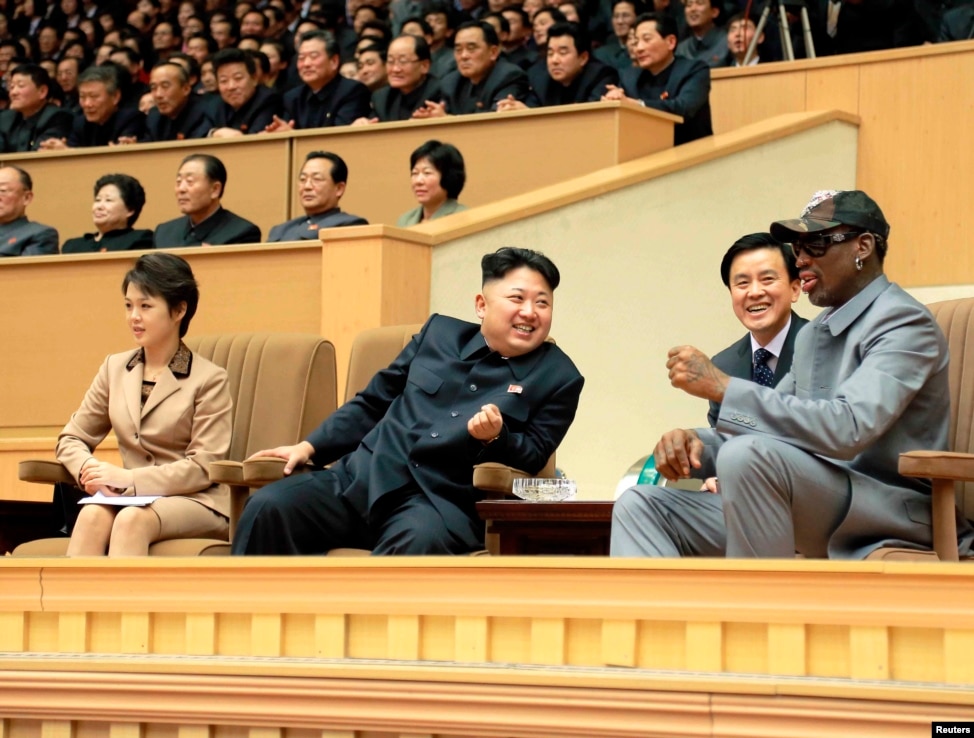 10 North Korean leader Kim Jong Un (2nd L) watches a basketball game with former U.S. NBA basketball player Dennis Rodman at Pyongyang Indoor Stadium in this photo provided by Korean Central News Agency (KCNA).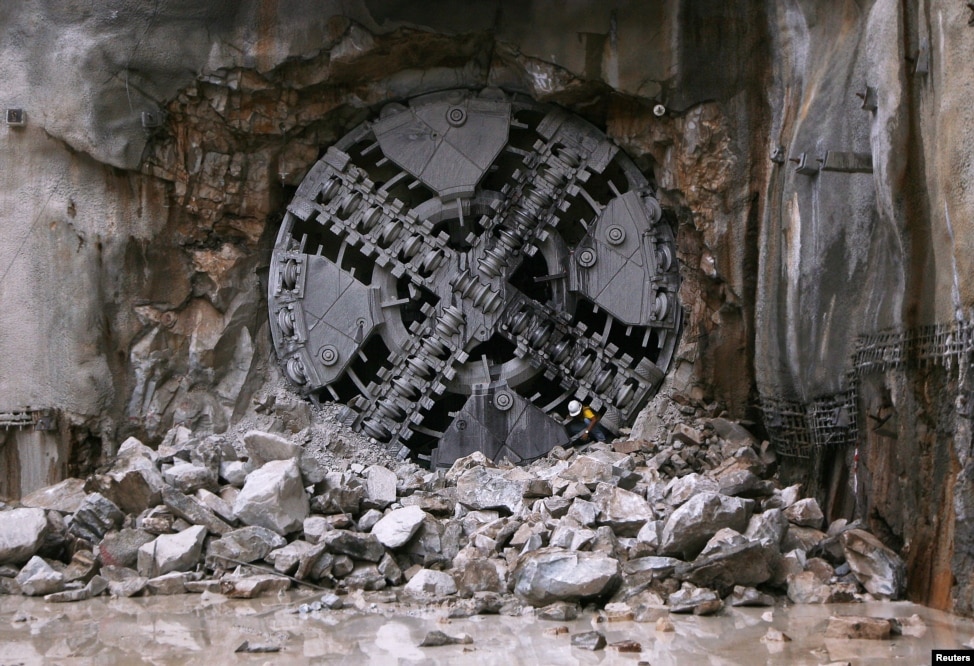 11 An engineer crawls through a hole in a Tunnel Boring Machine (TBM) during the breakthrough of a tunnel in Kuala Lumpur, Malaysia. The world's first variable density TBM has completed the first section of the 9.5 km (5 miles) twin tunnels of the Klang Valley MRT (Mass Rapid Transit) line.
12 Indian soldiers take part in the rehearsal for the Republic Day parade on a cold winter morning in New Delhi.
13 A man with a child walks toward the top of Vodno Mountain in Skopje, Macedonia.
14 Mini driver Martin Kaczmarski of Poland and co-pilot Filipe Palmeiro of Portugal race during the fourth stage of the Dakar Rally between the cities of San Juan and Chilecito, Argentina, Jan. 8, 2014.
January 10, 2014
1 A mother holds her son as they watch the eruption of Mount Sinabung at Berastepu village in Karo district, Indonesia's North Sumatra province. More than 22,000 villagers have been evacuated since authorities raised the alert status for the volcano to the highest level in November.
2 A mother sits with her infant in a clinic run by Doctors Without Borders (MSF) in Minkammen, 25 kilometers (16 miles) south of Bor. Some 80,000 displaced people from the volatile South Sudan region have fled to safety in sprawling, dusty camps in the Awerial region across the Nile River.
3 Mourners read the Koran beside the grave of Pakistani student Aitzaz Hassan, 15, who was killed in a suicide attack outside his school Thursday in Hangu district. Police have recommended the teenager, who was killed stopping a suicide bomber from attacking a school, for a top civilian honor.
4 Egyptian security forces clash with supporters of ousted President Mohamed Morsi in the Nasr City district of Cairo. Hundreds of Islamists rallied in Cairo and across the country, calling for a boycott of an upcoming constitutional referendum.
5 A Somali man browses the internet on his mobile phone at the beach along the Indian Ocean coastline in Mogadishu. Rebel group al-Shabab has banned the use of the Internet in the Horn of Africa country, giving telecom operators 15 days to comply with the order.
6 A fan of French comedian Dieudonne M'bala M'bala, also known as Dieudonne, wears a shirt with the message, "2014, Year of the quenelle" outside the concert hall where the humorist was to hold his show in Tours. A court upheld a ban on the show scheduled for Friday. The comedian has been accused of insulting the memory of Holocaust victims.
7 A girl sits in front of a wall with graffiti that reads, "We must resist," in Metro slum near Maracana stadium in Rio de Janeiro. Residents are protesting eviction from their homes. The removal of the community is part of the renovation works of the area for the 2014 World Cup.
8 Pilgrims make their way to attend mass at the baptism site in Bethany, Jordan. Thousands of Catholics flocked to the site on the banks of the Jordan River to kick start the pilgrimage.
9 Tibet's third holiest man, the 17th Gyalwang Karmapa Ogyen Trinley Dorjee, performs a Vajra dance during the 31st Kagyu Monlam for World Peace in Bodhgaya. The Kagyu Monlam is an annual prayer festival in Bodhgaya.
10 A procession of people dressed as Santa Claus walk down the main street of Oslo, Norway. The people were headed to the Norwegian Parliament building to promote the upcoming "Santa's Winter Games".
11 People walk outside T2, the new integrated terminal at Chhatrapati Shivaji International Airport, during its inauguration in Mumbai, India. India's overcrowded financial capital unveiled its long-awaited $2 billion new airport terminal Friday.
12 Performers get ready for a Chinese opera performance for elderly guests ahead of Lunar New Year in Singapore. The show was organized by Shan You, a voluntary welfare organization, which was raising funds to continue their services for the elderly.
13 Participants of a flashmob throw pillows and feathers on the Reeperbahn in Hamburg, Germany. A few hundred people took part in the pillow fight to protest against the "danger zone" set up by the police.
14 An "Old Man's Beard" is seen in Bamberg, southern Germany. The plant generally grows hanging from tree branches, resembling gray or greenish hair.
January 12, 2014
1 A motorist rides on a road covered in vocalic ash and mud, following a heavy ash fall from the eruption of Mount Sinabung in Sigaranggarang, North Sumatra, Indonesia.
2 An ostrich runs through empty streets and past destroyed buildings, after government forces retook the provincial capital of Bentiu, in Unity State, South Sudan, from rebel forces.
3 This NASA TV handout image shows the Orbital Sciences Corporation's unmanned Cygnus cargo ship arriving at the International Space Station on the company's first regular supply mission to the research outpost.
°F), local media reported.
5 A woman is reflected in a puddle from rain and melted ice as she walks her dog during winter in Toronto, Canada, Jan. 11, 2014.
6 A resident of Uyuni drives his quad on Salar salt lake of Uyuni, Bolivia, before the seventh stage of the Dakar Rally 2014 that will be held from Salta to Uyuni.
7 Japanese physical fitness enthusiasts hold blocks of ice while standing in cold water at Teppozu Inari Shinto shrine during a winter ritual to keep themselves fit and to display their perseverance in Tokyo.
8 The side of the cruise liner Costa Concordia is seen during the "parbuckling" operation outside Giglio harbor. Thirty massive tanks filled with air will lift the hulk of the Costa Concordia off the seabed in June so that it can be towed away from the Italian island where it capsized two years ago, officials said. The 114,500-tonne vessel hit rocks on Jan. 13, 2012, killing 32 people.
9 Kiri Baga competes in the women's free skate competition at the U.S. Figure Skating Championships in Boston, Massachusetts, Jan. 11, 2014.
10 Participants read a book as they wait to take the metro, during the 'No Pants Metro Ride' in Brussels, Belgium.
11 Participants play a game of bubble bump soccer during an amateur championship in Almaty, Kazakhstan, Jan. 11, 2014. The game is played by five-a-side teams wearing inflatable balls trying to score goals against the opposing team.
January 13, 2014
1 U.S. Secretary of State John Kerry (L) gives a pair of Idaho potatoes as a gift to Russia's Foreign Minister Sergei Lavrov at the start of their meeting at the U.S. Ambassador's residence in Paris, France.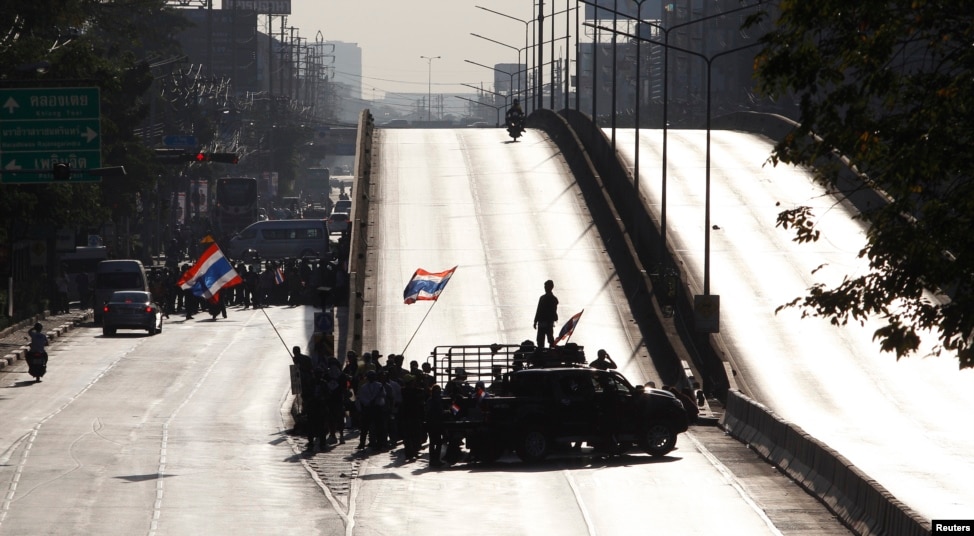 2 Anti-government protesters block a road in central Bangkok. Thousands of protesters began a blockade at major intersections in Bangkok as they sought to paralyze Thailand's capital, stepping up pressure on Prime Minister Yingluck Shinawatra to resign.
3 Wildfire along the edge of the road next to a firetruck in the Stoneville area, a suburb east of Perth in the state of Western Australia, Jan. 12, 2104. A man died and four other people were missing after a fast-moving wildfire destroyed at least 46 homes, officials said. (Photo provided by Australia's Department of Fire and Emergency Services)
4 The Toyota FT-1 concept is unveiled during media previews of the North American International Auto Show in Detroit, Michigan.
5 Japanese women in kimonos attend a ceremony celebrating Coming of Age Day at an amusement park in Tokyo.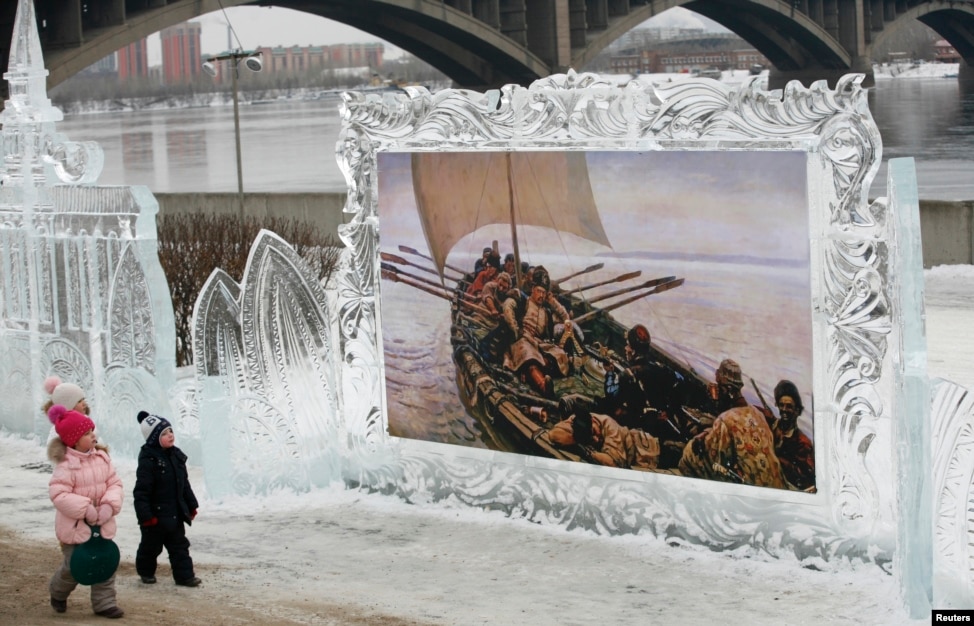 6 Children walk past a reproduction of a creation by Russian classical painter Vasily Surikov called "The Magical Ice of the Siberia" - which is on display in an ice frame - before the opening of the 2nd International Festival of Snow and Ice Sculpture, on the bank of the Yenisei River in Krasnoyarsk.
7 Taiwan Air Force Indigenous Defense Fighter jets take part in a joint military drill at an air force base in Taichung, central Taiwan.
8 A visitor feeds a giant panda with a snowball at a zoo in Kunming, Yunnan province, China.
9 A contestant skis with his pet duck during a "skiing with pets" competition at a ski resort in Sanmenxia, Henan province, China, Jan. 12, 2014.
10 From left, Bryan Cranston, Anna Gunn, Betsy Brandt, Vince Gilligan, RJ Mitte, and Aaron Paul pose in the press room with the award for Best TV Series - Drama for "Breaking Bad" at the 71st annual Golden Globe Awards at the Beverly Hilton Hotel, California, Jan. 12, 2014.
11 Indian villagers participate in community fishing as part of the Bhogali Bihu celebrations at the Goroimari Lake in Panbari village, some 50 kilometers (31 miles) east of Gauhati, India. "Bhogali Bihu" marks the end of the harvesting season in the northeastern state of Assam.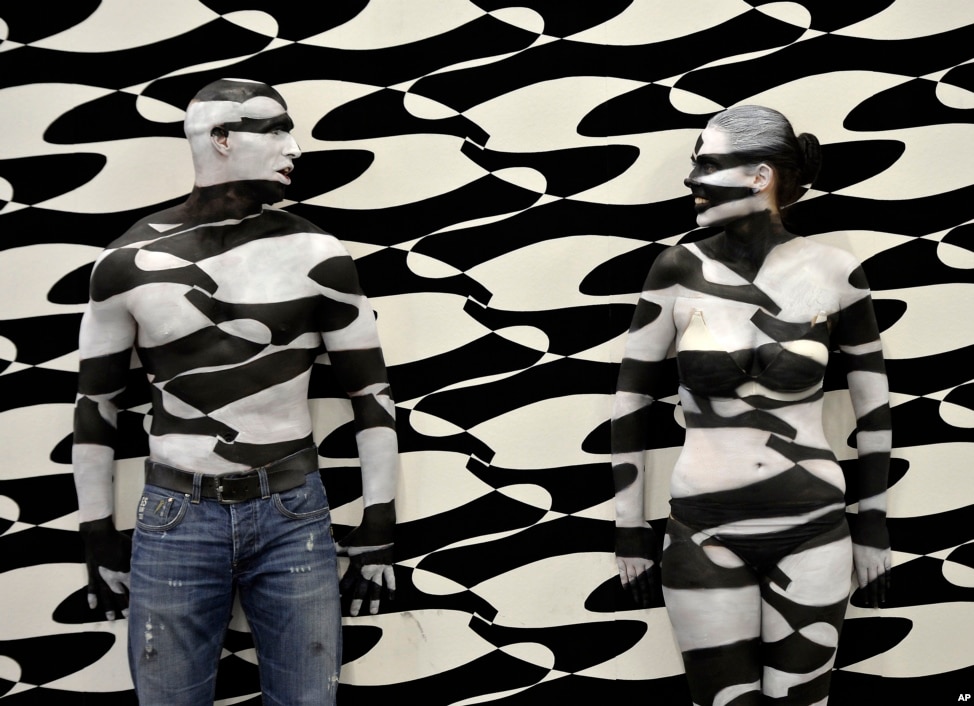 12 Two body-painted models are talking while promoting the latest wallpapers at the international furnishings fair at Cologne, Germany.
13 Speedbrain rider Juan Carlos Salvatierra of Bolivia races during the seventh stage of the Dakar Rally between the cities of Salta, Argentina and Uyuni, Bolivia, Jan. 12, 2014.
14 People pretend to hang off ledges and windowsills on an unusual architectural display, called "Merchants Store," during the Sydney Festival in Sydney, Australia.
January 14, 2014
1 Women show their inked fingers after casting their votes at a polling station in Cairo. Egyptians are voting on a draft for their country's new constitution.
2 Anti-government protesters march past one of their roadblocks made of tires in central Bangkok, Thailand.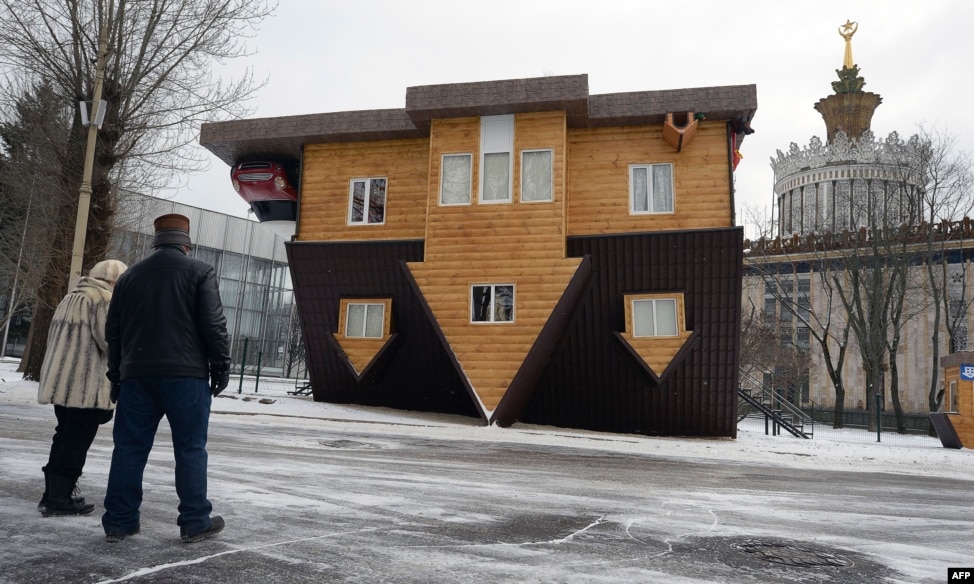 3 People look at an "upside-down house" attraction displayed at the VVTs All-Russia Exhibition Center in Moscow.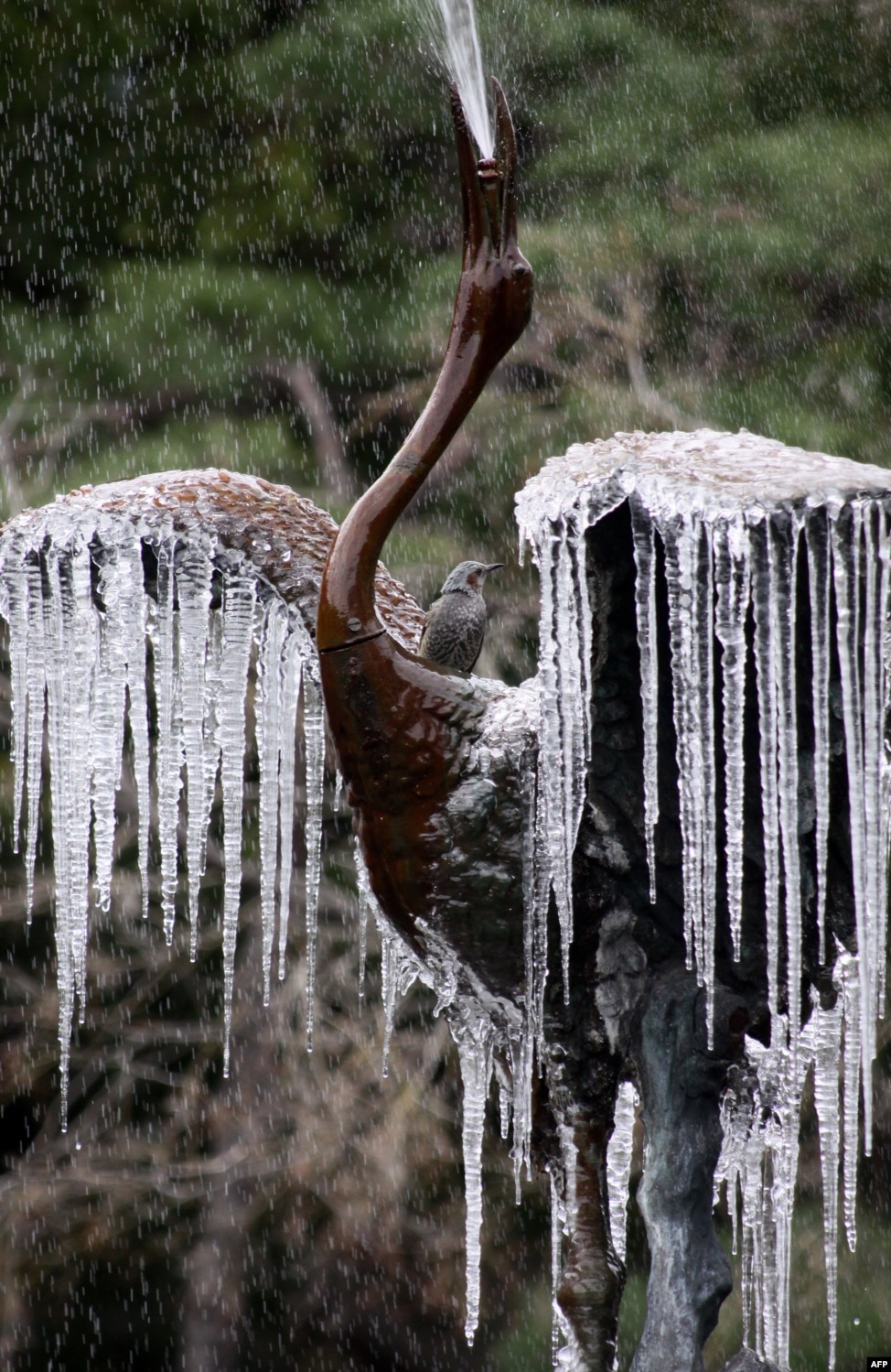 4 A bird sits on a frozen crane sculpture fountain with icicles hanging from its wings at a Tokyo park. Cold weather sent temperatures plummeting to the lowest levels this winter in many parts of Japan.
5 Lightning flashes over the Christ the Redeemer statue on top of Corcovado Hill in Rio de Janeiro, Brazil.
6 The Breitling Wingwalkers fly over Durrat Al Bahrain ahead of the Bahrain International Airshow 2014 which opens Jan. 16. Durrat Al Bahrain is a 21-km-square development created across a cluster of 15 islands.
7 Pakistani girls wait in line to receive free food during a rally marking the birthday of Islam's Prophet Muhammad, in Rawalpindi.
8 Three protesters from the animal rights organization PETA show posters against use of furs in the fashion industry prior to the launch of the Mercedes Benz Fashion Week for Autumn Winter 2014, in Berlin, Germany.
9 A Palestinian student jumps through a burning ring during a graduation ceremony for a military-style training program in Gaza City.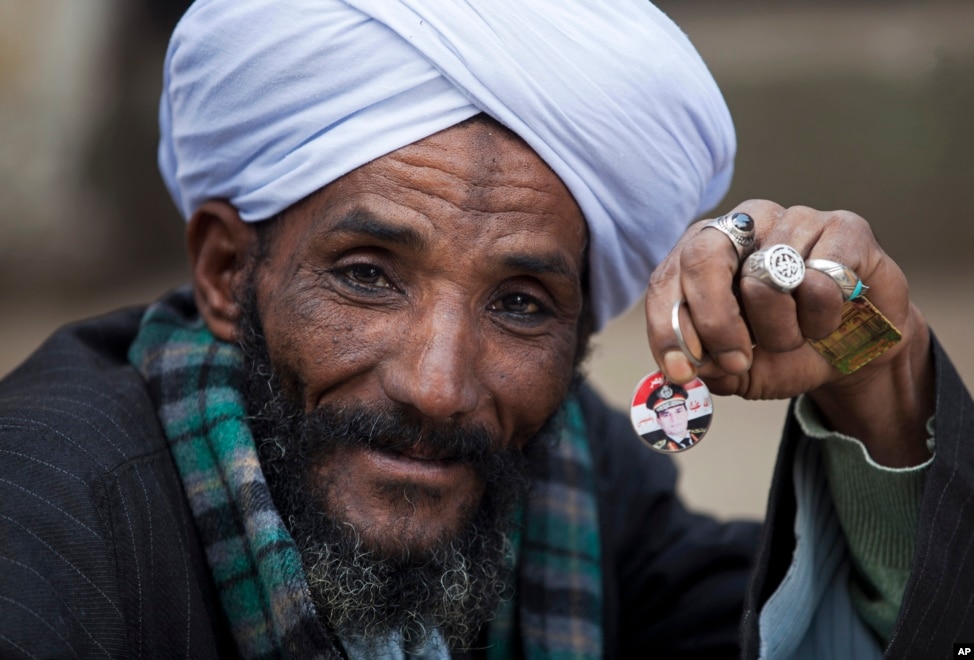 10 A man holds a pin with a picture of Egypt's Defense Minister Gen. Abdel-Fattah el-Sissi as he waits for his turn to cast his vote in the country's constitutional referendum in Cairo.
11 A Kashmiri Muslim girl plays with a balloon as women offer prayers at the Hazratbal shrine on Eid-e-Milad, the birth anniversary of Prophet Muhammad, in Srinagar, India.
12 Swans swim near riverside properties partially submerged in floodwaters at Henley-on-Thames in southern England. More than 1,700 homes and businesses have been affected by the floods in England since late December, Jan. 13, 2013.
13 A Hindu woman takes blessings from a Naga Sadhu or a Hindu holy man after taking a holy dip at the confluence of the Ganges River and the Bay of Bengal, on the occasion of the Makar Sankranti festival at Sagar Island, south of Kolkata, India.
14 Palestinians inspect a site which witnesses said was hit in an Israeli air strike, in Khan Younis in the southern Gaza Strip.
January 15, 2014
1 Men carry a fake cow while riding an escalator during preparations for the Green Week international food, agriculture and horticulture fair in Berlin, Germany.
2 A man performs with a dragon at an anti-government protest stage near the blocked Silom financial district intersection in downtown Bangkok, Thailand.
3 Opposition deputies throw buckwheat at newly elected deputy Viktor Pylypyshyn (R) as he takes the oath in Ukrainian Parliament in Kyiv. In Ukraine, buckwheat is a symbol of bribing voters.
4 Air Force One, with President Barack Obama aboard, disappears in thick fog over Andrews Air Force Base, Maryland, as it takes off for a trip to Raleigh, North Carolina.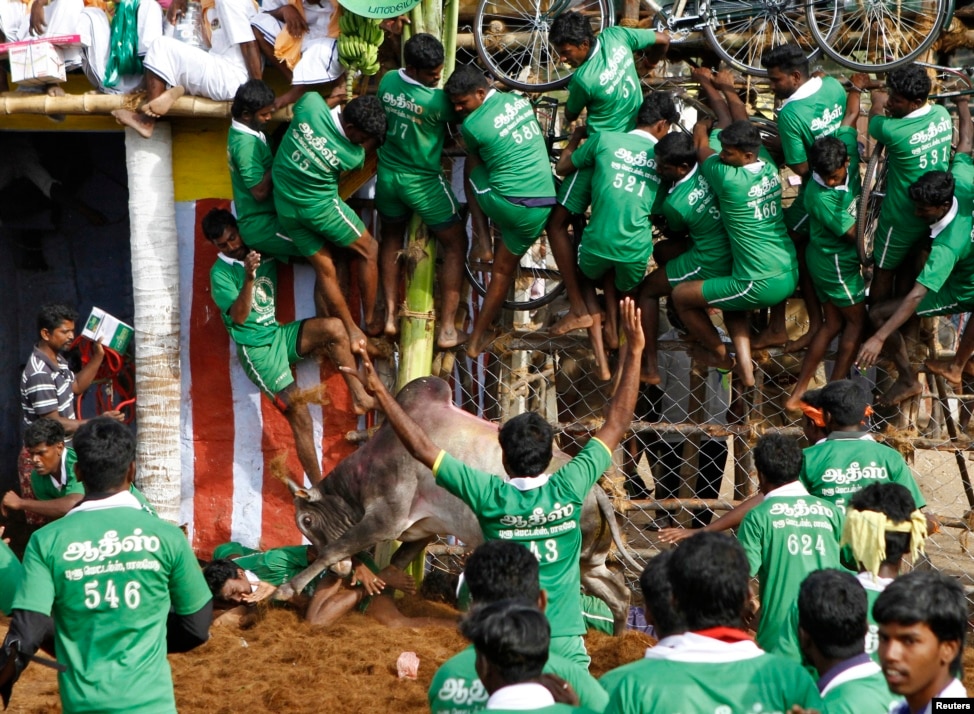 5 Villagers are pinned down by a bull as others climb a fence to protect themselves during a bull-taming festival on the outskirts of Madurai town, about 500 km (310 miles) from the southern Indian city of Chennai.
6 Villagers wait to collect their year-end bonus at Jianshe village, Liangshan, Sichuan province, China, Jan. 14, 2014. About 13,115,000 yuan ($2,169,221) were placed in the middle of a square before being distributed as bonus to around 340 villagers in return for their investment in the planting and breeding co-operative in the village in 2013.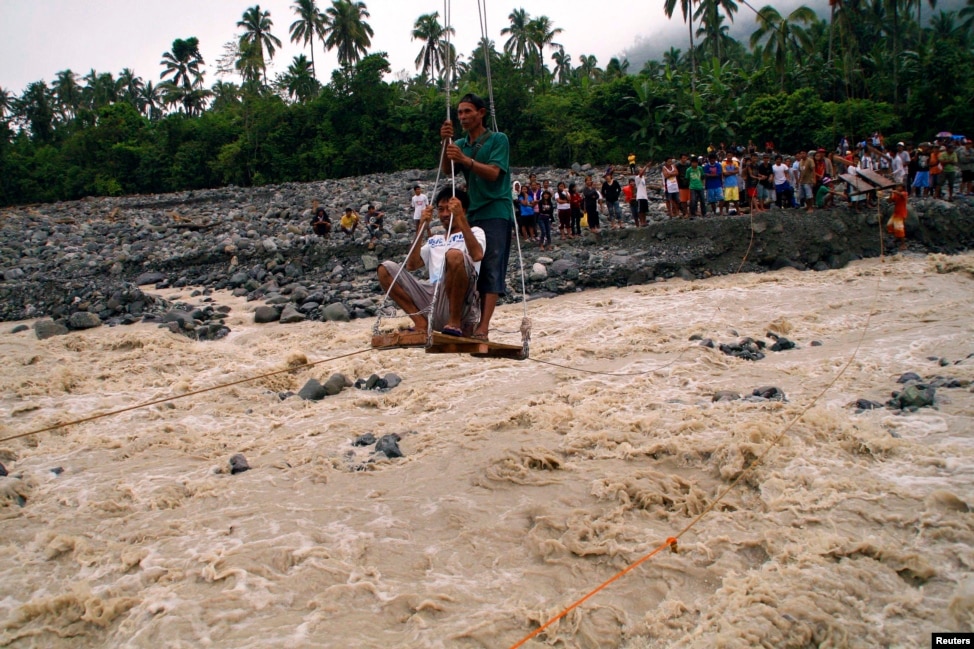 7 Residents use an improvised cable car to reach relief goods on the other side of rampaging river after a non-stop downpour flooded New Bataan town, Compostela province, southern Philippines, Jan. 14, 2014.
8 A Papillon jumps a hurdle during a press event at Madison Square Garden to promote the First-ever Masters Agility Championship at the 138th Annual Westminster Kennel Club Dog Show in New York.
9 Spain's Jordi Viladoms rides his KTM motorcycle during the ninth stage of the Dakar Rally 2014, from Calama to Iquique, Chile, Jan. 14, 2014.
10 A visitor looks at "Divide" - made of resin, silicon and horse hair, by Australian sculptor Sam Jinks - during a preview of the Art Stage Singapore at Marina Bay Sands Convention and Exhibition Center in Singapore.
11 The Orion Nebula is an immense stellar nursery some 1,500 light-years away. This stunning false-color view spans about 40 light-years across the region, constructed using infrared data from the Spitzer Space Telescope.
12 Novak Djokovic of Serbia walks past magazines featuring pictures of himself as he signs autographs after winning a men's singles match against Leonardo Mayer of Argentina, at the Australian Open 2014 tennis tournament in Melbourne, Australia.
January 16, 2014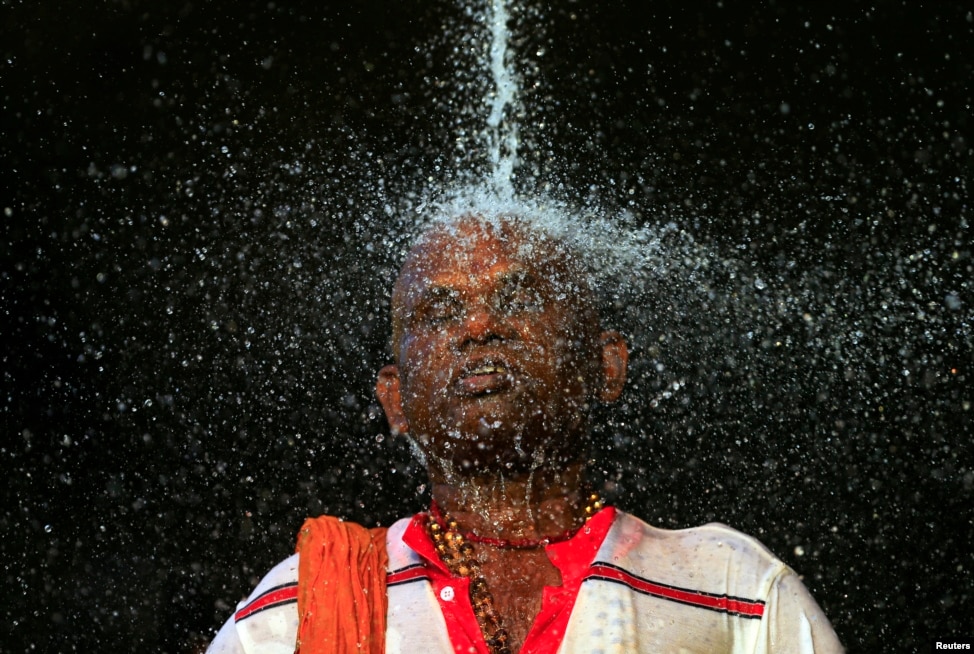 1 A Hindu devotee takes a ritual shower before he starts his pilgrimage to the sacred Batu Caves Temple during Thaipusam festival outside Kuala Lumpur, Malaysia. Thousands of Hindus participate in the annual thanksgiving festival in which devotees subject themselves to painful rituals in a demonstration of faith and penance held in honor of Lord Subramaniam.
2 Hindu women sit around fires to warm themselves up before taking a holy bath at Saali River during the first day of the Swasthani Brata Katha festival at Sankhu in Kathmandu, Nepal.
3 Kei Nishikori of Japan holds an ice pack to his face during a men's singles match against Dusan Lajovic of Serbia at the Australian Open 2014 tennis tournament in Melbourne. Organizers have been slammed for forcing players to play in searing temperatures.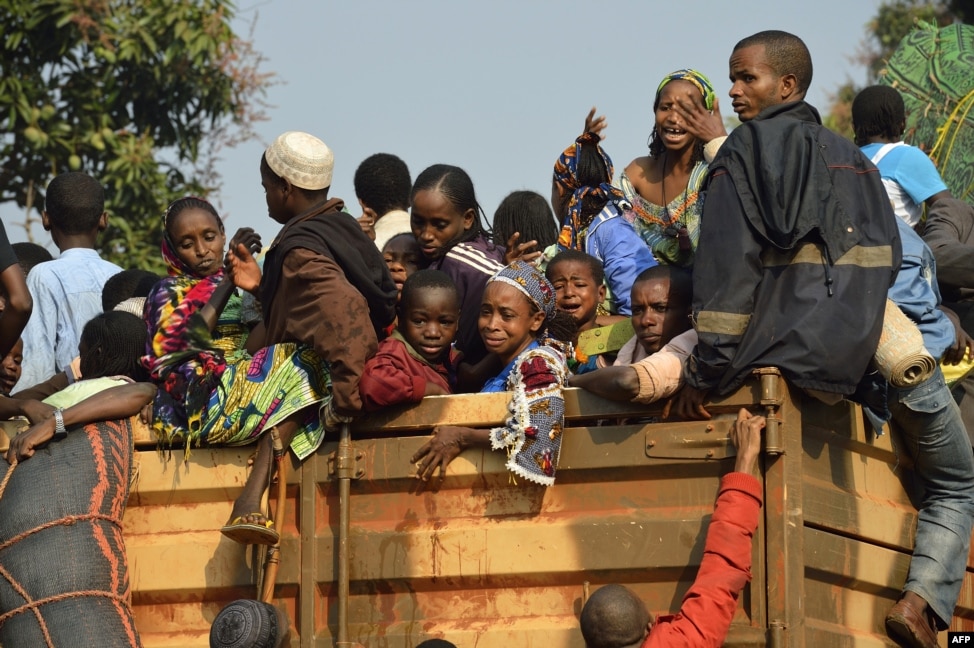 4 Chadian civilians sit on a Chadian military truck in the PK12 district of Bangui to flee the Central African Republic and return to Chad.
5 The Saudi Hawks Display Team performs at the Bahrain International Airshow in Sakhir, Bahrain.
6 A man pushes a cart carrying passengers' luggage outside a railway station in Guangzhou, Guangdong province, China, Jan. 15, 2014, during the 40-day Spring Festival travel rush.
7 The Colby fire, which has so far scorched 125 acres, burns in the hills above Glendora, California.
8 Cars are seen on top of each other after being hit by flood waters in Manado. At least 13 people were killed after overnight flash floods and landslides hit Indonesia's Sulawesi island, an official said.
9 Condensation droplets are seen on a window in Irsee, Germany.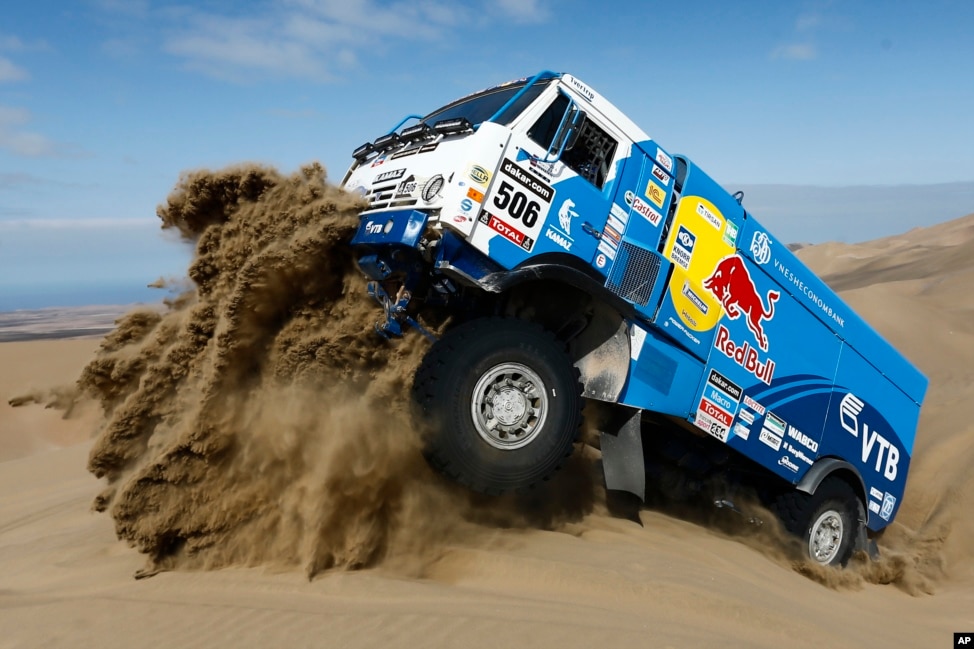 10 Driver Andrey Karginov and co-pilots Andrey Mokeev and Igor Devyatkin, all from Russia, ride their Kamaz truck up a dune during the tenth stage of the Dakar Rally between the cities of Iquique and Antofagasta, Chile, Jan. 15, 2014.
°F) and play was halted for just over fours on the outside courts but continued on the covered show courts.
12 Surfer Cole Clisby rides his surfboard off the top of a wave as the sun sets off the shores of Leucadia, California, Jan. 15, 2014.
13 Models walk with creations partially made of chocolate during Chocolate Fashion Show as part of Salon du Chocolate in Seoul, South Korea.
January 17, 2014
1 South Sudanese refugees line up for food at the Tzaipi refugee camp in Adjumani, 471 km (293 miles) north of Uganda's capital Kampala.
2 Pro-European integration supporters with taped mouths attend a rally against newly approved laws in Kyiv, Ukraine. Supporters of Ukrainian President Yanukovich rammed a sweeping law through parliament on Thursday in an attempt to curb anti-government protests.
3 A firefighter monitors the Colby Fire burning for a second day on a hillside above Highway 39 in Azusa, California. Three men have been arrested and charged with starting the fire that has now destroyed 1,700 acres of land and several homes in the San Gabriel Valley.
4 A man carrying his child runs away from tear gas during clashes between Egypt's security forces and supporters of ousted President Mohamed Morsi in Cairo. Morsi supporters held sporadic protests against this week's constitutional referendum.
5 An anti-government protester pulls a caricature of Thailand's Prime Minister Yingluck Shinawatra and her brother Thaksin as he rides during a rally in central Bangkok.
6 A dog takes part in a mass at San Anton Church in Madrid, Spain. Hundreds of pet owners bring their animals to the church to be blessed every year on the day of St. Anthony, the patron saint of animals.
7 A man sweeps volcanic ash from the roof of a house following an ash fall from the eruption of Mt. Sinabung in Sibintun, North Sumatra, Indonesia. The volcano has been erupting since September, forcing more than 20,000 people who live around its slopes to flee their homes to several temporary shelters.
8 A Hindu devotee's tongue is pierced before making his way towards the Hill Top Murugan temple during the colorful annual Thaipusam festival, one of the world's most extreme displays of religious devotion, in Georgetown on the Malaysian island of Penang.
9 Orthodox Christians touch the shrine with the Gifts of the Magi relic displayed at a church in Minsk, Belarus.
10 A dog sits at a closed "sari-sari" store (local convenience shop) along a flooded road in Butuan city on the southern Philippine island of Mindanao. The death toll from the floods and landslides caused by a lingering low-pressure area climbed to 34 on Friday, while more than 300,000 people are displaced.
11 Austria's Janine Flock jumps on her skeleton during her first run in the women's Skeleton World Cup race in Innsbruck, Austria.
12 Pedestrians walk past the "Computeriada" snow sculpture created by the "Latvia Team" from Pavilosta, during "The Magical Ice of the Siberia" festival on the bank of the Yenisei River in Krasnoyarsk, Russia. More than 20 teams of ice and snow sculptors representing the U.S., China, Japan, Latvia and Russia are taking part in a five-day-long competition.
13 A child cools off in a public pool in Soweto. The weather service has classified the current heat wave being experienced by parts of South Africa as "extreme", and has warned that it is set to persist until Sunday.
14 A dogsled team pulls passengers on a scenic ride across Mirror Lake, in Lake Placid, New York.
January 19, 2014
1 Opposition leader and former WBC heavyweight boxing champion Vitali Klitschko, center, is attacked and sprayed with a fire extinguisher as he tries to stop the clashes between police and protesters in central Kyiv, Ukraine.
2 Syrian opposition fighters fire at planes of government forces flying overhead in the northern city of Aleppo.
3 Protesters march to Agos newspaper office during a demonstration to mark the seventh anniversary of the killing of Turkish-Armenian journalist Hrant Dink in Istanbul, Turkey.
4 An anti-government protester hugs a Thai soldier, after some of the police personnel stationed in the Government house left the place following an agreement between the army and protesters, in Bangkok, Thailand.
5 People queue to take a dip in the icy waters of the Istra River during Orthodox Epiphany celebrations in the town of Istra in the Moscow Region.
6 From left, Aaron Paul, Anna Gunn and Bryan Cranston pose in the press room with their awards for outstanding performance by an ensemble in a drama series for "Breaking Bad" at the 20th annual Screen Actors Guild Awards at the Shrine Auditorium, Los Angeles, California, Jan. 18, 2014.
7 Seagulls stay ashore as strong winds batter the west coast fishing village of Nazare, Portugal, Jan. 18 2014.
8 Christian people crowd a taxi on a road 55km north of Bangui, Central African Republic, as they are on their way to the capital where they expect to sell some products on the market.
9 A dog named Caique wears a hat and shirt on Arpoador beach in Rio de Janeiro, Brazil, Jan. 18, 2014.
10 Flavia Pennetta of Italy bites the net in frustration during the fourth round match against Angelique Kerber of Germany at the Australian Open tennis championship in Melbourne, Australia.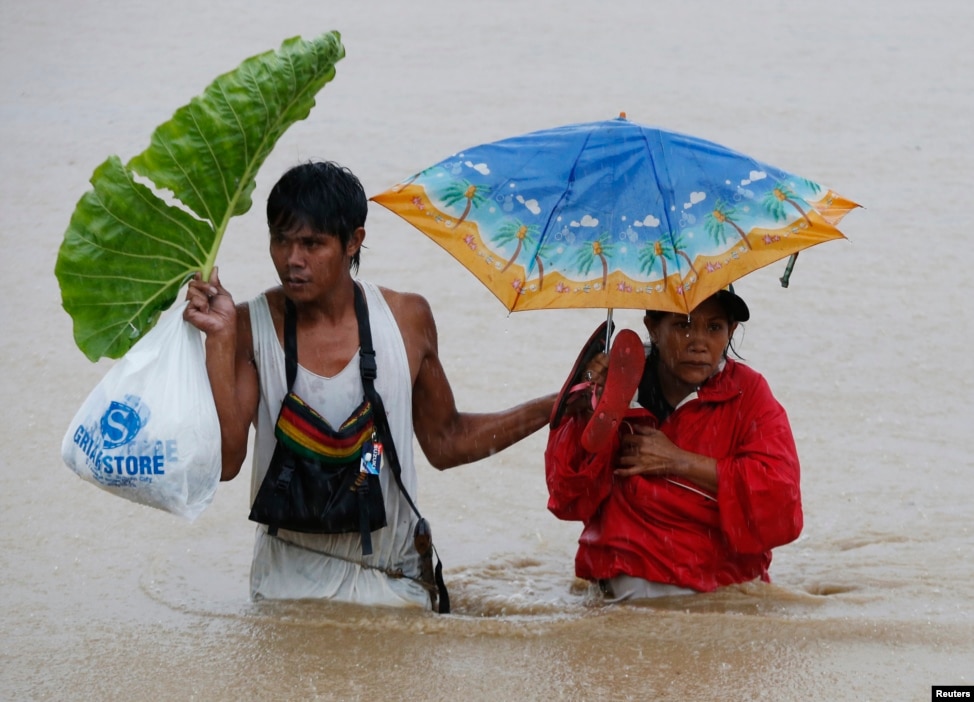 11 A couple wades through floodwaters brought by tropical depression "Agaton" in Kabadbaran, Agusan del Norte, in the southern Philippine island of Mindanao.
12 An artist performs during "The Parade of Light" show by German company "Helmnot", in Riga, Jan. 18, 2014.
January 20, 2014
1 Paramilitary policemen shout as they lift a log during a winter training session at a military base in Chaohu, Anhui province, China.
2 A Japanese Macaque (or Snow Monkey) soaks in a hot spring at a snow-covered valley in Yamanouchi town, central Japan.
3 A pro-European integration protester catches fire during clashes with police in Kyiv. Ukrainian President Viktor Yanukovich named a top aide to organize peace talks with the opposition after violent clashes between police and protesters in the capital, but the opposition warned him not to play for time.
4 A Sadhu, or Hindu holy man, sits on the banks of river Ganges with his prosthetic leg on a cold winter morning in the northern Indian city of Allahabad.
5 Sweat drips from Rafael Nadal of Spain's nose during a men's singles match against Kei Nishikori of Japan at the Australian Open 2014 tennis tournament in Melbourne.
6 Tamborilleros wearing their uniforms try to shelter from the rain, as they march in the traditional ' La Tamborrada', during 'El Dia Grande', the main day of San Sebastian feasts, in the Basque city of San Sebastian, northern Spain.
7 A relative of the former worker of the Ingenio San Antonio fires a homemade mortar during protests in Chichigalpa, Nicaragua, Jan. 19, 2014. The former sugarcane cutters were demanding compensation for damages to their health resulting from alleged exposure to agrochemicals and pesticides when the protest turned violent.
°F) in Vilnius, Lithuania.
9 Mount Sinabung spews lava and gas during its eruption as seen from Jeraya, North Sumatra, Indonesia. The volcano has been erupting since September, forcing more than 20,000 people who live around its slopes to flee their homes to several temporary shelters.
10 Motor boats sunk in the port of La Londe Les Maures, near Toulon, southern France after unusually heavy rains flooded the French Riviera, leaving two people dead and some thousands without electricity or access to roads.
11 Workers secure a giant eagle sculpture after it fell from the roof inside the airport building in Wellington, New Zealand, after a 6.3-magnitude earthquake.
12 People visit Alley of Martyrs, a cemetery and memorial dedicated to those killed by Soviet troops during the 1990 Black January crackdown, in Baku, the capital of Azerbaijan.
13 Vincent Gray (C), mayor of Washington, D.C., takes part in a wreath laying ceremony to celebrate the birthday of civil rights leader Martin Luther King, Jr. at the King Memorial in Washington.
14 Flood victims are evacuated from heavy flooding brought by tropical depression "Agaton", in Butuan, in the southern Philippine island of Mindanao.
15 The first full moon of 2014 seen in Orange, California on Jan. 16, 2014 (Photo taken by Vu Ngoc Linh/VOA reader)
January 21, 2014
1 A pedestrian walks through a snow storm, in south Philadelphia, Pennsylvania, USA. The National Weather Service said the storm could bring 8 to 12 inches of snow to Philadelphia and New York City, and more than a foot in Boston.
2 A pedestrian fights off the snow and wind with an umbrella during a winter storm in downtown Washington, D.C. (Photo taken by Dimitris Manis/VOA Greek Service)
3 Cars burn following an explosion in the Haret Hreik area in the southern suburbs of the Lebanese capital Beirut. A suicide bomber killed four people in a residential neighborhood of southern Beirut known for its support of Shi'ite military and political group Hezbollah, security sources said.
4 Sadhus - Hindu holy men - stand on the banks of river Ganges next to a pontoon bridge in the northern Indian city of Allahabad.
5 Syrians help an injured child following an alleged airstrike by government forces near a school in the northern city of Aleppo.
6 A man tries to retrieve items after a fire in a cotton warehouse in Dhaka, Bangladesh.
7 A worker inspects the Christ the Redeemer statue which was damaged during lightning storms in Rio de Janeiro, Brazil. Lightning strikes on Jan. 17, 2014, damaged the iconic figure's head and its right hand when a powerful electric storm swept through the city emitting more than 40,000 lightning strikes throughout the state of Rio de Janeiro.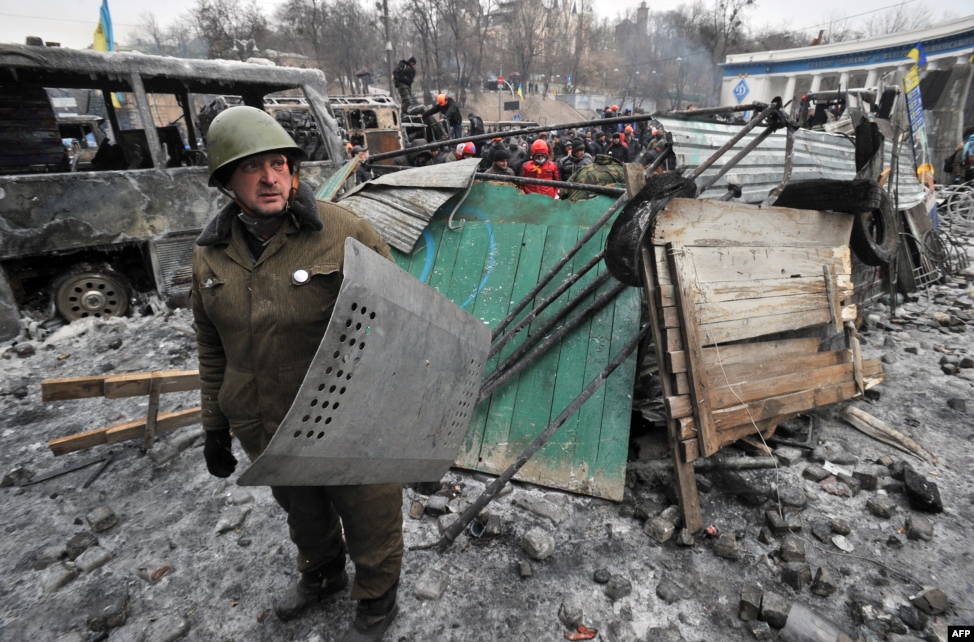 8 A protester holds a riot police shield in front of barricade after violent clashes in central Kyiv, Ukraine.
9 Villagers run on ash during the eruption of Mount Sinabung volcano near Gamber village in Karo district, in Indonesia's North Sumatra province.
10 An anti-government protester has Buddhist amulets around his neck as he takes part in a rally, in Bangkok, Thailand.
11 A model presents a creation by Stephane Rolland during the Haute Couture Spring-Summer 2014 collection show in Paris, France.
January 22, 2014
1 A pro-European protester throws a burning tire during clashes with riot policemen in Kyiv. The European Union threatened to take action against Ukraine over its handling of anti-government protests after three people died during violent clashes in the capital.
2 Schoolchildren travel to their school in a rickshaw on a cold morning in the old quarter of Delhi, India.
3 A Northern Cardinal sits on a tree branch in falling snow in the New York City suburb of Nyack, New York, Jan. 21, 2014. A fast-moving winter storm was forecast to dump as much as a foot of snow on the northeastern United States with winter storm warnings and advisories issued from the central Appalachian Mountains north to southern New England.
4 Children sled in a snow-covered park during a snow storm in Crystal City, Arlington, Virginia, Jan. 21, 2014. (Photo taken by Dimitris Mantis/VOA Greek Service)
5 Seagulls sit on ice in the pool outside the U.S. Capitol Hill in Washington, D.C., as post-snowstorm freezing weather continues. (Photo taken by Diaa Bekheet/VOA)
6 Roger Federer of Switzerland signs autographs for fans after defeating Andy Murray of Britain in the quarterfinal at the Australian Open tennis championship in Melbourne.
7 A tractor disperses food for cranes at the Hula Lake Ornithology and Nature Park in northern Israel.
8 A boat paddle is seen on the bottom of the nearly dry Almaden Reservoir near San Jose, California, USA, Jan. 21, 2014. California Governor Jerry Brown last week declared a drought emergency.
9 A model presents a creation of French fashion house Maison Martin Margiela as part of its Haute Couture Spring/Summer 2014 fashion show in Paris.
10 Traditional dancers from Uttrakhand state wait to perform during a press preview of the forthcoming Republic Day parade in New Delhi, India.
January 23, 2014
1 Flamingos stand in the flamingo pool, home to both the Caribbean and Chilean flamingos, at the Jurong Bird Park in Singapore.
2 People enjoy the day at a ski hill prepared with artificial snow in Ruhpolding, southern Germany. Temperatures in southern Germany, are unusually high.
3 A Pakistani health worker gives a polio vaccine to a child in the slums of Lahore. Militants oppose vaccination against polio and consider such campaigns a cover for spying and also claim the vaccine is intended to make Muslim boys sterile.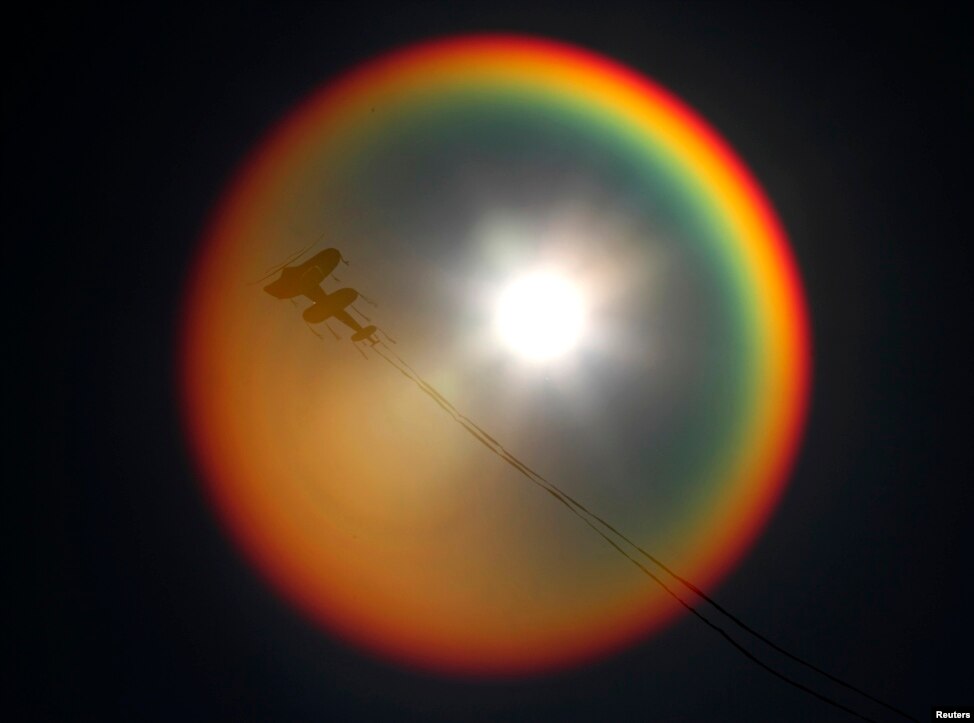 4 A kite during the annual Khmer kite flying festival in central Phnom Penh, Cambodia
5 Argentine President Cristina Fernandez de Kirchner (top C) waves to supporters during a rally at the Government House in Buenos Aires, Jan. 22, 2014.
6 An ornithologist catches a swan on lake Drozdy near the Belarus capital Minsk to ring the bird for its future identification.
7 Indian Army soldiers march during the full dress rehearsal for the Republic Day parade in New Delhi.
8 A firefighter walks past the Residence du Havre after a fire in L'Isle Verte, Quebec. At least three people died and 30 were missing after a fire ripped through the residence for the elderly in the Eastern Canadian province of Quebec overnight, police said.
9 Photographers shoot the men's singles semi-final match between Tomas Berdych (R) of the Czech Republic and Stanislas Wawrinka of Switzerland at the Australian Open 2014 tennis tournament in Melbourne.
10 Models present creations of the Viktor and Rolf as part of Spring-Summer 2014 Haute Couture fashion collection, in Paris, France, Jan. 22, 2014.
11 A street musician plays the flute as he sits on top of a tree in the central pedestrian Ben Yehuda street in Jerusalem.
January 24, 2014
1 A woman kneels as she appeals to Ukrainian police troops at the site of clashes with anti-government protesters in Kyiv. Protesters erected more street barricades and occupied a government ministry building on Friday after the failure of crisis talks.
2 Young boys mourn during the funeral of Bilal Samir Oweida, a 20-year-old Palestinian, in Beit Lahia, northern Gaza Strip. Oweida was "shot in the chest by Israeli soldiers" east of Jabaliya according to a spokesman for the Hamas-run health ministry. Israeli forces said Oweida had entered "a prohibited area".
3 A Thai anti-government protester waves a national flag during ongoing rallies at a protest site at Victory Monument in downtown Bangkok. A court threw the decision on whether to delay an election due to deadly unrest back to the government and election commission, leaving the controversial vote mired in uncertainty.
4 An Egyptian man stands in rubble after an explosion at the Egyptian police headquarters in downtown Cairo. Three bombings hit high-profile areas around Cairo on Friday, including a suicide car bomber who struck the city's police headquarters.
5 People ride their motorcycles through a flooded street in Jakarta, Indonesia. Torrential rains in recent days have increased the number of flooded areas, causing 64,000 people to be displaced from their homes.
6 Women hold posters of Ugur Mumcu, Turkey's best-known investigative journalist, who was killed in 1993, and one of Ali Ismail Korkmaz, a Turkish student killed during last summer's protests, as thousands of people gathered to commemorate the anniversary of Mumcu's death in Ankara. Banner in the background reads: " We are living days without Ugur (which also means luck)."
7 Children play with bubble toy guns under Chinese lunar New Year decorations at a park in Beijing. According to the Chinese lunar calendar, the New Year, which welcomes the Year of the Horse, falls on January 31.
8 An Iranian woman makes a snowwoman in a competition in Dizin north of the capital Tehran, Iran. Some 600 Iranians participated in a snow festival organized by Iran's ski federation at the Dizin ski resort.
9 A member of the Andhra Pradesh State Police gets her headgear adjusted as she and others prepare for a full dress rehearsal for the Indian Republic Day parade in Secunderabad, the twin city of Hyderabad. India will celebrate its 65th Republic Day on Jan. 26.
10 A boy watches on as devotees take part in Friday prayers during the Biswa Ijtema in Dhaka, Bangladesh. Thousands of Muslims joined the first phase of the Bishwa Ijtema (World Congregation), the second biggest gathering of Muslims after the Haj.
11 Members of a workers union sound off with horns during a protest in Belgrade, Serbia. Some 3,000 workers have rallied against a set of laws that government officials say are key to anti-crisis reform, but which could lead to further job losses in the impoverished Balkan country.
12 Twins Edgar (L) and Gabriel pose for photographers between Vincent van Gogh's paintings Sunflowers,1888 (L) and Sunflowers, 1889 at the National Gallery in London. The two paintings have been reunited in London for the first time in 65 years and will be on display for three months from Jan. 25.
13 A man rides his bike on the beachfront of the Promenade des Anglais, on a sunny winter day in Nice, France.
14 A woman crochets as she sells wool in Ahmadabad, India.
15 A newly born giraffe explores its surroundings next to its mother, Gusti, in the Leipzig Zoo in Germany. The giraffe was born on Jan. 18, 2014 and is the first offspring of a Rothshild's giraffe in the zoo.
January 25, 2014
1 Hundreds of supporters wait for a glimpse of anti-government protest leader Suthep Thaugsuban during a march through central Bangkok, Thailand.
2 Sunderland's El-Hadji Ba, bottom, vies for the ball with Kidderminster Harriers' Jack Dyer, left, and captain Kyle Storer, right, during their English FA Cup fourth round soccer match at the Stadium of Light, Sunderland, England.
3 People walk past golden horse statues on display in front of a hotel in Kuala Lumpur, Malaysia.
4 Protesters stand behind the barricade in front of riot police in central Kiev, Ukraine.
5 India's Border Security Force (BSF) soldiers ride their camels during a rehearsal for the 'Beating the Retreat' ceremony in New Delhi, India, Jan. 24, 2014.
6 People visit the Chitose-Lake Shikotsu Ice Festival illuminated by colorful light to produce a fantastic world in Chitose, Japan, Jan. 24, 2014.
7 An Egyptian woman wears a mask of Egypt's Defense Minister Gen. Abdel-Fattah el-Sissi in Tahrir Square, in Cairo, Egypt.
8 A child looks at frozen fish displayed in the ice at the Chitose-Lake Shikotsu Ice Festival in Chitose, Japan, Jan. 24, 2014. The annual ice festival will be held until February 16.
9 Supporters of Egypt's army and police gather at Tahrir square in Cairo, on the third anniversary of Egypt's uprising.
January 27, 2014
1 Mam Sonando (C), owner of the independent Beehive radio station and prominent government critic, and other activists, run as military police officers (R) disperse the crowd during a protest in Phnom Penh, Cambodia.
2 United Nations Secretary-General Ban Ki-moon, gets a haircut in a barbershop in Old Havana, Cuba. Ban, as well as leaders from Latin America and the Caribbean, are arriving in Havana to participate in the Community of Latin American and Caribbean States, or CELAC summit.
3 Members of Israeli parliament, the Knesset, attend a ceremony to mark the 69th anniversary of the liberation of the Auschwitz death camp in Oswiecim, Poland. The Nazis killed some 1.5 million people, mostly Jews, at the camp during World War II.
4 A Thai policeman, right, is handed a flower from an anti-government protester during a police force rotation at the government house in Bangkok, Thailand.
5 A protester guards the barricade in front of riot police in Kyiv, Ukraine.
6 Tents are set up for the participants in the Campus Party Brazil, a technological event in Anhembi, a northern zone of Sao Paulo. About 160,000 visitors are expected to attend the event that runs from Jan.27 to Feb. 2.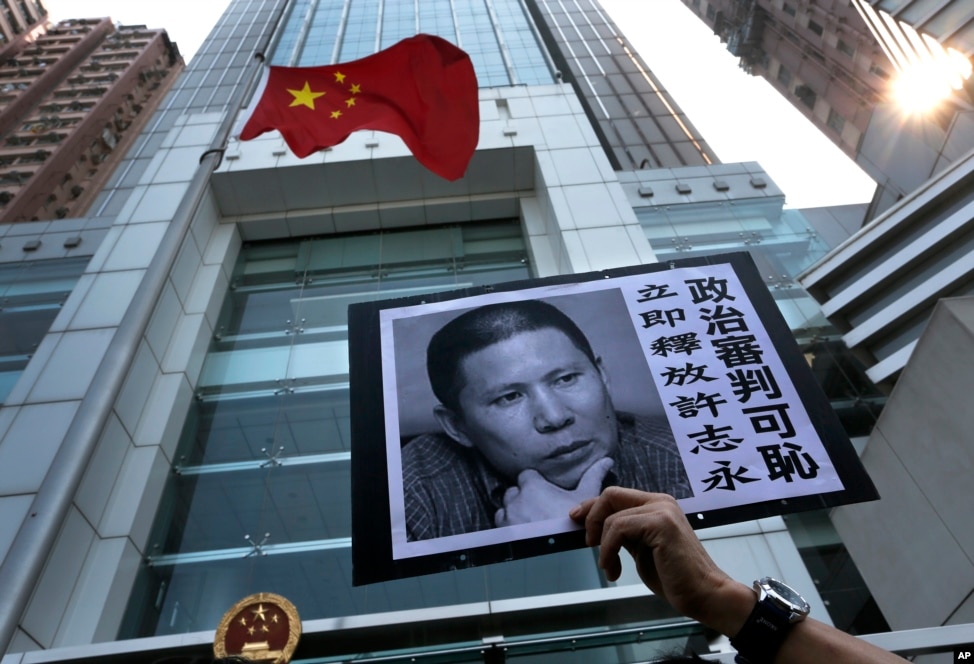 7 A placard with a photo of legal scholar Xu Zhiyong is raised by a demonstrator protesting against a Chinese court's decision to sentence him to prison, outside the Chinese liaison office in Hong Kong. Xu was sentenced Sunday to four years in prison on the charge of disturbing order in public places.
8 WWII-era Soviet T-34 tanks drive during a parade marking the 70th anniversary of the battle that lifted the Siege of Leningrad in St.Petersburg, Russia. More than one million people died, mainly from starvation, during the 900-day siege.
9 Joaldunak, also caled ''Zanpantzar,'' prepare to take part in the Carnival of the Pyrenees village of Ituren, northern Spain. In one of the most ancient carnivals in Europe, dating from before the Roman empire, groups of Joaldunak (cowbells) involving the residents of two towns, Ituren and Zubieta, parade the streets in costume.
10 Ice forms as waves crash along the Lake Michigan shore in Chicago, Illinois. Below-zero high temperatures have returned to many parts of the Midwest bringing with it wind chills ranging from the negative teens to 40s.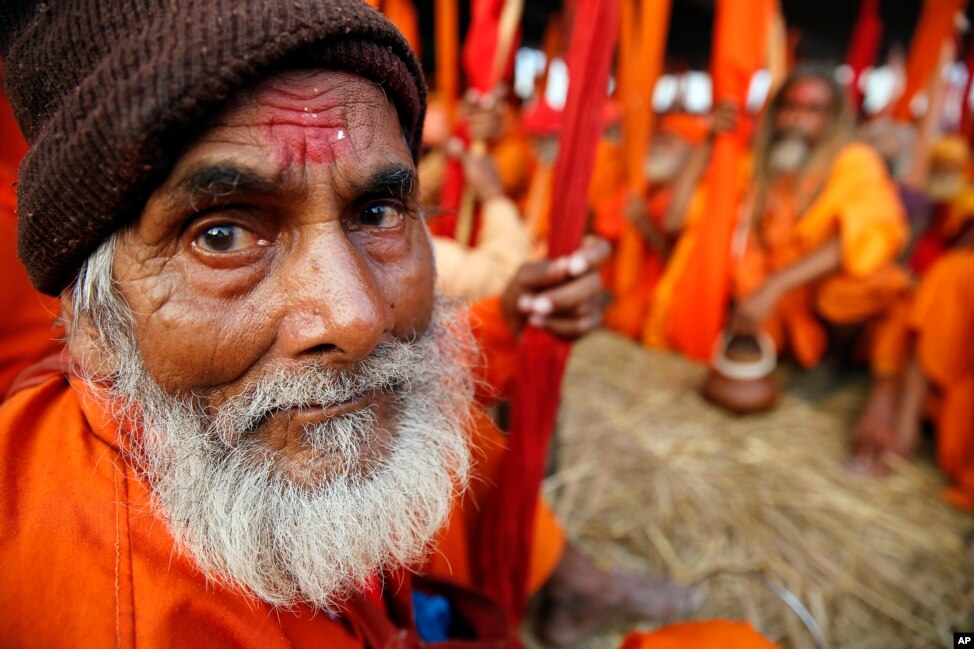 11 Indian Sadhus, or Hindu holy man participate in a community feast at Sangam, the confluence of the Rivers Ganges, Yamuna and mythical Saraswati river during the annual month-long Hindu religious fair of Magh Mela in Allahabad, India.
12 Sailors prepare their Lasers for racing in the ISAF Sailing World Cup Miami in Miami, Florida. The world's top Olympic and Paralympic class competitors are racing on Biscayne Bay Jan. 27-Feb. 1 with hopes of qualifying for the 2016 Olympic and Paralympic games.
13 The Olympic torch is tested before the start of the 2014 Winter Olympics in the Olympic Park in Sochi, Russia. The Bolshoi Ice Dome is the background.
14 A surfer rides a wave at Costa da Caparica beach in Almada, outside Lisbon. Portugal is popular with bodyboarders and surfers, especially during the winter months when big swells hit its Atlantic coast.
15 People take pictures and lay on the grass during sunset in the suburbs of Madrid, Spain.
January 28, 2014
1 A Lebanese man walks past sand barriers that were set in front of a jewelry shop in a Shi'ite neighborhood in a southern suburb of Beirut. After a wave of car bomb attacks on Hezbollah's stronghold south of Beirut that left scores of people dead or wounded over the past three months, shop owners scared of more bombs have set up sand barriers in front of their shops to reduce damage.
2 Commuters brave the cold weather while walking the streets of Chicago, Illinois, January 28, 2014.
3 A "sun dog" atmospheric phenomenon appears over a farm in southern Minnesota. Chicago, Minneapolis and other parts of the upper Midwest will have two consecutive days of subzero highs on Monday and Tuesday, according to forecasters.
4 A crescent moon and Venus (L) rise in the pre-dawn hours over the east side of Manhattan in New York.
5 Health workers in full protective gear bag chickens, suffocated by using carbon dioxide at a wholesale poultry market in Hong Kong. Authorities began culling 20,000 birds at a wholesale market after poultry from southern mainland China tested positive for the H7N9 virus, the first time it had been found in imported poultry in Hong Kong.
6 A workman climbs up the roof of the Bolshoy Ice Dome as preparations continue at the Olympic Park for the Sochi 2014 Winter Olympics in Russia. The Bolshoy Ice Dome will host the Olympic ice hockey competition.
7 A man watches a heart of roses at IPM, one of the world's leading horticultural trade fair in Essen, Germany.
8 Huge waves crash on the San Esteban de Pravia seafront in the northern Spanish region of Asturias.
9 A worker jumps over a taxi crushed by a pedestrian bridge after a dump truck hit the bridge on the Linha Amarela expressway in Rio de Janeiro, Brazil. According to local media, the accident left at least five dead and four wounded.
10 Soldiers shovel the snow in front of a house after heavy snowfall in Vadu Pasii village, 120 km (75 miles) northeast of Bucharest. A powerful snowstorm hit southern Romania over the weekend causing traffic and heating problems in the Balkan country.
11 Participants dressed as Vikings prepare to participate in the annual Up Helly Aa festival in Lerwick, Shetland Islands, northeast of Britain. Up Helly Aa celebrates the influence of the Scandinavian Vikings in the Shetland Islands and culminates with up to 1,000 'guizers' (men in costume) throwing flaming torches into their Viking longboat and setting it alight later in the evening.
12 Tourists take a picture in front of a giant dragon lantern during a lantern festival in Shenyang, Liaoning Province, China.
January 29, 2014
1 An anti-government protester throws a stone at riot police amid teargas fired by the police during clashes in the village of Diraz, west of Manama, Bahrain. Protests following the death of 20-year-old Fadhel Abbas threatened to sour a new attempt to restart negotiations between Bahrain's government, led by the ruling al-Khalifa family, and opposition groups.
2 A man walks at Fo Guang Shan Dong Zen Buddhist Temple decorated for the Chinese New Year in Jenjarom, outside Kuala Lumpur, Malaysia.
3 Fireworks explode in the skyline of the city during Chinese New Year celebrations at the Marina Bay in Singapore.
4 Traffic moves south on I-75 past a hill covered with ice in Covington, Kentucky, USA, where temperatures remain in single digits.
5 People rest in the aisle of a Publix grocery store after being stranded due to a snow storm in Atlanta, Georgia.
6 Abandoned cars on I-75 headed northbound near the Chattahoochee River overpass are piled up in the median of the ice-covered interstate after a winter snow storm in Atlanta, Georgia, USA. Georgia Gov. Nathan Deal said that the National Guard was sending military Humvees onto Atlanta's snarled freeway system in an attempt to move stranded school buses and get food and water to people.
7 A metro train is seen running on a bridge over the frozen Potomac River in Arlington, Virginia. (Photo taken by Dimitris Manis/VOA Greek Service)
8 Seattle Seahawks-themed marijuana cupcakes are displayed at the Queen Anne Cannabis Club in Seattle, Washington, USA, Jan. 28, 2014.
9 Cemetery worker Mohammad Udin has his hair cut by a mobile barber as the flooded cemetery complex is pictured in the background in Jakarta, Indonesia.
10 A mother holds her child while attempting to take cover as repeated gun shots are heard close to Miskine district during continuing sectarian violence in the capital Bangui, Central African Republic, Jan. 28, 2014.
11 The main fountain gushes out during a test next to the Olympic flame before the start of the 2014 Winter Olympics in Sochi, Russia.
12 A priest and a nun walk by a large drawing of Pope Francis that depicts him as a superhero on a wall near the Vatican.
13 A 90-year-old Thai woman uses a pair of traditional metal cutters to slice open an areca nut that she will then chew mixed with betel leaf and lime paste to form a mild stimulant. (Photo taken by Matthew Richards/Thailand/VOA reader)
14 Belgium's King Philippe (back C) delivers a speech during a traditional new year reception for international institutions' representatives, government members and business leaders at the Brussels Royal Palace.
15 Patrons of the New York City Ballet stand on a massive photograph on linoleum flooring that features more than 80 dancers arranged in an array of poses, at the David H. Koch Theater at Lincoln Center, in New York, Jan. 28, 2014.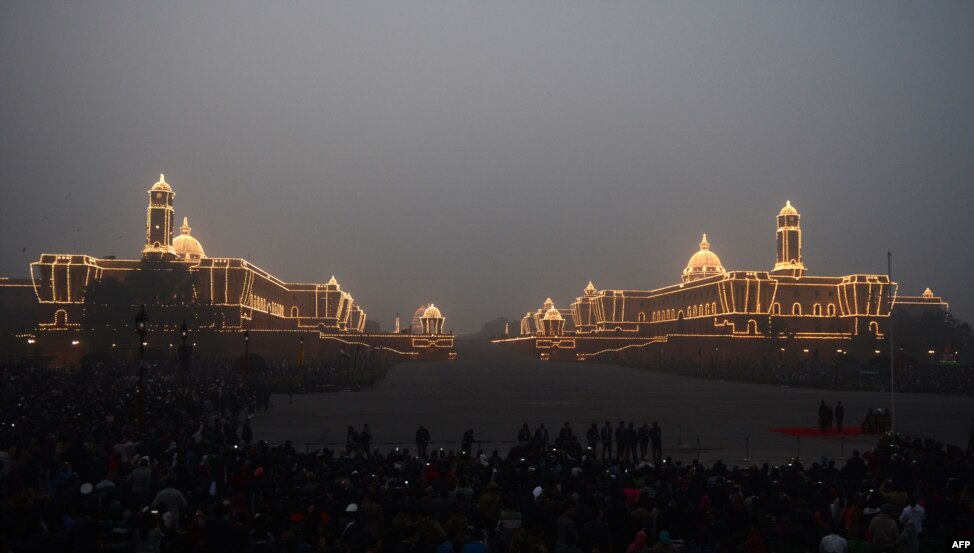 16 The Central Secretariat and Parliament buildings are illuminated during the Beating Retreat Ceremony at Vijay Chowk in New Delhi, India. The ceremony is a culmination of Republic Day celebrations, and dates back to the days when troops disengaged themselves from battle at sunset.
17 Two cross-country skiers make their way past snow-covered trees on the Rennsteig hiking trail near Masserberg, eastern Germany.
January 30, 2014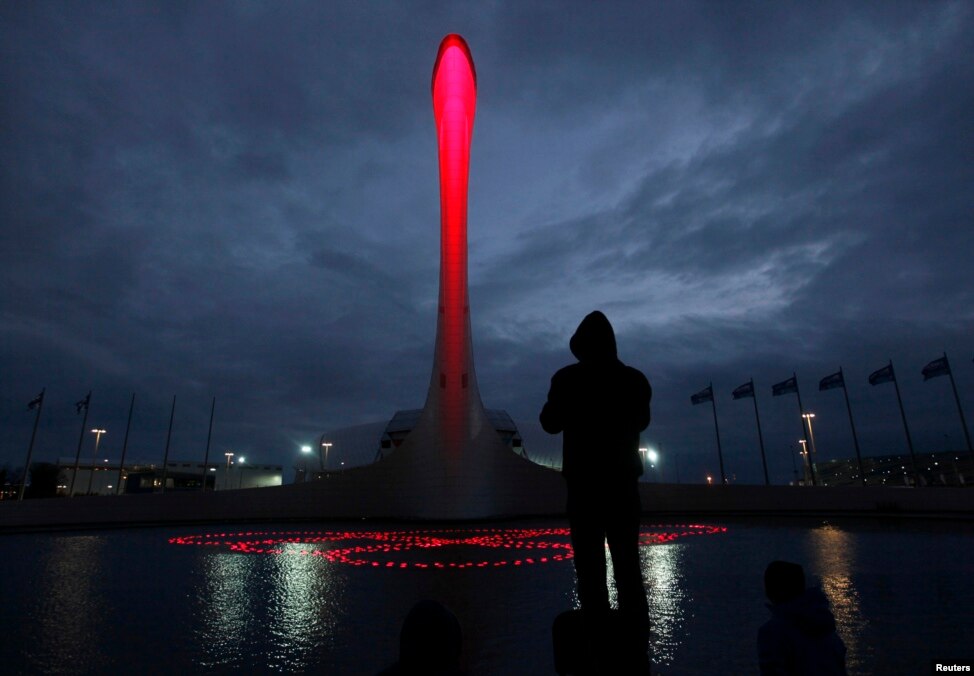 1 A lighting technician watches the rings form in a fountain at the base of the Olympic cauldron as preparations continue at the Olympic Park for the Sochi 2014 Winter Olympics in Russia.
2 Children are engulfed in dust as a convoy of escorted taxis carrying Muslims, fleeing the continuing sectarian violence, arrives at a temporary internally displaced person (IDP) camp at the airport of the capital Bangui, Central African Republic.
3 Indian Bohra Muslims take part in a gathering to endorse their solidarity to their new spiritual leader Syedna Mufaddal Saifuddin in Mumbai. Syedna Mufaddal Saifuddin now leads the community following the death of Syedna Mohammed Burhanuddin, who passed away in Mumbai on January 17 at the age of 102.
4 A man shows the way to two Syrian women as they leave a building following an alleged air strike by government forces in the northern Syrian city of Aleppo.
5 Tents of anti-government protesters are seen at Independence Square with the air temperatures around -19°C (- 2°F) in central Kyiv, Ukraine. Lawmakers loyal to President Viktor Yanukovych offered an amnesty to people detained in the wave of anti-government protests but only on condition that activists vacate occupied buildings in Kyiv and other parts of the country.
6 Lanterns are hung in a Chinese temple ahead of Chinese New Year celebrations in Kuala Lumpur, Malaysia.
7 A man pulls ribbons from his mouth as he performs a feat of his strength during the opening of the temple fair for Chinese New Year celebrations at Ditan Park, also known as the Temple of Earth, in Beijing, China.
8 People rush to plant the first joss stick of the Chinese New Year at the stroke of midnight at a temple in Singapore.
9 Nepalese Hindu devotees wait to fill pots with water from the Bagmati River at the Pashupatinath Temple during the month-long Swasthani festival in Kathmandu. Scores of married and unmarried women in the Himalayan nation are marking the month-long fast in the hope of a prosperous life and conjugal happiness.
10 Emergency service personnel rescue local residents from the village of Muchelney on the Somerset Levels, near Langport in south west England. Surrounded by flood water, Muchelney has only been accessible by boat for several weeks.
11 Pop singer Justin Bieber arrives at a police station in Toronto, Canada, Jan. 29, 2014. Bieber was mobbed by screaming fans and journalists as he entered a Toronto police station on Wednesday following reports he will be charged with assault over an incident in the city in December.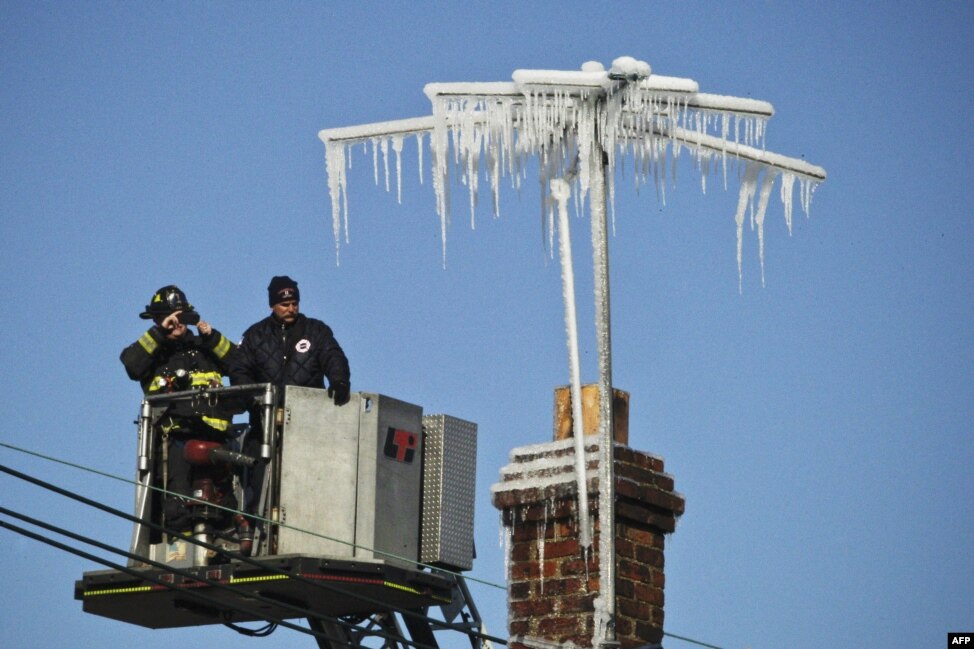 12 Antennae are covered in ice after firefighters battled a five alarm fire on South Broad Street near Summer Street in Elizabeth, New Jersey, USA. The fire destroyed six businesses. No serious injuries were reported.
January 31, 2014
1 Indonesian performers dressed as mermaids wearing traditional Chinese cheongsam dress and a lion perform underwater in a special program celebrating the Lunar New Year at Jakarta's Ancol park, Indonesia.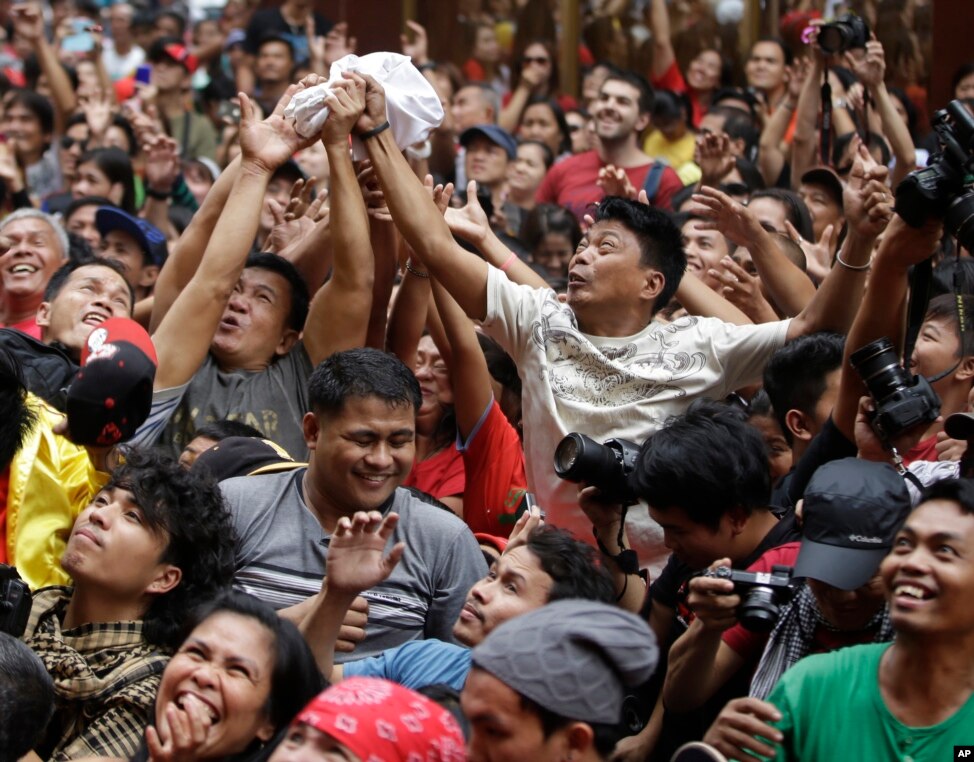 2 Revelers try to catch envelopes containing cash and other items being given away following a dragon and lion performances in front of a grocery store in Manila's Chinatown district of Binondo, Philippines, in celebration of Chinese New Year.
3 Dancers perform a fire dragon dance in the shower of molten iron spewing firework-like sparks during a folk art performance at the Happy Valley amusement park in Beijing, China, to celebrate the traditional Chinese Spring Festival on the first day of the Chinese Lunar New Year, which welcomes the Year of the Horse.
4 A laborer works on the scaffoldings of a flyover under construction in Lahore, Pakistan.
5 An Israeli soldier shouts as he holds his weapon in front of Palestinians during clashes in Jalazoun refugee camp near the West Bank city of Ramallah. Clashes broke between stone-throwing protesters and Israeli soldiers, two days after Muhammad Mubarak, 21, a resident of the refugee camp was killed by Israeli soldiers who said he had opened fire on their position near a Jewish settlement in the occupied West Bank.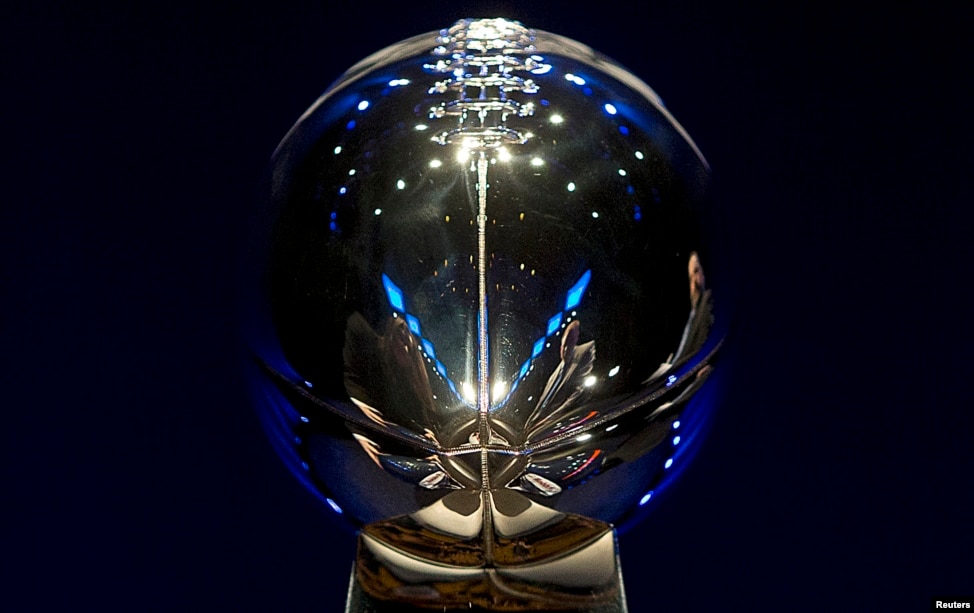 6 The Vince Lombardi trophy sits on a table before the coaches' news conference ahead of the Super Bowl, in New York.
7 Actress Helen Mirren holds the Hasty Pudding Pot and sticks her tongue out as she is honorned as Hasty Pudding Theatricals 2014 Woman of the Year at Harvard University in Cambridge, Massachusetts, Jan. 30, 2014.
8 A worker of SABESP, a Brazilian enterprise of Sao Paulo state, that provides water and sewage services to residential, commercial and industrial areas, walks through a dry Jaguary dam as a result of a long drought period that hit the state in Braganca Paulista, 100 km from Sao Paulo. The heat plus a severe drought has fanned fears of water shortages, crop damage, and higher electricity bills that could drag down the economy during an election year for President Dilma Rousseff.
9 Thousands of motorcyclists drive during a protest against a measure to combat insecurity in Caracas, Venezula. Authorities imposed a night ban in a bid to curb crimes. Officials in Caracas and other areas made it illegal to ride a motorcycle after 9pm.
10 A Somali man, with his face covered in sand, enjoys a day out at Lido beach in Mogadishu, Somalia. (Photo released by the African Union-United Nations Information Support Team)
11 A fox strolls past the National Gallery of Art on the National Mall in Washington, D.C., Jan, 30, 2014. Foxes can be found in and around the city's Rock Creek Park but are not frequently seen in more densely populated areas of the U.S. capital.
12 Members of the German speedskating team practice at the Adler Arena on the Olympic Park as preparations continue for the Sochi 2014 Winter Olympics in Russia.