December 01, 2013
1 Indian village women line up outside a polling station to cast their votes during Rajasthan state assembly elections at Devnagar village near Ajmer.
2 An anti-government protester runs through a cloud of tear gas during clashes with police near the Government House in Bangkok, Thailand. Police fired several rounds of tear gas near Government House, after a chaotic night of street fighting elsewhere in the capital during which two people were killed and at least 45 wounded.
3 Motorcycles that were seized at the police headquaters in Sana'a, Yemen, after their owners violated a 15-day ban on motorcycles. Yemen began enforcing a temporary ban on motorbikes in the capital to prevent "shoot and scoot" attacks as al-Qaida suspects on a motorbike elsewhere killed an army officer.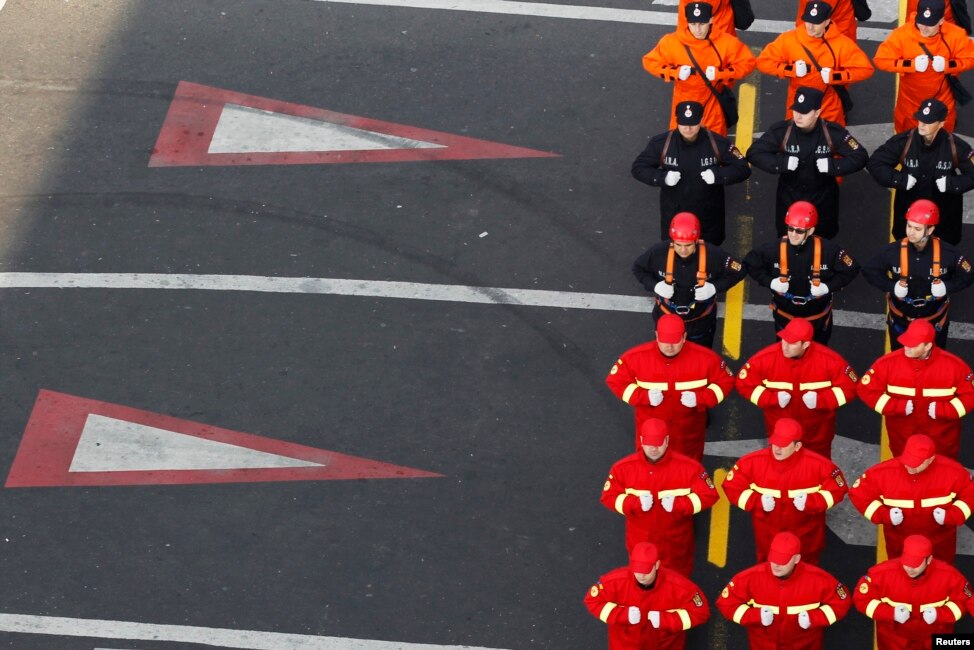 4 Romanian troops march under the Arch of Triumph during a military parade to celebrate the country's National Day in Bucharest.
5 A soldier rides on an armored personnel carrier (APC) at Tahrir Square after clashes with pro-Morsi protesters in Cairo. Egyptian security forces fired tear gas to disperse protesters, witnesses said.
6 Scottish Fire and Rescue services examine a section of a police helicopter after crashing into the Clutha Bar in Glasgow, Scotland. Emergency workers sifted through wreckage for survivors from the crowded pub that killed at least eight people and injured more than two dozen.
7 A fisherman lays fish fillet out to sun dry at the Panyimur landing site on the shores of Lake Albert, some 398 km (247 miles) north of Uganda's capital Kampala, Nov. 30, 2013.
8 Protesters throw stones as they clash with police at the presidential office in Kyiv, Ukraine. As many as 100,000 demonstrators chased away police to rally in the center of the capital, defying a ban on protests in Independence Square, in the biggest show of anger over the president's refusal to sign an agreement with the European Union.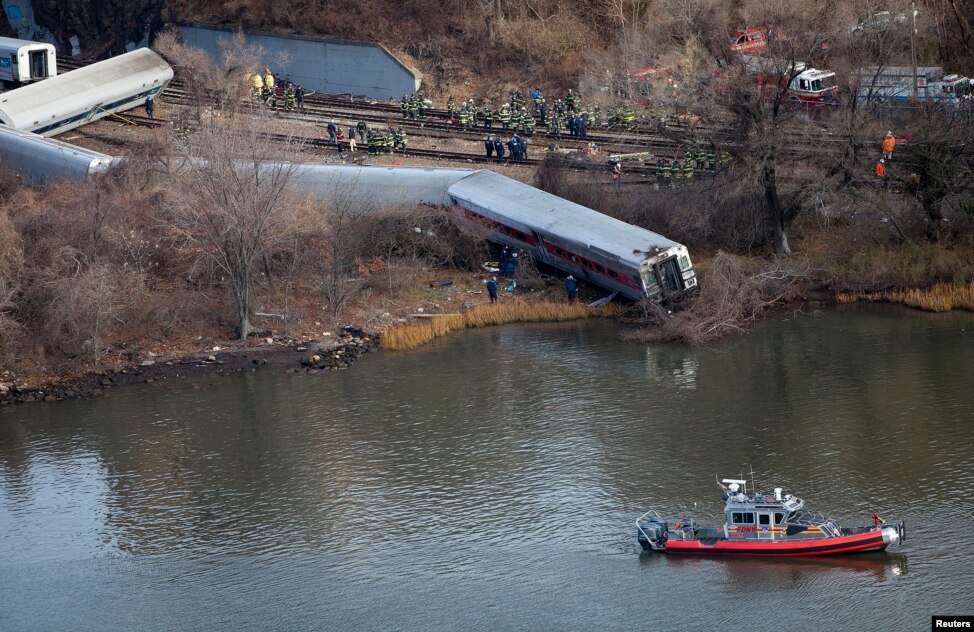 9 Emergency workers gather at the site of a Metro-North train derailment in the Bronx borough of New York. At least four people were killed and 63 injured, including 11 critically, when the suburban train derailed, with at least five cars from the Metro-North train sliding off the tracks, officials said.
10 Bakers Dirk Willkomm, left, and Torsten Richter, right, members of the Association Dresden Stollen, work on a giant Stollen, a traditional Christmas cake, in Dresden, Germany.
11 Wearing ancient Japanese costumes, participants play "kemari," an ancient ball-lifting game using only their right legs in Tokyo.
12 Fireworks explode over a floating Christmas tree in Lagoa lake at the annual holiday tree lighting event in Rio de Janeiro, Brazil, Nov. 30, 2013.
December 02, 2013
1 Amazon CEO Jeff Bezos reveals a flying "octocopter" mini-drone that will be used to fly small packages to consumers. His company was looking to the future with plans to use mini-drones to deliver small packages.
2 The late action film actor Bruce Lee's most iconic martial arts weapons, including a pair of yellow lacquered wooden nunchaku, second from left, are displayed during an auction preview in Hong Kong.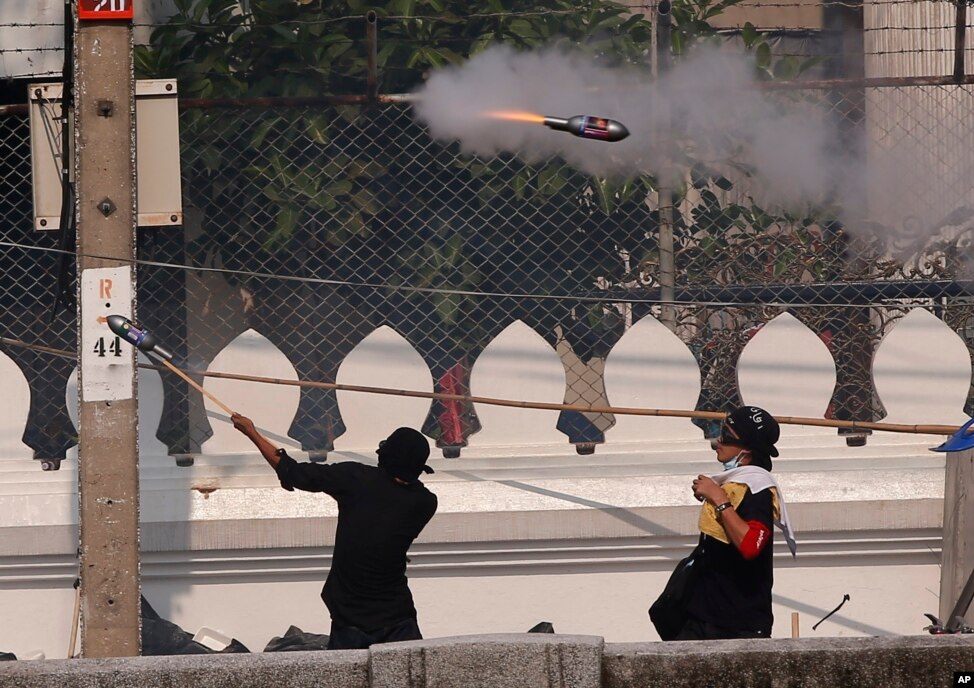 3 Anti-government protesters use a handmade rocket launcher to fire explosive material to riot police in Bangkok, Thailand.
4 Indian Navy Commandos show their skills during Naval Day celebrations at the Arabian Sea in Mumbai, India. Navy Day is celebrated on Dec. 4.
5 Afghan schoolchildren take lessons in an open classroom at a refugee camp on the outskirts of Jalalabad, Nangarhar province, Afghanistan, Dec. 1, 2013.
6 Palestinians wave national flags before a convoy of boats is launched at the initiative of the "Intifada Youth Coalition" (IYC) to break the naval blockade of Gaza as a protest against the Israeli siege of the port in Gaza city.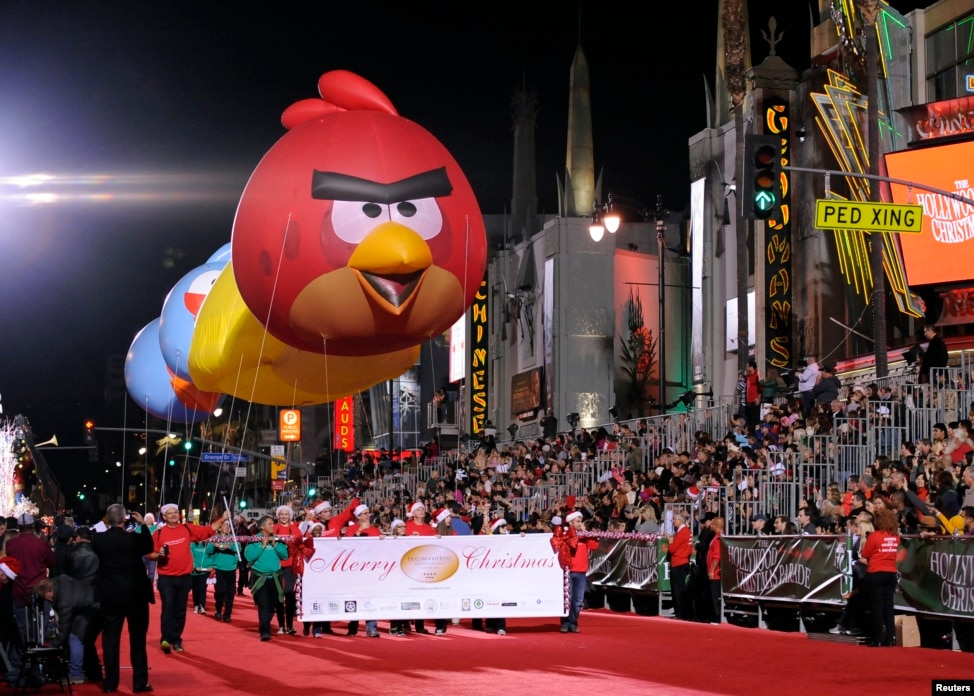 7 Large Angry Birds balloons are carried down Hollywood Boulevard during the 82nd Annual Hollywood Christmas Parade in Los Angeles, California, Dec. 1, 2013.
8 A "scissors" dancer grabs her shoe with her mouth while performing in a national scissors dance competition in the outskirts of Lima, Peru, Dec. 1, 2013.
9 An image of the dragon Smaug from Peter Jackson's Hobbit trilogy is shown on the side of an Air New Zealand plane in Auckland, New Zealand. The image was unveiled to celebrate the premiere of "The Hobbit: The Desolation of Smaug," which screens in Los Angeles, California, USA.
10 San Lorenzo's fans use their hands to block the sun during the Argentine First Division soccer match against Estudiantes in Buenos Aires, Argentina, Dec. 1, 2013.
December 03, 2013
1 A volunteer for SANCCOB, the Southern African Foundation for the Conservation of Coastal Birds, feeds a baby penguin that was abandoned by its parents on the outskirts of Cape Town, South Africa. During the Christmas time SANCCOB receives hundreds of African penguin chicks abandoned by molting parents.
2 Members of Faith and Action in the Nations Capital lead a donkey and a camel as they participate in a Live Nativity procession on Capitol Hill in Washington, D.C.
3 Residents of the city of Damara, 75 km north of Bangui, leave the region for Bangui, Central African Republic, as French forces deploy in a bid to halt spiralling violence.
4 Laborers make fertilizer ingredients out of scrap leather at a roadside factory in Kolkata, India.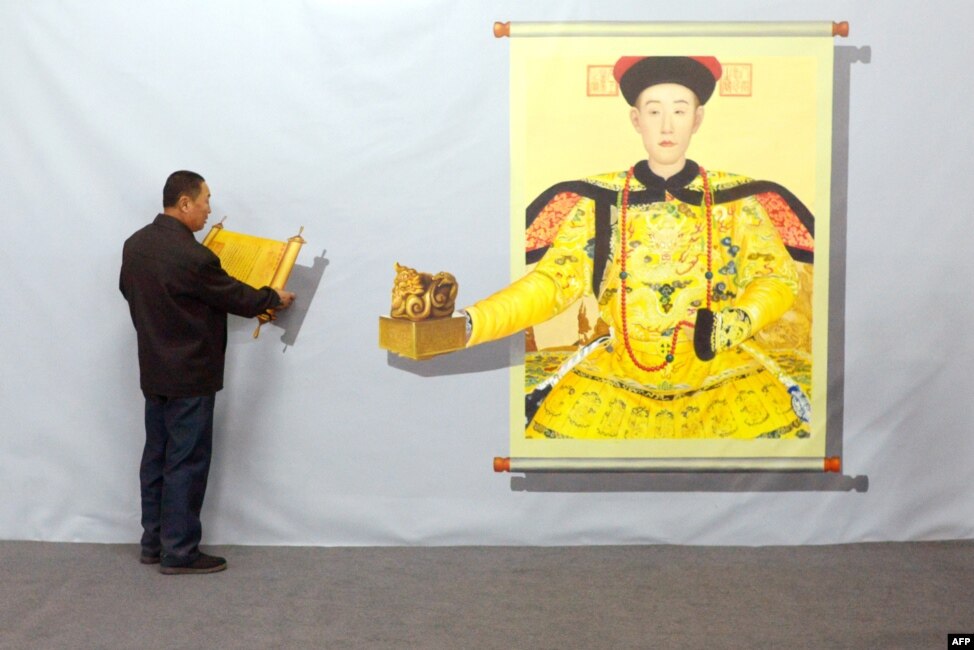 5 A man interacts with a 3D painting during a Magic Art Special exhibition at a gallery in Beijing, China. In the 3D painting exihibition, visitors are encouraged to interact with the lifelike images by touching or other creative action into the artworks.
6 Roads go off in various directions next to sand dunes covered in vegetation in the Pilbara region of Western Australia.
7 A Kenyan journalist participates in a protest with tape over her mouth and a pen on her forehead along the streets of the capital Nairobi. Members of the media marched in a peaceful protest to denounce the new draconian laws tabled by parliament.
8 People walk over drawings depicting chalk outlines of bodies during a protest at Carioca square in downtown Rio de Janeiro, Brazil. The drawings represent the 4,000 victims of violence who died in Rio de Janeiro state in 2012, according to the group JMV - "Juventude Marcada para Viver" (Youth Tagged for Living).
9 This image of the Transantarctic Mountains was taken from the NASA P-3 airborne laboratory near the end of the 2013 IceBridge Antarctic campaign.
10 An Amazon.com employee stocks products along one of the many miles of aisles at an Amazon.com Fulfillment Center on "Cyber Monday" the busiest online shopping day of the holiday season in Phoenix, Arizona, USA, Dec. 2, 2013.
11 A plane takes off from the Los Angeles International Airport as clouds reflect the color of the sunset in Los Angeles, California, Dec. 2, 2013.
December 04, 2013
1 A general view of the welcoming ceremony presided over by French interior minister, of the new promotion of new police officers at the Prefecture de police in Paris.
2 A man raises his hand beneath an image of a Spanish flag in Madrid, Spain. Spain will celebrate the XXXV anniversary of the Spanish Constitution Dec. 6, 2013.
3 Indians clash with guards during a protest at the Planalto Palace in Brasilia, Brazil, against demarcation of indigenous lands.
4 Crocodiles devour a zebra they killed, as wildebeest and zebra crossed the Mara River, in Maasai Mara Game Reserve in Kenya, Dec. 3, 2013.
5 A Falcon 9 SpaceX rocket lifts off from Launch Complex 40 at the Cape Canaveral Air Force Station in Cape Canaveral, Florida, USA, Dec. 3, 2013. The rocket carried its first commercial payload, a communications satellite.
6 A Cambodian family collects water lilies from O-Treng lake to sell at a market, in Kampong Speu province, some 45 kilometers (28 miles) southwest of Phnom Penh. Locals purchase the lilies as an ingredient for soup.
7 An Indian naval band performs during Naval Day celebrations at the Arabian Sea in Mumbai, India.
8 A horseman pulls a horse during the Sicab International Pre Horse Fair in the Andalusian capital of Seville, Spain.
9 A rare total cloud inversion at Mather Point on the South Rim of the Grand Canyon National Park in Grand Canyon, Arizona, USA. Cloud inversions are formed through the interaction of warm and cold air masses.
10 People walk by a giant Christmas ball displayed in Nice, southeastern France.
11 Artist Alex Chinneck poses on the rooftop of his latest art installation Miner on the Moon (Upside Down House) upon its unveiling on Blackfriars Road in Central London.
December 05, 2013
1 Fireworks lit the sky during King Bhumibol Adulyadej birthday celebrations, in Bangkok. Thailand's revered King Bhumibol Adulyadej marked his 86th birthday with a call for national unity, but failed to offer guidance on how his polarized nation might find its way out of its bitter political conflicts.
2 Palestinian rescue members pulls a car stranded on a flooded street after heavy raining in Gaza City.
3 Christians from the village of Bouebou, some 40 kms (30 miles) North of Bangui, Central African Republic, flee sectarian violence, Dec. 4, 2013.
4 Newly-graduated Afghan midwives attend a commencement ceremony at the Governor's House in Jalalabad, Nangarhar province.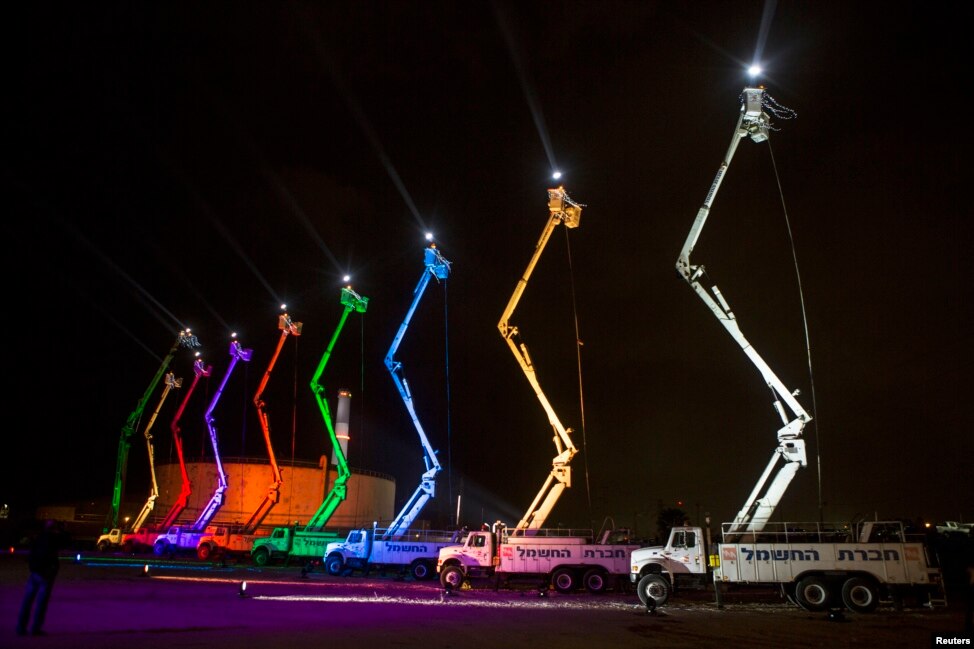 5 The lights are turned on for a giant menorah at the Reading Power Station in Tel Aviv, on the Jewish holiday of Hanukkah, Dec. 4, 2013.
6 Masaharu Nakagawa (bottom, L), chairman of the Upper House Special Committee on National Security, is surrounded by lawmakers during a vote on a state secrets act at the parliament in Tokyo, Japan.
7 Waves lash the ferry pier on the North Sea coast in Dagebuell, Germany, as storm front Xaver hits the country.
8 A baby of palm cockatoo, also known as the Goliath Cockatoo, is seen at the Zoo in Prague, Czech Republic.
9 The unique six-sided jet stream at Saturn's north pole known as "the hexagon" taken by NASA's Cassini mission
10 A firefighter standing near a Conoil petrol filing station directs his colleagues as to which direction to apply their hose, during a fire opposite the Nigeria National Petroleum corporation (NNPC) headquarters in Abuja.
11 Santa Clauses bunny hop through Times Square as they deliver holiday PEEPS and spread cheer in New York, Dec. 4, 2013.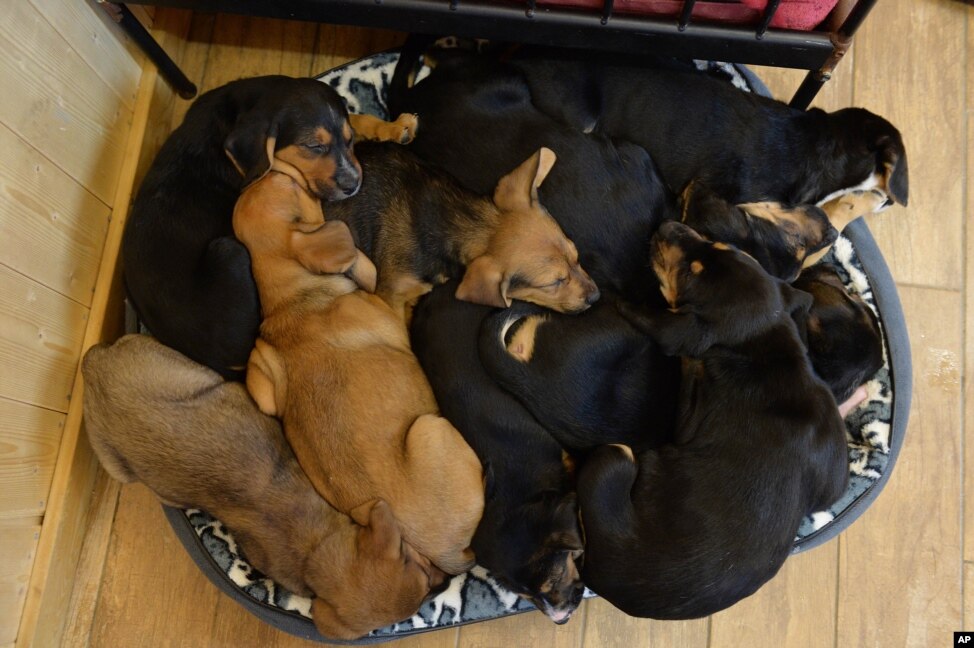 12 Young crossbreed dogs cuddle up in a small basket at Gut Aiderbichl in Henndorf, in the Austrian province of Salzburg, Dec. 4, 2013. Gut Aiderbichl is a place of mercy for rescued animals.
13 People walk along the snow covered Tverskoi Boulevard during a major snowfall in central Moscow, Russia.
14 A diver dressed as Santa Claus feeds the sharks in Budapest's Tropicarium, Hungary.
15 A man plays violin as he roller-skates on a sqauare on a hazy day in Nanjing, Jiangsu province, China.
16 Officials in boats monitor the scene where dozens of pilot whales are stranded in shallow water in a remote area of Florida's Everglades National Park, USA, Dec. 4, 2013.
December 06, 2013
1 Japanese champion Akira Yaegashi, (l), gets a punch from Mexican challenger Edgar Sosa in the 10th round of their WBC flyweight boxing title bout in Tokyo. Yaegashi defended his world title by a unanimous decision.
2 A poster of Nelson Mandela is on display, invited well-wishers to write their messages of condolence and support, on the street outside his old house in Soweto, Johannesburg, South Africa.
3 Furniture sits in the garden of a house that fell into the sea during a storm surge in Hemsby, eastern England, Britain.
4 Demonstrators stage a rally after a long march from Sea-Tac to raise the hourly minimum wage to $15 for fast-food workers at City Hall in Seattle, Washington, Dec. 5, 2013.
5 People visit France's - 2nd Croix Rousse tunnel reserved for pedestrians, bicycles and buses during its inauguration ceremony in Lyon late in the night December 5, 2013 as part of the rehearsal for the Festival of Lights. The Festival of Lights, is one of Lyon's most famous Festivals.
6 Children watch fireworks during a Christmas light illumination ceremony on Parliament Hill in Ottawa, Canada, Dec. 5, 2013.
7 Caelan Brooks, 12, glides down a hill at Hoblitzelle Park in Plano, Texas. The ice storm left over 250,000 residents and businesses without power and has led to more than 1,700 flight delays and cancellations across the country.
8 Britain's Prince William arrives at an army base in Aldershot, England, for a ceremony of presentation of operational service medals for service in Afghanistan to No2 Company of the 1st Battalion Irish Guards.
9 A storm spotter stands on the sea front in Malmo, southern Sweden. Winter storm Xaver claimed one life, littered roads with uprooted trees, stalled trains, and left tens of thousands without power.
10 Fernando Canini, director of Rome's wax museum, gives the final touch at the new wax statue representing Pope Francis, Dec. 5, 2013. The statue will be shown to the public through Dec. 8, 2013.
11 The lighthouse in the harbor of Rostock-Warnemuende. at the Baltic Srea, eastern Germany is flooded. A storm with hurricane-force gusts hit Germany's costal areas as well as Britain, Belgium, The Netherlands, Scandinavia and Poland.
12 Indian Border Security force soldiers install a bullet-proof mobile guard chamber at the Bobiya India-Pakistan international border post at Kathua district, about 110 kilometers from Jammu, India.
13 Flowers left by mourners surround a portrait of Nelson Mandela in the Sandton district of Johannesburg. Mandela, the revered icon of the anti-apartheid struggle in South Africa and one of the towering political figures of the 20th century, has died on Dec. 5, 2013. He was 95.
December 08, 2013
1 Women sing during a mass commemorating the late South African former President Nelson Mandela in Soweto, near Johannesburg.
2 A rag picker takes a nap on a sack filled with used plastic bottles, on the side of a road in New Delhi, India.
3 Contrails are seen in the sky as a plane flies over the St. Mary's stadium in Southampton during the English Premier League soccer match between Manchester City and Southampton, Dec. 7, 2013.
4 Riot police and Interior Ministry personnel block a street during a rally organized by supporters of EU integration in central Kyiv, Ukraine.
5 A Kurdish protester falls to the ground as Turkish riot police use water cannons to disperse them during a demonstration in Diyarbakir. Tensions remain high in Diyarbakir after the death of two Kurdish demonstrators on Dec. 6.
6 A man climbs an ice wall on the Presena glacier, northern Italy.
7 Shoppers are reflected on an art installation on display at a shopping mall in Beijing, China, Dec. 7, 2013.
8 A contestant bites the tail of one of the bulls to make it run faster, as he races for an oxen race competition held at a paddy field in Malappuram, Kerala state, India.
9 Afghan boys, displaced from their homes, peer out of their family's temporary home, on the outskirts of Kabul, Afghanistan.
10 Twilight at the 'Morant's Curve' offers a view of the frozen Bow River and the Canadian Pacific Railway at Banff National park near Lake Louise, Dec. 7, 2013.
11 Baltimore Ravens quarterback Joe Flacco, left, hands the ball off to running back Ray Rice as snow falls in the first half of an NFL football game against the Minnesota Vikings in Baltimore, Maryland, USA.
December 09, 2013
1 A man carries a wounded girl who survived what activists say was an air strike by forces loyal to Syrian President Bashar al-Assad in Aleppo's al-Ansari al-Sharqi neighborhood.
2 Anti-government protesters carry a huge Thai national flag as they march in Bangkok. Thai Prime Minister Yingluck Shinawatra announced she will dissolve the lower house of Parliament and call elections in an attempt to calm the country's deepening political crisis.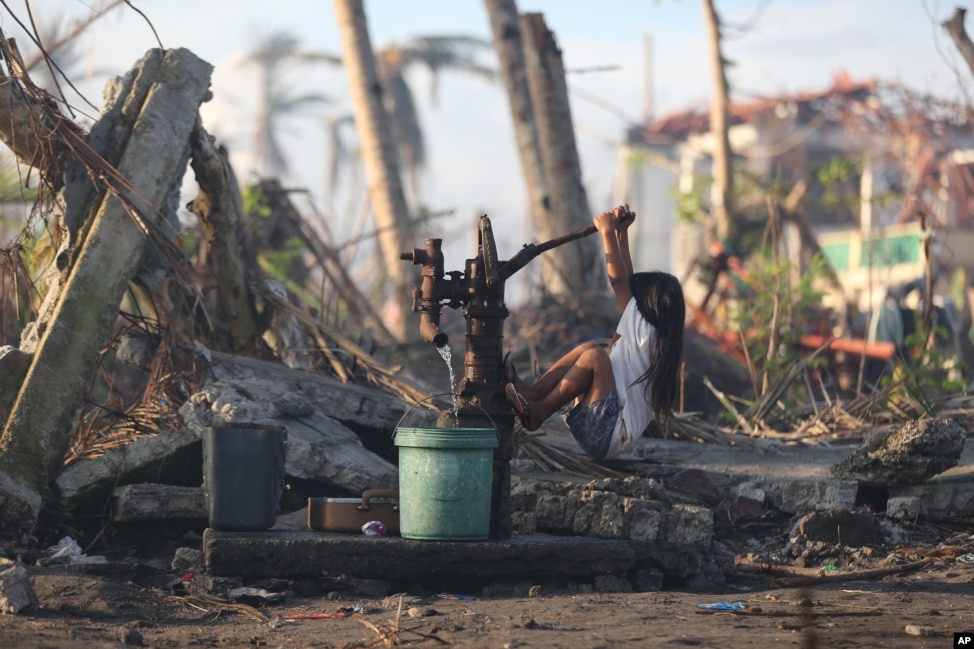 3 A young typhoon survivor fetches water from a hand pump at typhoon-ravaged Tolosa town, Leyte province, central Philippines.
4 A prototype "parcelcopter" of German postal and logistics group Deutsche Post DHL flies in front of the company's headquarters in Bonn. DHL showed its prototype "parcelcopter," which is a modified microdrone that costs 40,000 euros ($54,900) and can carry packages up to 1.2 kg (2.65 pounds).
5 Yemeni honor guards carry the coffins of victims killed in a suicide car bombing and an attack by heavily armed gunmen, during their funeral at the Defense Ministry complex in Sana'a. Among the dead at the Defense Ministry complex, which also houses a military hospital, were soldiers and civilians, including seven foreigners — two Germans, two Vietnamese, two Filipinos and one Indian, according to the Supreme Security Commission.
6 Indonesian students react as a police water cannon truck sprays water to disperse a rally commemorating the International Anti-Corruption Day that turned violent in Makassar, South Sulawesi.
7 A People's Liberation Army officer looks at his mobile phone as he speaks with two Hui'an tourist guides in Hui'an county, Fujian province, China, Dec. 8, 2013.
8 The sun is seen behind smoke billowing from a chimney of a heating plant in Taiyuan, Shanxi province, China.
9 A Tibetan exile is detained by police during a protest over China's rule over Tibet, outside the Chinese embassy in New Delhi, India.
10 A rare antique doll, Katsina Shalako, circa 1880-1890, from the Native American Zuni tribe in New Mexico is displayed at the Drouot auction house in Paris, France, before it goes to auction.
11 A Pakistani child looks for items to be recycled amid garbage on the outskirts of Lahore.
12 Policemen fire rubber bullets during clashes between Vasco da Gama soccer fans and Atletico Paranaense fans at their Brazilian championship match in Joinville in Santa Catarina state, Dec. 8, 2013.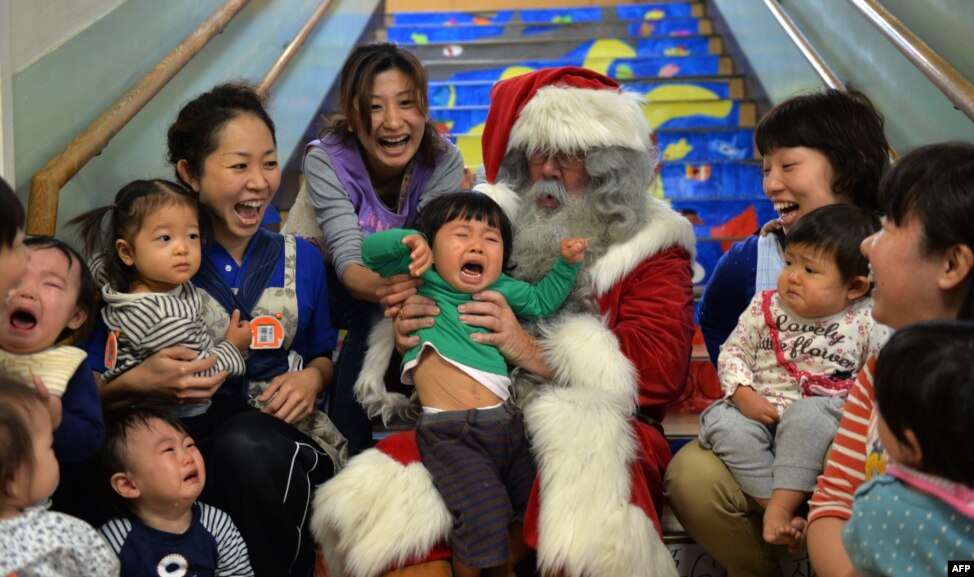 13 A man playing Santa Claus from Finland sits with children at the Hinomoto nursery school in Tokyo, Japan.
December 10, 2013
1 A man walks on a snowy road in Towson, Maryland. Residents along the East Coast and in the Appalachians woke up to snow and government workers and students in the Washington region were told to stay home as the area saw a round of snow that came just a few days after some parts already got several inches.
2 A man kisses the portrait of former South African President Nelson Mandela during his memorial service at the FNB Stadium (Soccer City) in Johannesburg.
3 Turkish Kurdish lawmaker Hasip Kaplan throws the 2014 budget document as he addresses the parliament in Ankara, Turkey.
4 A Christian youth squats inside a burnt out car in Bangui, Central African Republic. French troops in Central African Republic manned checkpoints in the capital and searched for weapons in an operation to disarm rival Muslim and Christian fighters responsible for hundreds of killings since last week.
5 Ahmet Uzumcu, director general of the Organisation for the Prohibition of Chemical Weapons (OPCW) holds the medal and the diploma during the Nobel Peace Prize awards ceremony at the City Hall in Oslo, Norway.
6 Students from the School of Communication and Art of the University of Sao Paulo perform a skit titled "Blind Ones" as a protest against consumerism inside a shopping mall of Natal, capital of Rio Grande do Norte state, Brazil, Dec. 9, 2013.
7 A diver dressed in a Santa Claus costume feeds sardines at the Coex Aquarium in Seoul, South Korea.
8 Canadian pop megastar Justin Bieber (C, black shirt) hugs a young survivor of Super Typhoon Haiyan in Palo, Leyte province, Philippines.
9 A large flock of starlings fly in the sky illuminated by the setting sun near Bacau, northeastern Romania.
10 A man looks at a dragon-shaped snow sculpture made by local residents at a residential compound in Jilin, Jilin province, China.
December 11, 2013
1 Students hold fireworks as they perform during the opening ceremony of 27th SEA Games in Naypyitaw. Myanmar is hosting the SEA Games for the first time in over 40 years.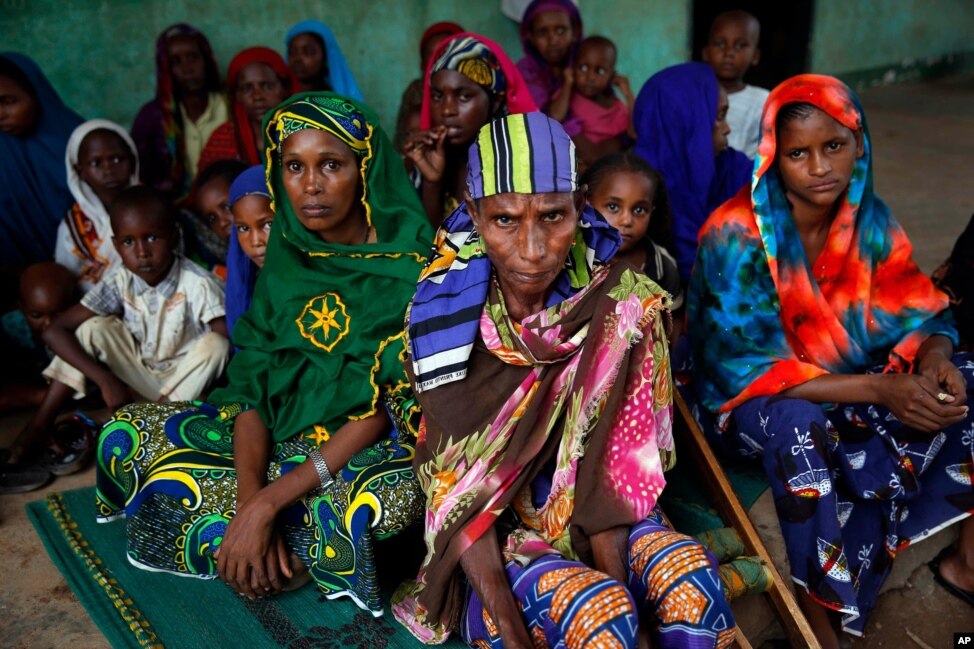 2 Peul women sit in a house across the Nour Islam mosque where they found refuge in Bangui, Central African Republic. More than 500 people have been killed over the past week in sectarian fighting, aid officials said.
3 Women and police dodge tear gas during a protest at Al-Azhar University in Cairo, Egypt, Dec. 11, 2013. (Hamada Elrasam/VOA)
4 A Syrian refugee boy stands outside his tent in a camp for Syrians who fled their country's civil war, in the Bekaa valley, eastern Lebanon, as a heavy snowstorm batters the region.
5 Mourners gather behind police cordons after being denied entry to the site where former South African President Nelson Mandela was lying in state in Pretoria.
6 Pedestrians cross the Millennium Footbridge in front of London's St. Paul's Cathedral, shrouded in fog.
7 Anti-Yanukovych protesters defend their barricades against riot police on Independence Square in Kyiv, Ukraine.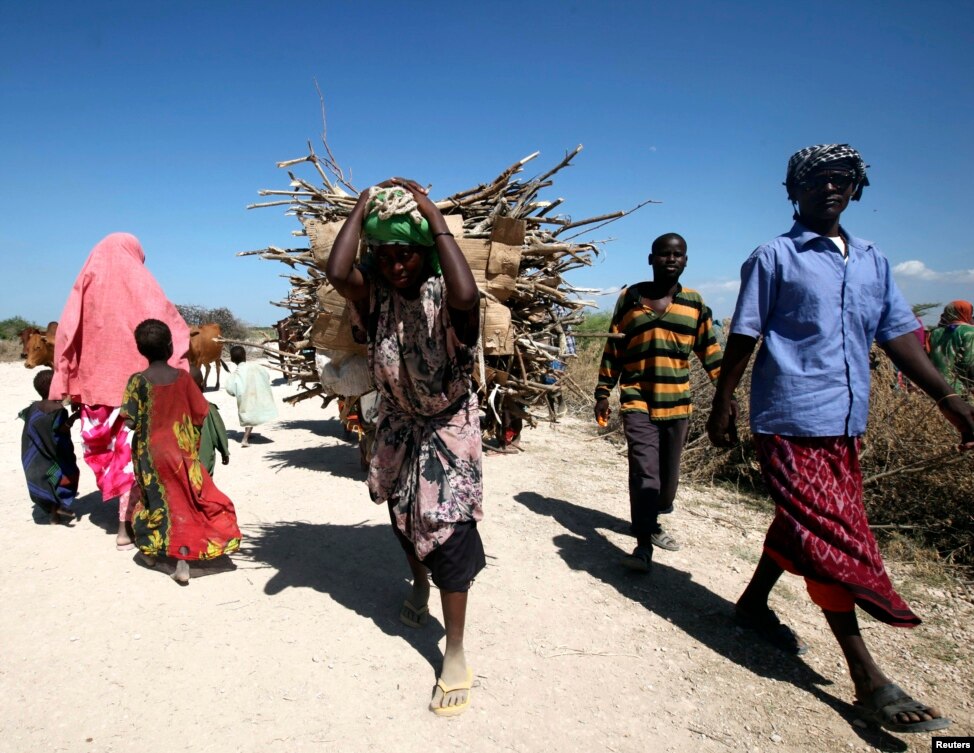 8 A woman carries bundles of firewood on her back to be delivered for use as fuel for cooking for people displaced as a result of flooding in areas around the town of Jowhar, north of Somalia's capital Mogadishu, Dec. 10, 2013.
9 Torch bearer Mikhail Fateyev dogsleds with an Olympic torch on the embankment of the Tura River during the Olympic torch relay in Tyumen, western Siberia, Russia. (Photo provided by Olympictorch2014.com)
10 Members of U.S. dance company Momix perform during a rehearsal of the company's latest show "Alchemy" in Madrid, Spain.
11 People walk on a snow covered square in Istanbul,Turkey, as heavy snowfall over the city disrupts air traffic and land transports.
December 12, 2013
1 Syrian refugees children play near a snowman in a camp for Syrians who fled their country's civil war, in the Bekaa valley, eastern Lebanon.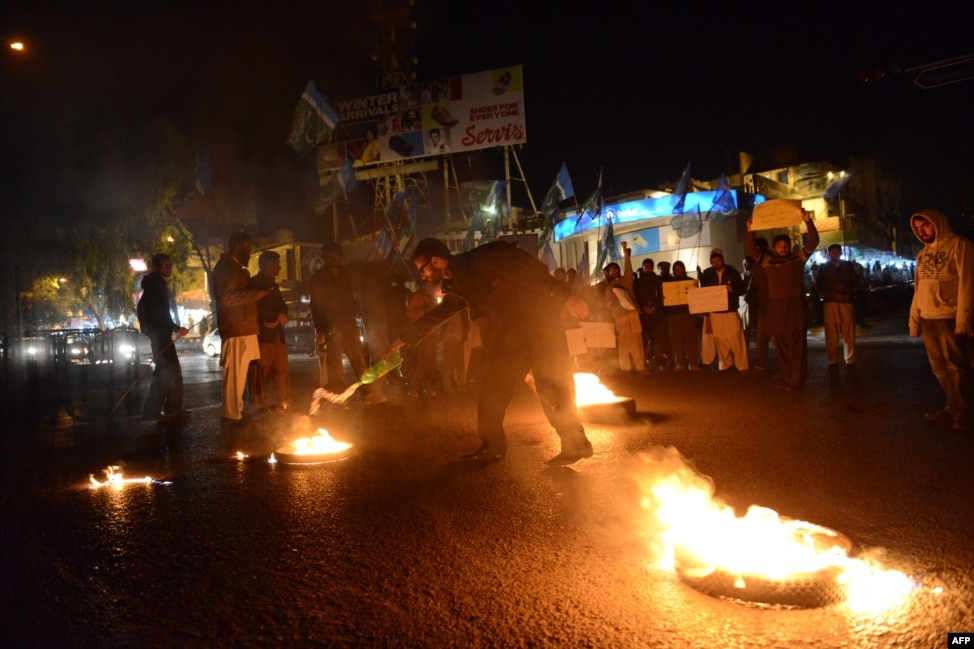 2 An activist of Jamaat-e-Islami Pakistan sets a tire on fire in a protest against the execution of a senior Bangladeshi opposition leader known as the 'Butcher of Mirpur', making him the first person to be put to death for massacres committed during the country's bloody 1971 war of independence, in Islamabad.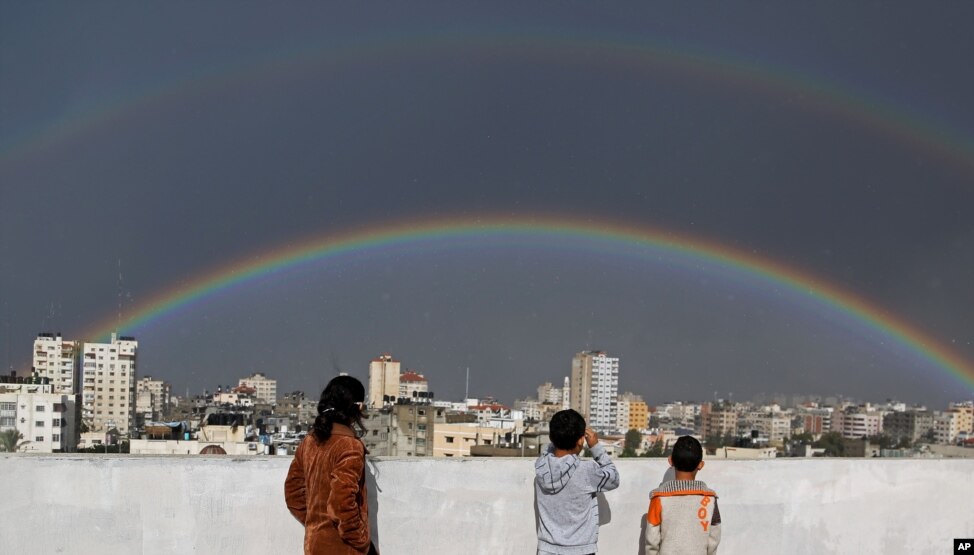 3 Palestinian children look at a rainbow shining over buildings after heavy rain poured in Gaza City, Gaza.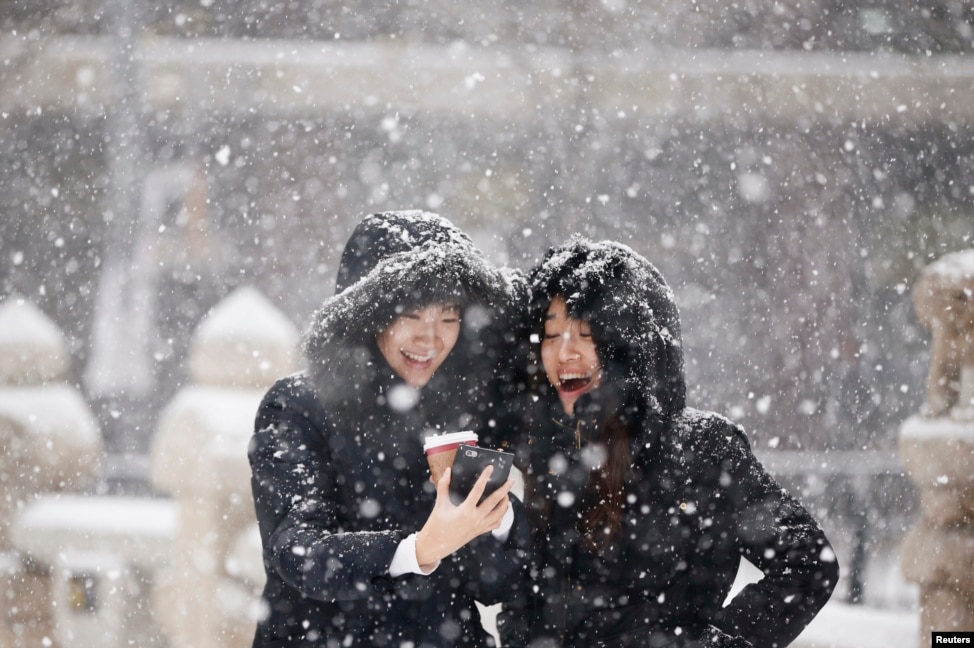 4 Women smile as they look at a picture on a mobile phone during snowfall in winter in central Seoul, South Korea.
5 An Air-France airliner sits on the tarmac of the Nangui airport while another company aircraft take off near a camp for internally displaced persons (IDP) in the Central African capital.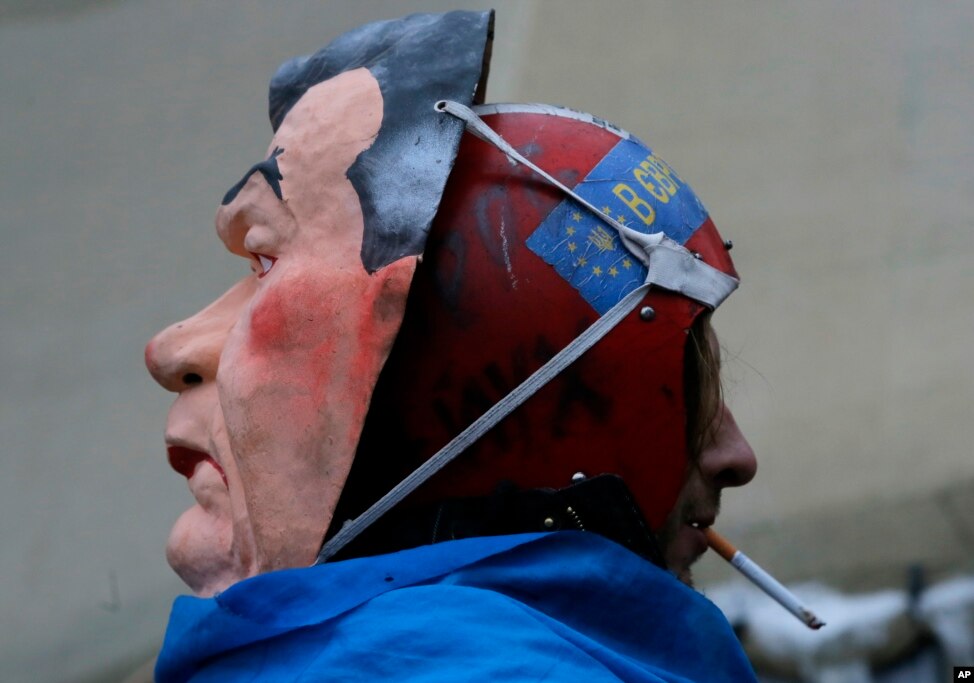 6 A pro-European Union activist wearing a mask depicting Ukrainian President Viktor Yanukovich smokes in Independence Square in Kyiv, Ukraine.
7 People queue for buses before heading to the Union Building in Pretoria, South Africa, where the body of former South African president Nelson Mandela is lying in state for three days.
8 Anti-government protesters in Bangkok, Thailand remove barbed wire before a small group of them briefly entered the compound of the prime minister's office, known as the Government House.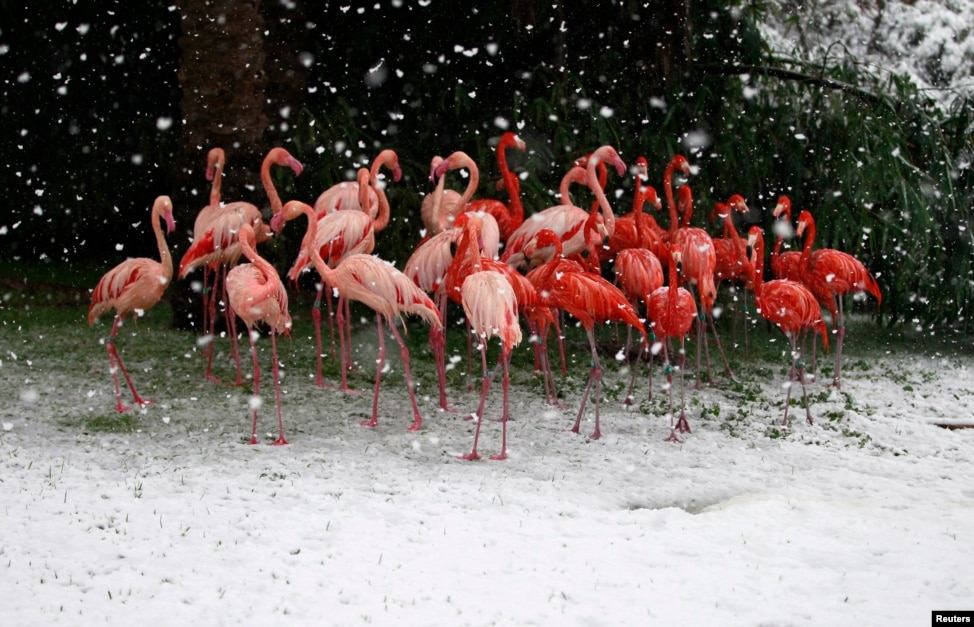 9 Flamingos stand in their enclosure during snowfall in winter in Jerusalem's Biblical Zoo.
10 Olie Williams of Bonhams displays a working mould for the first R2D2 Star Wars character in central London. The mould, is expected to fetch between $9,780-$13,040, when it goes under the auction hammer.
11 A man dressed as Santa Claus poses with dolphins at the Marineland animal exhibition park in the French Riviera city of Antibes, southeastern France.
December 13, 2013
1 A pro-European protester crosses himself during a religious service on Independence Square in Kyiv. Ukraine's opposition sat down for talks with President Yanukovych on Friday for the first time since mass protests broke out three weeks ago.
2 Jerusalem's Old City and the Dome of the Rock in the compound, known to Muslims as Noble Sanctuary and to Jews as Temple Mount, are seen following a snowstorm of rare intensity that blanketed the Jerusalem area and parts of the occupied West Bank.
3 People wait in line to pay their respects to Nelson Mandela on the third and final day of the former South African president lying in state at the Union Buildings in downtown Pretoria.
4 A Bangladeshi man cries after his vehicle was set on fire by Islamist party Jamaat-e-Islami activists during violent protests in Dhaka that followed the execution of their JI party leader Abdul Quader Mollah Thursday.
5 A heart is emblazoned with crosses to commemorate the 26 Sandy Hook Elementary School shooting victims in Newtown, Connecticut. December 14th marks the one-year anniversary of the shooting rampage by a lone gunman.
6 A view from the Jizerske Hory mountains, near Bedrichov, around 70 kilometers north of Prague, Czech Republic.
7 A North Korean man uses a flashlight as he and other subway commuters gather around a public newspaper stand on a train platform in Pyongyang to read headlines about Jang Song Thaek, North Korean leader Kim Jong Un's uncle, who was executed as a traitor.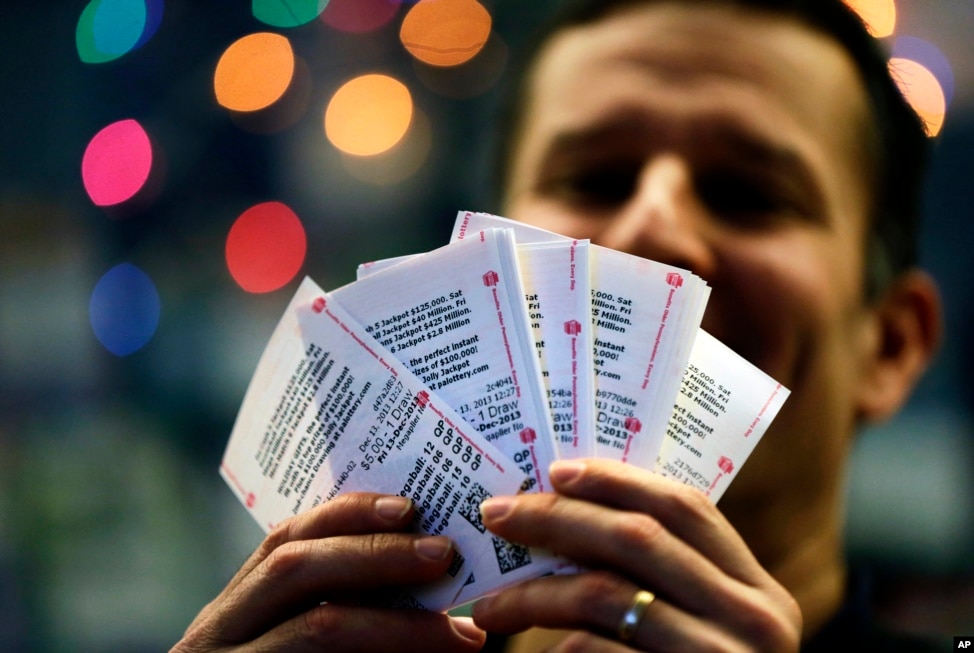 8 Chad Cuneo displays Mega Millions lottery tickets he purchased at a newsstand in Philadelphia, Pennsylvania. Superstition didn't deter players hoping that Friday the 13th will bring them good luck in the game.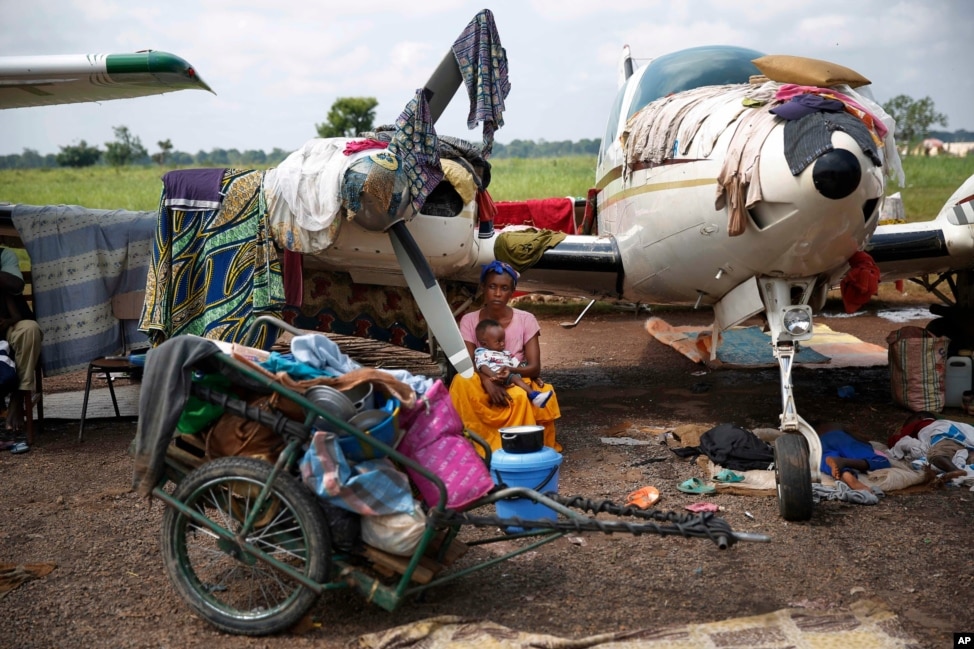 9 Christians gather in a makeshift camp for internally displaced people set in the airport in Bangui, Central African Republic. Over 30,000 have gathered there after days of sectarian violence, prompting the U.N. to start food distribution a kilometer away.
10 Thailand's Supachai Maneenat, left, returns a shot from Myanmar's Aung Pyah Tun, right, during their men's sepaktakraw match at the Southeast Asian (SEA) Games in Naypyitaw, Burma.
11 The Vatican Christmas tree is lit up after a ceremony in Saint Peter's Square at the Vatican.
12 United States' Steven Holcomb celebrates after driving to a win with brakeman Steven Langton in the two-man bobsled World Cup event in Lake Placid, New York.
13 Indian sportsmen return to shore after canoeing practice as the sun sets at the Hussain Sagar Lake in Hyderabad, India.
14 Santa Claus snow globes are displayed at the Christmas market along the Champs Elysees avenue in Paris.
December 15, 2013
1 Kenyan police use tear gas to disperse Nairobi University Students, who rioted over the death of two of their colleagues, in Nairobi. The students said they wanted an explanation of how the two engineering students died within a day while in police custody.
2 South African President Jacob Zuma speaks during the late former President Nelson Madela's funeral service in Qunu.
3 Palestinians walk on snow to reach their homes in the West Bank city of Nablus.
4 A man looks for survivors inside a pickup truck at a damaged site after what activists said was an airstrike by forces loyal to Syrian President Bashar al-Assad in Duma, Damascus.
5 Pope Francis removes his skull cap for a child during an audience with children assisted by volunteers of Santa Marta institute in Paul VI hall at the Vatican, Dec. 14, 2013.
6 A makeshift memorial with crosses for the victims of the Sandy Hook massacre stands outside a home in Newtown, Connecticut, Dec. 14, 2013, on the one-year anniversary of the shootings.
7 Runners, dressed as Santa Claus and Christmas ornaments, take part in the 37th "Christmas Corrida Race" in the streets of Issy Les Moulineaux, on the western outskirts of Paris, France.
8 A person skates on the frozen waters of Lake St. Moritz during a sunny winter day in the Swiss mountain resort of St. Moritz, Switzerland, Dec. 14, 2013.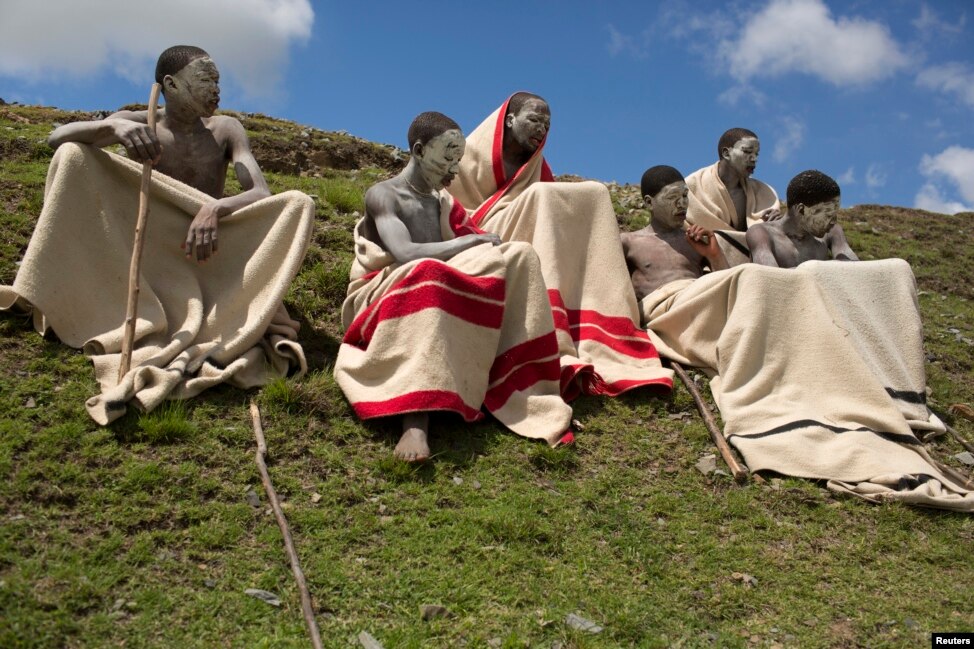 9 Youths sit on a field in Qunu, in the Eastern Cape, South Africa. Every year, thousands of youths leave their parents to spend weeks in the care of traditional leaders at an initiation school where they are circumcised, a rite of passage commonly referred to as "Ukwaluka" or "going to the mountain".
10 Army cadets hold a large photo of Army head coach Rich Ellerson during an NCAA college football game against Navy in Philadelphia, Pennsylvaina, Dec. 14, 2013. Navy won 34-7.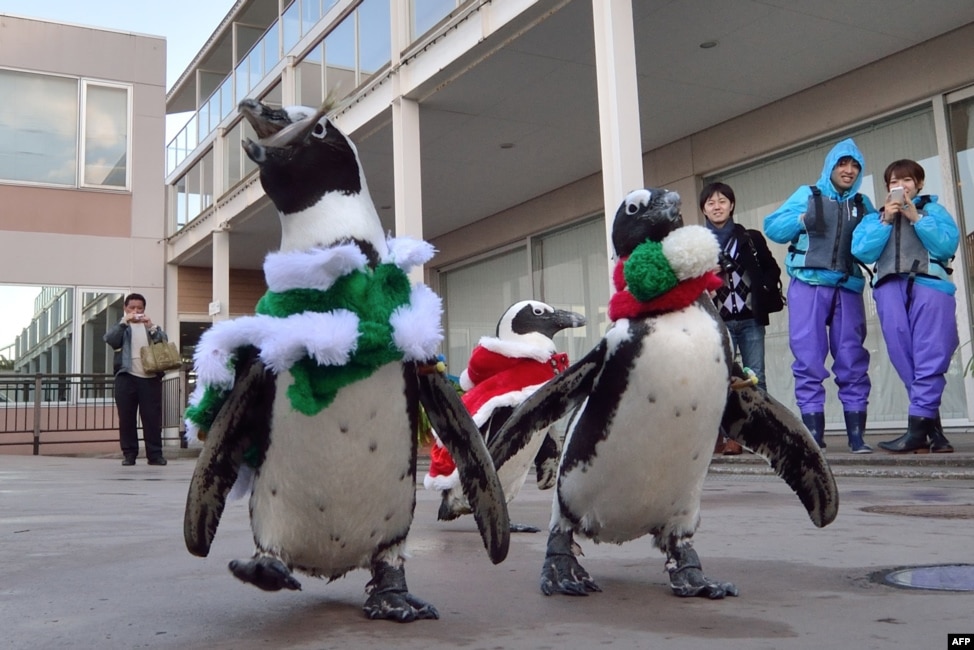 11 Cape penguins dressed in Christmas costumes take part in a Christmas event at the Hakkeijima Sea Paradise aquarium in Yokohama, suburban Tokyo, Japan.
12 Andreas Matt of Austria, right, performs on his way to win the final of the men's ski cross World Cup event in Val Thorens, French Alps, ahead of Victor Oehling Norberg of Sweden, second right, who finished second, Jean Frederic Chapuis of France, left, who finished third, and Franz Promok of Austria, second right, who finished fourth.
December 16, 2013
1 French President Francois Hollande pays his respect at the coffin of one of the two soldiers that died on Dec. 9 in Central African Republic, at the Invalides in Paris.
2 Egyptian protesters hold portraits of people killed last year, as they march in downtown Cairo towards the cabinet offices to commemorate the second anniversary of the 2011 clashes with security forces.
3 Bangladeshis flip colored cards to form the national flag during Victory Day celebrations in Dhaka.
4 Palestinian rescue volunteers ride a boat with residents in Gaza City. Rescue workers evacuated thousands of Gaza Strip residents from homes flooded by heavy rain, using fishing boats and heavy construction equipment to pluck some of those trapped on upper floors.
5 San Francisco 49ers' Kendall Hunter (32) dives into the end zone to score after picking up a fumble by Tampa Bay Buccaneers' Russell Shepard during the fourth quarter of an NFL football game in Tampa, Florida, USA, Dec. 15, 2013.
6 Police officers clash with supporters of the native Indian community during a protest outside the Indian museum in Rio de Janeiro, Brazil. Police arrested more than 20 indigenous people who occupied the abandoned museum as a protest against its demolition, as part of renovations ahead of Brazil's 2014 World Cup, according to local media.
7 Visitors watch as a ray of sunlight shines on the cenotaph of the Voortrekker Monument during Day of Reconciliation celebrations in Pretoria, South Africa. The cenotaph is the symbolic tomb of Piet Retief and his delegation, who were murdered in 1838.
8 Burma riot police stand guard near Thuwunna stadium in Rangoon, after hundreds of angry football fans destroyed and burnt posters and flags after Burma lost 1-0 to Indonesia in the 27th Southeast Asian Games.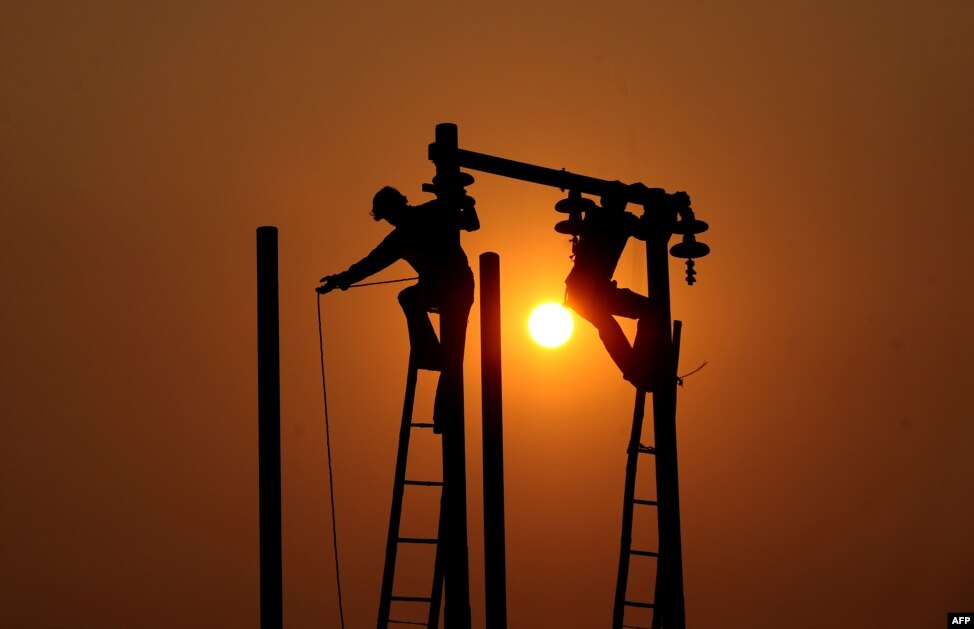 9 Indian electricians adjust electric cables set up temporarily on the banks of the river Ganga in preparation for the annual Hindu religious fair of Magh Mela in Allahabad.
10 U.S. President Barack Obama laughs as children dressed like elves gathered around a Christmas tree, look at their presents presented to them by the first family at the National Building Museum in Washington, D.C., Dec. 15, 2013.
11 Members of a dance ensemble "Momix Botanica" pose in Duesseldorf, Germany.
12 A girl poses for a photograph next to a 3D painting of China's late Chairman Mao Zedong at an exhibition in Binzhou, Shandong province, Dec. 15, 2013.
13 A salesclerk displays a high-heeled shoe-shaped chocolate decorated with gold leaves at the Seibu Department Store in Tokyo, Japan.
December 17, 2013
1 The tower of the Allerheiligen church in Reitham and the mountains of the lake Tegernsee area are silhouetted against the dusk sky in Warngau, Germany.
2 Syrian refugees look through a window inside a refugee center as they wait for a distribution of humanitarian aid by volunteers of the Bulgarian Red Cross in Sofia.
3 Afghan girls collect thorn to use for cooking and heating in Bagram north of Kabul, Afghanistan.
4 In this handout image provided by the United Nations Mission in South Sudan, UN soldiers stand guard as civilians arrive at the UNMISS compound adjacent to Juba International Airport to take refuge. Sporadic gunfire rang out in the capital Juba overnight as the military "cleared out remnants" of a faction of soldiers accused of mounting a coup attempt, the country's foreign minister said.
5 Flowers are seen on the sands of a beach in Meco, near Sesimbra as people watch the waves after one university student died and five others are missing when the group of seven were swept away by a huge wave on a beach in Portugal on Dec. 15.
6 An aerial view of Mexico City at night, Dec. 16, 2013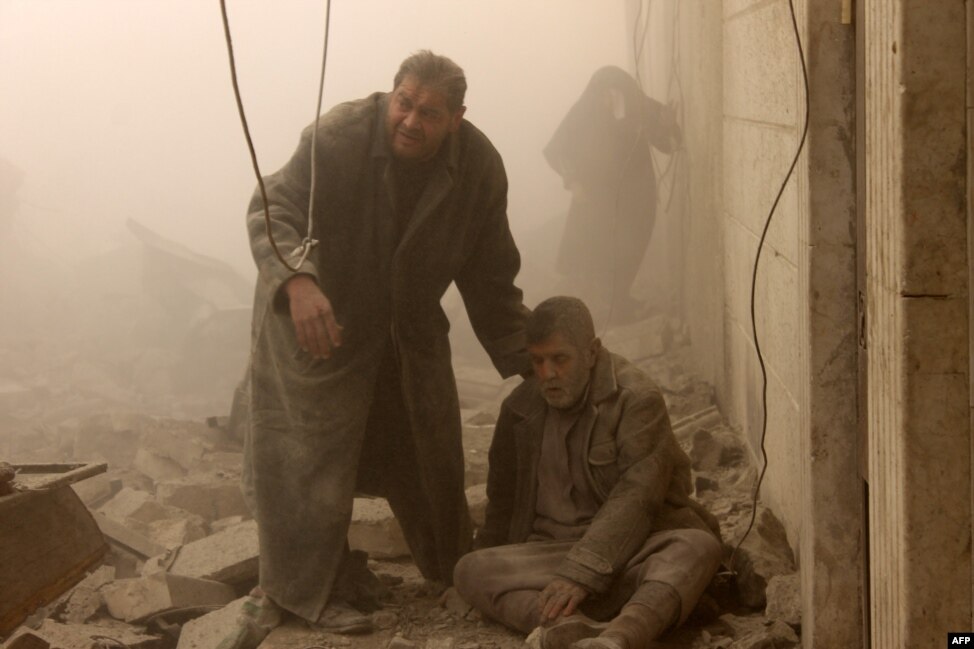 7 A Syrian man helps an injured man following an airstrike in Aleppo's Maadi neighborhood.
8 Typhoon survivors sell goods in a makeshift store next to a ship that was swept ashore by Super Typhoon Haiyan last month, in Tacloban city in central Philippines.
9 French highliner Julien Millot performs on the 380m high Paradiski cable way, designed by French creator Jean-Charles de Castelbajac in front of Mont Blanc in La Plagne, Dec. 2013.
10 A woman pulls a cart loaded with plastic bottles through falling snow in lower Manhattan in New York City. A winter storm pushed into the northeast U.S. with several inches of snow forecasted for the New York City area.
11 North Korean girls carry firewood on their backs as they walk on the banks of the Yalu River, some 100 kilometers (62 miles) from the town of Sinuiju, opposite the Chinese border city of Dandong, Dec. 16, 2013.
12 A surfer trains at the famous spot of Anchor Point in Taghazout Beach, southern Morocco.
13 Miss International Bea Rose Santiago of the Philippines waves on stage after being crowned Miss International Beauty Pageant 2013 in Tokyo, Japan.
14 A sculpture is silhouetted against the full moon in Hanover, central Germany, Dec. 16, 2013.
15 Sculptor Juuso Partanen of Finland carves a sculpture near other sculptures based on characters of comic strips at the Brussels Ice Magic Festival, Belgium.
December 18, 2013
1 Members of Casapound far-right organization wear masks in the colors of the Italian flag before a demonstration organized by "People from pitchfork movement" to protest against economic insecurity and the government in downtown Rome.
2 About 100 camels carrying boxes of tea walk on a highway during an event re-enacting the ancient tea trade journey from China to Europe in Changsha, Hunan province.
3 Hundreds of birds swarm around the trees in Mesen, Belgium.
4 German's Maria Hoefl-Riesch practices during the first training session for the FIS Alpine World Cup Women's Downhill in Val d'Isere, French Alps.
5 Visitors look at penguins wearing Santa Claus (in red) and Christmas tree (in green) costumes during a promotional event for Christmas at an amusement park in Yongin, south of Seoul, South Korea.
6 An Indian laborer, wrapped in a blanket, smokes while sitting in his rickshaw on a foggy morning in New Delhi, Dec. 17, 2013.
7 Singapore's Fong Kay Yian competes during the women's three-meter springboard diving event at the 27th SEA Games in Naypyidaw, Burma.
8 A lone runner traverses the bike and running path along Lake Michigan at the North Avenue beach as temperatures hover around freezing in Chicago, Dec. 17, 2013.
9 Trainers wearing Santa Claus costumes perform with a bottle-nose dolphin (R) and a fake killer whale (L) during a show at the Aqua Stadium aquarium in Tokyo, Japan.
December 19, 2013
1 Protestors wearing masks depicting pictures of German Chancellor Angela Merkel (L) and European Commission President Jose Manuel Barroso take part in a demonstration against austerity on the first day of a European Union leaders summit in Brussels, Belgium.
2 A general view of Christmas decorations and lights at the home of the Duszenko family in Polkowice, southwestern Poland. Since 1999, the Duszenko family from Lower Silesia has always decorated their house and garden before Christmas, Dec. 18, 2013.
3 Pro-European integration protesters form the Ukrainian word for "Lustration" at Independence Square in Kyiv.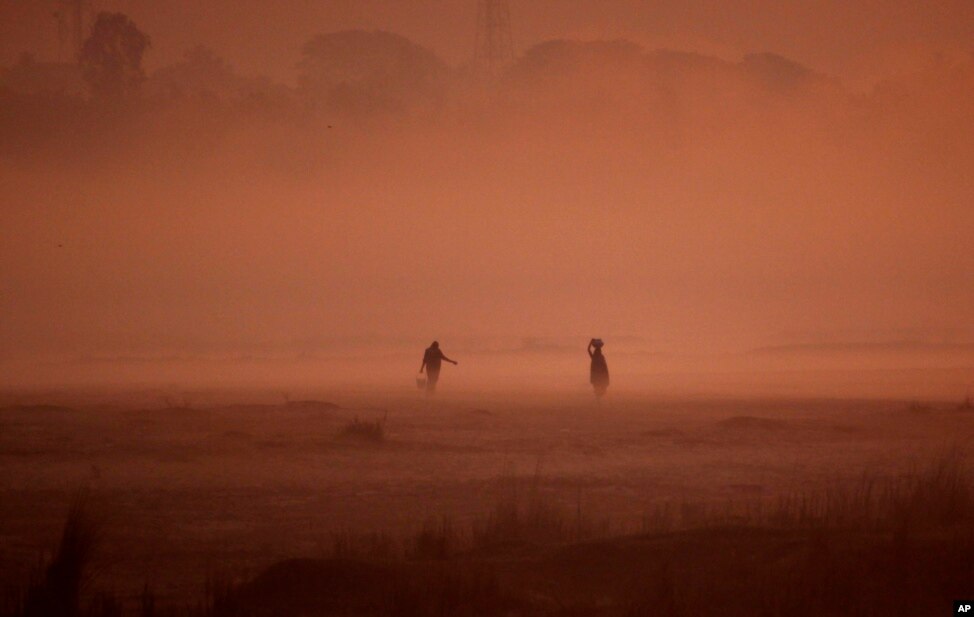 4 Villagers walk home carrying water collected from the Kuakhai River on a foggy morning in Bhubaneswar, India.
5 An employee of DHL, a division of German postal service Deutsche Post, unloads parcels from a transport vehicle at the company's logistics center in Gross Schwass near Rostock. During the pre-Christmas period, around 12,000 parcels per day are handled at the center, which is the double the usual amount, Dec. 18, 2013.
6 A handout picture taken during the Sochi 2014 Winter Olympic torch relay shows Russian torchbearers carrying the torch ahead of ahead of the Sochi Winter Games, Moscow, Russia, Dec. 18, 2013.
7 A passenger plane flies past the moon on its final descent to Heathrow Airport in London, Britain.
8 Young Indian Gujjar nomads walk with their flock through thick fog on the outskirts of Jammu, India.
9 At the entrance of Madagascar's Queen Palace, also called ----Rova, stand old cannons. The landmark is located at the top of Analamanga hill and stands out in the skyline of the city.
10 North Korean employees work at a factory of a South Korean-owned company at the Joint Industrial Park in Kaesong.
11 Internally displaced boys stand next to barbed wire inside a United Nations Missions compound in Juba, South Sudan.
12 Bangladeshi police baton-charge an activist to stop him from marching towards the Pakistani Embassy in Dhaka.
13 People enjoy the eco-friendly Christmas tree set up at the Basilica de San Francisco explanade in La Paz, Bolivia. The tree of 14 meters high was made with some 50,000 plastic bottles, Dec. 18, 2013.
14 Bolivian squirrel monkey gets a special treat from their keepers of sultanas and wax worms that were set out on a Christmas tree at London Zoo in England, Dec.18, 2013.
15 A man ice fishes at Lake Michigan Water Trail Launch Site in Chicago, Illinois, Dec. 18, 2013.
December 20, 2013
1 Residents of Juba seek shelter at a U.N. compound. African diplomats made a push for peace in South Sudan on Friday as bitter fighting spread across the world's youngest nation.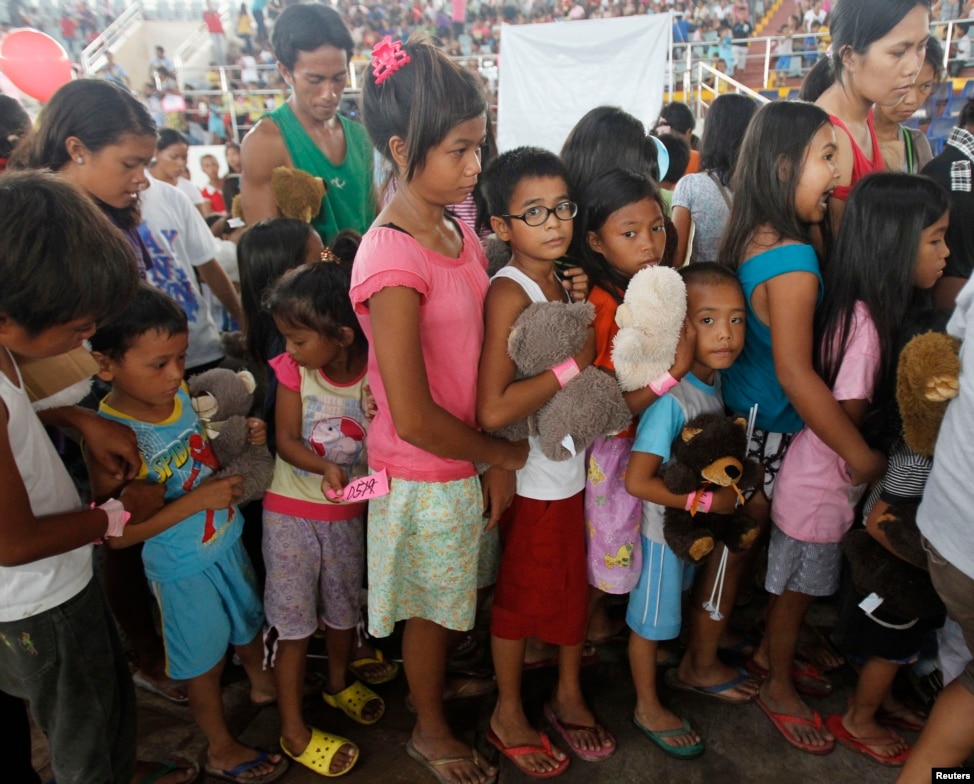 2 Survivors of Typhoon Haiyan line up during a gift-giving program inside an astrodome at Tacloban city, central Philippines.
3 An electoral agent holds up a ballot as votes are counted at a polling station in Antananarivo, as the people of Madagascar elect a new president in a run-off vote aimed at ending a political and economic crisis sparked by a coup four years ago.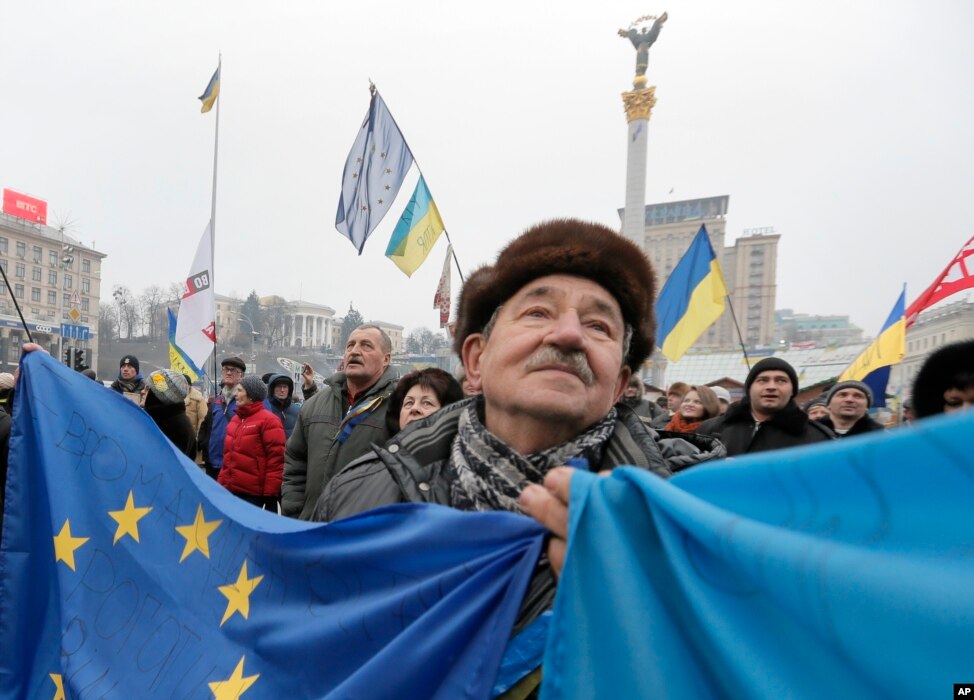 4 A pro-European Union activist with Ukrainian and European Union flags stands with others in Independence Square in Kyiv, Ukraine.
5 Boys walk to school through morning fog in Jammu, India. Dense fog has disrupted train and flight services in northern India for the past few days.
6 A Palestinian child dressed as Santa Claus holds a Palestinian flag while standing in front of Israeli border police during a demonstration against Israel's separation barrier in the West Bank village of Al-Masara, near Bethlehem.
7 A jockey and his horse fall as they compete in a purebred Arabian horse race on the sidelines of the Mazayin Dhafra Camel Festival in the desert, 150 kilometers west of the United Arab Emirates' capital Abu Dhabi.
8 Police stop a group of the students from the National Students Union of India, during a protest outside the U.S. consulate in Mumbai. India's information minister lashed out at the United States on Friday and demanded an apology for the treatment and arrest of Devyani Khobragade, India's deputy consul general in New York.
9 Supporters of Bolivia's President Evo Morales celebrate the launch of the Tupac Katari satellite, in La Paz. China Great Wall Industry Corporation launched Bolivia's first communications satellite, local media reported.
10 An Indian laborer carries a pair of brooms while cleaning at the Sangam, the confluence of the three rivers Ganges, Yamuna and mythical Saraswati, ahead of the annual Magh Mela festival in Allahabad.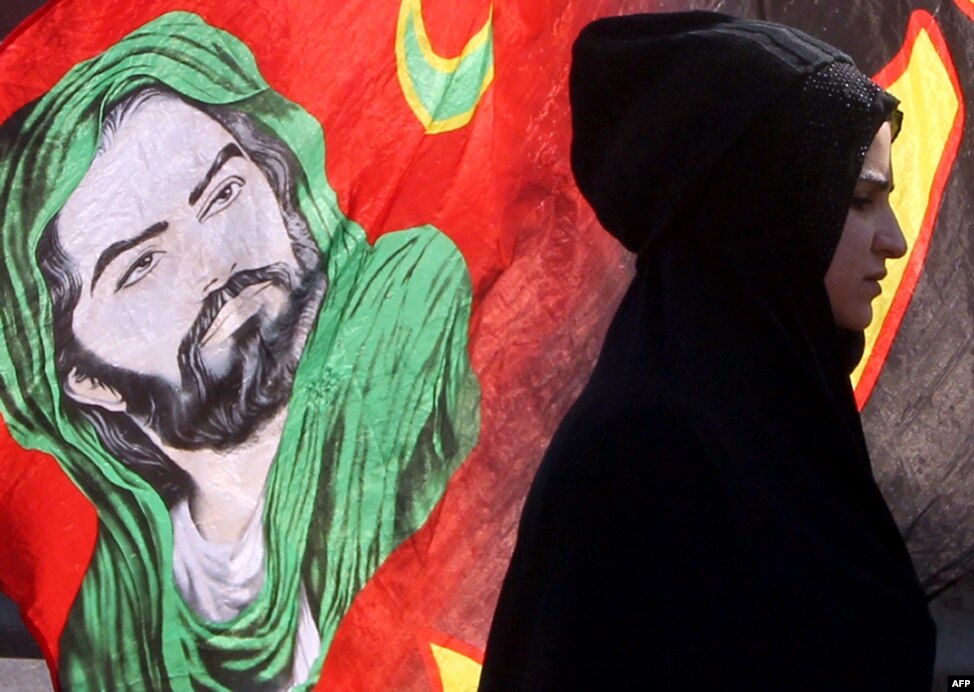 11 An Iraqi Shiite Muslim pilgrim walks past a banner with an image of Imam Hussein along the main highway that links Baghdad with the central shrine city of Karbala, to take part in the Arbaeen religious festival. The festival marks the 40th day after Ashura commemorating the 7th century killing of Prophet Mohammed's grandson.
12 Giraffes feed inside their cage at the Paris Zoological Park in the Bois de Vincennes. The giraffes, one male and 16 females, remained at the zoo during its renovation. Inaugurated in 1934, the Paris Zoo will reopen in April 2014 after being closed for four years for renovations.
13 A couple poses under an illuminated tunnel to celebrate the upcoming Christmas and New Year holidays at Garden of Morning Calm in Gapyeong, South Korea. Christmas is one of the biggest holidays in South Korea.
14 A flock of migrating cranes is seen at the Hula Lake Ornithology and Nature Park in northern Israel. The Hula Valley is a stopping point for hundreds of species of birds along their migration route between the northern and southern hemispheres.
December 22, 2013
1 A layer of ice coats the leaves of a Japanese maple tree after an ice storm in Toronto, Canada.
2 A vehicle tries to drive over a sidewalk to avoid an ice-covered tree branch that came down after freezing rain in Toronto, Canada. Thousands of households are without power in the Greater Toronto area following an overnight ice storm.
3 People hold a Central African flag as they protest against the French "Sangaris" intervention in the Galabadia neighborhood close to President Michel Djotodia's private house in the eigth district of Bangui.
4 Freed Russian former oil tycoon Mikhail Khodorkovsky (C) arrives for his news conference in the Museum Haus am Checkpoint Charlie in Berlin, Germany. Khodorkovsky, pardoned by Russian President Vladimir Putin after 10 years in jail, said in remarks that he would not go into politics or seek to regain assets of his former oil company, Yukos.
5 A Shinto priest walks across embers during a fire walking ceremony to pray for a safe and good healthy life at Kabasan Saenazumi Jinja shrine in Sakuragawa City, Ibaraki Prefecture, Japan.
6 People sing as they show a poster of the winning number to the first prize of Spain's Christmas Lottery "El Gordo" (The Fat One) outside a lottery shop where the lottery number was sold in Sanlucar la Mayor, southern Spain.
7 Nora Yara, a victim of Super Typhoon Haiyan, decorates a Christmas tree along a devastated area of Sagkahan town, Tacloban city, central Philippines.
8 A pro-European integration protester wearing a mask depicting Russian President Vladimir Putin tries to kiss a woman during a rally in Independence square in Kyiv, Ukraine.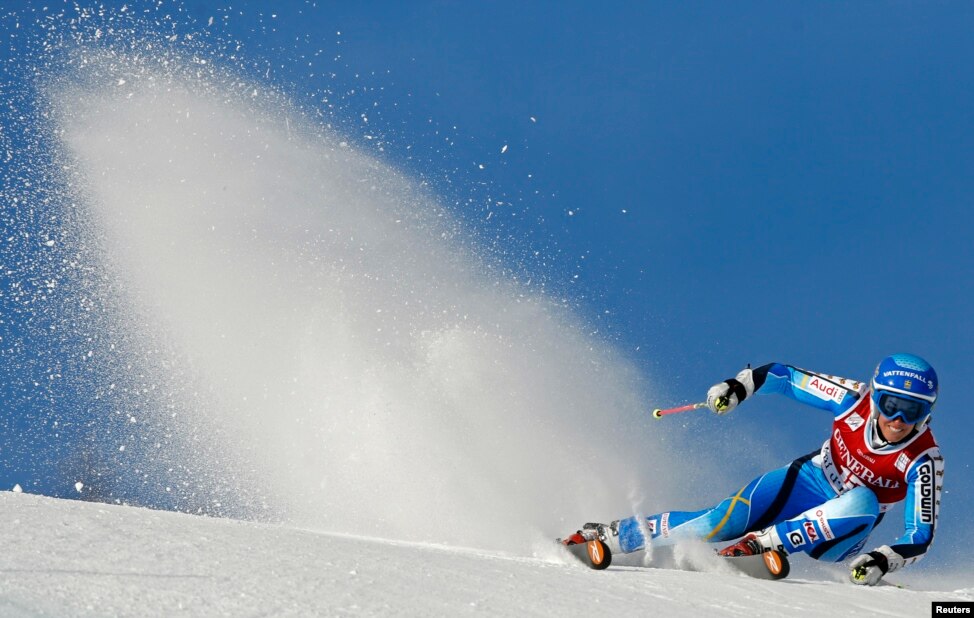 9 Sweden's Maria Pietilae-Holmner skis during the Women's World Cup Giant Slalom skiing race in Val d'Isere, French Alps.
10 Anti-government protesters clash with riot police during a mass rally outside the house of Thai Prime Minister Yingluck Shinawatra in Bangkok in a bid to topple her before an uncertain February election the main opposition party will boycott.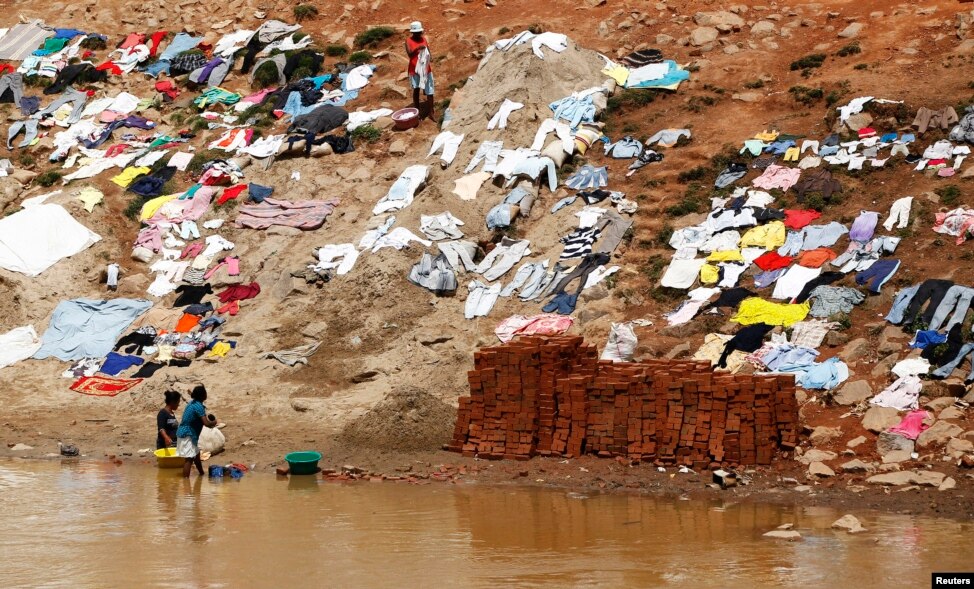 11 Washerwomen, who earn close to 2,000 Ar (less than $1) a day, wash laundry along the banks of the Ikopa River in Madagascar's capital Antananarivo.
12 Camels walk along sand dunes in the Liwa desert, 220 km west of Abu Dhabi, United Arabs Emirates, as the Mazayin Dhafra Camel Festival takes place.
December 23, 2013
1 French military personnel try to control supporters who are asking them to disarm fighting gangs, near the airport in Bangui, Central African Republic. France appealed to European partners for assistance in quelling months of religious violence in its former colony.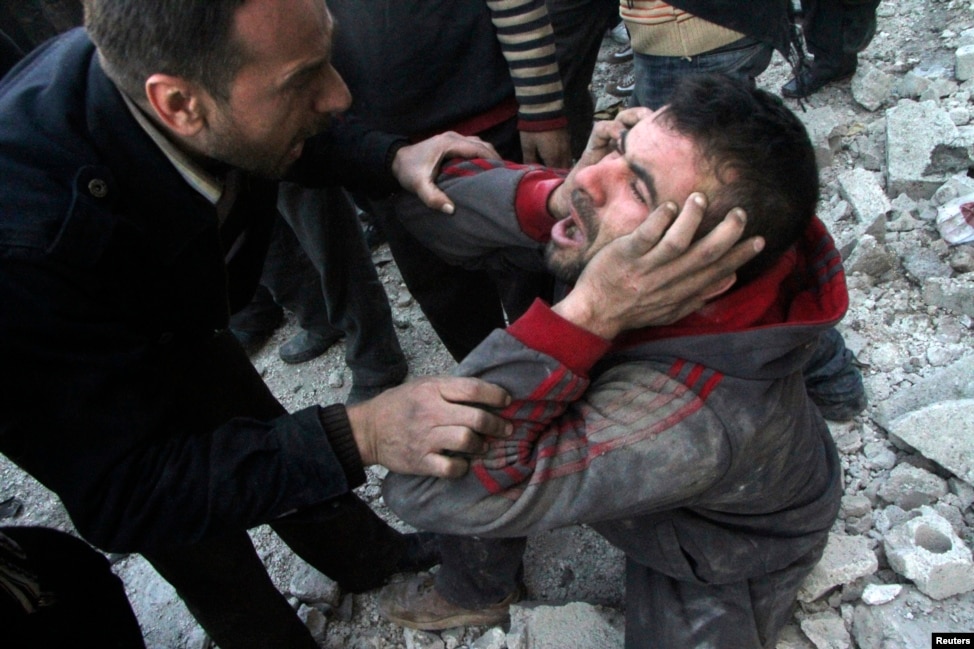 2 A man reacts after what activists said was an air raid by forces loyal to Syrian President Bashar Al-Assad in Aleppo's al-Marja district. More than 300 people have been killed in a week of air raids on the northern city of Aleppo and nearby towns, a monitoring group said.
3 Anti-government protesters hold Thai national flags as they march toward the Department of Special Investigation (DSI) in Bangkok. The Thai baht plumbed its lowest level in almost four years as a political crisis grew more intractable.
4 People walk past decorations on a street ahead of Christmas day celebrations in Colombo, Sri Lanka.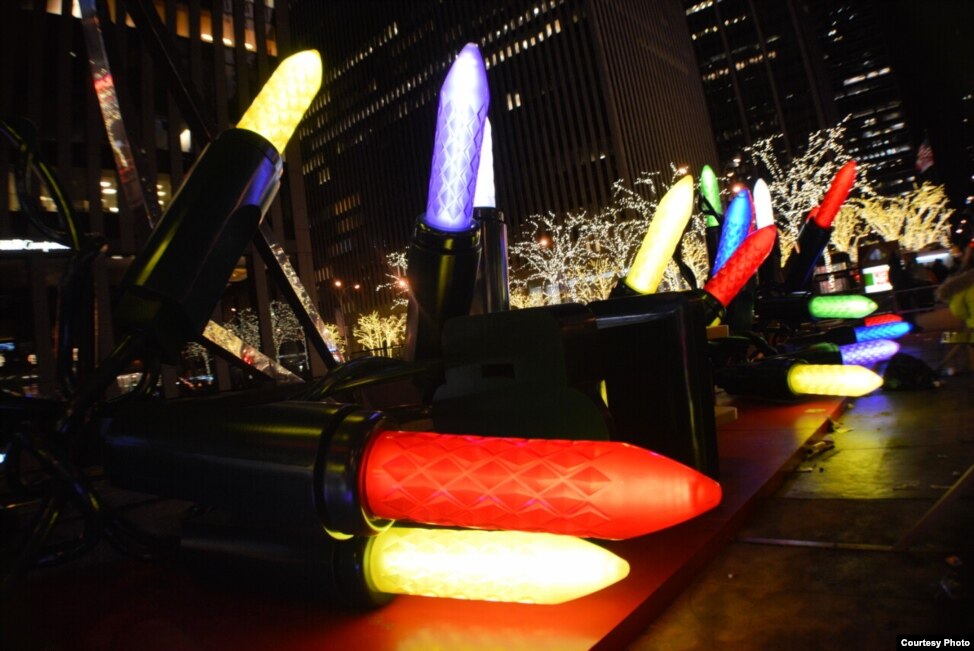 5 Colorful Christmas decorations on Sixth Avenue in Manhattan, New York, Dec. 22, 2013 (Photo taken by Thao Doan/VOA reader)
6 A pedestrian walks on the sidewalk during a snowstorm in Quebec City, Canada, Dec. 22, 2013.
7 An Afghan teacher teaches a girl how to read the Quran, Islam's holy book, at a local Madrassa, or seminary, in Kabul, Afghanistan.
8 Children learn to skate at the Seoul Square skating rink, South Korea.
9 A woman searches for recyclable waste at a dump site on the banks of the Bagmati River in Kathmandu, Nepal.
10 Well-wishers cross a bridge outside the Imperial Palace as they make their way to attend an event to celebrate Japan's Emperor Akihito's 80th birthday at the Imperial Palace in Tokyo.
11 A woman and a child stand in the "Step into the Void" glass skywalk overlooking the French Alps on top of a 3842-meter peak in Chamonix. The installation, which opened to the public after three years of development, is made of three layers of glass and can withstand winds of up to 200kmph.
12 A man is silhouetted as he walks near Jaffa Gate outside Jerusalem's Old City.
13 A Thai hill tribe elder plays a traditional bamboo wind instrument as the sun sets in the village of Khun Klang, Chiang Mai province, Thailand. (Photo taken by Matthew Richards/Thailand/VOA reader)
14 A surfer rides a wave during the Punta Galea Big Wave Challenge in Punta Galea, northern Spain, Dec. 22, 2013.
December 24, 2013
1 Nigerian pilgrims wait inside the Church of the Nativity, the site revered as the birthplace of Jesus, during Christmas celebrations in the West Bank town of Bethlehem.
2 Ruben Torres, dressed in a Santa Claus outfit, waves to people from a boat with fishermen on Christmas Eve, along the coast of Valparaiso city, about 121 km (75 miles) northwest of Santiago, Chile.
3 A participant releases a sky lantern during the "Kapulica & Lanterns" event in Zagreb, Croatia, Dec. 23, 2013. The event, organized by contemporary artist Kresimir Tadija Kapulica as part of the ArtOmat Fair ahead of Christmas, involves people releasing about 1,000 lanterns to symbolize sending wishes to the universe.
4 A Buddhist monk shields himself from police officers during a protest in front of the City Hall in central Phnom Penh, Cambodia. About 100 former Boeung Kak lake residents, including Buddhist monks, demanded that the government provide them with more compensation over their forced eviction from the area, to pave way for a private real estate development project, according to protesters.
5 Egyptian men inspect destruction in the city of Mansura, north of Cairo, following a powerful car bomb explosion. The bombing tore through a police building in Mansura, killing at least 14 people.
6 Forty-Fifth Anniversary of 'Earthrise' Image - the first photograph of the distant blue Earth above the Moon taken by the Apollo 8 crew on Dec. 24, 1968
7 A man stands alone at London Bridge Station after numerous trains were cancelled due to storms. Disrupted transport networks and power outages wreaked havoc in Britain and France, one of the busiest travel and shopping days of the year just before Christmas, after hurricane-force winds and torrential rain lashed the region.
8 Parts of the roof of the Theatre Hangar are seen on the Dakota airplane after the roof was partially blown away by strong winds at the former airfield in Valkenburg, The Netherlands. The Dakota airplane is being used in the musical Soldier of Orange.
9 A Kurdish student protester launches fireworks against Turkish riot policemen in downtown Istanbul during an anti-government protest marking the second anniversary of a Turkish military air strike aimed at Kurdish rebels that killed 34.
10 Visitors' silhouettes can be detected against lights decorating trees to celebrate the upcoming Christmas and New Year, at Garden of Morning Calm in Gapyeong, South Korea.
11 A worker carries a roasted pig outside a store in Quezon city, north of Manila, Philippines. Roasted pig is traditionally served during a Christmas eve dinner called "Noche Buena" in the predominantly Roman Catholic nation.
12 Bangladeshi laborers unload coal from a boat, on the last day of a four-day blockade called by the opposition in Dhaka.
December 25, 2013
1 The Latin Patriarch of Jerusalem Fouad Twal (2nd R) carries a statuette of baby Jesus during Christmas midnight mass at the Church of St. Catherine, which is connected to the Church of the Nativity, in the West Bank town of Bethlehem.
2 The women of Saint Afram Syrian Orthodox Church's choir pray during morning Christmas mass in Amman, Jordan. Syrian and Iraqi Orthodox Christian families attended morning mass of Christmas and pray for peace in their countries.
3 Christian worshippers attend a Christmas prayer in Surabaya. Indonesian Christians celebrated Christmas amid a warning from police that Islamic extremists may be planning to target worshippers during Christmas and New Years celebrations in the capital Jakarta and other parts of the country.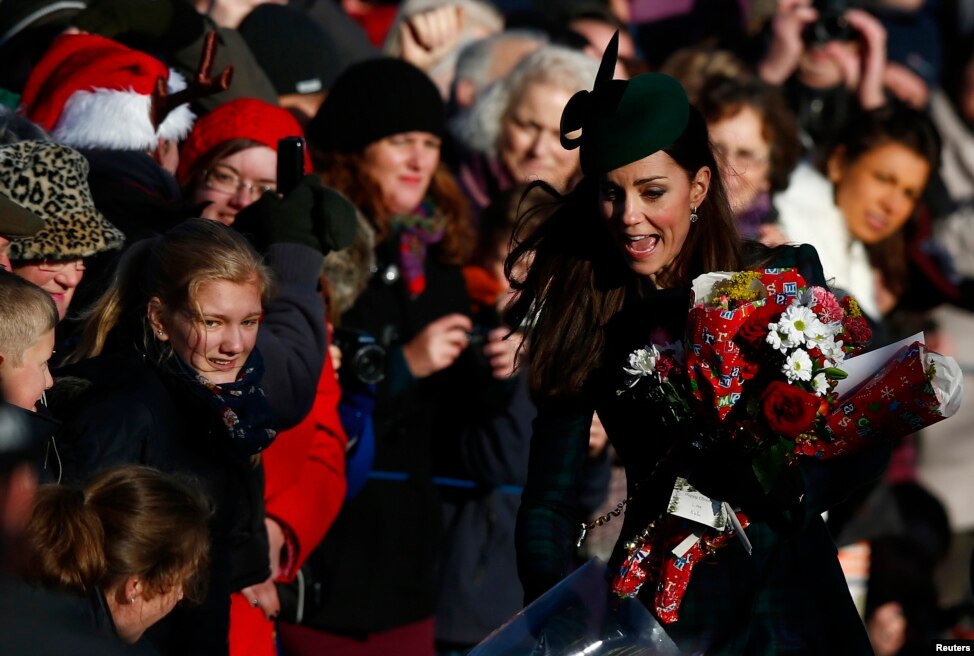 4 Britain's Catherine, the Duchess of Cambridge, rushes to collect flowers from well-wishers as she leaves a Christmas Day morning service at the church on the Sandringham Estate in Norfolk, eastern England.
5 A man wearing a Santa hat (R) prepares to cut a cake that is 201-feet (61 meters) long as boys dressed in Santa Claus costumes cheer during Christmas celebrations in the northern Indian city of Chandigarh.
6 A six-story Christmas tree shines at the National Harbor in Washington, D.C. (Diaa Bekheet/VOA)
7 People walk through the ice encrusted forest in Earl Bales Park following an ice storm in Toronto, Canada, Dec. 24, 2013.
8 A protester holds a picture of journalist Tetyana Chornovil, who was beaten and left in a ditch just hours after publishing an article on the assets of top government officials, during a protest rally in front of the Ukrainian Ministry of Internal Affairs in Kyiv.
9 Seagulls fly over Nazare beach, Portugal.
10 The facade of a house collapses due to floods after the Dirk storm in Quimperle, western of France.
11 NASA astronaut Rick Mastracchio participates in the first Expedition 38 spacewalk designed to troubleshoot a faulty coolant pump on the International Space Station.
12 A participant in a colorful costume jumps into the water during the104th edition of the Copa Nadal (Christmas Cup) in Barcelona's Port Vell, Spain.
13 Workers shape a giant snow sculpture of horses, ahead of an ice and snow festival in Barkol Kazakh Autonomous County, China's far western region of Xinjiang.
December 26, 2013
1 Israeli Air Force cadets toss their caps during their graduation ceremony at Hatzerim air base in southern Israel.
2 An Afghan refugee holds a child as she stands near her home on the outskirts of Herat.
3 An anti-government protester is detained by riot police during a clash at a sports stadium in Bangkok, Thailand. Rock-throwing demonstrators trying to halt preparations for elections fought police in the capital, escalating their campaign to topple the country's beleaguered government.
4 People enjoy a snow-covered Cloud Gate at Millennium Park in Chicago, Illinois, USA, which becomes a great photo opportunity for visitors, Dec. 25, 2013.
5 The field of yachts head down Sydney Harbor at the start of the annual Sydney to Hobart yacht race, Australia.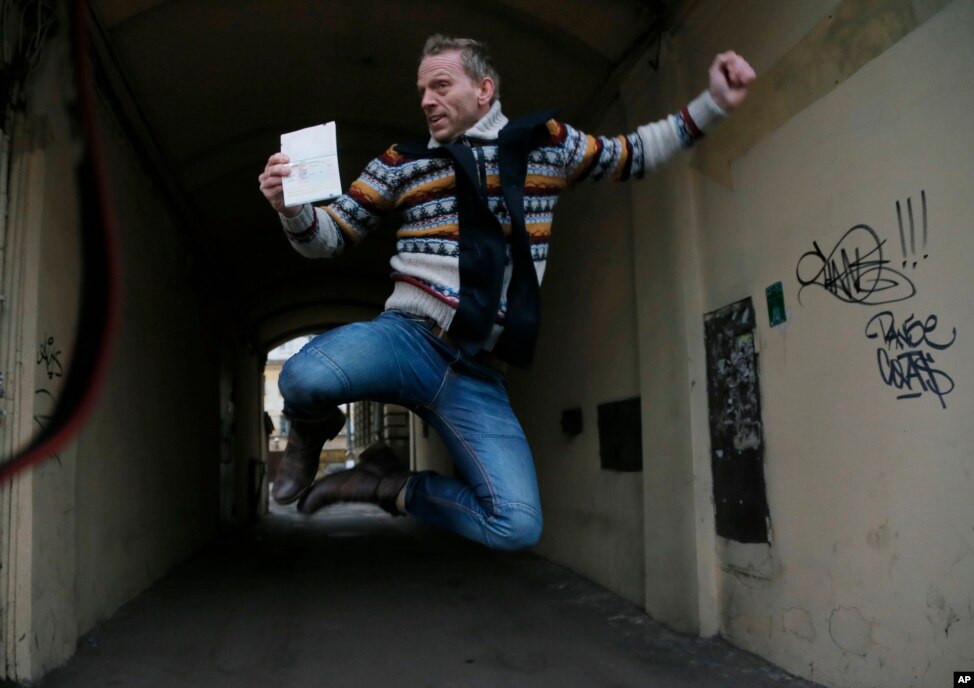 6 Greenpeace International activist Mannes Ubels of Netherlands jumps holding his passport as he celebrates getting permission to leave Russia, near the Federal Migration Service in St. Petersburg.
7 Indians offer milk during a prayer ceremony to commemorate the 9th anniversary of the 2004 Tsunami, on Marina beach, in Chennai. The Tsunami triggered by a 9.1 magnitude earthquake on Dec. 26, 2004 killed tens of thousands in 12 Indian Ocean nations.
8 In this aerial photograph, dry river beds snake among the rugged terrain in eastern Afghanistan.
9 A boy plays the accordion during a musical homage to singer and composer Diomedes Diaz at the main square of Valledupar, in Colombia's northern state of Cesar, Dec. 25, 2013. Diomedes Diaz, one of the greatest performers of the country's accordion vallenato music, died on Dec. 22, 2013, at age 56.
10 Firefighters battle a wind-driven brush fire in Simi Valley, California, USA. Strong Santa Ana winds spread the fire quickly, however, firefighters gained the upper hand in several hours after using water dropping helicopters, engines, and hand crews.
December 27, 2013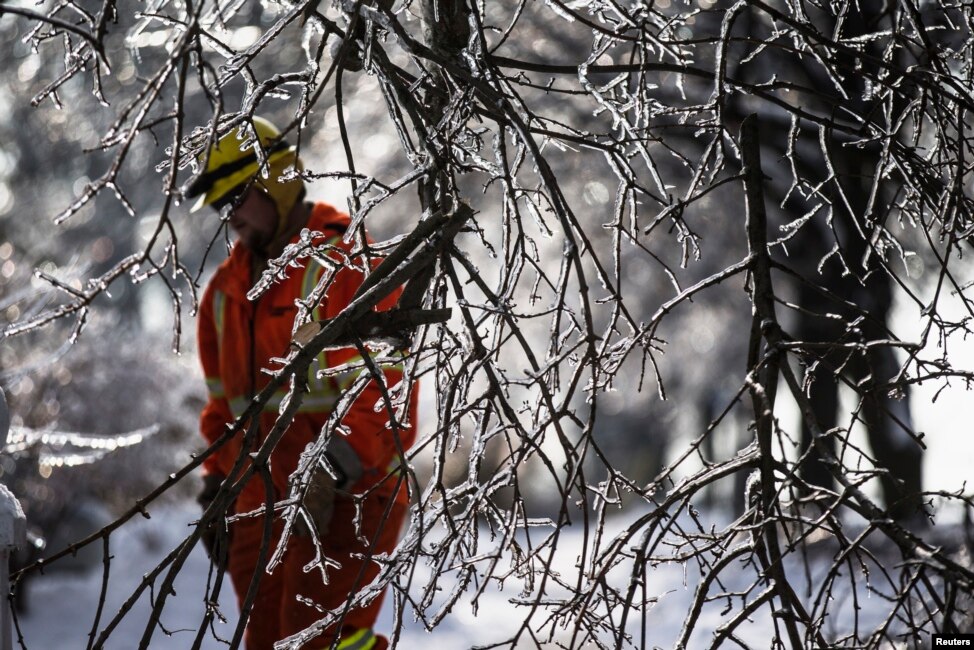 1 A Toronto Hydro worker tries to restore power, behind frozen tree branches, in the Scarborough suburb after an ice storm in Ontario, Canada. Over 30,000 residents have been left without power since the storm hit on Dec. 22, local media reported.
2 A protester from a right-wing, conservative and anti-Japanese civic group chants slogans denouncing Japanese PM Shinzo Abe's visit to the Yasukuni Shrine as he holds a placard that has been set alight, in front of the Japanese Embassy in Seoul.
3 Lebanese security forces and firefighters inspect the scene of a a car bomb explosion that rocked central Beirut. The huge explosion killed Mohamed Chatah (Shatah), former finance minister and adviser to Lebanese ex-premier Saad Hariri and left at least five people dead and dozens injured.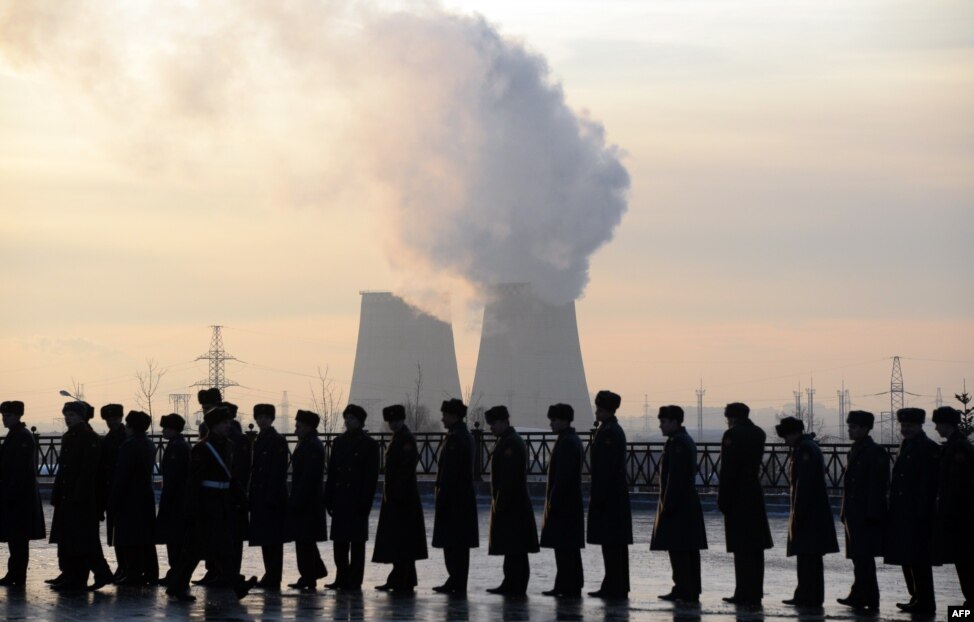 4 Russian soldiers stand in line to pay their last respects to Mikhail Kalashnikov, the designer of the iconic AK-47 assault rifle that was the favored weapon of guerrillas worldwide, during his funeral ceremony in Mytishchi outside Moscow.
5 Supporters of slain premier Benazir Bhutto gather on the sixth anniversary of Bhutto's assassination, at a rally in Lahore, Pakistan.
6 Waves crash over Church Rock in strong winds at Broad Haven, in Wales. More flood warnings were issued for England, Wales and Scotland as strong winds and heavy rain returned to Britain.
7 A Filipino trader blows a horn in front of the electronic board during the last day of trading this year at the Philippine Stock Exchange in the financial district of Makati, south of Manila. The Exchange index rose to a record high of 7,403.65.
8 A man walks past a wall adorned with graffiti painted by various artists to promote peace, along a sidewalk in Karachi, Pakistan.
9 Workers and a crane are seen next to a newly-built ice sculpture castle ahead of the 30th Harbin Ice and Snow Festival, in Heilongjiang province, China. According to festival organizers, nearly 10,000 workers were employed to build the sculptures, which require about 180,000 square meters of ice and 150,000 square meters of snow.
10 Supporters of Turkey's PM Tayyip Erdogan shout slogans as they gather to welcome his arrival at Ataturk Airport in Istanbul. A Turkish court blocked a government attempt to force police to disclose investigations to their superiors in a setback for Erdogan's attempts to manage fallout from a high-level corruption scandal.
11 This handout image released by the Centre of Excellence for Climate System Science at the University of New South Wales shows the ship MV Akademik Shokalskiy trapped in the ice at sea off Antarctica. The ship, with 74 people on board, has been trapped in ice about 100 nautical miles east of the French base Dumont D'Urville since Dec. 24. (Andrew Peacock/www.footloosefotograph
12 Australia's Chris Rogers, right, is struck on the head off the bowling of England's Stuart Broad, left, during their Ashes cricket test match at the Melbourne Cricket Ground in Melbourne.
13 Astronaut Mike Hopkins, Expedition 38 Flight Engineer, is shown in this NASA handout photo released Friday, as he participates in the second of two spacewalks which took place on Dec. 24, 2013.
14 The sun sets over a field of reeds near Briesen, eastern Germany.
December 29, 2013
1 A novice Tibetan monk gestures to the camera as the spiritual leader the Dalai Lama delivers the Jangchup Lamrim teachings at the Sera Monastery in Bylakuppe, 135 miles west of Bangalore, India.
2 A Lebanese woman weeps as she looks toward the coffin of Mohammed Chatah, a senior aide to former Lebanese Prime Minister Saad Hariri, who was assassinated on Dec. 27, 2013, by a car bomb, during his funeral procession at Martyrs' Square in Beirut.
3 Priests in white robes walk to give communion to people at an outdoor Catholic mass in Madrid, Spain.
4 Diners take pictures of similar steamed buns that Chinese President Xi Jinping ate at the Qing-Feng steamed buns restaurant in Beijing. Xi showed off the common touch on Dec. 28, 2013, with a surprise visit to a steamed bun restaurant in Beijing where he paid for his food and happily chatted to surprised customers.
5 A Palestinian rides a horse on Gaza beach as the sun sets in Gaza City, Dec. 28, 2013.
6 Torch bearers, Marina Tartyshnaya, left, and Musa Galyamov hold their torches during the Olympic torch relay in downtown Yoshkar-Ola, some 600 km (372 miles) east of Moscow, Russia. (Photo provided by Olympictorch2014.com)
7 Supporters of the ruling Bangladesh Awami League beat a lawmaker and supporter of the main opposition Bangladesh Nationalist Party (BNP) during a protest by opposition activists in Dhaka. Security forces and opposition activists clashed in the capital, leaving at least one person dead, as thousands of police took to the streets to foil a mass rally calling on Prime Minister Sheikh Hasina to cancel upcoming elections.
8 Supporters shield their eyes from the sun as Everton play Southampton during the English Premier League soccer match at Goodison Park Stadium, Liverpool, England.
9 Spanish bullfighter David Fandila 'El Fandi' performs a pass during a bullfighting festival at the Canaveralejo bullring in Cali, Colombia, Dec. 28, 2013.
December 30, 2013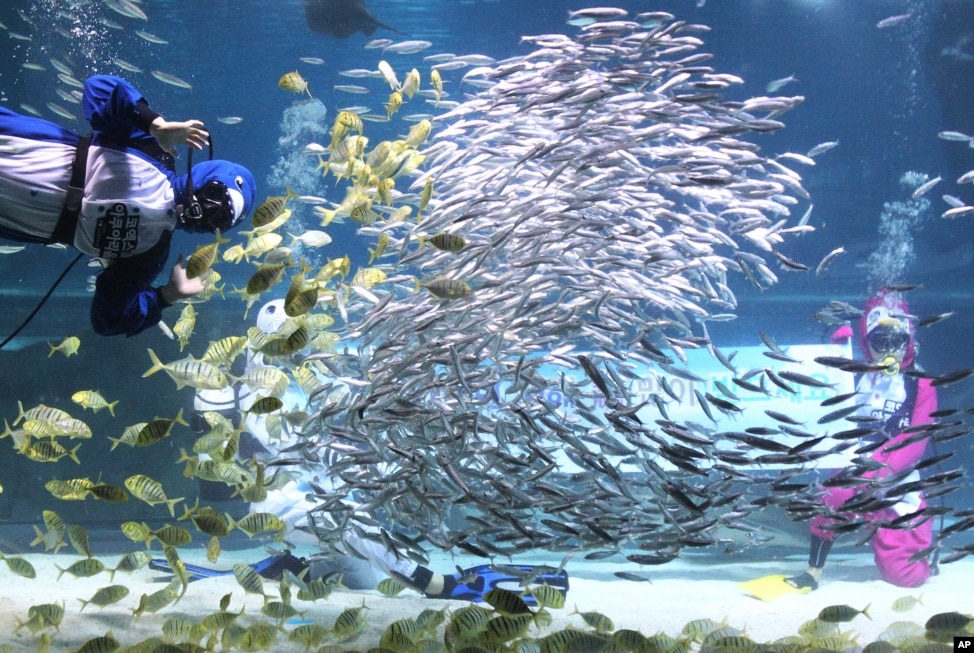 1 Divers dressed in penguin costumes perform with a school of fish as part of the New Year and winter vacation season's events at the Coex Aquarium in Seoul, South Korea.
2 Students stand to form "Happy 2014" to welcome the upcoming New Year at a middle school in Ma'anshan, Anhui province, China.
3 Ambulances line up at the site of a trolleybus explosion, background, in Volgograd, Russia. A bomb blast tore through the trolleybus, killing at least 10 people a day after a suicide bombing that killed at 17 at the city's main railway station.
4 Children stand in the snow outside their shelter in Kabul, Afghanistan.
5 An aerial shot of a pirogue packed with passengers arriving at a dock after crossing a waterway near the town of Malakal, South Sudan.
6 The MV Akademik Shokalskiy is seen stranded in ice in Antarctica, Dec. 29, 2013. An Antarctic blizzard has halted an Australian icebreaker's bid to reach the Russian ship trapped for a week with 74 people onboard, rescuers said.
7 Rosslyn in Northern Virginia, USA, is seen before the storm, Dec. 29, 2013 (Photo taken by Dimitris Manis/VOA Greek service)
8 A worker takes a break while arranging "wishing spheres" along Marina Bay in Singapore. People penned their wishes for the New Year onto the spheres before placing them into the river.
9 Lava spews from the Southeast Crater of Mt. Etna in Sicily, southern Italy.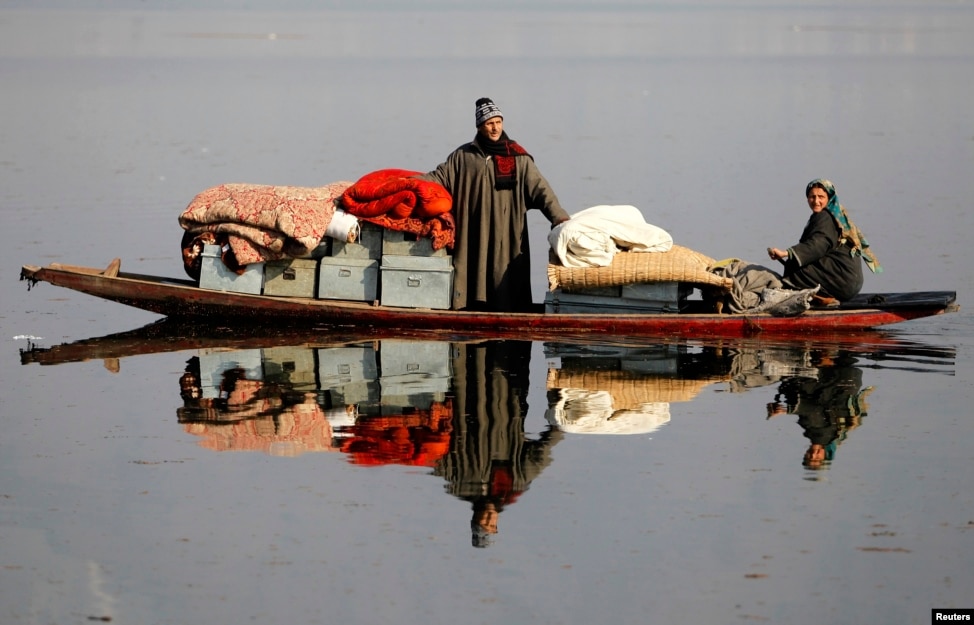 10 Kashmiris transport their belongings to a safer place after their houses were destroyed by a fire at Dhobi Ghat, on the outskirts of Srinagar, India. At least 14 residential houses were gutted in the fire, according to residents.
11 Craftsmen make a snow castle at a park in Changchun, Jilin province, China.
12 Members of Sao Paulo's Commerce Association release thousands of balloons with the color of the Brazilian flag to celebrate the end of the year in downtown Sao Paulo, Brazil.
13 A man dressed up as Spiderman poses for photos as he takes part in the annual "air worthiness" test of confetti in Times Square in New York, Dec. 29, 2013.
December 31, 2013
2 This image, taken by the AIA instrument on NASA's Solar Dynamics Observatory at 171 Angstrom, shows the current conditions of the quiet corona and upper transition region of the Sun.
3 Polar bears Taiga (L) and Eddy playfully fight at the Quebec Aquarium in Quebec City, Canada.
4 An Afghan woman is reflected in a mirror at a small music shop in Kabul.
5 A ski helmet is pictured in a sports shop in the Tyrolean ski resort of Hochoetz, Austria. Michael Schumacher's helmet almost certainly saved his life and leisure skiers should always wear head protection, said the man behind the main safety measures in Alpine skiing.
6 Laser lights shoot from towers during a New Year's Eve countdown to 2014 held at the Great Wall of China in Beijing, China.
7 Mother and son are silhouetted against the last sunset of 2013 in Hong Kong.
8 A woman sits underneath a New Year celebrations light installation as her son (not pictured) asks drivers for money at Kurfuerstendamm in Berlin, Germany.
9 Russian soldiers patrol the Battle of Stalingrad memorial in Volgograd, Russia.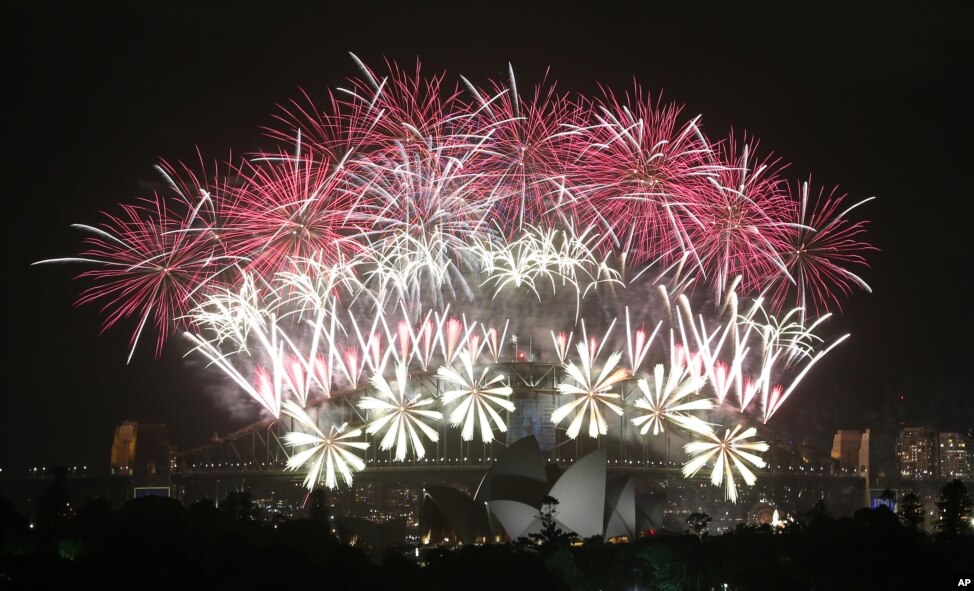 10 Fireworks explode over the Harbour Bridge and the Opera House during New Year's Eve celebrations in Sydney, Australia.
11 Austria's Thomas Diethart soars during his trial jump at the second stage of the four hills ski jumping tournament in Garmisch-Partenkirchen, southern Germany.
12 Palestinians hold torches and posters of late Palestinian President Yasser Arafat and late Hamas founder and spiritual leader Sheik Ahmed Yassin, during celebrations marking the 49th anniversary of the Fatah movement in Gaza City.
13 This image taken by expedition doctor Andrew Peacock shows scientists from the University of New South Wales in Australia, Ziggy Marzinellia and Graeme Clark, preparing a suitable surface for a helicopter landing next to the MV Akademik Shokalskiy (background), still stuck in the ice off East Antarctica.
14 Fireworks explode from Taiwan's tallest skyscraper, the Taipei 101 during New Year celebrations in Taipei.
15 Navy sailors lower the Sri Lankan national flag as the sun sets on New Year's Eve in Colombo, Sri Lanka.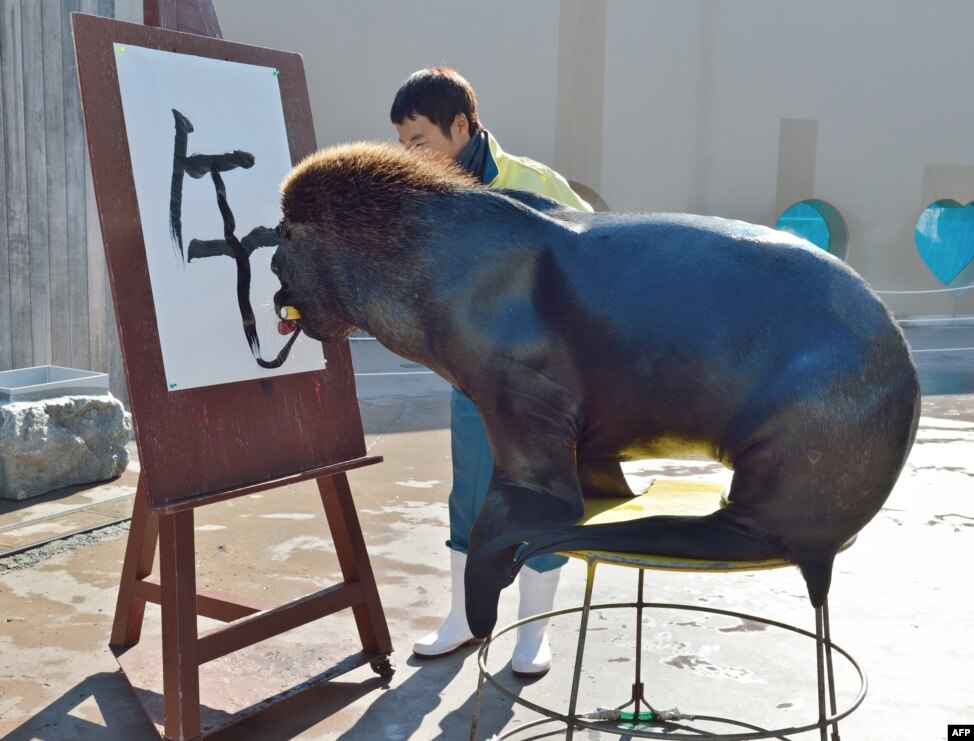 16 Sea lion "Jay" paints a Chinese character reading "the horse" to practice his calligraphy as part of his New Year's Day attraction at the Hakkeijima Sea Paradise aquarium in Yokohama, suburban Tokyo.The event, marking the forthcoming Chinese lunar calender "Year of the Horse", will be held as part of a New Year's attraction until the end of January.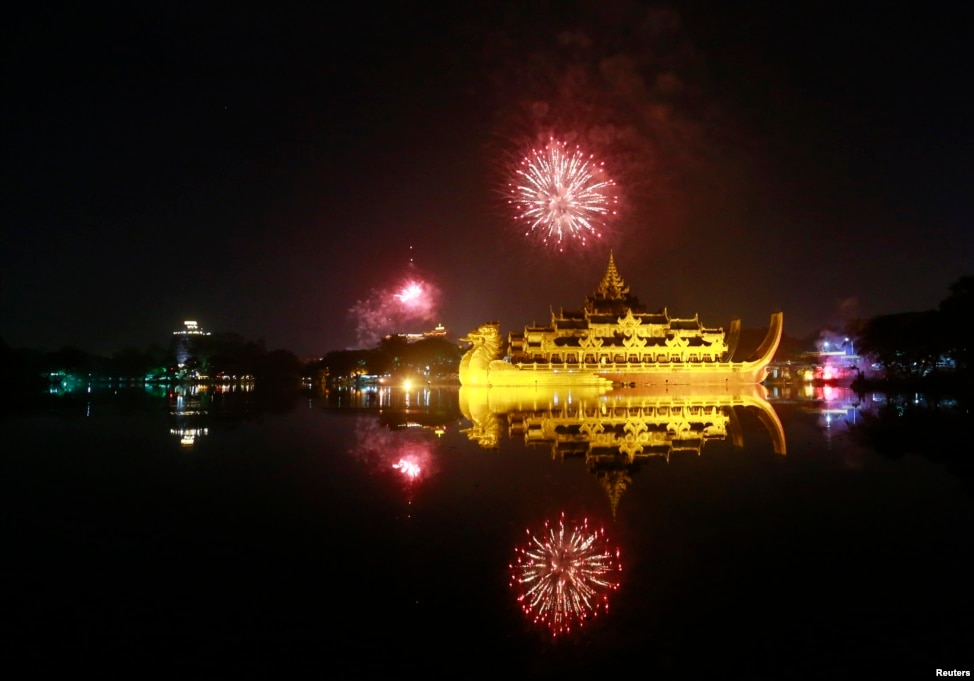 17 Fireworks explode in the skies above Kayawait palace hotel as people usher in the new year during a 2014 new year's count down party in Rangoon, Burma.
18 A woman is soaked at Montevideo financial district. To mark the last working day of the year, workers throw water at people and discard old calendars.
19 Fireworks explode over Victoria Harbour and Hong Kong Convention and Exhibition Centre during a pyrotechnic show to celebrate the new year in Hong Kong.
20 A claw hangs from a crane near venues in the Olympic Park in Adler near Sochi. President Vladimir Putin vowed to annihilate "terrorists" following two deadly bomb attacks in less than 24 hours in the southern Russian city of Volgograd that raised security fears ahead of the Winter Olympics.