November 01, 2013
1 Apple employees celebrate outside the Apple store on New York's 5th Avenue, shortly before the new Apple iPad Air tablets went on sale.
2 McLaren Mercedes' British driver Jenson Button sits in the pits during the second practice session at the Yas Marina circuit in Abu Dhabi, ahead of the Abu Dhabi Formula One Grand Prix.
3 A member of Christie's staff displays The Orange, the world's biggest orange diamond, which weighs 14.82 carats during an auction preview in Geneva, Switzerland.
4 An employee at French newspaper Nice-Matin wears a mask and holds a candle as she lays on the road in front of their headquarters in Nice, as part of a demonstration by labor union members to symbolise the death of their jobs.
5 Indian men look at a pile of new shirts for sale on the side of a busy intersection in east New Delhi on the eve of Diwali, one of the most important holidays in the Hindu calendar.
6 Indonesian workers take shelter from the rain inside a bus during a protest demanding higher wages outside the city hall in Jakarta.
7 Taiwanese dancers perform during a press conference for the Tsai Jui-Yueh Dance Festival VIII Morning Without Sunrise in Taipei.
8 A woman takes a photograph of fish-shaped lanterns during the Seoul Lantern Festival 2013 at Cheonggye stream in central Seoul, South Korea.
9 New Zealand All Blacks' Daniel Carter plays tag rugby with a student as the All Blacks visit Aoyama Elementary School ahead of Saturday's international friendly rugby match against Japan in Tokyo.
10 A  European Space Agency (ESA) image released Oct. 31, 2013 shows the Sun in extreme UV light from the Solar Dynamic Observatory superimposed on a visible-light image of the solar corona. Several large, active regions on the Sun burst out with about 20 eruptions between 25-28 Oct. 2013.(AP/ESA-NASA)
11 Young elephant Kyan (L) celebrates his first birthday in Amersfoort Zoo in The Netherlands.
November 02, 2013
1 A visitor takes pictures with her mobile phone in front of laser beams and a projected image of the Arc de Triomphe, at the 2013 Optic Valley of China International Optoelectronic Exposition and Forum (OVC EXPO) in Wuhan, Hubei province, China. 
2 Doctors, nurses, medical students and teachers hold flags during a protest against low wages and poor working conditions in Romania's hospitals in Bucharest. 
3 A Pakistani animal handler holds up a stick as a goat balances over it in Islamabad. 
4 Lazaro Martinez rests after searching for his wife and two children in the mud in the town of La Pintada, Mexico, Nov. 1, 2013. Villagers are demanding that the government continue the recovery of bodies after a mudslide buried dozens after Tropical Storm Manuel more than a month ago.
5 Big-wave surfer Garrett McNamara of the U.S. drops in on a large wave at Praia do Norte in Nazare, Portugal, Nov. 1, 2013. 
6 A firefighter extinguishes a burning car on the road leading from the city to the Frederic Chopin airport in Warsaw, Poland. It was not clear what caused the fire in which no one was hurt.
7 A Kosovo Serb man sits next to a vandalized grave in the ethnically divided Kosovo town of Mitrovica. Serbs from the north of Mitrovica crossed the river into the mainly Albanian south to pay respects to lost loved ones on the winter "Zadusnice" -- the Serbian Orthodox equivalent of All Souls' Day -- at the Orthodox cemetery.
8 Connecticut's Kaleena Mosqueda-Lewis, center, chases a ball out of bounds, falling between Hartford Courant writer John Altavilla, left, and Associated Press freelancer Ken Davis, right, during the second half of an NCAA college exhibition basketball game in Storrs, Connecticut, USA, Nov. 1, 2013.
9 A vendor holds up an umbrella as he seeks shelter from the heavy rain under a bus stand near the Galle Face beach in Colombo, Sri Lanka. 
10 People light lamps as they make a formation of a peace symbol on the eve of Diwali, the Hindu festival of lights, in the northern Indian city of Chandigarh.
11 Russia's Ekaterina Bobrova and Dmitri Soloviev perform at the Cup of China Grand Prix of Figure Skating in Beijing, China, Nov. 1, 2013.
12 Flamingos take to the air from the shore of Lake Oloidien near Naivasha in Kenya. 
13 Palestinian Motasim Abu Karsh, whose leg was amputated after he was injured during an Israeli air strike in 2005, rests after swimming in a pool during a local competition at al-Sadaka Club in Gaza City.
14 Armin Bielefeldt of the U.S. poses with his beard art work before the Beard World Championship 2013 in Leinfelden-Echterdingen near Stuttgart, Germany.
15 Spectators watch the second free practice at the Yas Marina racetrack in Abu Dhabi, United Arab Emirates, Nov. 1, 2013. The Emirates Formula One Grand Prix will take place on Nov. 3.
November 03, 2013
1 Men from the Rendile tribe observe a rare solar eclipse in the Sibiloi national Park in Turkana, Kenya. Astronomy enthusiasts caught a partial glimpse of a rare "Hybrid Total Eclipse" which hasn't been witnessed in Africa for over 40 years.
2 A bird flies as sun is partially eclipsed in Sidon, southern Lebanon.
3 The coffin of Poland's first non-communist prime minister Tadeusz Mazowiecki is seen covered with a Polish national flag during his funeral at St. John's Archcathedral in Warsaw.
4 Syrian refugees try to grab food in a park, in Istanbul, Turkey.
5 Waves break on a jetty holding wind turbines in the Channel port of Boulogne-sur-mer, France.
6 Marcel Hug of Switzerland reacts crossing the finish line followed by Ernst Van Dyk of South Africa, center, and Kurt Fearnley of Australia, right, as he wins the mens' wheelchair division during the New York City marathon, in New York.
7 A World War II 1.8-ton HC bomb is pictured after being successfully defused in Dortmund, Germany. Some 20,000 people within a 1.5-km (0.93-mile) radius of the site where the unexploded ordnance was discovered via aerial photography last week, were evacuated to enable the bomb disposal.
8 Liu Bolin, a Chinese artist, blends himself into the background in front of a shelf lined with comic books as part of a series of performances in Caracas, Venezuela, Nov. 2, 2013.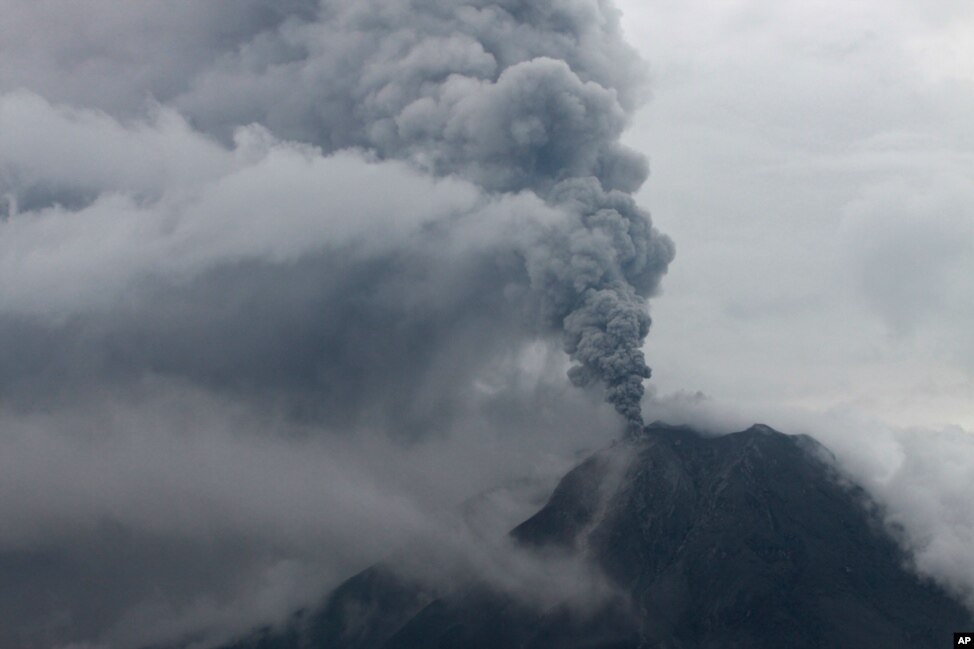 9 Mount Sinabung spews volcanic ash as it erupts as seen from Simpang Empat, North Sumatra, Indonesia.
10 Sarah Brightman performs in concert at Honda Center in Anaheim, California, USA, Nov. 2, 2013.
11 Kawartha White Water Paddlers Association member Zack Fiddis braves the frigid waters of Burleigh Falls Ontario, Canada, Nov. 2, 2013.
12 U.S. singer Beyonce performs during the Australian leg of her 'Beyonce - The Mrs Carter Show, World Tour' in Sydney, Australia.
13 A member of the South Korean Army Special Forces uses his hand to break beer bottles containing colored liquids during the Seoul International Aerospace and Defense Exhibition 2013 in Goyang, South Korea.
14 Red Bull Formula One driver Sebastian Vettel of Germany races during the Abu Dhabi F1 Grand Prix at the Yas Marina circuit on Yas Island, United Arab Emirates. Red Bull's four-times world champion Vettel won the Abu Dhabi Grand Prix to chalk up his seventh successive victory.
15 People walk among crosses at a mass grave in Kuropaty to commemorate the victims of Soviet dictator Joseph Stalin's regime, on the outskirts of Minsk, Belarus.
16 Everton goalkeeper Tim Howard shields his eyes from the sun during their English Premier League soccer match against Tottenham Hotspur at Goodison Park in Liverpool, northern England.
17 Robot guitarist "Mach" and robot drummer "Ashura" (L), members of a robot rock band "Z-Machines", perform music during the two day art and technology event "Maker Faire Tokyo" at the National Museum of Emerging Science and Innovation in Tokyo, Japan.
18 Birds rest on a tree in the Dojran Lake, enjoying the calm and sunny weather in southeastern Macedonia.
November 04, 2013
1 A protester wears a chain with many amulets as he joins others in a march towards central Bangkok, Thailand. Thousands of people took to the streets of the Thai capital after lawmakers approved a draft political amnesty bill that could allow the return of self-exiled former premier Thaksin Shinawatra.
2 This photograph by an astronaut on the International Space Station highlights the snout of the Upsala Glacier on the Argentine side of the North Patagonian Icefield.
3 A girl rides a kick scooter as people walk during a "Russian March" demonstration, organized by the "Russian Coalition of Action" movement, seen in the background, on National Unity Day in Moscow. Russia marks National Unity Day on November 4 to celebrate the defeat of Polish invaders in 1612.
4 Participants cheer as they take part in The Color Run in Cali, Colombia, Nov. 3, 2013. The Color Run is a five-kilometer, untimed race, held in cities worldwide, with the aim of promoting healthy living. Participants are doused from head to toe in different colors at each kilometer.
5 A wall is plastered with pictures of men suspected of soliciting an underage girl for webcam sex while a Terre des Hommes researcher, center rear, takes the identity of fake 10-year-old Sweetie from the Philippines, top left, in a computer-generated image, during a media opportunity in Amsterdam, Netherlands.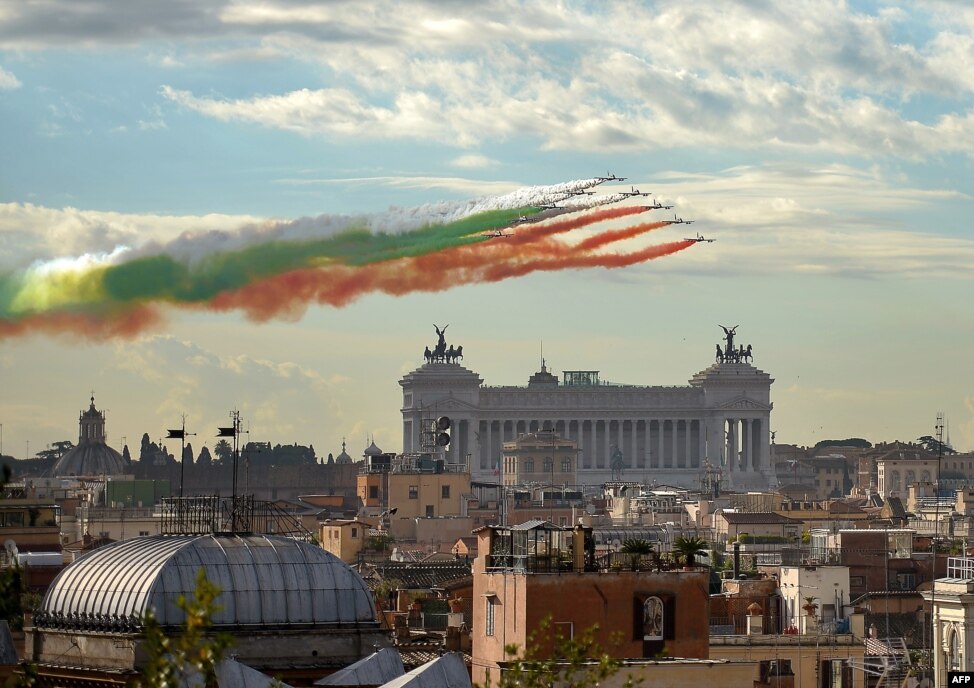 6 The Italian Air Force aerobatic unit Frecce Tricolori spreads green, white and red smoke in the colors of the Italian flag marking the day of National Unity and Armed Forces in Rome.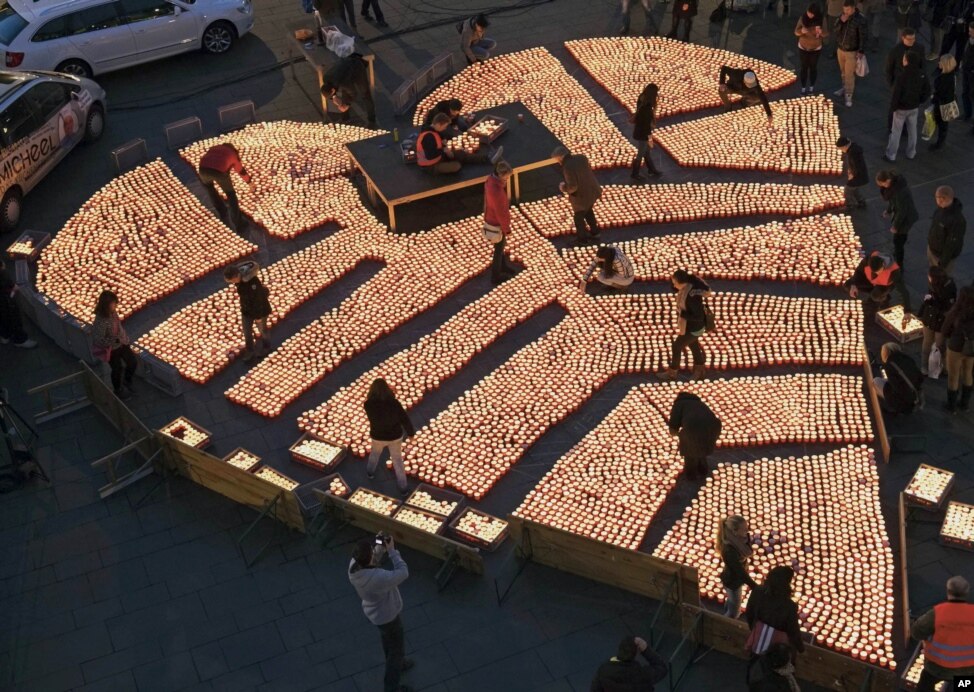 7 People construct a heart shape using over 12,000 tea candles during the Festival of Lights in Halle (Saale), eastern Germany, Nov. 3, 2013.
8 Students from St. Andrews University are covered in foam as they take part in the traditional 'Raisin Weekend' in the historic St. Salvator's Quad, in St Andrews, Scotland.
9 Pakistanis survey a burning field, which was used by fruit and vegetable sellers to store their wooden boxes, on the outskirts of Islamabad.
10 New Orleans Saints Jimmy Graham celebrates catching a touchdown pass against the New York Jets by dunking the ball over the goal post in the second quarter during their NFL football game in East Rutherford, New Jersey, USA, Nov. 3, 2013.
11 A pigeon lands on a boy's head in the flooded Piazza San Marco (Saint Mark's Square) in Venice, Italy. Saint Mark's Square, as the lowest point of Venice, is always the first place to be flooded.
November 05, 2013
1 Congolese soldiers guard suspected M23 rebel fighters who surrendered in Chanzo village in the Rutshuru territory near the eastern town of Goma. Democratic Republic of Congo's M23 rebel group called an end to a 20-month revolt after the army captured its last hilltop stronghold, raising hopes for peace in a region where millions have died in nearly two decades of violence.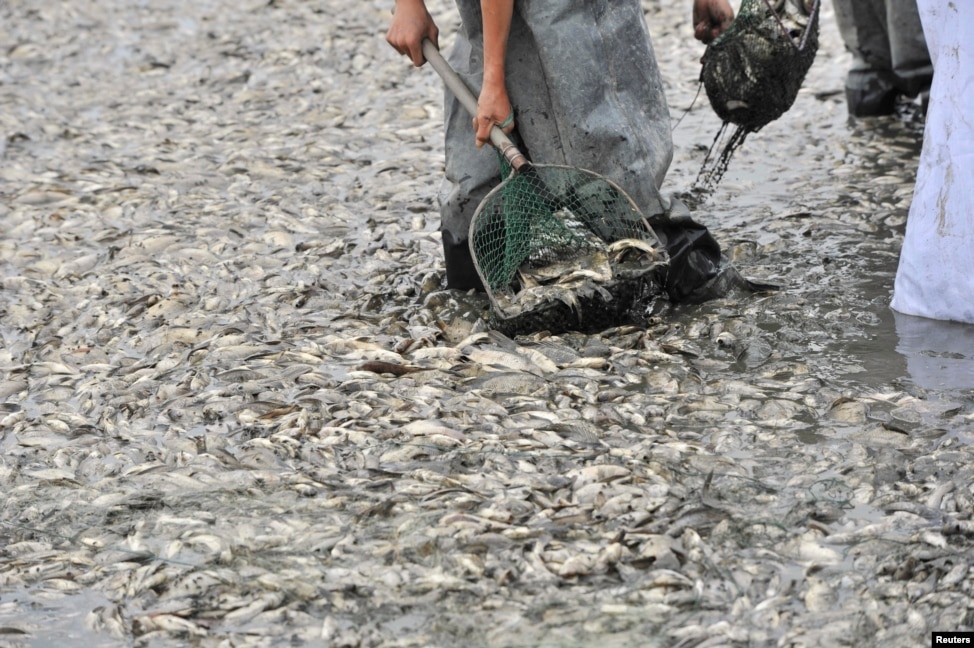 2 Workers collect dead fish at a park in Shenzhen, Guangdong province, China. More than 10,000 fish were found dead in a smelly lake inside a park, near a drain where sewage flowed into the lake, according to local media.
3 Kathryn Burkholder, 6, can't stay awake during a speech by Republican gubernatorial candidate, Virginia Attorney General Ken Cuccinelli during a rally in Richmond, Virginia, USA, Nov. 4, 2013.
4 A woman stands outside her house as her front yard is covered with volcanic ash from the eruption of Mount Sinabung, in Mardingding, North Sumatra, Indonesia. The 2,600-meter (8,530-foot) -high volcano has been erupting since Sunday, unleashing volcanic ash high into the sky and forcing the evacuation of villagers living around its slopes.
5 Illuminated portraits of North Korea's late leaders Kim Il Sung and Kim Jong Il glow in central Pyongyang before dawn.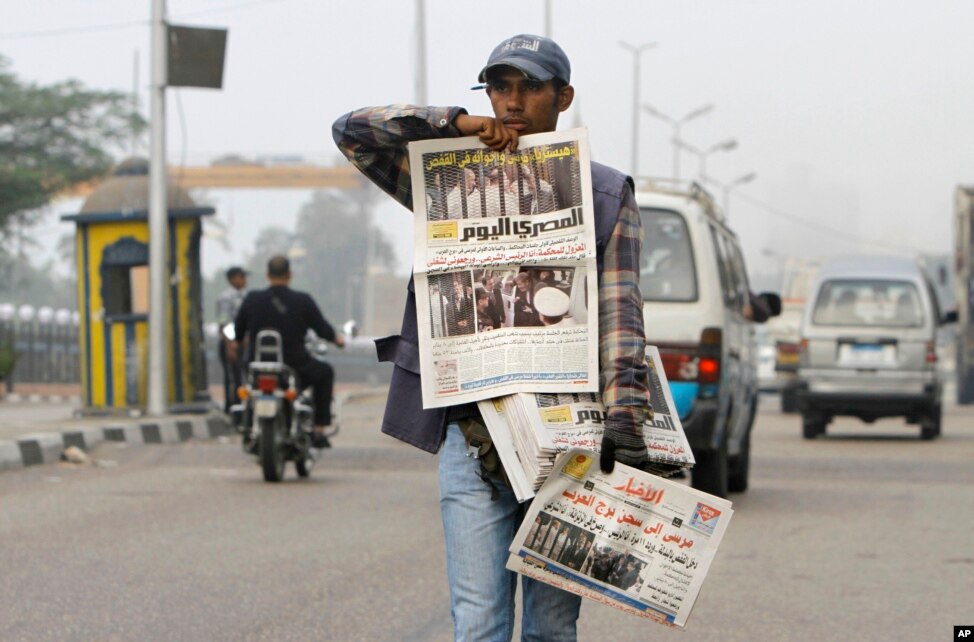 6 An Egyptian newspaper vendor in Cairo displays copies of the morning newspapers fronted by pictures of the trial of Egypt's ousted President Mohammed Morsi.
7 A rescuer on a jet ski battles rough seas while searching for a missing swimmer at Bondi Beach in Sydney, Australia. Police say a 22-year-old Japanese man went missing while swimming with a friend in rough surf on Nov. 4, 2013.
8 Five-legged female sheep in Condeon, France, that the owner tries to sell on the Internet
9 Armenian military scouts demonstrate their skill during a performance to mark the annual anniversary of the Armenian Armed Forces reconnaissance troops formation, some 25 km outside of Yerevan.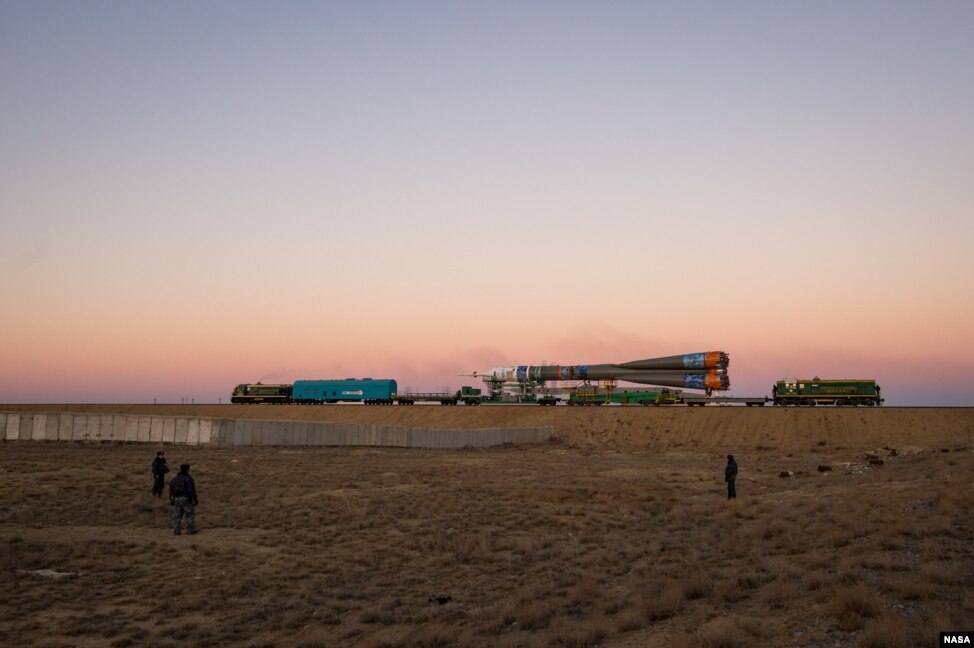 10 The Soyuz TMA-11M rocket, adorned with the logo of the Sochi Olympic Organizing Committee and other related artwork, is rolled out to the launch pad by train at the Baikonur Cosmodrome in Kazakhstan. Launch of the Soyuz rocket is scheduled for Nov. 7 and will send Expedition 38 Soyuz Commander Mikhail Tyurin of Roscosmos, Flight Engineer Rick Mastracchio of NASA and Flight Engineer Koichi Wakata of the Japan Aerospace Exploration Agency on a six-month mission aboard the International Space Station.
11 The Soyuz TMA-11M rocket is rolled out to the launch pad by train at the Baikonur Cosmodrome in Kazakhstan.
12 Contestants race with trays holding beer bottles and glasses during a tray carrying competition in Taipei, Taiwan. Waiters and waitresses from Taiwan, Japan, Singapore, the Philippines and China participated in the competition.
13 A man stands next to the wreckage of burnt vehicles outside the Guadalupe Victoria town hall in the Mexican state of Puebla. Residents burned the town hall, patrol vehicles and two buildings belonging to Mayor Felipe Cortes, to demand more security in the area after a local shopkeeper was recently killed by unknown assailants during a robbery, according to local media.
14 French tugboat "Abeille Languedoc" is silhouetted in the open sea near Boulogne-sur-Mer as high winds battered northern France, Nov. 4, 2013.
15 Russian servicemen take part in a military parade rehearsal in Red Square in Moscow. The parade will be held on Nov. 7 to mark the anniversary of a historical parade in 1941 when Soviet soldiers marched through Red Square towards the front lines at World War II.
November 06, 2013
1 Indian camel herders arrive with their camels for the annual cattle fair in Pushkar, Rajasthan state, India.
2 A man carries an injured child after a bomb explosion in front of the al-Hejaz train station in central Damascus, Syria. A bomb exploded in central Damascus, killing eight people and wounding 50, with women and children among the casualties, SANA said. (Photo provided by Syria's national news agency SANA)
3 Al Ahli fans take part in a protest march in front of the general prosecutor's office in Cairo. The protesters were calling for the release of their fellow fans, who were arrested earlier last month during clashes with security personnel as the club's handball team returned from Morocco after winning silver in the African Champions League handball tournament.
4 Lone deer in the morning mist of Fish Creek Park in Calgary, Alberta, Canada (Photo by Robert Tanner/Canada/VOA reader)
5 A visitor takes pictures of a model of Beijing's downtown at the Beijing Planning Exhibition Hall, a museum showcasing the achievement of Beijing urban planning construction, in Beijing, China, Nov. 5, 2013
6 Congolese children play on a tank, abandoned by the M23 rebel fighters who surrendered in Kibumba, near the eastern town of Goma, Democratic Repubic of Congo.
7 The young and the old - Elderly Pakistani, Nouran Nazir, 83, holds her 18-month-old grandson Sayyim, next to the rubble of her makeshift home, which was destroyed along with other homes by the Capital Development Authority for being built on illegal lands, in Islamabad.
8 Kashmiri Ali Mohammad makes Kangris or fire pots inside his home in Trajbal village, on the outskirts of Srinagar, India. Kangri is an age old device for keeping warm, consisting of a decoratively woven yellow wicker case housing an earthen pot for burning charcoal.
9 Dancers perform on stage during a dress rehearsal of La Sylphide at the Opera House in Sydney, Australia.
10 Members of the Spanish Royal Guard march during the monthly changing of the guard ceremony at the royal palace in Madrid.
11 Jet fighters take part in CRUZEX, a multi-national air exercise hosted by the Brazilian Air Force, in the city of Natal in Rio Grande do Norte, Nov. 5, 2013.
12 Crowds gather to watch as Bonfire societies parade through the streets during the Bonfire Night celebrations in Lewes, Sussex in England, Nov. 5, 2013. Bonfire Night is related to the ancient festival of Samhain, the Celtic New Year. Processions held across the South of England culminate in Lewes, commemorating the memory of the seventeen Protestant martyrs.
13 The Victoria's Secret Royal Fantasy Bra gift set, valued at $10 million is seen during a photo opportunity at the Victoria's secret store in New York City. Designed by Mouawad the set is adorned with over 4,200 precious gems featuring a pear shaped center ruby weighing 52 carats. The set will be worn by model Candice Swanepoel during the Victoria's Secret Fashion show in New York on Dec. 10.
November 07, 2013
1 Russian soldiers wear snow gear over Red Army World War II uniforms as they prepare to parade in Red Square in front of St. Basil Cathedral in Moscow, Russia. Thousands of soldiers and military cadets marched across Red Square to mark the 72nd anniversary of a historic World War II parade. The show honored the participants of the Nov. 7, 1941 parade who headed directly to the front lines to defend Moscow from the Nazi forces.
2 A man dressed as Santa Claus rings a bell as he arrives on a bike for the opening of the most famous German Christmas mail office in the small village of Himmelpfort (Heaven's Door) north of Berlin, Germany. Last year, over 292,000 children from all over the world sent their Christmas wishes to the small village to 'Christmas mail office, 16798 Himmelpfort'.
3 Fall colors on the trees at Shenandoah National Park in Virginia, USA (Photo by Dimitris Manis/VOA Greek Service)
4 Superboat Extreme class boats make the turn in Key West Harbor during the first of three race days at the Key West World Championship in Key West, Florida, Nov. 6, USA. More than 40 high-speed powerboats from the U.S. and other countries are entered in the competition. (Photo provided by Florida Keys News Bureau/Andy Newman)
5 A woman takes pictures in front of a line of policemen blocking protesters against an amnesty bill, on the main road near the government and parliament buildings in central Bangkok, Thailand. The Thai Senate will likely reject an amnesty bill which critics say is aimed at bringing back convicted former premier Thaksin Shinawatra from exile, the Senate Speaker said.
6 Five thousand-year-old human bones are on display during the preparations for the exhibition ' 3,300 BC - Mysterious Stone Age dead persons and their world' in the State Museum of Prehistory in Halle, central Germany.
7 Former U.S. President Bill Clinton greets former Secretary of State Madeleine Albright on stage at the Annual Freedom Award Benefit Event hosted by the International Rescue Committee at the Waldorf-Astoria in New York, Nov. 6, 2013. This year's event honored philanthropist and businessman, George Soros.
8 Turkish riot police use tear gas and water cannon to disperse Turkish-Kurd demonstrating on the Turkish side as Syrian Kurds gather on the other side of the border in Mardin's Nusaybin district, Turkey. Kurdish people protest against the construction by the Turkish government of a 2.5-kilometer-long wall along the border.
9 Roger Federer of Switzerland serves to Richard Gasquet of France during the men's singles tennis match at the ATP World Tour Finals at the O2 Arena in London.
10 A man separates cardboard and Rexine for recycling, to be used for the insides of leather shoes, at a compound in Lahore, Pakistan.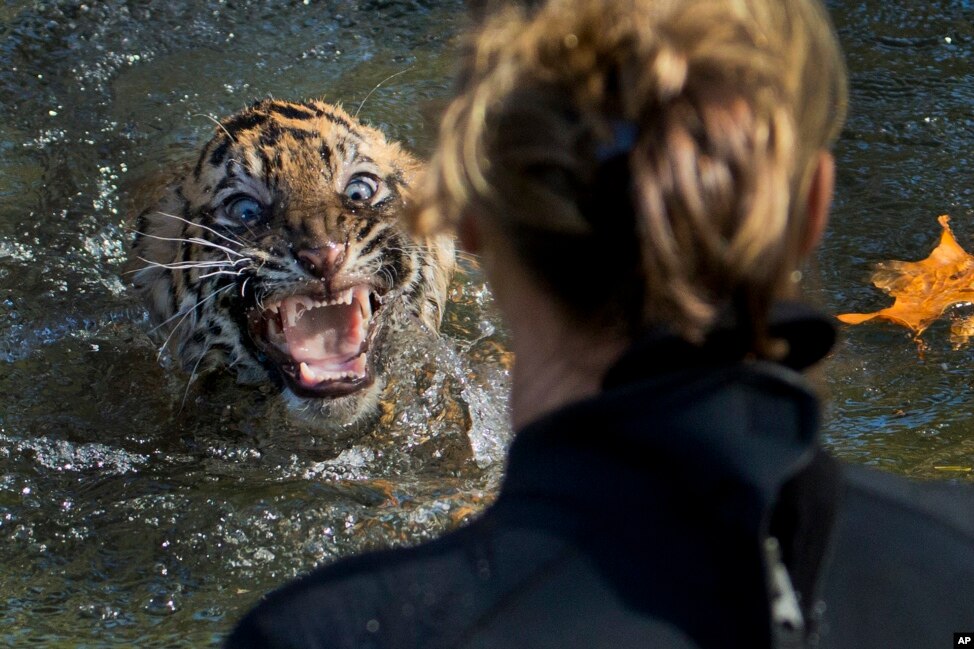 11 A three-month-old Sumatran tiger cub named "Bandar" shows his displeasure after being dunked in the tiger exhibit moat for a swim reliability test at the National Zoo in Washington, Nov. 6, 2013. All cubs born at the zoo must take a swim test before being allowed to roam in the exhibit. Bandar passed his test.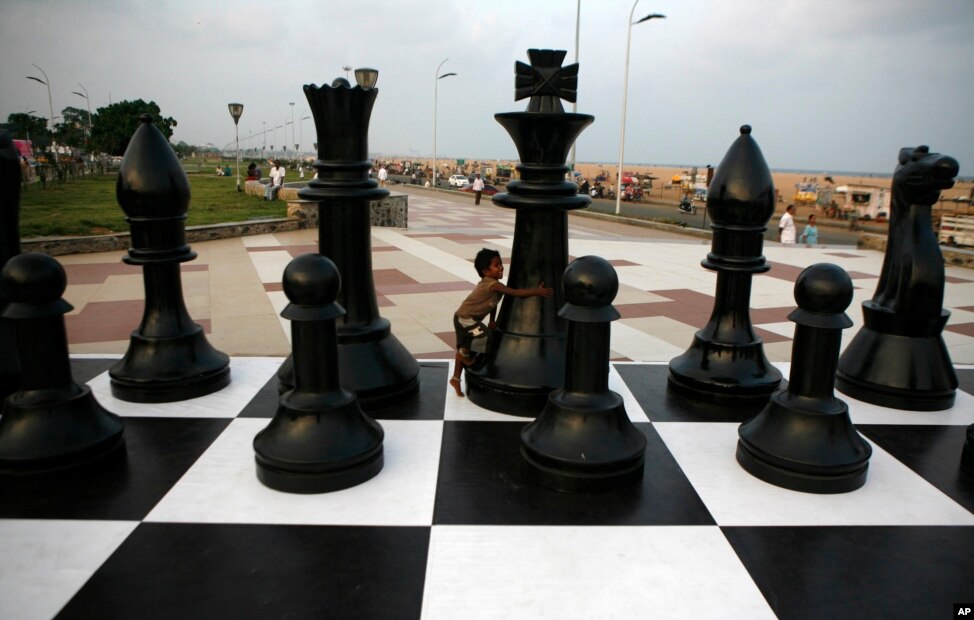 12 An Indian child plays around a huge chessboard model erected to mark the FIDE World Chess Championship at the Marina beach on the Bay of Bengal coast in Chennai.
13 Afghan day laborer Mesbah, 12, reaches for charcoal to prepare kilns to fire bricks at a brick kiln factory on the outskirts of Kabul.
14 The Soyuz TMA-11M rocket is seen, in this 2 minute exposure, as it is launched with Expedition 38 Soyuz Commander Mikhail Tyurin of Roscosmos, Flight Engineer Rick Mastracchio of NASA and Flight Engineer Koichi Wakata of the Japan Aerospace Exploration Agency onboard at the Baikonur Cosmodrome in Kazakhstan.
November 08, 2013
1 French company Aldebaran Robotics's humanoid robot NAO dances Michael Jackson's Thriller at its booth during the International Robot Exhibition 2013 in Tokyo, Japan.
2 The sun casts a shadow and spectral halo effect on clouds as U.S. Secretary of State's aircraft departs from Tel Aviv, Israel on its way to Geneva, Switzerland for talks with Iran.
3 A mother takes refuge with her children as Typhoon Haiyan hits Cebu city, central Philippines.
4 Bridesmaids pose for a photo during a wedding ceremony for Sri Lankan couple Nisansala and Nalin as they break the Guinness record for a wedding with the most bridesmaids for a bride in Negombo. Up to 126 bridesmaids, 25 best men, 20 page boys and 23 flower girls attended the ceremony.
5 Thai riot policemen rest during an anti-government rally against an amnesty bill near Government House in Bangkok.
6 In this photo released by Greenpeace, protesters holding signs saying 'Liberty' in various languages hang from Sagrada Familia Basilica in Barcelona, Spain. The protesters are calling for the release of 28 Greenpeace activists, a Russian photographer and a British videographer who have been held since their ship was seized by the Russian coast guard on Sept. 18.
7 On the eve of the 24th anniversary of the fall of the Berlin Wall, original pieces of the Berlin Wall are mirrored in a pond as they are displayed for sale at the city of Teltow near Berlin, Germany.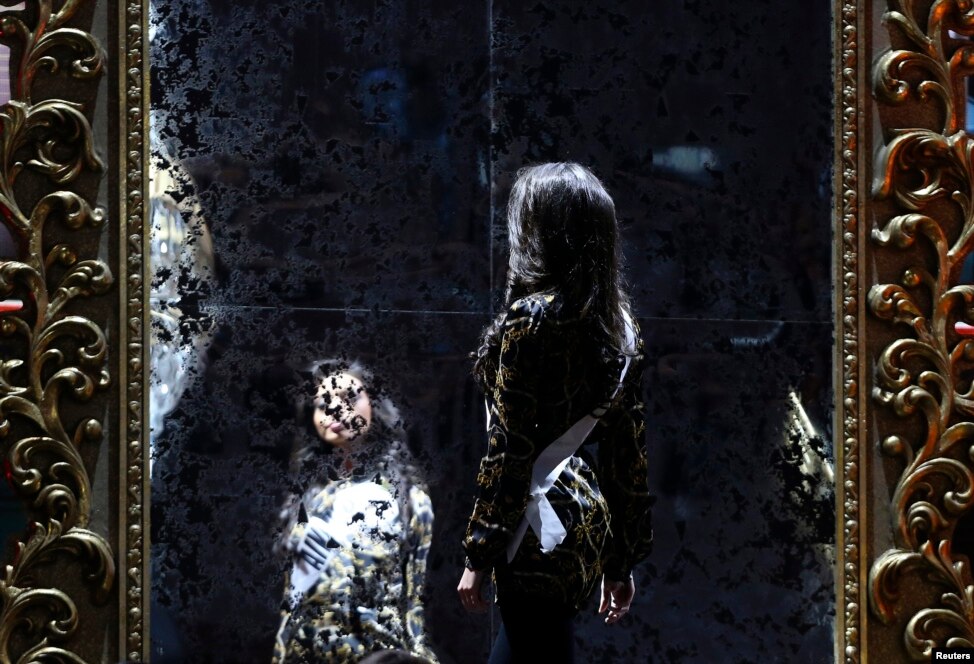 8 Alexia Viruez, Miss Bolivia 2013, looks at her reflection in a mirror during rehearsals before the finals of the Miss Universe competition in Moscow, Russia, Nov. 7, 2013.
9 Spheres are iluminated with lights in an instalation in the framework of the Mexican International Festival of Lights in Mexico city, Mexico, Nov. 07, 2013.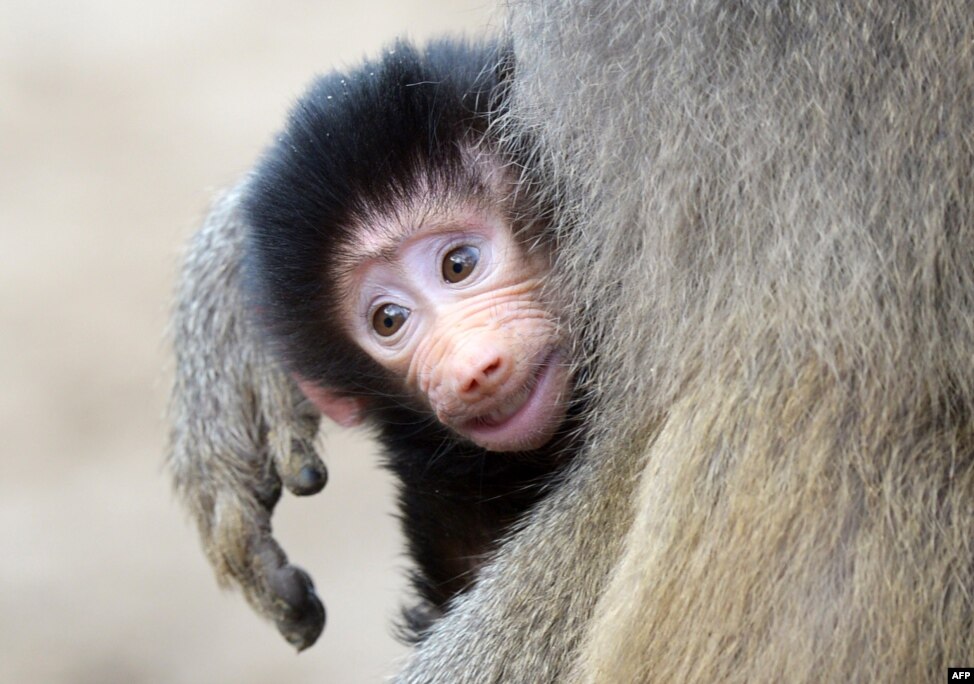 10 A young Hamadryas baboon is carried by its mother in Berlin's zoo, Germany.
November 10, 2013
1 Survivors walk under a fallen electric post after super Typhoon Haiyan battered Tacloban city, central Philippines.
2 A ship lies on top of damaged homes after it was washed ashore by Typhoon Haiyan in Tacloban city, Leyte province, central Philippines. The city remains littered with debris from damaged homes as many complain of shortages of food and water and no electricity since Typhoon Haiyan slammed into their province.
3 Blue paint falls from the eyes of a vandalized statue, in Madrid,Spain.
4 People pause among the crosses and poppies in the Field of Remembrance at Westminster Abbey in London, dedicated to those killed in the current conflict.
5 Kuwait City is seen after sunset from the aircraft of U.S. Secretary of State John Kerry as he flies from the Iran nuclear talks in Geneva, Switzerland to Abu Dhabi, UAE.
6 Miss Universe 2012 Olivia Culpo, from the United States, right, places the crown on Miss Venezuela Gabriela Isler during the 2013 Miss Universe pageant in Moscow, Russia, Nov. 9, 2013.
7 In this image obtained from NASA TV, Cosmonauts Oleg Kotov and Sergei Ryazansky (rear) perform a handoff of the Sochi 2014 Winter Olympic Games Torch during a spacewalk outside the International Space Station, Nov. 9, 2013.
8 A couple sit on a public bench as garbage spills out of a full trash can during the sixth day of a garbage collectors strike, in Madrid, Spain. Street cleaners and garbage collectors, who work in the city's public parks, walked off the job in a strike called by trade unions to contest the planned layoff of more than 1,000 workers.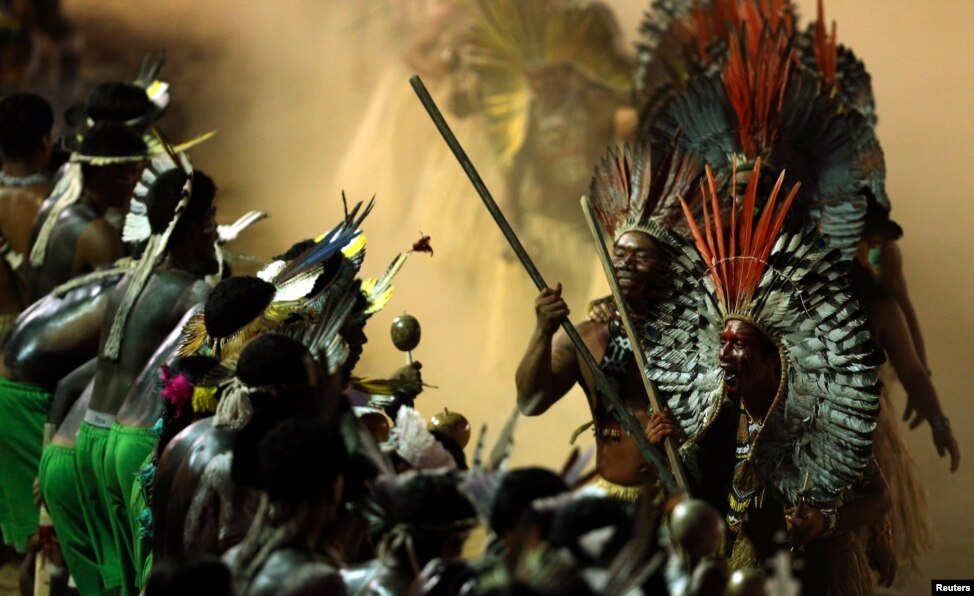 9 Members of the Brazilian indigenous ethnic group Kuikuro dance before the opening ceremony of the XII Games of the Indigenous People in Cuiaba, Brazil, Nov. 9, 2013.
10 Hindu devotees gather to worship the Sun god Surya on the banks of the Ganges River during the Hindu religious festival of Chatt Puja in the eastern Indian city of Patna, Nov. 9, 2013.
11 A Balinese man jabs himself with a "keris", a traditional dagger, to perform "ngurek" or a self-stabbing ritual at a temple in Kesiman, east Denpasar on the Indonesian resort island of Bali. Participants work themselves into a state of trance (out of consciousness) by dancing during the century-old sacred ceremony, then turning the keris on themselves.
12 A flock of cormorants flies over Dojran Lake, 170 km (106 miles) south of the Macedonian capital Skopje.
13 Kenya's Hillary Kipkogei Yego crosses the finish line to win the men's race of the 31st Athens Classic Marathon as a flag thrown by a fan covers his face at the Panathenaic stadium in Athens, Greece.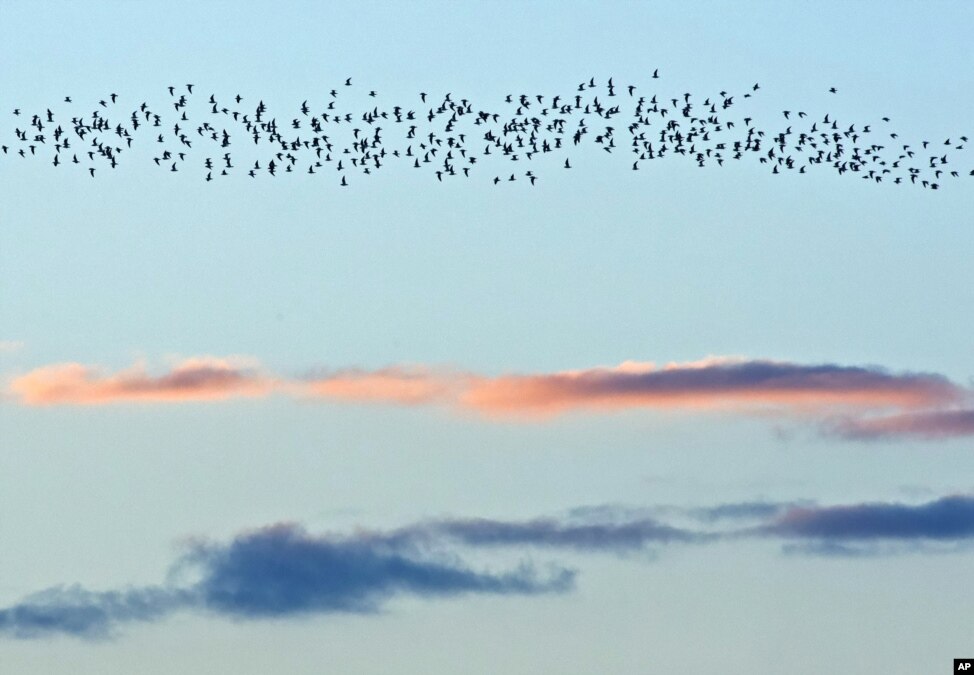 14 Cranes fly during sunset near Straussfurt, central Germany.
November 11, 2013
1 U.S. President Barack Obama speaks during a Veterans Day ceremony at Arlington National Cemetery near Washington.
2 The Soyuz TMA-09M is seen moments before it lands southeast of the town of Zhezkazgan, Kazakstan with the crew of Expedition 37. Expedition 37 Commander Fyodor Yurchikhin of the Russian Federal Space Agency (Roscosmos), Flight Engineer Karen Nyberg of NASA and Flight Engineer Luca Parmitano of the European Space Agency are returning to Earth after five and a half months on the International Space Station.
3 Russian cosmonaut Fyodor Yurchikhin holds the torch of the 2014 Sochi Winter Olympic Games after landing near the town of Zhezkazgan in central Kazakhstan.
4 Palestinians take cover during clashes with Israeli soldiers following a rally marking the 9th anniversary of late Palestinian leader Yasser Arafat's death, in the West Bank city of Hebron.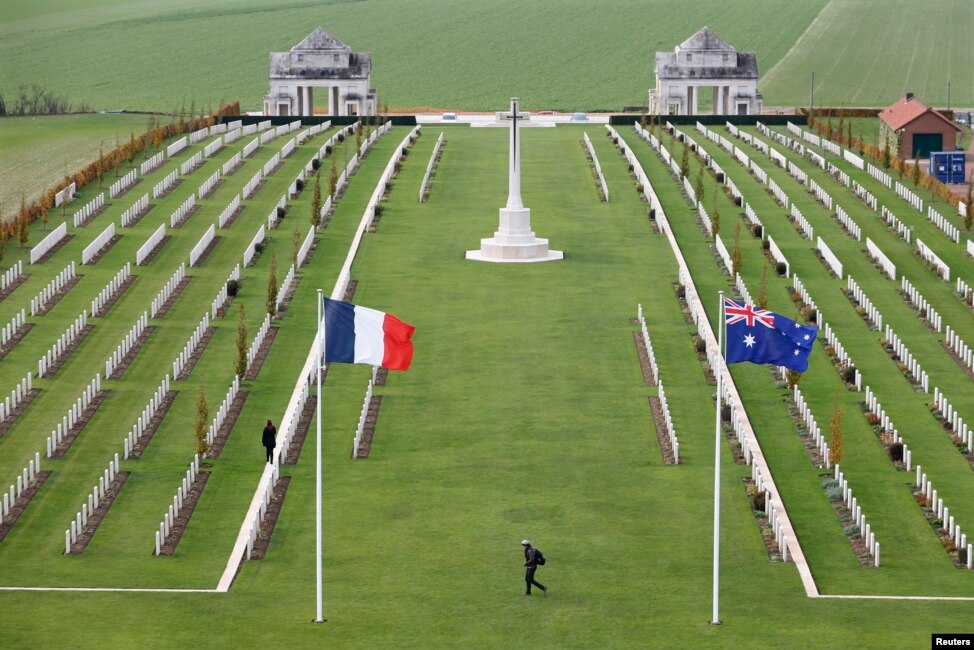 5 A visitor walks through the Australian National Memorial in Villers-Bretonneux, in northern France.
6 An aerial view of a coastal town, devastated by super Typhoon Haiyan, in Samar province in central Philippines.
7 Serbian army soldiers take part in a ceremony marking Armistice Day at the French military cemetery in Belgrade, Serbia. Nov. 11 marks the signing of the truce that ended the fighting in World War I and for remembering the soldiers killed in the war.
8 Two women use their umbrellas to shield themselves from getting splashed as they make their way across a street flooded by rains brought by Typhoon Haiyan in Shangsi, southwest China Guangxi province.
9 A New York Police Department helicopter flies over the scene of a multiple shooting crime scene on Maujer Street in the Brooklyn borough of New York.
10 Lady Gaga prepares to fly with the Volantis, a flying dress, at the "artRave" release event of her new album "ARTPOP" in New York, Nov. 10, 2013.
11 Brokers and underwriters line the balconies and escalators of the Lloyd's of London building in central London, during a two-minute silence observed in memory of Britain's war dead. The service at Lloyd's of London is observed with the ringing of the Lutine Bell and the laying of wreaths before the Book of Remembrance in addition to the two-minute silence.
12 An artist performs with soap bubbles on the beach in Nice, France.
13 People celebrate in the streets of downtown Duesseldorf after the symbolic awakening of the Hoppeditz, the symbol for carnival, Germany.
November 12, 2013
1 Participants of the Conference of European Rabbis carry candles as they commemorate the 75th anniversary of Kristallnacht in front of Brandenburg Gate in Berlin, Germany. The 'Kristallnacht' or 'crystal night' - also referred to as 'night of broken glass' - when Nazis conducted a wave of violent anti-Jewish pograms on the streets of Berlin and other cities in 1938.
2 Survivors stand near bags containing bodies of typhoon victims in Tacloban city, which was devastated by Typhoon Haiyan, in central Philippines.
3 Afghan government officials and policemen watch as a cache of alcohol and drugs burn in Kabul. More than 2,000 kilograms of opium, 400 kilos of heroine, about 1,200 kilos of morphine were burned during the ceremony. More than 10,000 kilograms of hashish and thousands of bottles alcohol and beer were also destroyed by authorities.
4 Golden retriever Marvin sits in the sidecar of his owner Martin Reichert's BMW R50 motorbike built in 1955 as they go to work in Berlin, Germany.
5 Quebec rower Mylene Paquette celebrates as she arrives in Lorient, western France, after a solo journey across the Atlantic Ocean. Paquette is the first North American woman to row solo across the North Atlantic. She left Halifax just over four months ago in a specially designed 7.3-meter boat propelled only by Paquette and the currents.
6 Snow on Cloud Gate (also known as The Bean) in Milennium Park in Chicago, Illinois, USA, Nov. 11, 2013. The snowfall was the first of the season for the city.
7 A woman with pieces of cheese on her head and shoulders is seen at the international exhibition of food and food technology in Minsk, Belarus.
8 Novak Djokovic of Serbia holds up the ATP World Tour Finals tennis trophy after defeating Rafael Nadal of Spain at the O2 Arena in London, Nov. 11, 2013.
9 A little turtle enjoys the sun on a chilly autumn day at a park in Springfield, Virginia. (Diaa Bekheet/VOA)
10 Students from the Brazilian Santa Claus school throw their hats into the air, during their graduation ceremony in Rio de Janeiro. The school holds four-day lessons in Santa-training, teaching Christmas carols, how to interact with children, and also how to wear the heavy red suit in Rio's typical 104-degree (40 degrees celsius) summer weather.
November 13, 2013
1 Shia Muslim boys flagellate themselves during a Muharram procession ahead of Ashura in Amroha, in the northern Indian state of Uttar Pradesh. Ashura, which falls on the 10th day of the Islamic month of Muharram, commemorates the death of Imam Hussein, grandson of Prophet Mohammad, who was killed in the 7th century battle of Kerbala.
2 Shiite Muslim worshiper beat themselves at the shrine of Imam Abbas to commemorate Ashura in Karbala, 50 miles (80 kilometers) south of Baghdad, Iraq.
3 Soccer goal posts are seen in the autumn mist at Dukes Meadows in Chiswick, west London.
4 Participants arrange themselves in the shape of a heart while making kimchi, a traditional South Korean pungent vegetable dish, in front of Seoul's City Hall in South Korea, to donate to needy neighbors in preparation for the winter season as they attempt to set a Guinness World Record for kimchi made by the largest number of people in a single place.
5 Palestinian children stand on the balcony of their family house which was damaged during an Israeli army operation launched after the killing of top Hamas military commander Ahmed Jaabari last year, in Rafah, southern Gaza Strip.
6 Members of the Brazilian Enawene-Awe indigenous ethnic group compete in a tug-of-war competition at the XII Games of the Indigenous People, in Cuiaba.
7 Puntland's officials visit a bridge between Garowe and Eyl that was destroyed by a storm in Somalia's semi-autonomous Puntland region near Bosasso, Nov. 12, 2013. The death toll from a tropical cyclone that hit Puntland on the weekend has risen to 140 but the final figure could total 300, the government said.
8 Turkish Shi'ite girls watch a re-enactment of the battle of Kerbala on a huge screen during an Ashura procession in Istanbul.
9 A master glassmaker adds fused material to form the base of a handmade gin-tonic glass at Royal Crystal Factory in La Granja de San Ildefonso, near Madrid, Spain, Nov. 12, 2013.
10 Ukraine's Daryna Zevina competes in the Women's 200-meter backstroke final at the Fina Swimming World Cup at National Aquatic Center in Beijing, China.
11 A Madame Tussauds artist poses for photographers with a waxwork of Britain's Prince Harry dressed for a trek to the South Pole during a photocall at the attraction's premises in London.
12 A handout picture taken during the Sochi 2014 Winter Olympic torch relay on Nov. 12, 2013, and released by the Sochi 2014 Winter Olympics Organizing Committee shows a torchbearer rising her torch at Russia's Pacific Kamchatka peninsula, some 6766 kilometers (4204 miles) east of Moscow.
November 14, 2013
1 A man looks at sticks of deep-fried scorpions and seahorses at a food stall in Beijing, China.
2 Cricket Australia Invitational XI player Daniel Hughes kicks up dirt as he takes a catch to dismiss England's Kevin Pietersen for 57 runs during their warm-up match at the Sydney Cricket Ground, Australia.
3 This MODIS image taken by NASA's Aqua satellite shows an iceberg that was part of the Pine Island Glacier and is now separating from the Antarctica continent. What appears to be a connection point on the top left portion of the iceberg is actually ice debris floating in the water.
4 Typhoon Haiyan survivors ride motorbikes through the ruins of the destroyed town of Guiuan, Philippines.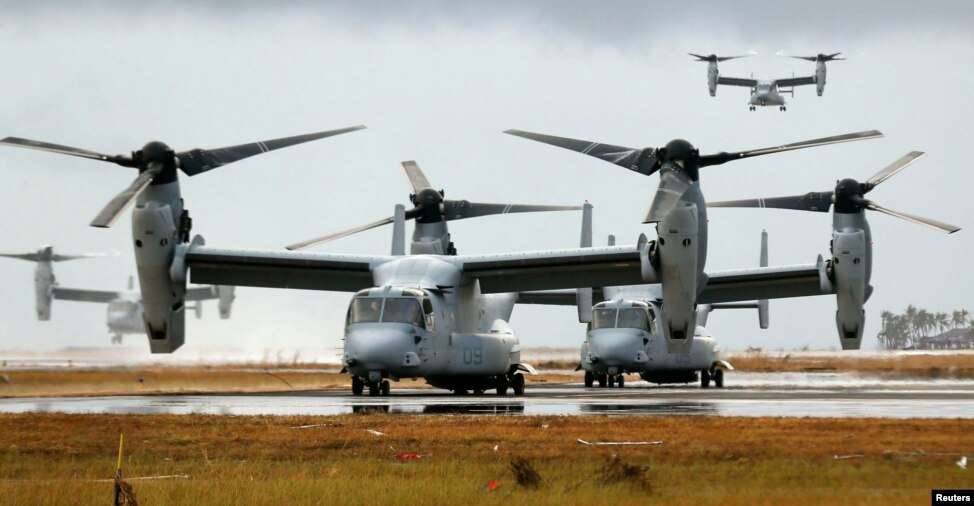 5 Four Ospreys from the U.S. Navy Ship (USNS) Charles Drew prepare to taxi on the tarmac of Tacloban airport, Philippines, in the aftermath of super Typhoon Haiyan.
6 A Free Syrian Army fighter exercises as he is seen through a hole in a wall in the Seif El Dawla neighborhood in Aleppo, Syria.
7 The model of the Elbphilharmonie (Philharmonic Hall) during the opening ceremony of the concert house at the "Miniature-Wonderland" in Hamburg, Germany, Nov. 13, 2013.
8 Indian schoolgirls participate in a traditional dance to commemorate 124th birth anniversary of the late first Prime Minister Jawaharlal Nehru at his ancestral home, Anand Bhawan, in Allahabad.
9 Palestinian militants of the Ezzedine al-Qassam Brigades, Hamas' armed wing, display their skills during an anti-Israel parade in the Gaza Strip as part of the celebrations marking the first anniversary of an Israeli army operation.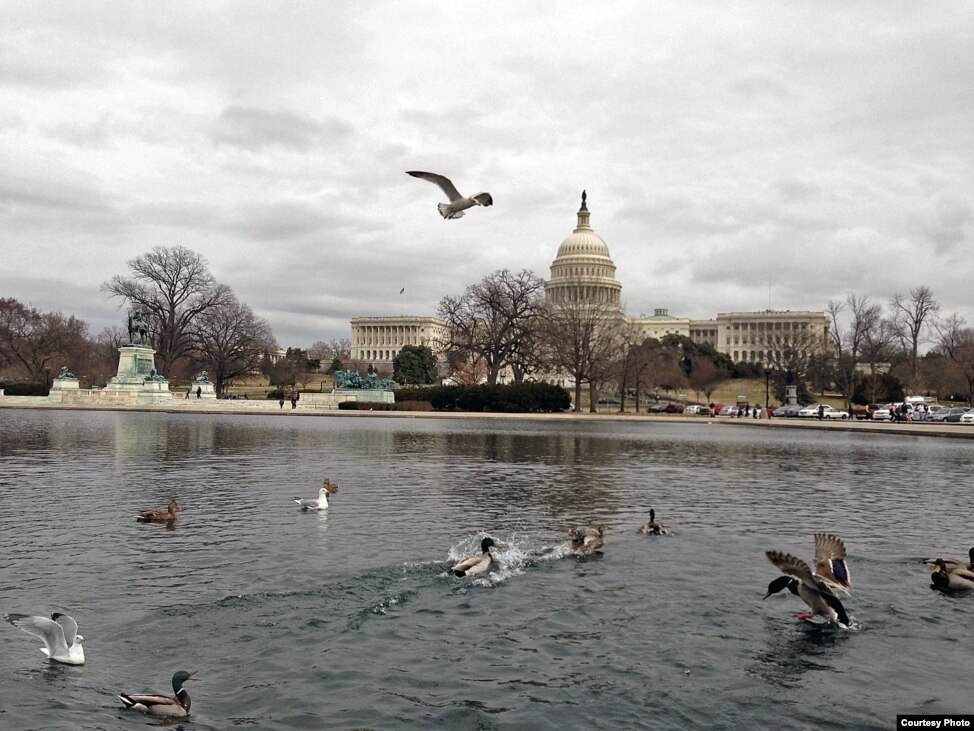 10 Seagulls mix with green-headed mallards and mottled brown wild ducks in the pond facing the Capitol building in Washington, D.C. (Diaa Bekheet/VOA)
11 Singer Taylor Swift reacts with model Karlie Kloss as they perform with rock band Fall Out Boy during the annual Victoria's Secret Fashion Show in New York, Nov. 13, 2013.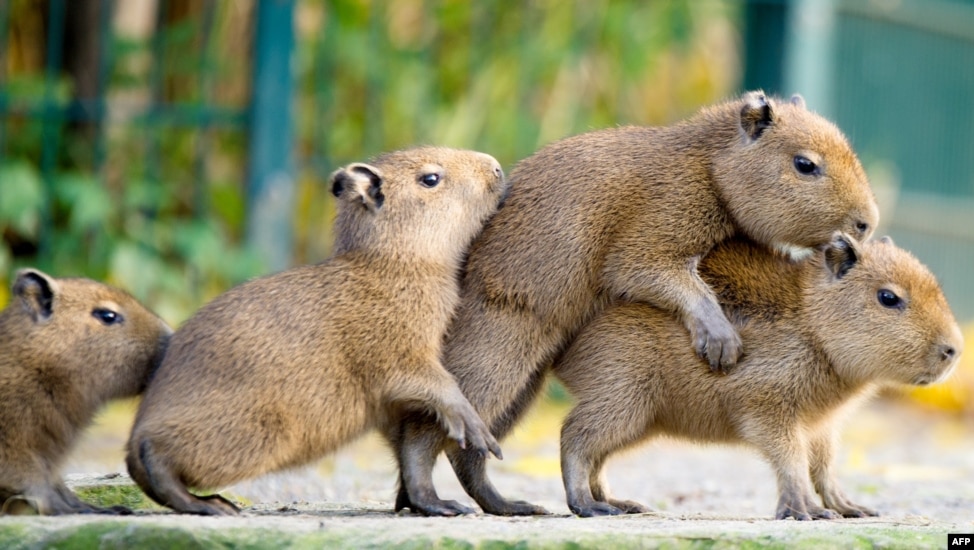 12 Young capybaras are seen in thier enclosure at the Hannover zoo, Germany.
13 Tourists stand on the Giant's Causeway near the town of Bushmills on the north Antrim coast in northern Ireland.
14 An Iranian mourner covers his head with mud during Ashura rituals, marking the death anniversary of Imam Hussein, the grandson of Islam's Prophet Muhammad, at the city of Bijar, west of the capital Tehran.
15 Lebanese Hezbollah supporters march during a religious procession to mark Ashura in Beirut's suburbs.
16 Kenichi Ito, known as the "world's fastest man on four legs", trains before his challenge to break his Guinness World Record in Tokyo, Japan. The 31-year-old, who developed his skills over 10 years based on the running style of the African Patas monkey, set a new Guinness World Record, clocking in 16:87 seconds for a 100-meter run and breaking his previous record of 17:23 seconds, according to media reports.
17 Girls juggle with straw hats at an acrobatics school in Huzhou, Zhejiang province, China.
18 Water drops glitter on a flower in Potsdam, Germany.
November 15, 2013
1 Pakistani Ibrahim Mohammed, 42, who was displaced with his family from Pakistan's tribal region of Mohmand Agency due to fighting between the Taliban and the army, wraps himself and his son Mashal, 1, with a shawl to avoid the evening cold, while sitting in front of his home in a poor neighborhood on the outskirts of Islamabad.
2 A rainbow appears above Typhoon Haiyan survivors desperate to catch a flight from the Tacloban airport. The death toll from Typhoon Haiyan in the devastated Philippine coastal city of Tacloban was 4,000, a notice board at City Hall said on Friday, nearly double the nationwide toll provided by the government in Manila.
3 Dozens of confiscated carved ivory sculptures are displayed before 6 tons of ivory was crushed in Denver, Colorado, Nov. 14, 2013.
4 A boy touches a monument inside the Athens' Polytechnic school, two days before the anniversary of a 1973 student uprising against the then military ruling junta in Athens, Greece.
5 A sub-Antarctic Gentoo penguin chick sits on a weigh scale at SEA LIFE Melbourne Aquarium in Melbourne, Australia. With several Gentoo penguin pairs still sitting on eggs, keepers are hopeful of the arrival of several more chicks before Christmas.
6 Anti-government protesters sit by the roadside with molotov cocktails as they wait for others to join during clashes after the Ashura procession in the village of Sanabis west of Manama, Bahrain.
7 Sri Lankan men in traditional costume hold national flags of the Commonwealth countries as they sit atop elephants outside the Bandaranaike Memorial International Conference Hall (BMICH) during the opening ceremony of the Commonwealth Heads of Government Meeting (CHOGM) in Colombo.
8 An employee of Starbucks holds a cup of coffee at a new Starbucks store on a train of Swiss rail operator SBB in Zurich. The world's largest coffee chain Starbucks presented its first double-deck store on a SBB Intercity train travelling between the Swiss cities of St. Gallen and Geneva, Nov. 14, 2013.
9 A dog sits over a drinking water basin along a road in the old quarter of Delhi, India.
10 A member of the Brazilian indigenous ethnic group Enawene-Awe reacts as they compete in a tug-of-war competition during the XII Games of the Indigenous People, in Cuiaba, Brazil, Nov. 14, 2013.
11 A fishermen loads crab pots onto a fishing vessel at Fishermen's Wharf ahead of Friday's opening of the commercial Dungeness crab season, in San Francisco, California, Fishermen heading out to sea will face a new state law, which limits the number of crab pots each boat is permitted to carry, Nov. 14, 2013.
12 A Commuter cycles in central London. The deaths of five cyclists in just nine days on the roads this month in London have prompted calls for the city's mayor Boris Johnson to speed up road safety measures in the capital. The fatalities have been caused through collisions with buses, trucks and a coach.
A Bahraini protester throws back a tear gas canister during clashes with riot police following an anti-regime demo heading to 'Pearl Square' after a religious procession marking Ashura in the village of Daih, Bahrain.
14 Liberia Drug Enforcement Agency officials look on as a recently seized stash of marijuana is burned in Paynseville, on the outskirts of Monrovia.
15 A Typhoon Haiyan survivor carries a child wrapped in a towel as he watches a helicopter landing to bring aid to the destroyed town of Guiuan, Samar Island, Philippines.
November 17, 2013
1 Trees destroyed by Typhoon Haiyan are seen from a military helicopter delivering aid to isolated villages north of Tacloban, Philippines.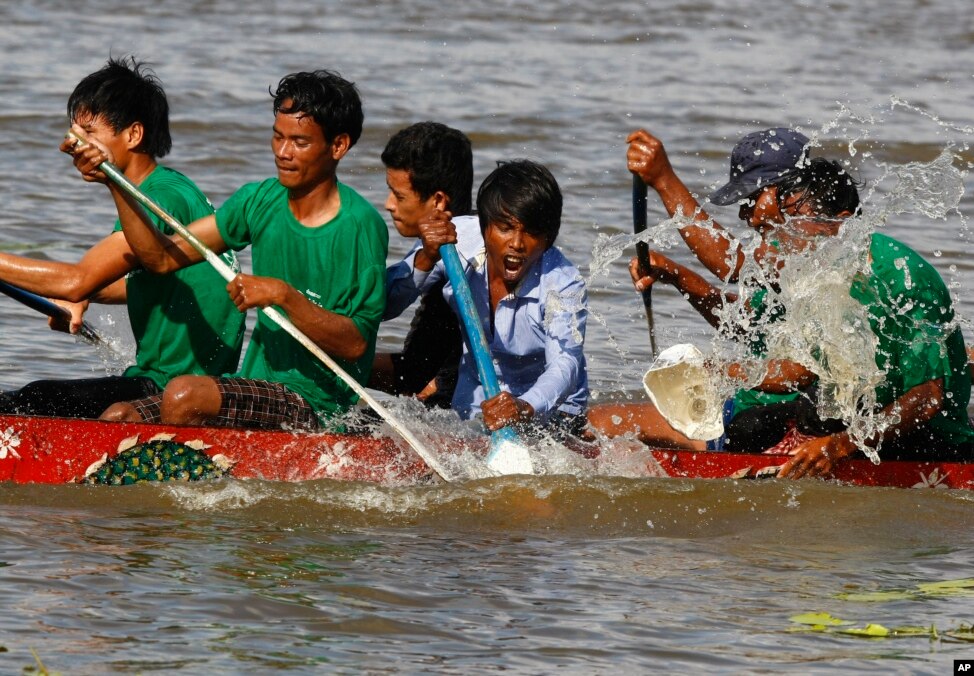 2 Competitors row their wooden boat during a boat racing as part of celebrations of the Water Festival in Thnol Dach, Takoe province, southwestern Cambodia.
3 The Dutch version of Santa Claus, Sinterklaas, or Saint Nicholas, and his blackface sidekicks "Zwarte Piet" or "Black Pete" arrive by steamboat in Hoorn, north-western Netherlands, Nov. 16, 2013. The tradition is being debated, opponents say Black Petes are an offensive caricature of black people while supporters say Pete is a figure of fun whose appearance is harmless, his face soot-stained from going down chimneys to deliver present for the children.
4 Mt. Etna, Europe's most active volcano, spews lava during an eruption as seen from Acireale, near the Sicilian town of Catania, Italy, Nov. 16, 2013.
5 A Sri Lankan man cycles his bicycle laden with firewood to be sold in the northern town of Kilinochchi.
6 Indian Sikh devotees queue up to pay obeisance at the Golden Temple, on the birth anniversary of Guru Nanak, the first Sikh Guru in Amritsa.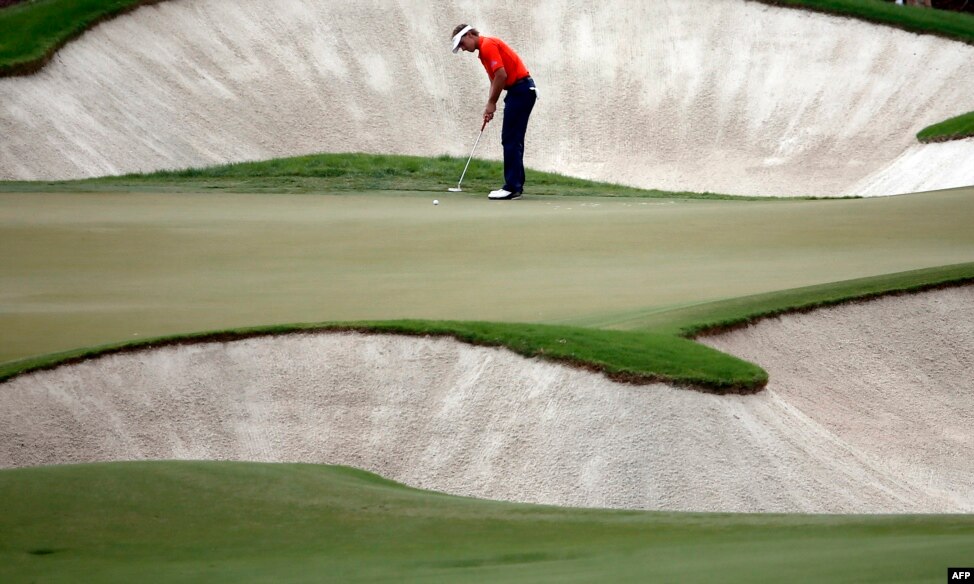 7 Joost Luiten of the Netherlands plays a shot during the final round of the DP World Tour Golf Championship in the Gulf emirate of Dubai.
8 A demonstrator kisses a riot police officer during a protest in Susa against the high-speed train (TAV in Italian) line between Lyon and Turin, Nov. 16, 2013.
9 Adelina Sotnikova of Russia performs during the gala exhibition ending the ISU Figure Skating Eric Bompard Trophy at Bercy arena in Paris, France.
10 Indian performers ride cars and motor bikes inside a makeshift wooden cylindrical 'Wall of Death' during the annual Farmers' Fair at Shama Chak Jhiri, some 22 kilometers from Jammu.
11 Japan's Arisa Sato (L) receives the ball to save a point against Brazil on the final day of the FIVB Women's Volleyball Grand Champions Cup 2013 in Tokyo, Japan.
November 18, 2013
1 Smoke rises from the chimney stalk of a gas-fired power station after sunset on the outskirts of Minsk, Belarus.
2 Chilean presidential candidate Michelle Bachelet waves to her supporters during a campaign event in Santiago. Bachelet was the clear winner in the presidential election, although she will have to wait until a second round runoff next month to seal her victory.
3 Rebel fighters from the Free Syrian Army fire a heavy machine gun during fighting against government forces in the Salah al-Din neighbourhood of the northern Syrian city of Aleppo.
4 A man covered in dust works at an open-pit gold mine in Lukingi village in Mubende district, about 150 km (90 miles) southwest of Uganda's capital Kampala, Nov. 17, 2013.
5 A woman looks on as Mount Sinabung spews ash, as pictured from Sibintun village in Karo district, Indonesia.
6 A full Moon rises behind the United Launch Alliance Atlas V rocket with NASA's Mars Atmosphere and Volatile Evolution (MAVEN) spacecraft onboard at the Cape Canaveral Air Force Station Space Launch Complex 41, Cape Canaveral, Florida. MAVEN began it's 10-day journey on Nov. 18, 2013, and will take critical measurements of the Martian upper atmosphere to help scientists understand climate change over the Red Planet's history.
7 A cleaner pulls a cart as another shovels ice during heavy snow on a street in Jilin, Jilin province, China.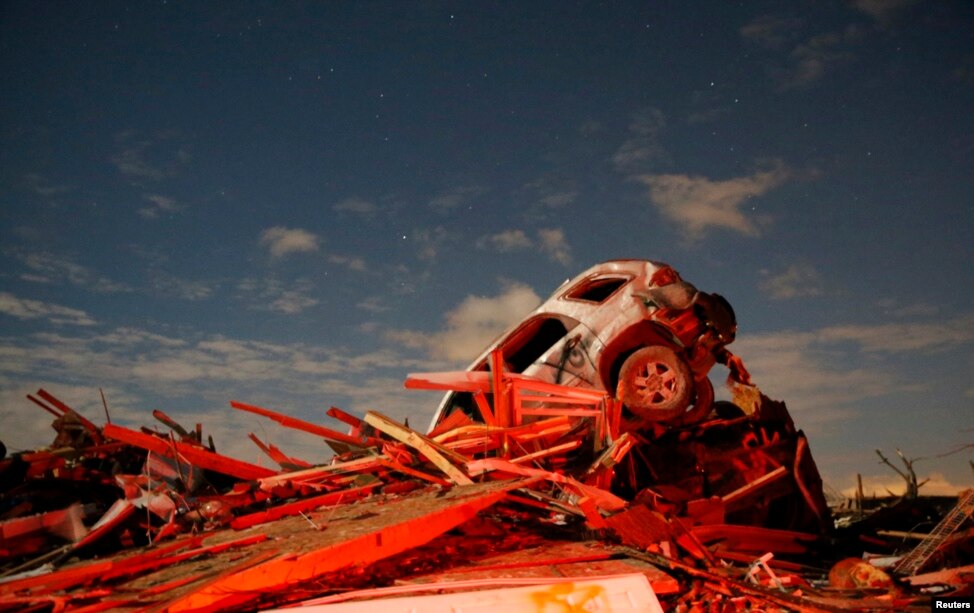 8 A vehicle sits on a pile of debris from the destruction caused by a tornado that touched down in Washington, Illinois, USA, Nov. 17, 2013. A fast-moving storm system triggered multiple tornadoes, killing at least five people, injuring about 40 and flattening large parts of the city of Washington as it tore across the Midwest, officials said.
9 A visitor walks between electric barbed-wired fences at the Auschwitz-Birkenau memorial and former concentration camp, Poland.
10 The circular balcony, closed since the 1920s, and a new spiral staircase, are seen at Tate Britain in central London.
11 Buddhist monks prepare to release lanterns after a blessing ceremony during the Loy Krathong Festival at a temple in Chiang Mai, Thailand, Nov. 17, 2013.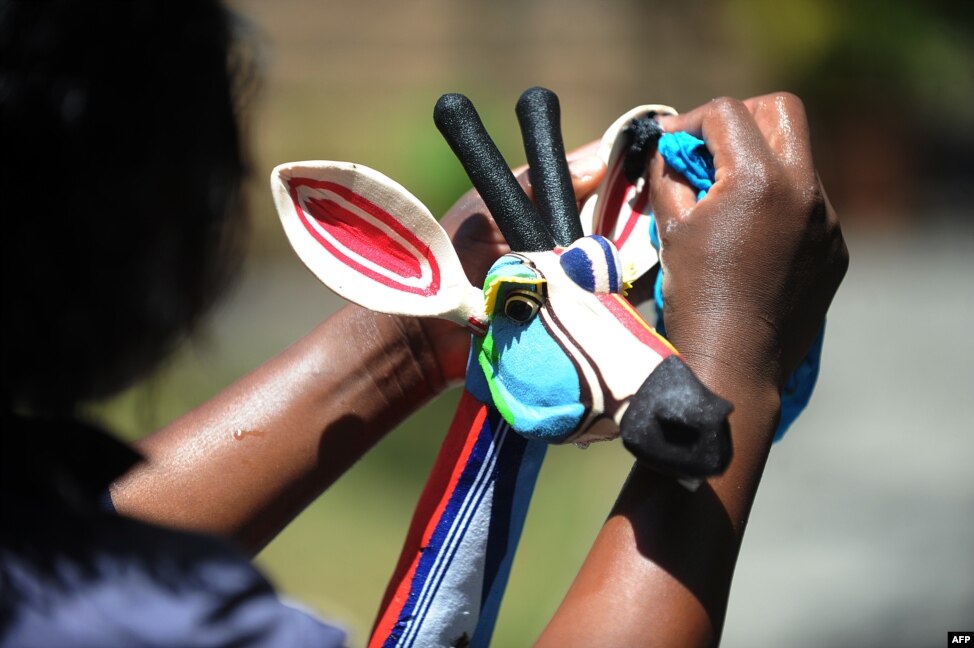 12 A woman washes finished toy animals made from pieces of discarded flip-flops at the Ocean Sole flip-flop recycling company in Nairobi, Kenya. The company collects used flip-flops and the dirty pieces of rubber that are thrown away mostly from slums and major towns in the country and turns them into colorful handmade giraffes,elephants and other toy animals.
13 In this photo provided by Russian Emergency Situations Ministry, fire fighters and rescuers work at the crash site of a Russian passenger airliner near Kazan, the capital of the Tatarstan republic, about 720 kilometers (450 miles) east of Moscow, Nov. 17, 2013. The airliner crashed while trying to land at the airport in the city of Kazan, killing all people aboard, officials said.
14 Sri Lankan Tamil farmers transport coconut husk in Jaffna, 400 kilometers (250 miles) north of the capital Colombo.
15 A fly agaric (Amanita muscaria) fungus grows in the western city of Thorigne-Fouillard, France. One of the most iconic and distinctive of fungi with its red cap and white spots, is renowned for its toxicity and hallucinogenic properties.
16 A view of atmosphere at The Grove's 11th Annual Christmas Tree Lighting Spectacular presented By Citi at The Grove in Los Angeles, California, Nov. 17, 2013.
November 19, 2013
1 In this photo provided by Olympictorch2014.com torch bearer Alexander Brylin, with other ice swimmers, swims with Olympic torch during the torch relay in the Amur River in Blagoveshchensk, Russia's Far East.
2 Al Fursan, the aerobatics demonstration team of the UAE Air Force perform during the Dubai Air show, in Dubai, United Arab Emirates.
3 A Lebanese man runs in front of a burned car, at the scene of two explosions near the Iranian Embassy in Beirut, Lebanon. The blasts in south Beirut's neighborhood of Janah killed more than 20 people and caused extensive damage on the nearby buildings and the Iranian mission.
4 Drive through Mahi-Par Par Mountain Pass from Jalalabad to Kabul in eastern Afghanistan on a rainy day (Photo taken by Bismillah/Afghanistan/VOA reader)
5 A combination picture shows Vittoria, daughter of Italy's Member of the European Parliament Licia Ronzulli, growing up as she attended with her mother in various voting sessions at the European Parliament in Strasbourg, France. Pictures taken from September 22, 2010 (Top row L) to November 19, 2013 (Bottom row R).
6 Students cross Ciherang river on a bamboo raft on their way home from school in Cilangkap village, Lebak Regency in Banten province, Indonesia. The raft has been used since January when the bridge collapsed due to flooding, local media reported.
7 Guardsmen arrive in the rain at the cathedral in Monaco before the mass for the National Day.
8 Two tankers are battered by gale winds in the rough waters of the Gulf of Cagliari, Sardinia, Italy, Nov. 18, 2013. A violent rainstorm that flooded large parts of the Mediterranean island of Sardinia has led to the deaths of at least nine people.
9 An elderly Thai woman sifts through rice grains on a bamboo tray, a process that removes stalks and dust from her newly harvested crop. (Photo taken by Matthew Richards/Thailand/VOA reader)
10 A man is silhouetted as he builds a wooden house in an area destroyed by Typhoon Haiyan, in Palo, Philippines.
11 The MSC Divina cruise ship arrives at the Port of Miami, Florida, USA, escorted by a fleet of Fiat 500 watercrafts.
12 North Korean artists from Pyongyang rehearse for an evening dancing performance called "Azalea" during the 13th Asian Arts Festival in Kunming, Yunnan province, China.
13 A flying "Tardis" remote control air craft is test-flown past a building in San Diego, California, Nov. 18, 2013. Inventor Otto Dieffenbach built the "Tardis", an old-fashioned police call box used as a time machine in the British television series Dr. Who, to celebrate the show's 50th season this year.
14 Migratory birds fly above a man rowing a boat in the waters of Yamuna River during early morning in old Delhi, India.
15 Co-curator Shonagh Marshall poses for photographers at the Isabella Blow: Fashion Galore! exhibition at Somerset House in London.
16 Japanese actor Ken Matsudaira (R), clad in a robot suit, takes part in a press presentation with an android robot (L) in his likeness called "Real Android Matsuken" in Tokyo. The android robot was developed for an advertisement for Japanese telecom company KDDI.
November 20, 2013
1 Protesting students wearing fake military uniforms shout anti-government slogans during a demonstration in front of Sofia University. Thousands of Bulgarians joined several separate rallies against rampant corruption, low incomes and high unemployment in the European Union's poorest country, mounting pressure on the Socialist-led government.
2 Snow clearing vehicles work on a road in Harbin, Heilongjiang province, China.
3 Riot policemen stand guard at Constitutional court in Bangkok. Thailand's beleaguered government, plagued by street protests over an ill-advised attempt to help ousted former Prime Minister Thaksin Shinawatra, faces a fresh challenge Wednesday when a court rules on its attempt to amend the constitution.
4 Boys maneuver their boat, made from a broken fridge and bamboo, to the beach in Tanauan, Philippines. After losing their boats and houses in the Typhoon Haiyan, fishermen of a destroyed village in Tanauan started building two-seated boats made of abandoned refrigerators and some wood.
5 U.S. President Barack Obama awards Oprah Winfrey the Presidential Medal of Freedom during a ceremony in the East Room of the White House in Washington.
6 A flock of Common Starlings fly above the Mediterranean sea in Nice, southern France.
7 A billboard promoting a cabaret in Madrid, Spain
8 Small boats sit on the shore of Guanabara Bay in the suburb of Sao Goncalo, across the bay from Rio de Janeiro, Brazil, Nov. 19, 2013.
9 Chinese dancers of TAO Dance Theatre company perform during a press preview of "4" at Teatros del Canal in Madrid, Spain.
10 A man carries his dog through sea foam in the town of Portstewart as gale force winds and wintry showers hit the Coastline in Northern Ireland.
11 A sculptor walks past sculptures based on characters from Disney movies at the Snow and Ice Sculpture Festival in Bruges. Some 28 artists from all over the world made 55 sculptures out of 250 tons of ice depicting Disney's newest movie "Frozen". The festival will open on Nov. 22.
England and Australia will play for the Ashes in a five-test match series starting in Brisbane on Nov. 21.
13 A folk artist from India's northern Uttar Pradesh state performs during a procession held as part of the ongoing all India multilingual short play, folk dance competition and theater seminar in Allahabad.
14 Lighting flashes as Sinabung volcano spews volcanic ash and hot smoke in Karo. Mount Sinabung on western Sumatra island, which has been erupting on and off since mid-September, shot volcanic ash around 10,000 meters into the air, according to Indonesia's Mitigation Agency.
November 21, 2013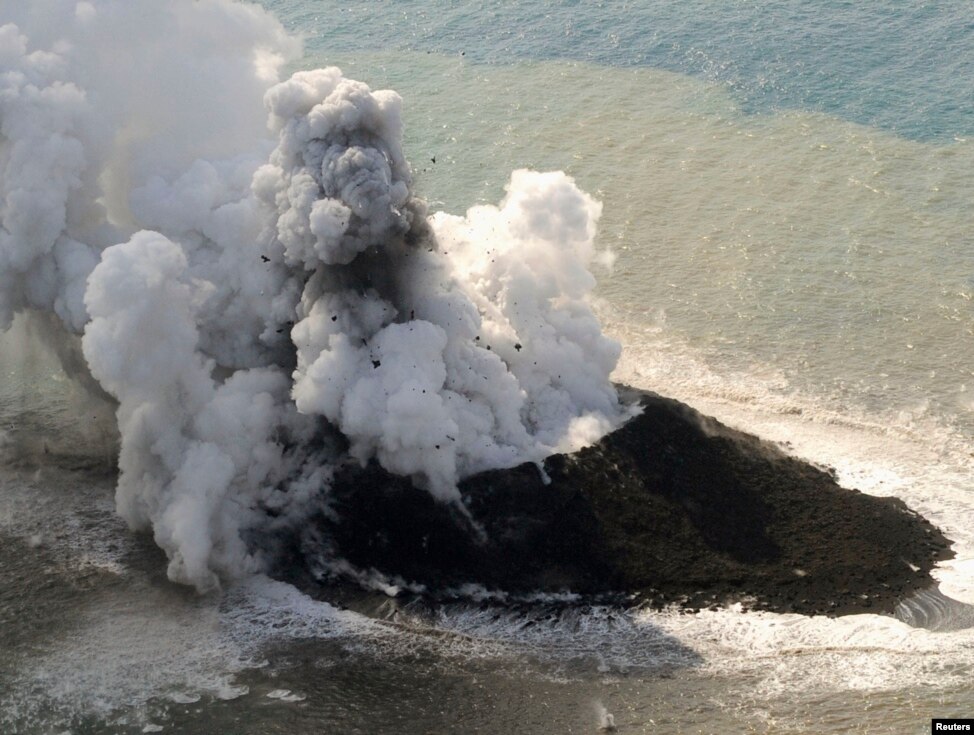 1 Smoke from an erupting undersea volcano forms a new island off the coast of Nishinoshima, a small uninhabited island, in the southern Ogasawara chain of islands, Japan, in this picture provided by Kyodo.
2 Sini Saarela of Finland (C) reacts after she was released from prison in St. Petersburg, Russia. Several of the 30 activists arrested during a Greenpeace protest walked free on bail, defiant that the action against Arctic oil drilling was justified and that the response by the authorities was not.
3 A Free Syrian Army fighter carries his weapon as he peeks out from a damaged shop in Aleppo's Karm al-Jabal district, Syria.
4 Dragon's Blood trees, known locally as Dam al-Akhawain or blood of the two brothers, on Socotra island. The Socotra islands, in the Arabian Sea 380 km south of mainland Yemen and 80 km west of the Horn of Africa, harbor many unique species of birds and plants and gained UNESCO recognition in July 2008 as a world natural heritage site.
5 Residents look at a ship that was swept by Typhoon Haiyan nearly two weeks ago, in downtown Tacloban city in central Philippines.
6 Fiery skies greet a fishing trawler returning to harbor 30 minutes before sunrise in Portland, Maine, USA.
7 A prison officer stands guard as an inmate sweeps the floor inside female prison camp Number 22 in Russia's Siberian city of Krasnoyarsk.
8 A view of the unveiling of a new ensemble for a Rockette wax figure, as created on Lifetime's "Project Runway", at Madame Tussauds in New York City.
9 Bourgogne wine maker Laboure-Roi vice president Thibault Garin (L) toasts the company's 2013 Beaujolais Nouveau wine with guests in the wine spa at the Hakone Yunessun spa resort facilities in Hakone town, Kanagawa prefecture, some 100-kilometers west of Tokyo, Japan.
10 A statue is seen under a solar halo in front of Senador Nilo Coelho Airport in Petrolina, at the State of Pernambuco, northeastern Brazil. According to meteorologists, the weather phenomenon creates rainbows around the sun and is formed by the reflection of ice crystals.
11 A large mob of camels in the Simpson Desert in central Australia
12 Two joggers run along the embankment of Aare river during the first snowfall in Bern November 21, 2013. Swiss weather service said they expect from 5 to 15 cm of snow on Thursday.
13 Paragliders fly in front of Lima's Miraflores district, Peru, Nov. 20, 2013.
14 Supporters of Brazilian Sao Paulo cheer their team during the 2013 Copa Sudamericana first leg football match against Brazil's Ponte Preta held at Morumbi stadium, Sao Paulo, Nov. 20, 2013.
15 A pair of harbor seals wearing satellite linked transmitters on their heads face each after being released into the waters of Howe Sound in Porteau Cove, British Columbia, Nov. 20, 2013. Wearing the transmitters will help track their movements after their release.
16 Scallop (2003) by sculptor Maggi Hambling, a tribute to composer Benjamin Britten, is seen on Aldeburgh beach, eastern England.
17 A Porsche 918 Spider is presented during the 2013 Los Angeles Auto Show in Los Angeles, California, USA, Nov. 20, 2013.
November 22, 2013
1 The eternal flame flickers in the early morning light at the grave of John F. Kennedy at Arlington National Cemetery on the 50th anniversary of Kennedy's death.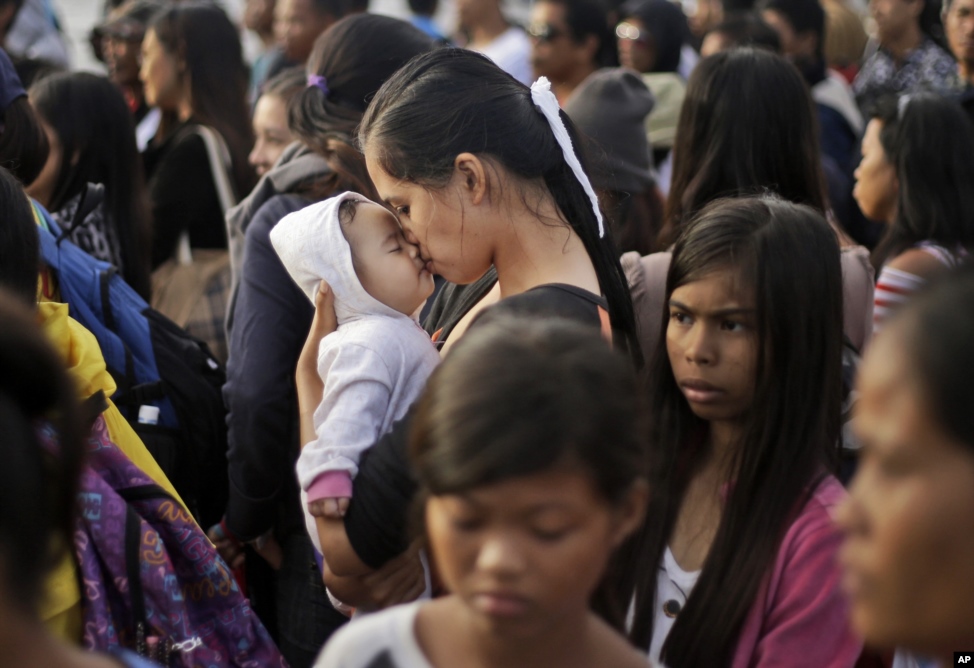 2 A Typhoon Haiyan survivor kisses her baby as she waits to board her evacuation flight at the airport in Tacloban, Philippines.
3 Supporters of ousted president Mohamed Morsi and the Muslim brotherhood run away from tear gas during clashes with Egyptian riot police close to Rabaa al-Adawiya Square.
4 People lay flowers and light candles in front of the Maxima supermarket in Riga, Latvia. Hordes of shoppers were picking up food after work Thursday evening in the Latvian capital when an enormous section of the supermarket's roof caved in.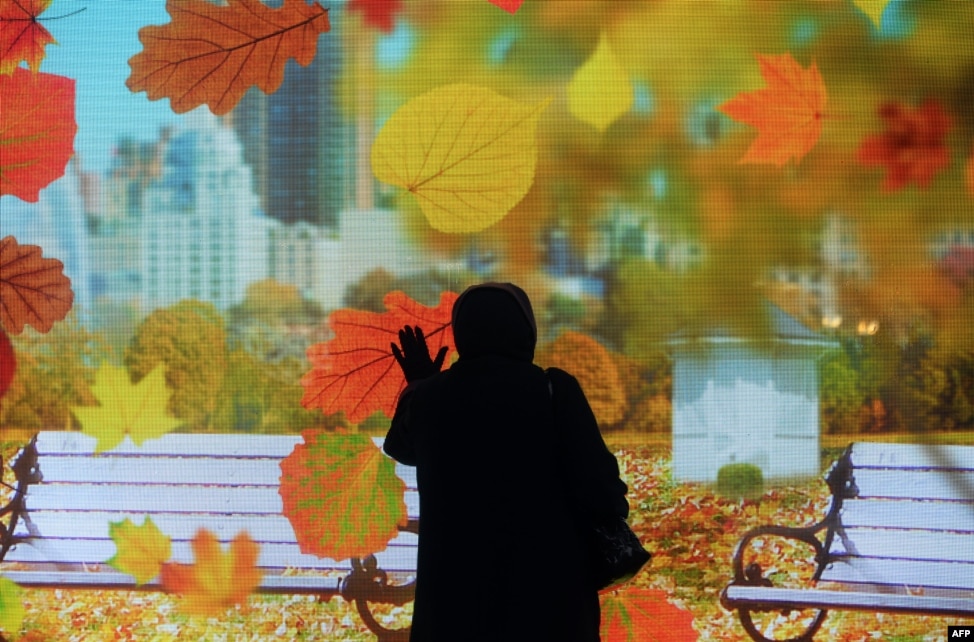 5 A woman tries an outdoor advertising interactive touch screen in Moscow.
6 Damaged vehicles lie by a street after an oil pipeline exploded, killing at least 35 people, ripping roads apart, turning cars over and sending thick black smoke billowing over the city of Qingdao, east China's Shandong province.
7 Job seekers line up at a job fair at Tianjin University in China. According to local media, more than 6,000 people rushed to the job fair on Friday for openings from 300 companies.
8 A Libyan man watches a protest against the Tripoli-based militias and supporting the new national army and the police corps in the Libyan capital.
9 Emanuel Jumatate, from Chicago, hugs his new Xbox One after he purchased it in Evanston, Illinois. Microsoft is billing the Xbox One as an all-in-one entertainment system rather than just a gaming console.
10 Greenpeace International activists Dima Litvinov of Sweden, right, and Roman Dolgov of Russia pose after being released from a jail in St. Petersburg, Russia.
11 Cambodian protesters from Boeung Kak lakeside community paint their face in front of the Supreme Court in Phnom Penh. The Court decided to release provisionally land rights activist Yorm Bopha and transfered her case back to the Appeal Court for a retrial.
12 Spectators enjoy the match while wearing horse masks during day two of the first Ashes cricket Test match between England and Australia at the Gabba Cricket Ground in Brisbane.
13 Olympic gold medalist Usain Bolt of Jamaica "competes" with children during an athletic clinic at the national stadium in Tokyo, Japan.
14 A picture taken of the Moulin Rouge Cabaret at the Pigalle district area in Paris, France.
November 24, 2013
1 A man distributes fruit from a box at a mass gathering of Satmar Hasidic Jews in New York. The Satmars, a strictly anti-zionist sect of Judaism, gathered to celebrate the 69th anniversary of their founding after Rabbi Joel Teitelbaum's escape from the holocaust.
2 A general view of anti-government protesters gathering to demonstrate against the government-backed amnesty bill at the Democracy Monument in central Bangkok, Thailand.
3 Iranian Foreign Minister Mohammad Javad Zarif (2nd L) shakes hands with U.S. Secretary of State John Kerry next to Chinese Foreign Minister Wang Yi (far L) and French Foreign Minister Laurent Fabius (far R) after world powers agreed to a landmark deal with Iran halting parts of its nuclear program, in Geneva, Switzerland.
4 A costumed woman rides her bike during the 15th tour of the fireflies in Pasig city, metro Manila, Philippines. The annual tour of the fireflies advocates clean air and healthy living by promoting bicycles as the main mode of transportation. This year's tour aims to raise funds to benefit to the victims of supertyphoon Haiyan.
5 Ksenia Stolbova (R) and Fedor Klimov of Russia perform for the ISU Grand Prix of Figure Skating Rostelecom Cup in Moscow, Russia, Nov. 23, 2013.
6 Oil fences to control leaked oil are seen after an explosion at a Sinopec Corp oil pipeline in Huangdao, Qingdao, Shandong Province. Crude pipelines have been shut-off in the eastern Chinese oil hub of Qingdao pending safety checks a day after a leak triggered a huge explosion that killed 47 people, a refinery official and state media said.
7 Kenyan rally driver Carl Tundo sits on the hood of the Ford Escort Mark 2 after a mechanical problem, on the fourth day of the Kenya Airways East African Safari Rally in Nairobi.
8 Members of the Loya Jirga, grand council, leave on the last day of the Loya Jirga, in Kabul, Afghanistan.
9 Opposition protesters and riot police spray tear gas against each other in front of the Ukrainian Cabinet of Ministers in Kyiv. Tens of thousands of demonstrators rallied in the center of Kyiv to demand that the government reverse course and sign a landmark agreement with the European Union in defiance of Russia.
10 A man puts a lit candle in front of the Maxima supermarket after a section of its roof collapsed, in Riga, Latvia. More than 50 people were killed when the roof collapsed.
11 Motorists ride on a road covered by volcanic ash from the eruption of Mount Sinabung in Karo, North Sumatra, Indonesia.
12 In this picture taken with a long time exposure, Noriaki Kasai of Japan competes during the large hill team competition at the FIS Ski Jumping World Cup in Klingenthal, eastern Germany, Nov. 23, 2013. Japan placed 3rd.
13 Tribesmen lead their camels through the sand dunes of the Liwa desert, 220 km west of Abu Dhabi, United Arab Emirates.
November 25, 2013
1 Several images taken by the Hubble Space Telescope in order to help identify key stellar distance markers known as Cepheid variable stars (Hubble Legacy Archive, ESA, NASA)
2 Indian laborers carry cow dung cakes over their heads in Allahabad. Dried cow dung is used as a fuel for cooking in rural and agricultural areas of India.
3 Honor guard soldiers position a red carpet before the arrival of China's Premier Li Keqiang at the Henri Coanda airport, outside Bucharest, Romania.
4 Residents hide near a burning car during clashes between members of Islamist militant group Ansar al-Sharia and a Libyan army special forces unit in the Ras Obeida area in Benghazi.
5 A ground crew member directs an Israeli F-16 fighter jet after it landed at Ovda airbase, some 40 km (25 miles) north of Eilat, during the Blue Flag drill. The Blue Flag drill is a two-week multilateral air force drill with air forces of Israel, the United States, Greece and Italy.
6 A Turkish woman feeds pigeons during a rainy day at Besiktas in Istanbul.
7 The art work titled "Yellow," which is made out of Lego bricks, is seen next to another Lego art work titled "Skulls" (L) during "The Art of the Brick" exhibition at the Brussels Stock Exchange, Belgium.
8 An aerial view of the downtown Chicago, Illinois skyline, on the night of Nov. 24, 2013
9 Mount Sinabung spews volcanic ash into the air as seen from Tiga Pancur, North Sumatra, Indonesia, Nov. 24, 2013.
10 Musician Taylor Swift poses backstage with her awards for artist of the year, favorite country artist - female, favorite country album for "Red" and favorite female pop/rock at the 41st American Music Awards in Los Angeles, California, Nov. 24, 2013.
11 Lady Gaga arrives for the 2013 American Music Awards at the Nokia Theater L.A. Live in downtown Los Angeles, California, Nov. 24, 2013.
12 A runner carries the Sochi 2014 Winter Olympic torch along a bridge across Yenisei River near the Krasnoyarsk hydro electric power station near the town of Divnogorsk outside Krasnoyarsk, Russia.
November 26, 2013
1 Two turkeys, Caramel and Popcorn are presented to the press in Washington, D.C. On Nov. 27, U.S. President Obama will announce the National Thanksgiving Turkey. Both turkeys will be pardoned, but the American people will decide which bird takes the title via online voting. The deadline for voting is 8pm ET on Nov. 26.
2 A spectator holds a sign against a government proposed state secrecy act as parliamentary security officers try to stop him during a lower house special committee meeting on the act at the parliament in Tokyo, Japan, in this photo taken by Kyodo.
3 Laborers transport bricks on hand carts at a brick kiln factory on the outskirts of Jammu, India.
4 Photo released by the Sochi 2014 Winter Olympics Organizing Committee shows a torchbearer skiing at a ski resort near the Siberian city of Krasnoya, some 3500 km (2174 miles) east of Moscow, Russia.
5 A female African lion stands on a tree at the Ramt Gan safari near Tel Aviv, Israel. Tree-climbing lions are relatively uncommon and are best known for their populations in Uganda's Queen Elizabeth National Park and Tanzania's Lake Manyara National Park.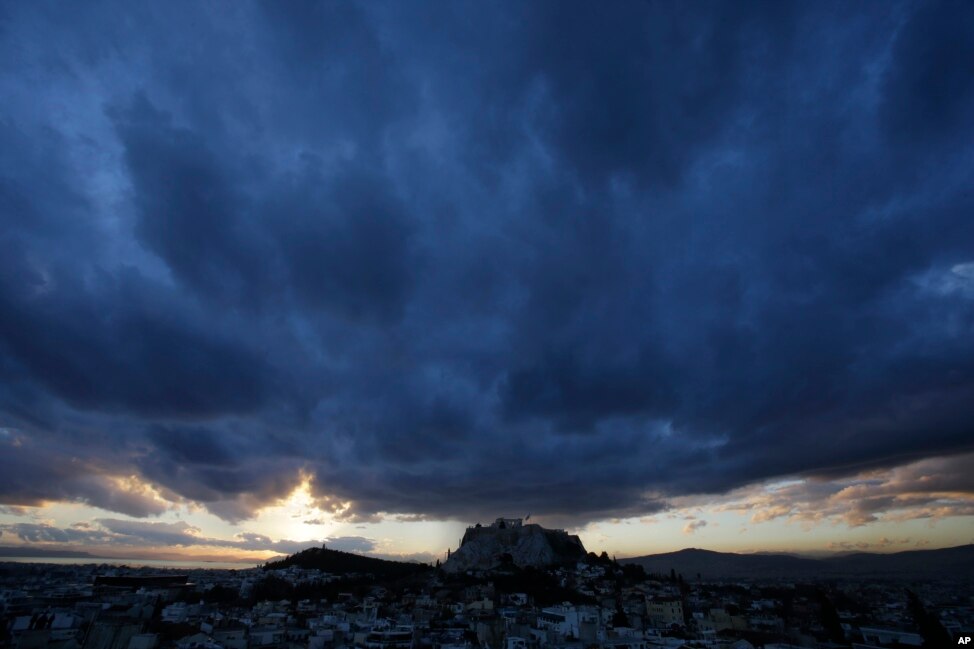 6 A sunset seen through heavy cloud cover behind the ancient Acropolis hill in Athens, Greece.
7 A line of ducks walk home along the banks of a flooded paddy field in northeast Thailand. (Photo taken by Matthew Richards/Thailand/VOA reader)
8 A man walks through burning charcoal as he participates in the traditional ritual called "Lianhuo", or "fire walking", in Pan'an county, Zhejiang province, China, Nov. 25, 2013. Dozens of men walk over burning charcoal or firewood barefooted, as a way to ward off evil and pray for good fortune in the local ritual.
9 Photo issued by Walking with the Wounded (WWTW) shows Britain's Prince Harry (R), partron of Team UK in the South Pole Allied Challenge 2013 expedition, pulling the pulk which is guiding US team member Ivan Castro, who is blind, during ski training in Novo, Antarctica, ahead of a charity walk to the South Pole.
10 The Visible Infrared Imaging Radiometer Suite (VIIRS) on the Suomi NPP (National Polar-orbiting Partnership) satellite acquired two nighttime images for this natural-light, mosaic view of the continental United States. (NASA Earth Observatory image by Jesse Allen and Robert Simmon)
11 Lady Gaga poses for photographers upon her arrival at Narita International Airport in Narita, east of Tokyo. Gaga is in Japan to promote her new album ARTPOP.
12 The feathered hat of an Italian Bersagliere is blown by a strong wind as he stands at attention before the meeting between Russian President Vladimir Putin and Italian Premier Enrico Letta, in Trieste, Italy.
November 27, 2013
1 A man sleeps at the Los Angeles International Airport in Los Angeles. More than 43 million people are to travel over the long Thanksgiving holiday weekend, according to AAA (American Automobile Association).
2 Students play in the snow in Seoul, South Korea.
3 Pope Francis grabs a shirt thrown to him by faithful as he leaves at the end of his weekly general audience in St. Peter's Square at the Vatican.
4 Tunisian protesters clash with police following a demonstration against the country's ruling Islamist Ennahda party in Siliana, northwest of Tunis. A general strike was called to protest against poverty and lack of development.
5 From left, German Social Democratic Party (SPD), chairman Sigmar Gabriel, Chancellor and chairwoman of the Christian Democratic Union (CDU), Angela Merkel and the chairman of the Christian Social Union (CSU), Horst Seehofer brief the media at a news conference after they signed a coalition agreement in Berlin.
6 A student throws a rock toward riot policemen during a protest outside the National Autonomous University of Honduras in Tegucigalpa, Nov. 26, 2013. Clashes erupted between student demonstrators and police in the Honduran capital after conservative ruling party candidate, Juan Hernandez, was declared the winner of the country's tightly-contested presidential elections.
7 Protesters in Kyiv's European Square demand that the Ukrainian government sign a trade deal with the European Union, Nov. 26, 2013. (Henry Ridgwell/VOA)
8 Indian fishermen return to shore after a cyclone alert was sounded in the coastal area of Gopalpur, in the eastern Indian state of Orissa.
9 A Palestinian demonstrator throws a petrol bomb towards Israeli border guards in the West Bank city of Hebron during a demonstration. Israeli security forces killed three Palestinian militants after attempting to arrest them near the West Bank city of Hebron, the Shin Bet internal security service and army said.
10 A late autumn shot of the George Washington Masonic Memorial, built between 1922 and 1932 in Old Town Alexandria, Virginia. (Diaa Bekheet/VOA)
11 An Aboriginal man prepares to perform the traditional "Welcome to Country" ceremony in Sydney, Australia. The ceremony was performed during the official announcement of the International Union for Conservation of Nature (IUCN) World Parks Congress, which will be held in Sydney next year.
12 The sun rises behind the billowing chimneys of a power station in Berlin, Germany.
13 Howar, a 35-year-old Hong-Kong born Australian musician, dressed as North Korean leader Kim Jong Un, walks in Hong Kong's downtown.
14 Britain's Prince William, the Duke of Cambridge, right, sings with U.S. singers Taylor Swift, left, and Jon Bon Jovi at the Centrepoint Gala Dinner at Kensington Palace in London, Nov. 26, 2013. Centrepoint is a charity supporting homeless young people aged 16-25 and the Duke is patron of the organisation.
15 Tourists and visitors pass by a two-story Louis Vuitton suitcase erected at the Red Square in Moscow, Russia. Politicians didn't like it, the public didn't like it, so the gigantic Louis Vuitton suitcase is being booted out of Red Square. The GUM department store on Red Square, which is responsible for 30-feet (nine meters) high and 100-feet (30-meters) long construction, promised in a statement that it would be dismantled.
16 Tourists visit an under construction statue of Mao Zedong in Changsha, central China's Hunan province, Nov. 26, 2013, ahead of the 120th anniversary of Mao's birth, which China will celebrate on December 26.
November 28, 2013
1 An anti-government protester gives a rose to a Thai soldier at the Defense Ministry during a rally in Bangkok.
2 The Spiderman balloon makes its way down Central Park West during the 87th Macy's Thanksgiving Day Parade in New York.
3 Performers of the 87th Macy's Thanksgiving Day Parade wait for a subway to take them to the start of the parade in New York.
4 A woman in an upside-down umbrella float makes her way down 6th Ave. during the 87th Macy's Thanksgiving day parade in New York.
5 Pro-European protesters wave Ukrainian flags during a rally in the western Ukrainian city of Lviv. An EU summit to cap years of effort to bring ex-Soviet states into the Western fold opens with its ambitions dented after Ukraine, the biggest prize, balked at the last moment under Russian pressure.
6 A Syrian man reacts after an air strike by government forces on the city of Aleppo, Syria.
7 Flocks of ravens from northern Poland and Russia arrive in the southern Czech town of Zidlochovice.
8 Rabbi Levi Shemtov (2nd L), executive vice president of American Friends of Lubavitch (Chabad), lights the U.S. National Chanukah (Hanukkah) Menorah on the Ellipse in front of the White House, Washington, D.C., with U.S. Trade Representative Michael Froman (2nd R) and Rabbi Abraham Shemtov (R), national director of American Friends of Lubavitch (Chabad), Nov. 27, 2013.
9 A laborer pulls a cart loaded with supplies while heading to a nearby market in Karachi, Pakistan.
10 A couple laughs as a wave breaks over them on Havana's seafront boulevard 'El Malecon', Cuba, Nov. 27, 2013.
11 Visitors wave to a professional diver wearing a Santa Claus suit inside a giant aquarium as part of Christmas celebrations at the Manila Ocean Park, Philippines.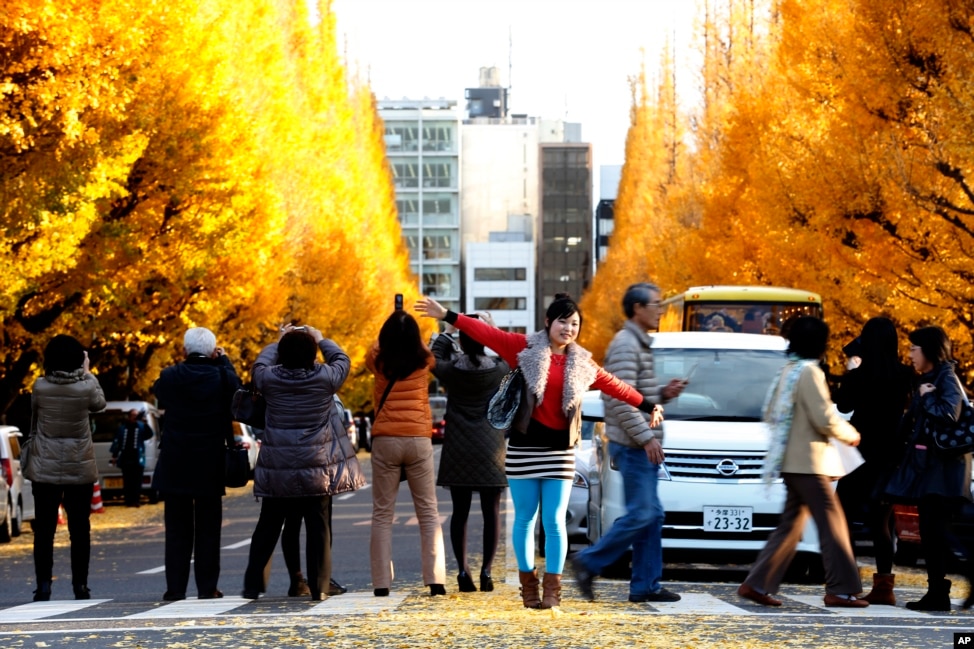 12 A woman poses as others take a picture of the tinted autumn foliage of ginkgo trees at a Tokyo park, Japan.
13 New-born gorilla N'Aikais is held in the arms of its mother in Burgers Zoo in Arnhem, The Netherlands.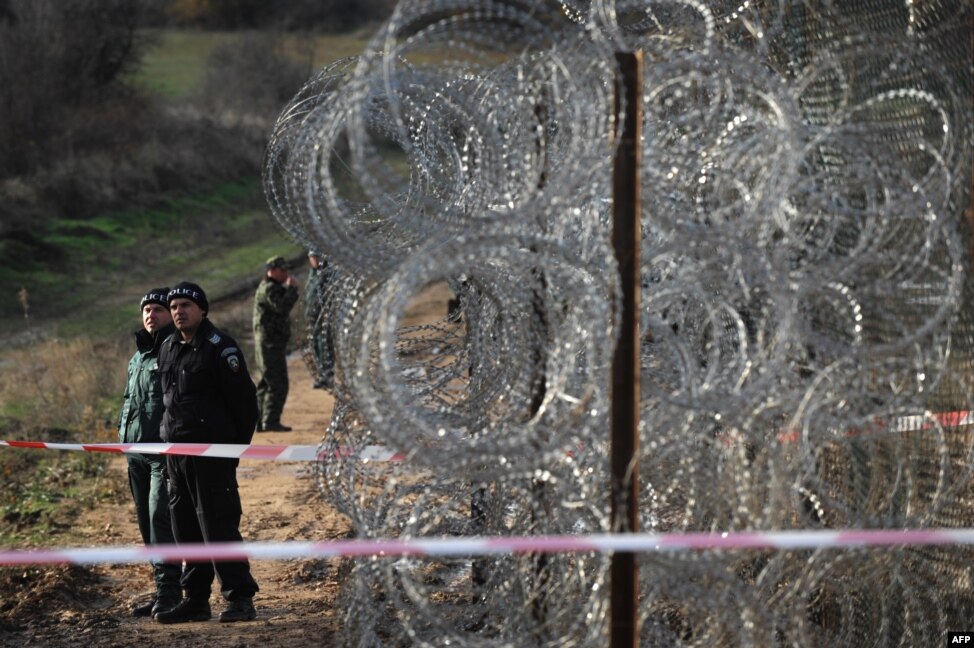 14 Border police stand guard next to a border fence being built on the Bulgarian border with Turkey, near the village of Golyam Dervent. Bulgaria, the European Union's poorest member, has been overwhelmed by the arrival this year of almost 10,000 refugees, 60 percent of them Syrians fleeing civil war crossing over illegally from Turkey.
15 Snow covered branches as seen on Lincoln Blvd. in Buffalo, New York.
16 The Kelpies, two 30-meter high stainless-plate horse heads by sculptor Andy Scott are seen in Falkirk, Scotland, Nov. 27, 2013.
November 29, 2013
1 A floating stage and the vault are reflected in a salt lake of a salt mine in the southern Austrian village of Altausse. According to Altausse records, Nazis stored there more than 9000 paintings between 1943-1945.
2 An anti-government protester blows a giant whistle to a riot police officer outside the headquarters of Prime Minister Yingluck Shinawatra's ruling Pheu Thai Party in Bangkok, Thailand.
3 Shoppers make their way into the Apple Store on New York's 5th Avenue during the Black Friday shopping day.
4 An Afghan child looks on as performers from The Mobile Mini Circus for Children (MMCC) take part in a circus show in Kabul.
5 Typhoon survivors in the Philippines ride on board a C-130 military plane out of Tacloban, Leyte province, to Manila.
6 Police clash with protesters in Kiev, Ukraine.
7 Dogs stand in the empty Mardingding village in Karo district, Indonesia's North Sumatra province. Residents were evacuated to temporary shelters as the emergency alert for Mount Sinabung remains at its highest level.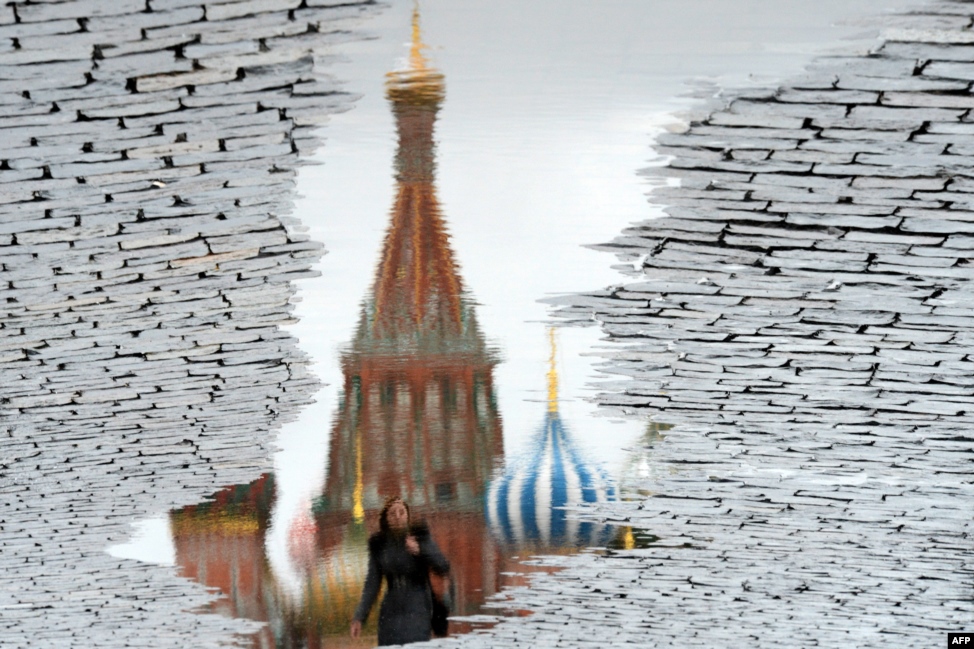 8 This photo, rotated 180 degrees, shows a woman reflected in a puddle as she walks past landmark St.Basil's Cathedral at the Red Square in Moscow, Russia.
9 In this picture taken with a long time exposure, the Church of Our Lady is photographed during the traditional opening of the world-famous Christmas market at the Old Town in Nuremberg, southern Germany.
10 A cyclist jumps from the Dow tower in Utrecht to celebrate the Tour de France cycling race 2015 departure from Utrecht on July 4, 2015.
11 Amateur spider keeper, Yegor Konkin, dressed as Santa Claus, watches a venomous Phormictopus antillensis spider on his head as he prepares for Christmas and New Year performances at his parents' apartment Minusinsk in Russia.