| | | | | | | | | | | | | |
| --- | --- | --- | --- | --- | --- | --- | --- | --- | --- | --- | --- | --- |
| | | | | | | | | | | | | |
| 2013 | Gen | Feb | Mar | Apr | Mag | Giu | Lug | Ago | Set | Ott | Nov | Dic |
| | | | | | | | | | | | | |
| 2012 | Gen | Feb | Mar | Apr | Mag | Giu | Lug | Ago | Set | Ott | Nov | Dic |
| | | | | | | | | | | | | |
| 2011 | | | | | | Giu | Lug | Ago | Set | Ott | Nov | Dic |
May 01, 2013
1 French President Francois Hollande (L) welcomes Italian Prime Minister Enrico Letta at the Élysée Palace in Paris, France.
2 Workers march during a May Day rally in Jakarta, Indonesia.
3 Participants compete in the second edition of the Spartacus survival run in Boom, Belgium.
4 An injured journalist is filmed and helped by his colleagues during clashes between riot police and May Day protesters in central Istanbul, Turkey.
5 Marinda Righter (L), daughter of face donor Cheryl Denelli-Righter, kisses face transplant recipient Carmen Blandin Tarleton during a news conference at Brigham and Women's Hospital in Boston, Massachusetts. Tarleton, who was attacked by her estranged husband and doused with lye in June 2007, underwent the transplant in February.
6 A policeman aligns his shield on the pavement as they wait for protesters to march during International Labor Day near the Malacanang Palace in Manila, Philippines.
7 Workers of the Rasselstein tinplate maker wear red morphsuits and hold flags of the German union IG Metall as they demonstrate during a warning strike in Andernach, western Germany.
8 Demonstrators clash with the police during a march held in Santiago, Chile on May Day.
9 An enormous cloud of hot gas enveloping two large, colliding galaxies in the system known as NGC 6240. Scientists have used Chandra to make a detailed study of this unusually large reservoir of gas contains as much mass as 10 billion Suns, spans about 300,000 light years, radiates at a temperature of more than 7 million degrees, and glows in X-rays (purple).
10 Artist Princess Tarinan von Anhalt throws paint into the flow of air coming from the engine of Flexjet's Learjet 40 XR engine to create a painting on a canvas at Signature Flight Support in West Palm Beach, Florida, USA, Apr. 30, 2013.
May 02, 2013
1 Riders get ready for their morning workouts at Churchill Downs in Louisville, Kentucky, USA.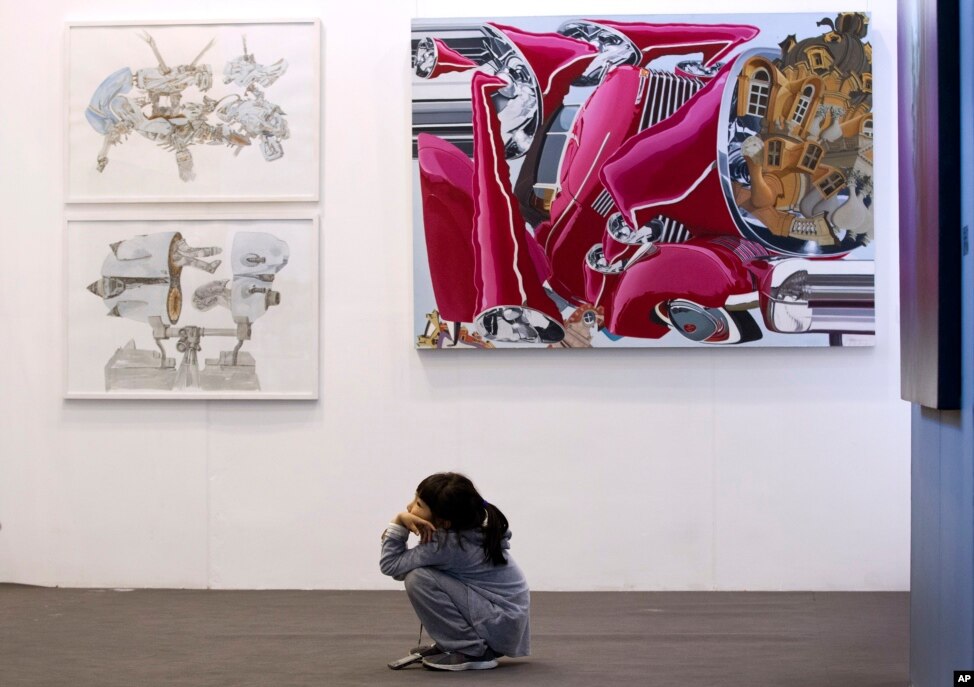 2 A Chinese child admires a modern art painting displayed at the Art Beijing Exhibition, held at the Agricultural Exhibition Center in Beijing.
3 The sun's rays strike the rocky coast of Acadia National Park, in Maine, USA.
4 Slum dwellers bathe in water gushing out of a leakage from a pipe on the outskirts of Bhubaneswar, India.
5 The Republican Guards walk in the courtyard of the Élysée Palace in Paris, France.
6 An Afghan border policeman prepares ammunition at a check post at the Goshta district of Nangarhar province, where Afghanistan shares borders with Pakistan.
7 Members of the media and workers at the Ground Zero site take photographs as the final piece of a spire is lifted to the top of One World Trade Center, in New York.
8 A giant Rubber Duck created by Dutch artist Florentijn Hofman is towed along Hong Kong's Victoria Habor. Since 2007 the 16.5-meter (54-foot)-tall Rubber Duck has traveled to various cites including Osaka, Sydney, Sao Paulo and Amsterdam.
9 Atma refugee camp is seen on the Syrian side of the border zone near the Turkish village of Bukulmez.
10 San Diego Padres' Everth Cabrera breaks his bat as he hits a ground ball during the sixth inning of a baseball game against the Chicago Cubs in Chicago, USA, May 1, 2013.
11 A rider performs before the "Kings of the Off-road" quad bike amateur regional race in a Siberian boggy district near the village of Kozhany, some 200 km (124 miles) southwest of Krasnoyarsk, Russia, May 1, 2013.
May 03, 2013
1 Firefighters battle the Springs Fire at Point Mugu State Park in California. A wind-driven wildfire raged along the California coast north of Los Angeles, threatening some 3,000 homes and prompting evacuations of a university campus and several residential areas.
2 An Orthodox Christian walks between the famous monolithic rock-cut churches during a Good Friday celebration in Lalibela, Ethiopia.
3 A boy yawns during a ceremony ahead of Buddha's upcoming birthday on May 17 at the Jogye temple in Seoul, South Korea. Ten children entered the temple to have an experience with life as monks which lasts for 16 days.
4 Artist Pyotr Pavlensky lies on the ground, wrapped in barbed wire roll, during a protest action in front the Legislative Assembly of Saint Petersburg, Russia, aiming to express his view that the legislative system of the city is oppressive, according to local media.
5 A baby monkey, a lion cub and tiger cubs play at the Guaipo Manchurian Tiger Park in Shenyang, Liaoning Province, China.
6 A Pakistani boy cries after receiving the measles vaccine by a volunteer of Jamaat-ud-Dawwa in Lahore, Pakistan. According to the health department, the number of measles cases in Punjab province reached 7,794 since January this year.
7 U.S. actor Will Smith meets with fans during an event to promote his movie "After Earth" in Taipei, Taiwan.
8 A man seen through a wet window crosses a road in Colombo, Sri Lanka.
9 Members of Malaysia's opposition party, Parti Islam Se-Malaysia, perform a special prayer during a campaign for the upcoming general elections inside a stadium at Kota Bahru.
10 Traditional drum dancers perform as the emblem of the PyeongChang 2018 Olympic Winter Games is unveiled (top) during its Launch Ceremony in Seoul, South Korea.
11 Internally displaced Somali children eat breakfast at Sayyidka camp in the Howlwadag district, south of Somalia's capital Mogadishu, Somalia.
12 Indian farmers transport watermelons on camels on their way to market in Allahabad, India.
13 Slovakia's Branko Radivojevic (C) attempts to shoot the puck past France's Laurent Meunier (L) and goalie Cristobal Huet during their 2013 IIHF Ice Hockey World Championship preliminary round match at the Hartwall Arena in Helsinki, Finland.
14 A man swims in the Houhai Lake in central Beijing, China.
15 This picture taken with a slow exposure shows seagulls flying in the sky over Rome, Italy.
16 Trickdogs (L-R): Pepper, Ben and Tom Tom pose with a German flag, a whistle, a board rading "Champions League" and a mini football during a press conference to promote the fair 'dog and pet' in Dortmund, western Germany.
May 04, 2013
1 A South Korean traditional gate guard beats a drum during the reopening ceremony of landmark Sungnyemun gate in Seoul. Five years after an arsonist destroyed it, the stone-and-wood southern gate to the old walled capital of Seoul has been painstakingly restored to its late 14th century glory by a small army of master craftsmen using traditional tools.
2 Jakub Koucky (R), a graduate from Jedlickuv Institute, in a wheelchair, is helped by a climber during the first ever attempt to rappel from Prague's Congress Center at an event to mark the institute's 100th founding anniversary in Prague, Czech Republic.
3 A supporter is silhouetted against a giant flag of Malaysia's opposition Pan-Malaysian Islamic Party as he waves the party's flag ahead of the upcoming general elections in Pekan, Pahang state.
4 A crescent moon rises above a backfire started into the Santa Monica Mountains off Potrero Road near Newbury Park, California as a fire ignition flare is fired from the road.
5 Cars are seen on a flooded parking lot after the overflowing of the Ouche river caused by recent heavy rainfalls in Dijon, central eastern France.
6 Worshipers hold candles in the Christian Orthodox Holy Fire ceremony at the Church of the Holy Sepulchre in Jerusalem's Old city.
7 Tottenham Hotspur's Jermain Defoe (L) challenges Southampton's Steven Davis for the ball during their English Premier League soccer match at White Hart Lane in London.
8 Desirae Masterson from Indianapolis, Indiana, with her hat covered in a plastic bag to protect it from the rain, shares a mint julep with her husband Ray before the running of the 139th Kentucky Derby at Churchill Downs, in Louisville, Kentucky, USA.
9 A competitor slides into the mud during the Barjot Run (mad run) in Biere, western Switzerland. Around 700 competitors took part in either in the 5km (3.1 miles) or 10km (6.2 miles) event.
10 People watch a fountain light show in Warsaw, Poland, May 3, 2013.
May 05, 2013
1 Bangladeshi protesters throw stones at policemen during a protest in Dhaka, Bangladesh, to demand that the government enact an anti-blasphemy law.
2 Juventus' Kwadwo Asamoah is tackled by Palermo's Egidio Arevalo Rios (top) during the Italian Serie A soccer match at the Juventus stadium in Turin, Italy.
3 Wounded churchgoers lie on the ground as Roman Catholic nuns run for cover after a blast at the St. Joseph Mfanyakazi Roman Catholic Church in Arusha, Tanzania.
4 Guo Fuxiang (2nd L), a researcher of the Palace Museum, introduces the damaged Qing Dynasty clock to journalists during a media briefing at the Forbidden City in Beijing, China. A man broke a window with his bare hands while touring the museum, knocking the clock onto the ground and causing the damage.
5 Libyan protesters hold placards and banners during a demonstration in support of the "political isolation law" in the country's landmark Martyrs Square in Tripoli.
6 People walk with candles around "Alexander Nevski" cathedral during an Orthodox Easter service in Sofia, Bulgaria.
7 Lazio's mascot, the eagle Olympia, sits in the empty stands prior to the start of a Serie A soccer match between Lazio and Bologna in Rome's Olympic stadium, Italy.
8 Ajax Amsterdam supporters celebrate after winning a Dutch Eredivisie football match against Willem II Tilburg in the Amsterdam Arena, the Netherlands.
9 Elliott Sadler (11), Mike Wallace (1), Justin Allgaier (31), Alex Bowman (99), and Landon Cassill (4) spin through the tri-oval near the end of the NASCAR Nationwide Series auto race at the Talladega Superspeedway in Talladega, Alabama, USA, May 4, 2013.
10 Two cows challenge each other muzzle to muzzle during the traditional spring release of cows in Huddinge, Sweden.
May 06, 2013
1 Burnt-out government vehicles are parked following a clash between police and Islamists in Dhaka, Bangladesh. At least 22 people were killed as police fought pitched battles with tens of thousands of hardline Islamists in the capital.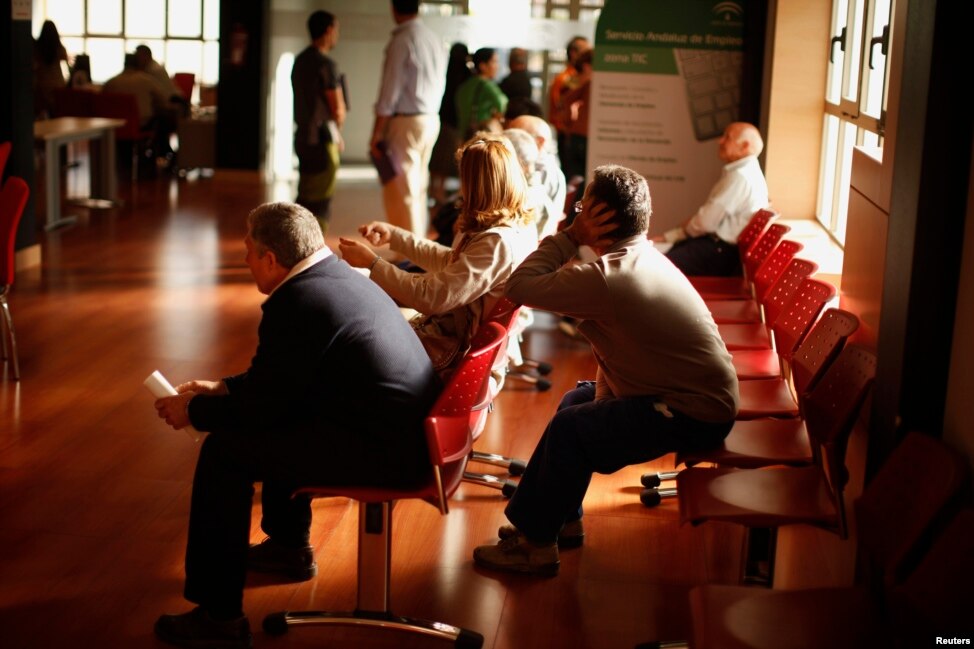 2 People wait inside a government-run employment office in Campillos, near Malaga, southern Spain. Spain's number of registered jobless fell by 46,050, or 0.91 percent, in April compared with the month before, leaving the number of unemployed to 4.98 million.
3 A Syrian man wrapped in a Syrian flag with a portrait of President Bashar Assad, walks past anti-riot police during an anti-Israeli demonstration in front of the U.N. office in Tehran, Iran. Iran condemns Israeli air strikes on Syria and urged countries in the region to stand against the attack.
4 A boy takes pictures of a small baby as the family enjoys the sunny spring weather under the shadow of blooming cherry trees in Kungstradgarden park in central Stockholm.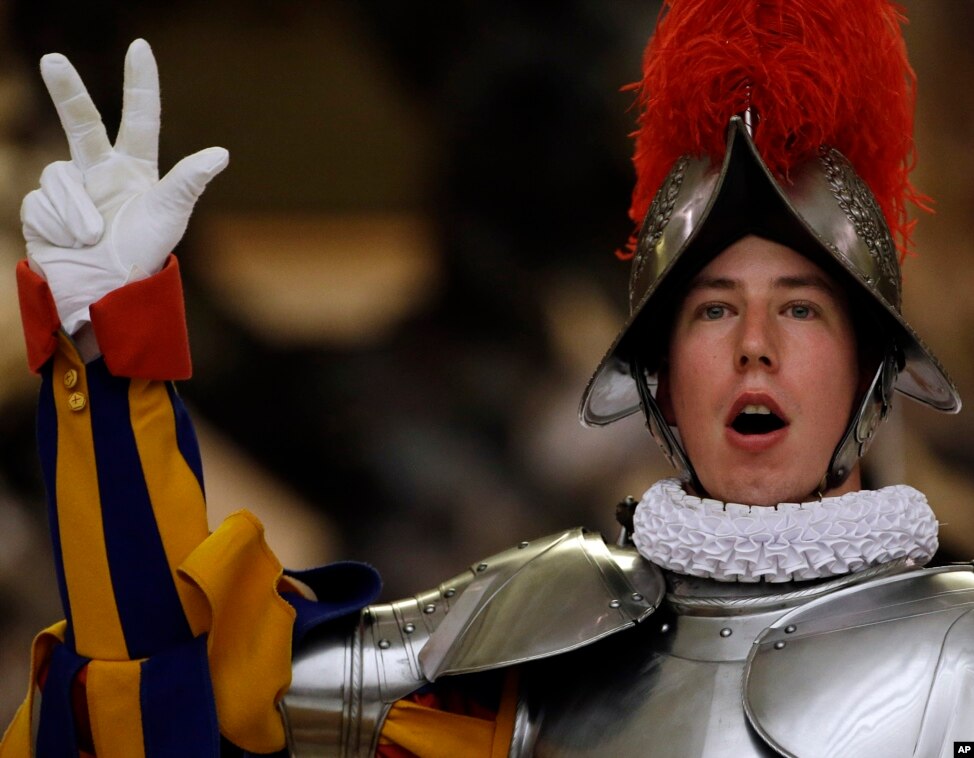 5 Swiss Guards attend a swearing-in ceremony, at the Vatican. The ceremony is held each May 6 to commemorate the day in 1527 when 147 Swiss Guards died protecting Pope Clement VII during the Sack of Rome.
6 People attend a protest rally in Moscow. Russian protesters unfurled a huge banner demanding the release of "political prisoners," at the start of a day of protest against President Putin intended to revive their flagging opposition movement.
7 A man crosses a stream near lanterns hanging for celebrations for Buddha's birthday on May 17, in Seoul, South Korea.
8 A musician from a military band rests before an official ceremony at a military base in the Russian southern city of Stavropol.
9 A food vendor waits for customers at a shopping district in Beijing. Growth in China's services sector slowed sharply in April to its lowest point since August 2011, a private sector survey showed on Monday.
10 A morning fog rises off the Merrymeeting River, in Alton, New Hampshire.
11 Czech Republic's goalie Alexander Salak makes a save against Switzerland during their 2013 IIHF Ice Hockey World Championship preliminary round match at the Globe Arena in Stockholm.
12 Pakistani children enjoy playing on the outskirts of Islamabad, Pakistan.
May 07, 2013
1 A cloud of volcanic ash shoots up to the sky as Mayon volcano, one of the Philippines' most active volcanoes, erupts after daybreak, viewed from Legazpi City.
2 A boy jumps into a swimming pool to cool himself on a hot day in the southern Indian city of Chennai.
3 A boy carrying empty plastic containers follows his mother to help her fetch water, in Dala township, about 15 kilometers (9 miles) south of Rangoon, Burma. Several regions and states face acute water shortage especially in the summer.
4 A couple walks past "Filament Lamp", an art work installation, at a commercial center near a construction site in Beijing's Sanlitun area, China.
5 Military jets fly over an Orthodox Christian church during a rehearsal for the Victory Day parade in Moscow. Russia marks victory over Nazi Germany in World War II every year on May 9.
6 Surfers walk along the shoreline on a sunny day at Sydney's Bondi Beach, Australia.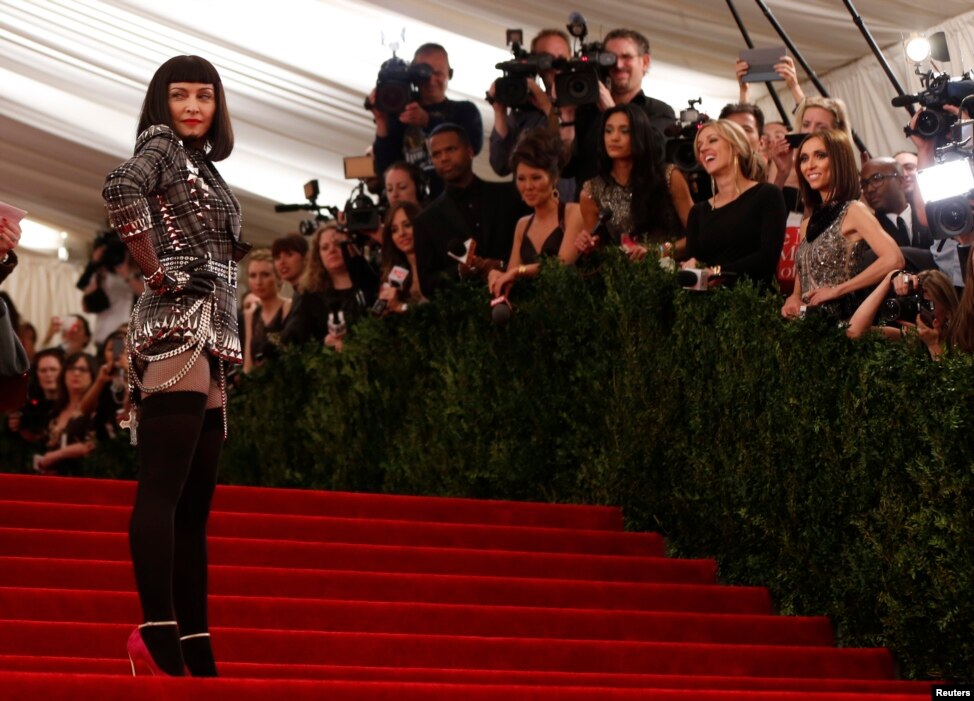 7 Singer Madonna arrives at the Metropolitan Museum of Art Costume Institute Benefit celebrating the opening of "PUNK: Chaos to Couture" in New York, May 6, 2013.
8 Kazakhstani troops march during a parade of the armed forces on Fatherland Defender's Day at Otar military range, some 150km (93 miles) west of Almaty.
9 A farmer harvests wheat in the fields in Bhaktapur, near the capital Kathmandu, Nepal.
May 08, 2013
1 A train travels on the newly constructed bridge over the Danube River, that links Calafat in Romania to Vidin in Bulgaria, as finishing touches are made before its inauguration, 320 km (199 miles) southwest of Bucharest, Romania.
2 Tourists on a traditional boat sail in the Beihai military water tunnels on the island of Nangan in the Matsu archipelago, off northern Taiwan. The Matsu archipelago, which was once front line against China, is now a military tourist spot.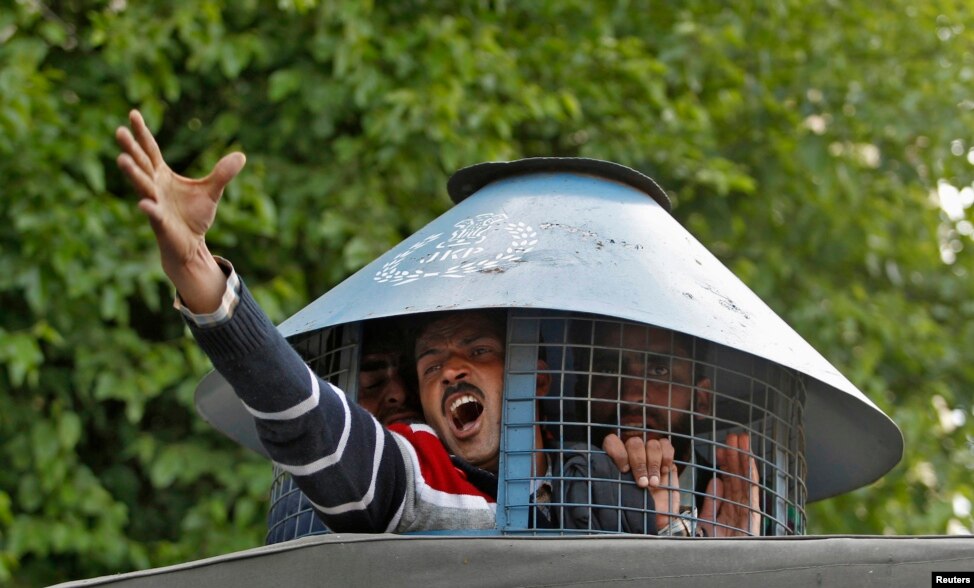 3 A government employee shouts slogans from inside a police vehicle after he was detained by police during a protest in Srinagar, India, demanding a greater regularization of temporary jobs and a hike in salary.
4 Pope Francis exchanges skull caps with a young girl in St. Peter's Square at the Vatican.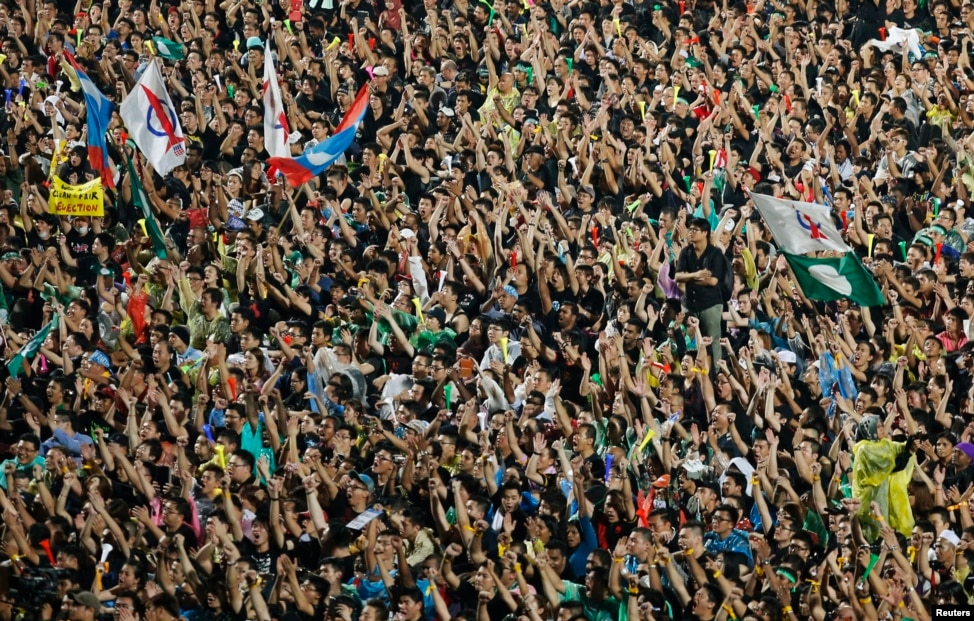 5 Demonstrators attend a rally in protest of election results at a stadium in Kelana Jaya, outside Kuala Lumpur, Malaysia.
6 Women collect water from a rain water pond on the outskirts of Sana'a, Yemen.
7 Fire fighters try to extinguish fire on a British-made BAe 146 cargo plane that caught fire while being unloaded at the airport in Wamena, Papua province, Indonesia. An official said that the plane caught fire after a drum of oil fell from the aircraft and somehow sparked the fire.
8 Neighbors react as Amanda Berry arrives at her sister's home in Cleveland, Ohio, USA. Berry, Gina DeJesus, Michelle Knight and Berry's 6-year-old daughter escaped a Cleveland home where they were held captive for a decade.
9 The collapsed control tower is seen at Genoa's port harbor, Italy. At least three people were killed and six injured when a container ship rammed a control tower in the northern Italian port city of Genoa late on May 7, 2013, a port official quoted on local television said.
10 Members of the honor guard march during an official welcoming ceremony for Israel's Prime Minister Benjamin Netanyahu at the Great Hall of the People in Beijing, China.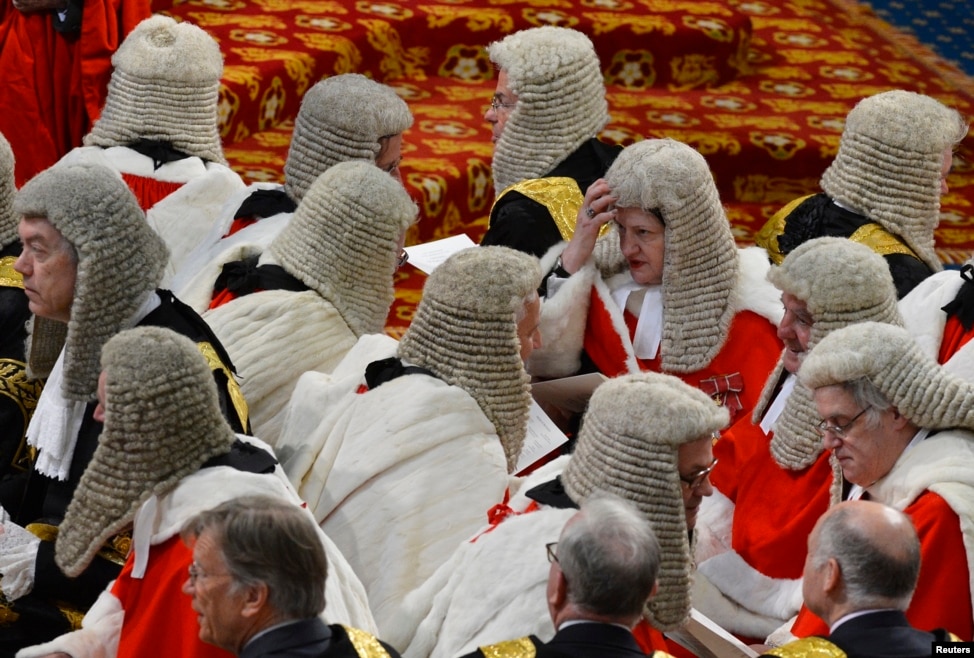 11 Judges sit in the House of Lords as they wait for the start of the State opening of Parliament, in the Palace of Westminster in London.
12 People look at a sculpture made of 13 scrapped cars created by Gu Yuan and Sun Yeli at a cultural industrial park in Wuhan, Hubei province, China.
13 Elephants cross the Ewaso Nyiro river in the Samburu National Reserve, Kenya.
14 Germany's Marcus Kink watches the puck as he falls during their 2013 IIHF Ice Hockey World Championship preliminary round match against Austria at the Hartwall Arena in Helsinki, Finland.
15 A model presents a creation named Sleep Suit by designer Forrest Jessee of the U.S. during the Fall/Winter 2013/2014 collection for the Platform Bogota at Bogota's Fashion Week, Colombia, May 7, 2013.
May 09, 2013
1 A man falls from a high floor of a burning building in central Lahore, Pakistan. Fire erupted on the seventh floor of the LDA plaza in Lahore and quickly spread to higher floors leaving many people trapped inside the building.
2 Russian Marines salute as they march along Red Square, Moscow, during a Victory Day parade.
3 The pack of riders pedals during the sixth stage of the Giro d'Italia, Tour of Italy cycling race, from Mola di Bari to Margherita di Savoia, Italy.
4 Ecuador's Tungurahua volcano spews large clouds of gas and ash near Baños, south of Quito, May 8, 2013.
5 A paraglider flies over the city of Vlorë during the annual Balkan paragliding competition, some 150 km (94 miles) from Tirana, Albania.
6 A team of the fire brigades competes in the 11th edition of the German Bus-pulling Championshipin Wolfenbuettel, western Germany.
7 Indigenous women from the Ixil region attend the genocide trial of former Guatemalan dictator Efrain Rios Montt, which is drawing to a conclusion, at the Supreme Court of Justice in Guatemala City.
8 A South African Air Force Rooivalk helicopter releases flares during a Capability Demonstration at the Roodewal Bombing Range in Makhado, in the northern province of Limpopo.
9 Rafael Nadal of Spain celebrates winning a point against Mikhail Youzhny of Russia during their men's singles match at the Madrid Open tennis tournament, Spain.
10 Cadets of the Ukrainian Military academy preparing to celebrate the anniversary of victory over the Nazis at a memorial to World War II veterans in a memorial park in Kyiv, Ukraine.
11 The sun is about to come up over the South Pacific Ocean in this colorful scene photographed between 4 and 5 a.m. local time, May 5, 2013, by one of the Expedition 35 crew members aboard the Earth-orbiting International Space Station. (Photo released on May 9, 2013)
May 10, 2013
1 A child (L) watches a partial solar eclipse with a woman at the Sydney Observatory. Star-gazers were treated to an annular solar eclipse in remote areas of Australia with the moon crossing in front of the Sun and blotting out much of its light.
2 Rescue workers rescue a woman, identified by Bangladeshi media only as Reshma, from the rubble of the Rana Plaza building 17 days after the building collapsed in Savar, Bandladesh. The disaster has killed more than 1,000 people.
3 England's Prince Harry visits Section 60 at Arlington National Cemetery, near Washington D.C. The British soldier-prince is spending most of his week in the U.S. honoring the wounded and the dead of war.
4 Pakistani army soldiers take positions a day before the nationwide election, in Peshawar. An especially violent spate of killings, kidnappings and bombings has marred the run-up to Pakistan's nationwide election to be held on Saturday.
5 Two men in in Jersey City, New Jersey, look across the Hudson River at the cityscape of New York, after the One World Trade Center (C) had the final piece of its spire attached.
6 Israelis dressed as brides and grooms dance during a flash mob event promoting gender equality, in Jerusalem.
7 Dwight Dumais hits the water as he competes in the preliminary round of the men's 3-meter springboard event at the USA Diving Grand Prix in Fort Lauderdale, Florida.
8 Russian-Israeli World War II veterans dance during a street parade marking Victory Day in Haifa, Israel. Israeli veterans from the former Soviet Union marched together with their families to celebrate the 68th anniversary of the Allies victory over Nazi Germany in 1945.
9 Indian family members of victims of anti-Sikh riots participate in a march against the acquittal of ruling Congress party leader Sajjan Kumar, in New Delhi. A court acquitted Kumar on April 30, of charges he incited mobs to kill Sikhs during the country's 1984 anti-Sikh riots. More than 3,000 Sikhs were killed.
10 Abu Dhabi Racing's Emirati driver Mohammed al-Sahlawi and his Irish co-driver Allan Harryman veer off a cliff during the first stage of the Jordan Rally, round three of the FIA Middle East Rally Championship, in Sweimeh near the Dead Sea. The drivers escaped unhurt. (Ho/Jordan Rally photo)
11 Serena Williams of the U.S. returns the ball to Anabel Medina of Spain during their women's singles quarterfinal match at the Madrid Open tennis tournament.
12 The Skywhale, a 34m-long, 23m-high hot-air balloon sculpture by internationally-renowned artist Patricia Piccinini, is seen during a test flight near Mt. Arapiles in the southern Australian state of Victoria. Commissioned for the Centenary of Canberra, Skywhale is at least twice as big as a standard hot-air balloon, weighs half a ton and used more than 3.5km of fabric. (Ho/Centenary of Canberra/Mark Chew/www.markchew.com.au photo)
May 12, 2013
1 People line up to collect water at Yazarthingyan lake in Dala township, near Rangoon, Burma, since the inland lakes have all dried up in hot summer.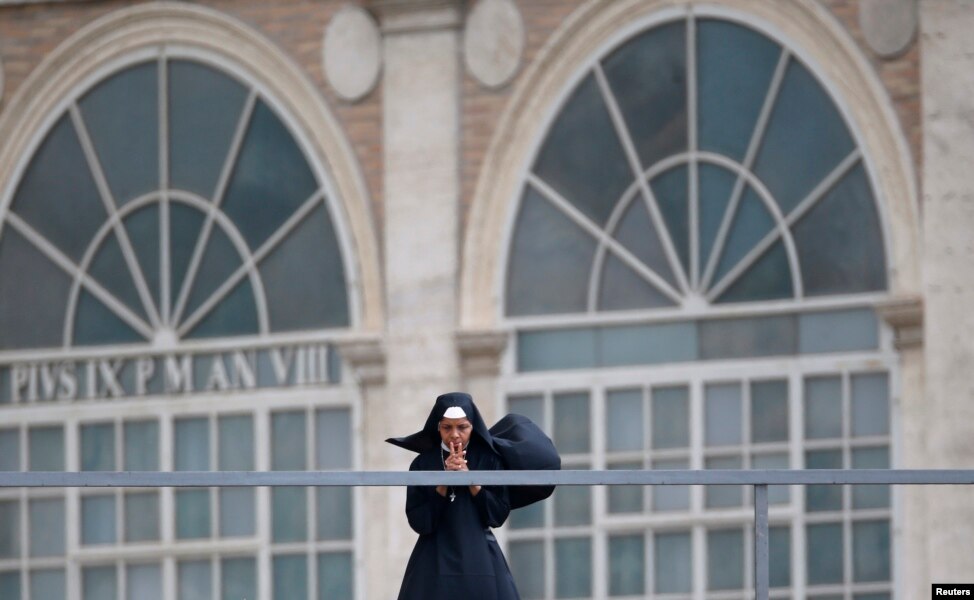 2 A nun prays as Pope Francis leads a canonization mass for candidates for sainthood Antonio Primaldo, Mother Laura Montoya and Maria Guadalupe Garcia Zavala, in Saint Peter's Square at the Vatican.
3 Stars are seen in the sky with a destroyed building on a street littered with debris from one of the explosion sites in Reyhanli, near Turkey's border with Syria.
4 Taiwanese people pray together during the Taiwan National Buddha's Birthday celebration in front of the Chiang Kai-shek Memorial Hall in Taipei.
5 Japan's Prime Minister Shinzo Abe drives a rice planting machine at a paddy field in Sendai, Miyagi prefecture, in this photo taken by Kyodo.
6 An Indian Hindu devotee falls on burning coal while holding her daughter during a coal run at the Maa Maariamma Mela in Jalandhar. The mother and daughter were both injured.
7 Competitors in the World Table Tennis Championships train at the Bercy stadium, Paris.
8 Serena Williams of the U.S. is lifted up in the air by ball boys as she poses with the Ion Tiriac's trophy after winning the Madrid Open tennis tournament in Madrid, Spain.
9 Dancers in body paint perform in a makeup show by Maltese makeup artist Justin Brincat during the Malta Fashion Awards 2013 at the Malta Fairs and Conventions Center in Ta' Qali, outside Valletta, Malta, May 11, 2013.
10 Bayern Munich's defender Jerome Boateng (R) pours beer on Bayern Munich's French midfielder Franck Ribery while celebrating their champion title, after winning 3:0 the German first division Bundesliga football match between Bayern Munich and FC Augsburg in Munich, southern Germany, May 11, 2013.
May 13, 2013
1 A church is surrounded by blossoming fields of oilseed rape at the village of Strupcice, near the city of Most, Czech Republic.
2 Living Goddess Kumari Samita Bajracharya is seen through a window of her house before she was taken to observe the Chariot Festival of Rato Machhindranath in Lalitpur, Nepal.
3 Expedition 35 Flight Engineers Chris Cassidy completes a spacewalk on May 11, 2013, to inspect and replace a pump controller box on the International Space Station's far port truss (P6) leaking ammonia coolant.
4 A Syrian soldier sits inside a tank as troops take control of the village of Western Dumayna, some seven kilometers north of the rebel-held city of Qusayr.
5 A storm lights up the sky above the Yangon river, Burma. Authorities began moving people into emergency shelters in Rakhaine state as a cyclone threatened to batter a violence-wracked region home to tens of thousands of internal refugees.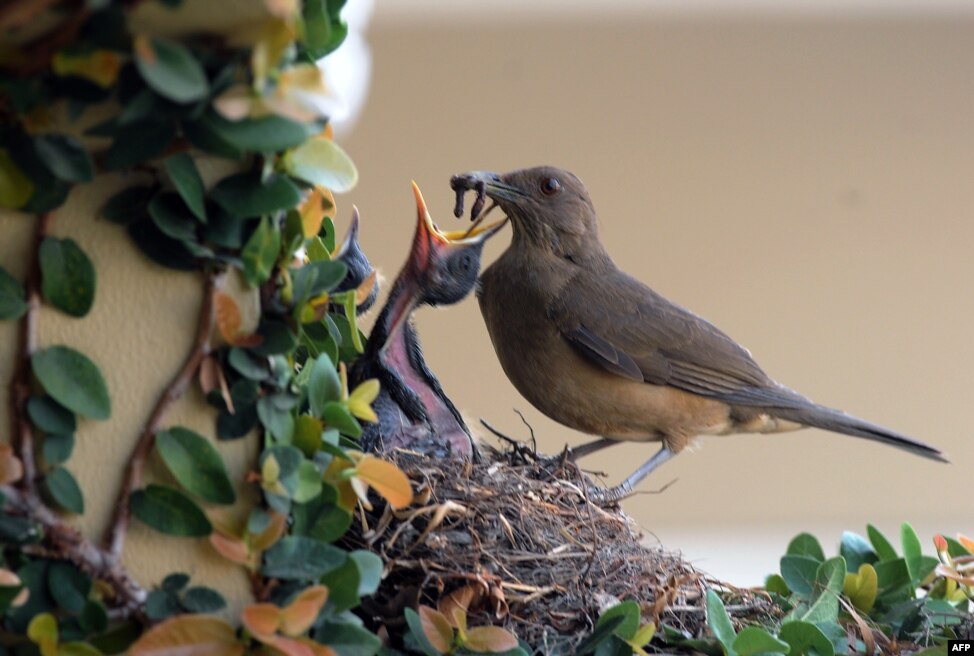 6 A thrush feeds its brood in Tegucigalpa, Honduras, May 12, 2013.
7 A dead tree stands in front of shallow water and a dried-up area of Lake George, located 50 km (31 miles) north of the Australian capital city of Canberra.
8 Neli Shoifer of Israel serves to Delgermaa Mergen of Mongolia in the women's single qualifying rounds at the World Team Table Tennis Championships in Paris, France.
9 A fisherman tries to catch a fish in Bentota Ganga river in Bentota, Sri Lanka. (Photo by Moh'd Asadi/VOA reader)
10 View of the Yueyaquan Crescent Lake in Dunhuang, in China's northwestern Gansu province, May 12, 2013. Formerly a silk route hub and center for trade between China and the West, Dunhuang relies heavily on tourism and a number of historic sites dating back to the Han Dynasty.
May 14, 2013
1 A swan swims on a pond at the Palace park in Moers, western Germany.
2 The Soyuz TMA-07M spacecraft is seen as it lands with Expedition 35 Commander Chris Hadfield of the Canadian Space Agency (CSA), NASA Flight Engineer Tom Marshburn and Russian Flight Engineer Roman Romanenko of the Russian Federal Space Agency (Roscosmos) in a remote area near the town of Zhezkazgan, Kazakhstan.
3 The Popocatepetl Volcano, Mexico's second highest peak just 55 km southeast of Mexico City, is seen from Santiago Xalitxintla, in Puebla - spewing a cloud of ash and smoke.
4 Riot police stand by the gates of parliament during a demonstration against members of parliament who have demanded higher wages in Nairobi.
5 Britain's Prince Harry and New Jersey Governor Chris Christie (R) talk while visiting the area in Seaside Heights, a beach town hit by Hurricane Sandy last year, in New Jersey, USA.
6 A musician of the Vienna Vegetable Orchestra who plays music exclusively with vegetable instruments (carrots and cucumbers instead of guitars and drums) prepares his instruments before a concert for the 100th anniversary of the San Miguel market in Madrid, Spain, May 13, 2013.
7 Kashmiri boatmen row their Shikara on Dal Lake in the outskirts of Srinagar, India.
8 People are silhouetted as the capsized cruise liner Costa Concordia lies surrounded by cranes outside Giglio harbor.
9 Bangladesh army soldiers watch a prayer ceremony for the souls of the 1,127 people who died in a garment building collapse last month, in Savar, near Dhaka.
10 A couple poses for their wedding pictures next to a tram in downtown Hong Kong, May 13, 2013.
11 A U.S. Navy diver cuts himself free after getting entangled with his safety device as he jumps from a USS Navy helicopter to perform a mine-sweeping exercise during the International Mine Countermeasures Exercise (IMCMEX) in the Persian Gulf.
12 A shorn alpaca walks on a field at Alpaca-Land farm in Obertrum in the Austrian province of Salzburg.
13 The Arica-La Paz train, connecting Chile and Bolivia, runs in Arica, some 2000 km north of Santiago, May 13, 2013.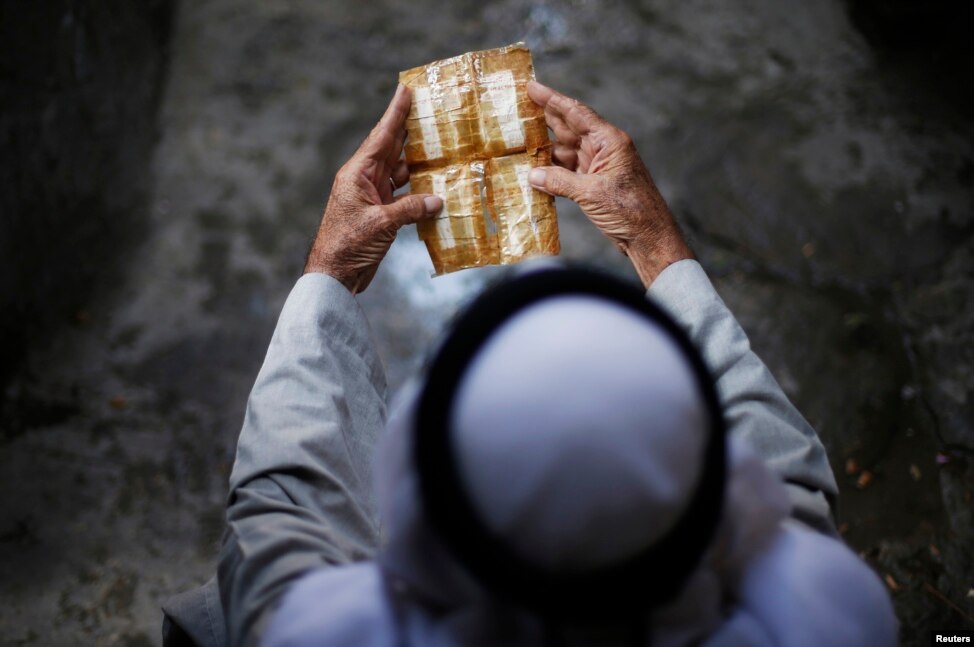 14 Palestinian refugee Khamis Redwan, 75, displays his birth certificate, which he has kept since he fled home, at Jabalya refugee camp in the northern Gaza Strip.
15 NASA's Aqua satellite captured this visible image of a well-rounded Tropical Cyclone Mahasen in the Northern Indian Ocean on May 15 at 07:55 UTC. (Credit: NASA Goddard MODIS Rapid Response Team)
May 15, 2013
1 European Commission President Jose Manuel Barroso (R) walks behind France's President Francois Hollande during a conference of the Donor Conference for development in Mali at the EU Headquarters in Brussels, Belgium.
2 Indian village girls carry water in pitchers on their heads at Juval village, about 40 kilometers from Ahmadabad, India. Water scarcity in the scorching summer is a common sight in villages in India.
3 Jerzy Janowicz of Poland celebrates afer defeating Jo-Wilfried Tsonga of France during their match at the Italian Open tennis tournament in Rome, Italy.
4 People reach out for fresh produce distributed by Greek fruit and vegetable street market vendors during a protest in Athens. The union of Greek farmers markets went on strike as protesters set up stands and started distributing vegetables to a fast growing crowd.
5 A Palestinian demonstrator returns a tear gas canister toward Israeli security forces during clashes near the West Bank city of Ramallah to mark 65 years since what they call the Nakba (Catastrophe) when Israel's creation caused many to lose their homes and become refugees.
6 Bangladeshi Red Crescent Society members announce evacuation orders using loudspeakers on top of an auto-rickshaw as Cyclone Mahasen heads toward Chittagong.
7 A bird flies underneath an atmospheric phenomenon known as a "sun dog" in the sky over Seaside Heights, New Jersey, USA, May 14, 2013.
8 Basque police detain alleged member of the Basque armed group ETA, Urtza Alkorta, wearing pink plastic on her body, as she stands on a bridge with hundreds of her supporters, in Ondarroa, northern Spain.
9 Albania's Adrian Lulgjuraj & Bledar Sejko perform during dress rehearsals for the second semi-final at the 2013 Eurovision Song Contest at the Malmo Opera Hall in Malmo, Sweden. The finals of the contest will be held on May 18.
10 Pilgrims on their way to the shrine of El Rocio in the Donana National Park, southern Spain. Every spring, hundreds of thousands of devotees converge at a shrine to pay homage to the Virgin del Rocio during an annual pilgrimage.
11 Australian actress Nicole Kidman (C) poses as she arrives for the screening of "The Great Gatsby" ahead of the opening of the 66th edition of the Cannes Film Festival in Cannes, France.
12 Journalists take pictures as director Steven Spielberg, Jury President of the 66th Cannes Film Festival, arrives to attend a news conference before the opening of the 66th Cannes Film Festival in Cannes, France.
13 A handler steadies his Teeswater sheep in the ring on the first day of the Balmoral Show in northern Ireland.
14 A giant shoe is pictured outside a life-size "Barbie Dreamhouse" of Mattel's Barbie dolls in Berlin, Germany. The house, covering about 1,400 square meters offers, visitors to try on Barbie's clothes in her walk-in closet, and tour her room and her kitchen.
15 Itsmyluckyday, with rider Peter Shelton aboard, jogs on the track at Pimlico Race Course in Baltimore, Maryland, USA.
May 16, 2013
1 Honor guards stand next to the coffins of Georgian servicemen who were recently killed in Afghanistan, in Tbilisi, Georgia. Three Georgian soldiers serving with the NATO-led force in Afghanistan were killed in an insurgent attack on a base in Helmand province.
2 Protesters clash with riot police during a protest against Turkey's Prime Minister Tayyip Erdogan and the government's foreign policy on Syria, in Istanbul, Turkey.
3 M23 rebel recruits stand at attention during a training session at the Rumangabo military camp in eastern Democratic Republic of Congo.
4 A trailer blown into a home on Lindsay Lane in Cleburne rests on a car after a tornado touch down in Cleburne, Texas. At least six people were killed and seven were missing after as many as 10 tornadoes ripped through north-central Texas.
5 NASA's Solar Dynamics Observatory captured this image of the X1.2 class solar flare on May 14, 2013. Solar activity continued as the sun emitted a fourth X-class flare from its upper left limb. (Credit: NASA/SDO)
6 A diver (L) rescues a man who was trapped in a flooded semi-underground store for 8 hours after heavy downpours hit Xiamen, Fujian province, China.
7 A boy bathes in a stream at Dara on the outskirts of Srinagar, India.
8 New Zealand's Neil Wagner falls over after bowling a ball as umpire Steve Davis (L) and England's Jonathan Trott (R) look on during the first test cricket match at Lord's cricket ground in London.
9 Rafael Nadal of Spain celebrates after winning men's singles match against Ernests Gulbis of Latvia at the Rome Masters tennis tournament, Italy.
10 A shaven-headed young boy, who was among ten children who entered a temple to have an experience of monks' life for three weeks, yawns while attending a volunteer activity in Seoul, South Korea.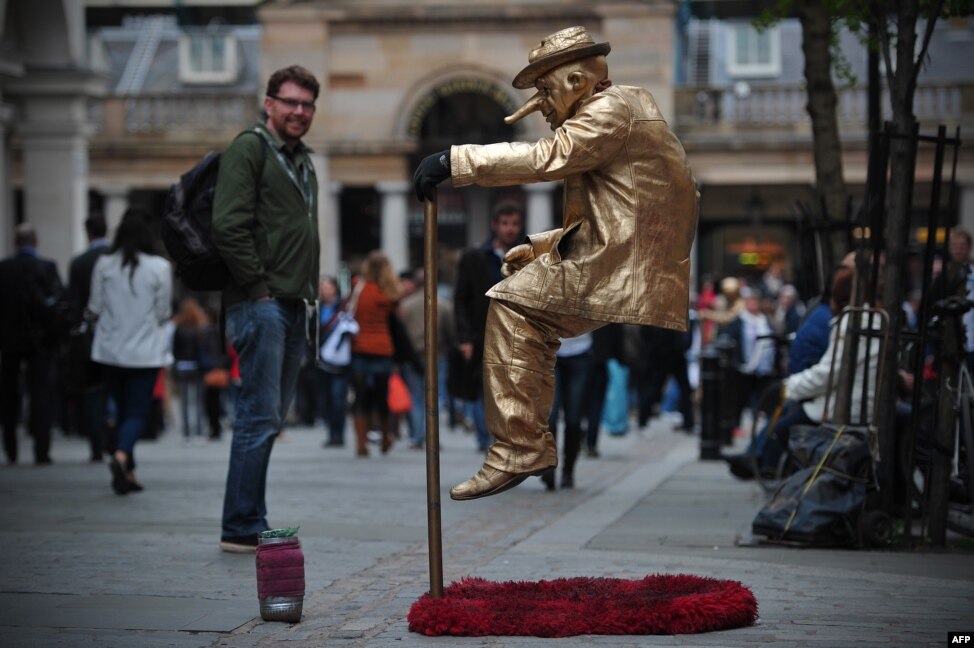 11 A street artist performs in Covent Garden in central London.
May 17, 2013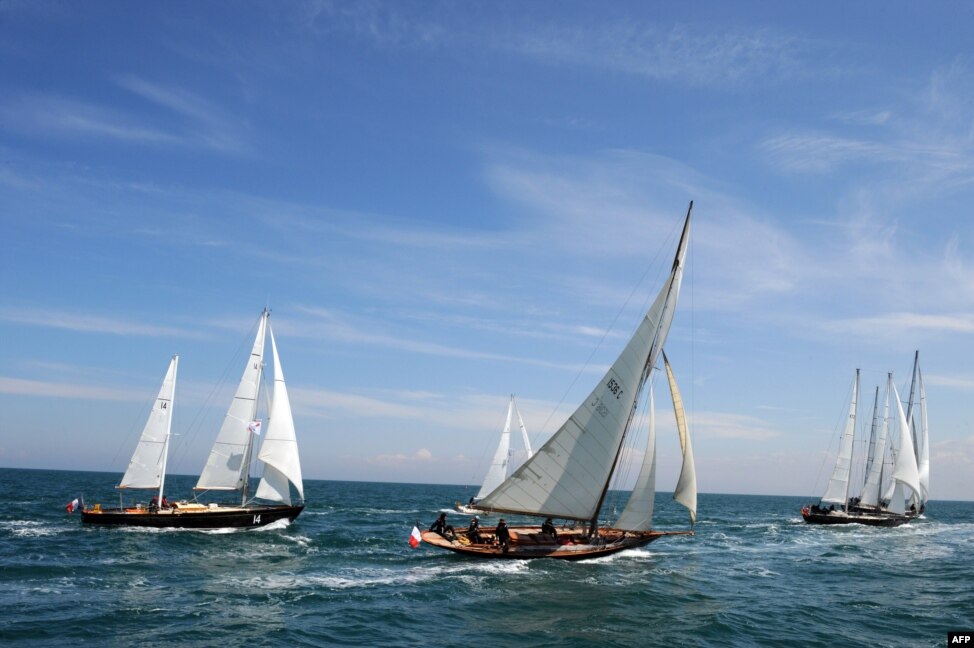 1 Pen Duick ocean racing yachts sail off the coast of Saint-Quay-Portrieux, western France during a trip at sea from Roscoff to Saint-Quay-Portrieux.
2 Movement for Democratic Change (MDC) delegates including Vice President Thokosani Khupe (R) dance on at the official opening of the three day MDC Policy Conference in Harare.
3 Bangladeshi commuters move past a red flag warning people of the coming tropical cyclone Mahasen by the coast of the Bay of Bengal in Chittagong, Bangladesh, May 16, 2013.
4 A visitor is seen through the installation "Resin" at "Kapoor in Berlin" exhibition at the Martin Gropius Bau museum in Berlin.
5 Pilgrims ride their horses crossing the Quema river on their way to the shine of El Rocio in the countryside of Almonte in Huelva province, Spain, May 16, 2013.
6 An Afghan man directs his children away from the scene where a suicide car bomber attacked a NATO convoy in Kabul, Afghanistan, May 16, 2013.
7 Models present a creation by Indonesian fashion designer Dian Pelangi during the Jakarta Fashion and Food Festival in Jakarta, Indonesia.
8 A child watches jellyfish swim in a large tank at the Vancouver Aquarium in Vancouver, British Columbia, May 16, 2013.
9 A South Korean believer pours water on a small statue of Buddha to celebrate Buddha's birthday at Jogye temple in Seoul, South Korea.
10 A composite image of a galaxy which illustrates how the intense gravity of a supermassive black hole can be tapped to generate immense power.
11 A Pakistani youth runs after his horse along a field as the sun sets on the outskirts of Islamabad, Pakistan.
12 New York Mets' Jordany Valdespin slides head first into home plate to score on an RBI double by Daniel Murphy during the third inning of a baseball game against the St. Louis Cardinals in St. Louis, May 16, 2013.
May 19, 2013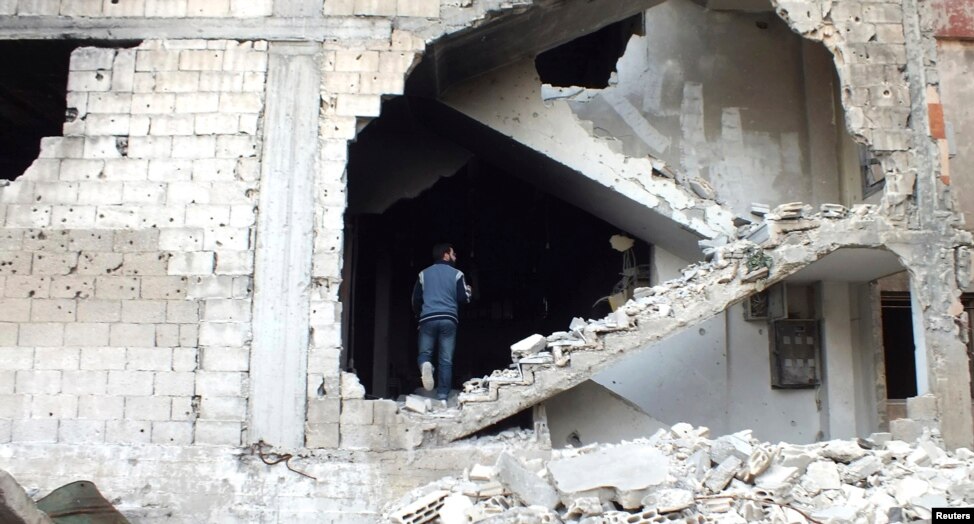 1 A man is seen on a damaged staircase in Homs, Syria.
2 Police officers fire tear gas to break up a protest in the city of Kairouan, Tunisia. Supporters of the hardline Islamist group Ansar al-Sharia clashed with police after the government banned its annual rally, saying it posed a threat to society.
3 A boy uses a straw to blow flour inside a plastic cup while participating in a game during a town fiesta in celebration of patron Saint Santa Rita de Cascia in Baclaran, Paranaque, south of Manila, Philippines.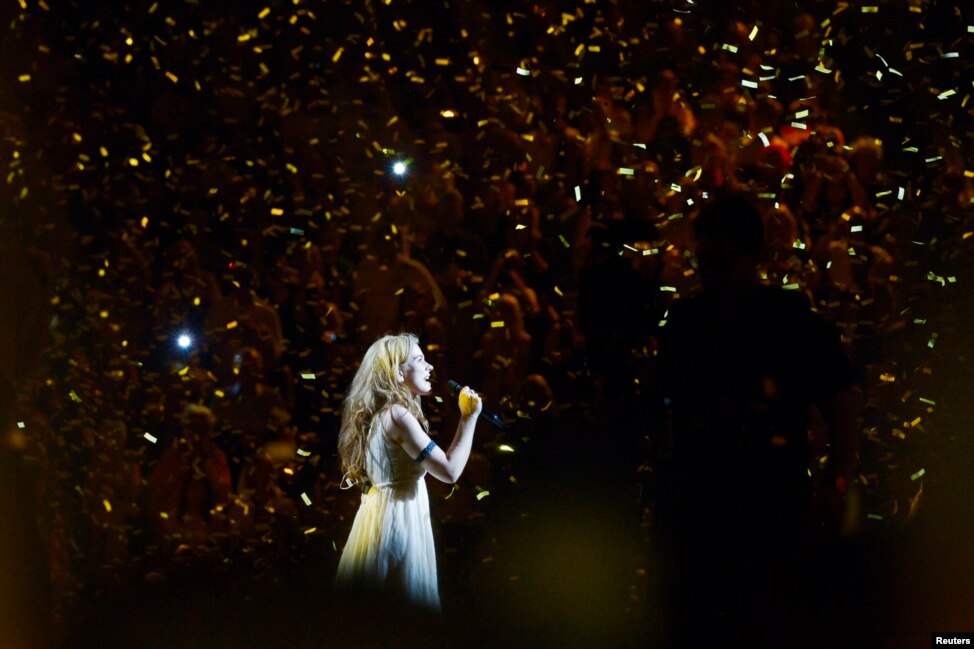 4 Denmark's Emmelie De Forest, winner of the 2013 Eurovision Song Contest, sings "Only Teardrops" at the finals of the contest held at the Malmo Opera Hall in Malmo, Sweden, May 18, 2013.
5 A man walks through Rutgers University's football stadium before graduation ceremonies in Piscataway, New Jersey, USA.
6 Lithuanian Foreign Minister Linas Linkevicius looks at pictures of Jews killed in the Holocaust during a visit to the Hall of Names at Yad Vashem's Holocaust History Museum in Jerusalem.
7 Members of the Castellers "Vila de Gracia" start forming their famous human tower called "castell" in the Barcelona neighborhood of Gracia, Catalonia, Spain.
8 A large sea bream object, made from colorful debris found drifting at sea, such as plastic tanks, toys and wires, and created by Japanese art group Yodogawa Tecnique, is displayed at the Setouchi Triennale art event at the port of Uno, Okayama prefecture, Japan.
9 A man drinks from a wooden wine jug during the Salter Festival in Schwaebisch-Hall, southern Germany. The annual salter festival is held since the 14th century to celebrate the salt production that promoted the city of Schwaebisch-Hall.
10 Spain's Niccolo Antonelli glides on the ground after crashing during the Moto 3 race of the French Motorcycling Grand Prix at Le Mans circuit, western France.
May 20, 2013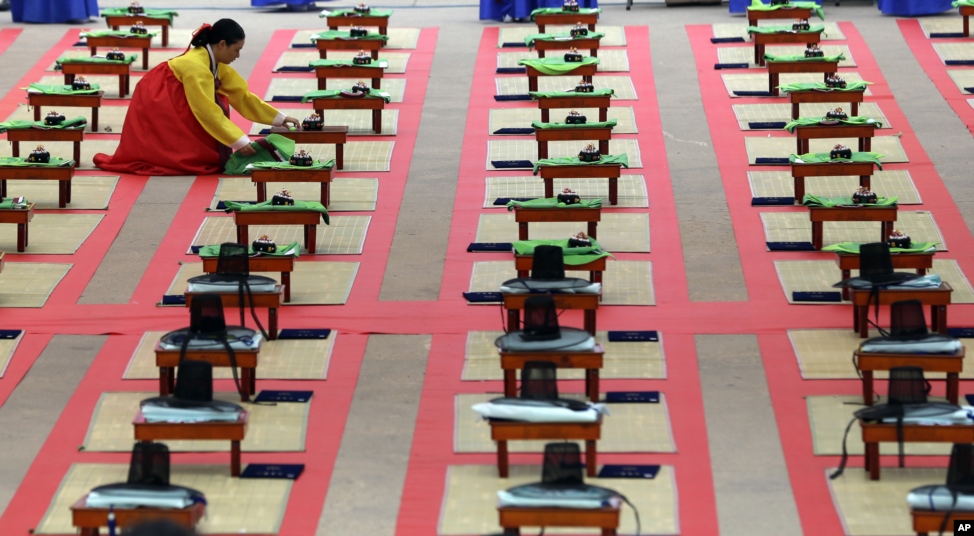 1 A woman prepares for the 41st Coming of Age Day ceremony, known traditionally in South Korea as Gwan-Rye, in Seoul, May 20, 2013. The ceremony was held to recognize boys and girls at the age of 20, who have been living under the protection of their families, as independent individuals.
2 A hot air balloon falls to the ground after colliding with another during a trip in Cappadocia near Neveshir, Turkey. Two Brazilian tourists died and 23 other people were hurt after two hot-air balloons collided in a scenic area in central Turkey, officials said.
3 Women and children gather to collect water from a tap at a camp for internally displaced persons (IDPs) in al-Mazraq in the northwestern Yemeni province of Hajja.
4 The funnel of a tornadic thunderstorm almost touches the ground near South Haven, in Kansas, May 19, 2013. A massive storm front swept north through the central United States, hammering the region with fist-sized hail, blinding rain and tornadoes, including a half-mile wide twister that struck near Oklahoma City.
5 Photographers work during a photocall for the film "Blood Ties" at the 66th Cannes Film Festival in Cannes, France.
6 A women wearing a dress of fresh flowers designed by Zita Elze poses for photographers in the M & A Centenary Garden during media day at the Chelsea Flower Show in London.
7 North Korean leader Kim Jong-un (C) and his wife Ri Sol-ju during a visit to the Pyongyang Myohyangsan Children's Camp situated at the foot of Mt. Myohyang in North Phyongan Province, in this photo released by North Korea's Central News Agency (KCNA)
8 Workers push sections of a huge bamboo raft as others try to dismantle parts of it in Sittwe, northwestern Rakhine State, Burma.
9 The peloton climbs during the 146 km-(91 miles) 15th stage of the Giro d'Italia, from Cesana to Col du Galibier, France, May 19, 2013. Italy's Giovanni Visconti won the stage while his compatriot Vincenzo Nibali retained the leader's pink jersey.
May 21, 2013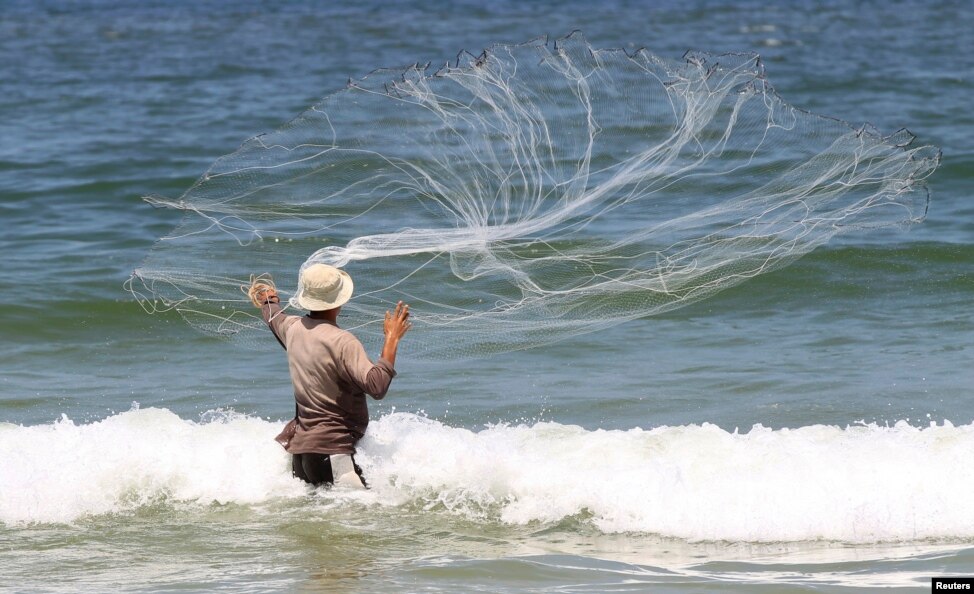 1 A Palestinian fisherman casts his net at a beach in Gaza City. Israel permits Gaza fishermen to head out to sea from 3 miles to 6 miles, restoring a limit it cut in half two months ago in response to rocket fire from the Palestinian enclave.
2 General view of the European Parliament as members attend a voting session in Strasbourg, France.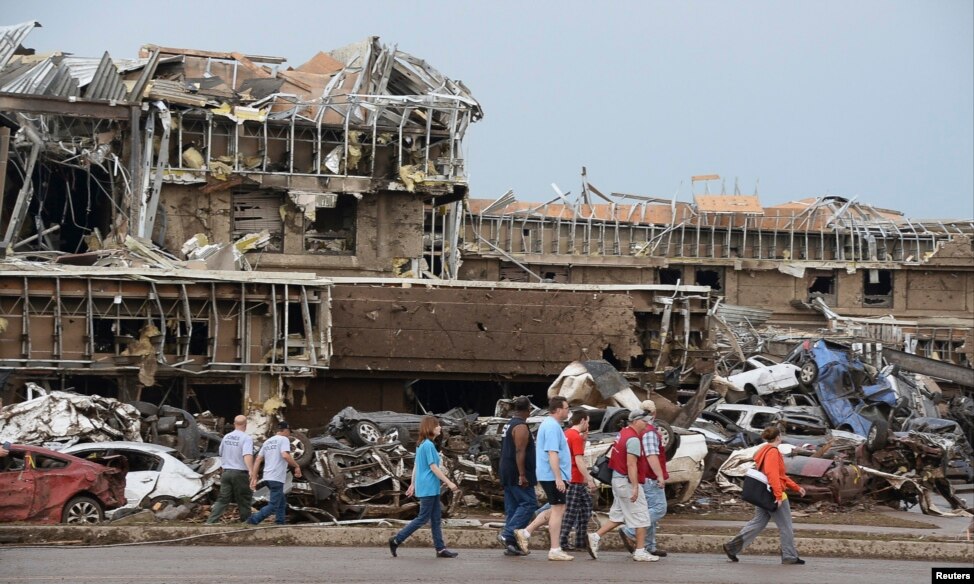 3 Damaged cars are seen in the parking lot of Moore Hospital after a tornado struck Moore, Oklahoma, May 20, 2013. A huge tornado with winds of up to 200 miles per hour (320 kph) devastated the Oklahoma City suburb of Moore, ripping up at least two elementary schools and a hospital and leaving a wake of tangled wreckage.
4 Former U.S. President and Honorary Chancellor of Laureate International Universities Bill Clinton listens to the German Federal Minister for Labor and Social Affairs Ursula von der Leyen, second right, during a forum to address the youth unemployment situation in Europe at the European University of Madrid, in Madrid, Spain.
5 A passerby looks at a five-metre-high (16 ft) sculpture "Pentateuque" by contemporary French artist Fabien Merelle being displayed in Statue Square at Hong Kong's financial Central district.
6 An imprisoned member of street gang Mara 18 poses for a photograph at the Izalco prison, about 65 km (40 miles) from San Salvador, El Salvador, May 20, 2013.
7 A worker walks in the foundation of a new railway line in Yiwu, Zhejiang province, China.
8 Divers approach a Leopard Ray perched against the glass of an exhibit at the Marine Life Park at Resorts World, one of the city-state's newest tourist attractions, in Singapore.
9 Student sumo wrestlers carry crying babies beside a referee (C) clad in a traditional costume during the "Baby-cry Sumo" competition at Sensoji temple in Tokyo, Japan.
10 A boy sits under the chariot as he waits for a coin to drop from the chariot during the chariot festival of Rato Machhindranath in Lalitpur, Nepal. Rato Machhindranath is known as the god of rain and both Hindus and Buddhists worship Machhindranath for good rain to prevent drought during the rice harvest season.
May 22, 2013
1 An Indian boy sits atop a government water supply truck as residents fill water containers in New Delhi. Residents have been struggling with water shortages for the past few days after the upper Ganga Canal was shut for repairs.
2 A child climbs up the Pope mobile as Pope Francis leads his general audience in San Peter's square at the Vatican.
3 Metal siluettes in the shape of Israeli soldiers stand on an old bunker during sunset at an observation point on Mt. Bental in the Israeli controlled Golan Heights, overlooking the border with Syria.
4 A young girl stops riding her bike to observe emergency responders in her neighborhood in Moore, Oklahoma, May 21, 2013, after a massive tornado. (US Air National Guard Photo by Tech. Sgt. Roberta A. Thompson)
5 A member of the Special Police Unit (SEP) holds a Slovenian flag as he descends from a helicopter during an event to celebrate the 40th anniversary of the establishment of their unit, in Tacen.
6 A handout picture released by the United Nations-African Union Mission in Darfur (UNAMID) shows a Sudanese woman standing in front of her shelter and belongings in the Zam Zam camp for Internally Displaced Persons (IDP), in North Darfur.
7 A woman walks past an installation of giant bird cages containing artificial trees and birds on a square in Nanjing, Jiangsu province, China.
8 Indian women carry earthen pots covered with red cloth during a religious procession locally called Gangaji in Ahmadabad. Members of Sargara community organize a pilgrimage to the River Ganges, considered holy by the Hindus, in Haridwar after this ritualistic procession.
9 A worker inspects a retaining wall which was damaged during a storm in Hong Kong.
10 An airplane passes in front of the moon over Philadelphia, Pennsylvania, USA, May 21, 2013.
11 Cast member Souleymane Deme (C) performs on the red carpet as he arrives with director Mahamat-Saleh Haroun (L) and cast member Anais Monory for the screening of the film "Grigris" during the 66th Cannes Film Festival in Cannes, France.
12 Toronto Blue Jays Colby Rasmus makes a catch against the Tampa Bay Rays in front of a giant camera advertisement during the eighth inning of the MLB American League baseball game in Toronto, Canada, May 21, 2013.
May 23, 2013
1 A police officer carries flowers near the scene of the killing of a British soldier in Woolwich, southeast London. The soldier was hacked to death on May 22, 2013, by two men shouting Islamic slogans.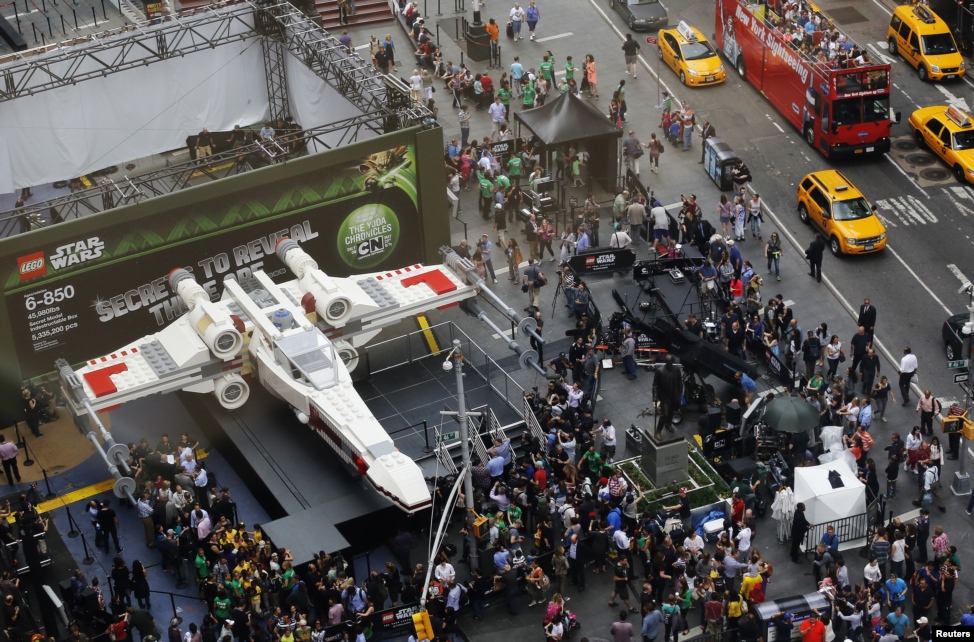 2 The world's largest Lego modeled after the Star Wars X-wing starfighter at New York's Times Square
3 People dance the "al-Bara" during a mass wedding ceremony in Sana'a, Yemen.
4 Red Bull driver Sebastian Vettel of Germany reflects on a firefighter's helmet at pits during the second free practice session at the Monaco racetrack in Monaco.
5 A man sits on an air-filled tube and collects lotus flowers to sell, in the Bindu Sagar pond in Bhubaneswar, India.
6 Cast members Lea Seydoux (R) and Adele Exarchopoulos attend a photocall for the film "La Vie D'Adele" during the 66th Cannes Film Festival.
7 Lightning flashes in the sky in Zhuhai, Guangdong province, China, May 22, 2013.
8 A photographer takes pictures as newly graduated Afghan National Army (ANA) soldiers attend their graduation ceremony at the Kabul Military Training Center in Kabul.
9 Water fountains are lit up as part of the Aquatique Show International, one night before the Vivid Festival's opening at Darling Harbor in Sydney, Australia.
10 A pedestrian carrying an umbrella walks through a Memorial Day display of United States flags on the Boston Common in Boston, Massachusetts.
11 A visitor stands behind an illustration of a Polar owl, part of an exhibition at the Summer Garden, in St. Petersburg, Russia.
May 24, 2013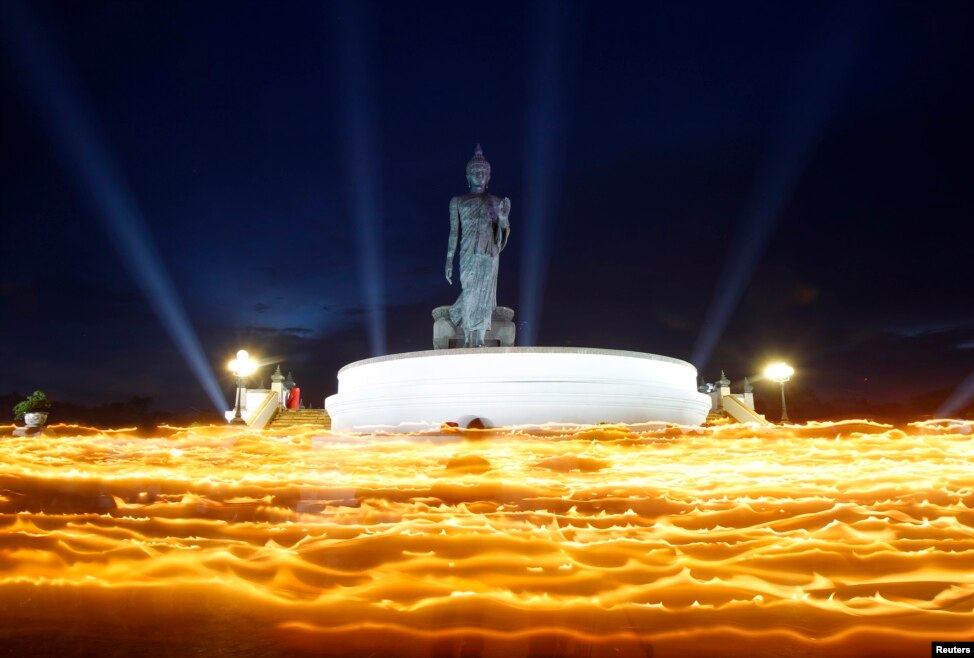 1 Buddhists carry candles while encircling a large Buddha statue during Vesak Day, an annual celebration of Buddha's birth, enlightenment and death, at a temple in Nakhon Pathom province on the outskirts of Bangkok, Thailand.
2 Boys play cricket on the Marina beach in the southern Indian city of Chennai.
3 A collapsed portion of the Interstate 5 bridge lies in the Skagit River in Mount Vernon, Washington, USA.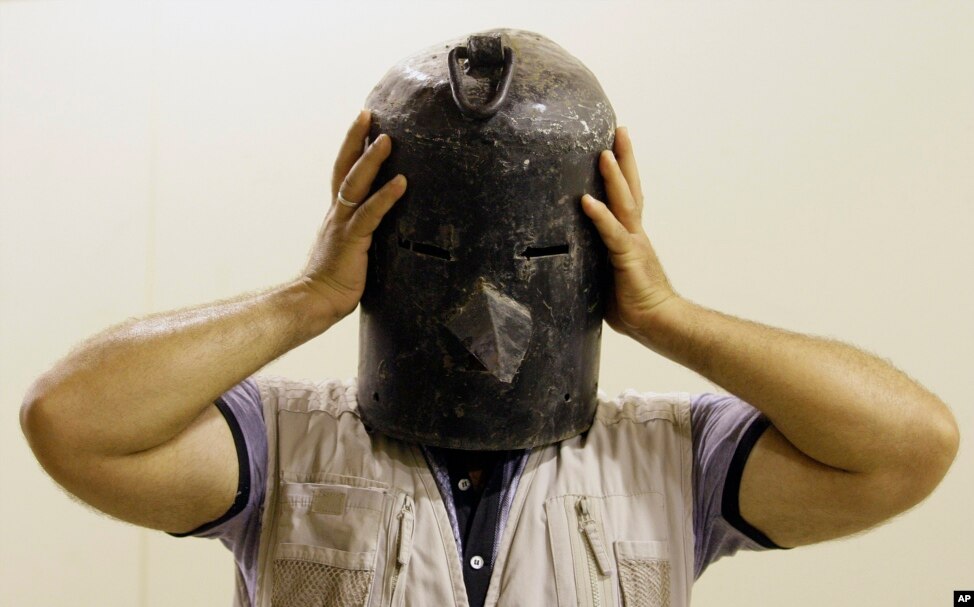 4 An Iraqi man wears a metal mask used as a torture device by the regime of Iraq's ousted leader Saddam Hussein at the Shaheed Monument in Baghdad, Iraq.
5 Snow covers a bench on Brocken, in the Harz mountains near Schierke, Germany.
6 Soldiers salute as "Taps" is played during a military funeral nearby as they were placing flags on graves at Arlington National Cemetery in Virginia, USA, May 23, 2013.
7 An Indian rickshaw driver sleeps on his rickshaw on a hot afternoon in New Delhi, India.
8 Secondary school graduates play in a fountain as they celebrate the last day of school in Kyiv, Ukraine.
May 26, 2013
1 The coffins of Serbian King Petar II Karadjordjevic and his wife Queen Aleksandra, his mother Queen Maria and brother Prince Andrej inside the St. George's Church on Oplenac Hill during their funeral in Topola, some 71km (44 miles) south of Belgrade, Serbia. Hundreds of mourners gathered for the reburial of Serbian royals, decades after their deaths in exile.
2 Two Lebanese Sunni gunmen fire a weapon in Bab Al Tabbaneh, a Sunni district, in the northern Lebanese town of Tripoli. Fighting in Tripoli between Sunni Muslims and the small Alawite community has claimed the lives of at least 25 people in eight days.
3 U.S. Secretary of State John Kerry (C) shakes hands with Israeli President Shimon Peres (L) and Palestinian President Mahmoud Abbas at the World Economic Forum at the King Hussein Convention Center, at the Dead Sea, Jordan.
4 People gather at the Grand Place in Mons, Belgium, during the Ducasse (Doudou). The Ducasse is a popular medieval festival that holds every year on Trinity Sunday and depicts the fight between Saint George, representing the good, and the dragon, the evil. Spectators are taking part by trying to catch the mane from the tail of the dragon which is believed to give luck for one year.
5 China's Qiu Zihan, right, and Liu Xiaolong celebrate after defeating South Korea's Ko Sung-hyun and Lee Yong-dae during the men's doubles final match at the Sudirman Cup world mixed team badminton championships in Kuala Lumpur, Malaysia.
6 Georgian soldiers listen the national anthem as they mark an Independence Day in Tbilisi.
7 Chinese Premier, Li Keqiang , left, is welcomed by German Chancellor Angela Merkel with military honors at the Chancellery in Berlin, Germany.
8 Guests arrive for the opening ceremony of the 21st Life Ball in Vienna, Austria, May 25, 2013. Life Ball is Europe's largest annual AIDS charity event and takes place in Vienna's city hall.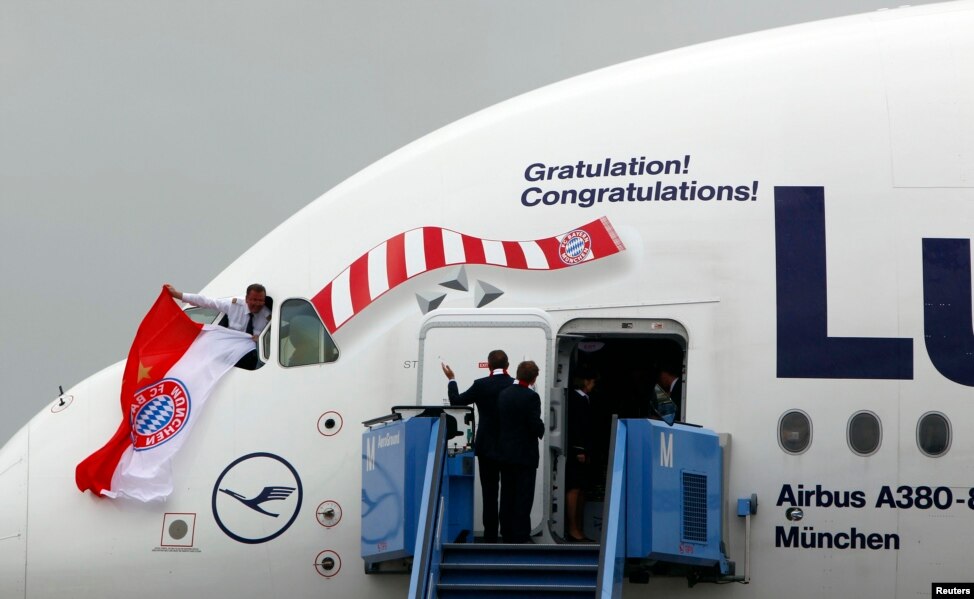 9 The pilot of an A380 aircraft carrying the Bayern Munich soccer players, waves a flag in team colors from a window of the plane on arrival at Munich airport, Germany, the day after Bayern Munich won the Champions League final soccer match at Wembley stadium in London.
10 The Soyuz TMA-09M spacecraft is transported to its launch pad at Baikonur cosmodrome, Kazakhstan.
May 27, 2013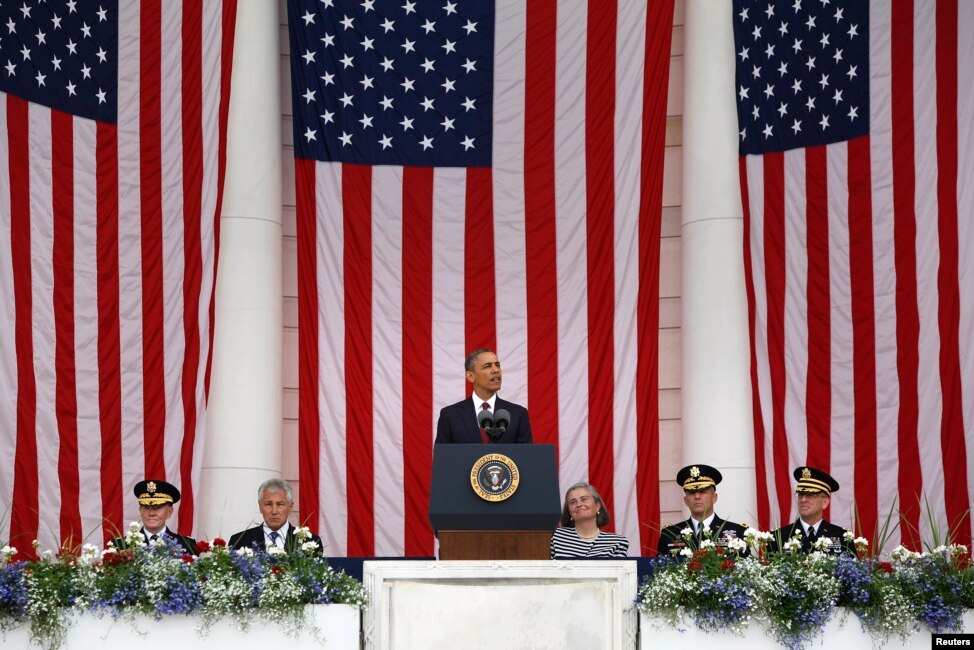 1 U.S. President Barack Obama makes remarks during Memorial Day observances at Arlington National Cemetery in Arlington, Virginia.
2 A man runs away as waves whipped up by winds surge past a barrier onto a seaside road in Yantai, Shandong Province, China.
3 A group of men smuggle diesel fuel from Syria to Turkey across the Al-Assi River in Darkush town, Idlib countryside, hoping to sell it at a higher price, May 26, 2013.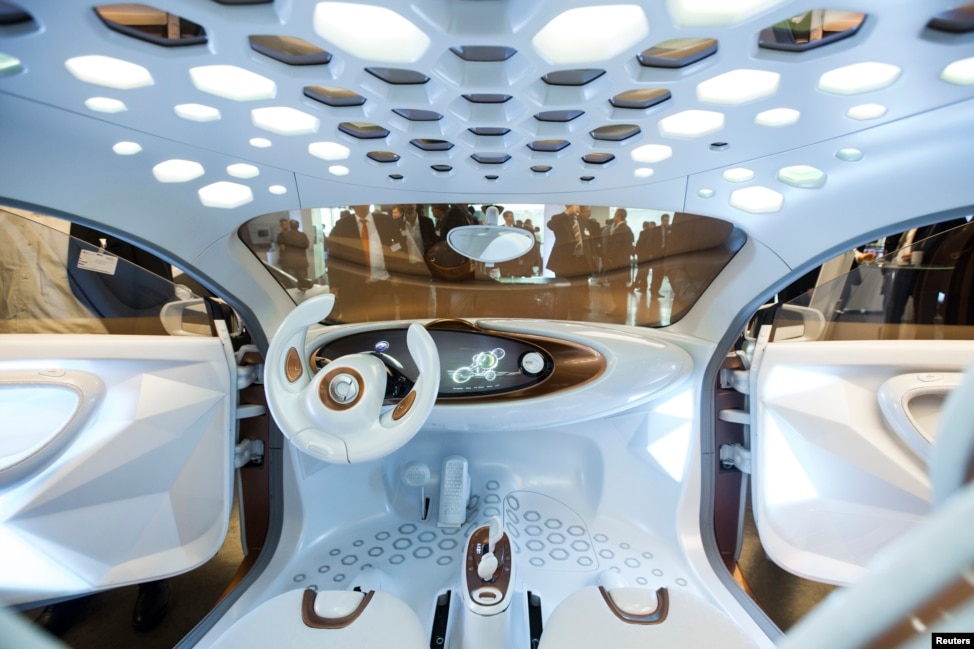 4 The interior of a Smart Forvision electric concept car at the Electric Mobility Conference of the German Government in Berlin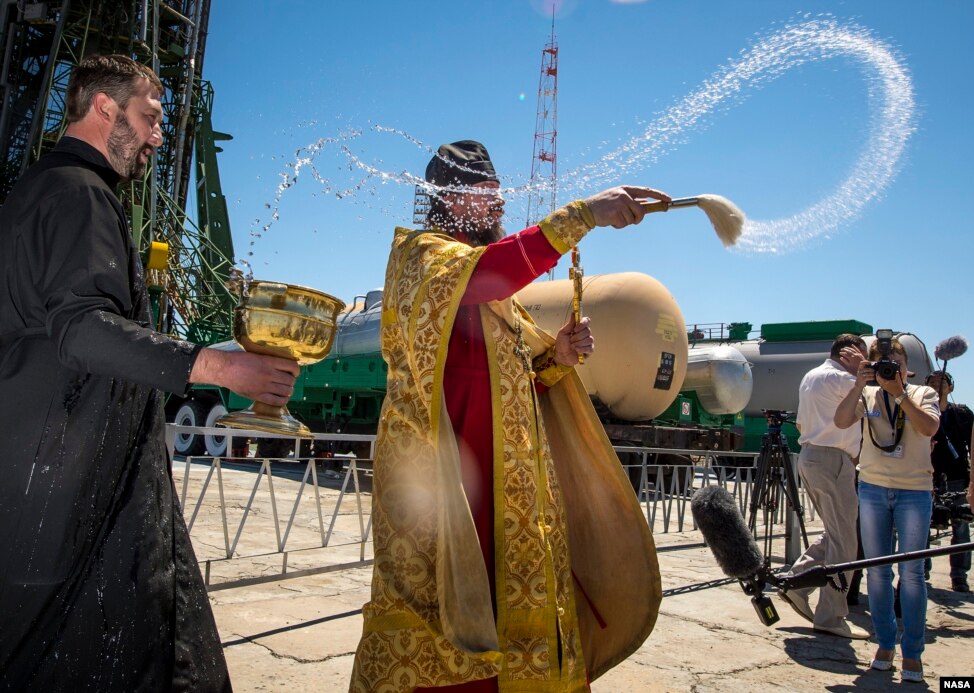 5 An Orthodox Priest blesses members of the media shortly after having blessed the Soyuz rocket at the Baikonur Cosmodrome Launch pad in Kazakhstan.
6 A slightly off-course mother duck leads her ducklings up to the entrance to the West Wing, home to U.S. President Barack Obama's Oval Office, on the White House grounds in Washington, D.C.
7 A Nepalese laborer transports a piece of plywood at Lukla, Nepal.
8 To celebrate Memorial Day, and to mark the 95th anniversary of the historic Battle of Belleau Wood, U.S. Marines with their French counterparts gather at Aisne-Marne American Cemetery in Belleau, France to commemorate their fallen heroes, May 26, 2013.
9 American Jack Wiegand, from Fresno, California, covers his Mooney 20 single-engine plane shortly upon arrival from Bangkok, Thailand on the fifth leg of his attempt to be the youngest pilot to fly around the world, in Manila, Philippines. Wiegand, 20, has flown to North America, the Atlantic, Europe, the Middle East and South Asia and is scheduled to fly to Kobe, Japan on May 28, 2013.
10 Watford's goalkeeper Manuel Almunia fails to stop Crystal Palace's Kevin Phillips (not pictured) from scoring his penalty goal during their Championship play-off final soccer match at Wembley Stadium in London.
11 A worker arranges Romania's national flag during a Guinness World Record attempt for the world's biggest national flag in Clinceni, near Bucharest. The flag, measuring 349.4 per 226.9 meters, established a new Guinness World Record, according to the organization's officials.
12 Actresses Lea Seydoux (L) and Adele Exarchopoulos (R) kiss director Abdellatif Kechiche after receiving the Palme d'Or award for the film "La Vie D'Adele" during the closing ceremony of the 66th Cannes Film Festival in Cannes, May 26, 2013.
May 28, 2013
1 Members of the TUM CREATE group ride a prototype of their VOI scooter at the Nanyang Technological University (NTU) in Singapore. The electric-powered VOI multipurpose scooter was designed to provide the ease of mobility and affordability of a scooter while offering car-like comfort and protection to the passenger.
2 A worker harvests cannabis plants at a plantation near the northern town of Nazareth in Israel.
3 Members of a Chinese guard of honor march off outside the Great Hall of the People in Beijing after a welcome ceremony of Sri Lankan President Mahinda Rajapaksa.
4 A Turkish riot policeman uses tear gas as people protest against the destruction of trees in a park brought about by a pedestrian project, in Taksim Square in central Istanbul, Turkey.
5 A visitor takes a picture of part of an installation called "The Garbage Patch State" by Italian artist Maria Cristina Finucci during the 55th La Biennale of Venice, Italy.
6 A lantern floats on the water after being released during a ceremony at Ala Moana beach park in Honolulu, Hawaii, held by the Shinnyo-en Buddhist organization, honoring victims of war, famine, and natural disasters on Memorial Day, May 27, 2013.
7 A child plays with soap bubbles at an event to support autistic children and their families in a park in Kyiv, Ukraine.
8 A spectator sits under an umbrella at the Roland Garros stadium as matches for the French Open tennis tournament were delayed because of the rain in Paris.
9 A dragonfly flies over a river channel in blazing sun near the village of Skela, near Belgrade, Serbia.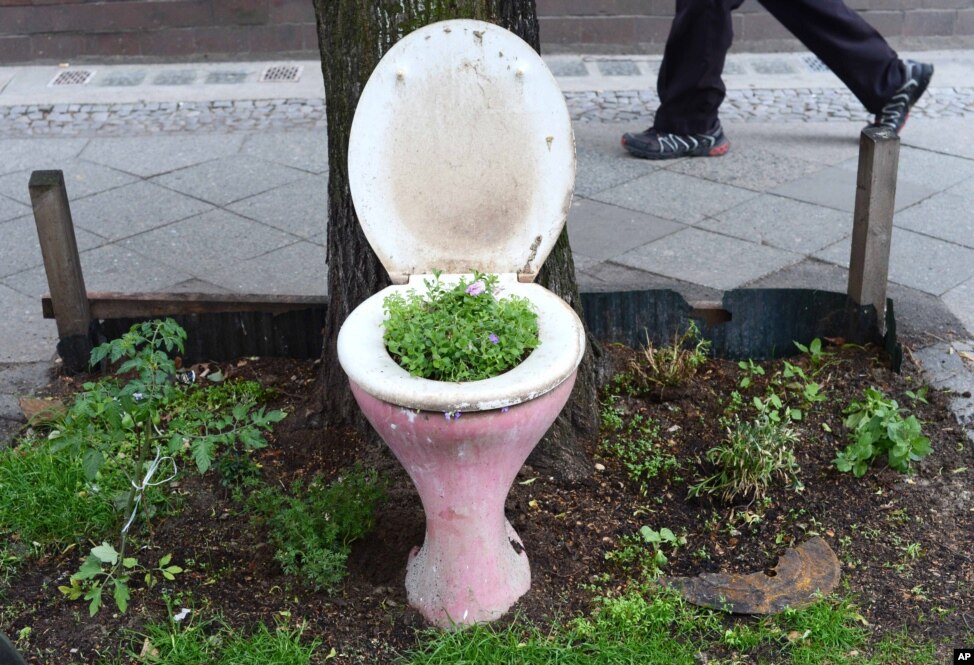 10 A toilet bowl with plants growing in it, sits on the sidewalk on Lenaustrasse in Berlin, Germany.
11 Contestants in the Scripps National Spelling Bee take the preliminary test, which includes a vocabulary section this year, in Oxon Hill, Maryland, USA. The 86th Scripps National Spelling Bee is under way, with 281 youngsters taking the first vocabulary test in the history of the competition.
May 29, 2013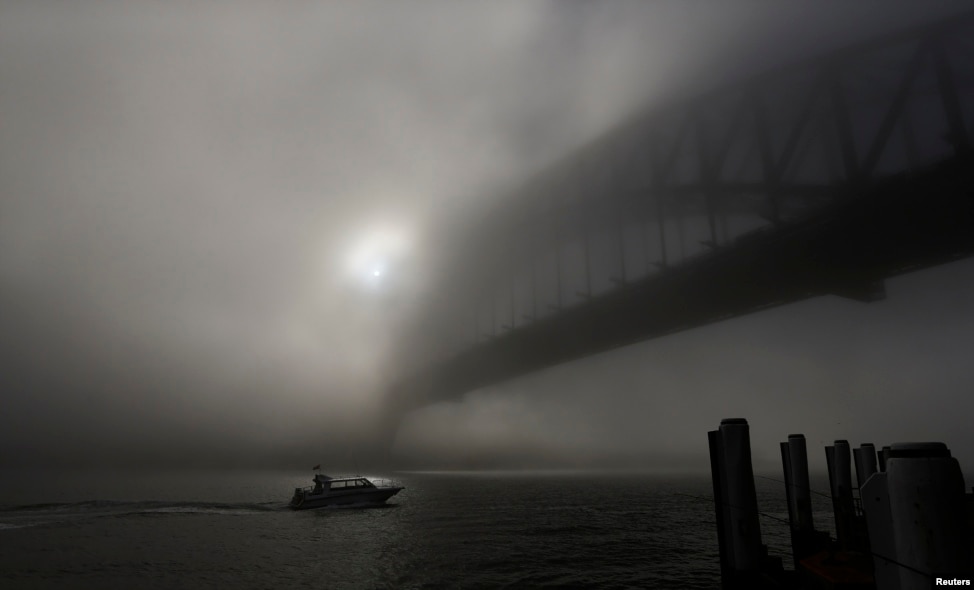 1 A boat navigates past the Sydney Harbor Bridge, Australia, which is covered in thick fog. Flights and ferry services were suspended and delayed after a blanket of fog covered the city for the second time in as many days, local media reported.
2 South Korean Army soldiers move past national flags hanging on a tree to commemorate the upcoming the Memorial Day on June 6 at the National Cemetery in Seoul.
3 A family rides on a donkey as they travel along a road on the outskirts of Parwan province, Afghanistan.
4 A Soyuz rocket with Expedition 36/37 Soyuz Commander Fyodor Yurchikhin of the Russian Federal Space Agency, Flight Engineers Luca Parmitano of the European Space Agency and Karen Nyberg of NASA, onboard, launches from the Baikonur Cosmodrome in Kazakhstan to the International Space Station.
5 In this photograph provided by Himex Nepal, participants of the Tenzing Hillary Everest Marathon begin their race at the Everest base camp in the Khumbu region of the Nepal Himalayas. Nepal celebrated the 60th anniversary of the conquest of Mount Everest by honoring climbers who followed in the footsteps of Edmund Hillary and Tenzing Norgay.
6 Hundreds of Buddhists on motorcycles armed with sticks patrol in the streets of in Lashio, northern Shan State, Burma. Sectarian violence spread to the northeastern town after unconfirmed rumors spread that a Muslim man had set fire to a Buddhist woman.
7 A man swims in the polluted waters of river Yamuna on a hot day in New Delhi, India.
8 Part of an installation called "Campo de Color" by Bolivian artist Sonia Falcone is pictured during the 55th La Biennale of Venice, Italy, May 28, 2013.
9 A female gang inmate poses for a picture before performing a dance during a celebration marking the first year of the truce between El Salvador's two most powerful gangs, at the women's prison facilities in San Salvador, May 28, 2013.
May 30, 2013
1 This image provided by KFOR-TV shows storm clouds moving over Guthrie, Oklahoma.
2 A chipping sparrow tugs on some loose threads of weathered clothing while gathering nest-building materials in a garden in Freeport, Maine, USA.
3 A tourist is reflected in a glass surface as she walks in the newly-opened first floor of the Museum of the ancient Agora, Stoa of Attalos, central Athens, Greece.
4 Canada's Prime Minister Stephen Harper (R) walks in the Hall of Honor with Chile's President Sebastian Pinera on Parliament Hill in Ottawa.
5 Farmers shear an alpaca in its enclosure at a zoo in Shijiazhuang, Hebaei province, China.
6 The U.S. Air Force Academy Class of 2013 marches into the Academy's Falcon Stadium for graduation in Colorado Springs, Colorado, May 29, 2013. (U.S. Air Force Photo by Mike Kaplan)
7 A man carrying an umbrella walks across the Old Town Square during a rainstorm in Prague, Czech Republic.
8 People take pictures of sunset on 42nd street in New York City, during the biannual occurrence named "Manhattanhenge", May 29, 2013. "Manhattanhenge", coined by astrophysicist Neil deGrasse Tyson, occurs when the setting sun aligns itself with the east-west grid of streets in Manhattan, allowing the sun to shine down all streets at the same time.
9 Students pose for pictures with "big cigarette models" during a campaign ahead of the World No Tobacco Day, at a primary school in Handan, Hebei province, China, May 29, 2013.
10 Anna Karolina Schmiedlova of Slovakia eyes the ball during the women's singles match against Jamie Hampton of the U.S. at the French Open tennis tournament at the Roland Garros stadium in Paris, France.
May 31, 2013
1 A demonstrator falls after being hit by water cannon used by riot police to disperse the crowd during a protest against the destruction of trees in a park brought about by a pedestrian project, in Taksim Square in central Istanbul.
2 Messages are seen with flowers at the scene of the killing of British soldier Lee Rigby in Woolwich, southeast London. Rigby was killed on a busy London street near an army barracks last week.
3 Riot police try to prevent protestors from breaking through barricades near the European Central Bank headquarters during an anti-capitalist "Blockupy" demonstration in Frankfurt. Thousands of demonstrators were protesting the handling of Europe's debt crisis.
4 Spain's Rafael Nadal clenches his fist after scoring a point against Slovakia's Martin Klizan in their second round match at the French Open tennis tournament, at Roland Garros stadium in Paris. Nadal won in four sets 4-6, 6-3, 6-3, 6-3.
5 African immigrants walk among rows of prefabricated container houses, which have replaced scores of tents, at the open center for immigrants formerly known as "Tent City" in Hal Far, outside Valletta, Malta. Some 450 immigrants who have been granted humanitarian protection live in the center, according to UNHCR
6 Zareena, a Kashmiri Bakarwal bride is seen inside her tent during her wedding ceremony on the outskirts of Srinagar, India. Bakarwals are nomadic herders in Jammu Kashmir state, who wander in search of good pastures for their cattle.
7 A race-goer cheers as she wins a bet during the racing on Ladies Day during the Epsom Derby festival in Epsom, southern England.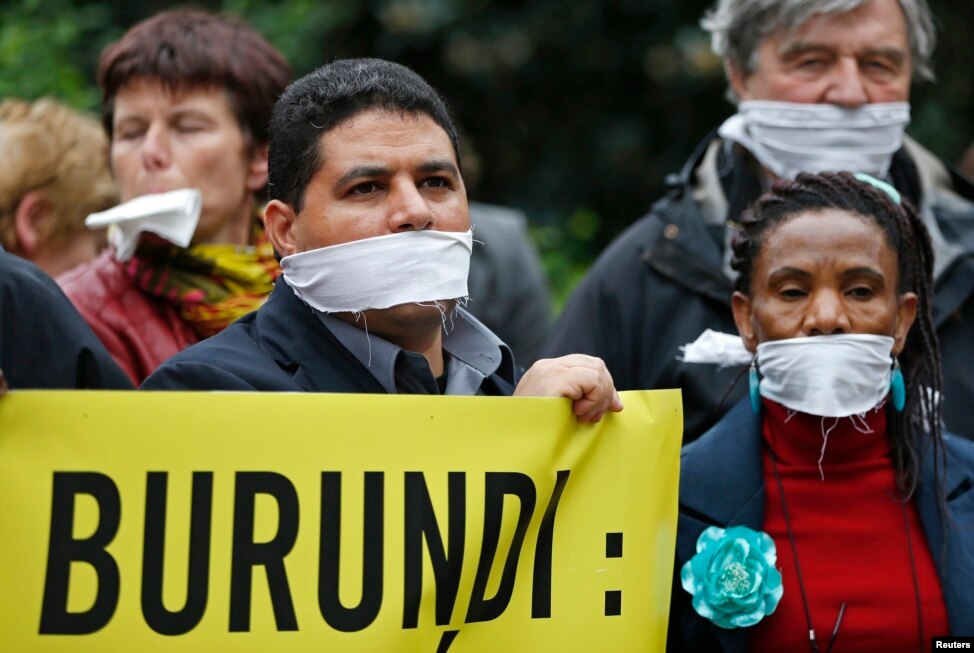 8 Amnesty International activists demonstrate against a new law limiting press freedom in Burundi during a protest in front of the Burundi embassy in Brussels, May 31, 2013.
9 Tunnellers stand next to tunnelling machine "Elizabeth" at the official announcement that they have broken into the Crossrail station at Canary Wharf, in east London. The Crossrail project, which will connect London to the East and West, is now one-third complete and due for completion in 2018.
10 A woman rides a bicycle past a bicycle rental point in central Moscow. Hoping to ease traffic in one of the world's most congested cities, Moscow will launch a large-scale public bike hire scheme on Saturday despite fears over road safety.
11 A girl laughs as she sits among hand fans during a mass performance at a children's martial arts fair in Foshan, Guangdong province.
12 Race-goer Laura Hays poses in her hat on Ladies Day at the Epsom Derby festival in southern England. Friday is World No Tobacco Day.