| | | | | | | | | | | | | |
| --- | --- | --- | --- | --- | --- | --- | --- | --- | --- | --- | --- | --- |
| | | | | | | | | | | | | |
| 2013 | Gen | Feb | Mar | | | | | | | | | |
| | | | | | | | | | | | | |
| 2012 | Gen | Feb | Mar | Apr | Mag | Giu | Lug | Ago | Set | Ott | Nov | Dic |
| | | | | | | | | | | | | |
| 2011 | | | | | | Giu | Lug | Ago | Set | Ott | Nov | Dic |
March 01, 2013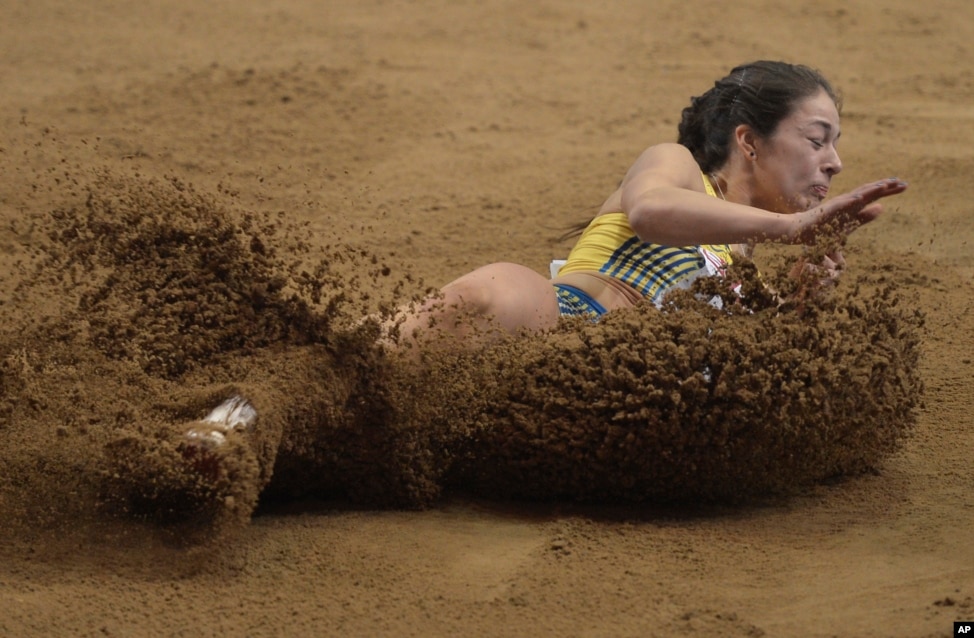 1 Sweden's Sofia Linde competes in the long jump of the women's pentathlon, during the European Athletics Championships in Gothenburg, Sweden.
2 Kashmiri Muslims raise their arms upon seeing a relic of Sheikh Abdul Qadir Jeelani, a Sufi saint, being displayed to devotees at his shrine in Srinagar, India.
3 People stand next to a 24.9-meter (82 feet) diameter pit at a village in Guangyuan, Sichuan province, China, Feb. 28, 2013. The investigators said the pit may face further sinking after rains due to its geological conditions.
4 North Korean leader Kim Jong-Un and former NBA basketball player Dennis Rodman hug in Pyongyang in this undated picture released by North Korea's KCNA news agency.
5 A little village girl fills drinking water in a pot at Uttar Radhanagar Railway Station of South24 Pargana district, West Bengal, India, Feb. 28, 2013. (Photo by Chandan Ghosh/India/VOA reader)
6 The boy in the red shirt is trying to lick a drop of the lolly ice on his brother's pants in Pangambatan, Humbang Hasundutan, of North Sumatera, Indonesia. (Photo by Hadengganan Sianturi submitted for VOA Photo Contest)
7 Supporters of Kenya's Prime Minster Raila Odinga travel home on a lorry after a major rally in Kisumu town. Kenya is to hold general elections on March 4.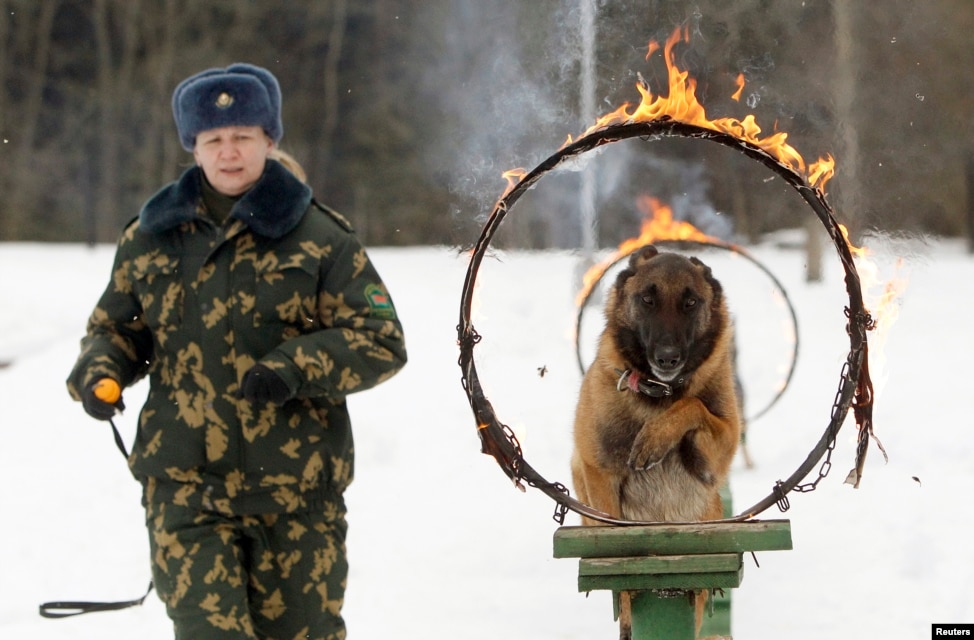 8 A Belarussian military instructor trains her Shepherd dog at a frontier guards' cynology center near the town of Smorgon, some 140 km (87 miles) northwest of Minsk. Puppies and dogs, which don't meet requirements for the service at the border, can be sold to civilians.
9 Palestinian protester resists arrest by Israeli soldiers during clashes in the old city of Hebron, following a protest demanding the reopening of Shuhada Street, the one-time heart of the city.
10 A farmer carrying a hoe walks past a dried-up pond in Shilin Yi Autonomous County of Kunming, Yunnan province, China, Feb. 28, 2013.
11 A worker directs the removal of a Parasaurolophus dinosaur from a lorry at Twycross Zoo near Atherstone, central England. 15 dinosaurs will go on display at Dinosaur Valley, a new attraction at the zoo.
12 Contortion artists perform during the Cirque du Soleil's Kooza show in Madrid, Spain, Feb. 28, 2013.
13 An aerobatics team performs during the Australian International Airshow in Melbourne.
March 02, 2013
1 Villagers prepare their birds in cages for a bird-singing contest in Yala province, 1,100 km (684 miles) south of Bangkok, Thailand.
2 Novak Djokovic of Serbia poses with the trophy after winning the men's singles final match against Tomas Berdych of Czech Republic during the ATP Dubai Tennis Championships, United Arab Emirates.
3 Handoko Njotokusumo and Ace, a golden retriever, ride through traffic during their weekend joy ride on a motorcycle in Surabaya, eastern Java island, Indonesia.
4 Every day most people risk their life to ride on the roof of the train in order to save money in Bangladesh. (Photo by Sumon Yusuf submitted to VOA Photo Contest)
5 People cook a giant 150-meter-long "shashlik" meal in Kyiv, Ukraine. Participants broke the national record of the longest shashlik cooked during the event. Shashlik is a variety of skewered meat traditionally eaten in the Commonwealth of Independent States (CIS) region.
6 Spectators (bottom) watch skiers descending down from the slope while holding lit torches during an annual winter torch festival in the town of Zheleznogorsk, some 50km (31 miles) northeast of Russia's Siberian city of Krasnoyarsk.
7 A Pakistani fisherman hangs fish to dry in the sun in Karachi.
8 Children smile pose for a photograph during their pre-school graduation at Childhood Kindergarten in Phan Thiet, the capital of Bình Thu?n province in southeastern Vietnam. (Photo by Nguy?n Thái Bình/Vietnam/VOA reader)
9 A man with a sign on his back, which reads 'democracy', is questioned by police near the Great Hall of People in Tiananmen Square, central Beijing, China.
10 Macedonian riot police clash with ethnic Albanians during a demonstration in Skopje. A demonstration was organized by ethnic Albanians in support of the new Defense Minister, former guerrilla commander Talat Xhaferi, according to local media.
11 An opera singer performs during the inauguration of the mirror panels installation designed by British architect Norman Foster at the Old Harbor in Marseille, France.
12 A woman blows blue paint powder on to her friend during the Holi One color Festival held in the city of Cape Town, South Africa.
13 A hot air balloon decends to land as the sun sets north of Phoenix, Arizona, USA, Mar. 1, 2013.
14 A parade participant wears an elaborate headpiece during Mardi Gras in Sydney, Australia. 10,000 revelers marched alongside 115 floats in the annual parade that celebrates lesbian and gay pride.
March 04, 2013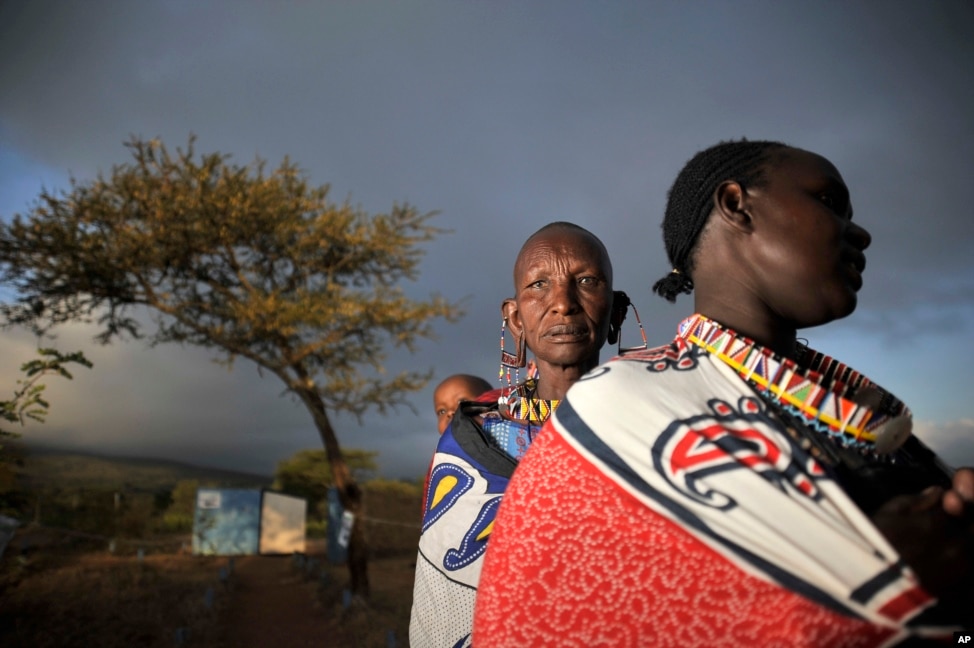 1 Masaai women line up at dawn to vote in a general election in Kumpa, Kenya. Kenyans went to the polls to begin casting votes in a nationwide election seen as the country's most important - and complicated - in its 50-year history.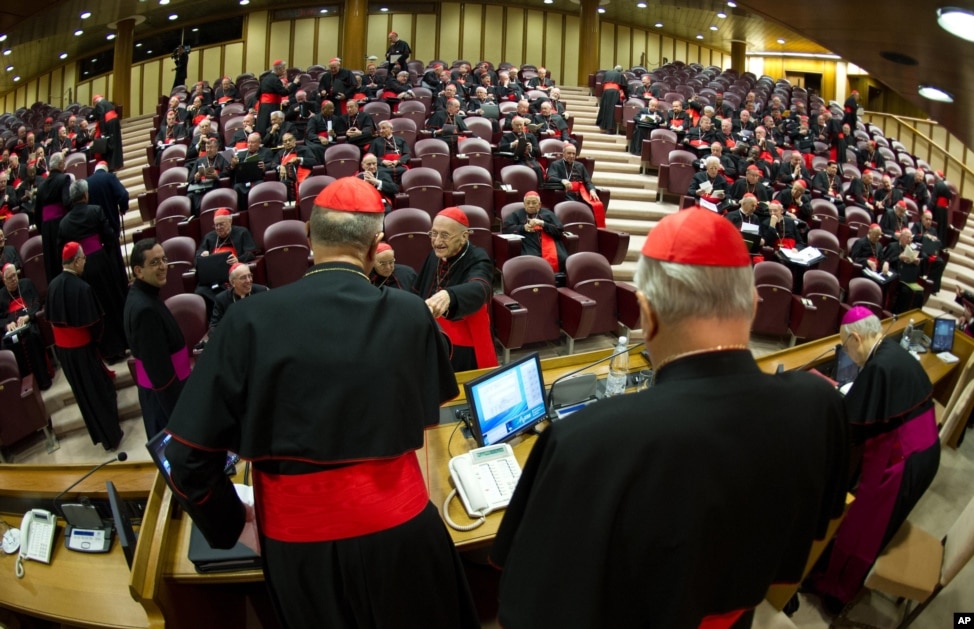 2 In this photo provided by the Vatican newspaper L'Osservatore Romano, cardinals attend a meeting at the Vatican. Cardinals from around the world have gathered for their first round of meetings before the conclave to elect the next pope.
3 Afghan children watch burning expired medical items and food on the outskirts of Jalalabad.
4 Chinese security personnel march outside the Great Hall of the People in Beijing. In a rare move, China on Monday declined to reveal its defense budget request for 2013.
5 A cloud of sand suspended in the air passes over the Mediterranean coastal city of Netanya in the center of Israel.
6 Cuban players celebrate after defeating China in their World Baseball Classic first round game in Fukuoka, Japan. Cuba won 12-0.
7 Thousands of personalized cardboard characters are seen outside Britain's Houses of Parliament in London. The Fairtrade Foundation is calling on British PM David Cameron to put smallholder farmers around the world at the heart of its trade policy ahead of the G8 summit in June. The cardboard characters are generated by people who signed an online petition.
8 A man looks at a residential house that started leaning after a tunnel collapse in the Russian Black Sea resort of Sochi. The house, unnocupied at the time, began leaning after a tunnel on a nearby road construction project failed on Monday, according to local news reports.
9 A man walks by a light decoration in a tunnel in Seoul, South Korea.
10 A Hindu sadhu (holy man) applies paint to his forehead at his ashram at Pashupatinath Temple in Kathmandu, Nepal. Hindu holy men from Nepal and India come to the temple to take part in the Shivaratri festival, which this year falls on March 10.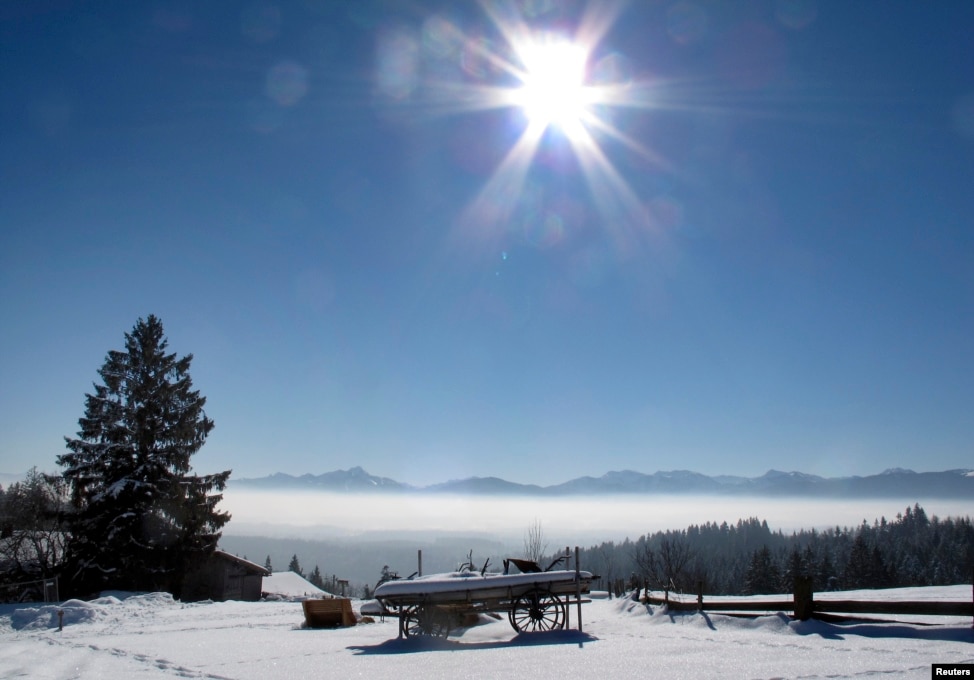 11 A snow-covered horse carriage is pictured on top of the Taubenberg mountain while fog dissipates under the early morning sun in Warngau, Germany.
12 English dancer Laurretta Summerscales takes part in a photocall ahead of the "Emerging Dancer 2013" competition final at Southbank Centre's Queen Elizabeth Hall in central London.
March 05, 2013
1 Members of the Kosovar folklore group take part in a ceremony in Pristina to mark the 15th anniversary of the killing of Kosovo Liberation Army (KLA) commander Adem Jashari. Jashari was among 45 members of his family killed by Serb security forces in the vilage of Prekaz some 40 kms west of the Kosovo capital Pristina, sparking a full-blown rebel insurgency.
2 The moving tide at St Michael's Mount Cornwall, UK (Photo by Michael Saunders submitted to VOA Photo Contest)
3 A protester, opposing Egyptian President Mohamed Morsi, throws a Molotov cocktail at riot police, during clashes in front of Security Directorate in Port Said, 170 km (105 miles) northeast of Cairo.
4 A female ethnic minority delegate walks out with others from the Great Hall of the People, after attending the opening session of the National People's Congress in Beijing, China.
5 A busker plays his electric guitar while sitting on the south bank the River Thames in central London.
6 Afghan National Army soldiers fire artillery during military training in Laghman province.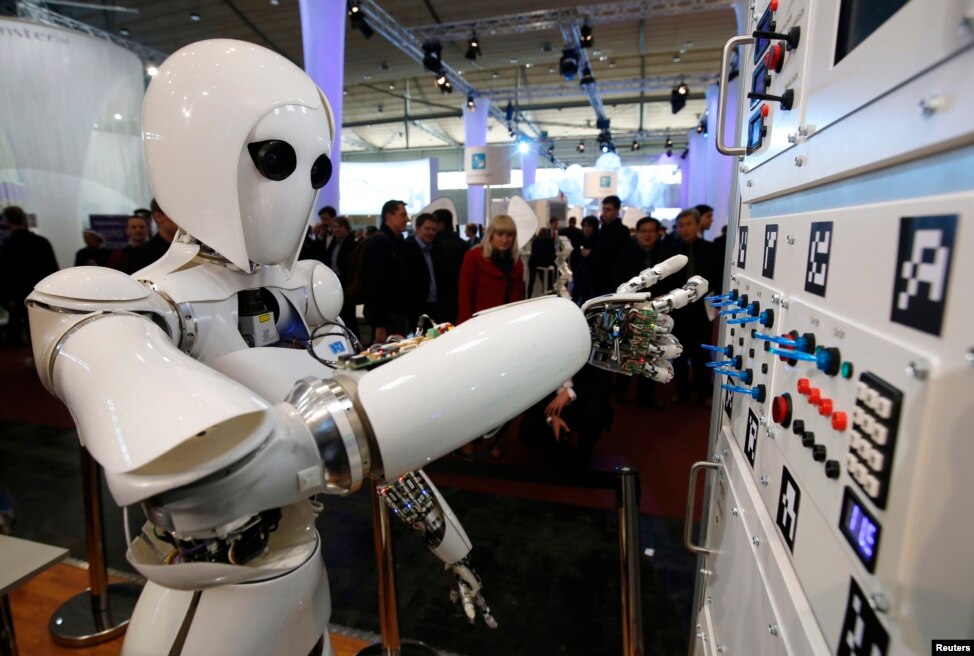 7 The humanoid robot AILA (artificial intelligence lightweight android) operates a switchboard during a demonstration by the German research center for artificial intelligence at the CeBit computer fair in Hanover, Germany.
8 A swan swims in the inner city harbour in Berlin, Germany.
9 The new Lamborghini Veneno is seen during the first media day of the 83rd Geneva International Motor Show, Switzerland. The Motor Show will open its gates to the public from March 7 to 17.
10 Road to Zhangmu on the Tibet-Nepal border is seen after snow fall, Mar. 3, 2013. (Photo by Tongqi Huang/VOA reader)
March 06, 2013
1 Mourners gesture during the memorial service of 27-year-old taxi driver Mido Macia in Daveyton, east of Johannesburg, South Africa. The Mozambican taxi driver died in a South African cell after being dragged behind a police vehicle. Eight police have been arrested on suspicion of murder.
2 The coffin of deceased Venezuelan leader Hugo Chavez is driven through the streets of Caracas after leaving the military hospital where he died of cancer.
3 Workers carry out a radiation screening on a bus for a media tour at tsunami-crippled Fukushima Daiichi nuclear power plant of Tokyo Electric Power Co. in Fukushima prefecture, Japan, ahead of the second-year anniversary of the March 11, 2011 tsunami and earthquake.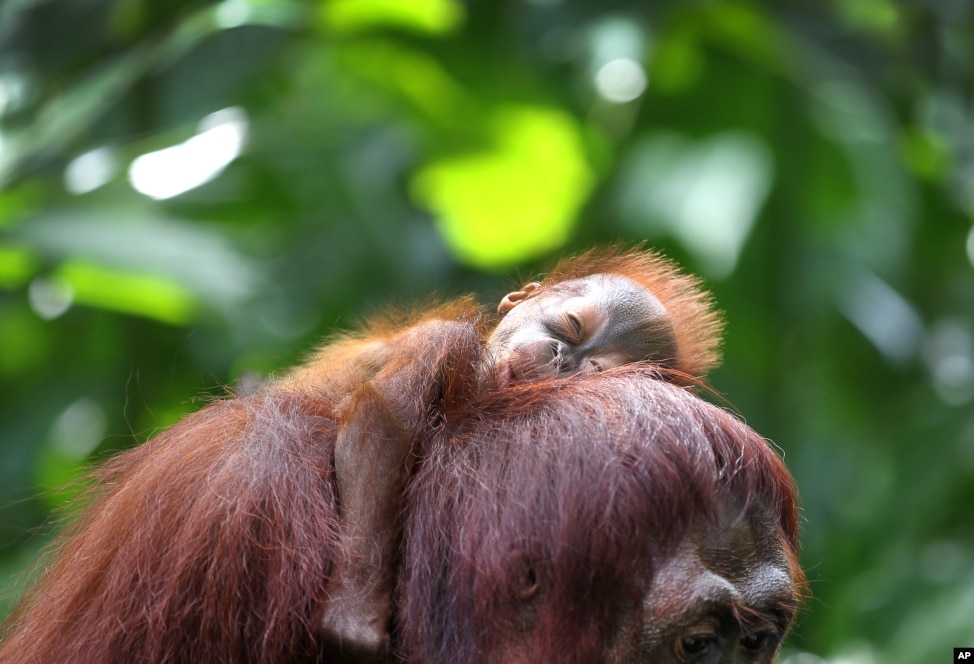 4 One month-old endangered Bornean orangutan sleeps on his mother named Miri in Singapore zoo in Singapore.
5 Cardinal Philippe Barbarin is surrounded by reporters after a cardinals' meeting at the Vatican. Cardinals from around the world have gathered inside the Vatican for their first round of meetings before the conclave to elect the next pope.
6 Two employees watch from the window of an office building as members of the Metro trade union march during a protest against low wages in Bucharest, Romania.
7 Lava erupts at the New Sud-Est crater of Mt. Etna's volcano, near Catania, in Sicily, southern Italy.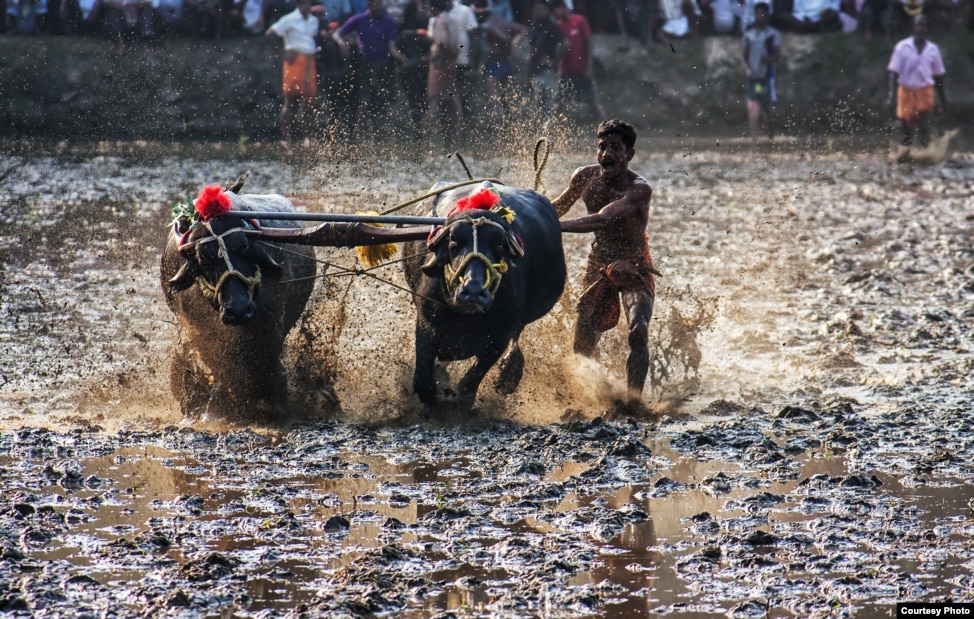 8 A participant takes part in a traditional south Indian bull-racing sport in the port city of Mangalore in the Indian state of Karnataka. (Photo by Rajarshi Chowdhury submitted to VOA Photo Contest)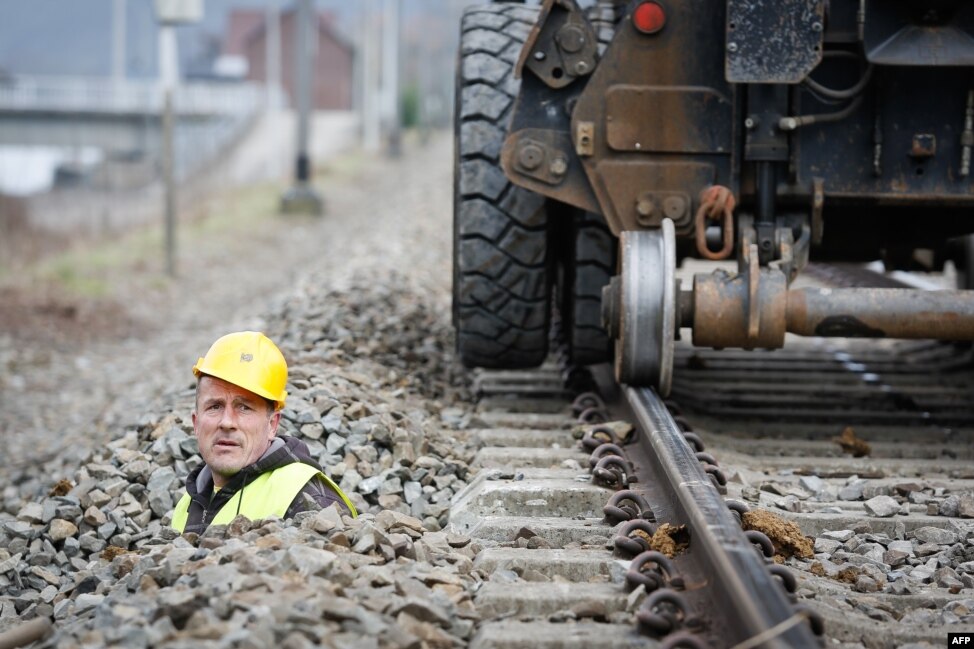 9 A worker checks what will be the first ETCS (European Train Control System) line in Profondeville, Wallonia, Belgium. The modernization of the line, between Jambes and Dinant, will enable the system to automatically stop a train that neglects a red light or exceeds the maximum speed limit.
10 A woman walks underneath shoes hanging from a power line in the center of the Slovenian capital Ljubljana.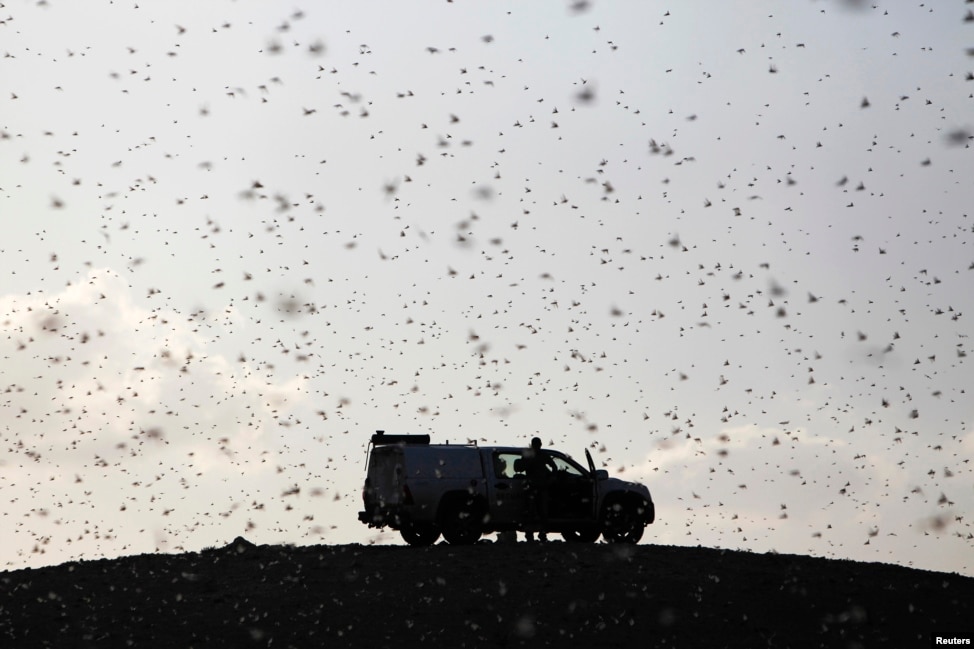 11 Locusts fly near a car belonging to experts as they map the swarms of locusts near Kmehin in Israel's Negev desert, Mar. 5, 2013.
12 Firefighters hose down scrapped vehicles during a fire at a yard owned by the Myanmar Economic Corporation (MEC) outside of Rangoon, Burma.
13 An Emerald Dove is placed in a mug to be weighed during the annual bird health check at Chester Zoo in Chester northern England.
March 07, 2013
1 Ocean waves crash over a seawall and into houses along the coast in Scituate, Massachusetts, USA.
2 An Afghan woman looks out from a helicopter window at the International Airport in Kabul. Afghan women take a tour around Kabul to mark International Women's Day.
3 Fishermen in Kuakata bring the last net of the day under a fire like sunset in Bangladesh. (Photo by Dennis Cohen/UK submitted to VOA Photo Contest)
4 Electricians check the electricity pylon situated amid farmland in Chuzhou, Anhui province, China.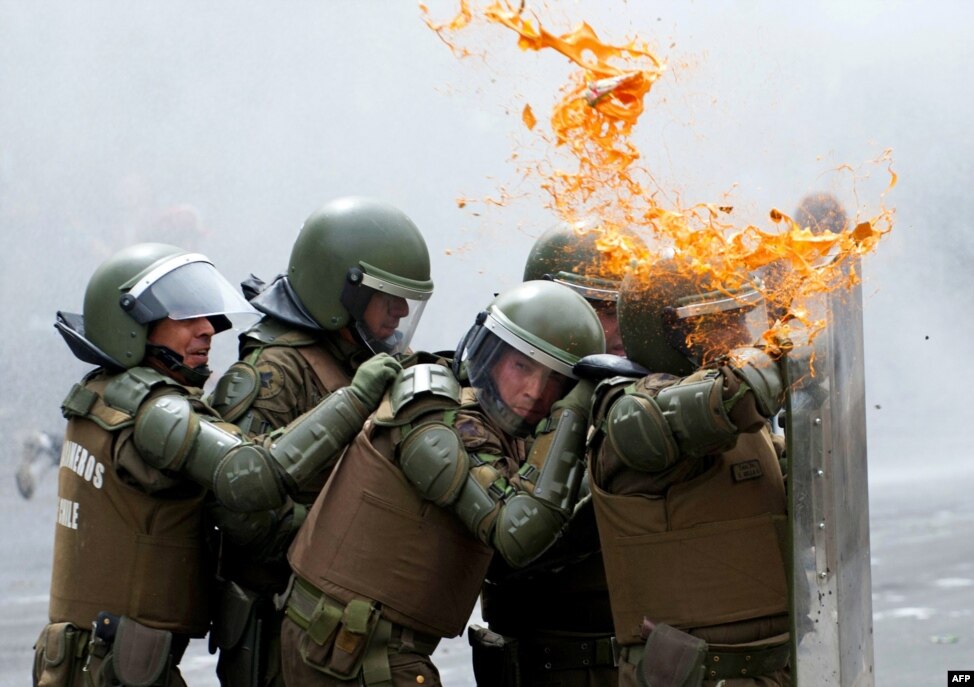 5 Chilean riot policemen protect themselves with shields during clashes with students who demand the government of President Sebastián Piñera to improve the public education system, in Santiago.
6 A fish trader carries dried fish skeletons at the Obunga "mgongo-wazi" fish frying market in Kenya's western town of Kisumu, 350km (218 miles) from the capital Nairobi.
7 A man throws a burning effigy depicting outgoing Czech President Vaclav Klaus from the medieval Charles Bridge during a celebration rally for the end of Klaus' presidency in Prague.
8 The image shows the Earth-facing surface of the Sun on Feb. 28, 2013, as observed by the Helioseismic and Magnetic Imager (HMI) on NASA's Solar Dynamics Observatory. HMI observed just a few small sunspots on an otherwise clean face, which is usually riddl
9 Indian salt worker Walbai Ayyubbhai, 70, carries a rake at a salt pan in the Santalpur region of Little Rann of Kutch, some 240 kms from Ahmedabad, India.
10 Bailey Bear, a Golden Labradoodle, sits in front of a picture of a cat during the first day of the Crufts Dog Show in Birmingham, central England.
11 Qi Guangpu of China competes in the Men's Aerials competition at the FIS Freestyle World Ski Championships in Voss, Norway.
March 08, 2013
1 Self-styled "Knight of the Rose" Rolf Schrader offers roses to women in Magdeburg, eastern Germany, on Women's Day.
2 Netherlands' Wladimir Balentien (R), Roger Bernadina (C) and Kalian Sams celebrate after defeating Cuba at the World Baseball Classic second round game in Tokyo, Japan.
3 Masaaï women walk in Kenya three miles to get drinking water (Photo by Patrick Jérôme/VOA reader)
4 Part of Gold Coast city in Australia, which is surrounded by sea (left) and a lake (right). (Photo by Khashayar Khastoui submitted to VOA Photo Contest)
5 France's Interior Minister Manuel Valls looks through a car window, as one of his bodyguards is reflected, in Cayenne's Mango neighborhood during a three-day visit in the French overseas department of Guiana, Mar. 7, 2013.
6 Jordanian firefighters and Syrian refugees extinguish a fire at the Al Zaatari Syrian refugee camp in the Jordanian city of Mafraq, near the border with Syria. The fire, caused by gas, did not result in any death or injuries, but damaged some 35 tents at the camp.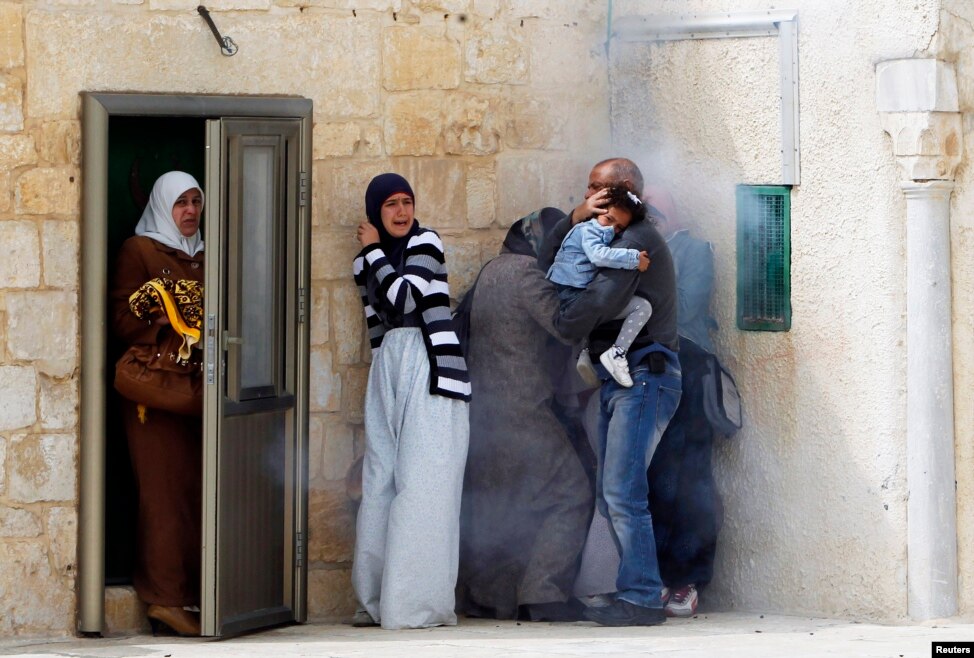 7 Palestinians react to tear gas fired by Israeli police during clashes after Friday prayers at a compound known to Muslims as al-Haram al-Sharif and to Jews as Temple Mount, in Jerusalem's Old City.
8 A man tries to extinguish a fire that broke out in a slum area in the eastern Indian city of Bhubaneswar.
9 A Chinese hostess, who serves delegates of National People's Congress, supervises her colleagues posing for a souvenir photographs on Tiananmen Square at the Great Hall of the People in Beijing.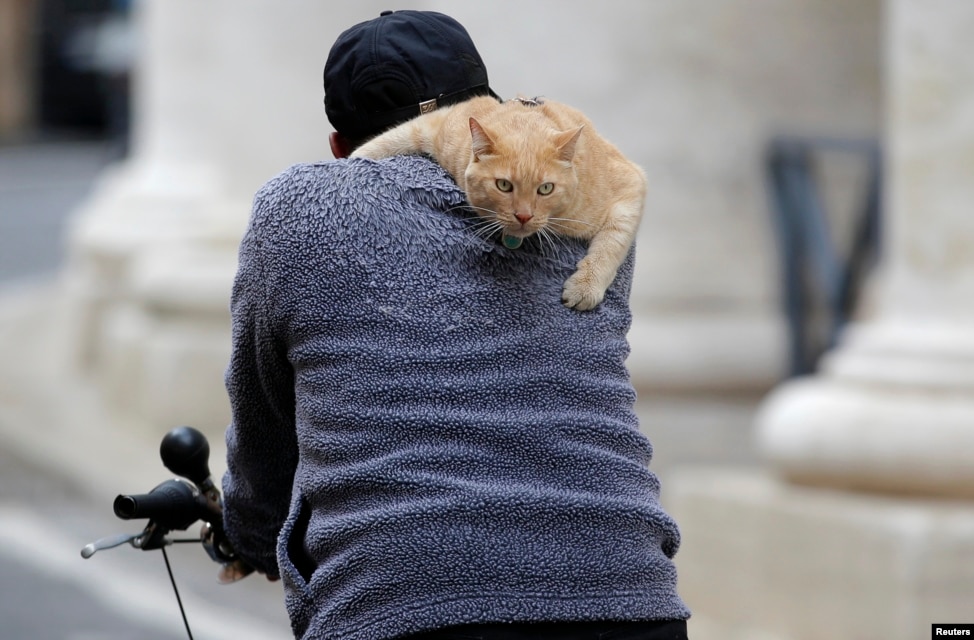 10 A man rides his bicycle with a cat on his shoulder near Saint Peter's Square in Rome, Italy, Mar. 7, 2013.
11 A couple walks hand in hand through the snow at Central Park in New York. A slow moving winter storm brought a combination of snow, rain and high winds to the northeast U.S. after moving through the mid-Atlantic states earlier in the week.
12 Police, seen reflected in a street mirror, guard the entrance of a polytechnic as students gather to protest education cuts and lay-offs of professors in Madrid, Spain.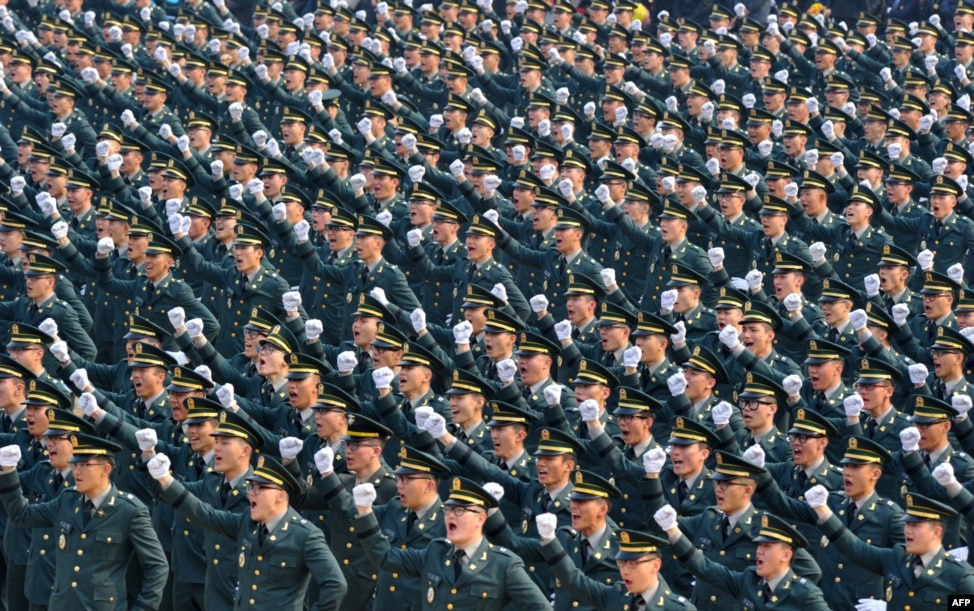 13 New South Korean officers chant slogans during the joint commission ceremony of 5,780 new officers of the army, navy, air force and marines at the Gyeryong military headquarters in Gyeryong.
March 09, 2013
1 Every person on the planet needs water in order to survive, save every droplet of it. (Photo taken in Rawalpindi, Pakistan by Adeel Shabir submitted to VOA Photo Contest)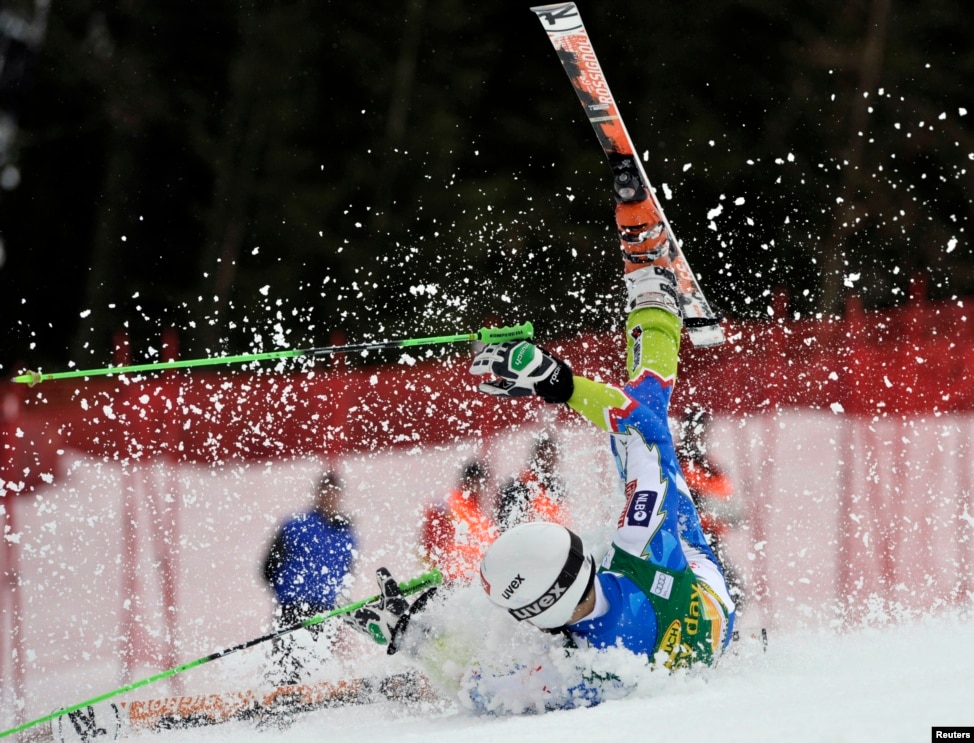 2 Misel Zerak of Slovenia crashes during his first run of the men's Giant Slalom event at the Alpine Skiing World Cup in Kranjska Gora, Slovenia.
3 Firefighters place the chimney on the roof of the Sistine Chapel, where cardinals will gather to elect the new pope, at the Vatican. The conclave date was set during a vote by the College of Cardinals, who have been meeting all week to discuss the church's problems and priorities, and the qualities the successor to Pope Benedict XVI must possess.
4 Artists dressed as the Hindu Lord Shiva read a message on a mobile phone as they prepare to participate in a religious procession ahead of the Mahashivratri festival in Jammu, Nepal. Hindu women across the country celebrate Mahashivratri, better known as Lord Shiva's wedding anniversary, so that their husbands will be blessed with long lives.
5 Anti-nuclear activists take part in a street performance during a protest in front of the Presidential Office in Taipei. Tens of thousands of anti-nuclear activists around Taiwan marched the streets to urge the government to terminate the controversial fourth nuclear power plant project and to stop using nuclear power.
6 Schalke 04's supporters gesture before the German first division Bundesliga derby soccer match against Borussia Dortmund in Gelsenkirchen.
7 A Balinese family stand at the beach as they attend the Melasti ceremony prayer at Gianyar beach on the Indonesian island of Bali. Melasti is a purification ritual held a day before Nyepi (or the Day of Silence). During Nyepi, Hindus in Bali observe a day of meditation and fasting, and are not allowed to work, cook, light lamps or participate in any activity.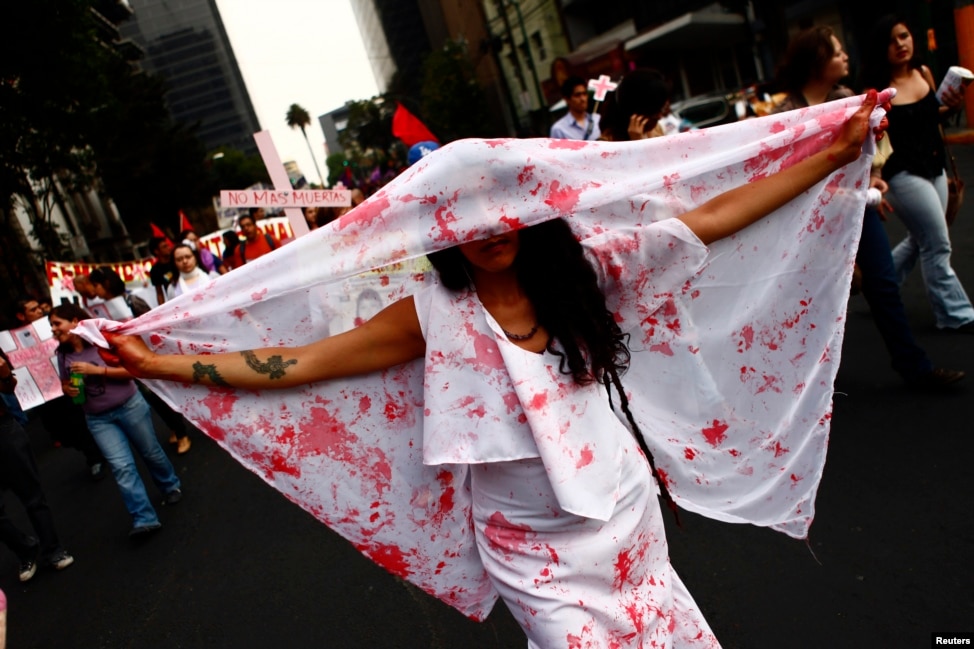 8 A woman holds a sheet with stains to represent blood during a demonstration to demand justice for women, who are the victims of violence, in Mexico City, Mexico, Mar. 8, 2013.
9 A mother walks with her child past a woman walking her pet dog on a river bank in Shanghai, China.
10 New Zealand's Bruce Martin avoids a bouncer bowled by England's Stuart Broad during the fourth day of the first test at the University Oval in Dunedin, New Zealand.
11 Bulgarian Orthodox church choir members and altar boys take part in a procession with the icon of the Virgin Mary on the streets in central Sofia.
12 In this photo released by Miraflores Press Office, Iran's President Mahmoud Ahmadinejad kisses the flag-draped coffin of late Venezuela's President Hugo Chavez during the funeral ceremony at the military academy in Caracas, Venezuela, Mar. 8, 2013.
13 Egyptian soccer fans of Al-Ahly club celebrate in front of their club headquarters in Cairo after an Egyptian court announced a verdict confirming death sentences against 21 people for their role in a deadly 2012 soccer riot that killed more than 70 people in the city of Port Said.
14 Fans scream as singer Justin Bieber appears at the window of a hotel in central London. The singer recently had a check-up in hospital after suffering breathing problems while performing on stage in the capital, during his tour.
March 11, 2013
1 A woman lights candles during an event for the victims of the March 11, 2011 earthquake and tsunami in Tokyo. Japan marked the second anniversary of the devastating earthquake and tsunami that left nearly 19,000 people dead or missing.
2 The mother of Ram Singh, the man accused of driving the bus on which a 23-year-old student was gang raped in December 2012, cries as she speaks to journalists outside the family's home in New Delhi. Police confirmed that Singh, one of the men on trial for his alleged involvement in the attack, committed suicide in an Indian jail Monday, but his lawyer and family allege he was killed.
3 Workers put up a red curtain on the central balcony, called the Loggia of the Blessings, of Saint Peter's Basilica at the Vatican. Roman Catholic Cardinals begin a conclave Tuesday to elect the Church's 266th pontiff. After being elected in the conclave, the new pope will appear on the balcony.
4 A Bangladeshi opposition activist looks on after a street vendor's cart is burned during a protest and clash with police in Dhaka. The protest was called by an alliance of 18 parties to denounce trials of several opposition politicians accused of mass killings and atrocities during Bangladesh's 1971 independence war against Pakistan.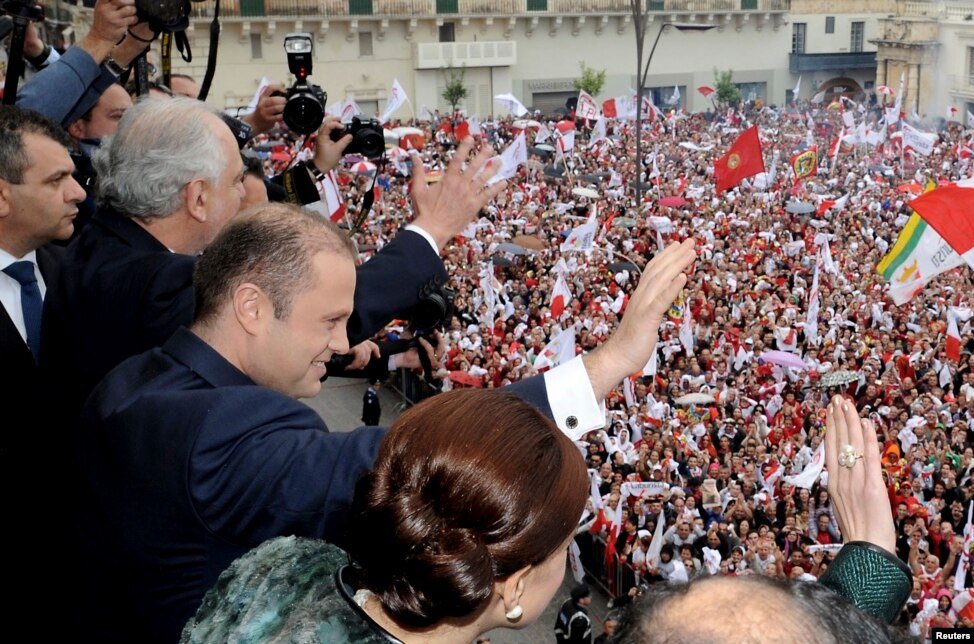 5 Malta's newly sworn-in Prime Minister and Labour Party leader Joseph Muscat waves to the crowds from the balcony of the Presidential Palace in Valletta. The Labour Party won a national election, returning to power after 15 years in opposition.
6 Winter weather returns to France. Strong winds create snowdrifts along the side of the road as cars and trucks make their way on a road in Vicogne between Doullens and Amiens.
7 Gendarmes stand guard as visitors wait behind security barriers outside the courthouse in Silivri near Istanbul. The trial of nearly 300 people, who are charged with attempting to overthrow Turkish Prime Minister Tayyip Erdogan's Islamist-rooted government, resumed at Silivri prison complex.
8 A girl runs past pinwheels arranged in the shape of the Korean peninsula at Imjingak Pavilion near the demilitarized zone (DMZ) which separates the two Koreas in Paju, north of Seoul. North Korea has cut off a Red Cross hotline with South Korea as it escalates its war of words against Seoul and Washington.
9 Israeli and U.S. flags are seen at a workshop in the town of Kfar Saba as employees sew flags in preparation for the upcoming visit of U.S. President Barack Obama. Obama's three-day visit to Israel and the Palestinian territories will begin on March 20.
10 Balinese Hindu worshippers breathe fire during a ritual before Nyepi, near Monumen Nasional in Jakarta. Nyepi is a day of silence for self-reflection celebrating the Balinese Hindu new year, where people may not use lights, light fires, work, travel nor enjoy entertainment.
11 Cuba's pitcher Diosdany Castillo (C) walks off the field as Netherlands' players celebrate after defeating Cuba at the World Baseball Classic (WBC) second round game in Tokyo.
12 Two giraffes play in the early morning at Nairobi's National Park. The park is located just 7 km (4 miles) from Kenya's capital city center.
13 A vendor selling cotton candy crosses a road in Kolkata, India.
14 Palestinian fishermen pull in their nets from the waters of the Mediterranean Sea during sunset at the beach in Gaza City.
March 12, 2013
1 Radio telescope antennas of the ALMA (Atacama Large Millimeter/submillimeter Array) project, in the Atacama desert, some 1500 km north of Santiago, Chile. The ALMA, an international partnership project of Europe, North America and East Asia with the cooperation of Chile, is presently the largest astronomical project in the world.
2 Cardinals attend a Mass for the election of a new pope celebrated by Cardinal Angelo Sodano inside St. Peter's Basilica, at the Vatican.
3 A girl is pictured through a broken window after clashes at Ain al-Hilweh Palestinian refugee camp near the port city of Sidon in south Lebanon. Ten people were wounded and one killed during clashes between the Fatah movement and radical Islamists that started on March 11, 2013.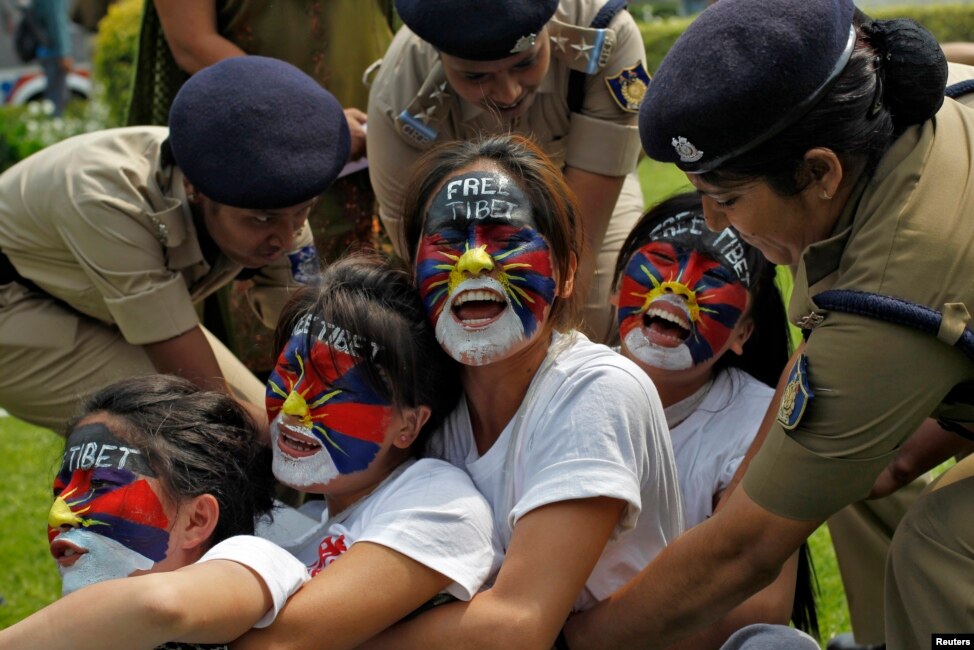 4 Tibetan exiles shout slogans as they are detained by police during a protest outside the Chinese embassy in New Delhi, India.
5 People walk in a silent procession towards Belgrade's New Cemetery to pay their respects at a memorial service marking the 10th anniversary of the assassination of the late Serbian Prime Minister Zoran Djindjic, in Belgrade, Serbia.
6 Almond Blossom trail in Fresno, California, USA, Mar. 8, 2013 (Photo by Vu Thi Thienthu/VOA reader)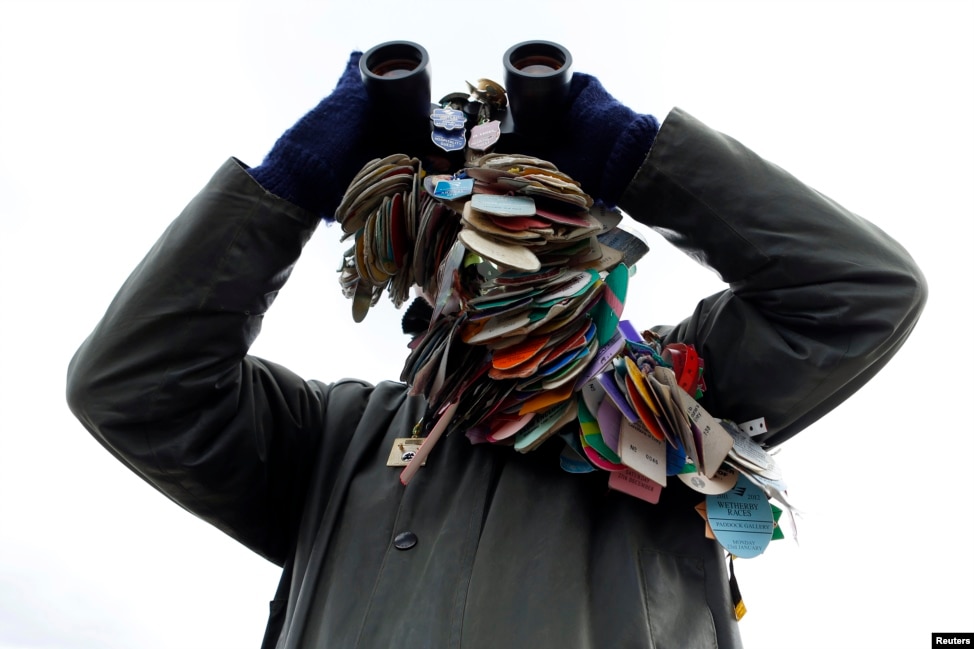 7 A racegoer, with all his previous race badges, with his binoculars during the Cheltenham Festival horse racing meet in Gloucestershire, western England
8 A homeless woman, her feet wrapped in plastic, walks in the snow in Paris as winter weather with snow and freezing temperatures returns to northern France.
9 A rescue worker stands next to the wreckage of cars following an accident on highway A45 between Giessen and Hanau near the city of Woelfersheim, Germany. More than 100 cars were involved in a multiple pile-up after they crashed on the snowy highway, police at the scene said.
10 As big as a tennis court and as tall as a four-story building, a full-scale model of the James Webb Space Telescope model was on display from March 8-10 at the South by Southwest Interactive Festival in Austin, Texas, USA. NASA's James Webb Space Telescope is the successor to Hubble and the largest space telescope to ever be built. (NASA/Chris Gunn)
11 Vung Tau sea in southern Vietnam (Photo by Ph?m Ng?c Minh/Vietnam/VOA reader)
March 13, 2013
1 A fire still burns after a tugboat and barge hit a gas pipeline on March 12, 2013, in Perot Bay in Lafourche Parish, Louisiana, USA, about 30 miles south of New Orleans.
2 Visitors sit at tables at the Korea War Memorial Museum in Seoul, South Korea.
3 Sui Wenjing (top) and Han Cong of China perform in the pairs short program at the ISU World Figure Skating Championships in London.
4 Palestinian President Mahmoud Abbas reviews an honor guard during a welcoming ceremony at Vnukovo airport on his arrival in Moscow, Russia.
5 A serviceman of the Belarussian Interior Ministry's special forces unit breaks a stack of burning tiles with his head during a show at their base in Minsk.
6 Comet PanSTARRS (L) is seen with a one-day old crescent moon as both set over the Very Large Array radio telescope antenna dishes March 12, 2013 near Magdalena, New Mexico, USA.
7 Russian President Vladimir Putin (2nd R), Mayor of Moscow Sergei Sobyanin (2nd L, back) and actor Steven Seagal (R, back) visit a new sports arena on the territory of the Sambo-70 training sports complex in Moscow.
8 With their scheduled stay onboard the International Space Station headed toward its final days, three members of the Expedition 34 crew pose for some photographs in their Sokol suits in Destiny, the U.S. Laboratory . From left are NASA astronaut Kevin Ford, commander, with Roscosmos Flight Engineers Oleg Novitskiy and Evgeny Tarelkin.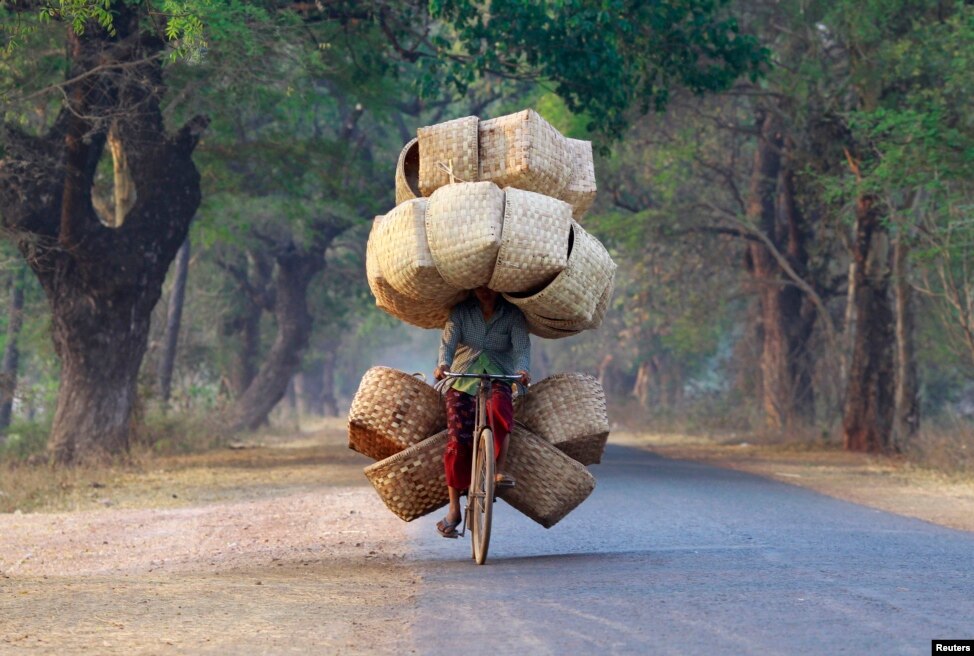 9 A woman cycles as she carries baskets to sell in a market near Lapdaung mountain in Sarlingyi township, Burma.
10 A racegoer smiles during Ladies Day, the second day of racing at the Cheltenham Festival horse racing meet in Gloucestershire, western England.
11 Two meerkats play in the snow in their enclosure at the zoo in Kronberg, western Germany.
March 14, 2013
1 A Sri Lankan Catholic touches the glass near an idol during a mass at a church in Colombo.
2 Newly elected Pope Francis, Cardinal Jorge Mario Bergoglio of Argentina, waves as he leaves the Santa Maria Maggiore Basilica in Rome, Italy.
3 An Indian Muslim woman holds her child as she waits on a bench at a food stall in New Delhi.
4 Japan's Prince Hisahito (C), accompanied by his father Prince Akishino (L) and mother Princess Kiko, arrives at Ochanomizu University's affiliated kindergarten for his graduation ceremony, Tokyo.
5 China's newly-elected President Xi Jinping shakes hands with former President Hu Jintao during the fourth plenary meeting of the National People's Congress (NPC) at the Great Hall of the People in Beijing.
6 The Breitling Jet Team flies over the Petronas Towers less than 3 metres apart above Kuala Lumpur, Malaysia. The ambassadors for the Swiss luxury watch company Breitling are due to visit Korea and Japan before returning to their home base in Europe.
7 Members of the Catalan Regional Police (Mossos d'Esquadra) are sprayed with foam during a firefighters' demonstration against the government's spending cuts in social services, Barcelona. Spain.
8 A man adjusts a model of a dragonfly installation over a canal in Lahore, Pakistan.
9 A New Beetle Cabrio, (L) and a Golf VII photographed in the elevators of the storage of German Volkswagen car producer in Wolfsburg, northern Germany.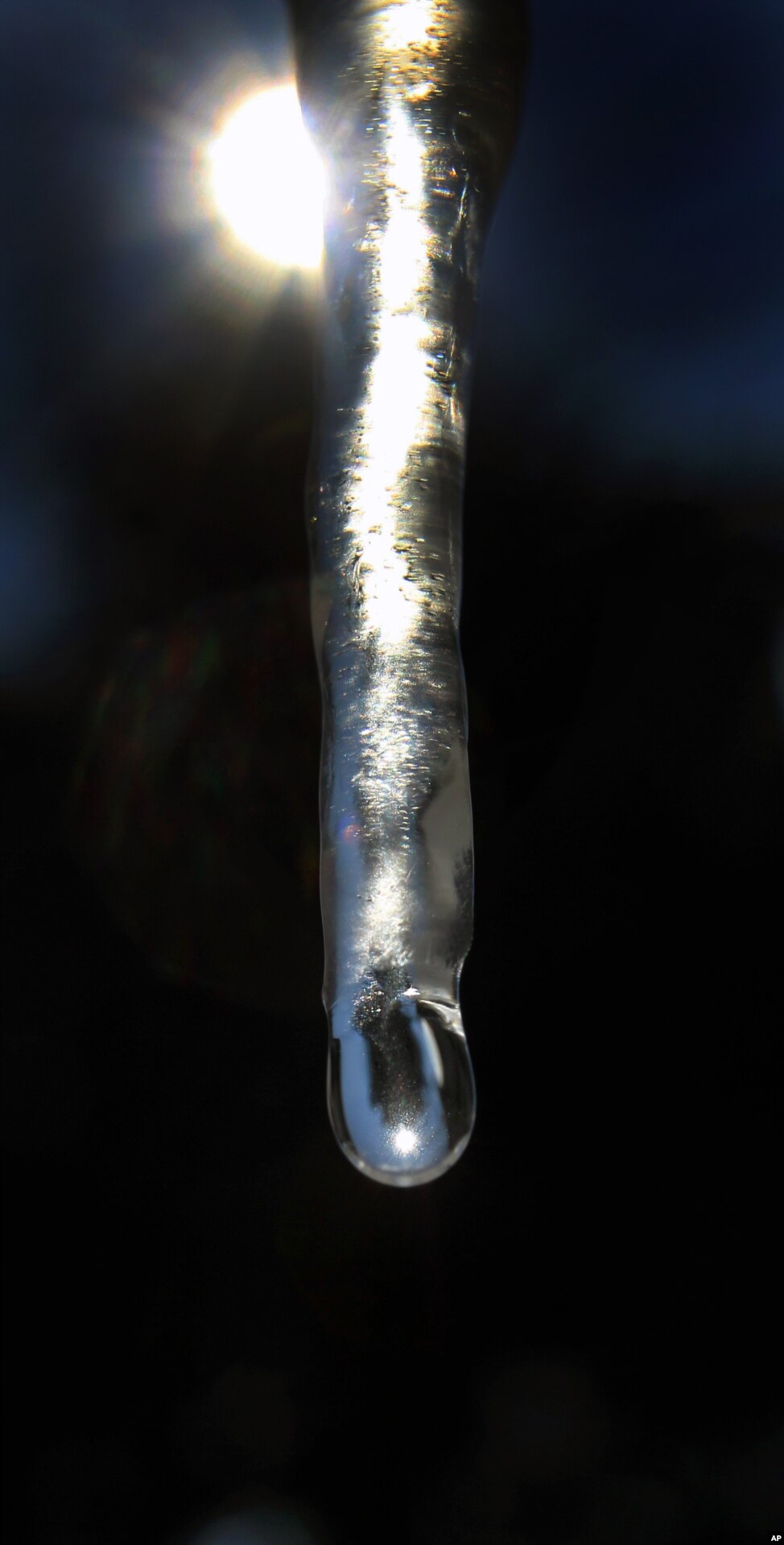 10 A melting icicle, photographed in Memmingen, Germany.
11 Crates of Coca-Cola are seen stacked outside a counter of a coffee shop in Singapore.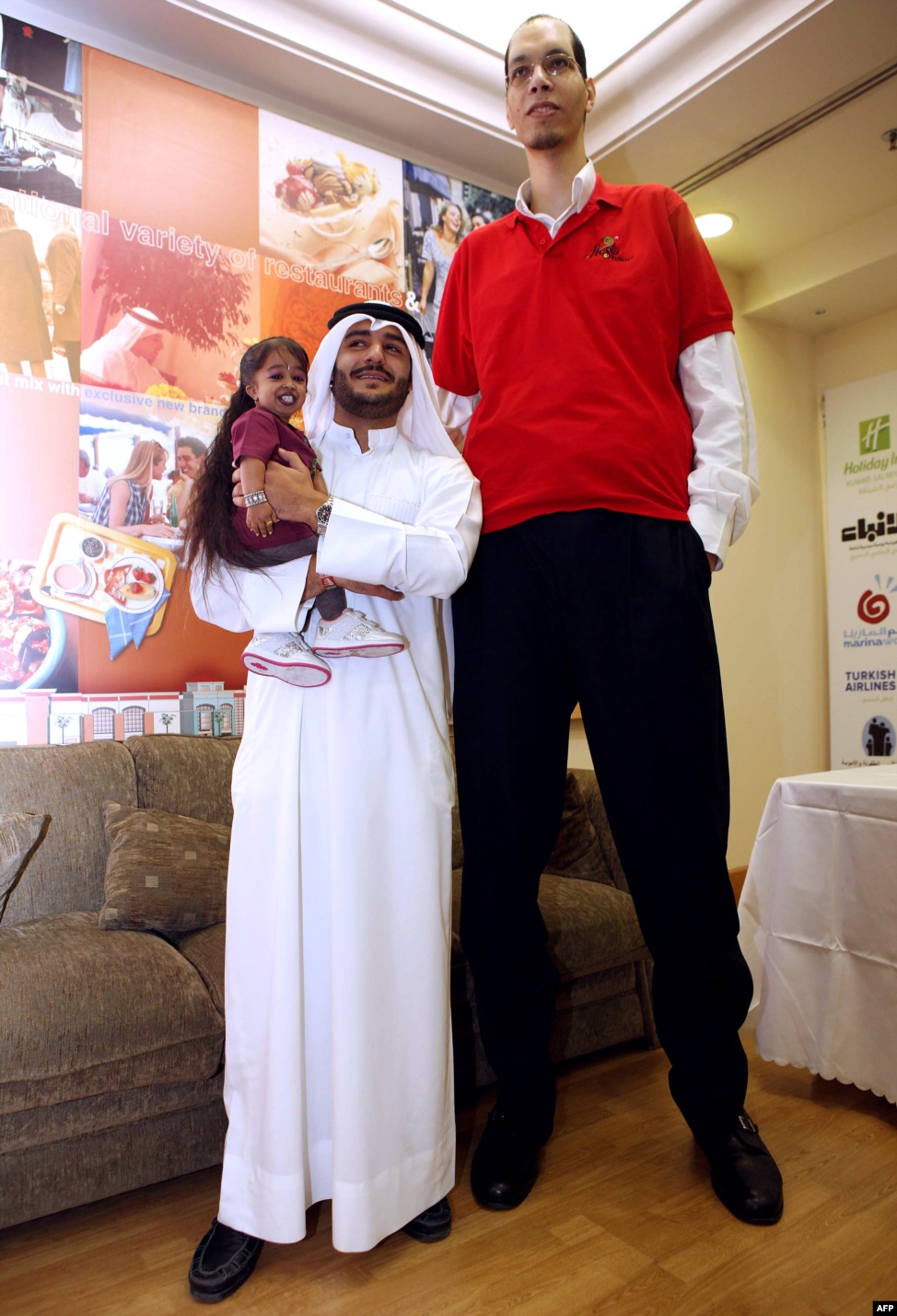 12 A Kuwaiti man carries Indian Jyoti Amge, 19, the world's shortest woman, next to Morocco's Brahim Takioullah, who has the world's largest feet, according to the Guinness Book of Records, Kuwait City.
March 15, 2013
1 Israeli policemen stand guard at Damascus Gate in Jerusalem's Old City. Israeli police declared an age limit on Friday for Palestinians wanting to enter the Old City, only allowing males above the age of 50 and all females to enter.
2 Guards run next to the hearse holding the body of Venezuela's late President Hugo Chavez during his funeral parade in Caracas. Hundreds of thousands of Venezuelans were on the streets for parade amid opposition protests that the government was exploiting president's death for election purposes.
3 South Korean army soldiers patrol along a barbed-wire fence at sunset near the border village of Panmunjom, which has separated the two Koreas since the Korean War, in Paju, north of Seoul. Busloads of tourists still show up to gawk at the world's most heavily fortified border.
4 Tourists view newly-printed pictures of the newly-elected Pope Francis, Cardinal Jorge Mario Bergoglio of Argentina, at a souvenir shop near the Vatican in Rome.
5 A man looks at his wallet in the Andalusian capital of Seville. Spain is deep in its second recession since 2009, and the economy is expected to continue to shrink through 2013.
6 Police block the traffic at M1-M7 highway outside of Budapest, as heavy snow hits Hungary.
7 Anti-government protesters confront riot police during clashes in the village of Sanabis, west of Manama, Bahrain.
8 Civilian passengers of the Airbus A330 Zero-G, who are not astronauts nor scientists, enjoy the weightlessness during the first zero-gravity flight for paying passengers in Europe. All boarding cards, costing 6,000 euros, were sold for the years 2013 and 2014.
9 A trainer prepares an Afghan Hound before competing at the Shanghai International Dog Show. Dog shows got their start about 15 years ago in China and are gaining popularity among a fast-growing sector of the upper class.
10 A delegate wearing an ethnic minority costume arrives at the Great Hall of the People where a plenary session of the National People's Congress is being held in Beijing, China.
11 Indian army soldiers spit fire as they perform the mallakhamb, a traditional Indian gymnastic sport, during a display of skills at the Officers Training Academy in Chennai.
12 Visitors take pictures at the flower show in Hong Kong. Organizers expect around 500,000 visitors for the annual event that includes pristine show gardens from competing local districts, lavish international flower displays, and more than a dash of kitsch.
13 Visitors walk around inside the installation 'Big Air Package' during the unveiling at the Gasometer in Oberhausen, Germany. Bulgarian aritst Christo's latest monumental sculpture is in the interior of the industrial monument.
14 Early morning joggers (R) run next to the Reflecting Pool in Washington D.C. The Washington Monument (L), which is undergoing repair and scaffolding being installed, and the U.S. Capitol (C), are seen in the water of the Reflecting Pool.
March 16, 2013
1 A girl places a flower on a railway track at the old train station of Thessaloniki during the 70th anniversary of the first deportation of Jews from Thessaloniki to Auschwitz, Thessaloniki, Greece.
2 A sculpture of a man riding a tshukudu, wooden scooters used to transport goods in the eastern Democratic Republic of Congo city of Goma.
3 A locust rests on a corn stalk in Beirut. Lebanon woke up to news that swarms of locusts, which can consume about 100 thousand tons of green vegetation a day have been spotted.
4 Pope Francis prays in front of a statue of the Virgin Mary at the Vatican.
5 Aero Albatros jets of the Breitling Jet Team perform during an aerobatics display at the Subang Skypark near Kuala Lumpur, Malaysia.
6 A Balinese Hindu devotee bathes in the Sebatu waterfall during a "Melukat" purification ritual in Gianyar District in Bali, Indonesia.
7 Participants ride horses across sand dunes during the Sheikh Sultan Bin Zayed al-Nahyan International Equestrian festival in the Boudthib Endurance Village near the Emirati capital Abu Dhabi.
8 An elderly Anganwadi, or government sponsored child and mother care, worker participates in a protest in New Delhi, India.
9 A Nitro Circus member performs above the crowd ahead of the third practice session of the Formula One Australian Grand Prix in Melbourne.
10 Men play on slot machines during the opening of Solaire Casino-Resort in Pasay city, Metro Manila, Philippines.
11 Picture taken with a fisheye lens shows trees reaching into a blue sky on a wintry day in Muenster, western Germany.
12 Workers climb scaffolding as they put the final touches to a large religious statue at the Buddhist temple near Amphawa floating market at Samut Songkhram province, Thailand.
13 A combination picture shows the new bridge named Pont Jacques Chaban Delmas moving upwards (top) and downwards (below) in Bordeaux, Southwestern France.
March 18, 2013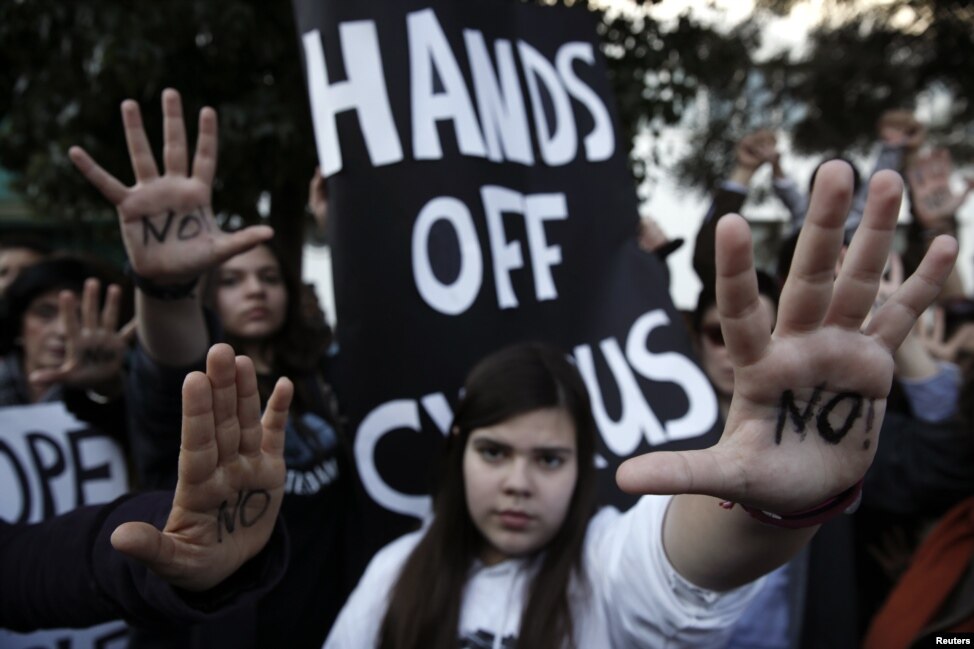 1 Protesters raise their open palms showing the word "No" during an anti-bailout rally outside the parliament in Nicosia, Cyprus. Cypriot ministers were trying to revise a plan to seize money from bank deposits before a parliamentary vote on Tuesday that will secure the island's financial rescue.
2 A woman takes cover from the rain in St. Peter's Square at the Vatican, the day ahead of the inaugural Mass of Pope Francis. In addition to more than 132 government delegations, the Vatican says 33 Christian delegations will be present, as well as representatives from Jewish, Muslim, Buddhist, Sikh and Jain communities.
3 Egyptians extinguish a burning police vehicle, which was set afire by angry protesters in Tahrir Square in Cairo. The country is currently mired in another wave of protests, clashes and unrest that have plagued the country since a pro-democracy uprising two years ago.
4 Employees of PSA Peugeot Citroen face French riot policemen during a demonstration in front of the Peugeot headquarters in Paris to protest the closure of the PSA Aulnay automobile plant, the government's economic policy, and industrial layoffs.
5 The Aurora Borealis bright up the sky at twilight on March 17, 2013 between the towns of Are and Ostersund, Sweden.
6 Georgian soldiers look out from windows during a launch ceremony ahead of the joint Georgian-U.S. military training exercise "Agile Spirit 2013" at the Vaziani military base outside Tbilisi.
7 A Kashmiri man walks past blooming almond orchards as spring arrives at Badamwari in Srinagar. Spring has arrived in Indian-administered Kashmir, which marks a thawing of the lean season for tourism in the Himalayan region.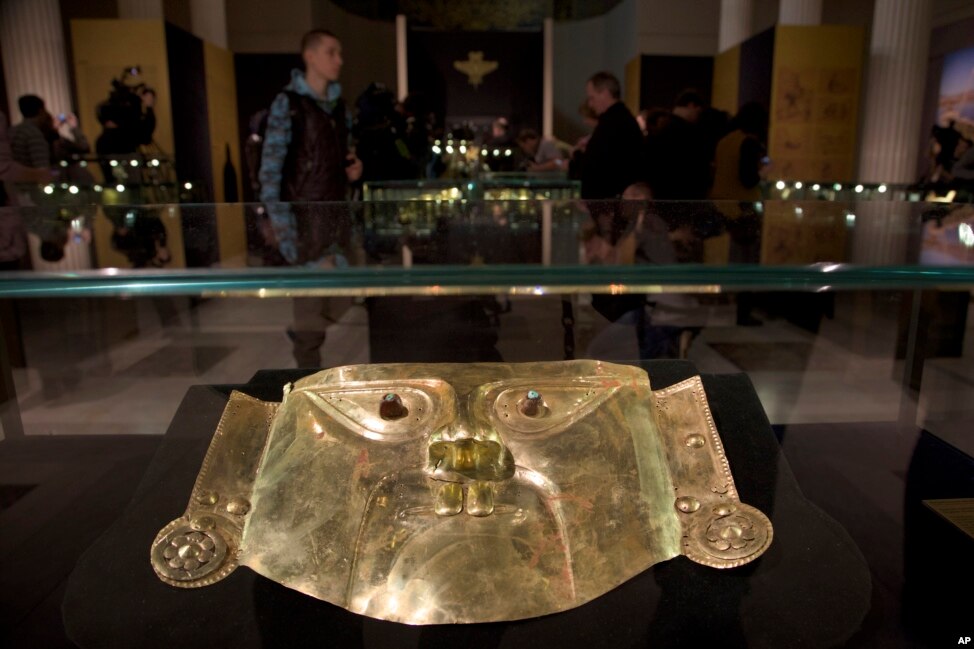 8 A death mask is seen on display during the opening of the "1,000 Years of Inca Gold" exhibition at the Pushkin Fine Arts Museum in Moscow, Russia. The exhibition, part of the collection of Lima's Peru Gold Museum, displays the craftsmanship of several centuries of Peruvian history..
9 An employee of an Easter egg dyeing company controls colored, cooked eggs in Thannhausen near Augsburg, southern Germany. Up to 200,000 eggs are being dyed in the company daily pre-Easter.
10 A young woman attempts to launch her kite on 'CleanMonday' at Filopappos hill with the ancient Parthenon temple seen in the background, in Athens. Many Greeks commemorate 'CleanMonday', the first day of Lent, by flying kites and eating foods associated with fasting.
11 Flamingos stand in their snow-covered compound in the Hagenbeck Zoo in Hamburg, northern Germany. Meteorologists predict the unusual cold and snowy weather to continue in northeastern Germany.
12 A model displays a creation by Christian Dada during Fashion Week Tokyo Autumn/Winter 2013-14 collection in Tokyo. Christian Dada is a label by Japanese designer Masanori Morikawa who is popular with celebrities such as Lady Gaga.
March 19, 2013
1 A local Chinese elderly woman caries a baby piggyback in a traditional basket on the outskirts of Chongqing, China.
2 Cherie Blair, center, wife of former British Prime Minister Tony Blair gestures during her visit to the Rural Distribution Network India (RUDI) center at Kuda village in Surendranagar district, Gujarat, India.
3 Visitors walk past a sculpture by Chinese artist Yue Minjun during the press preview of Art Dubai at Madinat Jumeirah, United Arab Emirates.
4 Campaigners dressed as Britain's Chancellor of the Exchequer George Osborne congregate in Parliament Square in central London.
5 Uzbek dancers in embroidered silk costumes perform during the festivities marking the Navruz holiday in Tashkent, Uzbekistan.
6 A human skull made of cigarette butts by Albanian artists Lumturi Blloshmi is displayed as a warning at the entrance of a health clinic in Tirana, Albania.
7 A Thai visitor poses with a newly launched wax figure of Steve Jobs, as her friend takes a picture at the Madame Tussauds wax museum in Bangkok, Thailand.
8 A jogger braves the cold temperatures and the snow in shorts in Berlin, Germany.
9 Afghan boys study at a makeshift school in the village of Budyali, Nengarhar Province, Afghanistan.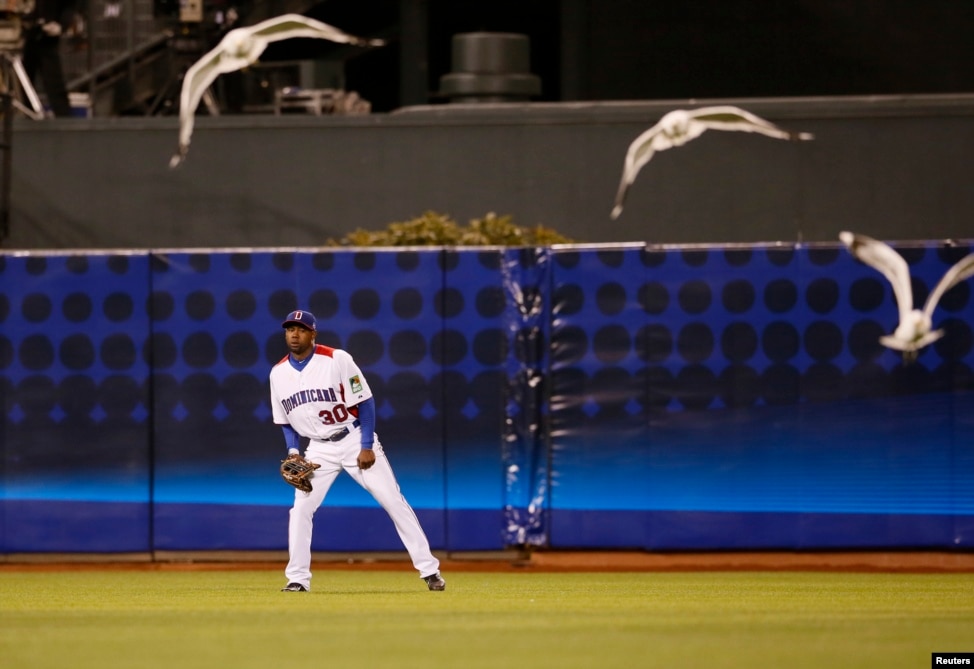 10 Dominican Republic center fielder Alejandro De Aza watches seagulls fly around the stadium during the semi-final round of the World Baseball Classic against the Netherlands in San Francisco, California.
March 20, 2013
1 An outfit worn by musician David Bowie is displayed at the "David Bowie is" exhibition at the Victoria and Albert (V&A) museum in central London.
2 A woman takes pictures at a park covered with snow in Beijing, China.
3 An Indian ragpicker boy drinks water from a tap at an automobile yard on the outskirts of Jammu, India.
4 A BTS train (sky train) drives along a railway track in Bangkok, Thailand.
5 Satirical sculptures are burned during the traditional Fallas Festival, in Valencia, Spain.
6 A honeybee approaches a snowdrop flower in Klosterneuburg on the first day of spring, Austria.
7 People rest along a waterfront at Hong Kong's Victoria Harbour facing the Hong Kong island side, China
8 Filipino Muslim women join a rally outside the Office of the Presidential Adviser on the Peace Process in suburban Pasig, east of Manila, Philippines.
9 A Syrian man is pictured through a hole in a metal sheet as he walks in Maarat al-Numan, in the northwestern province of Idlib, Syria.
10 A native indian paints his face at the Brazilian Indian Museum in Rio de Janeiro, Brazil.
March 21, 2013
1 A Kashmiri boy cries after a traditional health worker uses leeches to suck blood as part of treatment, on the outskirts of Srinagar, India.
2 The new Archbishop of Canterbury Justin Welby (C) arrives at the altar during his enthronement service at Canterbury Cathedral in Canterbury, England.
3 'Laptop' the resident cat rests during the enthronement ceremony for the new Archbishop of Canterbury, Justin Welby, at Canterbury Cathedral at Canterbury, southern England
4 Indian Hindu devotees throw coloured powder at the Radha Rani temple during the Lathmar Holi festival in Barsana.
5 A man stands in front of a mosque as it burns in Meikhtila, Burma. The town declared a curfew for a second night Thursday after clashes killed 10 people, including a Buddhist monk, authorities said.
6 A Grey Heron takes off to fly in Warsaw, Poland.
7 Hundreds of Afghans wait to see the holy flag at the Kart-e Sakhi mosque in Kabul. Afghanistan celebrates Nowruz, marking the first day of spring and the beginning of the year on the Iranian calendar.
8 James Madison head coach Matt Brady directs his team against LIU Brooklyn during the second half of their first round NCAA tournament basketball game in Dayton, Ohio.
9 Ferrari Formula One pit crew practice pit stop with Felipe Massa's car at the Sepang International Circuit, ahead of the Malaysian F1 Grand Prix.
10 One of the four white Bengal tigers born in captivity on Jan. 14, 2013 at Argentina's Buenos Aires zoo growls during their presentation.
11 Contortionist Nina Burri performs during a rehearsal of the new show of Swiss National-Circus Knie in the town of Rapperswil, east of Zurich.
March 22, 2013
1 Policemen are deployed to provide security amid riots in Meikhtila, Burma. Unrest between Buddhists and Muslims has reduced neighborhoods to ashes and stoked fears that last year's sectarian bloodshed is spreading into the country's heartland in a test of Asia's newest democracy.
2 An Indian farmer fetches water from a pond to irrigate his cucumber plants on the eve of World Water Day in Allahabad, March 21, 2013. The U.N. estimates that more than one in six people worldwide do not have access to 20-50 liters of safe freshwater a day to ensure their basic needs.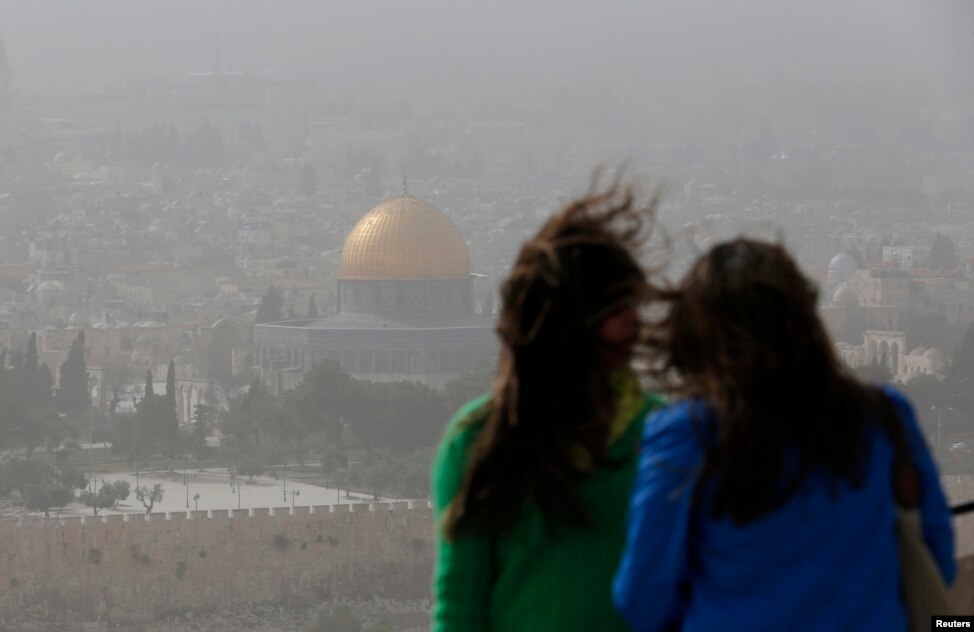 3 The Dome of the Rock is seen in the background as women look at the view from the Mount of Olives in Jerusalem during a dust storm. Strong winds blowing clouds of dust grounded President Obama's helicopter, forcing him to make the short journey from Jerusalem to Bethlehem by motorcade.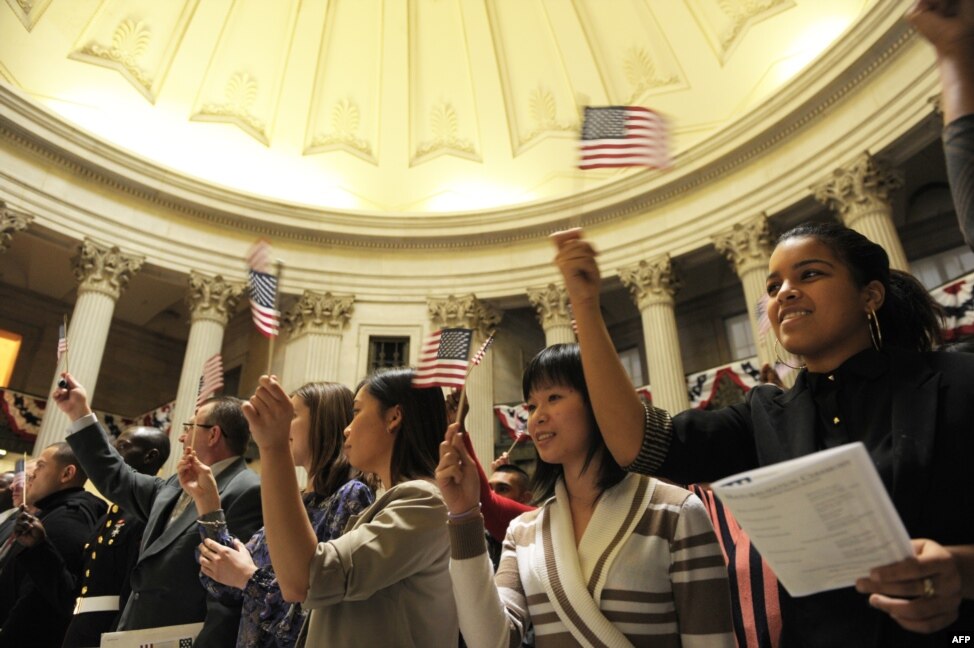 4 Candidates from 40 countries wave flags after they were naturalized as U.S. citizens in a ceremony at Federal Hall in New York.
5 Pope Francis smiles as he greets foreign diplomats during an audience with the diplomatic corps at the Vatican. He urged the West to intensify dialogue with Islam and appealed to the world to do more to combat poverty and protect the environment.
6 Indian Hindu devotees smeared with colors sing at the Nandagram temple, famous for Lord Krishna and his brother Balram, during Lathmar holy festival, in Nandgaon.
7 A woman walks along a street under a heavy snowfall in Kiev, Ukraine.
8 Fishermen collect young fishes in their net during the traditional Poutine fishing in Cagnes-Sur-Mer, southeastern France. Poutine are minute baby sardines which are exclusively fished between Antibes and Menton on the French Riviera for only 45 days each year at the end of the winter.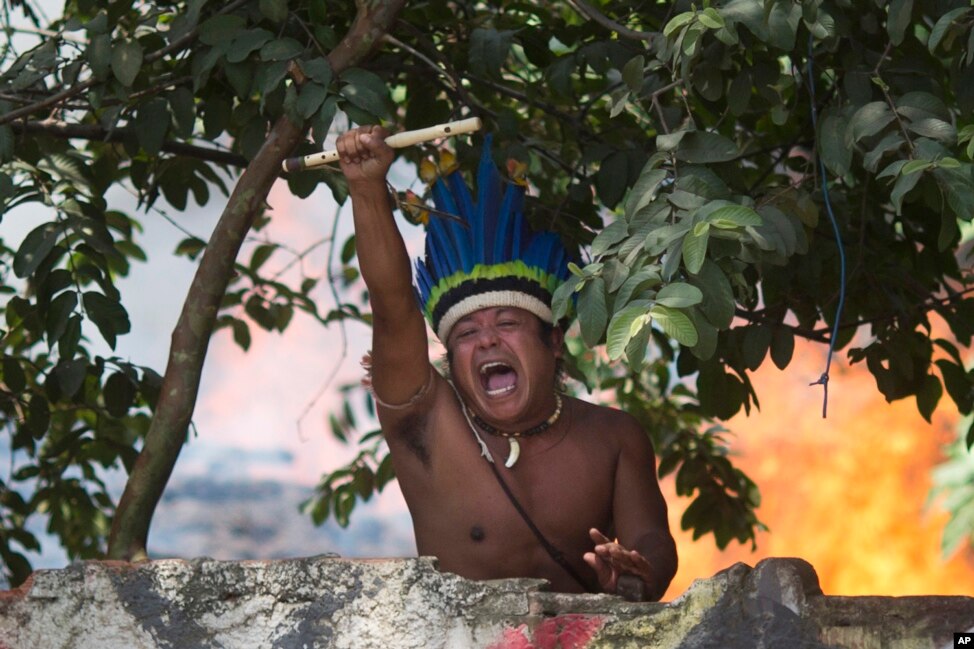 9 An indigenous man shouts to police, clutching a flute from inside the old Indian Museum where a fire burns behind in Rio de Janeiro. Police in riot gear invaded an old Indian museum complex and pulled out a few dozen indigenous people who for months resisted eviction from the building, which will be razed as part of World Cup preparations.
10 A peacock displays its feathers at the zoo in Lille, France.
11 A girl wearing a hood as a penitent is seen before taking part in a procession at a school in the eve of Holy Week in the Andalusian capital of Seville, southern Spain.
12 Cars go through a tunnel of blooming cherry blossoms in Tokyo.
March 23, 2013
1 People hold candles during an event attempting to establish a Guinness world record for 'blowing out the most number of candles simultaneously' during Earth Hour in Shanghai.
2 Ged Robinson (L) of Australia's Melbourne Rebels tackles Louis Ludik of South Africa's Sharks during their Super 15 rugby match in Durban, South Africa.
3 Young giraffe named 'Jamiro' stands next to its mother 'Arusha' in their enclosure at the animal park in Jaderberg, northern Germany.
4 A man gives food to a cat in front of a shop in Aleppo, Syria.
5 Indian police look on at India Gate monument, with lights switched off during an Earth Hour event in New Delhi.
6 U.S. President Barack Obama (C) stops to look at the Treasury while he receives a tour of the ancient historic and archaeological site of Petra, Jordan.
7 Belarusian women in traditional clothing take part in a Slavic 'Spring welcome' festival in the village of Viazynka, about 40 kilometers of Minsk.
March 25, 2013
1 Two youths walk at Panayia Faneromeni church at the old city of capital Nicosia, Cyprus. Cyprus clinched a last-minute solution to avert imminent financial meltdown early Monday to secure a 10 billion euro bailout.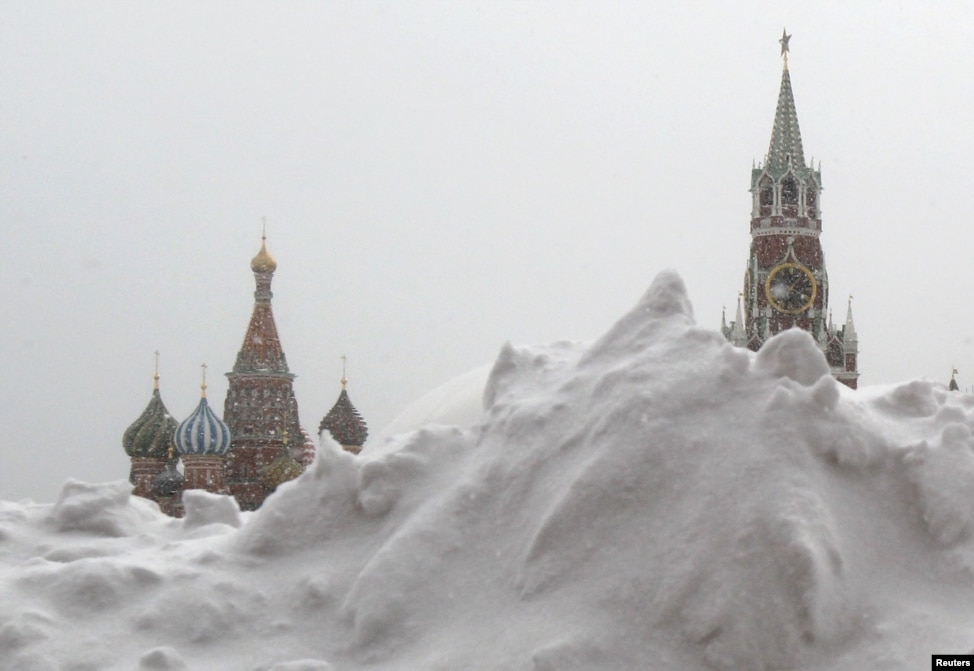 2 A pile of snow is seen in Red Square during a snowfall in central Moscow. St. Basil's Cathedral (L) and the Spasskaya Tower of the Kremlin are seen in the background.
3 A military officer inspects Greek Presidential guards prior to a parade to commemorate Independence Day in Athens. For the second straight year, heavy police presence, for fear of disruptive incidents, has effectively closed off central Athens.
4 Members of the Mortgage Victims' Platform shout slogans during a protest outside a Banesto Bank branch in Valencia, Spain. Banners and placards read, "Stop evictions" and "No more dead people", which refers to suicides among some victims of home evictions due to non-payment.
5 A dog stands on a flight of stairs at the Alfama neighborhood in Lisbon, Portugal.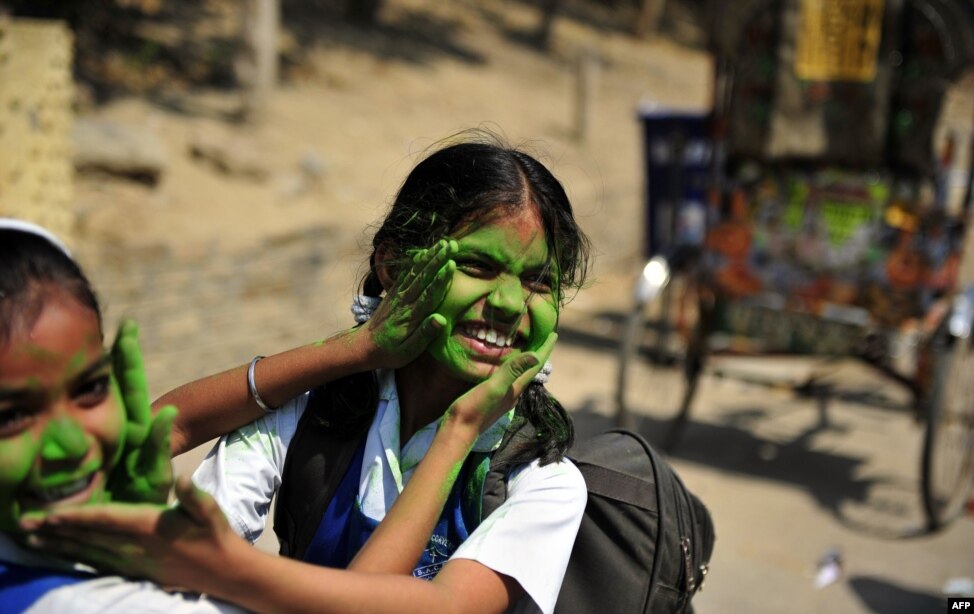 6 Schoolgirls play with colored powder outside a school in Allahabad, India. Holi, the popular Hindu spring festival of colors will be celebrated March 27 this year.
7 Tourists take a rest at the holocaust memorial in Berlin on a sunny, but cold, Monday.
8 Penitents walk to their church before taking part in the procession of "Santa Genoveva" brotherhood during Holy Week in the Andalusian capital of Seville, southern Spain. Hundreds of Easter processions take place around the clock during Holy Week, drawing thousands of visitors.
9 Supporters of the ruling VMRO DPMNE party celebrate their victory in local elections in Skopje, Macedonia.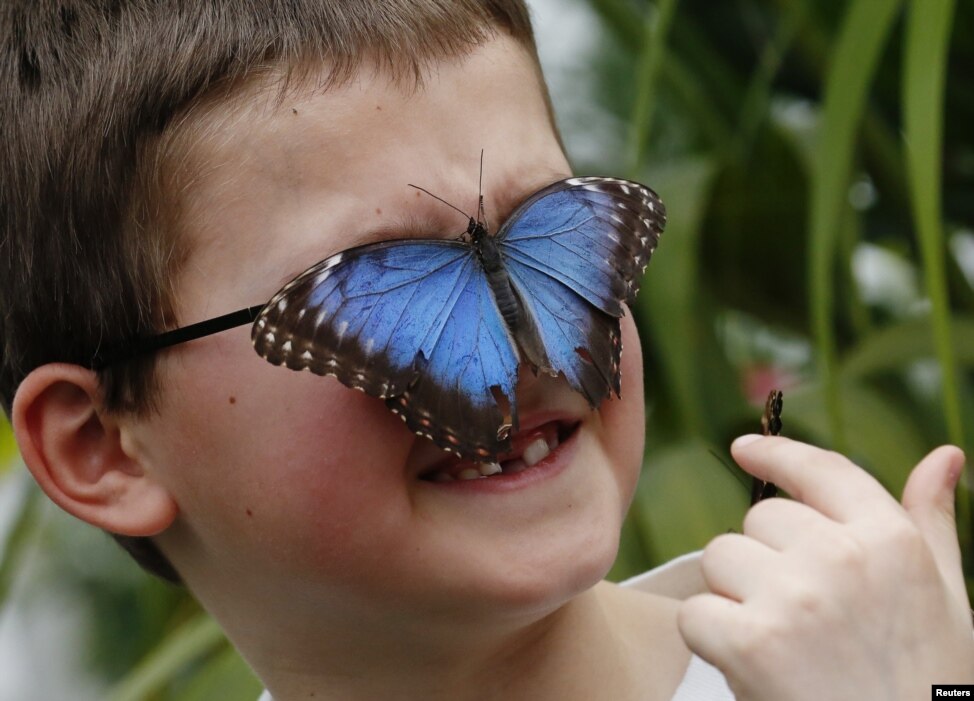 10 Harry Brown, 7, reacts to a butterfly on his face as poses with a Blue Morpho butterfly at the Sensational Butterflies Exhibition at the Natural History Museum in London.
11 Buddhist monks and devotees gather during the inauguration of the 130-foot Lord Buddha statue by Tibetan spiritual leader, the Dalai Lama at Buddha Park in Rabong in South Sikkim, India.
12 A model presents a creation for the Hempel Award 21st China International Young Fashion Designers Contest, at China Fashion Week in Beijing.
13 Ring-tailed lemurs sit in their enclosure in the zoo in Straubing, southern Germany.
14 A Kashmiri boatman rows his boat at the Dal Lake during sunset in Srinagar, India. Kashmir is a green, saucer-shaped valley full of fruit orchards and surrounded by snowy mountain ranges. About 100 lakes dot its highlands and plains.
March 26, 2013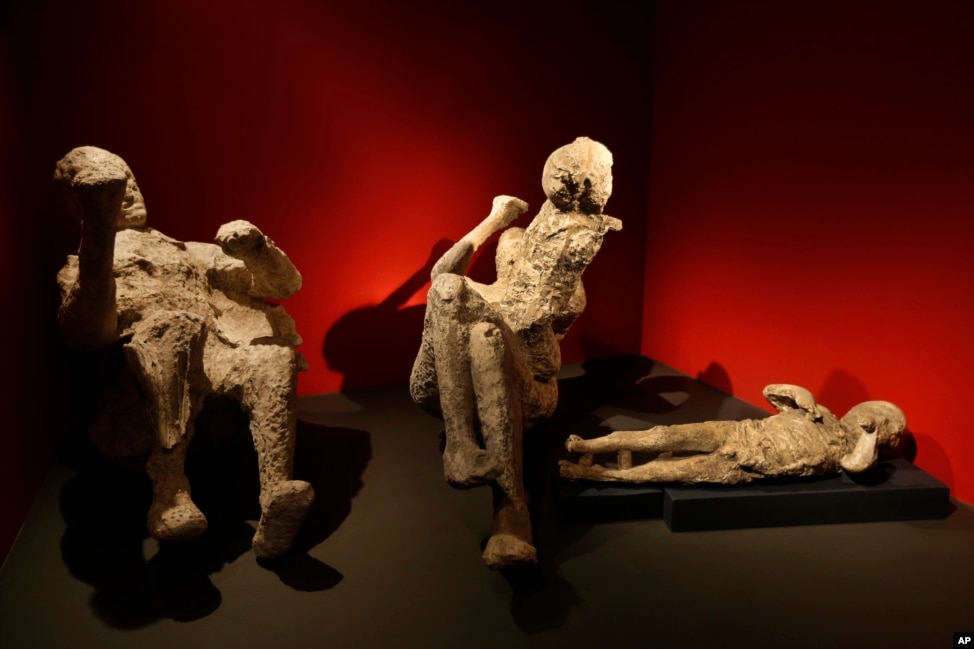 1 Casts of a family of two adults and two children who died together in an alcove in Pompeii are seen during a photo call for the upcoming exhibition entitled 'Life and death Pompeii and Herculaneum' at the British Museum in central London.
2 A woman smokes beside a barrier that is decorated with artwork in central Madrid, Spain.
3 A Hindu devotee, body pierced with skewers, participates in a religious procession during Panguni Uthiram festival in Chennai, India.
4 An Easter Bunny made out of snow is pictured on the side of the road to advertise rooms for rent in Ahrenshoop, Germany.
5 Visitors climb up stairs on the newly opened treetop path in the Masoala Rainforest hall at the zoo in Zurich, Switzerland.
6 Indian people apply colored powder and dance during Holi celebrations in Hyderabad, India.
7 Oman's Amad Al Hosni (R) collides with Australia's Robert Cornthwaite as they struggle for the ball during their World Cup qualifying soccer match in Sydney, Australia.
8 The Soyuz rocket is rolled out to the launch pad by train at the Baikonur Cosmodrome in Kazakhstan, (NASA/Carla Cioffi).
9 A baby giraffe stands in front of its mother Gambela at an enclosure of the zoo in Dortmund, Germany.
March 27, 2013
1 A giant 10 meter (32.8 feet) wide stainless steel disc titled "Sky Mirror", a work of art by British artist Anish Kapoor, is displayed at the Museum of Contemporary Art in Sydney, Australia. The mirror has convex and concave surfaces creating constantly changing images as the sun and clouds in the sky move as well as people passing by.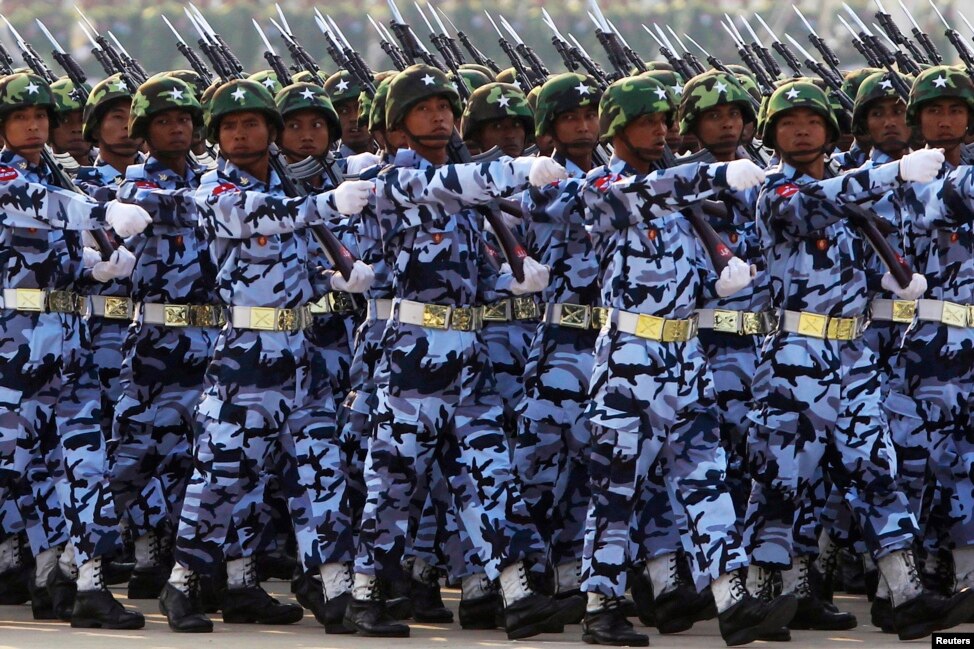 2 A guard of honor contingent marches during a parade to mark the 68th anniversary of Armed Forces Day in Naypyitaw, Burma.
3 A worker puts the finishing touches to a five-meter (16-feet) tall bust of the late Hong Kong singer and actor Leslie Cheung as origami cranes, folded by fans from around the world in their attempt to set a Guinness world record for the largest number of origami cranes exhibited, are counted at a shopping mall in Hong Kong.
4 A vendor waits for customers in a market near Barkhor street in Ihasa, Tibet, Mar. 26, 2013. (Photo by Tongqi Huang/Tibet/VOA reader)
5 A boy looks inside of a burned bus after it was set fire by alleged activists of Bangladesh Nationalist Party (BNP) during a strike in Dhaka. Bangladesh opposition supporters called a nation-wide, 36-hour strike to demand the release of leaders and activists detained in a recent police raid on its headquarters, local media reported.
6 Supporters of gay marriage hold a banner as they rally in front of the Supreme Court in Washington, D.C. For the second day, the Supreme Court convened to tackle the issue of gay marriage, this time to hear arguments over a U.S. law that denies federal benefits to legally married same-sex couples.
7 People look at a rabbit jumping over an obstacle at the traditional Easter market at the Old Town Square in Prague, Czech Republic.
8 A woman pushes her bicycle through a checkpoint manned by Thai security forces in the troubled southern province of Yala, Thailand.
9 Artists perform in a street of Rome, Italy.
10 A homeless Khmer woman sits in front of the gate of Khmer temple in Bac Lieu VN, southern part of Vietnam. (Photo by Hillary Tran/VOA reader)
11 Christie's specialist James Hyslop holds a pre-17th century, sub-fossilized Elephant Bird egg in London. The rare egg is expected to sell for 20,000-30,000 GB pounds (U.S. $30,000-45,000) when it is auctioned in London on April 24. The extinct Elephant Bird, a native of Madagascar, was a large bird measuring around 11 feet in height.
12 A model presents a creation of the MGPIN Collection during China fashion week in Beijing.
13 An Indian reveler sports a special hairstyle created for Holi celebrations in Mumbai.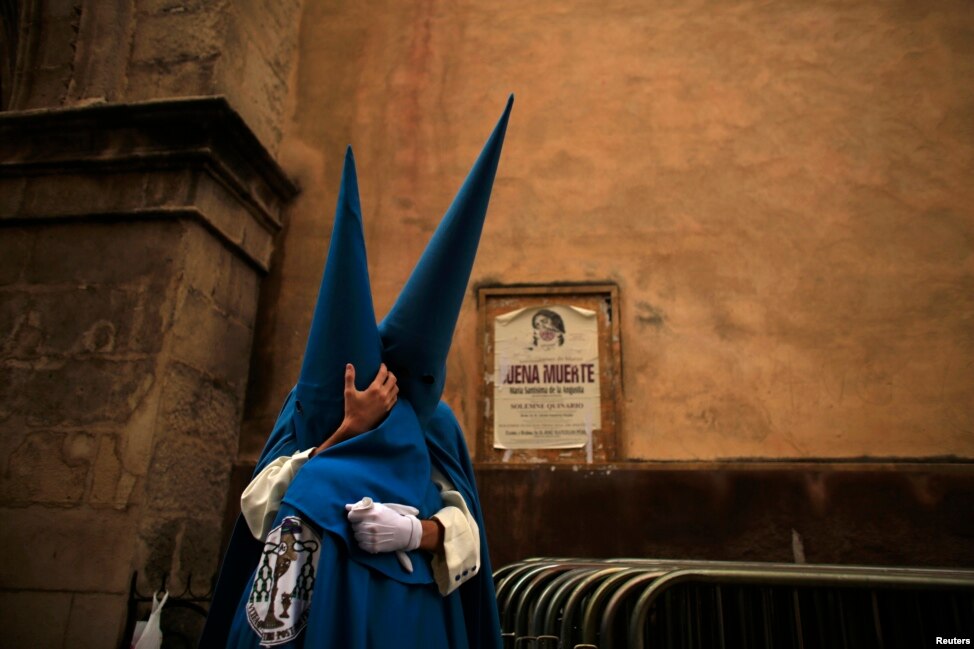 14 Penitents of "San Esteban" brotherhood embrace next to a poster for a church event which reads "Good death" during Holy Week in the Andalusian capital of Seville, southern Spain, Mar. 26, 2013. Hundreds of Easter processions take place around the clock in Spain during Holy Week, drawing thousands of visitors.
March 28, 2013
1 An employee works at a textile mill in Jiujiang, Jiangxi province, China.
2 U.S. Air Force B-2 stealth bomber flies over near Osan U.S. Air Base in Pyeongtaek, south of Seoul, South Korea.
3 A woman collects water from a hole in the state of Blue Nile, northeastern Sudan. (Photo submitted by Anas Issa Ali to VOA Photo Contest)
4 Spanish actor and director Antonio Banderas (C) waves to the crowd as his wife, U.S. actress Melanie Griffith (2nd R), applauds him after being appointed Spanish legionnaire of honor with a "chapiri" (legionnaire hat) during a ceremony outside a church in Malaga, southern Spain.
5 A participant sits on a sign as people dance in the street as they take part in the student carnival in Caen, northwestern France.
6 A surfer rides a wave in Santa Cruz, California, USA. (Photo by Liem Ly/VOA reader)
7 The newly built viaduct from Wuhu to Yangmei in Taiwan swathed in morning fog. (Photo taken by Tsao Shin Lin on Mar. 17, 2013/Taiwan/VOA reader)
8 A man cleans a huge pan to prepare a non-alcoholic drink during celebrations of Hola Mohalla festival at Anandpur Sahib in the northern Indian state of Punjab. "Hola Mohalla", or the festival of Nihangs, is celebrated during the Hindu religious festival of Holi, marking the congregation of Sikh devotees from all over the country.
9 Residents swim in a pool in Sao Paulo, Brazil.
10 A gaucho rides a wild horse during the annual celebration of Criolla Week in Montevideo, Uruguay, Mar. 27, 2013.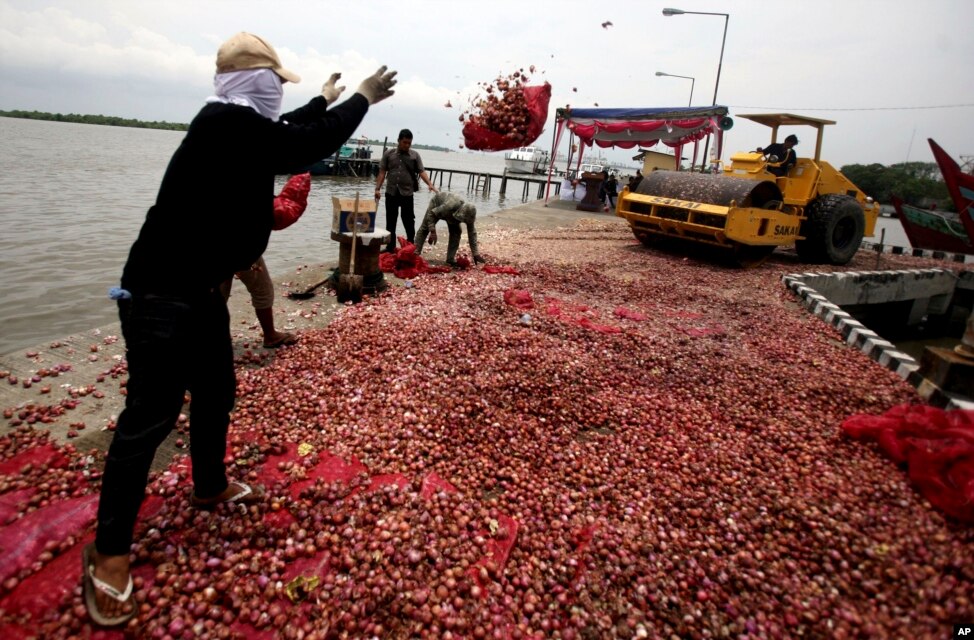 11 A worker throws a sack of shallots to be crushed by a steamroller at a customs base in Belawan, North Sumatra, Indonesia. Nine tons (19,842 lbs) of shallots and garlic illegally imported from Malaysia were destroyed in the event.
12 Pope Francis leads the Chrism mass in Saint Peter's Basilica at the Vatican.
13 A student runs away from riot police during a protest to demand Chilean President Sebastián Piñera's government to improve the public education quality, in Santiago.
14 Men are dragged on the ground to cover themselves in red colored water during "Huranga" at Dauji temple near the northern Indian city of Mathura. "Huranga" is a game played between men and women a day after Holi, the festival of colors, during which men drench women with liquid colors and women tear the clothes off men.
March 29, 2013
1 A foreign activist tries to escape from a jeep after he was detained by Israeli border policemen on suspicion of attacking an officer during minor clashes at a rally marking Land Day in the West Bank village of al-Tuwani, south of Hebron.
2 Activists of Islami Andolan Bangladesh take part in a grand rally in Dhaka to demand the introduction of a blasphemy law and the restoration of a caretaker government system to conduct the upcoming general elections, among other issues, local media reported.
3 The Soyuz-FG rocket booster with Soyuz TMA-08M space ship blasts off at the Russian leased Baikonur cosmodrome, Kazakhstan. The Russian rocket carries Russian Cosmonauts Alexander Misurkin and Pavel Vinogradov and U.S. astronaut Christopher Cassidy to to the International Space Station.
4 Hot air balloons from the 5th Putrajaya International Hot Air Balloon Fiesta 2013 float over the skies of Putrajaya, outside Malaysia's capital of Kuala Lumpur.
5 Seagulls flock to the bleachers at the end of an exhibition spring training baseball game between the Oakland Athletics and San Francisco Giants, Mar. 28, 2013, in San Francisco, USA.
6 Pedestrians walk during a heavy hailstorm in the northern hill town of Shimla, India.
7 Cheese bearers carry cheese during the official opening of the cheese market season in Alkmaar, the Netherlands.
8 Charlie, a golden retriever with the world loudest bark, according to Guinness World Records, barks at the Royal Easter Show in Sydney, Australia. Charlie owns the Guinness World Record for the loudest bark, registering at 113.1 decibels.
9 Residents attempt to push a car stalled in flood water following heavy rain in Somalia's capital Mogadishu.
10 Rice fields in Tân Tr? district, Long An province in the Mekong Delta region of southern Vietnam (Photo by Lê Van Tài/Vietnam/VOA reader)
11 Snow-covered beach chairs stand at the lido of Strandbad Wannsee in Berlin, Germany. Bathing season at the lido traditionally starts on Good Friday.
12 Two faithfuls representing Judas are dragged during a procession called "The Chained" on Good Thursday in Holy week celebrations in Masatepe town, Nicaragua, Mar. 28, 2013.
March 30, 2013
1 Members of the Britannia Coconut dancers perform on the roadside near Bacup, northern England. The group, which can trace its origins to the mid-1800s, dance along the town's roads every Easter Saturday following a tradition to mark out the boundaries of the town.
2 A strong dust storm prevents people from leaving their homes in Benghazi, Libya.
3 Locals walk on a bridge as they go to a tea plantation in Xinchang, Zhejiang province, China.
4 Worshipers dressed in white tunics hold candles as they participate in the "Procession of the Souls" in the city of Mariana in the Brazilian state of Minas Gerais.
5 A supporter of Kenya's Prime Minister Raila Odinga, the defeated presidential candidate of the Coalition for Reforms and Democracy, reacts after the Supreme Court ruling in the capital Nairobi.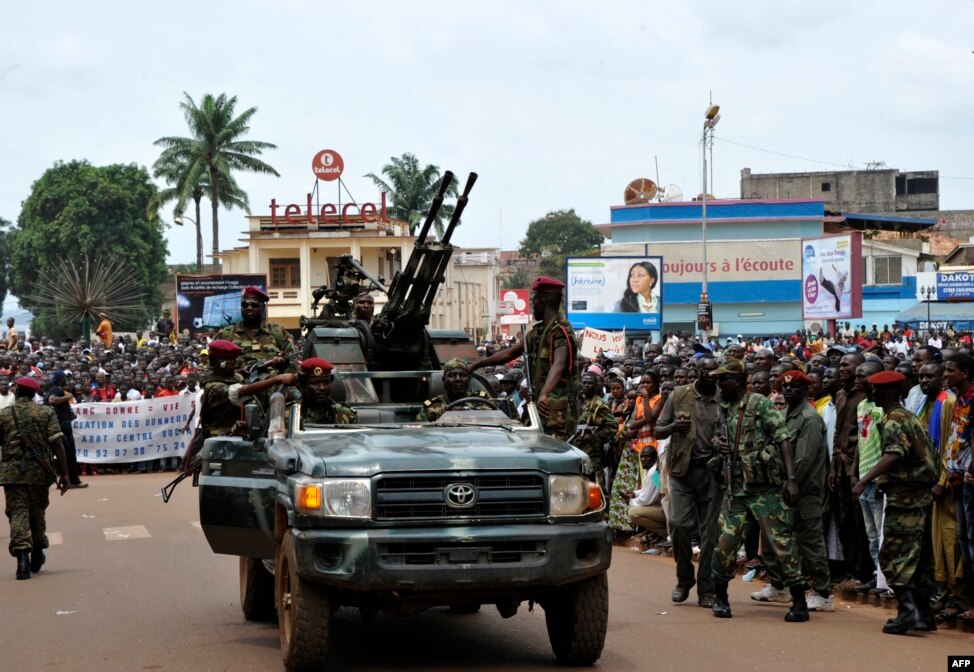 6 Rebel Seleka coalition soldiers arrive in Bangui. The Central African Republic's new strongman Michel Djotodia vowed not to contest 2016 polls and hand over power at the end of the three-year transition he declared after his coup a week ago.
7 A first aid worker stands on a car at the site of a pileup on the A9 motorway near Chexbres, Switzerland. About 50 cars were involved in the pileup but no one was seriously injured, according to local media.
8 A boat sails at dawn near a beach in Livingston, 350 km (217 miles) northeast of Guatemala City, Guatemala.
9 Saudi youths demonstrate a stunt known as "sidewall skiing" (driving on two wheels) in the northern city of Hail, in Saudi Arabia. Performing stunts such as sidewall skiing and drifts is a popular hobby amongst Saudi youths.
10 Sunderland's John O'Shea (R) challenges Manchester United's Antonio Valencia during their English Premier League soccer match in Sunderland, northern England.
11 A participant competes during the 8th annual comic tobogganing competition, dedicated to the upcoming All Fools' Day and the end of a winter sports season, at the Vetluzhanka ski stadium in the suburbs of Russia's Siberian city of Krasnoyarsk.
March 31, 2013
1 Young worshippers light candles during Easter Sunday mass at the Church of the Holy Sepulchre in Jerusalem's Old City.
2 Swiss guards stand at attention before the start of the Easter mass led by Pope Francis in St. Peter's Square at the Vatican. (Alessandro Bianchi.)
3 A child receives communion at Regina Mundi church in Soweto. near the residence of former South African president, Nelson Mandela, who is spending his fourth day in hospital for a recurring lung infection
4 Daily activities on the Back beach, Vungtau, Vietnam, Mar. 9, 2013. (Cao Hung Lynh)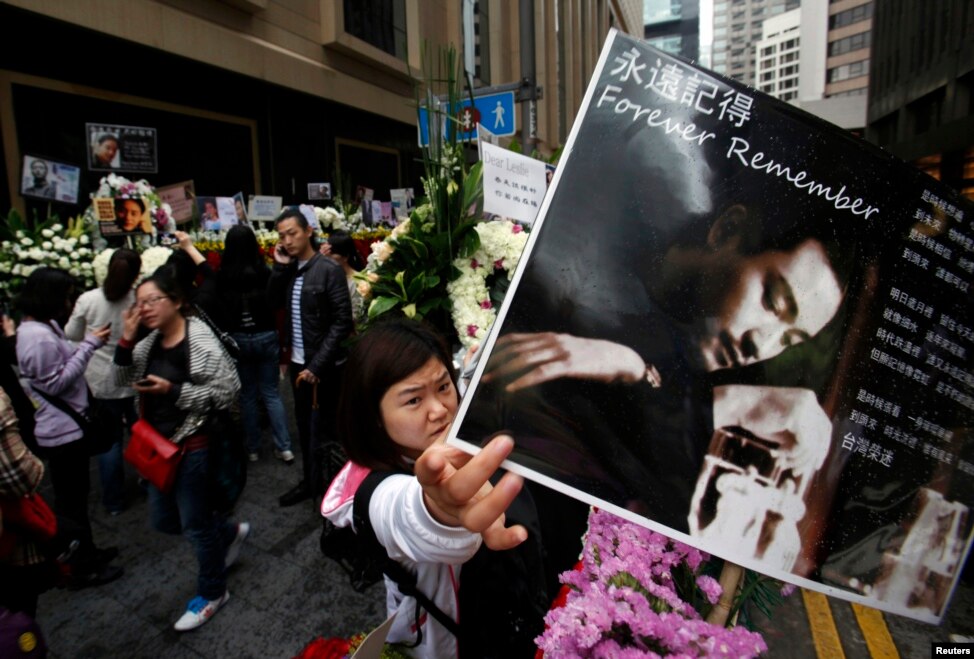 5 A fan adjusts a portrait of the late Hong Kong canto-pop singer and movie idol Leslie Cheung over a wreath outside the Mandarin Oriental Hotel in Hong Kong, on the eve of the 10th anniversary of his death.
6 Girls stand at a garbage disposal site filled with waste near the southern Yemeni province of Taiz.
7 A garbage collector walks at a demolition site which is making room for a new residential area, in Wuhan, Huabei province, China.
8 A North Korean soldier stands watch by the Yalu River in the North Korean town of Sinuiju across from the Chinese city of Dandong.
9 Kite boarders and kite skiers compete during an amateur regional championship on the frozen Yenisei River in the taiga district, south of the Russian Siberian city of Krasnoyarsk.
10 An Easter bunny made of snow is placed in a garden in Oster-Ohrstedt, northern Germany.